Toyota 4Runner: the Japanese cousin to the Jeep Wrangler, that is still somehow worth $3,000 after 15 years and 300,000 miles. With body-on-frame construction, solid axles, and an engine more durable than a Tonka truck, the 4Runner is an icon of the offroad community in all models and generations.
In this article, we'll be going through each generation of 4Runner, examining reliability, attributes, and desirability, and recommending which one you should buy. Here's our list of each Toyota 4Runner Models and Years.
1st Generation 4Runner (1984-1989)
The first generation 4Runner was essentially a two-door truck with a cap on the back, just a re-bodied Hilux. Being as the Hilux is favored in areas where roads are suggestions and gasoline is anything flammable, the 1st gen 4Runner comes from good stock.
Power is delivered from either a 1.8 liter 4cylinder or a 3.0 liter V6 coupled to your choice of manual or automatic transmission. The sweet spot for a 1st generation 4Runner is the 1985 model year; that was the last year they came with a solid front axle, which made it nearly unstoppable offroad. There are also many adapters to bolt a 350 Chevy or 302 Ford motor to the stock transmission if you want more power. 4WD is standard here; no options for RWD unless you pull the front driveshaft out.
Regardless of your preference for driven axles, do not attempt to tow anything heavy. With either engine, towing capacity is a max of 3,500 pounds, with the manual transmission; the automatic is limited to 2,000 pounds. The truck is simply too small for any real hauling.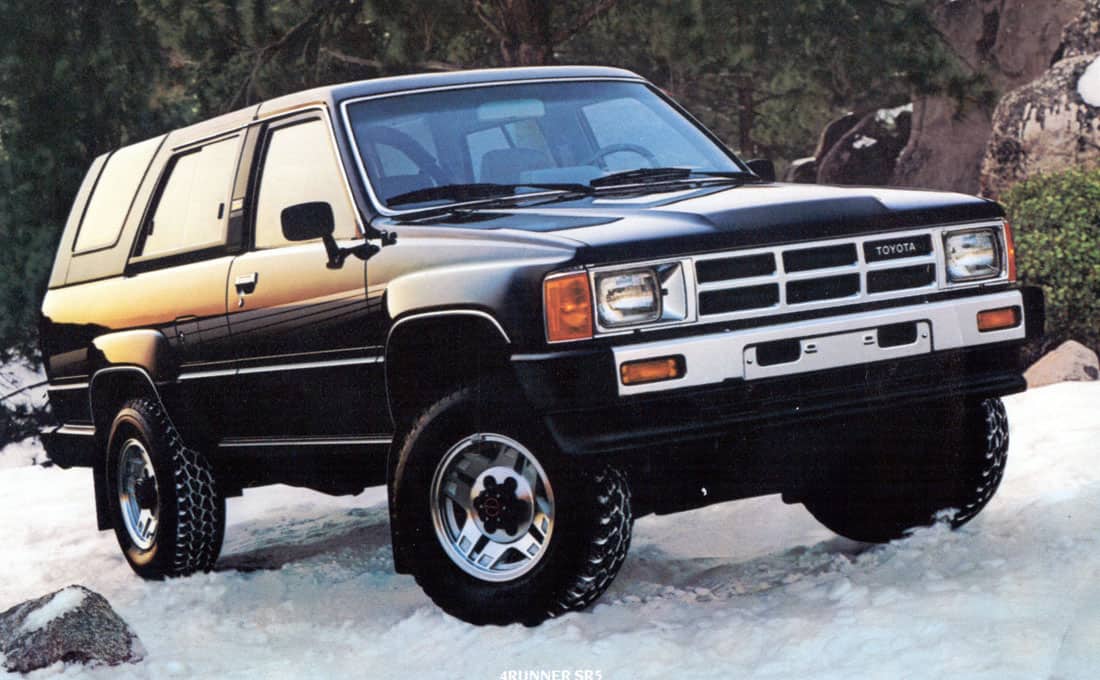 Fuel economy is 19 mpg city and 23 mpg highway, decent for a truck, but you're not buying this little truck for fuel economy; it is a cheap, fun little truck that takes a beating offroad and will keep doing it even after a nuclear winter. Now for the ugly part: the rust.
1st generation 4Runners do not have much body support, and rust is common around quarter panels and on floor pans. You'll need to find a donor truck for those, and the same goes for interior parts, as there are not many options to fix your 1st generation 4Runner's interior.
Being as this truck is from the '80s, there's little in the way of technology. Want blindspot detection? Adjust your mirrors and turn your head. Pedestrian detection? Raise the seat and slow down for crosswalks.
Cargo space is perfect for a vehicle of this size, as it is just a pickup truck with a cap on the back; plenty of room for anything you want. The same goes for interior luxuries; cloth seats and manual adjustments; no leather or power seating.
Now, should that turn you off? No. This is a truck that thrives offroad and is practically unkillable if maintained properly. If you can find a well-maintained 1st generation 4Runner, get it. Keep up with engine and rust maintenance, keep it clean, and you will have an unstoppable bulldog of a little pickup that will provide endless smiles per mile.
2nd Generation 4Runner (1989-1995)
The 2nd generation 4Runner was essentially the 1st generation 4Runner for the person with a carefree spirit but the troublesome burden of obligations in life. For the 2nd generation, the removable rear cap became a permanent fixture; no more removing that rear section, but a consolation prize was a tailgate window that rolled down on command. The 2nd generation 4Runner is a brilliant truck if you still want something relatively small but sturdier than the 1st generation 4Runner.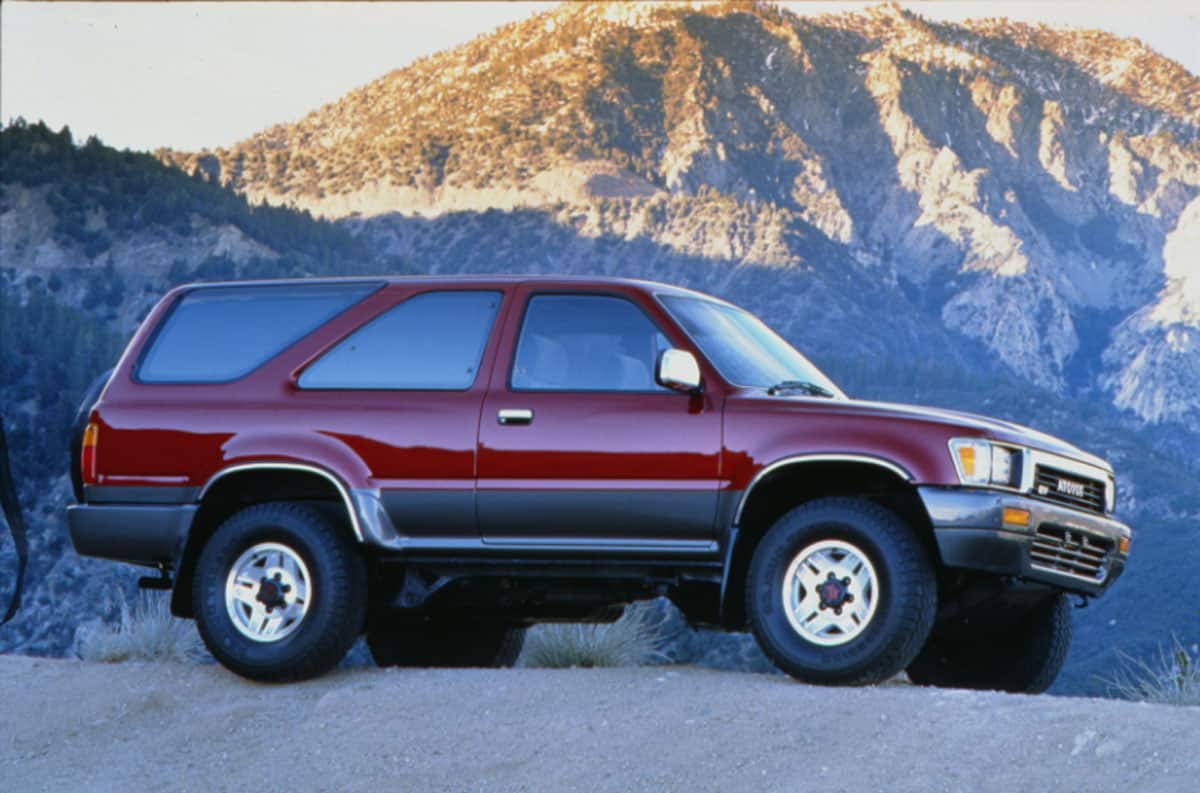 An important distinction, the 2nd generation 4Runner was offered in 2 and 4 door models, but only the 4 door model made it through to 1995. Now for the engines. Power is delivered through your choice of 22re 4 cylinder or 3.0 liter V6, coupled to either a 5-speed manual or 4 speed automatic.
The 22re 4 cylinders stayed as unkillable as ever, but the 3.0 liter V6 had head gasket issues; the exhaust dried the gaskets and they crumbled, leaking. The fix for that is to install a new gasket or just put a different engine in. Speaking of which….
The 2nd generation 4Runner has plenty of room for an aftermarket engine under the hood. Popular swaps are small-block Chevy V8s, although many stick with the 22re 4 cylinder or even a newer 3.4 liter V6, which had the head gasket issue fixed.
There are also kits to swap in solid front axles, along with Toyota 4Runner lift kits, rock rails, bash bars, and more. Find a mechanically solid 2nd generation 4Runner and you have the makings of a Mad Max assault rig.
Should you need to tow the War Rig, towing capacity is a measly 3,500 pounds with either engine and either the manual or automatic transmission. This truck is practically unkillable, but towing capacity is lacking, unfortunately.
Fuel costs being what they are, the 2nd generation 4Runner manages a decent 15 mpg city and 18 mpg highway. That's not as good as a Prius, but the 4Runner is just a truck with better manners; this is about as good as it gets for something like this. If you like to stock up on fuel, there's plenty of room in the back once you fold the seats down; people have been known to camp in their 4Runners. For you vehicle campers out there, leather seating is available, with heating and power adjustment.
When it comes to body and interior panels, the same problems plague the 2nd generation 4Runner. There are not many aftermarket bodies or interior parts available, not in the vein of quarter panels, floor pans, or seat belt mounts, so have a donor truck on standby or make friends with your local junkyard. This is not a huge problem, however.
The 2nd generation 4Runner is one of the best SUVs out there, full stop. That is, as long as you want purely offroad capability and don't mind the onroad manners of an A1 Abrams: slow and noisy, combined with steering that wanders like a hungry bloodhound. In all seriousness, the 2nd gen 4Runner is a body-on-frame beast that will crawl over anything and you should absolutely buy one.
3rd Generation 4Runner (1996-2002)
The 3rd generation 4Runner is the most popular 4Runner and is widely held as one of the best vehicles ever created. New engines appeared: a 2.7 liter 4 cylinder and a 3.4 liter V6, still coupled to a manual or automatic transmission; you choose. Only offered in four doors, and still comes with the roll-down tailgate window. Body on frame construction is standard.
You even get optional leather seating with heated seats, if you like to live in style. Fuel economy is a decent 15 mpg city and 18 mpg highway; the 4cylinder can manage 22mpg highway, but if you buy a 4Runner for fuel-saving, you are doing it wrong. However, you can carry plenty of fuel and gear; there's enough space in the back of this car for a wedding party.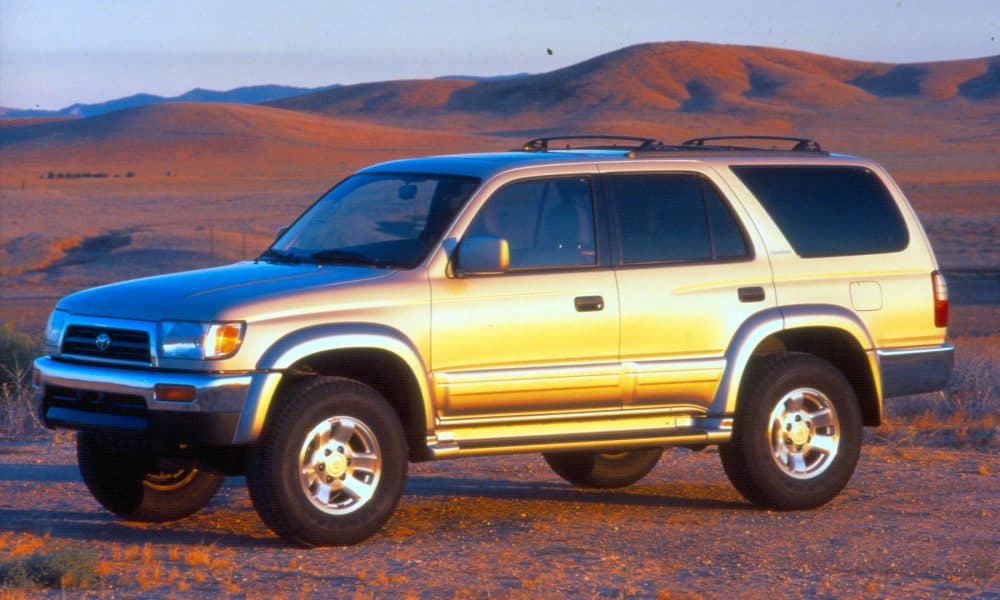 The 2.7 liters 4 cylinder is right there with the 22re 4 cylinders as one of the most unkillable engines of all time. The 3.4 liter V6 is widely considered as one of the best offroading engines out there, but it does have a timing belt. Aftermarket superchargers are also widely used and a big benefit. No reliability issues stemming from that, but it is something to think about.
Towing capacity is a solid 5,000 pounds with either engine and the automatic transmission, but you'll want something larger if you plan on towing regularly. A nice change with the 3rd generation 4Runner is that there are plenty of spare parts available; no hunting endlessly for parts.
Body rot and frame issues are almost non-existent with the 3rd generation 4Runner. It is heavier and tougher than the 1st and 2nd generation 4Runners, so keep up with your maintenance, keep the rust at bay, and it will run forever. One issue to note is excessive brake wear on the factory discs and drums.
There is nothing specifically wrong, although there have been issues on 4Runners with stock calipers sticking. Brake wear is perhaps one of the main issues with the 3rd generation 4Runner. It is still a brilliant SUV that is immensely capable offroad and a good daily driver. Out of all 4Runners, this is perhaps the best overall.
Read our complete guides on the 3th Generation models including years:
4th Generation 4Runner(2003-2009)
The 4th generation 4Runner, the biggest and heaviest yet. The 4th generation 4Runner was somewhat of a pivot away from sheer offroad capability and toward more serene road mannerisms. Body on frame construction is retained, but with the 4th generation 4Runner, you now have a choice of 4.0 liter V6 or 4.7 liter V8.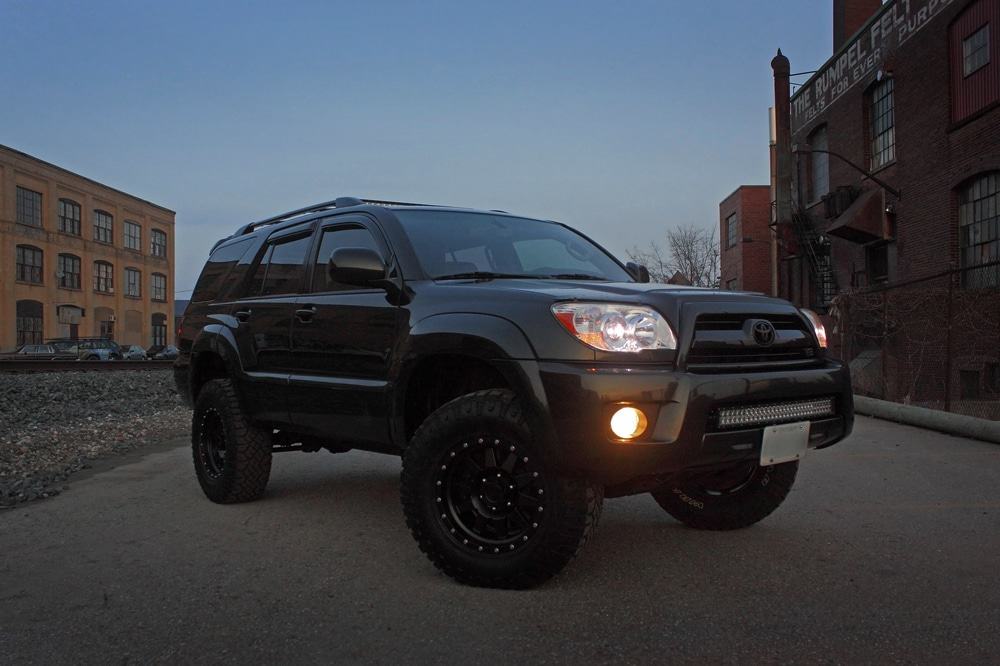 Towing capacity is 5,000 pounds with the V6 and RWD or 4WD, while the V8 can tow 7,000 pounds with 4WD. However, 2WD V8 4Runners can tow 7300 pounds. Both the V8 and V6 models are available with 2WD or 4WD; your choice.
Transmission choice is now automatic only, but 4WD is still standard across all models. Unfortunately, the solid axle was ditched for an independent suspension setup, but the 4th generation 4Runner is still a very capable offroad vehicle.
The 4.0 liter V6 is a great offroad engine with no real issues, the 4.7 V8 is the engine for you if you need to tow, or want to run a massive lift kit. The 4.7 V8 does have issues with exhaust manifolds cracking, but other than that both engines are pretty much bulletproof. Rust is not really an issue with the 4th gen 4Runner as long as you pay attention to maintenance schedules.
The 4th generation 4Runner still has a huge aftermarket following; you can build this truck into pretty much anything you want. The 4th generation 4Runner also had an optional third-row seat, and you can even have those seats upholstered in leather.
There's a decent amount of cargo room for a truck this size; you'll be able to fit several coolers stacked three wide and three deep with determination. Don't get too comfortable though; no pedestrian detection or blindspot monitoring here. If you want to cruise Moab in the morning and pick up the kids from school in the afternoon, this is the 4Runner for you.
Read our complete guides on 4th Generation models including years:
5th Generation 4Runner: (2009-Present)
The 5th generation 4Runner: the final form. The 5th generation 4Runner moved further away from the carefree, gas up and go to Moab or Death Valley manners of the 1st, 2nd, and 3rd generation 4Runners, and more toward being a lifestyle vehicle for people whose offroad excursions amount to a gravel parking lot.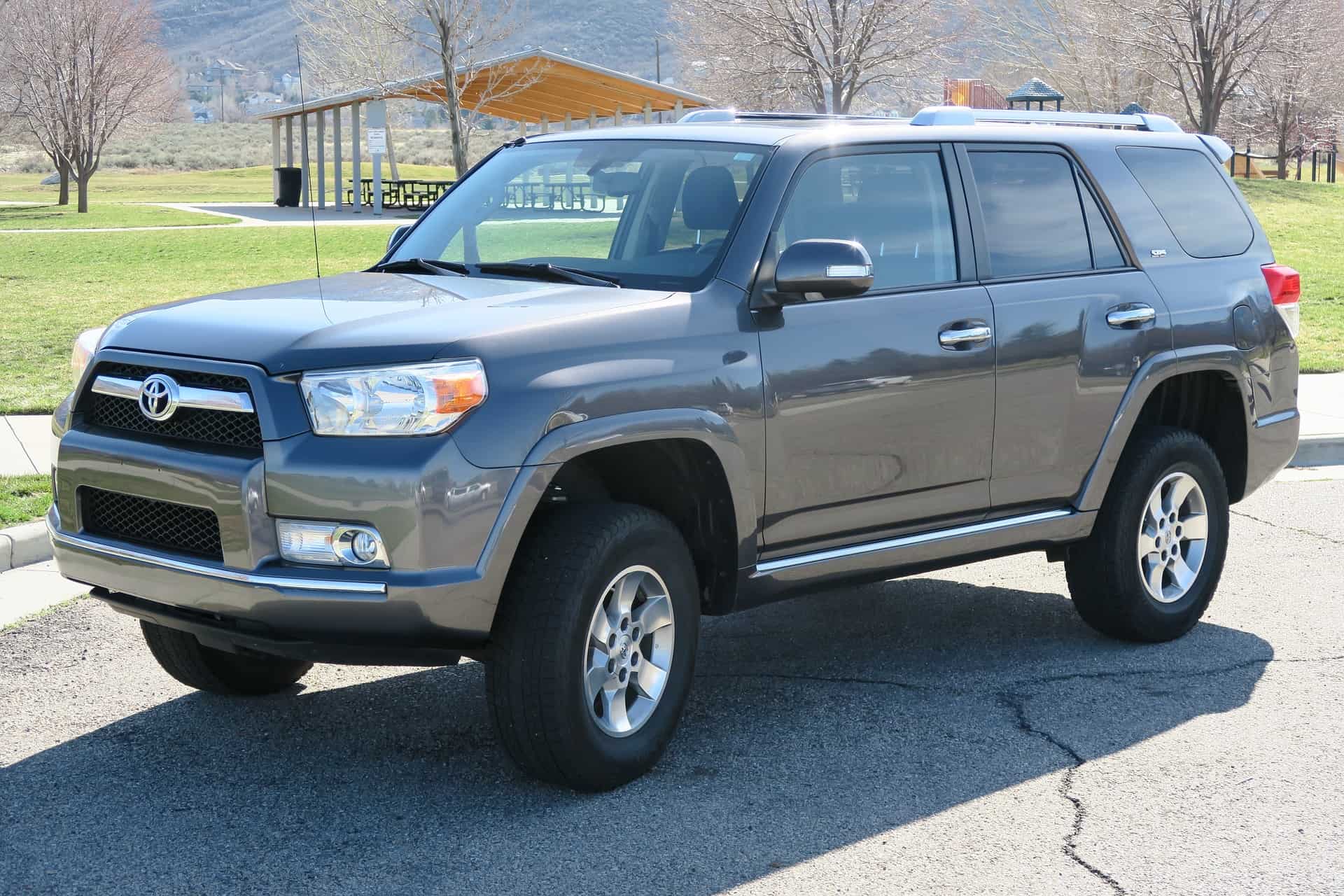 The 5th generation 4Runner remains on body on frame architecture, with independent suspension front and rear. Power is delivered through a 3.5 liter V6 making a solid 270 hp, coupled to a 6 speed automatic or 6-speed manual that feels as though it was removed from a tractor. Interestingly, the 4Runner could be had with the 2.7 liters 4 cylinders from 2010-2011, but I would not recommend that engine. As a plus, the tailgate window still rolls down.
Towing capacity is a maximum of 2,000 pounds with the 4cylinder, and 5,000 pounds for the 4.0 liter V6, regardless of transmission. Fuel economy is an average of 17 mpg with both engines; yours will vary.
Reliability is not a problem with the 5th generation 4Runner. The V6 is as durable as granite, and body rust is not a problem if you maintain it properly. A warning; the air conditioning breather vent can drip on the frame and cause rust. This can be fixed with some tubing and a barb fitting; extend it below the frame and this issue is solved.
Now, as far as modifications go, you will need to do some before your 5th gen is ready to tackle the Sahara, but it is still very capable from factree. You'll be able to take six other people to the Sahara as well; the 4Runner has an optional 3rd row, although it is quite small. Those seats can also be had in leather, with heat and power adjustment.
Next to the 3rd generation 4Runner, the 5th generation 4Runner is not quite the offroad beast it was, but it is certainly the best if you need it to be your only car; much quieter and more refined. If you need to have only one car and have it be somewhat economical and comfy, the 5th generation 4Runner is the best out of the lot.
Continue reading related Toyota 4Runner years and model guides:
Frequently Asked Questions
Question: Which 4Runner is the best to modify?
Answer: The 3rd gen 4Runner is probably the best one for modifying; there's a huge amount of aftermarket parts available, and it's large and tough enough to easily handle irresponsibly large tires, or low gears, or anything you want really.
Question: Which generation 4Runner is the most reliable?
Answer: They are all very reliable trucks, but generally speaking, the simpler the better. The 1st generation 4Runner is the simplest and therefore will keep running forever, but any 4Runner will serve you well.
Question: I have a family. Which 4Runner is best for me?
Answer: If you need to carpool, and want a 4Runner, get the 4th gen. It had an optional bench seat that took the seating up to 7, so you can get more people in there without buying a bigger car.
Question: Is the 4cylinder 5th gen 4Runner worth it?
Answer: No. It's a reliable engine but has nowhere near enough power to deal with how heavy the 4Runner is, and you'll get bad fuel economy while not having the power to tow or haul anything useful, not to mention not being able to keep up offroad.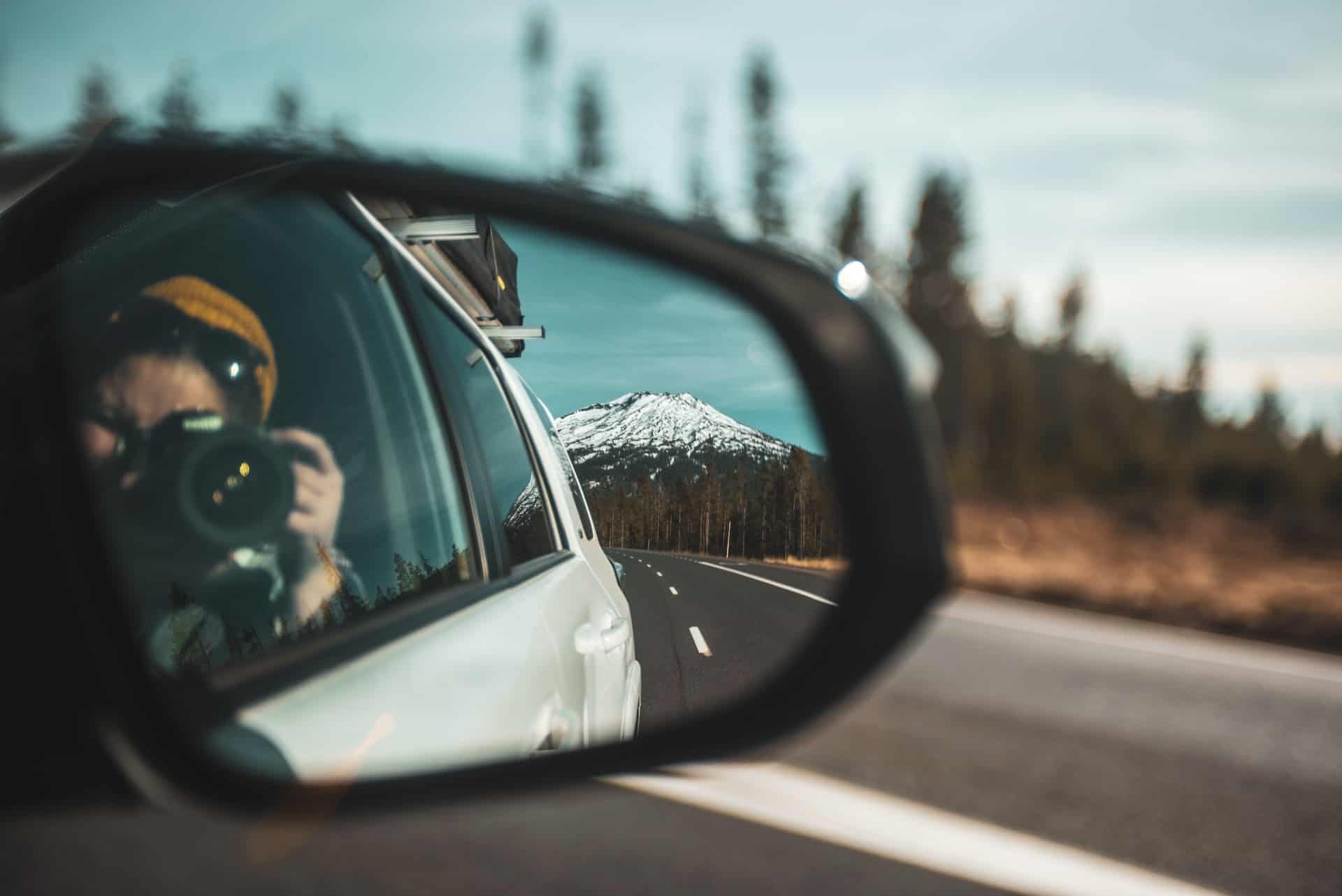 Verdict
Which 4Runner you buy will depend on what you want to do with it. If you simply want an offroad rock crawling buggy, then go for any of the first three generations of 4Runner, but if you need to drive every day, go for the 4th or 5th gen 4Runner.
That being said, the 3rd generation 4Runner is the sweet spot. There are tons of modifications available, the motor is bulletproof, and it has enough of the comfort and road manners from the 5th generation, that it is not unbearable on the street. 5th generation 4Runner to daily drive, 3rd generation 4Runner to drive and beat up in the dirt. That is the verdict.
Continue reading: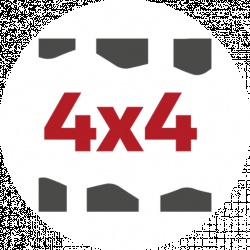 Latest posts by 4x4 Reports Team
(see all)