The Jeep Gladiator is a Wrangler with a pickup bed tacked on the back. As such, it offers the traditional offroad capability of a Wrangler while also giving you the ability to haul and tow.
Gladiators are like the Jeep version of a Toyota Tacoma in many ways; body on frame, very capable, and a large aftermarket following. In this Jeep Gladiator accessories guide, we'll be going over the best accessories for a Jeep Gladiator and recommending which ones you should buy. Let's get started.
Jeep Gladiator Models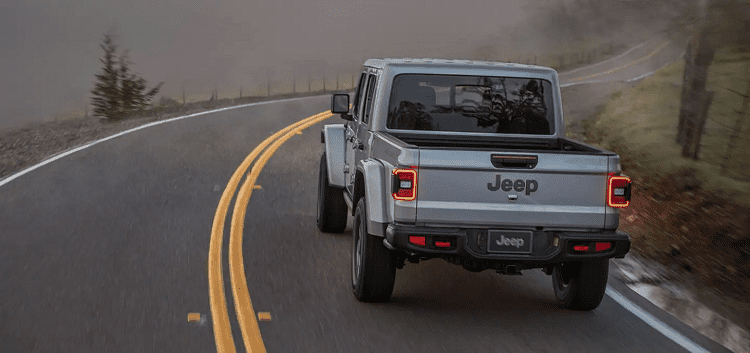 Before we look at accessories, we must first lay out the various models of Gladiator and their intended purposes.
First up is the Gladiator Sport. It is the entry-level Gladiator; some offroad chops while being cheaper than other models. The same goes for the Sport S; this is a Gladiator with more exterior and option packages. The S is the next up from the Sport; still relatively basic but with a few extra trim pieces.
The Overland sits above the Sport and Sport S in the lineup. It bridges the gap between the Sport S and the top trim Rubicon. As such, it features things such as Apple Carplay and more offroad features. All Gladiators come with Dana 44 axles front and rear.
Finally, there is the Rubicon, the most offroad capable Gladiator. It features bigger tires, different shock absorbers, and 4.10 gearing in the front and rear differentials. All Gladiators come standard with the 3.6 liters Pentastar V6. A 2.0-liter turbo four-cylinder hybrid, a 3.0-liter V6 diesel, and potentially a 6.4 liter V8 can be optioned in.
Pros
The Gladiator features something for everyone.

3.0-liter diesel gives you more range and more low-end torque for offroading and towing

Beefy Dana axles mean you won't need to upgrade right off the bat; stock parts are plenty capable.

If you want to build an overland rig, the base Sport is your best bet; low price means more room for parts buying.

Rubicon is the best for people who want to offroad on Sunday and commute on Monday.
Cons
The 2.0 hybrid is not a good engine for offroad use.

The 3.0 diesel is heavier, and so towing capacity goes down slightly.

Gearing in the manual is long; you'll be better off towing with the automatic.
Wheels and Tires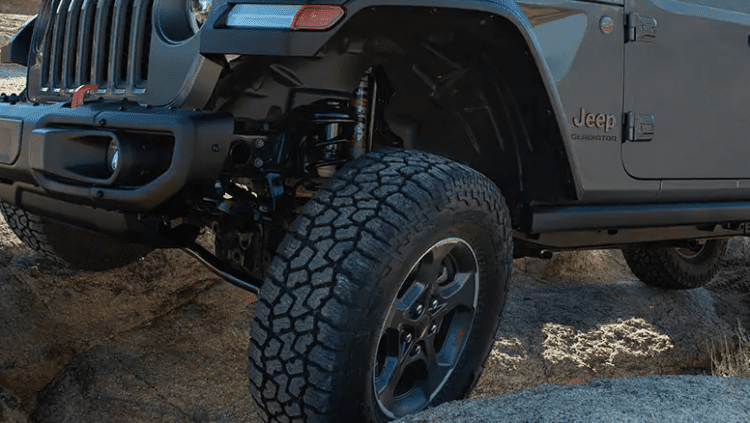 The stock wheels on a Jeep Gladiator are round, present at all four corners, and do a great job of getting your truck from A to B. However, they look relatively plain and not as aggressive as the rest of the vehicle. A more aggressive set of wheels and tires can enhance the look of your Gladiator while retaining factory levels of performance on and off-road.
The Gladiator also shares the same 5×5 bolt pattern as the Wrangler, so wheels and tires swap right over. Popular wheels like the Moto Metal paired with some Toyo Open Country M/T tires in 37×13.5 or Fuel Beast rims sheathed in MileStar Patagonias are a great choice. The Patagonias are triple sidewall tires, so the risk of sidewall punctures offroad is significantly reduced.
The Nitto Ridge Grappler is another very popular tire for anyone looking to offroad their Jeep. Paired with a set of Black Rhino rims, this gives the Gladiator a tougher look while increasing offroad performance. Price may vary depending on what size wheels and tires you want.
Pros
A bigger set of wheels and tires will give you more ground clearance and traction offroad.

Different tread compounds can give you better traction with less road noise.

Aftermarket wheels allow you to fit beadlocks to run lower tire pressure offroad.
Cons
Bigger wheels and tires will decrease fuel economy.

Different size wheels can weigh more and also throw the speedometer out of calibration.

Running wheels that are too wide will damage wheel bearings and ball joints due to weight.
Rock Sliders/Running Boards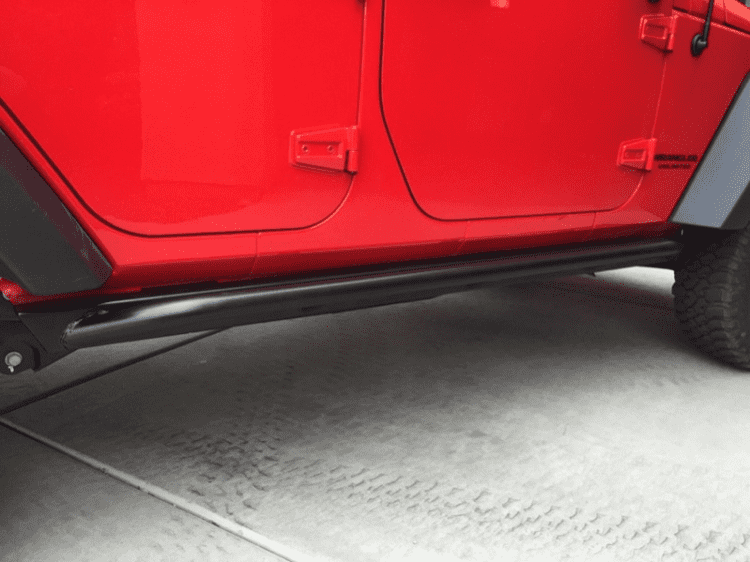 A set of rock sliders is good for protecting the body when offroading, and running boards help reduce the distance needed to step into the truck.
If you're buying rock sliders, check out the Rock Hard Patriot Series Tube Slider Rocker Guards. They are made in America, have a lifetime warranty, and double as 3.5-inch steps.
The boards are also black powder coated and are 100% bolt-on. At $800, they are expensive, but good quality comes with a price. While they double as running boards, remember they are rock sliders first and foremost, not running boards then sliders.
An alternative is the Barricade HD Rocker Steps. While not as aggressive as the Patriot sliders, they are meant to guard the rocker panels and not especially drivetrain components.
The Rocker Steps are wider and have tubes welded around the edges for support and extra strength. The steps will also fit all generations of Gladiator. Barricade HD Rocker Steps are reasonably priced at $370, and in textured black, they color match with everything.
As for running boards, try the iStep Running boards. At 6 inches wide, there is plenty of space for big feet, and sturdy aluminum construction means they protect your rocker panels too. Installation is 100% bolt-on, and all necessary hardware is provided.
Another good option is the Mopar Factory Style Side Steps. Despite the name, they are fully functional running boards for the Gladiator. At over 6 inches wide and fully bolt-on, not to mention sturdy metal construction, these boards are built to last.
Pros
A strong set of rock sliders will protect your rocker panels and body from big dents and scratches.

Good running boards will last a long time and provide secure footing during entry and exit.

The options above are relatively inexpensive and very durable.
Cons
Some running boards are constructed of plastic, not metal, making them weaker and less durable over time.

Combination running boards/rock sliders are not a good accessory; they compromise on both fronts.

Not all running boards are created equal; some ship with subpar materials and do not mount securely.
Tonneau Covers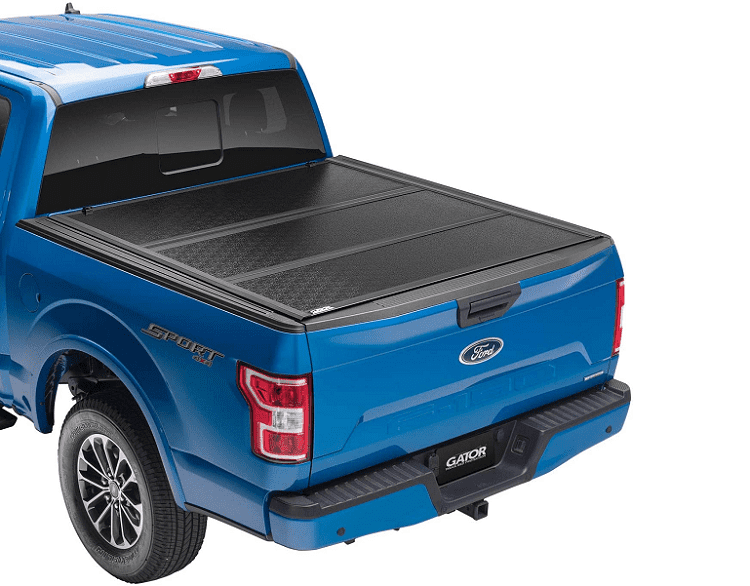 Tonneau covers keep your belongings in the bed where they belong. There are two kinds: soft and hard, but they are both retractable. Soft tonneau covers need very little installation and work fine, but hardcovers are more secure and more durable.
The Gator EFX Hard Tonneau cover is a great option. You'll need to choose your cover based on bed length, but the cover is worth the money. It has hard sections that fold back, so you have a lightweight, durable tonneau cover that looks great and provides security when you're away from the truck.
Priced at $766, the Gator EFX is not cheap. However, it has a 3-year warranty, lifetime support, and beefy aluminum construction. It also features drain tubes to keep water out and has no-drill installation.
Tyger Auto makes the T3 Tr-Fold cover for the Jeep Gladiator. It is a hardcover with vinyl over aluminum construction for a tight, manicured look. The cover is for a 5-foot bed, so you will need to choose accordingly. Mounting requires no drilling, and it comes with a limited lifetime warranty. Priced at $258, it is great value for money.
RDJ Trucks 65 Series hard folding tonneau covers are another great choice. You are encouraged to measure your truck's bed length before ordering. Still, you get all-aluminum construction and the cover locks to the tailgate for added security. With a 3-year warranty and steel clamps to install it, you'll have this cover for a long time.
Additionally, the powder coating is designed to reflect UV rays and prevent paint fade. Brackets to adapt to existing bed rails are also included. At $688.00, this is an expensive cover. However, your Jeep will thank you; it is a good purchase.
Continue reading our full guide on how to find the best bed cover for Jeep Gladiators.
Pros
Tonneau covers streamline the look of the truck and improve aerodynamics.

A hard tonneau cover is also good for security.

The cover folds out of the way, so load carrying is not compromised.
Cons
While tonneau covers provide an additional measure of security, they will not stop anyone with a pry bar.

Soft covers often flap in the wind, creating irritating noise.

If you install a bed rack, most tonneau covers will not fit as a result.
Lift Kits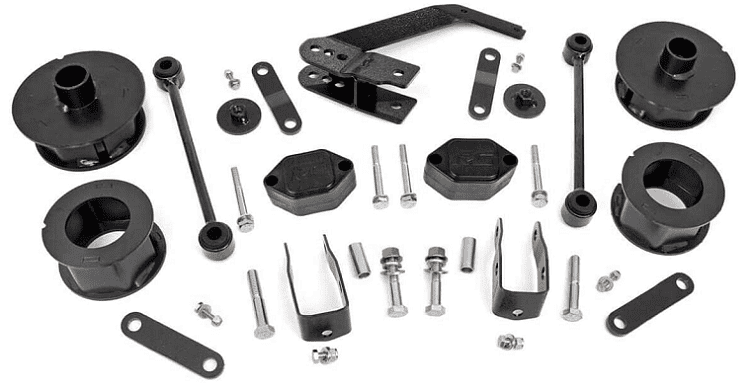 A lift kit is an expensive accessory to install. However, if you were offroad your Gladiator, a lift kit will provide drivetrain clearance and allow bigger wheels and tires to be mounted.
Rough Country is a known maker of great lift kits. Their 3.5-inch lift & level kit for a 4WD Gladiator costs $2150, but do not worry; shipping is free. You can install it yourself or have a shop do it. Rough Country lift kits are common in the off-road and on-road communities, so you are in good hands.
If you prefer factory hardware, consider the Mopar lift kit for the Gladiator. A 2-inch lift kit costs $1480 on Amazon, and you have the satisfaction of knowing it's a Chrysler brand product. I would personally recommend the Rough Country kit over this one, but if you are on a budget, the Mopar option will work.
Fabtech may be an unfamiliar name, but rest assured their products are up to scratch. The K1462 Sport II lift system provides a 3-inch lift on all non-Rubicon Gladiators and allows you to fit up to 37-inch tires.
Unfortunately, it does not come with shock absorbers, rather extensions for the factory shocks. Given that Gladiators come with Bilsteins, this is no problem. Because of this, the kit is just $658 on Amazon, and you get a 5-year, 60,000-mile warranty in the bargain.
Pros
More ground clearance

High-quality kits for good prices

Lift kits allow for bigger wheels and tires to be mounted.
Cons
Lift kits need to be installed with supporting hardware; a big lift will be hard on stock ball joints and tie rods.

Lifting your truck can also decrease towing capability and make handling worse.

Lift kits can void your warranty.
Floor Liners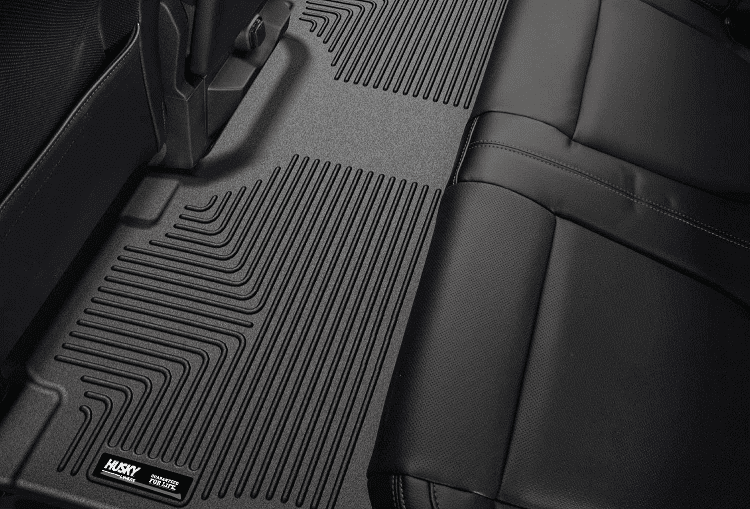 Floor liners/mats are important. Tracking mud and snow into a vehicle is one of the quickest ways to ruin a new interior.
Weathertech makes some of the best floor mats in the industry. Thick rubber mats with ridges and high sides keep watery mud and dirt on the mat, while rubber spikes on the underside ensure it doesn't obstruct things like the gas pedal. A set costs $180 but given the durability and quality of mats (I run two sets on my cars), that is a great price.
Husky also makes great floor liners for the Gladiator. They are also about the same price as the WeatherTechs: $180-230 for a set. However, unlike the WeatherTechs, the Husky mats have drains that you can open. This makes cleaning much easier. The deal is sweetened with a lifetime warranty and made in the USA construction.
Between the two, it is a personal preference. Both companies make great products and are competitively priced. Therefore, it is up to you to choose which one goes in your Gladiator.
Pros
Thick rubber floor mats are great for protecting your truck interior.

Mat sets are designed to work with your interior, and you can buy singles or sets as needed.

Both WeatherTech and Husky make great products for the price.

The Husky mats have drains, ideal for removing mud and snow.
Cons
$180-230 may be too expensive for some

WeatherTech mats do not have drains; not a big deal, but definitely something to consider
Bed Liners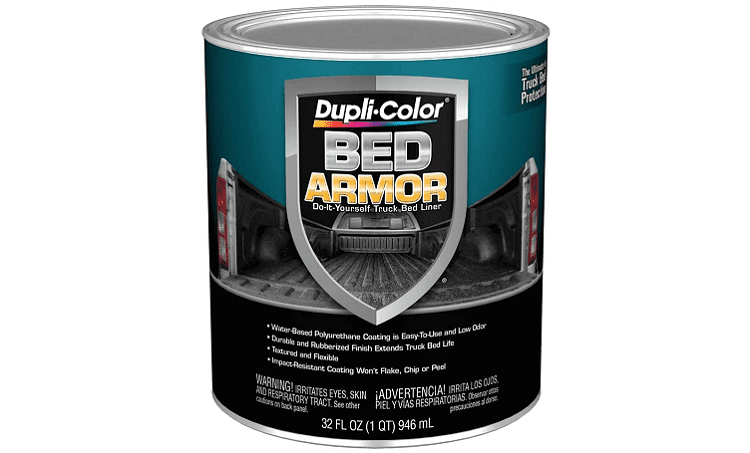 Bed liners, while installed from the factory, are vital for keeping your truck bed scratch-free. Whether you have a pour-in or drop-in liner, it is a good idea to install one. Here are a few of the best choices.
Dupli-Color is a pour-in Bedliner that comes in a gallon jug. Grab a brush and apply as needed. The kit costs $136, but I would caution against using it if you live in the Northeast or Salt Belt. Moisture can get under the liner and create rust where it does not evaporate. However, if you live somewhere hot and dry, this will serve you well.
Weathertech also produces bed liner mats for the Gladiator; they will work with spray-in bed liners because the mat drops right in. A tailgate liner is also available and sticks using adhesive. Having a thick rubber mat over a spray-in bed liner or bare bed is a great method of dent prevention. However, the concern of rust arises with these and any Bedliner.
Water can get between the liner and bed where it does not evaporate. Rust forms, and you have an expensive problem. However, if you live somewhere rust is not a concern, then the Weathertech liner is a great option.
BedRug is a vinyl flooring-type bed mat for the Jeep Gladiator. It is chemical and stain-resistant and installs using hooks and loops that utilize existing connectors in the bed. A limited lifetime warranty is provided. However, this liner is a carpet-type liner and so would likely degrade with repeated loads of coarse material or something leaking fluids. It would be ideal for those who use the truck as a camping rig or only carry light materials. For $203, it is relatively cheap as well; just don't expect it to stand up to heavy work.
Pros
A bed liner is a great way to protect your truck bed from dents and scratches, especially a drop-in liner.

Heavy-duty drop-in liners are one of the best solutions to this problem.

Good bed liners, pour or drop-in, are relatively cheap and well worth the money.
Cons
Bed liners can cause rust spots if water gets under them, especially pour-in liners.

A carpet-style bed mat will not stand up to coarse, rough loads and will get destroyed quickly.

While a pour-in liner is good, a drop-in liner is better; less chance of rust and can be removed if desired.
Lock Box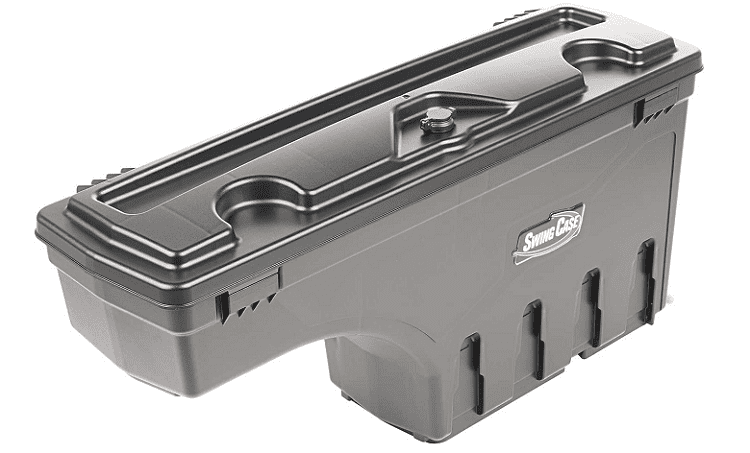 A lockbox for your Gladiator is peace of mind when away from home and away from your truck. A lockbox generally goes under the seats, where storage in the rear would be. Through the use of a locking lid, you now have a miniature safe for valuables or firearms if desired.
Diabolical Inc makes a very solid under-seat lockbox for the Gladiator. The stock storage box is bolt-in, so you simply remove the stock box and bolt in the Diabolical Box. All-steel construction and multiple lockable compartments mean your valuables won't go anywhere.
You do not need to remove the factory seatbelt latches either; the box fits around them. At $800, the Diabolical box is a smoking deal for the peace of mind it lends you.
Consider the Rugged Ridge Armis Swing Case. This small box mounts to the inside of your Gladiator bed on the driver's side. It is small enough to fit under the bed rails and works with tonneau covers or racks. The box also has a hinge so that you can swing it out from under the bed rail and open it.  
The Armis Swing Case features a twist & lock system; twisting the lock moves a bar under the lid and provides extra protection. The box itself is high-strength plastic, so it is both light and strong. While the Armis Case is unsuitable for long items, it would be great for smaller items you want to keep hidden. For $241, this is a great value.
Pros
The diabolical box is expensive but great for secure, under-seat storage with a factory look.

The Armis Case is perfect if you want a small, secure location to hide valuables in the truck.

Constructed from high-strength plastic, the Armis is both light and thief-resistant

All-steel construction makes the Diabolical box a miniature safe under your rear seat.
Cons
At $800, the Diabolical box is prohibitively expensive.

The Armis case is durable, but plastic and one bolt-in hinge won't stop a determined pry bar.

The Armis case, unfortunately, won't accept longer items; no stashing fishing rods or rifles.
Bed Tent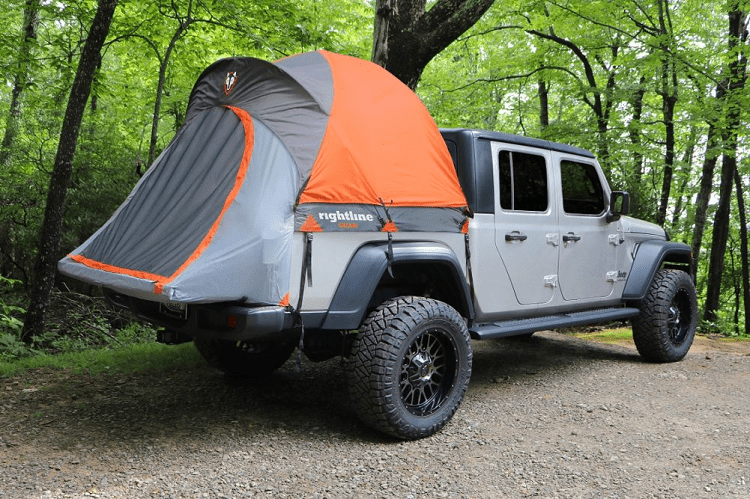 If you like camping but do not want to deal with driving tent pegs, consider a bed tent. These fit in the bed of your Gladiator and, with a blanket or foam mattress, are comfortable. Not only that, they are high off the ground, away from creepy crawlies.  
Consider the LED Factory bed tent for the Jeep Gladiator. It fits neatly into the bed of any Gladiator and has tie-downs to extend drip panels over the sides of the bed.
That way, you stay warm and dry; the tent itself is waterproof too. With a full floor, there's no need to worry about dirt, and with internal pockets, your belongings are secure. Additionally, the tent will fit any pickup with a 5′-5.5′ footbed, not just a Gladiator. At $332, the LED Factory tent is expensive but well-priced for gear of this type.  
Next up is the Rightline Gear 4X4 Gladiator Truck Tent. Like the tent from LED Factory, this is a bed mount tent. However, it is a floorless design, so while you will not need to remove anything from the bed, you will be uncomfortable should water get in. Still, the tent features internal pockets for storage, tie-downs, a skylight, and glowing tent zippers. It is also waterproof. 
An optional air mattress includes a tailgate extension; it ships with a foot pump for inflation. The tent alone costs $190, but with the mattress, that cost rises to a total of $440. If you want to supply your mattress, the Rightline tent is a good option.
Pros
LED Factory tent has a full floor to protect you from running water

Drip panels mean you stay warm and dry in the event of rain.

Internal pockets in both tents keep items secure and safe.

Both tents are competitively priced.

The Rightline tent offers an optional air mattress.
Cons
The Rightline tent does not have a floor, making it less than ideal if it rains and water gets in the truck bed.

Rightline's price more than doubles when the air mattress is optioned

Both the LED Factory and Rightline tent are too short to stand up comfortably.
Truck Bed Drawers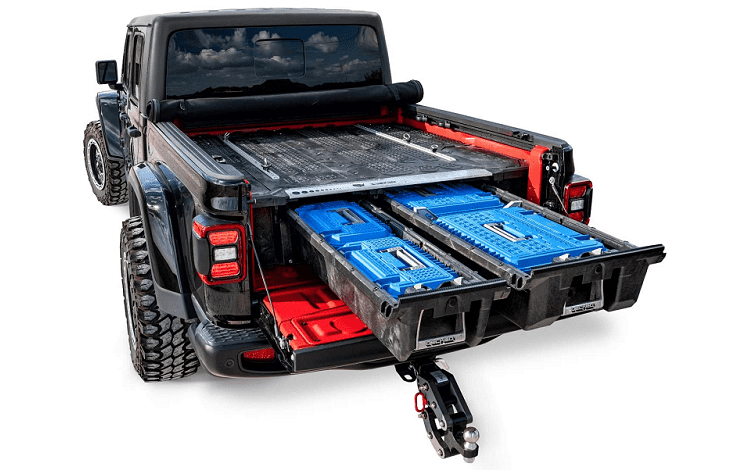 A set of decked drawers will fit nicely in your Gladiator while retaining overall capacity. The top surface of the drawers is strong enough to hold a dirt bike, while multiple drawers give you tool storage.  
Decked is the most popular bed drawer system for trucks. Their system can support up to 2000 pounds on the top shelf while retaining perfect functionality.
The Decked drawers for the Gladiator limit access to the bed outlets and lighting as a warning. The solution is to run a pigtail cable from the bed outlet so that you can still use it with the Decked system installed. The individual drawer capacity is 200 pounds.  
Another note is that Decked systems will work with spray-in liners or bed mats but not drop-in liners due to the dimensions being matched to the truck bed. Happily, polycarbonate over steel construction means you need never worry about rust, and the drawers are sealed. At $1500, the Decked Drawers system is well worth the money.
Another option is the Weather Guard Pack Rat Truck Box Storage Drawer. While not expressly designed for the Gladiator, the 40-inch width and 48-inch length fit nicely in the 5-foot bed all Gladiators come with. The 13-inch height means you can put larger items in the four bed-length rollout drawers.
The storage compartment has a 425-pound capacity, evenly distributed, but the top can hold up to 750 pounds. Anti-slip material on top means you can walk on the box without fear, while 12 gauge skids and thick powder coating guarantee durability. Priced at $1630, it is an expensive but very durable box. 
Between the two boxes, however, you may want to choose the Decked system. It is taller than the Pack Rat but sturdier and features a higher payload capacity in addition to being lighter. 
Pros
 Decked systems are the Swiss Army Knife of truck boxes; plenty of storage space for anything you need

The Decked box is also water-resistant and installs with zero drilling-just J-hooks to existing tie-downs

The Pack Rat is all steel: 12 gauge skids on the bottom and 14 gauge sides and top.

The Decked drawers can support up to 2000 pounds.

Pack Rat is capable of carrying 425 pounds in the drawers or 750 pounds on the top, evenly spread.
Cons
Pack Rat is more expensive, heavier, and smaller than the Decked Drawers system.

Pack Rat is not waterproof-somewhat weatherproof but not waterproof.

Decked Drawers, unfortunately, do not work with drop-in bed liners.

Decked Drawers block access to the bed outlets and lighting, so a pigtail cable needs to be installed aftermarket to use the bed power.
FAQs
Question: I Want to Install My Lift Kit. What Should I Know Before Doing It?
Answer: If you do not have prior mechanical experience, take it to a shop and have them install the kit. Modifying your vehicle's suspension can have bad consequences if you get it wrong. However, if you have experience doing this, then simply make sure you have the proper tools and possibly a lift to hold the car.
Question: Do I Need to Grease My Truck Bed Before Installing a Liner?
Answer: Greasing the bed, if you have a pour-in liner, will make the liner separate and not stick to the bed properly. That creates an expensive mess. If you are putting in a drop-in liner, you could grease the bed first, but I would not recommend it.
Question: Are Rock Sliders Worth It?
Answer: Rock sliders are worth the money if you are doing more serious offroading. Good sliders are more expensive than running boards, however, so do not buy rock sliders with the intent to use them as running boards. Likewise, do not attempt to use running boards like rock sliders; they are easily damaged that way.
Question: Is the Decked Drawer System Worth It?
Answer: If you are a contractor or someone that frequently needs more dry storage than is available, then absolutely. However, if you rarely haul with your truck, then the Decked system is unnecessary weight.
Question: Should I Get a Truck Tent With or Without a Floor?
Answer: You should absolutely get a tent with a floor. In the event of rain, the water will run through the truck bed and subsequently your tent; a tent floor prevents that.
Question: Should I Get the Diabolical or Armis lockbox?
Answer: It comes down to personal preference. If you need to keep longer items secure, then get the Diabolical box, but for occasionally stashing smaller valuables or firearms, the Armis lockbox is great.
Jeep Gladiator Accessories: Which One Should I Buy?
You will be best off with a good tonneau cover or bed liner. Big wheels and tires look cool, but they are a poor use of money and fuel if you are not offroad. The same goes for lift kits. A combination of a tonneau cover and bed liner will make your Jeep more aerodynamic, increase security and utility. 
I say this because tonneau covers and bed liners are guaranteed to boost utility. Mounting big wheels and tires can change the handling characteristics and make fuel economy worse. If you do not offroad frequently, those modifications are unnecessary.
Running boards and rock sliders do not mix well, but the Rock Hard Patriot rock sliders can double as 3.5-inch steps in a pinch. That makes them the best option, where you have rock sliders that can be used as steps if need be. If you need a lift kit to pair with those steps, get the Rough Country lift kit. Rough Country is very well known, and many shops sell their parts, so you will have a better experience if repair is ever needed.
When it comes to floor mats, you'll be best off with the WeatherTech mats. Husky makes good competition, but WeatherTech floormats are just better no matter the application.
To continue on the WeatherTech appreciation train, their drop-in bed liner will be great for your Gladiator. Any drop-in bed liner will work but consider WeatherTechs liner. A drop-in bed liner is better for the bed because it can be removed. You can clean under it and potentially grease the bed before reinstallation. 
If you are purchasing a truck bed drawer system, get the Decked Drawers. They're the best product of their type in terms of payload capacity, durability, and pricing. As for bed tents, you will be best served by an LED Factory bed tent. It has a full floor and drip panels, in addition to big windows and internal pockets for storage.
Finally, both the Diabolical and Armis lockboxes are solid choices. It comes down to your use case and what you want to store. The Diabolical box is more expensive but better for longer items, while the Armis is great for stashing small items in the bed when camping or working. It is a matter of personal preference as both boxes are great.
Continue reading related Jeep Gladiator accessory guides: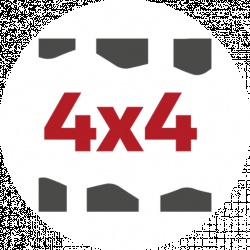 Latest posts by 4x4 Reports Team
(see all)