Getting the right accessories for your car is a challenge if you don't know where to start. The same case applies if you are looking for Jeep Renegade accessories. To make things easy for you, I decided to look at the most popular accessories for the Renegade. 
 This subcompact SUV has a plethora of accessories to choose from. I scoured Jeep Renegade forums, fan pages, and accessory stores to determine the best and most popular accessories. From my research, I was able to come up with a list of five of the best interior and five of the best exterior accessories. Continue reading for more. 
Bottom Line Up Front 
Two of the recommended interior accessories for the Renegade are the Edbetos Center Console Organizer Tray and Danti Car Interior Accessories Decoration Kit. For the exterior, I recommend the Sunluway 12 pc Door Handle Kit and Kqiang Right and Left Lower Bumper Grille Cover. 
Jeep Renegade Accessories
Since there are many accessories to choose from, I will start by giving you five of the most popular interior accessories and then the five best for the exterior. Keep in mind these accessories are a result of the popularity and positive reviews from people who use them. 
Savadicar GrabTray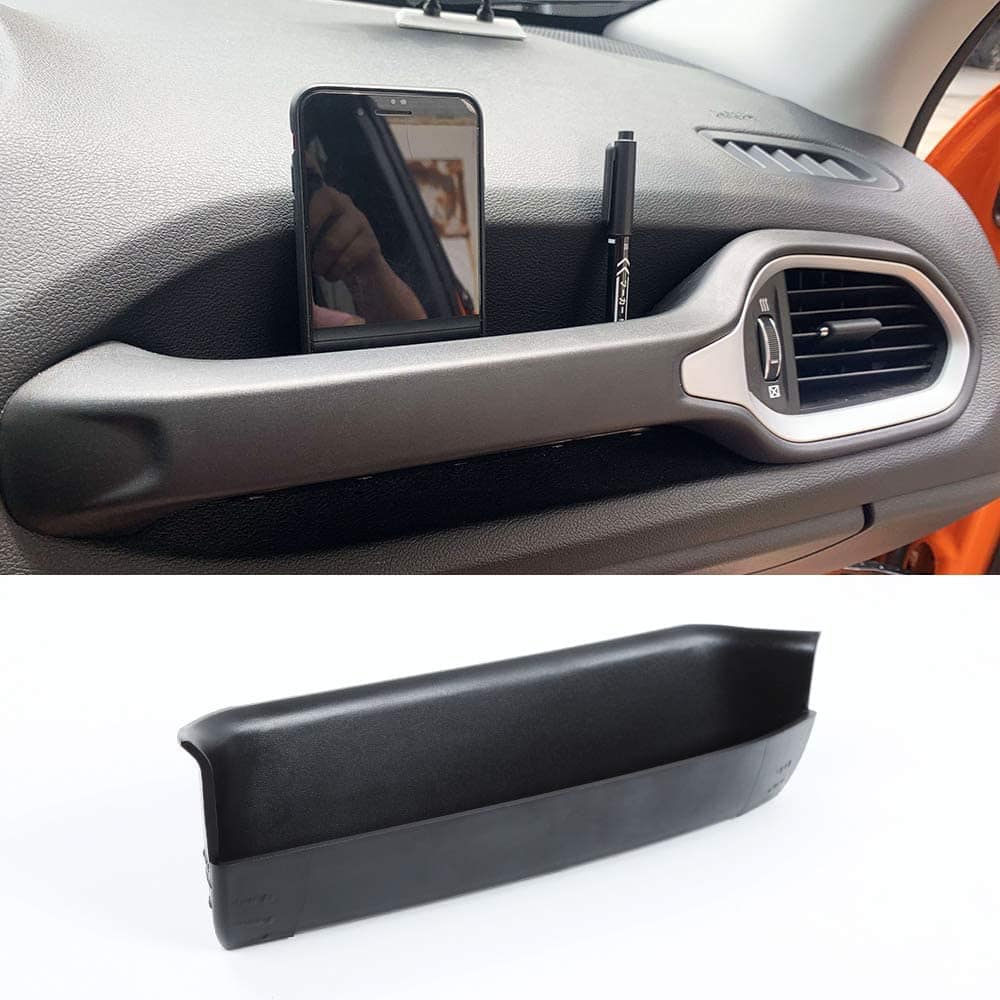 This product is specifically designed for the 2015 to 2022 Jeep Renegade. It's fitted on the passenger seat grab bar to provide extra storage space for the passenger. You can easily store change, mobile phones, sunglasses, paper towels, and other small items. 
The grab bar bin organizer come storage tray is made using high-quality ABS material. It comes with a rugged and black stamping finish. This makes the product attractive and durable. 
When it comes to installation, you don't have to worry about drilling or getting messy with glue. All you need is to put in the grab bar, and you are good to go. The company offers a 30-day no-questions-asked money-back guarantee. The product comes with a 1-year warranty. 
Pros
Made using high-quality ABS material

Plug and play installation

Rugged and black stamping finish

30-day money-back guarantee
Cons
It can only fit small items
Edbetos Center Console Organizer Tray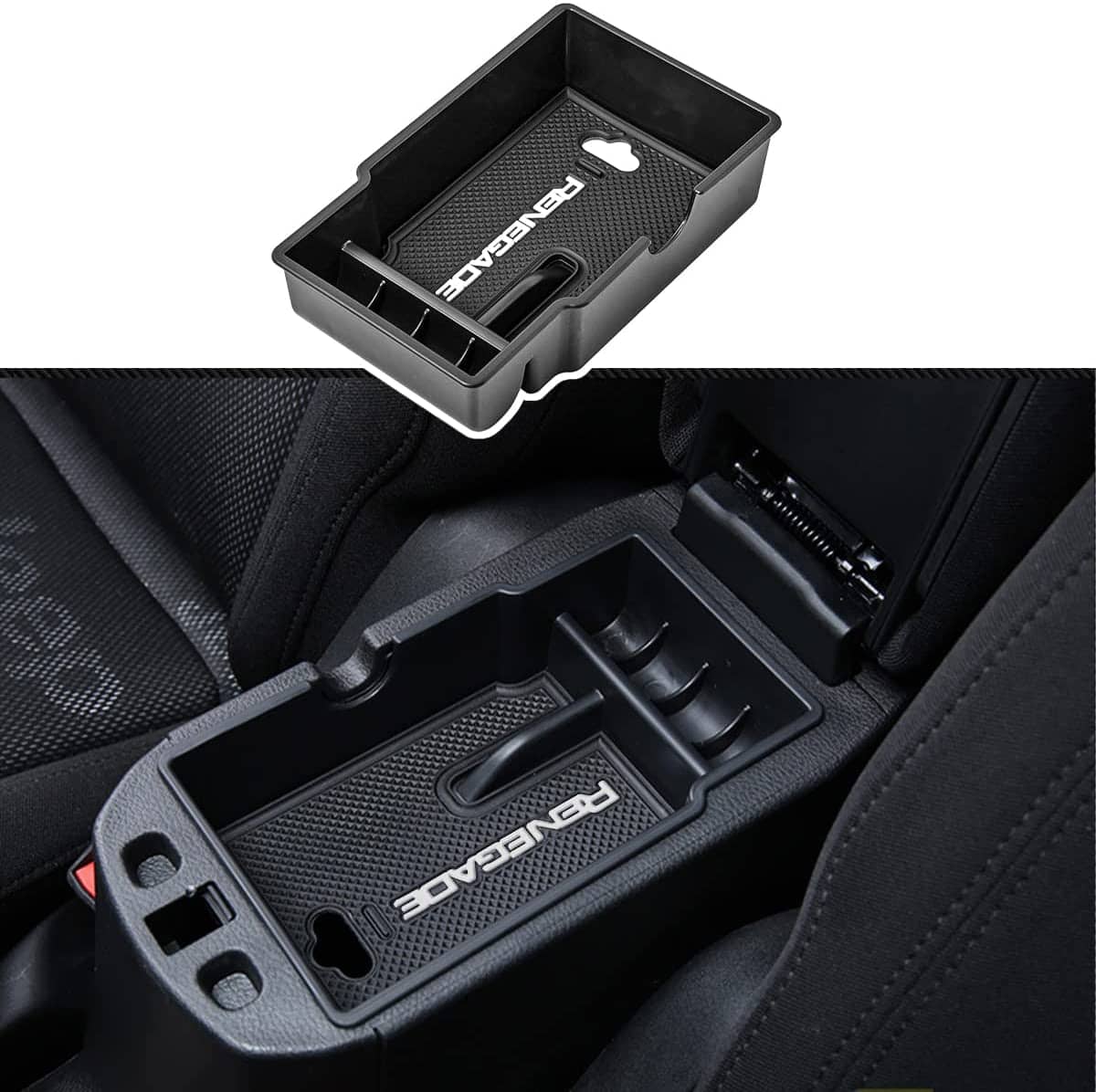 The Edbetos organizer tray is compatible with the 2015 – 2022 Jeep Renegade. Note that you should ensure you have one of these models before you purchase it. So why do you need it? The armrest storage in the Renegade is too deep, meaning the items you place inside are in disarray. 
Apart from expanding the capacity of the armrest box, it enables you to arrange items in an orderly manner. This makes it easy to organize and access the items beneath this tray. It's also easy to remove and put back. The Edbetos center console organizer tray creates space by dividing the armrest box into two compartments.  
The upper compartment can be used to store coins, sunglasses, wallets, and phones. Items that you don't frequently use, such as repairs tools and other gadgets, can be stored in the lower compartment. Additionally, there is a hole in the middle of the organizer that can be used to pass through a USB charging cable. 
The product is made using ABS plastic combined with a matte finish. This makes it tough enough to resist damage resulting from impacts from your car when driving on rough terrain. It comes with a rubber liner to prevent items from rattling or sliding in the tray. 
An upside of the organizer tray is you don't need any tools to install it. Just place it on the armrest box, and you are good to go. Lastly, it matches the car's interior, making it look like an OEM part. 
P
ros
It helps organize your armrest storage compartment

Increases storage space

Rubber liner prevents items from sliding or rattling

Matches the interior of your Renegade
Cons 
Danti Car Interior Accessories Decoration Kit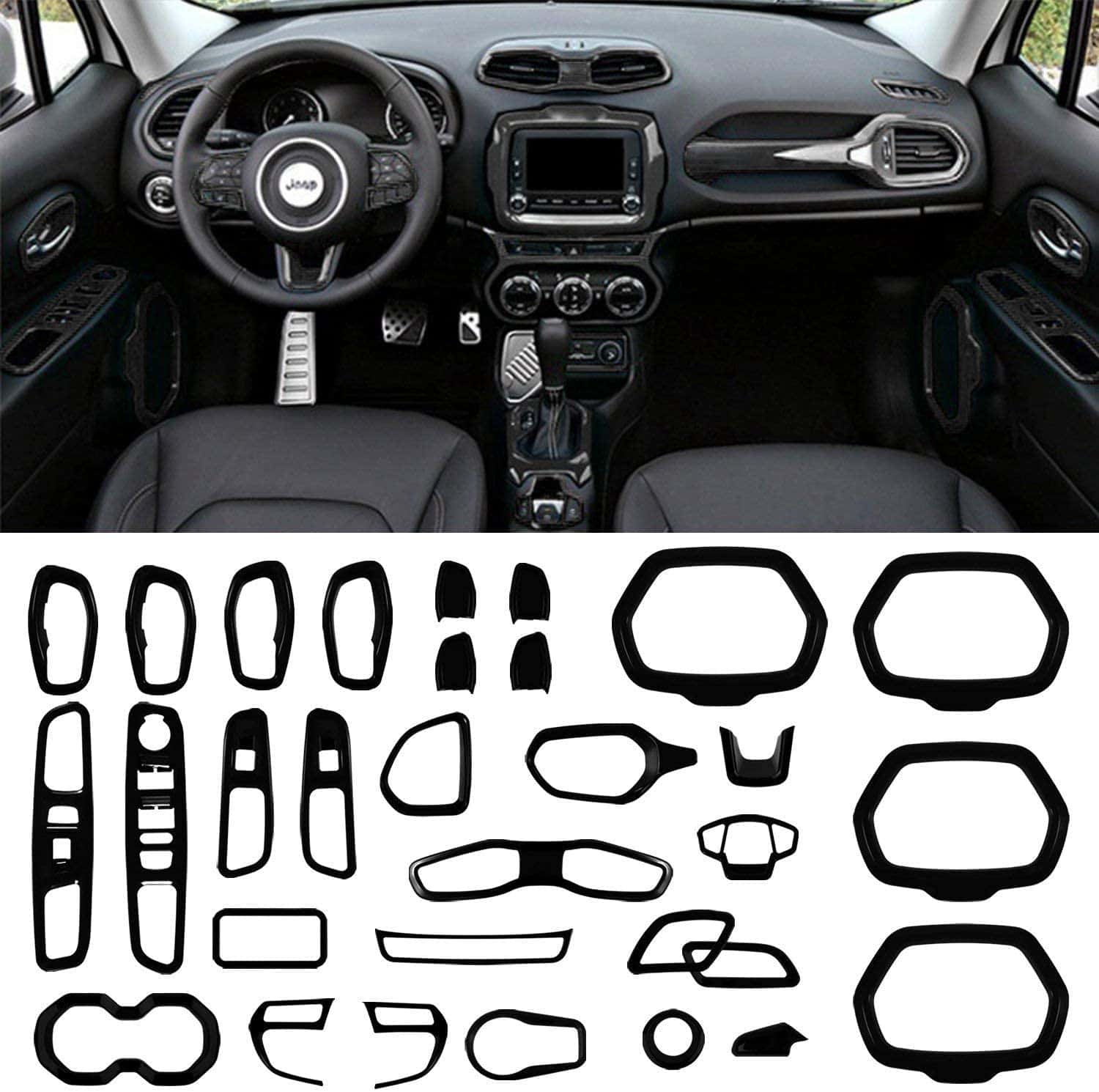 If you want to transform the overall appearance of your Jeep Renegade, go for this interior cover kit. It is designed for the 2015 – 2021 Jeep Renegade. On the downside, it may take an hour or more to install the kit. However, with a bit of patience, this affordable kit will make a statement every time your vehicle's door is opened. 
The product is made using high-quality ABS plastic, meaning it has one of the highest lifespans in the market. This makes it present a fashion-oriented and unique decoration style. To install, peel the 3M tape from the back and position the cover to its designated location. Place it on the location and press gently around it to ensure it sticks into place. 
All the covers in the kit have anti-slide properties making installation and removal a breeze. Additionally, the products are stylish, shiny, and resistant to rust and corrosion. 
The package contains 31 covers categorized as:
Four speaker

Eight inner door handle

Three steering wheel button

Four power window button

2 A/C outlet vent 

Two right and left air conditioning vent decoration

One warning light

One headlight switch

One water cup holder

One center console handbrake button

One cigarette lighter

One central air condition ring bezel

One steering wheel height adjustment

One start/stop button
Pros
31 piece kit

Anti-slide 

Resistant to rust and corrosion

Easy installation
Cons
CupHolderHero 23-pc Set for Jeep Renegade (Red Trim)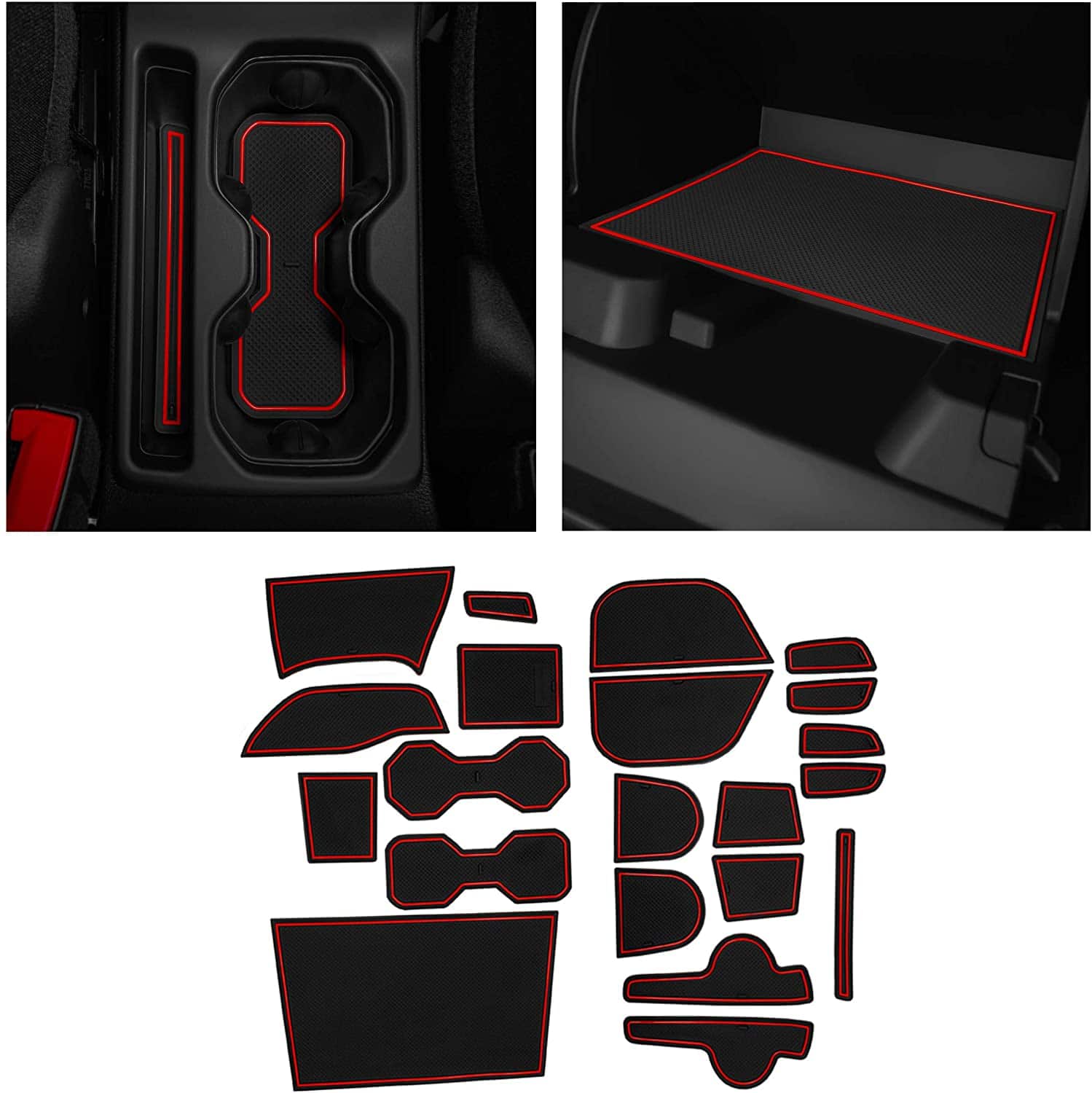 CupHolderHero products are engineered in the United States. Their unique design offers sleek mod looks without logo designs known to gather grime, perfectly placed tab handles that are easy to remove, and an unparalleled precise fit. The material is a patented all-weather material capable of withstanding up to 170 degrees of heat without producing the "rubber tire" smell. 
Seat covers, cup coasters, and floor mats aren't enough to protect all the gunk found in your Renegade's storage compartments and cup holders. This 23-piece mat set ensures such areas are always stylish and looking fly. This product is designed for 2015 – 2022 Jeep Renegades. 
Apart from protecting from interior damage, these products also increase the resale value of your Jeep. It may be the reason they offer a lifetime warranty. The set also saves you time and money on car detailing and car washes. These liners are designed with a 3D texture designed to catch spills. They are also double raised to contain spills. They are also easy to remove in case you need to clean them. 
Pros
Easy to remove tab handled

Unparalleled precise fit

They can withstand up to 170 degrees of heat

Lifetime warranty
Cons
Jeep Renegade Exterior Accessories
Now that I have given you a list of popular Jeep Renegade interior accessories let's check out some of the popular exterior accessories. I compiled the list by getting the most positively reviewed and highly rated products. 
Kqiang Right and Left Lower Bumper Grille Cover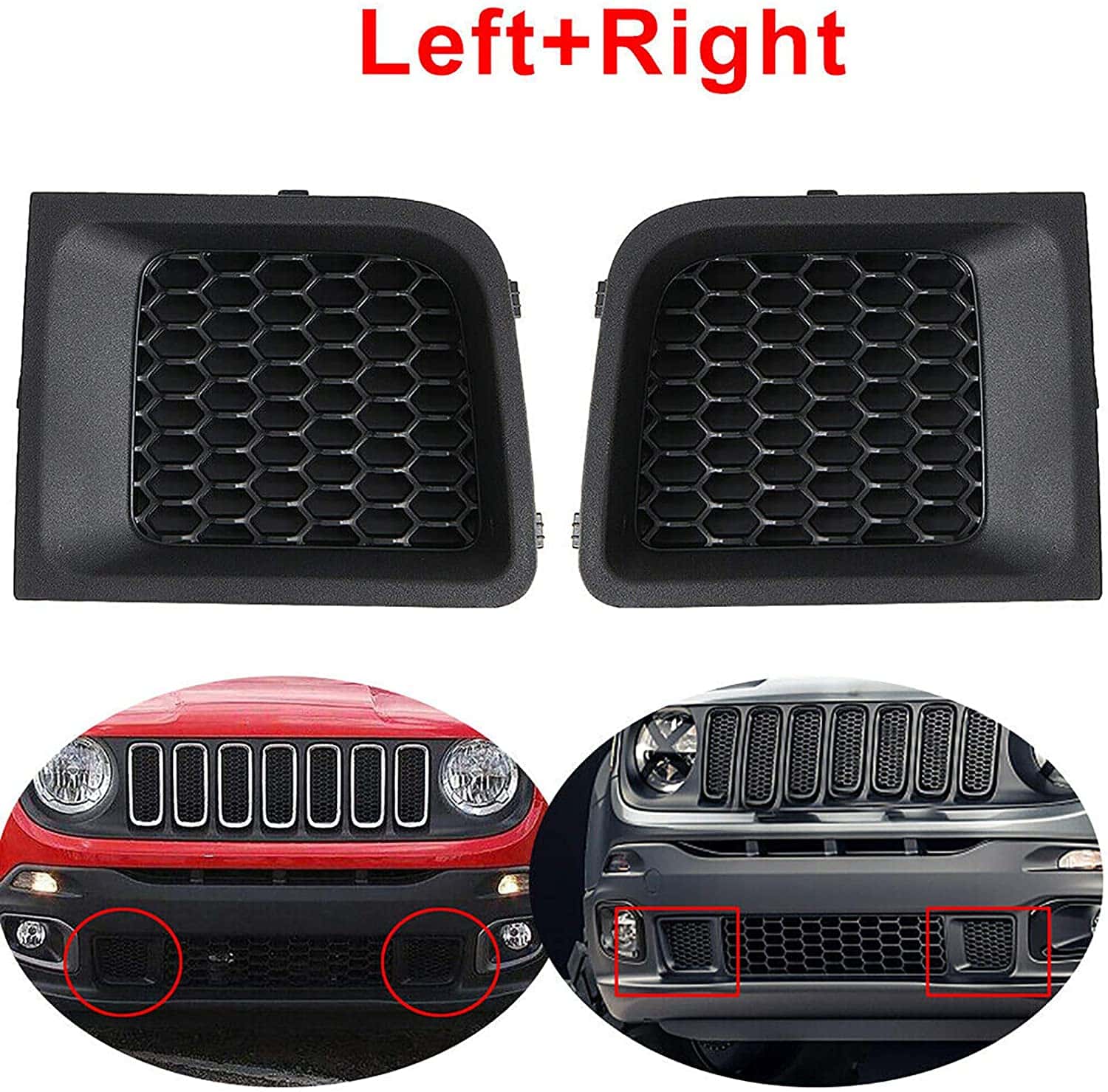 Some people find the custom design of the lower bumper grilles on the Jeep Renegade to be a bit basic. If you are one of these people, then the Kqiang bumper grille covers may be your solution. Take note this product is only compatible with the 2015 – 2017 Renegades. 
These grill inserts are made of high-quality ABS plastic. This means they are corrosion-resistant, waterproof, reliable, and durable. The grille cover is designed to protect the grille from scratches from branches and shrubs when you are driving off-road. They also reduce the amount of debris and dirt entering the vehicle. 
You can also use the bumper grille cover to improve the aesthetics of your ride. The covers fit as if they were OEM parts. These covers are easy to install. You don't need to make any modifications when you install them.
Pros
Protects the bumper grille from scratches

Reduce the amount of dirt and debris entering the vehicle

Improves the appearance of your car

Easy installation
Cons
Only available for 2015 – 2017 models
Sunluway 12 pc Door Handle Kit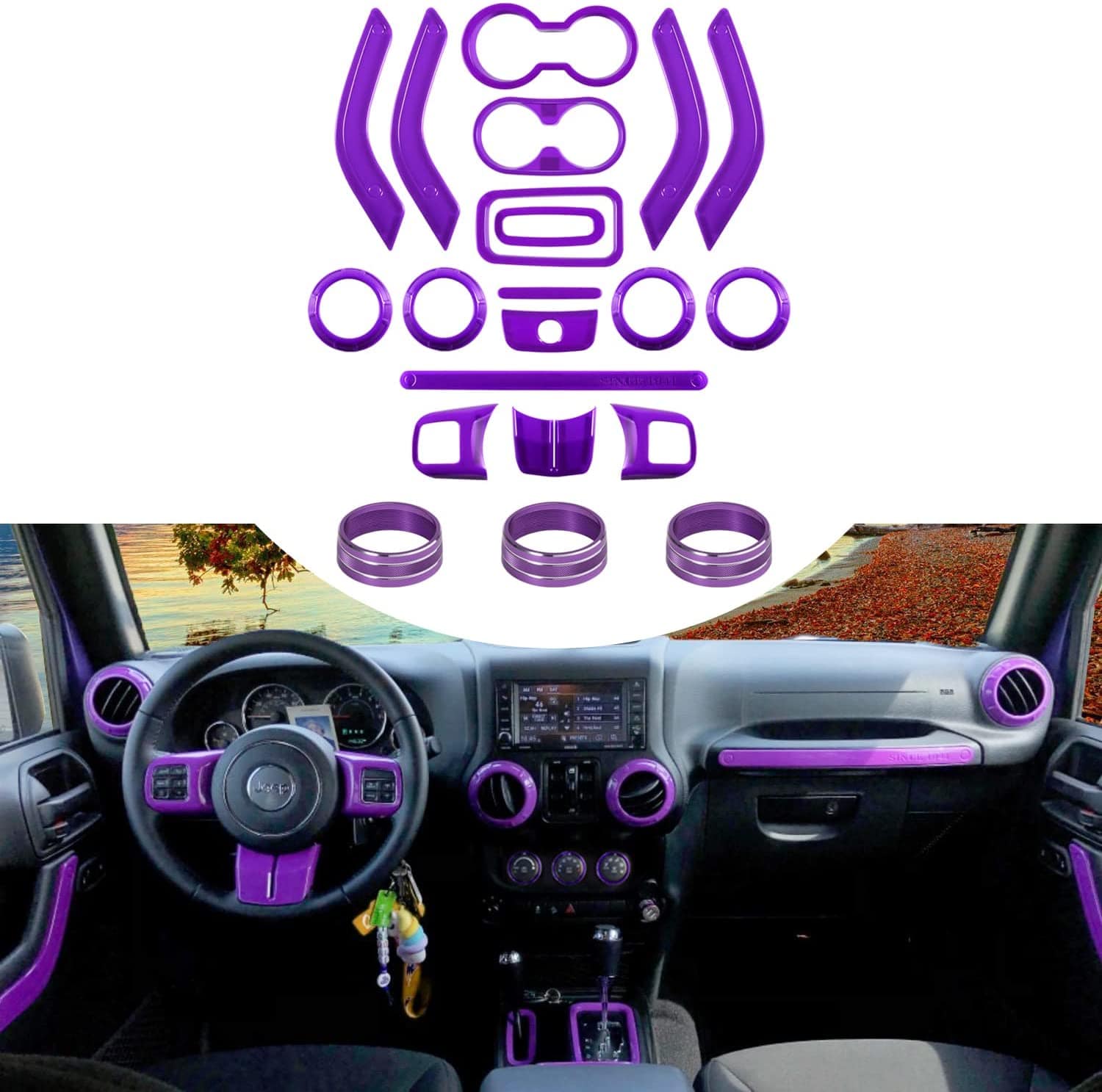 There are 12 pieces in this package. All the pieces are designed to fit jeep Renegade models manufactured from 2015 to 2021. Both door bowl cover and door handle trim cover are made using high-quality ABS plastic. They have a red finish and are fade and peel resistant.
You can use these covers for various purposes. For example, they cover existing scratches, prevent future scratches, and can be used to improve the appearance of your vehicle. 
Installation is easy, considering the products come with 3M adhesive tape. You don't need any drilling or modifications during the installation process. If you buy it and decide it doesn't meet your needs, you can return it thanks to the 30-day money-back guarantee. The kit comes with an 18-month warranty. 
Pros
Easy installation

Covers existing scratches

Improves the appearance of your car

30-day money-back guarantee
Cons
E-cowlboy Gas Tank Door Cover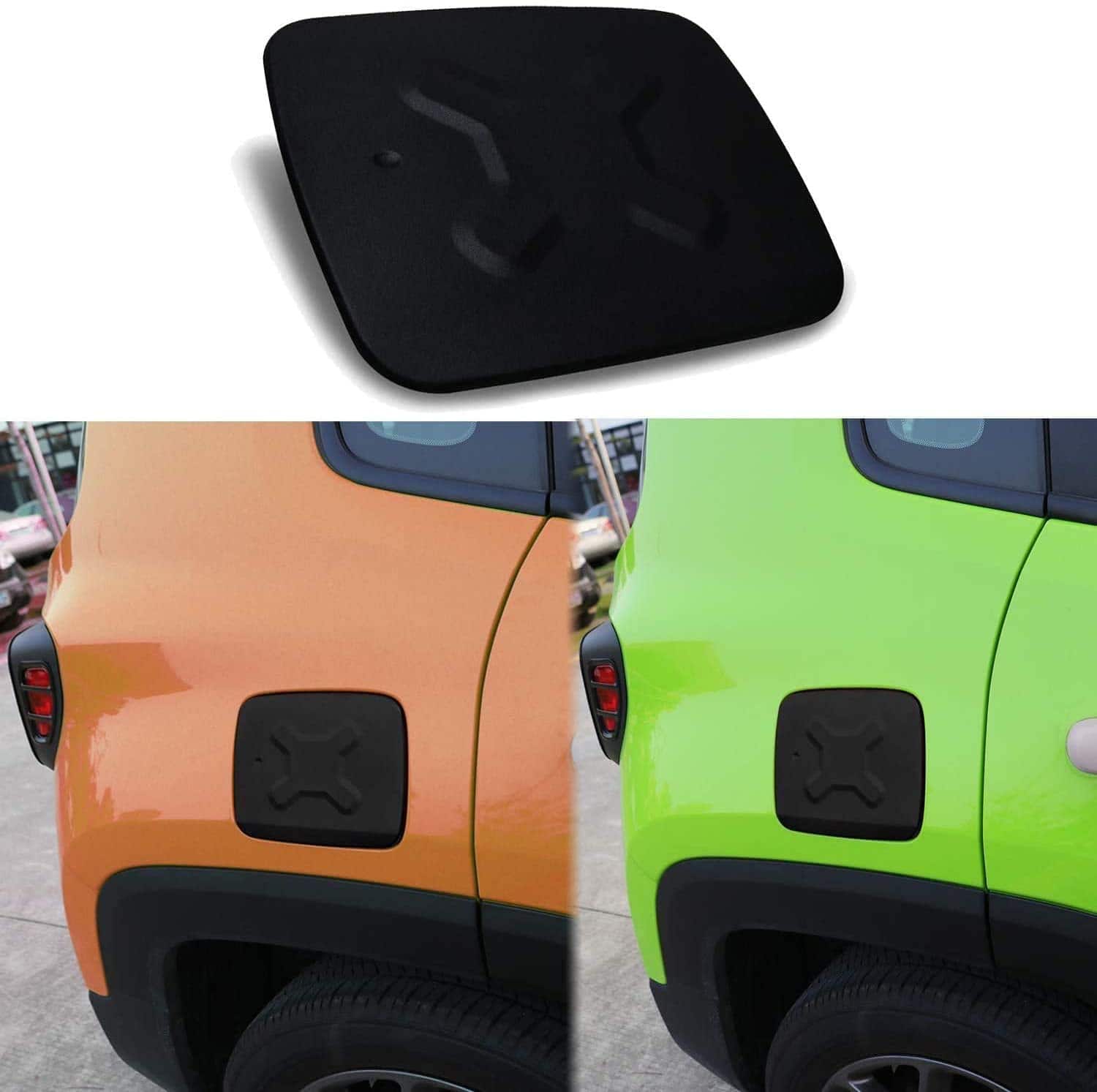 The first thing you notice about this gas tank cap cover is its black aluminum exterior. It's a perfect fit for Renegade models made from 2014 to 2018. The material used to make the product is premium grade CNC machined billet aluminum combined with a black anodized coating. 
It sticks to the gas tank door, meaning you don't have to worry about it falling off even when driving in rough terrain. The product is corrosion-resistant, lightweight, and durable. Some people who have used it stated that it has never peeled or rusted. 
E-cowlboy gas tank door cover can change the looks of your car by providing a unique and high-class decor style. Apart from preventing future scratches, it can be used to cover existing scratches on the gas tank door. 
You don't have to use any tools or drill your vehicle during installation. Installation takes several minutes using 3M tape. It's easy to clean and is stain-resistant. You get a 12-month warranty and a 30-day money-back guarantee should you opt for a different product.
Pros
2 – 3 minute installation time

Made using premium grade CNC machined billet aluminum 

Scratch and corrosion resistant 

Easy to clean
Cons
Compatible with a few Renegade models
JeCar Rear Tail Fog Light Cover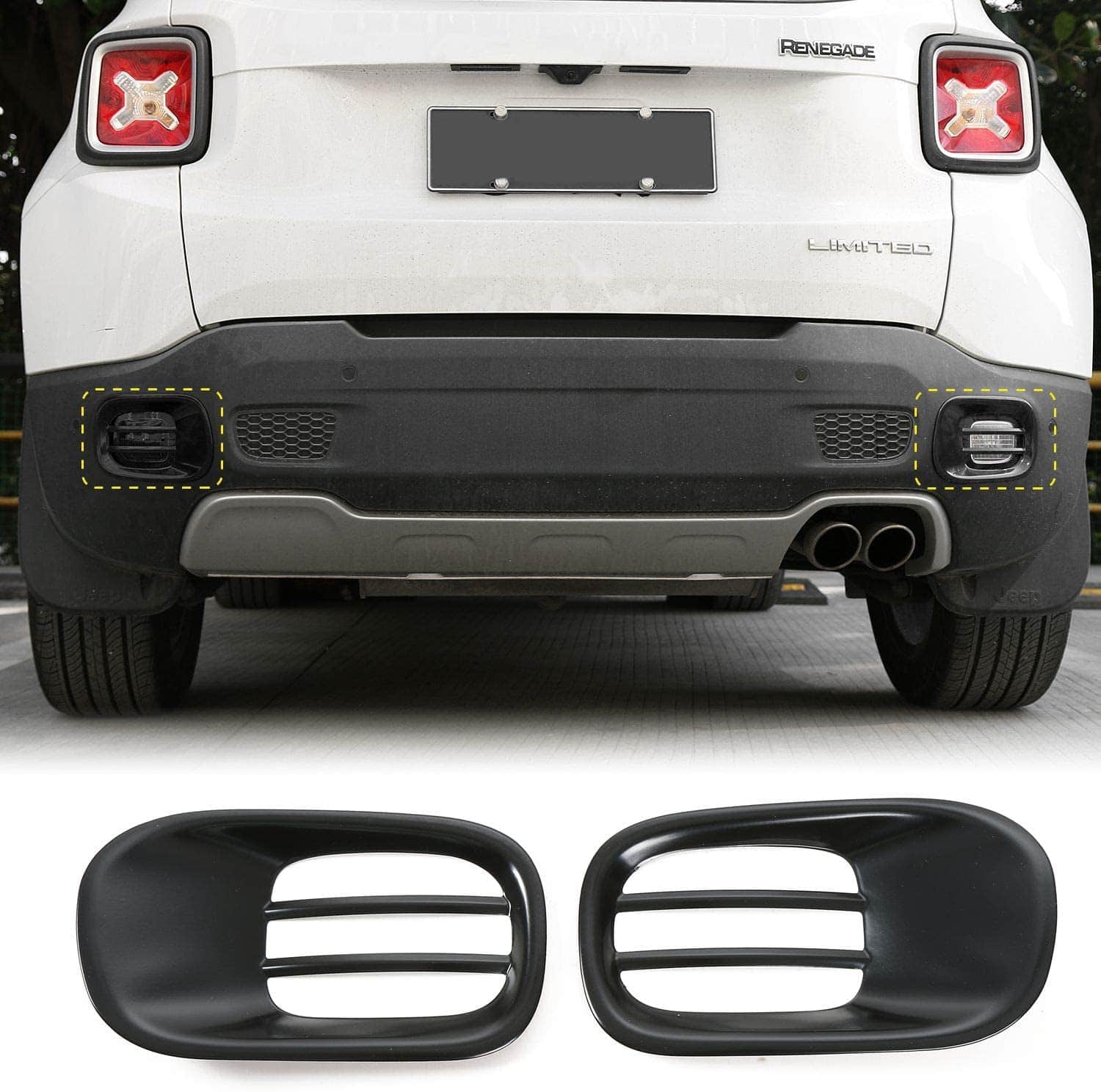 It's a rear tail fog light cover made using high-quality ABS plastic that is rust-resistant, sturdy, and lightweight. The design is meant to protect the rear fog light while making it look awesome with a touch of rugged, off-road look. 
The product comes with automotive adhesive tape attached. For installation, remove the cover of the adhesive and install the product onto the designated area. It is wise to do some cleaning around the areas where you place the product. This ensures the cover sticks better.
Pros
Made using high-quality ABS plastic

Rust-resistant and lightweight 

Improves your vehicle's rear appearance 

Easy installation
Cons
Voron Glass Tape-on Rain Guards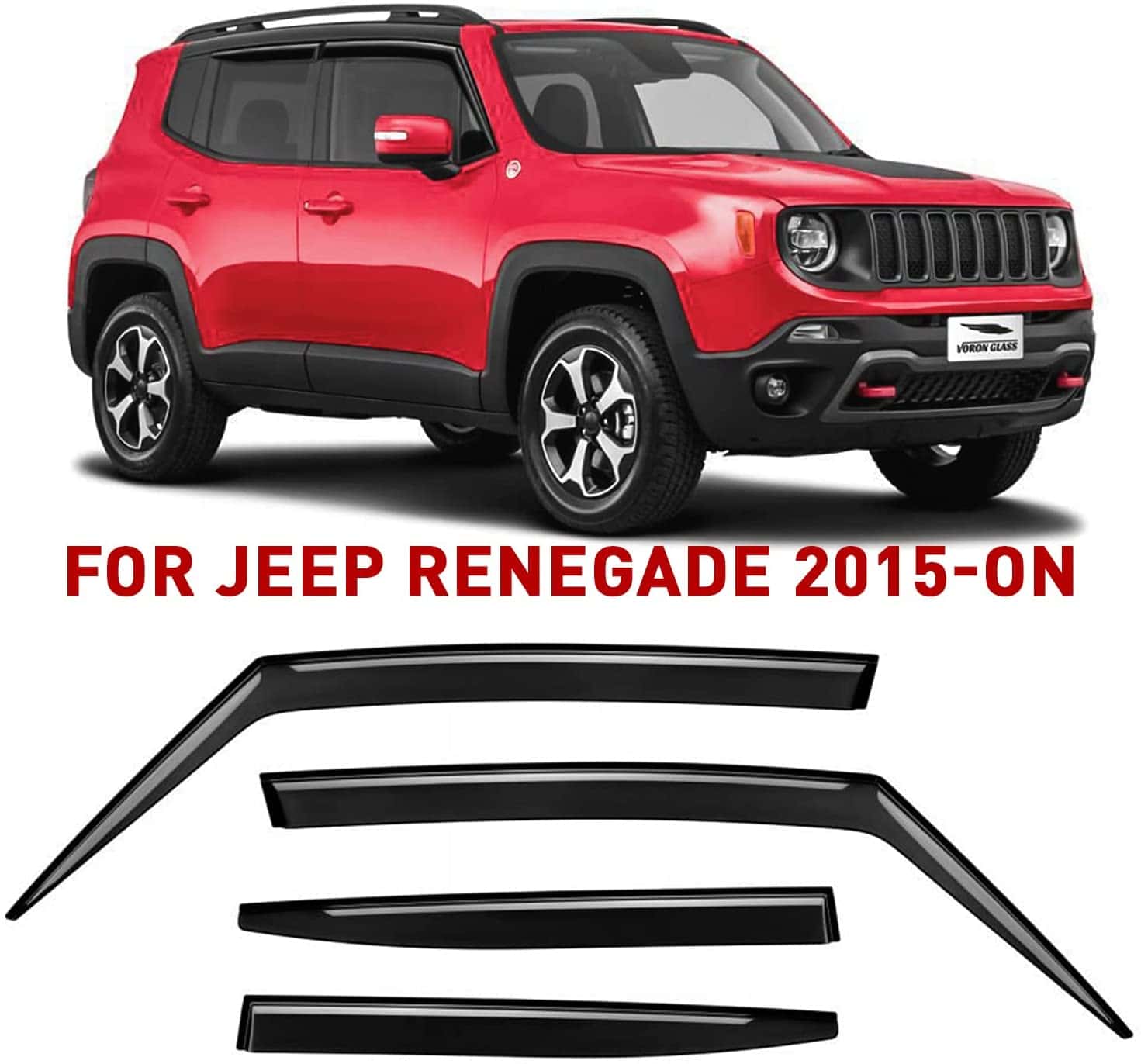 Take note that this product only fits the 2015 – 2022 models of the Jeep Renegade. Unlike other rain guards and air deflectors, Voron Glass makes its products using reinforced polycarbonate. The material protects against rain, wind, heat, and other elements. 
It's a four-piece set that includes driver and passenger-side rain guards. This combination offers a seamless look and protects you from the elements when you crack your window. 
Since they are great for all weather conditions, you don't have to worry about window and mirror fogging. Additionally, it helps increase air circulation in your vehicle. Each piece in this set comes with a double-sided 3M sticky tape. This makes installation a breeze considering you don't need any tools and you don't have to make modifications to your car. 
Pros
Made using reinforced polycarbonate

Offers seamless look

Prevents mirror and window fogging

No tools are required for installation
Cons
Jeep Renegade Accessories Buying Guide
If you own a Jeep Renegade and are experiencing challenges choosing the right accessories, I am here to help. I am going to take you through the most popular accessories and upgrade solutions available for the Renegade. Let's begin. 
Floor Mats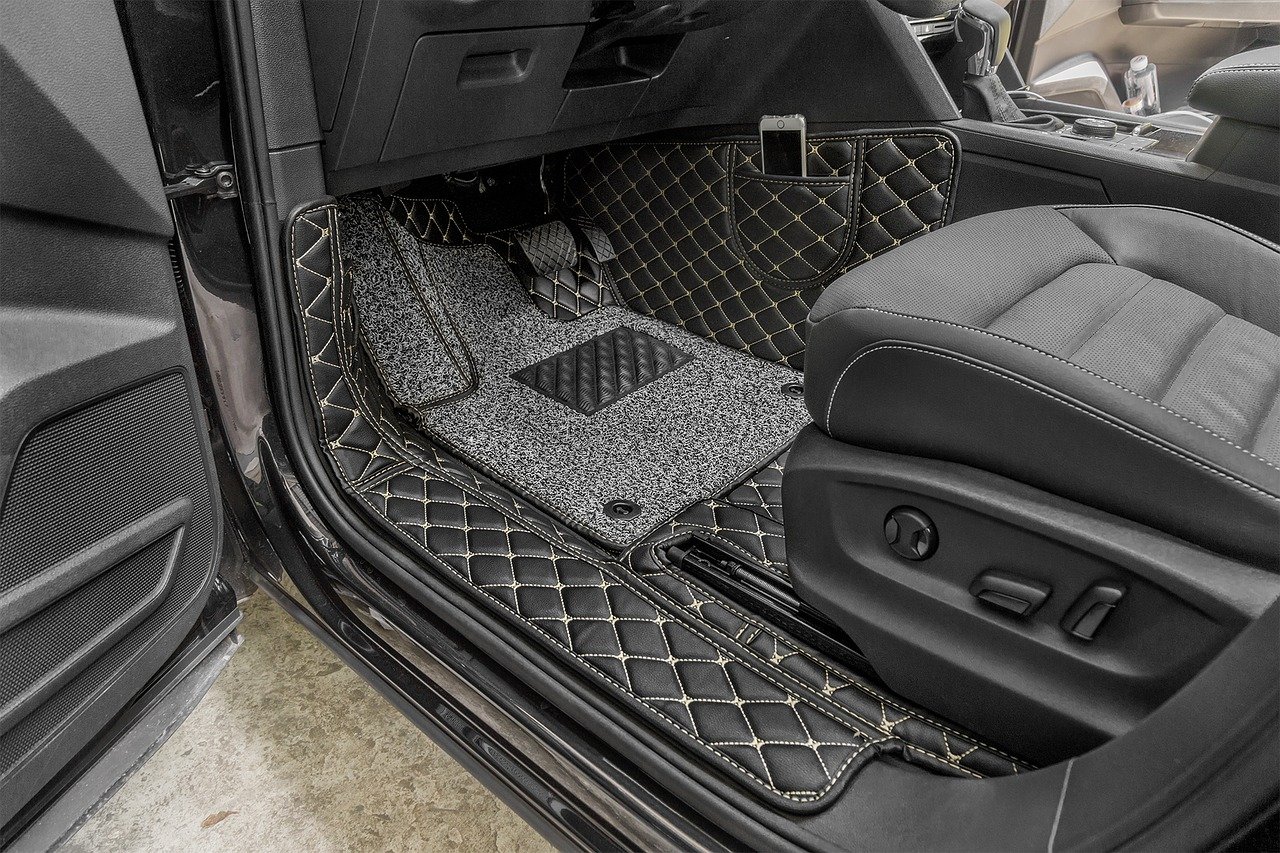 It's a simple place to start because you can determine whether or not you need them by considering a couple of things. Every vehicle comes with some sort of floor mats. The bad news is low or basic trims have a fairly cheap or low-quality one. The good news is you can get nicer and more luxurious even though it's not necessary.  
The first thing I recommend is the weather in your area and where you will use your Renegade often. For example, you need durable all-weather mats if you live in areas with extreme weather conditions. Areas with "normal" weather require standard mats meaning you may not need to replace the ones you have. 
Seat Covers
If you want to up the aesthetics of your car's interior, go for some comfy and plush seat covers. For the most part, I'd suggest considering covers as a way to protect your seats instead of going for comfort or aesthetics. If you have kids or messy friends (lol), get seat covers that can handle spills and stains. 
Some vehicles come with cloth as the material for the seats. In such cases, look for spill and stain-resistant covers. In case you don't expect spills and stains, you can opt for leather seat covers as long as you don't break the bank. 
Roof Racks
I don't recommend getting a roof rack to make your vehicle look powerful or sporty. It should be a utilitarian decision when you buy a car. If you are going to start luggage or other items to the roof of your SUV, then, by all means, get one. 
Don't just get one because it states it can handle an X amount of luggage. Make sure it's compatible with the roof of your vehicle. Additionally, make sure the maximum load doesn't exceed the load capacity of your roof. For example, getting a roof rack with a 500 lbs. rating and installing it on a roof with a maximum load capacity of 400 lbs. is not practical. 
Sound Systems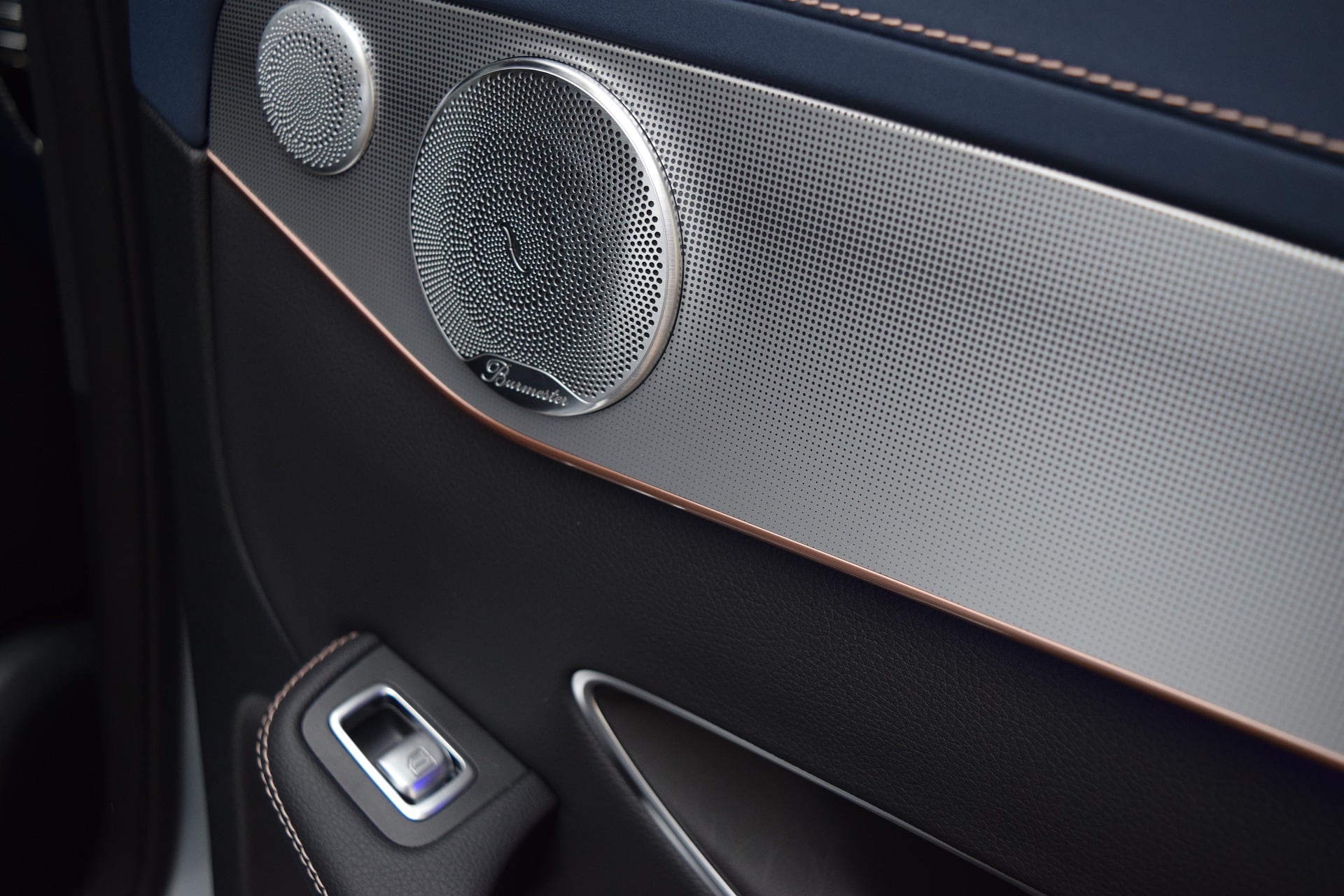 If you are into music like me, a sound system is a must-have accessory. I don't know about you, but I have spent upwards of $2,000 to install a completely different sound system. Well, that's just me. If you don't want to spend such sums, you can get an improved sound system for a few hundred bucks. 
The choice you make is determined by two factors. One, is the sound system compatible with your vehicle, or do you have to do a fresh installation? Secondly, what kind of sound quality are you looking for? When you answer these two questions, you will find it's easy to get a sound system that suits your preferences. 
Organizers
I hate clutter, period! An organizer is one of the best investments you can make when thinking of accessories for your vehicle. Apart from ensuring your car is less cluttered, they allow you to find things you need easily. 
Consider an organizer for the rear area of your Jeep Renegade. Some inserts can be placed on the back of the front seats. The good news is organizers have plenty of benefits, and they are very affordable. 
Tech Accessories 
In my opinion, these are not necessary, especially if you are on a tight budget. If you can afford them, go ahead. When it comes to tech upgrades, you are mostly thinking about infotainment. These can be upgraded easily at upwards of $300. 
For Bluetooth connectivity and navigation, I would suggest you use the manufacturer's system. From my experience, aftermarket systems may not be fully compatible with your vehicle, causing some "hiccups" when you use them. I had a friend who upgraded to a more sophisticated system only to find that it used a map of Japan. For it to work in the United States, he had to get a map disc. Finding one for that navigation system proved a nightmare.
Safety Accessories 
There are plenty of safety accessories available for ant vehicle. They include automatic braking, blind-spot monitoring, cornering assist, and much more. Anything that improves the safety of your vehicle is good. However, it should be practical, and you have to use it.
Some people pay for these accessories and switch them off. For example, the adaptive cruise control automatically adjusts your speed. This makes road trips and long commutes easier on you. Getting them and turning them off defeats the purpose. 
Trailer Hitch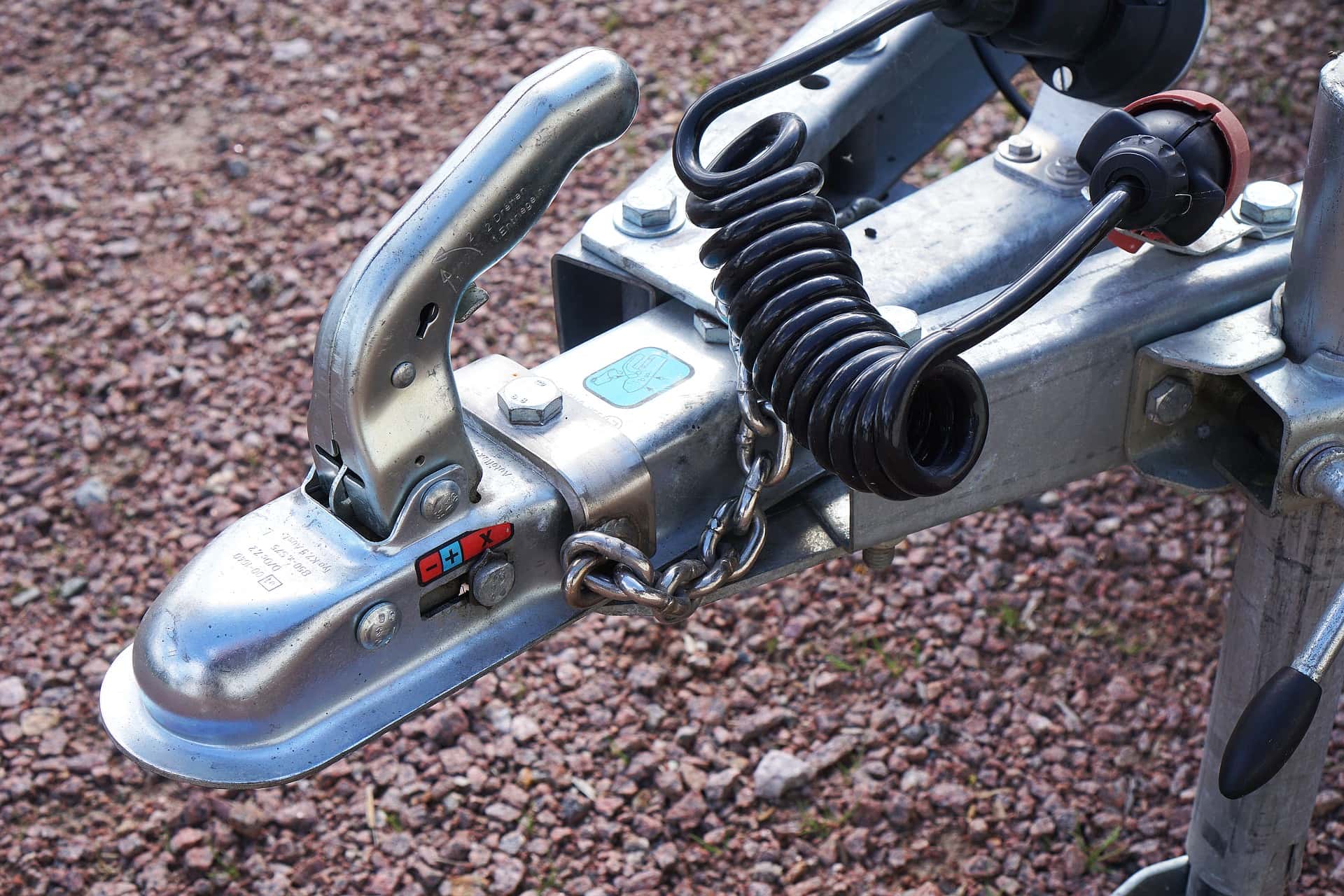 Like the roof rack, you need to consider the use of the trailer hitch before you think of buying one. If you are going to do some towing, think about the maximum towing capacity of your car. Get a trailer hitch that doesn't exceed the maximum towing capacity of your vehicle.
Window Tint
This is more of an aesthetic accessory than a practical installation. Don't get me wrong; tint is not only for the improved appearance of your vehicle. Tint has various benefits, including privacy and heat reduction. A tinted window lets in less heat than its none tinted counterpart. 
You need to find someone who can tint your windows to your preferences, preferably an auto shop or car dealership. Make sure you check your state's laws on tinting before you use this accessory. If you don't meet the laws put in place, you may end up paying hefty fines depending on your state. 
Interior Lighting
This is more of a personal choice and aesthetics than a necessary accessory. Every vehicle comes with standard interior lighting. It may not be fancy, but it serves the purpose. 
Such lights make your car more enjoyable at night by providing you with subtle illumination. In large three-row vehicles, this is a plus. Such an accessory ensures there is ground illumination. This means people can easily and safely get to and from the rear seats when it's dark. 
Ultimately, I cannot mention all the vehicle accessories you can find in the market. The rule of thumb when buying accessories is to carefully think about the accessories you'll use and those that are not necessary. If it's not necessary, don't buy it!
Jeep Renegade Accessories FAQs
Question: Can a Jeep Renegade be Customised?
Answer: Customization and personalization are important. This is why people gravitate to these vehicles. You can have one-of-a-kind Renegade if you slap on a decal, switch out a few things, and a few accessories. 
Question: Can I Lift My Jeep Renegade?
Answer: Yes, you can! The Daystar Jeep Renegade Lift Kit is designed to fit all trims of the Renegade. The kit can lift your Renegade to 1.5" while ensuring the stability and factory ride are maintained. 
Question: What is the cost of Adding a Hitch to My Renegade?
Answer: It would cost anything between $300 – $2,000 depending on how much material you need to put in the frame and the brand. You may also incur labor costs if you don't install the hitch. 
Question: What Accessories can I Add to My Renegade?
Answer: It all boils down to your preferences. Items such as carriers, roof racks, floor mats, decals, interior lighting, and grille inserts are all accessories you can add to your Renegade. 
Bottom Line
There are a plethora of accessories you can add to your Renegade. For the interior, I would suggest the Edbetos Center Console Organizer Tray. It is the most practical and affordable accessory that you may need before you look at other upgrades. For the exterior, the Kqiang Right and Left Lower Bumper Grille Cover make sense considering they protect the front of your vehicle.
These are the most popular Jeep Renegade Accessories you can install in your vehicle. If they don't meet your specifications, check out my buying guide. It will give you insight on how to choose the right accessories and whether or not you need to get the same. I believe at this point; you should be able to make an informed decision when it comes to Jeep renegade accessories.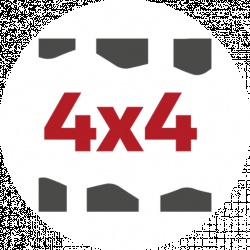 Latest posts by 4x4 Reports Team
(see all)