Do you own a Ford F-150? If the answer is yes, there is a 100% chance of replacing a few parts. Well, my friend, you came to the right place.
The F-150 is by far the best and most popular pickup truck in the market today. And it's not only a daunting task. It can be intimidating and scary to dive into an ocean of options to pick from.
After all, not all F-150s are the same. Keeping that thought in mind, we have made a list of categories that includes parts and accessories, which you can buy and fit on your F-150 to make better and unique.
There are many ways to look at replacement parts, and it depends on your perspective. The most common point of view is Original Equipment Manufacturer (OEM) V.S. Aftermarket/ high-performance parts.
OEM
The name says it all. The same company that built the truck itself fabricates OEM parts. In this case, Ford Motors will make the parts. It is the safest and easiest way to replace a broken part on your F-150 or replace it with a better-performing one.
And since the parts come directly from the mother ship, you know it will be made with good quality and will fit perfectly on your truck. they are not cheap though. Such parts can cause serious damage to your bank account.
These parts are available at the local dealerships or you can order them online. Be extra cautious because there are many counterfeit parts on the market promoted as the original.
Aftermarket
If you are looking for a cheaper alternative, aftermarket parts are the way to go. It is a sea of options so make sure to pick the compatible part you want.
Not all aftermarket parts are cheap, as some tend to be more expensive than OEM parts because they are made with top-notch quality materials and offer an amazing performance (upgrades).
Regardless of what option you opt for, whether OEM or Aftermarket, make sure that the part you need matches the part you are replacing and fits on your truck.
How to Find the Right Part
There are variant versions of the F-150 or any truck for that matter, and manufacturers tend to change parts over the years. So after you find where the problem is, the next step is to look for the right part.
VIN or Vehicle Identification Number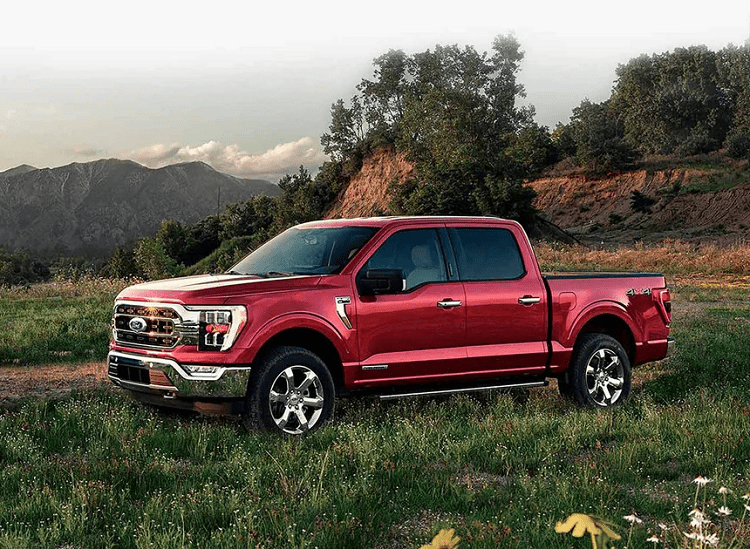 Every truck that ever rolled out of the assembly line comes with a special identification number. Every car manufacturer has a database that contains all the VINs.
They simply type the VIN in the computer, and it will automatically show all the related results. Thus, finding the same part as the original.
Comparing Parts
This is a very effective approach if you want to find the right part. Take the part you want to replace with you and head down to a local shop or second-hand parts yard and compare it to what they have in stock.
Parts Bare Code
If you examine some parts, you will find a bare code or serial code made of a series of numbers and symbols. That code is an identification number for the part, and it will tell you whether the part can fit your truck or not.
Pro tip: be thorough in your search and ensure to get the authentic part that matches your vehicle from a certified dealer.
With that being said, here is a list of the best Ford F150 replacement parts for your vehicle.
Brake Pads and Rotors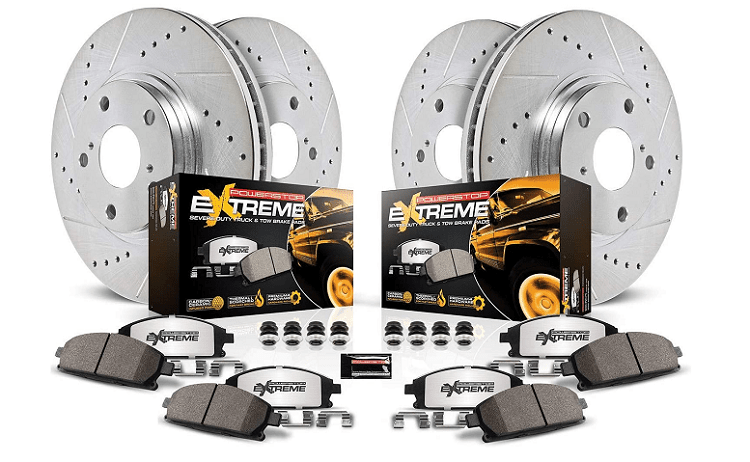 The F-150 is a full-size pickup truck built for heavy-duty work. To put it simply, it is a big boy, and it needs good brakes to stop especially when driving at a higher speed and carrying or towing a heavy load.
The standard factory brakes are great and give a decent performance. But, you will be doing yourself a great favor, for the long run and the sake of safety, by upgrading to a better set of pads and rotors.
For starters, we have the Power Stop Z36 kit. The rotors are crafted from heavy-duty military-grade metal for max tolerance. Plus, they are drilled and slotted to reduce the heat under constant braking.
The rotors are plated with zinc for higher rust resistance. The kit features carbon-ceramic Z36 pads with ceramic brake lubricant to improve stopping ability under sudden braking and dust-free braking.
The next set on the list is the Power Stop Z26. It features the same carbon-ceramic brake pads and zinc-plated steel rotors with drills and slots for optimal braking. Unlike the previous kit, the Z36 is for normal daily driving instead of towing and moving heavyweights.
It comes with rubberized shims and rust-resistant materials for added longevity.
Last but not least, the EBC S5 brake kit. It features black GD rotors and Yellowstuff high friction pads. They are very durable and resistant to rust. This kit will make your F-150 brake like a sedan.
Transmission
It is an obvious fact that the transmission in your F-150 is very important. Unless you're Fred Flintstone, your truck's engine needs it. It sends the power to the wheels so you can go places.
Due to the moving parts on the inside, a transmission can fail or break at any given time, and it will cost you between 500 to 1000 dollars in labor. It is a time-consuming process that requires disconnecting other parts to get the broken unit and install the new one.
You may need to replace the flywheel, or the clutch, or in a worst-case scenario, the whole transmission. The price of a new manufactured transmission can go up to $ 3,400.
It is possible to do it in your garage with a couple of basic tools and a helping hand, but it is preferable to go to a specialist or a technician at your local dealership. After installing the new gearbox, you will need to reprogram the ECU.
Speaking of transmission, another overlooked part to check is the transmission fluid. It is recommended to change it every 30,000 to 60,000 miles or every 2 to 4 years. If you use your F-150 as a workhorse, you will have to change the fluid every 15,000 or once a year.
Regular maintenance can be frustrating, but it saves you a lot in the long haul.
Suspension
For a full-size truck, the F-150 rides smoothly and glides on and off the road. The factory coil-overs and shock absorbers do the job. With proper driving and smooth roads, the stock suspension can last for years.
But in the end, it remains one of the most compromised parts to wear and tear. No need to panic, you can buy a replacement online, from a local shop or the dealership, and they come with a hefty price as well.
Fox is one of the popular brands that make great suspension kits and outfits for the legendary F-150 Raptor. If you are looking to level the stance of your truck, achieve more clearance, and get better ride quality and performance, you should consider upgrading to the Fox 2.0 suspension kit.
It gives a more comfortable ride on the paved roads and improves handling when off-roading. The kit includes front coil-overs struts with adjustable height ranging from 0″ to 2″ inches and rear shock absorbers with internal floating pistons.
There are more options to pick from. If you are an off-road enthusiast, you can go for the Rough Country lift kit. It gives you an extra 6″ inches to fit 35″ or 37″ inch off-road tires. It features N3 premium shocks with hard chrome larger piston rods, and long-lasting polyurethane bushings.
In addition, it is backed up by a lifetime warranty and takes up to 10 hours to install.
Cheaper options involve replacing the damaged struts and shocks. In that case, you can take a closer look at the Monroe Magnum shock absorbers. They provide you with a smooth ride, and they are available worldwide.
Tires
Ford did their best to create a balance between performance, cost, fuel economy, and treadwear with its stock tires. That makes finding a good tire for the F-150 a beast of a job.
To find the perfect tire for your F-150 you need to take into consideration the trim level, powertrain, and driving style as well.
Michelin Defender LTX M/S – Best Overall Tire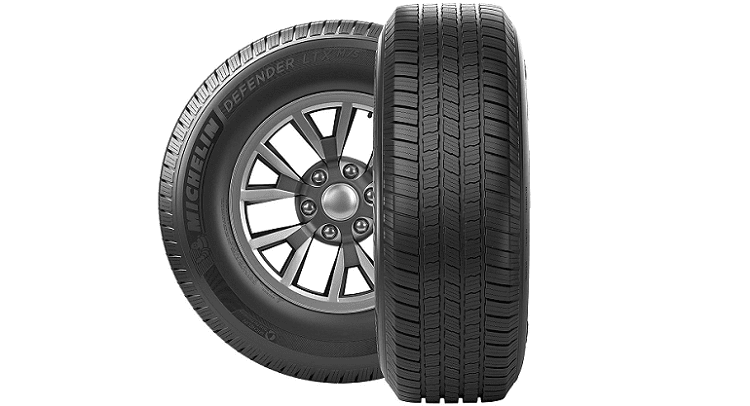 The LTX M/S by Michelin does not excel in one particular aspect, but it has a very distinct feature. It is a great well-rounded tire combining all characteristics in one set, and it is the best option for the vast majority of F-150 drivers.
It provides top-notch performance on the road and lots of grip on both wet and dry roads. Off-road performance is decent. After all, it is an all-season tire. It's surprisingly quiet, comfortable, and has a generous tread life that extends beyond its 70,000 miles warranty.
Michelin made the LTX M/S with the latest green tires technology to help not just the environment but to help fuel economy as well.
Pros
Great performance in the wet
Long life
Great warranty
Cons
BFGoodrich All-Terrain T/A KO2 – Best All-Terrain Tire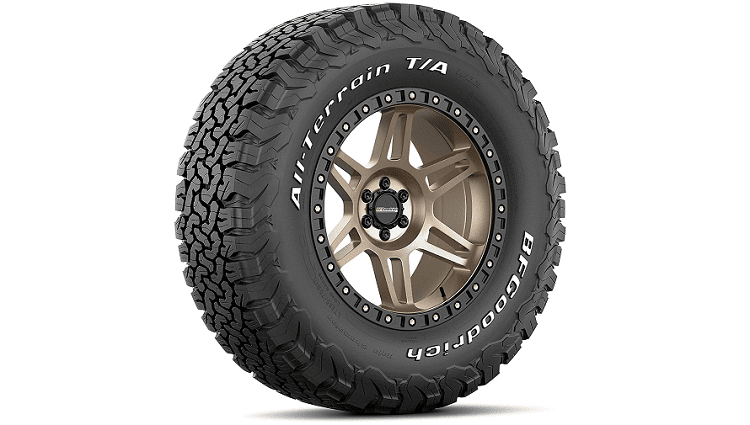 It is hands down the best all-terrain tire for your F-150 and almost anything else. The off-road grip it provides is on a new level. What's more, it features upper sidewall traction bars near the tread for maximum grip in the mud, snow, and when climbing rocks.
You will notice a 3-peak mountain snowflake logo, meaning this tire is more than qualified to be a snow tire. The reason is that the tire itself features 3D little zigzags for additional grip.
The tread is made to distribute the stress evenly throughout the tire so it lasts longer. In addition, the sidewalls are thicker and use Core Guard technology to deflect any sharp object that causes cuts or punctures.
Pros
Class-leading durability
Unmatched off-road and all-terrain performance
Cons
Very loud on the road
Uncomfortable ride
Bad fuel economy
Goodyear Assurance ComforTred Touring – Best Tire for Comfort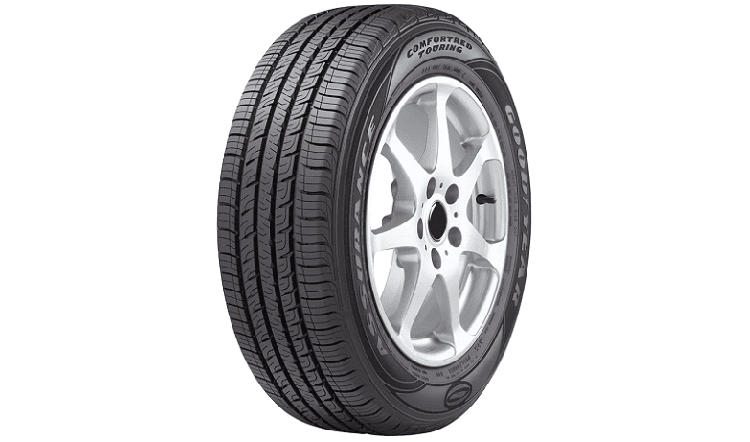 Goodyear really shines when it comes to designed tires for comfy rides. They managed to build a tire with a special layer of rubber between the tread and the steel belts, therefore increasing the ride quality by 20%.
Treadwear warranty is 80,000 miles so you will be gliding on the roads for years.
Air Filters
Low performance and bad fuel economy could be a sign that your F-150 is having problems with the air filter. Your best bet is to replace it with a new one. There are many options to pick from, you can opt-out for an OEM part or upgrade to a better air filter that can improve your truck's performance.
Without further a due, here are some of the best air filters that you can install on your F-150.
K&N Engine Air Filter 33-2385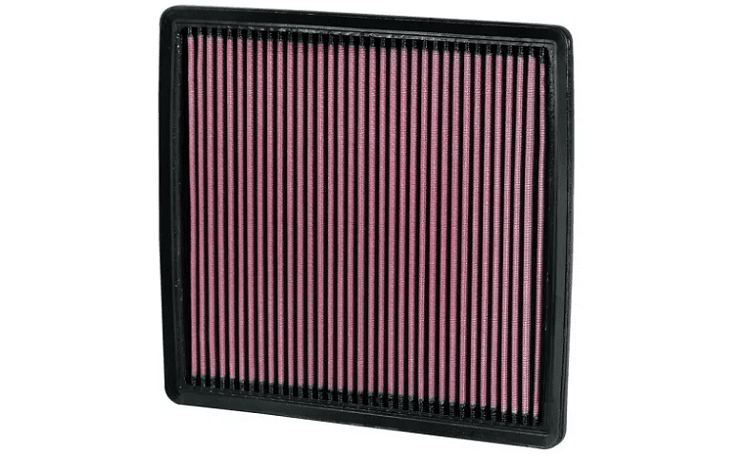 When it comes to filtering air, no one does a better job than K&N. one of the best features this air filter has is easy installation. It comes pre-oiled so you can just drop it into the air filter compartment.
In addition, it comes with an easy and detailed instruction manual to install in the comfort of your garage and save a couple of bucks.
A Professional? No, thanks.
Another feature lays in its design, which allows for higher airflow and better circulation that improves the performance and the life span of the engine. On top of that, it comes with ten years/ million miles warranty.
K&N used the latest tech to make a custom cotton filter media. It uses up to six layers of special pleated cotton that acts as a barricade against dirt and other contaminants. My favorite feature by far is the ability to wash it and use it again.
Motorcraft FA1883 Air Filter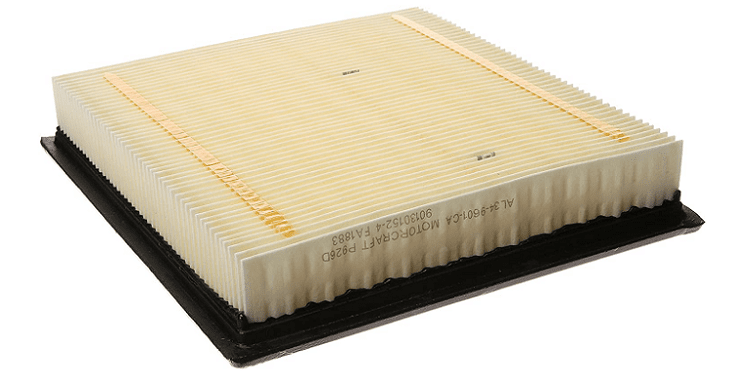 Many believe that nothing is better than an OEM part for your truck. Motorcraft is popular among F-150 lovers for a simple reason. It is designed and engineered for Ford and recommended by Ford.
Efficiency is the main focus of this particular filter. The result is quality airflow and better protection against any substance that can cause serious damage to the engine. It is durable and uses polyurethane to protect it from any type of moisture or leaks.
Spearhead Max Thrust Performance Engine Air Filter (MT-262)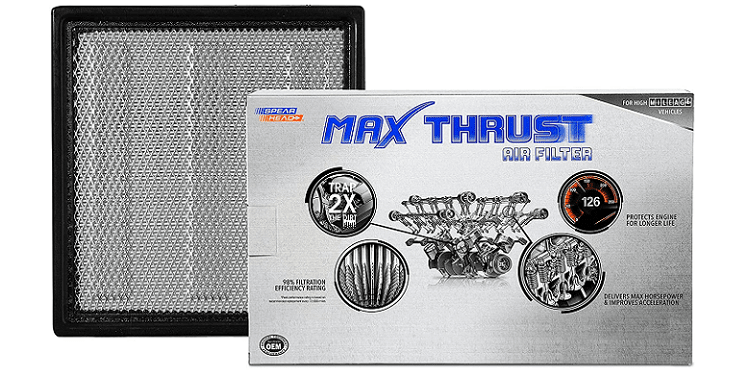 Clean airflow deficiency will make the engine work twice as hard and result in bad fuel consumption and low performance. Max Thrust air filter is designed to improve the airflow and bring back the engine to its optimal performance status.
It helps in increasing power and fuel consumption by 15k miles. That's a lot of gas money saved already. It uses a Hex-D pleat design with a progressively finer filter to capture as much dirt as possible without sacrificing the quality of the airflow. It shows an obvious performance difference as it reduces and cuts any delay in acceleration.
Fuel Filters
As human beings, we stay healthy and in good shape by eating clean and healthy food. The same goes for your F-150. For the engine to run smoothly and on full power, it needs clean fuel in healthy doses.
That is why you need a good quality fuel filter to guarantee the longevity of your engine.
Motorcraft Fuel Filter

Motorcraft is well known in the Ford community and it is recommended by Ford Company to install Motorcraft parts on your F-150 because they are considered as OEM parts.
This filter helps in preventing potential engine failures, stalling, and bad start-ups. It is made with 300-series stainless steel for maximum corrosion resistance and removes up to 90% of the contaminants from clogging your fuel injector. Plus it ensures good quality clean fuel flow.
Bang4Buck Clear Fuel Filter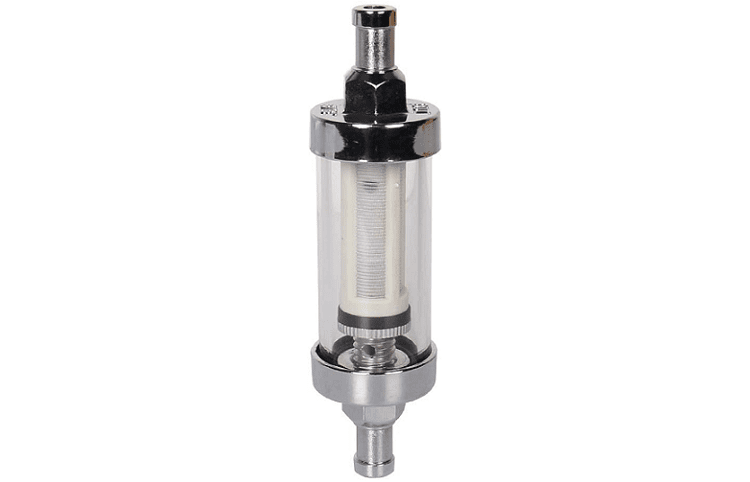 It is designed to trap larger particles in the fuel and prevent them from getting into the engine and possibly causing serious damage. It features chrome-plated barbed ends with a clear glass housing for an easy check on the fuel condition. Easy to install universal fit, it fit 3/8 inch inside diameter hoses.
Purolator Fuel Filter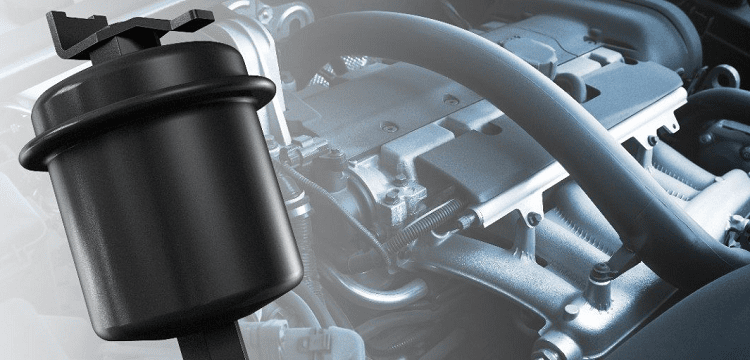 In simple words, the Purolator keeps your engine and fuel pump free of dirt and contaminants. It prevents the engine from rusting and keeps the fuel system free of water. It is recommended to change it once a year for peak performance.
Fuel Pump
The fuel pump heavily influences your F-150's fuel economy because it is the main fuel manager. If it fails, the truck may not even start or damage your engine.
Your safest option is looking for an OEM replacement from a local shop or any TRUSTED dealer.
A couple of good fuel pump options include Delphi.
It is one of the biggest automotive parts suppliers in the world. This pump guarantees accurate correct gas reading and has lower failure rates thanks to its design.
Nonetheless, if you are picky and you want something that fits like a glove on your F-150 with no worries, a Motorcraft fuel pump is the one for you.
It features a precise design to reduce noise and vibrations and a positive electric connection with OE connectors. It has a fuel level sensor for more accurate gauge readings and a turbine for quality fuel flow.
Battery
Your truck's battery is connected to many parts than you may think or even knew existed. And a poorly maintained battery can cause massive damage and shut your whole vehicle off. Trucks today come fitted with 8-12 inch touchscreens and loads of gadgets that need electricity to function.
Therefore, I recommend that you look after your battery because it could cost you a lot in the long run.
If you ever fall in a tough squeeze where you must replace the battery, consider taking a look at the Motorcraft Max battery combining durability and power in one package.
It features a premium alloy grid that helps prolong the battery lifespan in a high-temperature environment.
Spark Plugs
Spark plugs are the main ignition source in the engine compartment. As the name implies, spark plugs create a spark in the ignition chamber where air and fuel are injected to start your truck. If the sparkplugs fail to work, your F-150 will also fail to start.
Bosch Double Iridium spark plugs are an amazing option to pick for your F-150. They are designed for heavy-duty vehicles. They feature an Iridium center for durability and an ultra-fine wire design to deliver optimal performance.
Exhaust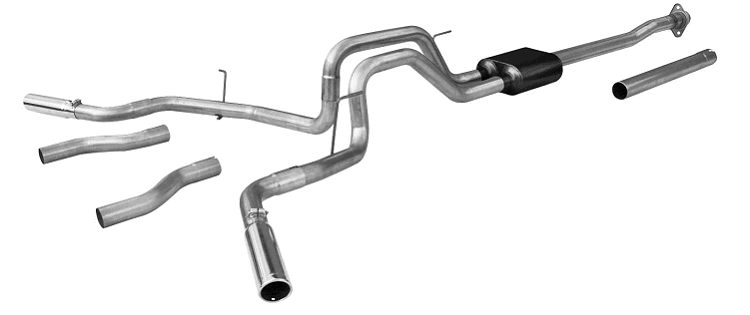 Personally, owning a Ford F-150 without a loud exhaust is inappropriate especially if it is the V-8. Beyond making ear-pleasing symphonies and giving your F-150 a meaner look, a good exhaust system will provide great support and add performance to the truck.
One of the biggest names in the exhaust manufacturing industry is Flowmaster. This company is a class leader in making any vehicle sound amazing. Made for a perfect fit and finish, Flowmaster cat-back exhaust system is a great choice for your V-8 F-150.
It is made of stainless steel with mandrel-bent construction. It also includes a super 40 series muffler connected to dual 2.5″ inch tailpipes for maximum performance and sound. The tips are 3.5 inches of polished stainless steel with a natural finish.
MagnaFlow is another option to go for. The MagnaFlow cat-back exhaust system makes the F-150 louder and increases the horsepower and torque by 10%.
It features 409 stainless steel construction with all mandrel-bent tubing that extends to a dual side exit before the wheel.
These exhausts will make your neighbors hate you.
Fender Flares
Fender flares play an important role in the overall looks of the truck. The right ones for your F-150 will give in an aggressive wide look and massive road presence. Their benefits extend beyond aesthetics.
Fender flares are a great add-on to protect your truck from debris, mud, and any sharp objects that may cause damage to the bodywork. Plus, they give more space and cover for bigger tires and come in really handy during off-roading adventures.
Most fender flares add 1 to 2.5″ inches of coverage of the stock fender edge.  They are usually made out of ABS plastic or other polymers for that matter, for UV protection.
Some of the familiar fender flares that you can pick from are Proven Ground, Roush, Barricade, and Bushwacker.
Bumpers
The market is loaded with bumpers for F-150s and which one to get depends on your style. You can get chrome bumpers for more classy looks, or you can pick special off-road bumpers with light bars. They give you the freedom to fit in bigger tires and even a winch.
Lights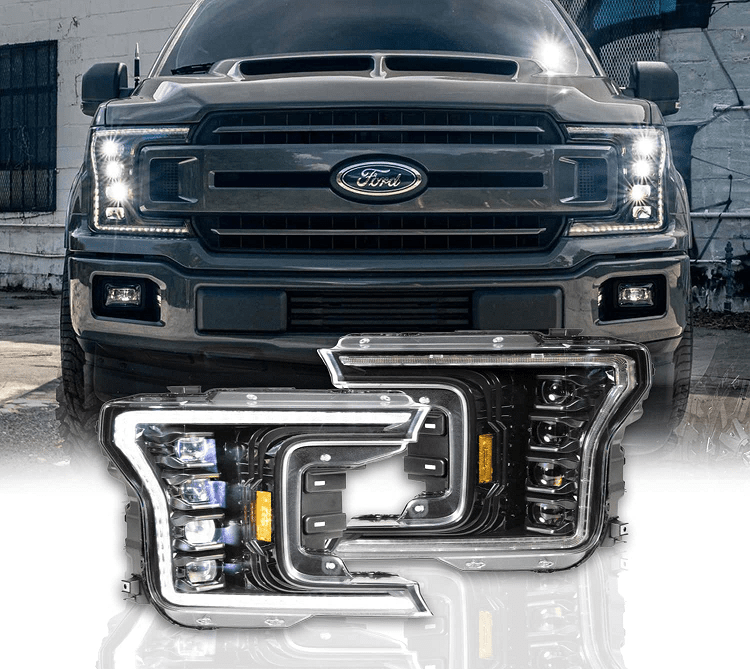 Upgrading the stock lights on your F-150 is not a bad thing to do. Replacing the stock lights for new sharp and bright LEDs both front and back will change the looks of your truck completely. They are bright and provide great visibility in the dark.
With Morimoto XB LED lights, you cannot go wrong. They maintain the shiny looks, and they project more light than almost any other competitor in the market does.
What's more, they come with integrated daytime running light and added star-up sequences like the one you get one an Audi. Fancy! They have an easy plug-in installation with no modifications needed.
Floor Mats
Floor mats are a great investment to protect the interior of your F-150 and keep it clean. Proven Ground Precision Molded Front and Rear Floor liners will fit perfectly inside your tuck. They take 5 min or less to replace.
Changing floor mats may not be as exciting as changing your suspension, but at the end of the day, it keeps the inside of the truck clean and easier to clean when it gets dirty.
They feature thermoplastic construction with a black finish and sleek appearance due to their laser-measured design to complement your truck, offering both function and form.
Bed Covers
A tonneau cover offers protection to your truck's bed and shields it from natural elements and thieves. The Truxedo Edge Soft Roll-up tonneau cover is your best bet. It is budget-friendly with a price of just south $ 500. It is made of industrial-grade fabric and has a leather-grain vinyl finish for maximum UV protection.
It features horizontal support to keep it tight and locked in place and manual tension adjustment.
Running Boards
Running boards are a functional part that you have to add to your truck. It allows you to climb into your F-150 without breaking a sweat. Running boards can also provide your truck with added side protection and style as a bonus.
The Barricade Rattler steel running boards are one of the best in the business. You can install them in the comfort of your driveway with basic hand tools. They provide a streamlined aggressive look.
FAQs
Question: How Long Should a Tire Last?
Answer: Road conditions, the way you and for how long you drive your truck daily affect the longevity of the tires. On average, a set of all-season tires should last up to five years.
Question: How Long do Shocks Last on F-150?
Answer: The factory shocks can last up to 100k miles and even more with proper driving. If you take your F-150 off-roading, chances are your shocks will wear out before the 50k miles mark. It is also recommended to change the shocks if there are any leaks or damages.
Question: When Should F-150 Transmission Fluid be Changed?
Answer: Experts recommend that you change the transmission fluid on your F-150 every 30,000 to 60,000 miles, which translates to about 2-4 years.
Conclusion
Well, there you have it— a long list of replacement parts for your Ford F-150. It is one of the most popular and best-selling trucks in the US market. The means the marketplace for its parts is an ocean, and it can be very intimidating.
I highly recommend that you spend some extra cash to buy an OEM part or high-quality aftermarket parts from a trusted dealer. But if you are under a tight budget, you can head to swap meets, scrap yards, or any shop that has second-hand parts available in stock. Make sure to identify the correct part that your truck needs.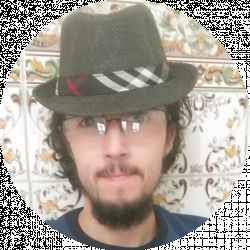 Latest posts by Tommy Verrcity
(see all)