Toyota's 4Runner, one of the most reliable, durable, and off-road friendly SUVs on the market.
If you're in the market for a family-friendly car with truck-like performance, the Toyota 4Runner is one of the best options out there. Incorporating decades of Toyota vehicle experience into a popular model with active families worldwide, the 4Runner offers a robust 44 system, luxury inside, and respectable off-road performance.
Even if you are looking for a used 4Runner, you won't be disappointed as these cars easily last up to 300,000 miles. 
Although the Toyota 4Runner can be used in many ways, mainly off-road, the aftermarket provides many components and Toyota 4Runner accessories to increase your 4Runner's capabilities. Since the 4Runner has been running since 1989, Toyota and other brands have created many tools to be used with your 4Runner. 
Let's go over some essential tools, all the way to the most expensive and spectacular!
Interior Modifications
Husky Liners Floor Liner Set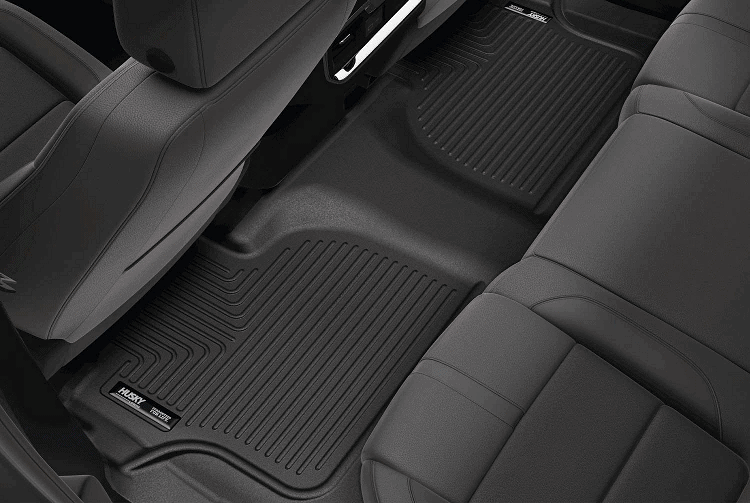 The Husky Liners Floor Liner Set is cheap, custom-fitted, and provides a simple method to preserve your 4Runner's inside while increasing its aesthetics, resale value, and longevity. It is backed by near-perfect owner ratings and is one of the most known names in the business.
These precisely measured and waterproof floor liners may be the wisest 4Runner accessories you can add to your 4×4 vehicle, giving the entire covering of your 4Runner's floor, keeping sand, salt, grime, and moisture from harming, staining, and wearing down its carpets.
I recommend this floor liner if you have dogs, children or spend a lot of time outside. It protects your floor from anything you can throw at it. 
The Husky Liners Floor Liner Set, which is especially useful for winter use, prevents salt and slush from melting, soaking in, and encourages rust formation in the 4Runner's floor pan.
The mats are held in place by special cleats, and the formed edge captures even vast volumes of dirt and moisture. These mats are made in the United States of high-quality materials and are simple to remove and clean with a power washer or garden hose.
With the Husky Liners Floor Liner Set, you can protect the inside and carpets of your 4Runner from everything your family throws at it.
Pros
High quality

Easy to install and take out

Awesome reviews 
Cons
More expensive than other options (you pay for what you get, though) 
Plus Paws Pet Seat Cover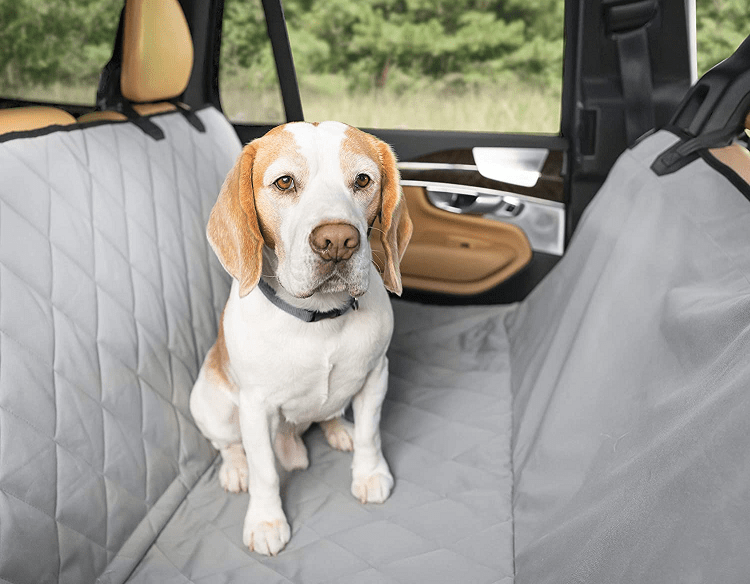 To go along with your floor liners, I recommend purchasing the Plush Paws Pet Seat Cover. Why shouldn't you add additional care and protection to your 4Runner's interior? If you've got one or more four-legged guests along for the ride, I'd say it's a necessity.
The Plus Paws Pet Seat Cover is widely known, highly-rated, and comes with a water-resistant backing to make sure your seats stay dry and clean, even if your dog isn't. Intended to keep pets constrained safely to the back seat while defending said seat from hair, drool, scratches, and other pet-related messes. 
The Plus Paws Pet Seat Cover is an economical solution to have a better driving experience for you and your furry loved ones. It is designed to protect against all types of pet-related messiness and damage while keeping your pet pleasantly contained.
The waterproof backing keeps the cover in place, and the Plus Paws Pet Seat Cover may also be used as a blanket or a hammock. Seatbelts may simply pass through built-in slots if your back seat is occupied by humans and dogs at the same time.
The installation is straightforward, and the built-in sun protection and lifetime warranty ensure that this will be your last pet seat cover purchase. 
I recommend this purchase for any animal lover 4Runner owner. If you often have animals in your vehicle, it will benefit the cleanliness of your vehicle. 
Pros
Waterproof

Easy to take out/in

Lifetime warranty

Reasonably priced
Cons
"one size fits all," meaning it may be a little large
Trunkcratepro Collapsible Multi-Compartment Organizer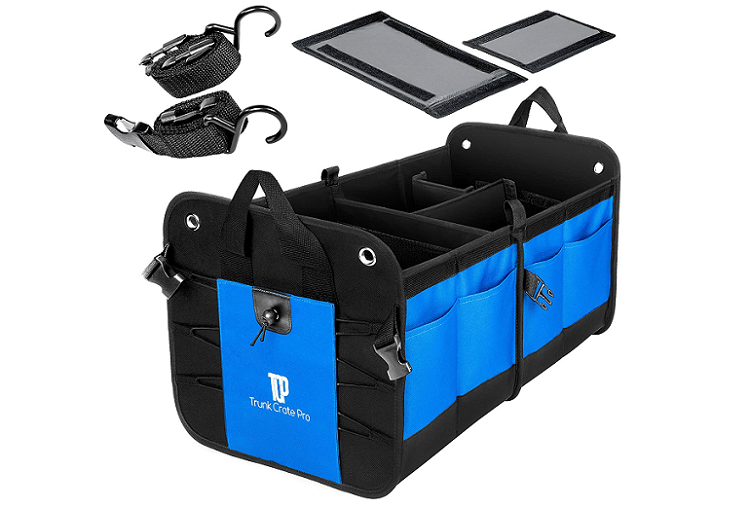 The Trunkcratepro Collapsible Multi-Compartment Organizer is a tool that will come in handy every day. This cargo organizer offers a lot of versatility because of its strong sides and several divided sections.
This popular and well-reviewed organizer has a firm base and sides that help it retain its form for years, and built-in eyelets and attachment straps allow drivers to fix it in place, making it a breeze to keep goods organized, secure, and upright.
The Trunkcratepro Foldable Multi-Compartment Organizer comes in a variety of colors to suit your preferences, and it's entirely collapsible, making it simple to transport anywhere, thanks to the attached handle straps. There's enough for everything with mesh pockets and extra foldable storage.
Many owners like transporting this item from their vehicle to the store, then back to their kitchen for quick and tidy unloading.
The Trunkcratepro Collapsible Multi-Compartment Organizer is a fantastic addition to your 4Runner, whether you're going camping, off-roading, or simply dashing out to do some shopping. For extra peace of mind, there's a lifetime warranty.
Pros
Lifetime warranty

Affordable

Useful for everyday
Cons
Could be large (really, there's nothing bad to say about this product)
Exterior Modifications 
Ball Mount/Towing Hitch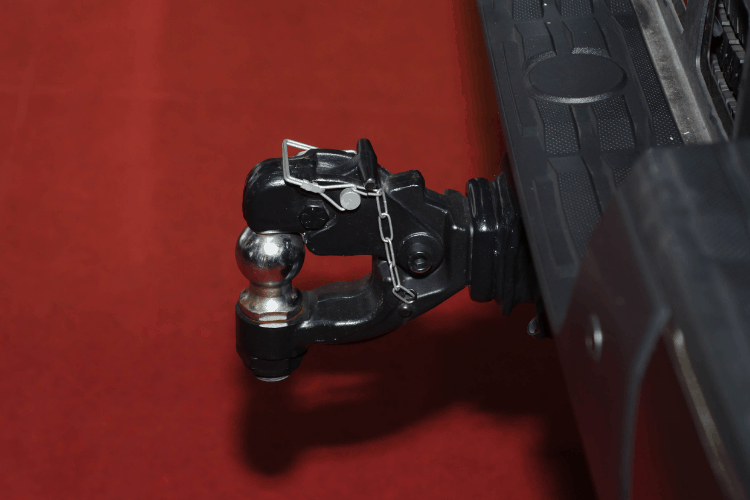 Whether or not you're towing anything, I recommend getting a ball mount and a towing hitch. This comes in handy for a lot of things other than towing (I'm looking at your bike rack)! Not to mention for only $60 USD, you can have your own hitch. 
If you do intend on towing with your 4Runner, then this hitch is a necessity. The Toyota towing hitch is rated up to 10,000 pounds, an amount I doubt anyone will ever have to haul in a 4Runner.
For most trailers, the ball mount sets the trailer ball to the optimum departure angle and ground height. This ensures that your trailer, not your hitch, will hit the ground and come off while towing. 
To help protect against UV radiation, the Toyota hitch has a powder topcoat that offers a homogeneous surface covering. Your ball and hitch won't be getting worn away anytime soon, as these were made to last.
Pros
Cost-effective, long-lasting, reliable 
Cons
Have to buy from a Toyota dealer, meaning it might take a while to obtain 
Cooper Discoverer STT Pro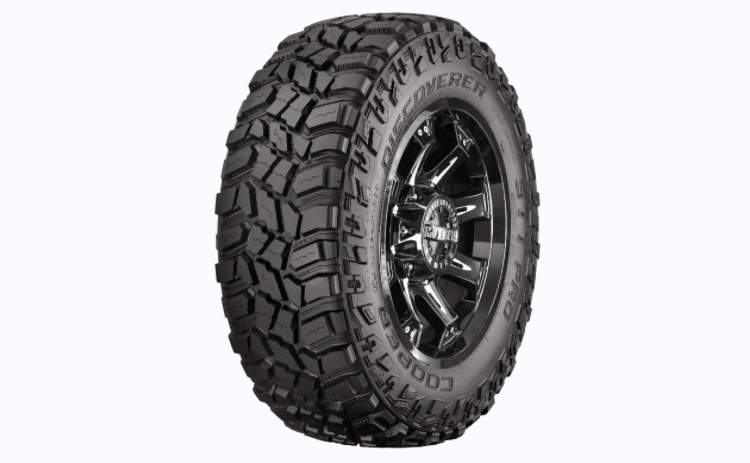 If you're going to own an off-road capable vehicle, you're going to need some off-road tires. The Cooper Discoverer STT Pro are the ones for you.
In off-road circumstances, the basic tires on any vehicle aren't exactly the best, even on the capable 4Runner. If you're serious about exploring off-road, any 4Runner accessories shopping list should contain a set of decent off-road tires for improved traction, durability, and toughness.
The Discoverer SST Pro, Cooper's top-of-the-line all-terrain tire, is ideal: with many unique reinforcing technologies built in, these tires are intended to endure punctures and bruises as they tackle rocks, gravel, sand, mud, and more.
Other design features are used to assist in maintaining equal wear across the tire's lifespan while also improving handling, steering feel, and cornering predictability.
Naturally, looking at this aggressive mud-terrain tire makes you assume it'll be noisy on the road. In reality, given its profile, the STT Pro isn't all that loud. The 3-2 rib pattern's alternate sizes, angles, and a number of ribs around the tread are meant to cancel out excessive road noise.
Flex Grooves also assist in reducing the jarring impacts of potholes and bumps on the road, resulting in a smoother, more stable ride.
These popular tires have scooped treads that assist them 'shovel' over loose terrain, and a silica-based tread composition makes the rubber compound high-tech for enhanced traction in wet or slick situations.
The majority of owner evaluations are good, and many report lower-than-expected noise levels, which helps keep your 4Runner's cabin quieter for longer.
With the Discoverer STT Pro's on your 4Runner, you simply won't be getting stuck. 
Pros
Advanced features

Capable in every situation
Cons
Expensive

Worse gas mileage
Nilight Led Light Bar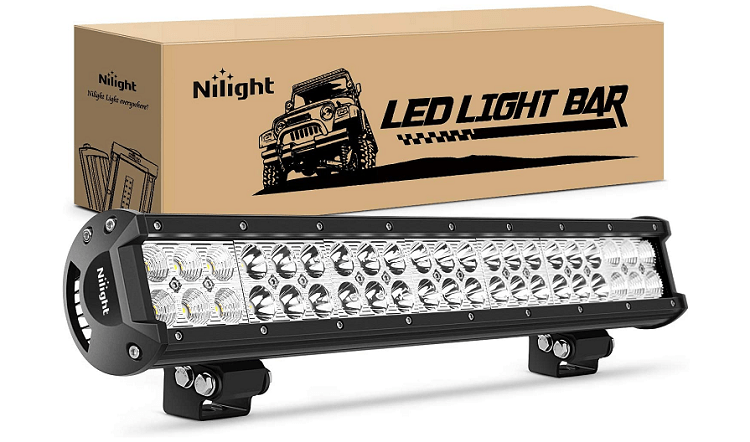 Lightbars are increasingly popular in the off-road community. It's easy to see why as they provide ample light when driving at night off-road. They work well in low visibility situations, such as fog. They are usually rugged, bright, and adjustable. 
The Nilight LED Light Bar is a cost-effective method to add a light bar to your headlights that creates a bright, concentrated light. It comes with 12 high-quality LED light chips, an aluminum alloy casing, and heat-conducting silicone gel to assist transfer heat away from the bulbs, allowing them to operate cooler.
The complete machine is IP67 waterproof, which means it can withstand water entry for 30 minutes when submerged in 3 feet of water. Even when traveling on rough terrain, the sturdy stainless steel side-mounting brackets will keep the 4Runner headlights stable and quakeproof. 
The brackets are also fully adjustable, and the light bar may be rotated to vary the direction of the light; this is helpful in situations such as setting up camp. 
The Niligiht LED light bar is ranked first for "best light bar accessories" on multiple reviews. Aside from the light bar, you'll receive two 4 inch spot LED pods, each with an output of 18 watts.
The LED light bar itself is rated at 126 watts of power output. With a 20-inch length, you can anticipate a good amount of light produced from this LED light bar, especially considering the price. 
Pros
2-year warranty

Bright

Adjustable

Waterproof
Cons
Not the easiest to install

Condensation will form 
Thule Complete Crossroad System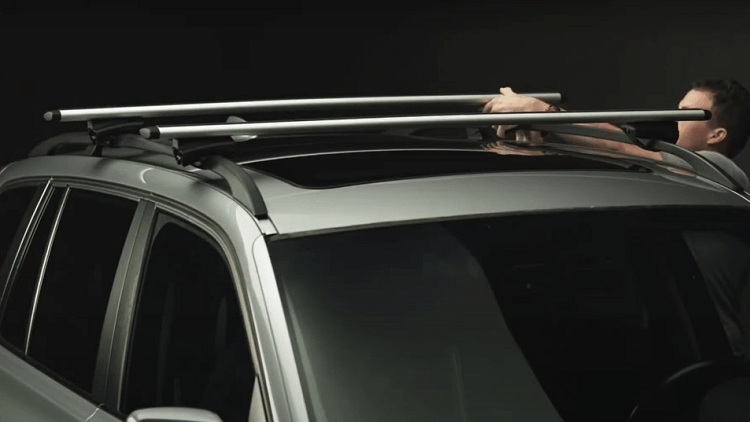 You probably were waiting for the roof rack to come on this list. While some 4Runners come with roof racks installed, most of them don't. If you're SUV is looking a little lonely, and you want some extra space to throw your bike, kayak, cargo box, rooftop tent, or whatever, you need a roof rack. 
This is one of the greatest roof racks available in terms of quality. The Thule Complete CrossRoad System has a 50-inch length and fits most 4Runners while carrying up to 165 pounds of additional weight.
Best of all, it has a user-friendly design that makes it simple to install without the use of any tools. This means you can put it in yourself, as well as put anything on it! 
The Thule Complete CrossRoad System securely straps into place if your vehicle already has roof rails (modern 4Runners do).
It has Thule's proprietary rubber-coated steel straps that are highly robust, allowing you to attach and unmount the accessory frequently without fear of damage. This item also comes with locks for further protection and a Thul lifetime warranty.
The Thule Complete CrossRoad System is a long-lasting, high-quality, and safe system that fits most vehicles. Even though this system makes a slight whistling noise when driving, if you can overlook this tiny flaw, you will be left with a flexible, effective, and heavy-duty system that will last you for years.
Check out the following guides on how to find the best
Pros
Ease of installation

Strong/heavy-duty

Long-lasting

Lifetime warranty  
Cons
Whistles while driving

Older 4Runners that do not have roof rails will need roof rails prior to installation 
JEGS Rooftop Cargo Carrier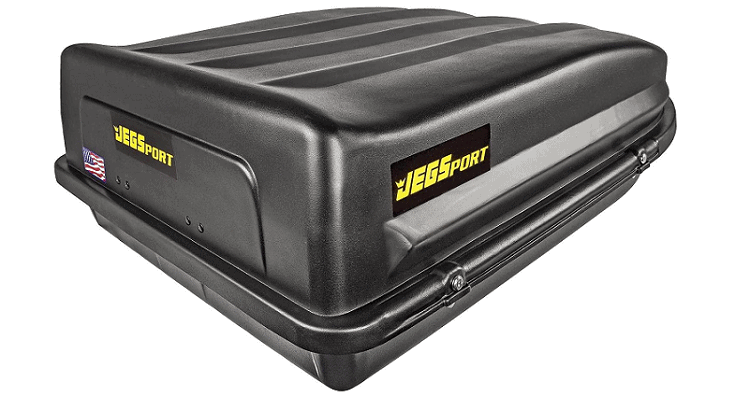 Your list of 4Runner accessories should include some storage options. With the JEGS Boys Voyager Roof Top Cargo Carrier, you can expand your 4Runner's goods capacity, secure your expensive gear and equipment, and improve the amount of space available for passengers, pets, and other gear and cargo on board for a reasonable cost.
A roof rack is needed; as mentioned, I recommend the Thule Complete CrossRoad System; you will be able to install this cargo carrier to your vehicle.
If your 4Runner doesn't have enough storage space for baggage or camping gear, the JEGS cargo carrier provides 18 cubic feet of storage capacity.
So no matter what Mother Nature decides to throw at you, your stuff will be safe. Your belongings will also stay where you left them, thanks to four-corner locking. This allows you to put any sort of valuables in your 4Runner without them knocking against themselves and breaking. 
There are no tools required for assembly, and all mounting hardware, as well as step-by-step instructions, are supplied. The rooftop carrier from JEGS is also produced in the United States and comes with a limited lifetime guarantee.
Pros
Allows for more room in your vehicle

Easy to install

Weatherproof
Cons
Will decrease fuel efficiency when mounted 
Smittybilt Overlander Rooftop Tent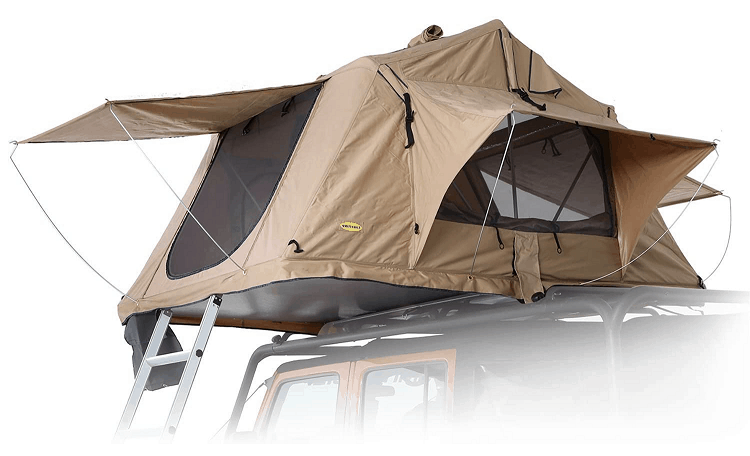 Let's move on to the real star of the show. It seems everyone has a rooftop tent right now. The Smittybilt Overlander Tent provides 4Runner owners with a unique overnight accommodation—right on their own roof! Leave wild woodland animals sniffing you out in the early hours of the morning and that damp, chilly tent.
The Smittybilt Overlander Tent attaches to the top of your 4Runner and comes with a foam mattress, complete mosquito netting, lightweight poles, and built-in internal lights.
It's simple to set up and take down on-site, and it just takes a few minutes. There is also an XL version available. An add-on Annex room, which adds a covered entryway to the Smittybilt Overlander, is also available.
Mounting brackets are supplied, and user evaluations are generally good, expressing pleasure with the size, quality, and price. Just keep in mind that specific mounting adjustments may be necessary in some cases and that the tent must be folded before leaving the campsite for a drive.
The Smittybilt Overlander rooftop tent enhances your camping experience by allowing you to gaze up at the stars. The two zip-open roof panels, which are supported by an anti-mosquito screen, provide excellent ventilation.
Even if it's pouring, simply use the supplied rain cover and keep the roof panels open to allow additional ventilation. Rainwater can pool over the doorway and window awnings during heavy rain; therefore, lowering the awnings during storms is suggested.
A hook and loop strap connects the supplied multi-LED light strip to the tent. There are also four internal storage compartments and a fifth for the light cable, as well as an outside shoe bag.
The sleeping pad may use more cushioning, according to user reviews, but this is readily addressed by adding layers. The empty weight of this Smittybilt tent is 116 pounds, and it can accommodate two people and a small child. 
Pros
Awesome for stargazing

Affordable (in terms of rooftop tents)

Many add-on features
Cons
The sleeping pad is stiff

Not super large for bigger families 
TRD Skid Plate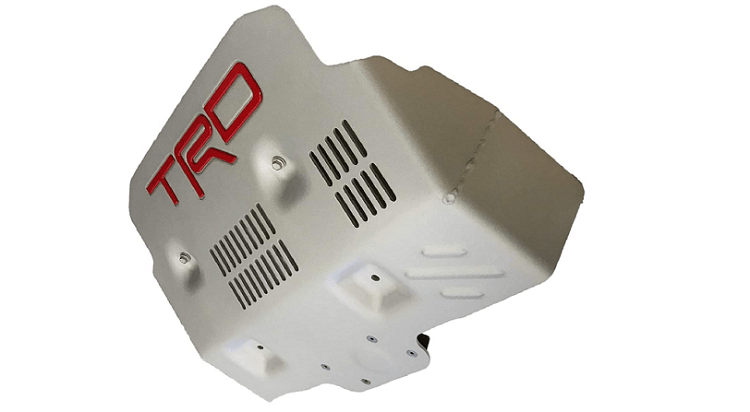 The TRD Skid Plate is one of the most popular under vehicle modifications made. The skid plate keeps the front of your engine bay safe from gravel, rocks, and anything you may scrape. This is best for those using their 4Runner for serious off-roading. 
This skid plate is designed to fit a Toyota 4Runner equipped with KDSS suspension. If you don't have the suspension, it may be trickier to put it on. You'll need to remove the standard radiator support brackets and alter the skid plate to fit around the KDSS suspension, but it's a simple setup.
The finished product looks fantastic and is far more durable and attractive than any stock plate, as well as more protective.
It may be difficult for you to get this skid plate on yourself unless you have the proper tools and experience. I recommend trying it yourself, but take it to the mechanic if you can't figure it out. 
Pros
Budget-friendly

Adds more protection to your engine 
Cons
N-Fab Nerf Bar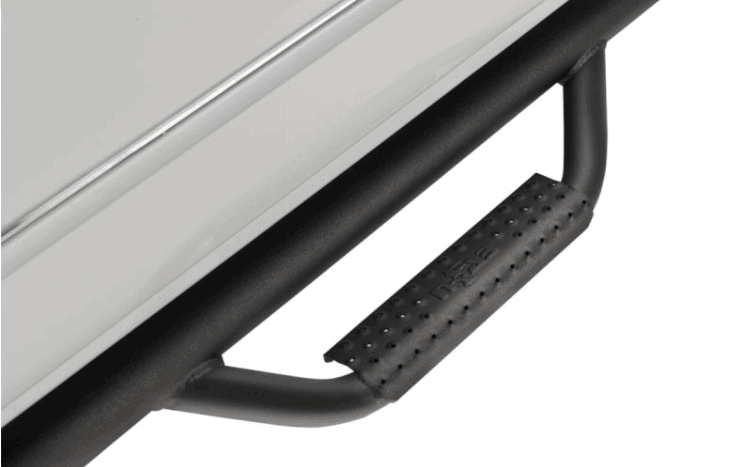 Nerf Bars are basic rock sliders, aluminum step protectors that serve to keep the bottom of your doors safe. Nerf bars from N-Fab are wheel-to-wheel steel bars with a black textured powder finish. While not a real rock slider, the N-Fab Nerf Bars provide far more protection than the original running boards.
They attach to pre-existing mounting points on the 4Runner running board. This is by far the most straightforward step to set up. If you're searching for something that can be removed quickly, this might be a strong selling point for you.
This is especially beneficial if you plan on reselling your 4Runner in the future. Some individuals may not like the rock sliders you pick, or they may simply dislike how they seem.
Overall, the N-Fab bars are excellent for anyone who drives regularly or off-road on easy routes. The N-Fab nerf bars, unlike most sliders, attach directly to OEM running board holes, making them far less durable than a rock slider that bolts to your frame. 
Under severe strain, they may easily snap at the bolts and pull your rocker panels off. When it comes to moderate to difficult terrain, this is the cheapest and least effective step available.
They do, however, serve a function for most people. They look fantastic and can withstand quite a few bumps on difficult terrain for their price. I've seen several folks running NFab stairs that were battered and damaged, yet they still managed to keep the 4Runner safe. 
Pros
Great for the price, quick install, looks awesome
Cons
Not as strong as other options, doesn't give you as much clearance 
Demello Full-Length

The Demello Full-Length is a durable bumper that protects your 4Runner from any front damage on the trails (or road, for that matter).
A three-hoop aluminum hoop, a three-hoop steel hoop, flattop steel, and single-hoop flattop steel are the options it comes in. I'm going to try and keep it as short and easy as possible because Demello created four different designs.
For an extra $35, all four will install turn signals on 2010-13 models. This is an awesome upgrade. Steel gap filler plates are also available from Demello. These trim the upper part of your OEM bumper to cover the holes.
3-Hoop Made of Aluminum
The aluminum 3-hoop is a fantastic option for individuals looking to construct an off-road capable 4Runner without adding too much weight or lowering MPGs.
This aluminum 3-hoop weights in at a hefty 50/60 pounds (estimated) while still holding a winch and additional lights.
It may be ordered with a textured powder coat or in bare metal, and it has a few lighting and winch choices on the site.
3-Hoop Streel
The steel 3-hoop is identical to the aluminum in terms of construction, dimensions, and choices. The only variation is the weight of the steel 3-hoop, which is related to the materials used.
The bumper is composed of 1/4′′ steel for the winch plate, with 3/16′′ reinforcements and 1/8′′ skin. The exact weight is not mentioned. With those dimensions, this design is still very light and far more durable.
3-Hoop Flattop Steel and Flattop Steel
The metal dimensions for the flattop steel and the single hoop version are the same as the steel 3 hoop. The winch and light choices are the same as well, except that the top of the bumper is completely flat all the way around.
Pros
Lightweight option

Can use a winch with it
Cons
Performance Modifications
MagnaFlow Overland Series Cat-Back Performance Exhaust System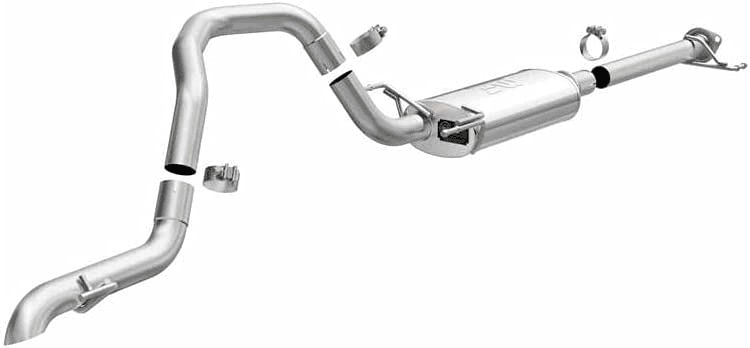 MagnaFlow is one of the most well-known names in the industry, so you can guarantee they done their research before releasing this performance exhaust system. This product, part of the company's Overland Series, delivers the performance and adaptability that serious off-road explorers and overlanders expect.
Off-roaders will have one less thing to worry about, thanks to the high clearance design and the exit tucked up high and away from trail hazards. To put it another way, smashing this exhaust against a series of harsh rocks would be really tough thanks to it its design. 
Meanwhile, its sturdy stainless-steel design can survive rough terrain, making it an excellent companion for overland travels when the route is just as essential as the goal.
All of the company's Overland Series items have been fine-tuned to reduce drone and make longer rides more pleasant while still bringing out the distinct character of your vehicle's engine. These exhaust systems are produced in the United States and are backed by a limited lifetime guarantee.
Pros
Lifetime guarantee

Robust
Cons
Can't see it/not visually stimulating 
TRD Cold Air Intake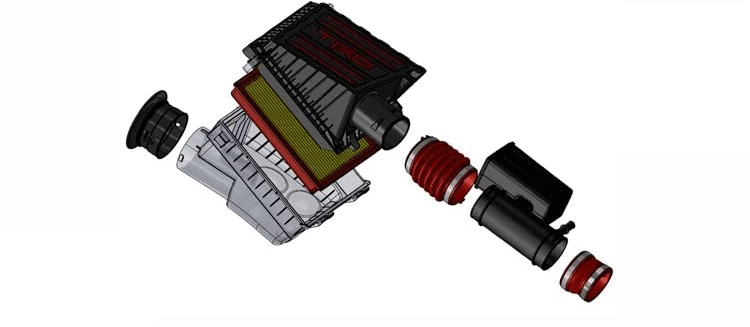 When it comes to boosting airflow in your engine, cold air intake is crucial. This is a topic we've discussed a few times on the blog. TRD Cold Air Intakes, or any cold air intake for that matter, provide free-flowing, cold, oxygen-rich air to your engine for maximum performance.
The TRD cold air intake provides you 4Runner a performance boost. To be fair, it's not going to change your 4Runner into the next Nascar racer, but it will make a slight change. In many automobile circles, this is also a hotly disputed mod.
TRD air intake systems, when coupled with an exhaust and performance filters, provide your vehicle greater horsepower, torque, acceleration, and pulling power. 
You'll notice and hear a change regardless of real HP increases. It may be a minor change, but I believe it is worthwhile. It definitely makes a change on the trails when you need to accelerate fast or get out of something. 
For your first mod, do yourself a favor and start with a cold intake. It's straightforward and cheap. 
Pros
Cons
Not the most noticeable change 
Mass Airflow Sensor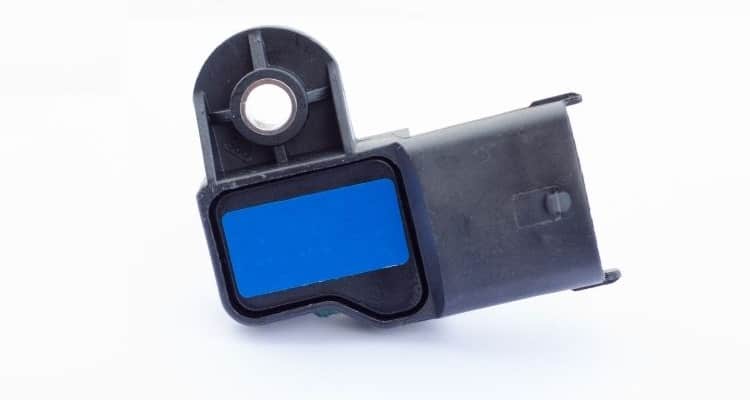 You can always clean your mass airflow sensor depending on how old your 4Runner is (more noticeable in older models). Cleaning your mass airflow sensor is likely to improve your HP. Some reviewers claim that cleaning this sensor will boost HP (I'm not sure about that, but it's a possibility).
The mass airflow sensor spacer is the next option. A mass airflow sensor Spacer moves the sensor to a new location, fooling your engine into running various fuel ratios. The engine will generate a variable fuel to air ratio in specific parts of your throttle curve, resulting in higher horsepower.
There are some who swear by it, as well as those who would laugh at you if you installed one. It is entirely up to you to make your decision, but similarly to the cold air intake, it is a cheap modification and won't hurt your vehicle. 
Better gas mileage and higher horsepower are predicted with the MAF spacer. Why not just install one for what it's worth? It's inexpensive, simple, and won't harm your vehicle.
Pros
Better gas mileage

Better horsepower
Cons
Magnuson Supercharger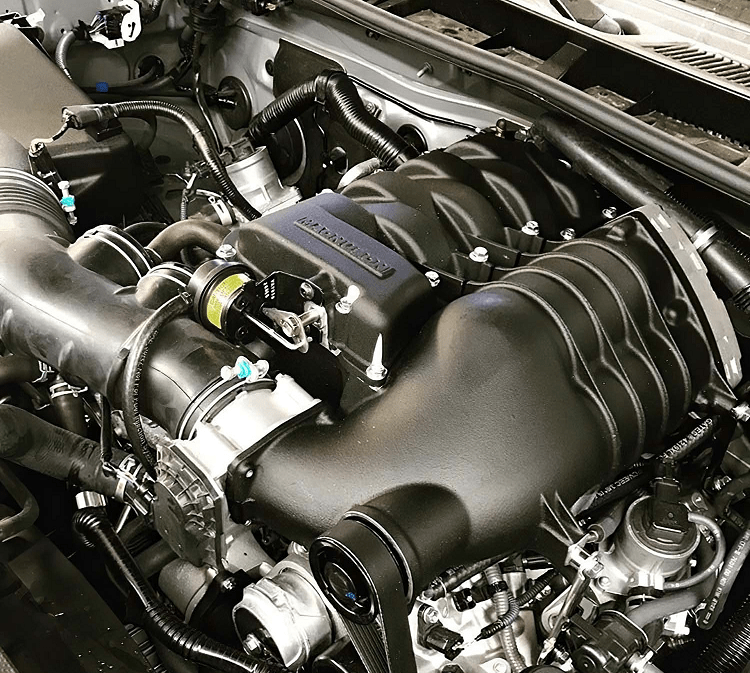 The Magnuson Supercharger is the finest performance mod available, also one of the most expensive. This is essentially 10 times greater than any improvements you'll see from a Catback Exhaust, a Cold Air Intake, Headers, or a Chip, with 30 percent more horsepower and 27 percent more torque.
Headers could get near at around 20hp, but without the Magnuson Supercharger, you'll never know what you're missing out on.
Pros
Massive HP boost

Torque boost
Cons
Expensive

Voids Toyota warranty 
FAQ
Question: What Are the Best Accessories for 4Runner?
Answer: The best accessories are entirely up to you. Exterior, interior, and performance modifications can all be done to the 4Runner. Personally, I recommend a roof rack to start with; from there, the possibilities are endless. 
Question: What Year 4Runner Should I Avoid?
Answer: The 2003-2005 model years should be avoided due to head gasket failure.
Question: Do Toyota 4runners Hold Their Value?
Answer: After 5 years, a Toyota 4Runner will depreciate by 35%, resulting in a resale value of $29,266. It holds its value very well in comparison to other vehicles. The Toyota 4Runner has a loyal customer base that buys for its style, capabilities, and longevity. 
Question: Where Are Toyota 4Runner Parts Made?
Answer: Toyota 4Runner parts are made in Japan. 
Conclusion
Toyota 4Runners have one of the largest aftermarket accessories available. Take advantage of this, especially if you are planning on off-roading for Overlanding! I recommend getting the Thule Complete Crossroad System first.
The Thule Complete Crossroad System is a roof rack and allows you to carry much more than you could fit without one. The possibilities are endless of the things you can add to a roof rack: a rooftop tent, roof cargo storage.
Continue reading related Toyota 4Runner modification and accessories guides.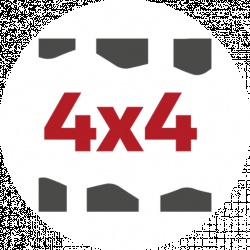 Latest posts by 4x4 Reports Team
(see all)