The 3rd-gen 4Runner (1996 to 2002) had grown up to become an independent vehicle, not just a Toyota Hilux pickup truck with a covered cargo bay. Toyota gave the 4Runner its own platform and bigger engines and that was enough to set this SUV on a path to success.
This generation also introduced roof rails, allowing owners to install roof racks for extra load real estate. So, there's no shortage of roof rack options for your to choose from for your 3rd-generation 4Runner.
I know, that's not a good thing, is it? With a sea of choices, finding the right one for your vehicle isn't an easy task. I too have had to buy a few roof racks in my day and, sadly, sometimes ended up with an overhyped brand that didn't work for my needs.
To help you avoid the pits that I fell into, I've put together this list of the best 3rd gen 4Runner roof racks, as well as the criteria that I use when choosing a roof rack for my vehicle. 
Bottom LineUp Front
My favorite roof rack is the BajaRack 3rd-gen 4Runner Standard Basket – Long. I love it because of its length, which allows you to evenly spread out your cargo on the 4Runner's roof. I also recommend the Smittybilt Defender Roof Rack, which is the most affordable roof rack on my list.
My Top Picks at a Glance
Choosing the Right Roof Rack: Things to Consider
When I was still none the wiser, I bought a roof rack that didn't properly fit on my dad's 4×4. Long story short, it nearly fell off when I was driving on a rough track. Before then, I thought that a roof rack is just a roof rack – I couldn't have been more wrong.
There are several things that you'll need to think about when shopping for a roof rack for your 3rd-gen 4Runner. Below is what I consider when choosing a roof rack, and I believe that this list will help you when making a decision.
We also wrote an in-depth piece on how to find the best Toyota 4Runner roof rack that you should check out.
Your Needs
What do you intend to carry? Your needs will determine the type of roof rack you decide to buy. For instance, if you want to carry a bike, the roof rack you choose won't be the same as when you want to haul camping gear.
If your needs are varied then consider a roof rack that is designed to carry different loads, perhaps even at the same time.
Type of Roof Rack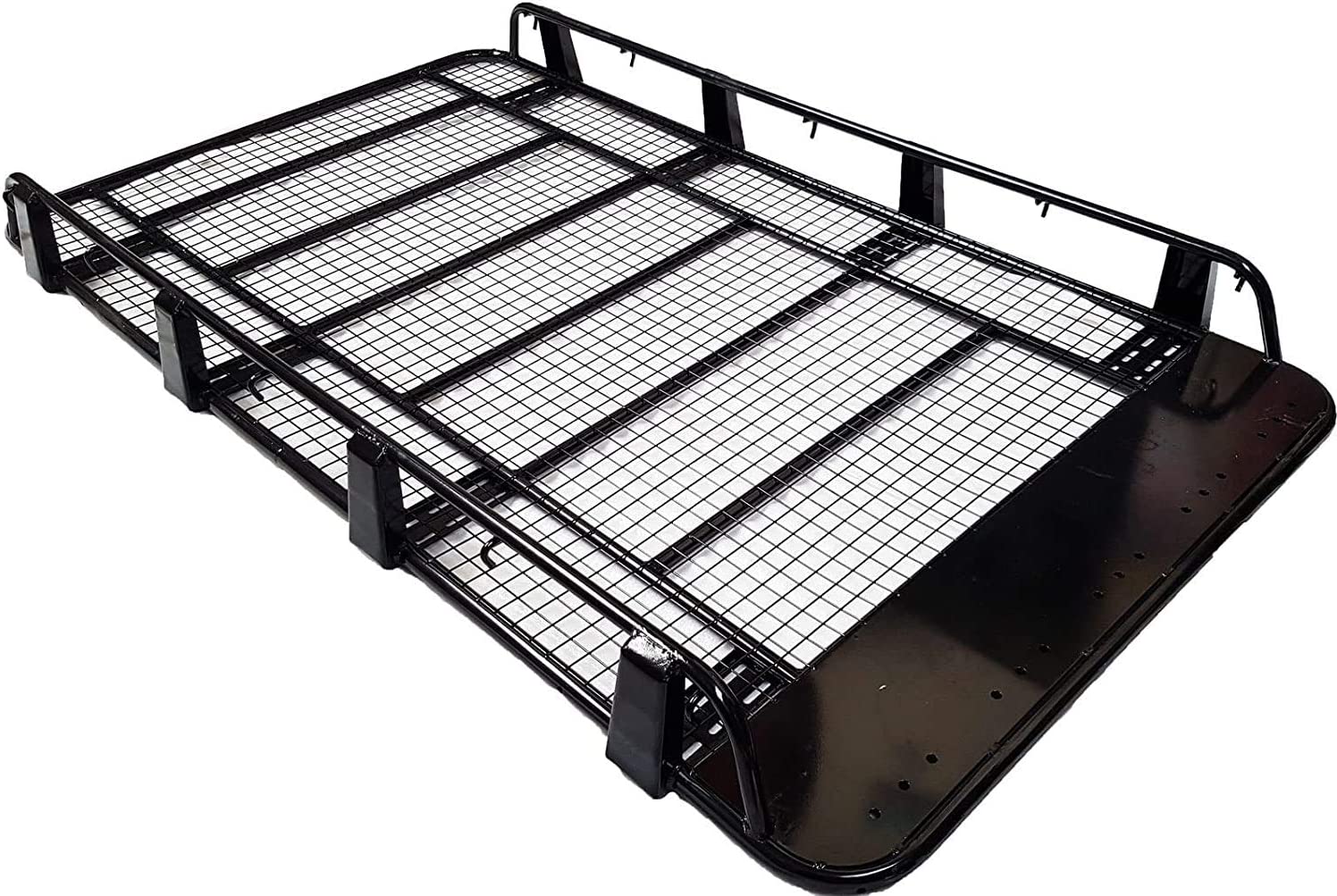 Once you're clear on what your needs are, consider the type of roof rack that's ideal for you. There are several roof racks in the market, but here are some of the main types;
Basket roof racks

Trade roof racks

Flat roof rack

Load bars
Basket roof racks are designed to look like, well, baskets. They have raised edges that act as side rails, which are meant to hold the load in place. 
These roof racks are the most rugged, so they're ideal for extreme offroaders who are looking for extra storage for their gear. However, basket roof racks are the heaviest, so they will lower your 4Runner's fuel economy.
Trade roof racks have open front and rear ends, and this design makes them ideal for carrying long loads like canoes, bikes, or lumber. These roof racks are loved for being lightweight, although they're still strong enough to carry heavy loads.  
Flat roof racks are, you guessed it, flat! Obvious facts aside, flat roof racks are the most versatile as they are simply a platform on which you can attach accessories for different types of loads. Their light weight and low profile make them the best options for fuel economy. 
Load bars are less obtrusive than standard roof racks as they're simply bars that act as mounting points for different accessories. They're inexpensive and lightweight but aren't the best for heavy users. Consider load bars if you want to occasionally carry items. 
Roof Rack Material
You can get aluminum, steel, and soft neoprene roof racks. The strongest roof racks are made of steel, but these are also the heaviest. Consider steel if you're planning to carry heavy loads. Also, remember that steel rusts, so make sure that the roof rack is well painted.
Aluminum roof racks, I think, are the best of the bunch. They're lightweight but strong, and they don't rust. Aluminum roof racks are also ideal for heavy loads. However, steel roof racks are cheaper than their aluminum counterparts.
Soft neoprene roof racks are also lightweight, but they aren't as strong as aluminum. This material is meant for lighter loads. 
Installation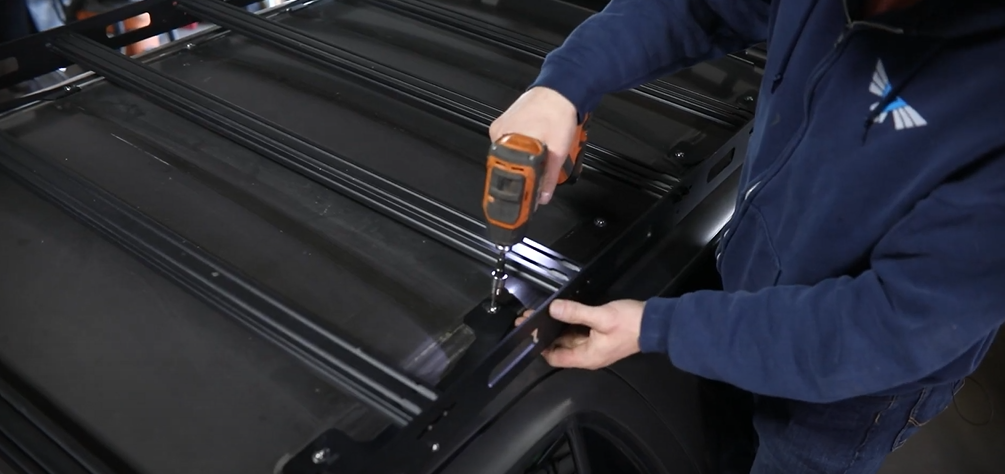 Find out whether the roof rack is installed on rails or gutters of vehicles. For your 3rd-gen 4Runner, you'll need rail roof racks because the SUV has roof rails. These types are also easier to install than gutter racks. 
Weight Ratings
There are three weight ratings that I think about when looking for a roof rack; vehicle weight ratings, roof rack weight, and the total weight that the roof rack can carry. 
The vehicle's weight ratings that I consider are the GVWR (gross vehicle weight rating) and the payload capacity. Remember, the vehicle's payload includes the weight of passengers and cargo. 
3rd-gen 4Runners have a payload capacity of 1,810 lbs and a gross vehicle weight rating of 5,250 lbs. So, if your roof rack weighs 60lbs, then you've already snipped off this weight from the 4Runner's payload capacity.
Also, consider how much weight the 4Runner can carry on the roof. The 3rd-generation is listed to carry up to 120 lbs on the roof, and this includes the weight of the roof rack itself. I know people often exceed this limit but remember that this might affect the roof rack's mounting points and the 4Runner's roof rails.
3rd Gen 4Runner Roof Rack Recommendations
Selection Criteria
Durability:

 I've recommended roof racks with a reputation for durability. To determine this, I checked the materials they're made of, plus extra features like coating that offers added strength.

Ease of installation:

 The recommended roof racks don't require drilling to install. You can quickly mount them without any technical knowledge.

Versatility:

 I mainly considered roof racks that can carry different types of cargo. Some of the recommendations are compatible with accessories for hauling special loads.

Price:

 I chose roof racks at different price points to offer an option for buyers with different budgets.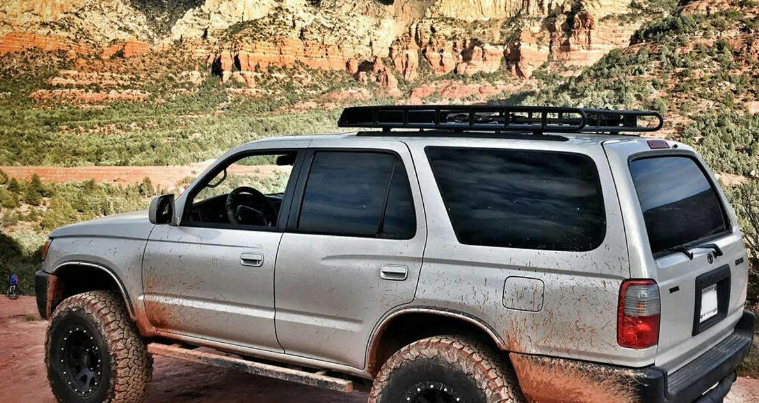 BajaRack is a reliable brand that's loved by Toyota owners across the world. It's, therefore, easy for me to recommend this roof rack, a standard-sized rack that's affixed onto the 4Runner's stock roof rails. 
Installing this roof rack is easy if you have the right tools; 7/16" and ½" wrenches are required for the setup. You will also need an extra pair of hands to mount the roof rack, but this entire process should take about half an hour since you don't need to drill anything.
The standard rack weighs 60 lbs, so it's not light by any means. However, this is expected from stainless steel, which is used to build this rack. On the plus side, the rack can handle a whopping 300 lbs dynamic weight and 600 lbs static weight. However, try not to overdo it, as the 3rd-gen 4Runner's roof is rated to hold just 120 lbs. 
BajaRack also sells accessories that can be attached to this rack, allowing you to carry items like a fuel or water can, attach light bars, or mount a spare tire. But, if you're planning to carry longer items, consider the long version I've recommended below. 
This roof rack costs about $800, which is a reasonable price for a tough product.
Check our comprehensive guide to 4Runer Baja Roofracks.
What I Like
It has a strong build quality.

It can handle the rough and tumble of offroading.

The roof rack can hold a heavy load.

You can attach accessories to make it versatile.
What I Don't Like
It's quite heavy and installation is a two-person job.

The roof rack's short length might limit what you can carry.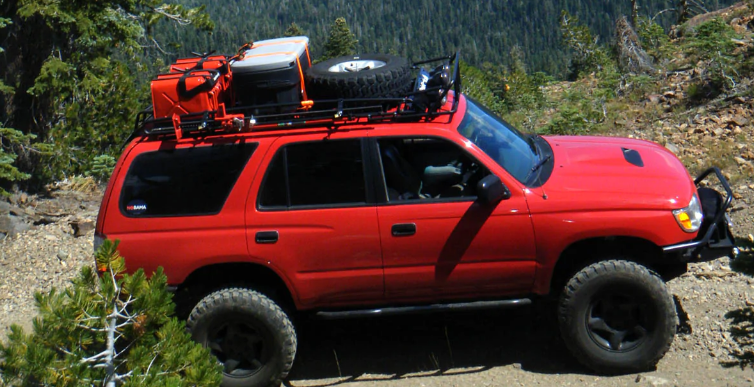 As you've probably already guessed, I'm a fan of the BajaRack roof racks, and so I couldn't resist recommending the long version of the roof rack above. This is the perfect option for those who carry everything but the kitchen sink (or including the kitchen sink) when going on adventures. 
It has a length of 82 inches, a width of 41 inches, and is 5 inches tall. To put this in perspective, the short version above has a length of 60 inches with a similar width and height. Sadly, the extra length means that it's heavier as well; this roof rack weighs 75 lbs. 
Just like the roof rack above, installation requires no drilling, and it's mounted onto the 4Runner's factory rails. Again, you'll need help lifting the 75 lbs onto the roof.
Thankfully, BajaRack provides detailed instructions on how to install their roof racks, so it shouldn't be a hassle if you've never done this before.
Unfortunately, the weight capacity of this rack remains the same as that of the shorter one (300 lb when driving and 600 lb when stationary). The extra length, however, allows you to spread out the load on the roof for extra stability. 
Again, just like the rack above, this one has a stainless steel build with a black powder coating that bolsters its durability. Still, this roof rack isn't cheap; it costs about $1200.
What I Like
You can attach accessories like lights onto the roof rack.

You get to evenly spread out the load on the roof thanks to this roof rack's length.

This is a strong and durable roof rack.

It doesn't spoil the look of the vehicle.
What I Don't Like
The roof rack is quite heavy.

Its weight capacity is similar to the shorter version.

It's costly.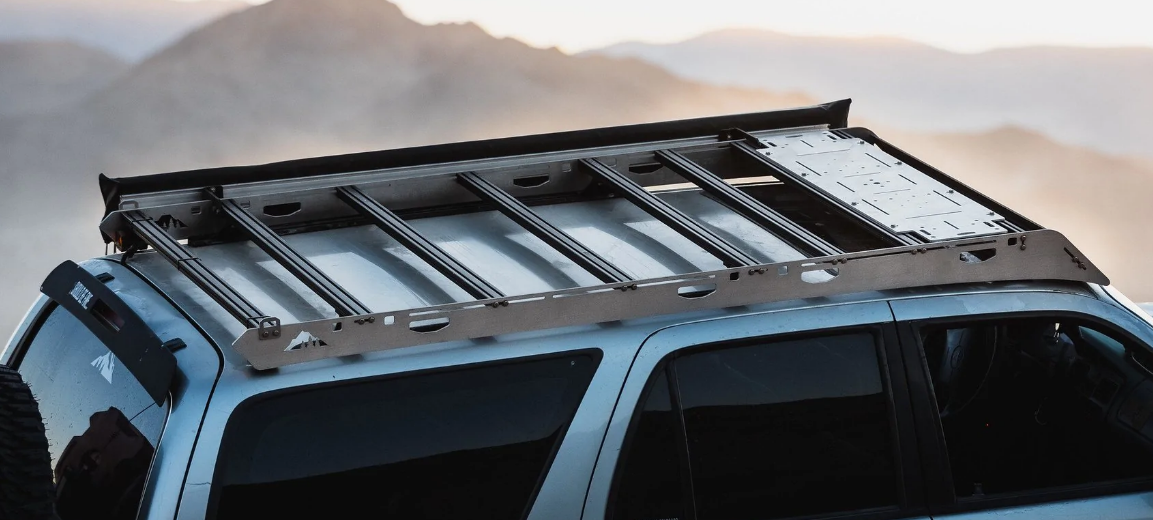 I must admit, I only became familiar with this brand recently, and I wish I knew about it back when I was looking for a roof rack. The Sherpa Matterhorn roof rack has a rugged design that blends well with the 3rd-gen 4Runner's rugged nature. Its front is slanted to make it more aerodynamic and minimize wind noise.
This roof rack is longer than the BajaRack basket I've recommended above: this one has a length of 92 inches. However, its dynamic load capacity is 100 lbs less than the rack above at 200 lbs. I still think that this is more than you need considering the 4Runner's roof weight capacity. Still, when static, the roof rack can hold up to 600 lbs.
The rack is made of aluminum and steel. The company says that they've used aircraft-grade aluminum, and I have no reason to doubt. As a result, it has a weight of 50 lbs, which is lighter than the BajaRack options above but still rather heavy.
Installation isn't a pain; you get all the required installation hardware in the package, and no drilling is required.
However, the main reason I recommend the Sherpa Matterhorn is because of the lifetime warranty. Nothing inspires confidence more than a company that promises to support you for life. 
You can get the Sherpa Matterhorn for a price of about $1100.
What I Like
It has a rugged design.

The roof rack is long enough to cover the entire roof of the 4Runner.

It's easy to install if you have the right tools.

It has an aerodynamic design.

You get a lifetime warranty.
What I Don't Like
You may need some help lifting it onto the 4Runner's roof.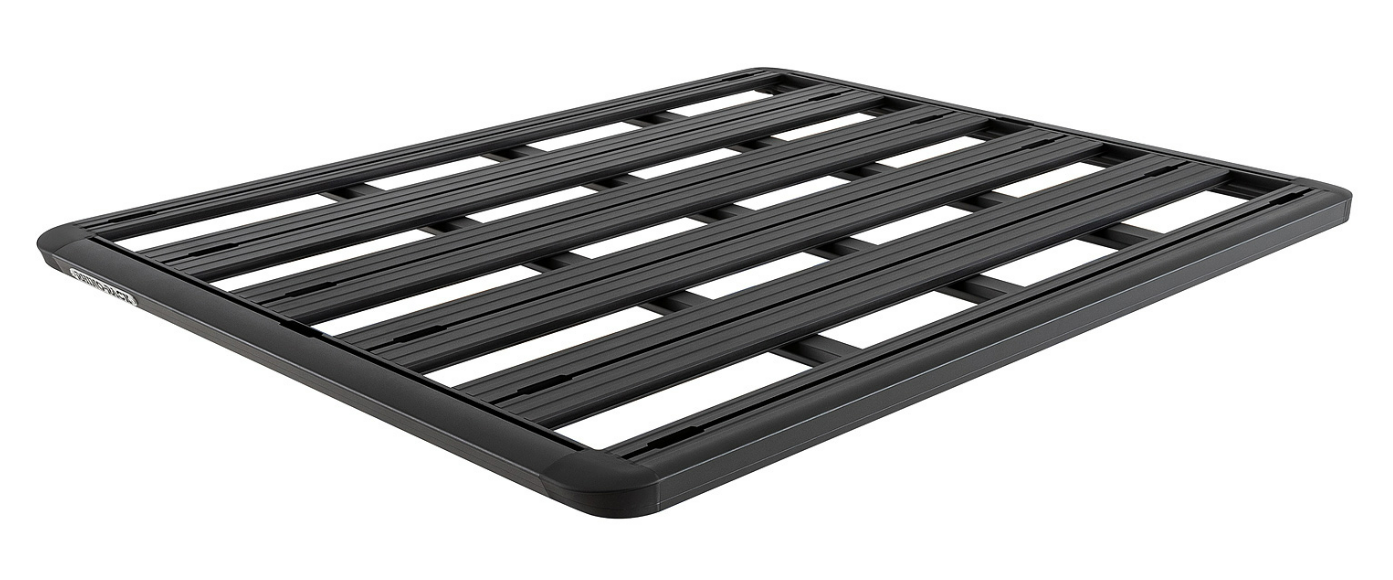 Let me get the negatives out of the way first; this roof rack by Rhino-Rack costs $1200, and it's the most expensive roof rack on this list. You might be wondering why I say that, yet the BajaRack long version costs about as much. Well, this one is just a platform, as the name implies, so you'll need different accessories to make it fully functional. And, yes, you'll have to spend even more on these accessories to get the most out of the rack. 
But, here's why I recommend the Rhino-Rack Pioneer Platform – it's modular and versatile. You can modify it to carry whatever load you want when you buy compatible pioneer accessories. And when you don't need to carry a load, its low profile makes it aerodynamic enough to drive around town without biting into your fuel economy and handling. 
The Pioneer Platform has a length of 72 inches, a width of 56 inches, and a height of just 2 inches. It weighs about 46 lbs, lighter than the other roof racks on this list. 
Installation may take a little longer since you'll need to first assemble the platform before attaching it to the 4Runner's roof. Thankfully, Rhino-Rack provides detailed instructions to make the process easier. 
This rack is made of powder-coated aluminum, which is known for being light and durable.
What I Like
It's modular, so you can adjust it to carry different types of loads.

It has a sleek look.

The roof rack is durable.

It isn't very heavy.
What I Don't Like
It's expensive, and the accessories push up the cost.

You'll need to spend some time assembling the platform's bars.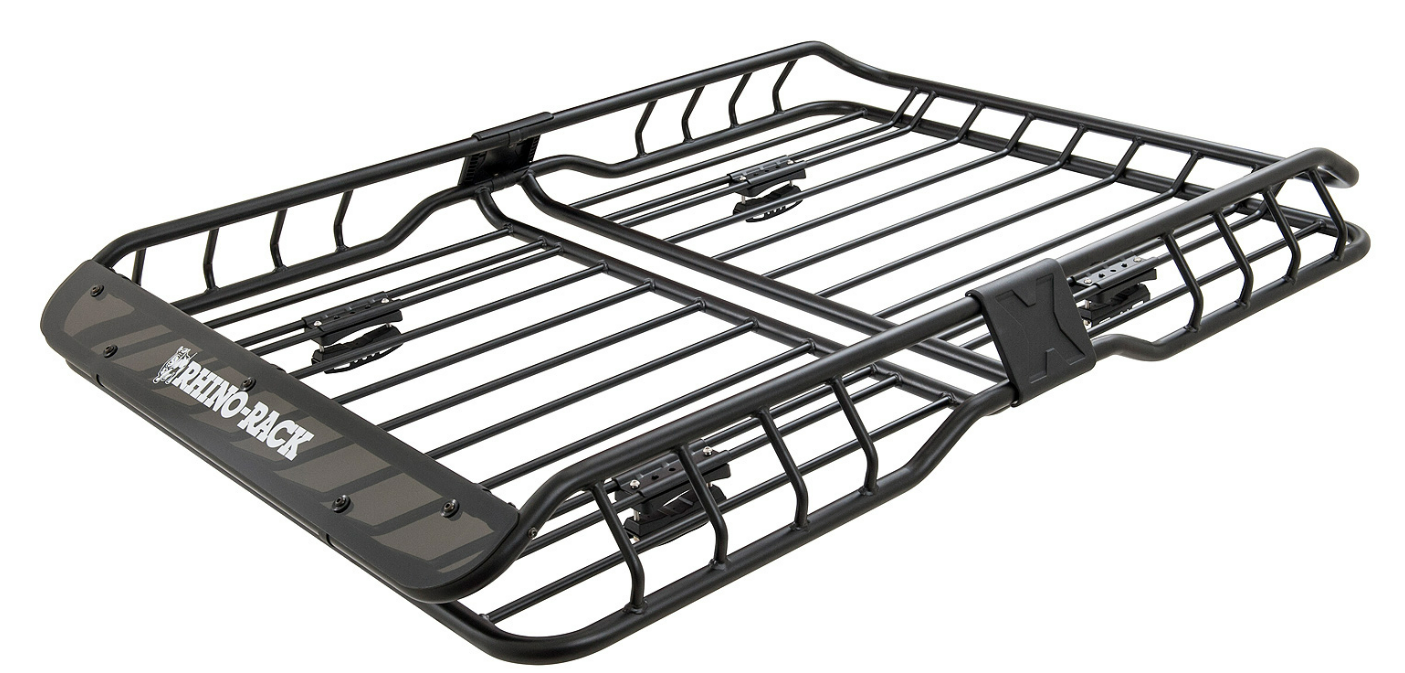 If you're looking for a sub-$1000 roof rack, then I recommend the Rhino-Rack XTray. This roof rack costs about $700, which may not be the cheapest roof rack, but it's certainly reasonably priced. 
This rack is made of powder-coated steel, getting the strength and durability of steel with the rust-proof benefits of the powder coating. Its basket design is perfect for holding luggage, and you can use ratchet straps to keep your load secure. However, its length of 58 inches might limit the loads you carry, so it isn't as versatile as the Pioneer Platform above.
Still, you can carry up to 165 lbs on this roof rack, which itself weighs 46 lbs. Granted, its load capacity isn't as high as the BajaRack models but I think it's sufficient for most 4Runner owners.
I love its aerodynamic design and low profile, which keeps it unobtrusive when you're not carrying a load. 
What I Like
It is reasonably priced.

The XTray is strong and durable.

The design is unobtrusive.

Installation is easy.
What I Don't Like
The XTray isn't very versatile.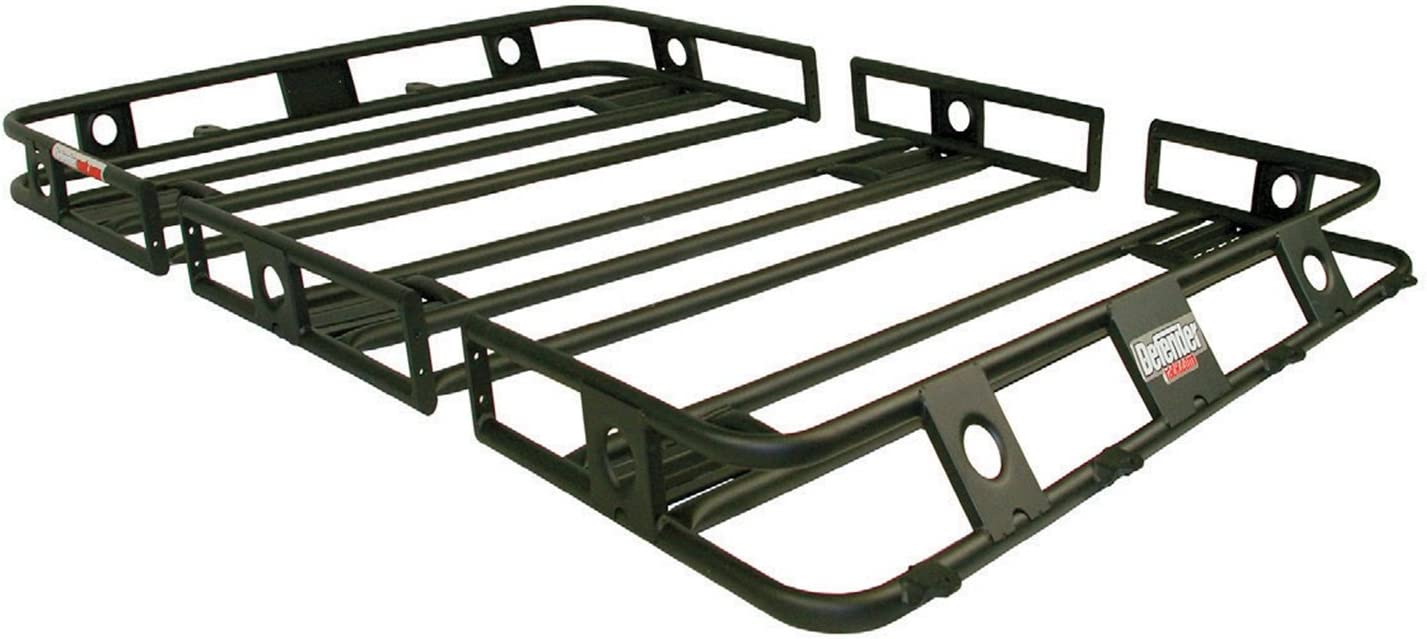 The Smittybilt Defender is for those who don't want to spend $1000 on their roof rack. With a price of as low as $250 on Amazon, it is just perfect for those who want a practical roof rack that doesn't cost as much as a small car. However, it might cost about $500 in other stores, so shop around for the best deal (Amazon seems to offer the best prices at the time of writing).
The Defender Roof Rack is made of steel with a black powder coat to protect it from rust. However, the use of 1-inch steel tubing means that this roof rack is quite heavy; it weighs 58 lbs. Still, its low price doesn't mean that durability is compromised. This roof rack is designed to handle the vagaries of the outdoors. 
Installation on the 3rd-gen 4Runner doesn't require drilling as it comes with mounting brackets that attach to the stock roof rails of the SUV. You can also buy adaptor brackets for carrying a trail jack, shovel, or spare tire, which make this a versatile roof rack. 
What I Like
It's affordable.

The roof rack is strong and versatile.

It's not complicated to install.
What I Don't Like
Frequently Asked Questions
Question: How much weight can you put on the roof of a 4Runner?
Answer: Toyota recommends carrying up to 120 lbs on the 4Runner's roof.
Question: Do roof racks damage your car?
Answer: If a roof rack is installed correctly and you don't exceed the car roof and roof rack's load limits, then the roof rack won't damage your car.
Question: Do roof racks hurt gas mileage?
Answer: Yes, roof racks hurt gas mileage because they add extra weight and affect the car's aerodynamics. According to a Berkley Lab study, roof racks lower your car's fuel efficiency by up to 25%.
Are Roof Racks Worth Buying?
Despite the effect that roof racks have on fuel economy, they're handy accessories because they offer extra cargo real estate. 3rd-gen 4Runners have about 44.6 cubic feet of interior cargo capacity with the rear seats up and 79.8 cubic feet with the rear seats folded. This space might be limited if you have longer items to carry, like canoes or bikes. This is where a roof rack might come in handy. Plus, with a roof rack, you can attach a rooftop tent and make use of your 4Runner's roof when camping. 
Before buying a roof rack, figure out why you need one, and this should help you select the perfect one.
Before you go, check out our Toyota 4Runner accessories guide to find out about other accessories that you can use to modify your 3rd-gen 4Runner.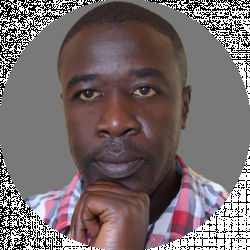 Latest posts by Barry Juma
(see all)