The Toyota 4Runners are rated to carry up to 120 lbs on their roofs. This figure seems to be standard across all models, at least according to 4Runner online forums. However, I spoke with a number of 4Runner owners online, and they confirm that this SUV can carry more than 120 lbs, as long as you have the right roof rack and other 4Runner accessories. And Baja roof racks are among the best in the market, with high weight capacities and strong construction.
I pored through the options offered by Baja, and, although their roof racks are costly, they offer great value for money. In this article, you'll find out about the best 4Runner Baja roof racks and what makes these racks popular among SUV owners. 
Bottom Line Up Front
Baja roof racks are strong and durable, designed for heavy users who spend a lot of time outdoors. My top Baja roof rack recommendation is the 5th Gen 4Runner Roof Rack – TRD PRO OEM Basket because it is reasonably priced, lightweight, and practical. 
My Top Picks at a Glance
Why Baja? Qualities of Baja Roof Racks

Strength and Durability
BajaRack uses steel to make its roof racks. This material, as I'm sure you already know, is quite strong and is perfect for use on an outdoor-centered vehicle like the 4Runner. To solve the problem of rust, the company's steel roof racks have an epoxy primer applied to them and then a layer of powder coating on top.
Sadly, the use of steel also means that the roof racks are generally heavier than average, with some weighing over 90 lbs, thus requiring two people when installing.
High Weight Capacity
Baja roof racks have high load capacities, thanks to the use of steel. Most 4Runner Baja racks are rated to hold up to 300 lb when the vehicle is moving and a whopping 600 lb when stationary. However, there are a few with a lower load capacity of 200 lb.
Varied Sizes and Designs
There are both flat and basket racks in Baja's lineup, with designs that accommodate the sunroof in some 5th-generation 4Runner models. You can also get short 41-inch roof racks that span the roof section with rails or longer racks that cover the entire roof of the 4Runner. The longest Baja roof racks are about 92 inches.
Easy Installation
Thankfully, BajaRack provides detailed installation manuals and videos on their website, so you don't need a professional to install the racks for you. All the roof racks are easy to install, but some might require you to remove the roof rails, such as this one. Still, none of the racks require any drilling, so the installation process is uncomplicated.
Interesting Read: Comprehensive Guide to 4Runner Replacement Parts.
What to Consider When Choosing a Roof Rack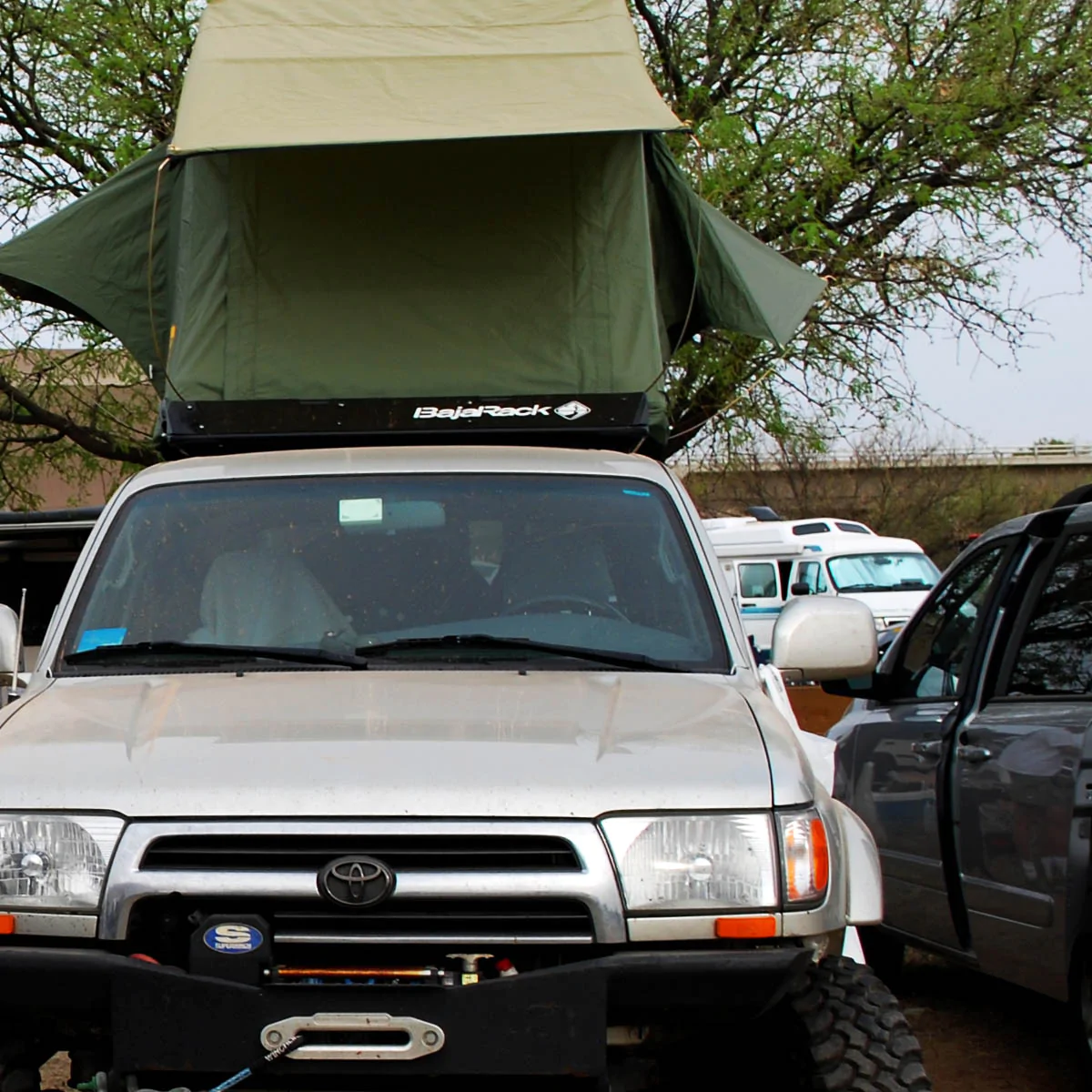 With the wide selection of roof racks in Baja's lineup, it might be a daunting task to choose one that's right for you. But wait, don't just choose the cheapest or the most attractive one; roof racks are different, and one that works for me might not be right for you. 
So, what should you consider when choosing a roof rack? I've outlined a few considerations below, but for a detailed look, check out this article on finding the best Toyota 4Runner roof rack.
Your Needs
This is the first thing I clarify whenever I'm looking for a roof rack. Why are you buying a rack? What do you want to carry?
Once you answer these questions, you'll be a step closer to finding a Baja roof rack that's right for you. For instance, flat roof racks are best for carrying long cargo like lumber, or for setting up a rooftop tent. Basket racks are best for carrying loads like boxes, or even a spare tire. 
Once you're certain of your needs, you'll also know which size is right for you.
Weight
A roof rack adds extra weight to your car, and it'll impact the vehicle's fuel economy. Plus, a heavier rack will impact the amount of load you can place on your 4Runner's roof without going over the roof load limit. 
I prefer roof racks with no more than 50lbs if I plan to carry heavier cargo. However, most of Baja's roof racks are more than this, with the heaviest weighing close to 100 lbs. 
If you choose the heavier roof racks, remember to reduce the load you carry on the roof and inside the car to avoid going over the 4Runner's payload capacity.
Warranty
The longer the warranty offered by the manufacturer, the more confidence you have in the roof rack's quality. I recommend considering a rack with at least a 2-year warranty especially since you're likely to subject the rack to offroading abuse. 
Some manufacturers like Sherpa offer a lifetime warranty, but BajaRack offers a 2-year warranty on the roof rack and accessories. 
Your Budget

Finally, consider how much you have to spend because this will determine the options available to you. Baja roof racks cost from about $800 to about $3000. The price will go higher if you choose to add accessories. Admittedly, Baja's roof racks are among the costliest in the market, but the company's wide price range accommodates people with different budgets. 
Sadly, if you have a budget of below $700, perhaps BajaRack isn't the brand for you. 
In this case, consider Smittybilt roof racks.
Best Baja Roof Racks: My Top 5 Recommendations
Selection Criteria
Design: This list has Baja roof racks with different designs, to provide an option for buyers with different needs and preferences.
Price: I considered roof racks at different price points to offer a recommendation for those with different budgets.
4Runner model: I've selected my top roof rack recommendation for the 3rd, 4th, and 5th-generation 4Runners. Baja doesn't have any options for the first and second-generation models.
This roof rack happens to be the lowest-priced one sold by BajaRack, but that's not the main reason I recommend it. Don't get me wrong, the price of less than $800 is certainly attractive, especially in a lineup that's made up of roof racks over $1000. However, the main reason I chose it is that it's a versatile roof rack that can carry different types of cargo when paired with the right accessories. Sadly, these accessories cost extra, so you'll have to spend a lot more than the base price. 
Still, it's worth the investment because this roof rack – just like other Baja racks – is made of steel and is expected to withstand the vagaries of offroading.
This rack is among Baja's lightest, with a weight of 38lb. Granted, it's still not lightweight, but I don't mind its sub-40-pound weight.
Baja has detailed instructions on installing this rack, and you get all the mounts required. If you're a burly person, you should be able to get the job done yourself, but having an extra pair of hands will make your work a lot easier.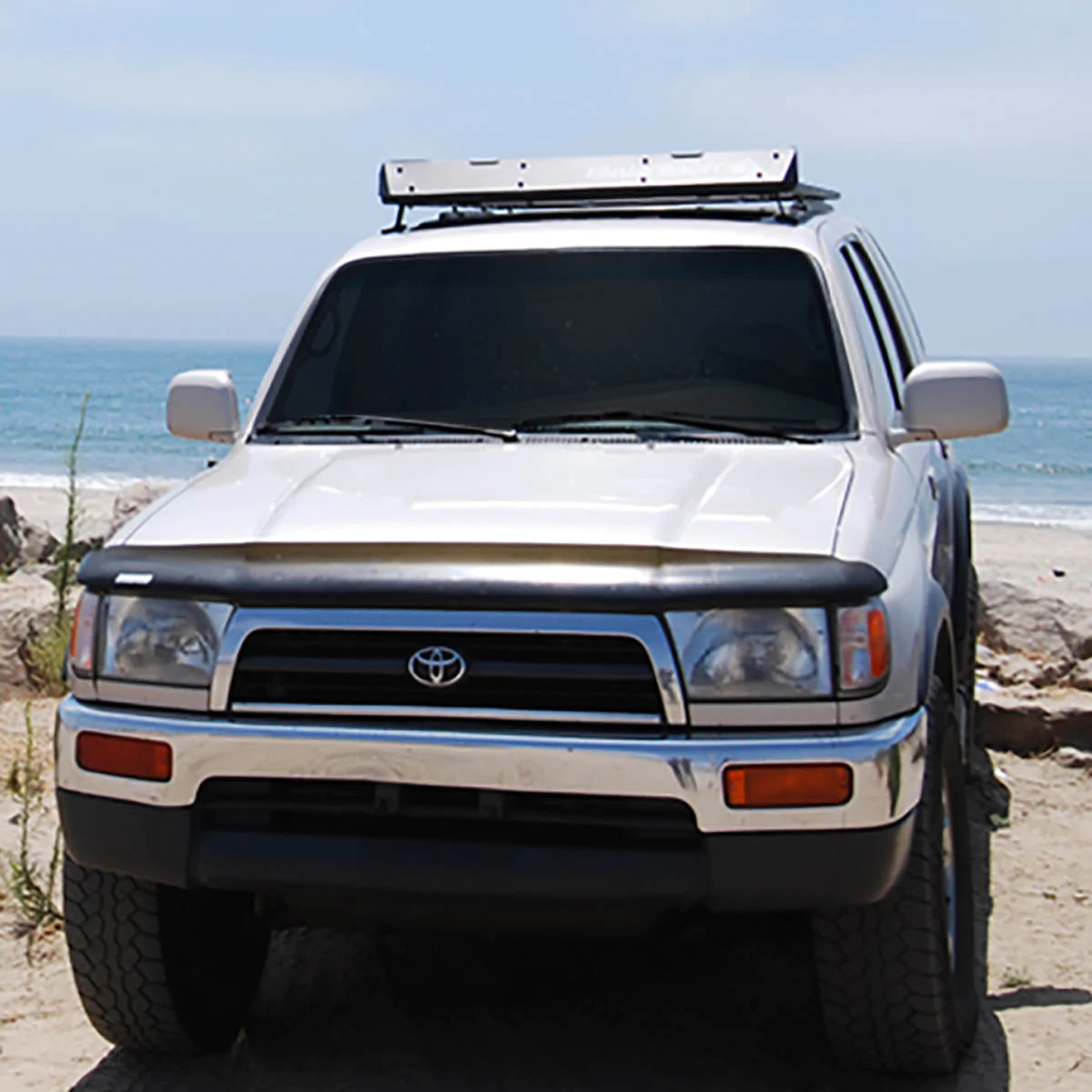 What I Like
It's a reasonably-priced roof rack.

This roof rack is versatile if you have the right accessories.

It has a low profile with an aerodynamic design.

The roof rack remains unobtrusive when you aren't carrying a load.

It isn't too heavy.
What I Don't Like
You'll have to spend extra on accessories to get the most out of this rack.

The wind deflector makes it difficult to carry longer loads.
This is the roof rack I would get for my 3rd-gen 4Runner because it's very practical for offroading use. It's mounted on the 4Runner's roof rails, and the entire process should take less than 45 minutes if you have the right tools. However, with a weight of 75 lb, you'll need someone to help lift it onto the car. 
This rack is compatible with several Baja accessories, like a spare tire mount, water and fuel cans, and a light bar mount. Its modular design makes it easy to optimize the rack for different uses by allowing you to install the different accessories.
I recommend getting the LED light bar mount that can be easily attached in place of the wind deflector. 
In total, this rack offers about 20 square feet of cargo space, and its load capacity is 300 lb when you're driving. It is, however, not ideal for carrying longer loads like lumber because of its basket design.
If you have a budget of about $1200, this is a good Baja roof rack to get for your 3rd-gen 4Runner.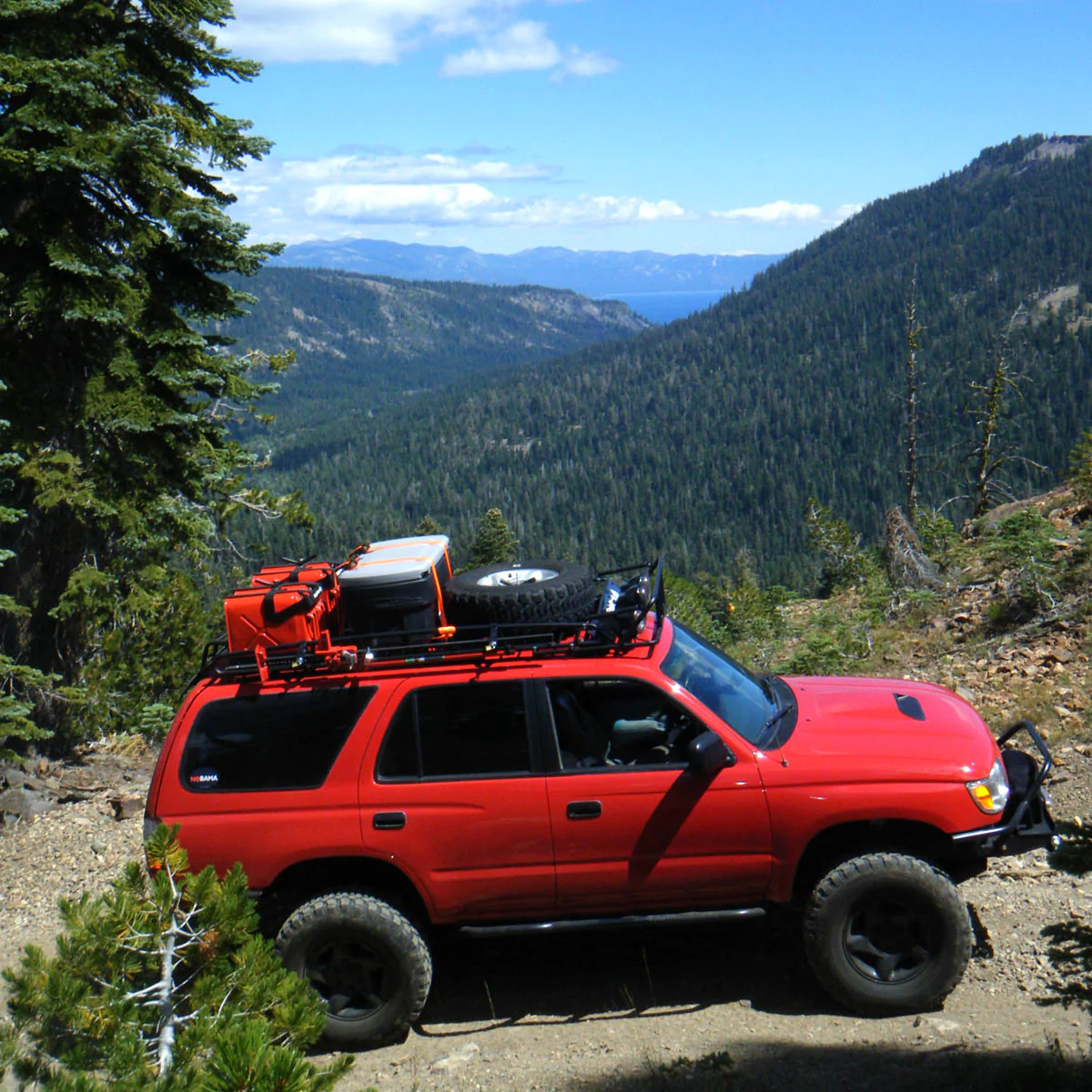 What I Like
It has a large cargo area.

The roof rack is compatible with several Baja accessories that boost its functionality.

It is easy to install.
What I Don't Like
This Baja roof rack has a similar design to the one I've recommended at the top of this list, but this one is designed for the 4th-generation 4Runner. Other than this small difference, this one has similar advantages (and disadvantages) as the one above. 
For starters, its flat design means that you can accessorize and make it perform different functions as the need requires. For instance, you could use it to carry your cargo by day and set up a rooftop tent on it by night. The possibilities are limited by the available accessories.
Unlike the 3rd-generation rack, this one costs about $1100, perhaps because it's bigger. This rack has a length of 74 inches, a width of 47 inches, and a height of 4.5 inches owing to the difference in dimensions between the 3rd and 4th-generation 4Runners.
This rack is also heavy, with a weight of 71lb thanks to the use of steel tubing. Despite its heft, it still has a similar load capacity as the other roof racks: 300 lb when moving and 600 lb when still.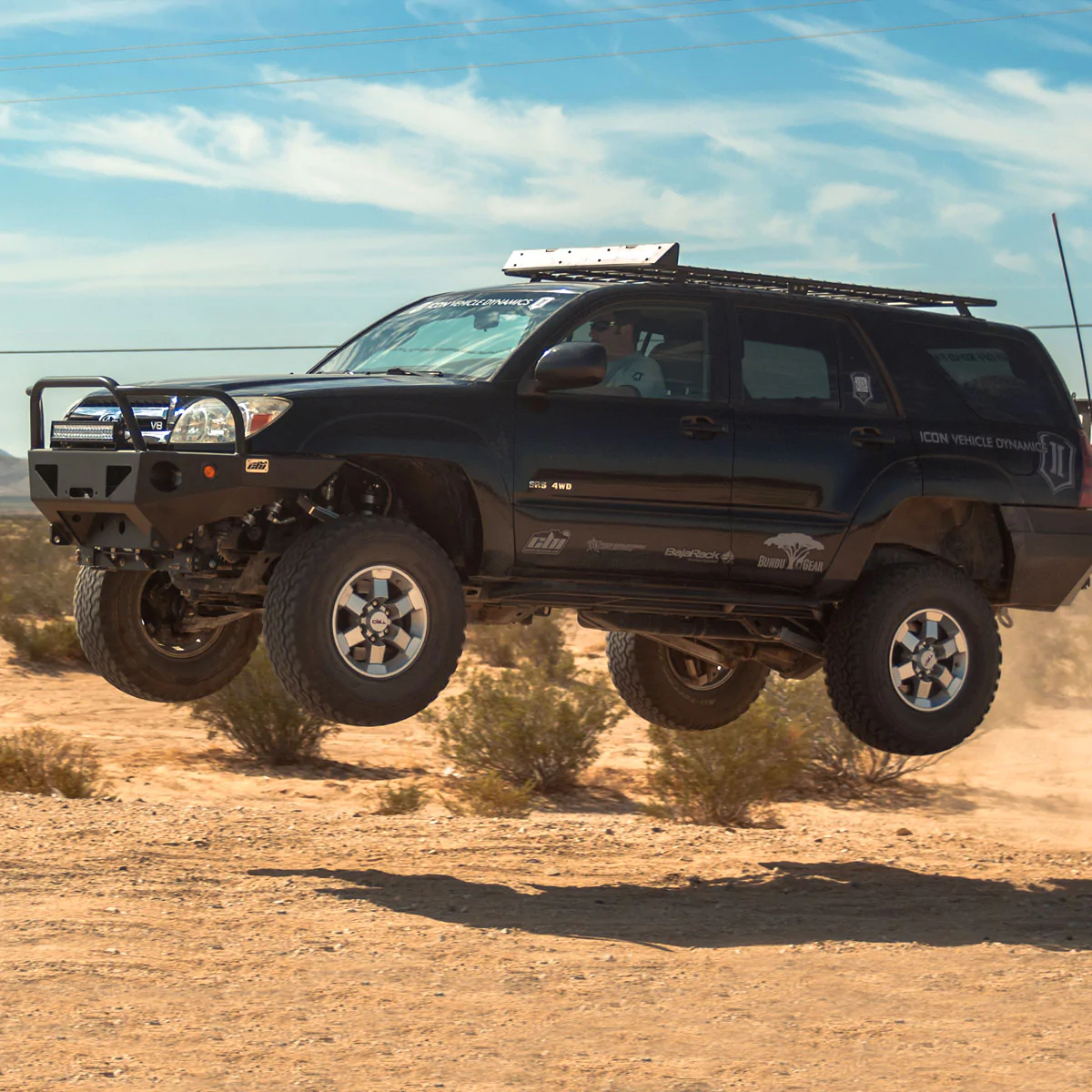 What I Like
It is a versatile roof rack.

The rack has a low profile and an unobtrusive design.

It looks cool on the 4Runner.
What I Don't Like
This roof rack is my top recommendation for owners of the 5th-gen 4Runner. I like how easy it is to install; simply clamp it onto the vehicle's factory roof rails and you're good to go. Plus, you can install it yourself if you want since the roof rack only weighs 30 lb, which is significantly lighter than other racks on this list. 
However, the TRD PRO Basket has a lower load capacity than its counterparts, able to hold a maximum of 200 lbs. Therefore, consider this rack if you don't plan to haul very heavy loads. Still, 200lb isn't anything to sniff at, and you might still find this sufficient for your needs.
Baja made this rack of stainless steel, just like its other racks, with a black powder finish. 
This rack is also one of Baja's lowest priced, retailing at about $800. Granted, this isn't cheap, but good-quality roof racks are often expensive, so this one is priced reasonably. 
And, unlike the flat roof racks, you don't need accessories to make this one functional, although I still recommend buying these accessories to get the most out of the basket.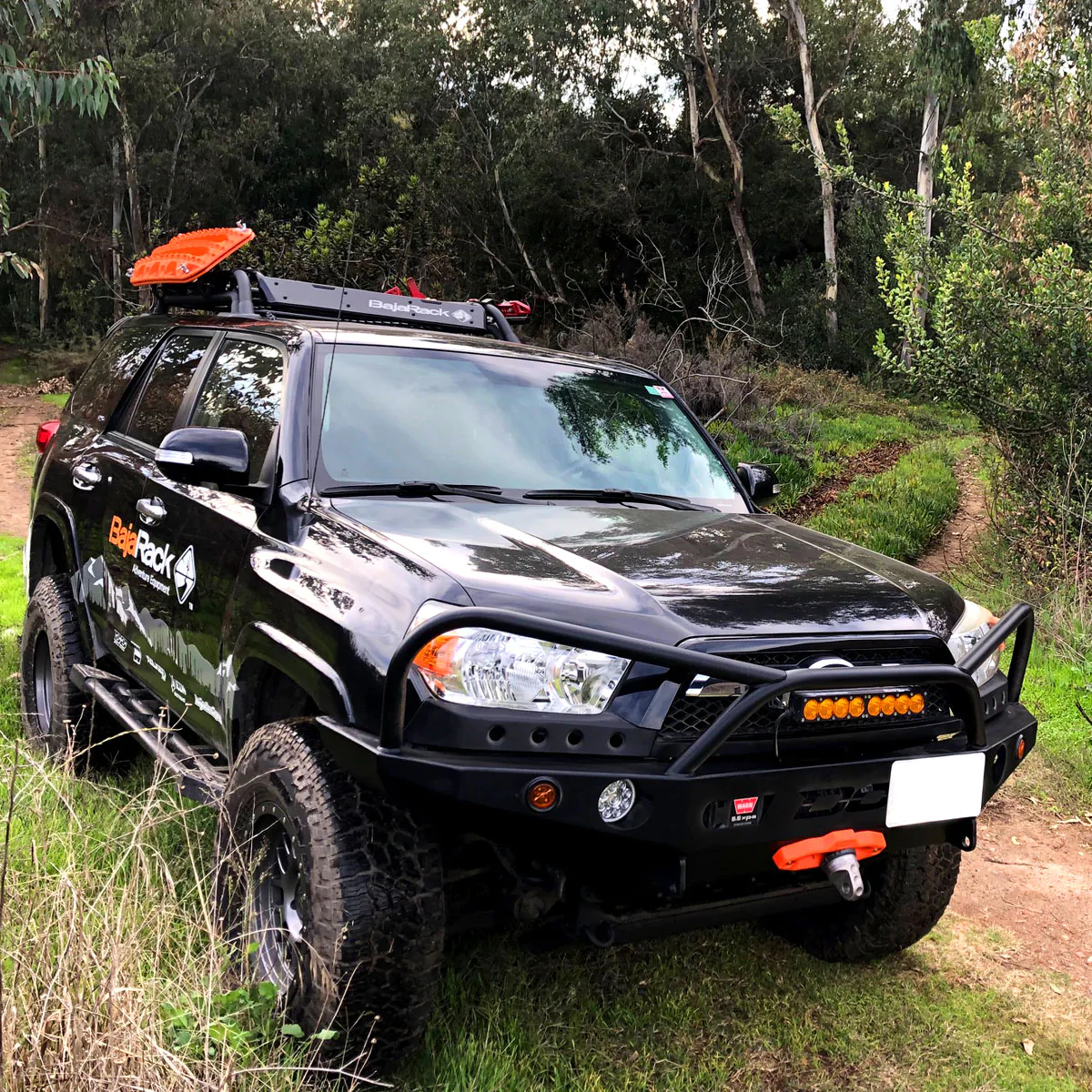 What I Like
It's reasonably priced.

The basket isn't heavy.

It's easy to install.
What I Don't Like
It has a low load capacity.
Unlike the flat roof racks I've recommended above for the 3rd and 4th-gen models, this one's wind deflector doesn't extrude above the rack. The deflector slants forward to leave a completely flat platform on which you can carry longer cargo like a canoe. Plus, with recommended mounts, you can install a light bar at the front. 
But that's not all; this flat roof rack can be transformed to carry different types of cargo with the recommended accessories. I recommend this one if you have varied needs and don't want to be limited to carrying only specific items. 
This is a spacious rack, with a total cargo area of 25 square feet. However, since it's a large roof rack, it's also quite heavy, weighing 97 lb. So, although installation isn't difficult, you might still require help to mount the rack.
As you'd expect from a Baja roof rack, this unit is made of stainless steel, underscoring the company's dedication to building durable products. However, to own this roof rack, you'll have to pay close to $2000.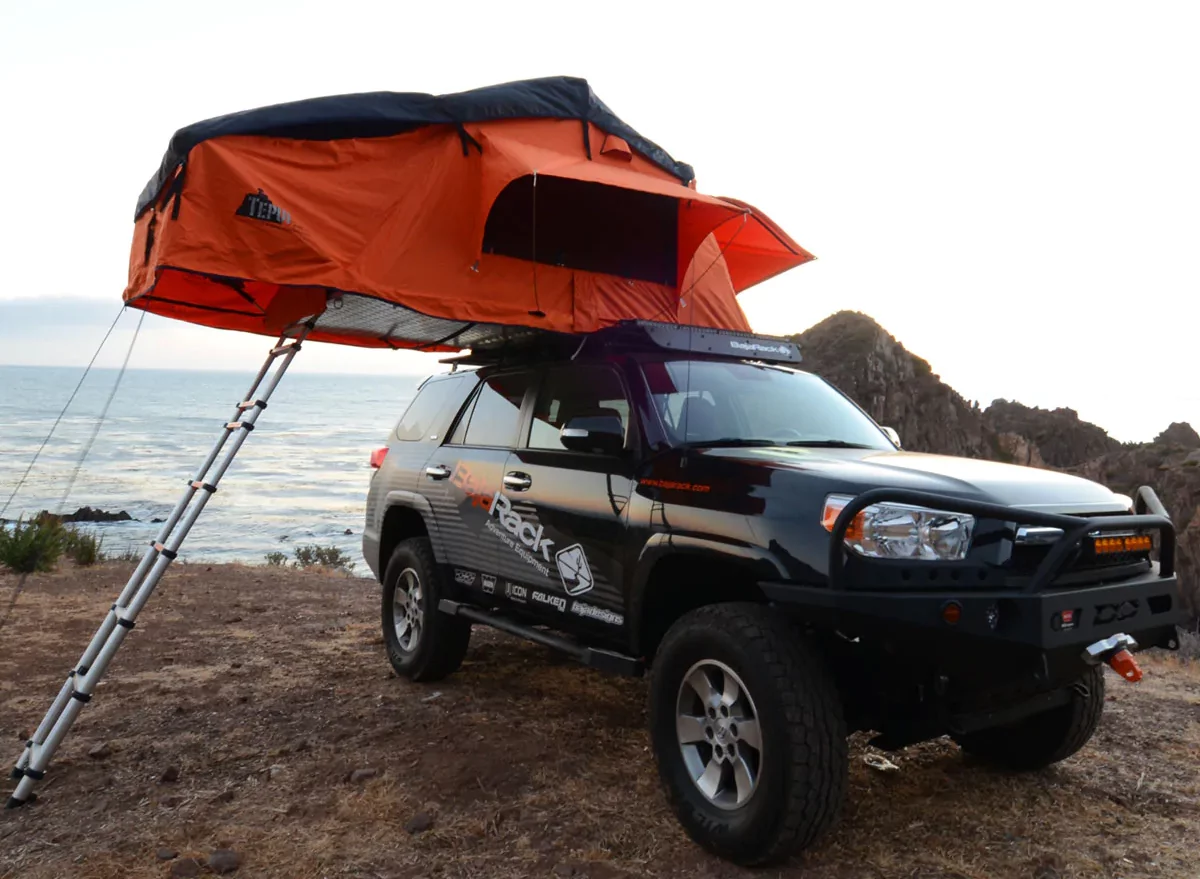 What I Like
It's a versatile roof rack.

This rack is strong and durable.

It has a low profile.
What I Don't Like
It's heavy.

The rack is expensive.
Alternative Roof Rack Options
This flat roof rack is an affordable alternative to Baja's roof racks; it costs about $800. The company, Victory 4×4, has roof rack options for the 3rd, 4th, and 5th-generation 4Runners, all of which are made from aluminum. This makes the roof racks slightly lighter than Baja's racks, with a weight of 49 lbs. This is about half the weight of some of the flat Baja racks above.
Because of the low weight, installation of this rack isn't difficult. You can probably install it yourself, but getting help would make it faster.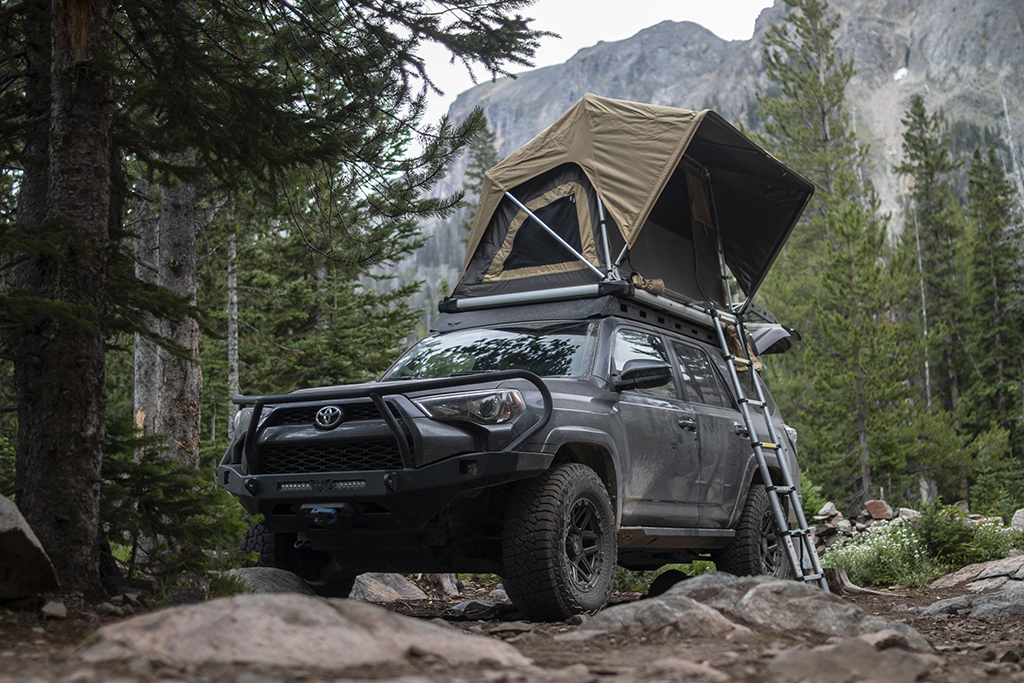 What I Like
It has a stylish look.

The rack is reasonably priced.

It isn't too heavy,
What I Don't Like
You have to buy the accessories to make it functional.
If spending over $1000 on a roof rack is a turn-off for you, consider the N-Fab roof rack designed for 5th-gen 4Runners. This rack costs about $600, which is significantly more affordable than the Baja options. 
But, don't be fooled by the lower price as this roof rack is just as durable. It's made of aluminum, so it can withstand the vagaries of the outdoors. I also love its black finish, which gives it a rugged look. 
The N-Fab roof rack weighs 39 lbs, so it's won't be too much weight on your 4Runner's roof. However, it can hold up to 150 lbs, which isn't much compared to the Baja racks. If you don't need a very high load capacity then this is a good choice.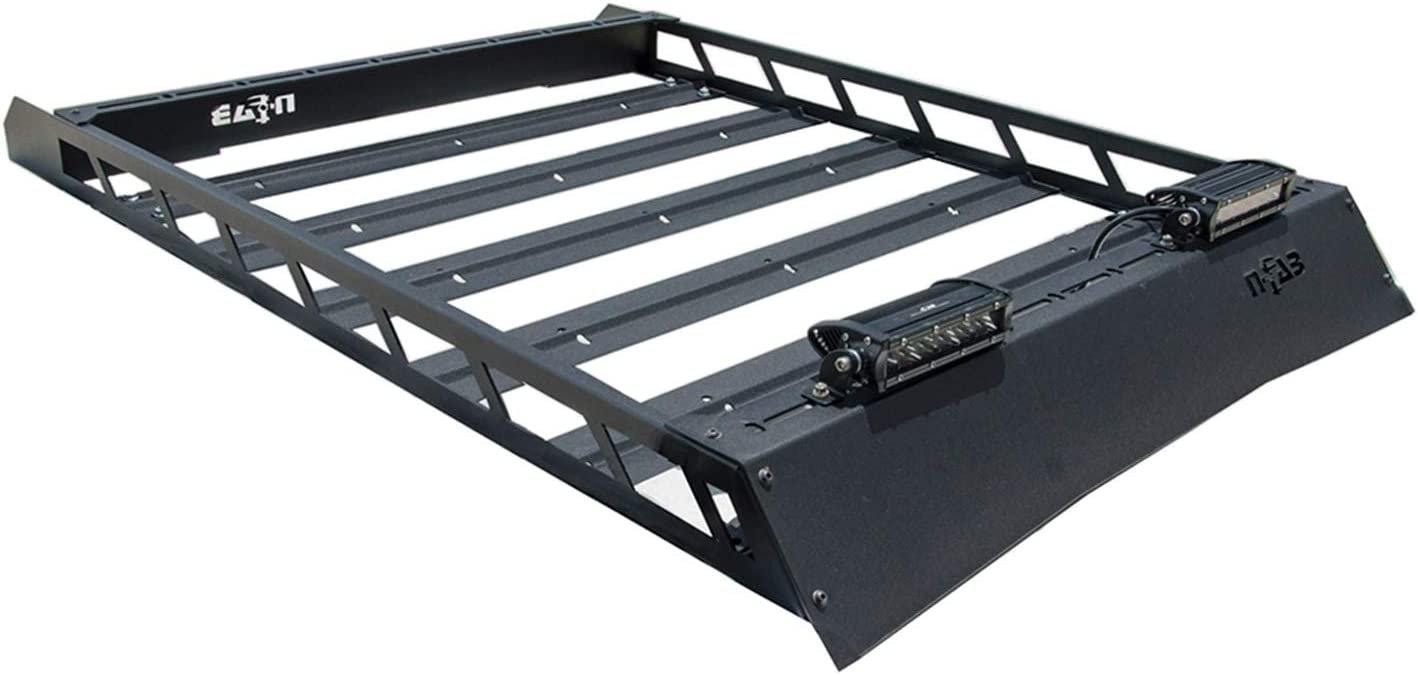 What I Like
It's affordably priced.

The roof rack is made of aluminum.

It is lightweight.
What I Don't Like
It has a low load capacity. 
Consider the Yakima Mega Warrior roof basket if you're looking for an affordable roof rack for carrying lighter loads. This rack costs slightly below $600. Despite its low price, Yakima assures us of its quality. In fact, the company is very confident that it'll last that it offers a lifetime warranty.
The roof cargo basket has a weight of 35 lbs, and its length is 52 inches. According to Yakima, installing it should take you no more than 30 minutes. However, I think this might take longer because you have to first assemble the rack.
Fun fact: this roof rack comes as standard in the 2020 4Runner Venture Edition. So, if Toyota believes in this rack then I guess it's worth considering.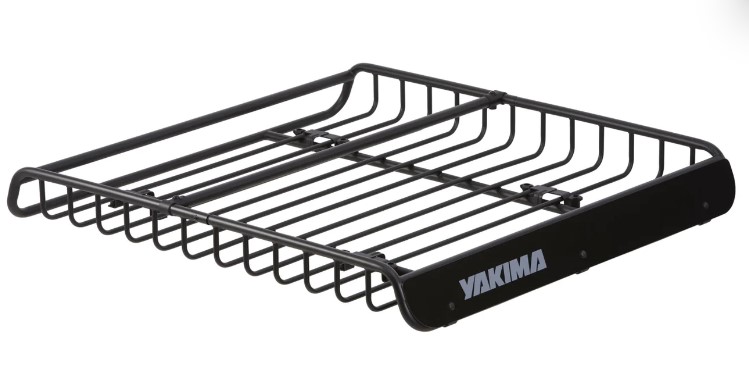 What I Like
It's affordable.

It's lightweight.

The rack is easy to install.
What I Don't Like
You have to assemble the basket before installing it on the car.
Frequently Asked Questions
Question: What happens if you put too much weight on a roof rack?
Answer: If you put too much weight on a roof rack, you raise the vehicle's center of gravity, therefore making it more unstable when driving. Too much weight also lowers your vehicle's fuel economy.
Question: How much weight can a 2019 4Runner hold?
Answer: A 2019 4Runner has a maximum payload capacity of 1,550 lbs.
Question: Can you put a rooftop tent on a 4Runner?
Answer: You can mount a rooftop tent on 4Runners from the 3rd generation onward. However, 1st and 2nd-generation 4Runners have a low roof weight capacity and so it isn't recommended to use a rooftop tent on these models.
Are Baja Roof Racks Right for You?
Baja roof racks are of excellent quality and they have high weight capacities. These roof racks are ideal for heavy users and extreme offroaders who will get value for their money. However, if you're a light roof rack user, I don't think Baja racks are worth buying because of their high price. If you don't plan to use the roof rack often, consider a lower-priced brand like Smittybilt or Yakima.
While you're still here, find out about other Toyota 4Runner accessories that will improve the look and functionality of your SUV.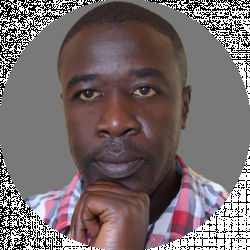 Latest posts by Barry Juma
(see all)