Tacoma Is …?
According to the higher-ups at Toyota HQ, Tacoma stands for the rough, rugged, and adventurous wilderness. Truth must be told, the Toyota Tacoma lives up to its name. It has been a beloved and favored mid-size pickup truck for fifteen years straight in the U.S market. It carries an astronomical reputation for reliability and holds a great resale value.  Furthermore, it displays excellent performance when it comes to rough handy work.
Toyota offers Tacoma a lively diversity of body configurations, making it easier for buyers to get what they want. The lineup includes six trim levels starting with the base SR, up to the SR5, and top-of-the-line Limited trim. These trims are aimed at day-to-day comfy driving. On the other hand, the Toyota Racing Development team tuned the TRD Sport, TRD Off-road, and TRD Pro trims for trailblazing and fun off-road adventures.
Tacoma is available with a 159 horsepower 2.7-liter inline four-cylinder, a 278 horsepower 3.5-liter V-6, and eight different exterior colors (five on lower trims). My all-time favorite is Voodoo Blue or Blazing Blue Pearl. Tacoma averages about 21 miles per gallon and seats up to five passengers.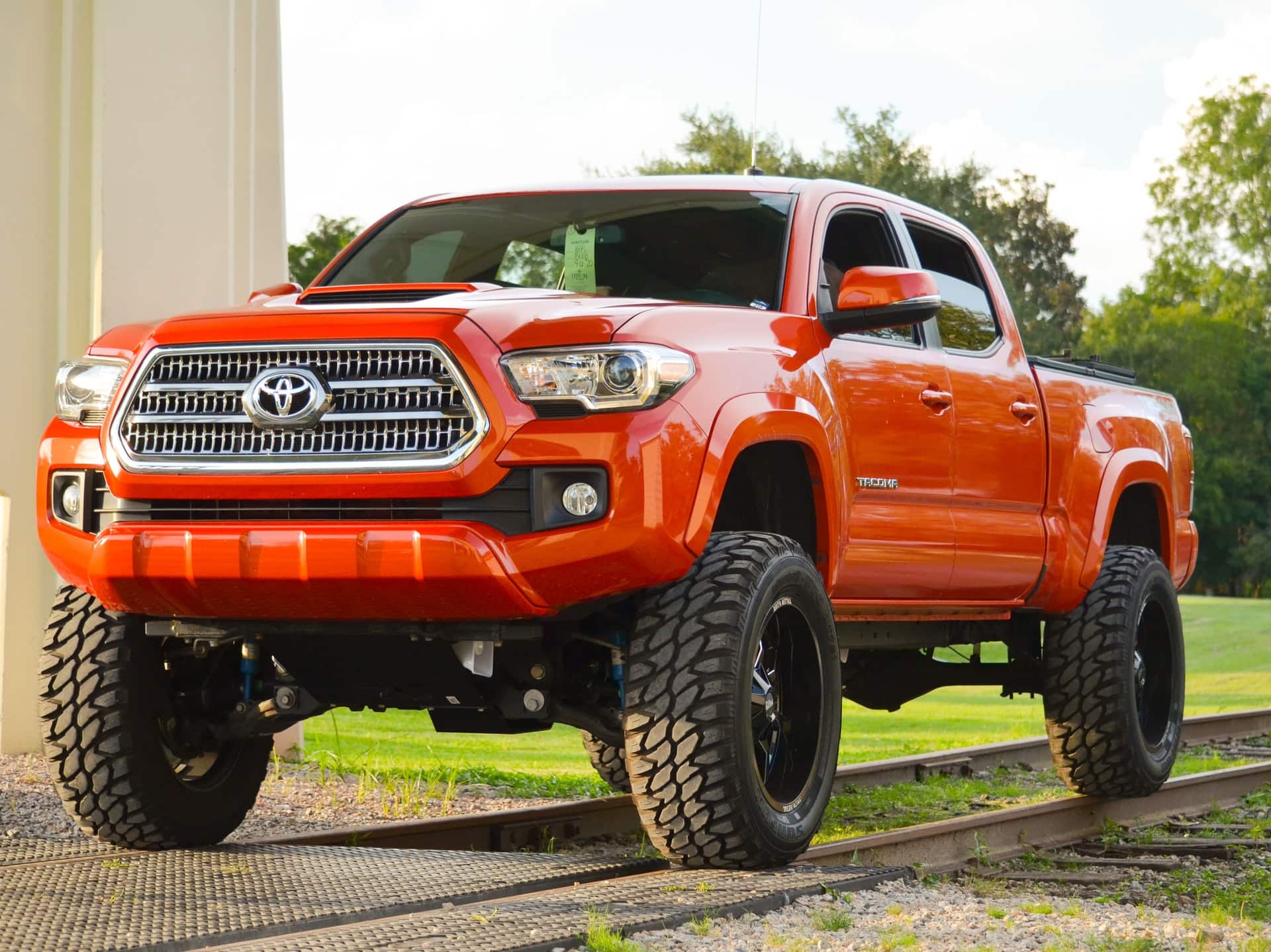 Tacoma commands a massive road presence and an astonishing performance in its stock form. Even so, you can make the most out of your Tacoma by investing a couple of dollars in additional parts. You will be mind-blown with what this beast can do!
The marketplace offers Tacoma compatible parts and accessories to improve the looks and driving experience.
It is worth noting that this guide includes a wide range of parts and recommendations to keep your Tacoma running in its optimal form and for as long as possible. Some components and aspects get little to no maintenance and eventually lead to expensive vehicle damages.
OEM vs Aftermarket
If your Tacoma is experiencing wear and tear due to an accident or usual daily driving, it needs some parts repaired or replaced. The replacement parts you choose for your Tacoma fall under two categories: OEM parts and Aftermarket parts.
OEM
Original Equipment Manufacturer or OEM are parts fabricated by the vehicle manufacturer. Alternatively, the vehicle manufacturer may design the necessary parts and outsource its production to another reputable manufacturer. OEM parts are the original parts used in constructing your vehicle when it was new.
To simplify, here is an example. Tacoma OEM parts are made directly by Toyota. Otherwise, Toyota designs the parts necessary for your Tacoma and asks another reputable manufacturer to produce them. These parts will fit perfectly in your Tacoma. As a result, they are more expensive.
Aftermarket
Aftermarket parts are produced by any company other than the original vehicle manufacturer. These parts are often mass-produced with a universal fit compatible with multiple makes and models. Aftermarket parts are generally on the cheap end of the spectrum, but high-quality parts will cost you extra. These parts can provide better performance than OEM parts.
Another strong point is the variety and expansive range of selection. Hundreds of companies manufacture aftermarket parts. Some companies specialize in making one specific part, while others produce many components.
Which one is better?
Determining which part suits your vehicle best depends on your personal preference. If you want to preserve the factory ride and performance, OEM is the way to go. Otherwise, if you are on a tight budget or simply want your vehicle fixed, a cheaper aftermarket part will get the job done.
Body protection parts
Grille guards and Bullbars
As the names suggest, bull bars and grille guards keep the front end of your Tacoma from possible damage in case of an accident. They are made out of heavy-duty steel for maximum durability and protection. Though they are unnecessary, bull bars and grille guards are a reasonable investment to consider if you are an off-road enthusiast or a professional hunter.
Both items serve the same purpose, but they are different. For instance, bull bars protect the front middle section of the vehicle, whereas grille guards offer complete protection to the front end and headlights. It is worth noting that the heavier these parts get, the more influence they have on the handling. Bullbars and grille guards are available for approximately $ 400 from popular brands like Westin or Steelcraft.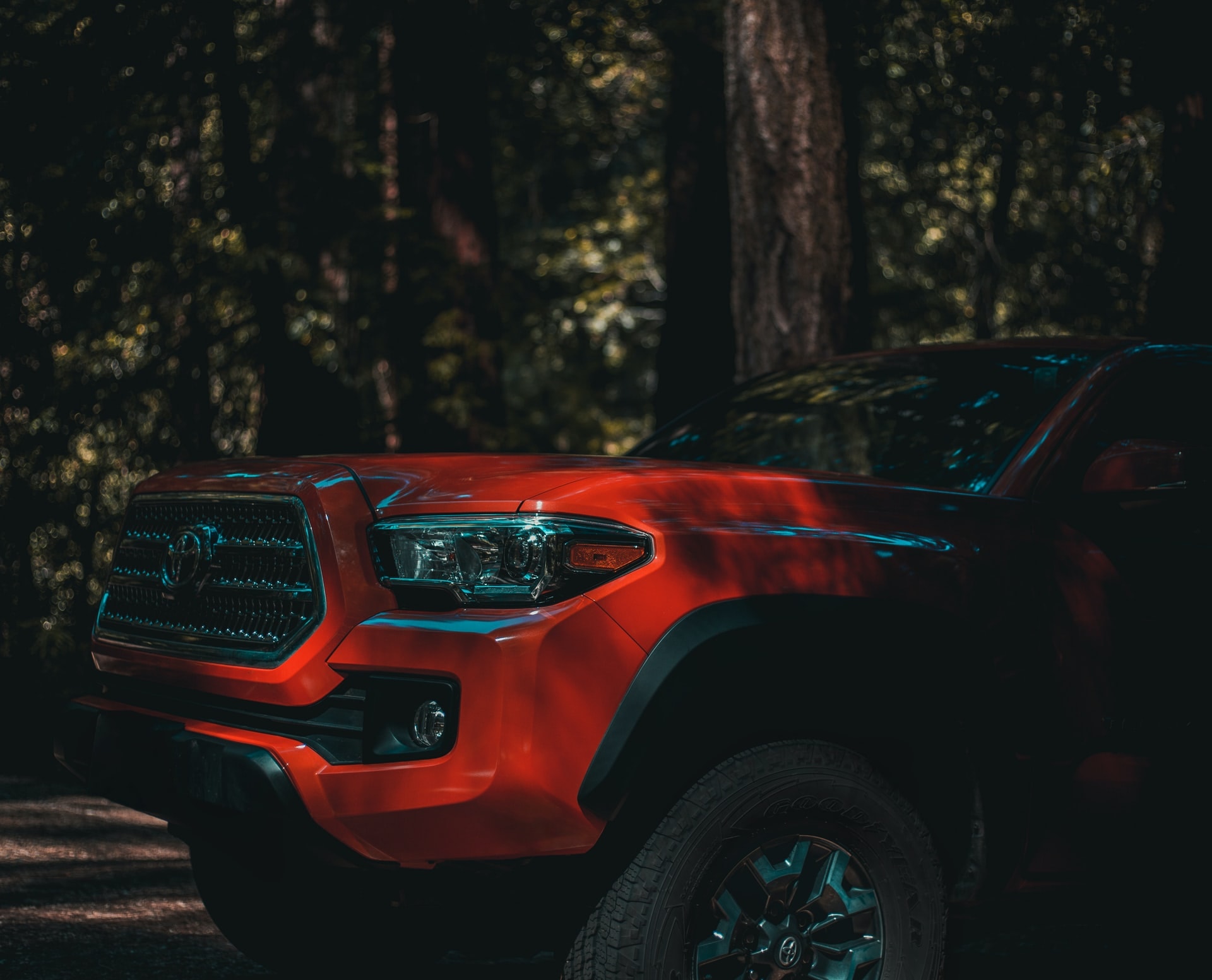 Skid plates
Put most simply, skid plates are abrasion-resistant steel plates affixed under the vehicle. These metal sheets serve as a defense mechanism to protect the critical components under the car like the oil pan, differential, and engine bay. Skid plates are popular among the 4×4-community member and off-roaders because there is a high chance that the truck bottoms out.
Skid plates protect the vehicle from rocks kicked up the engine bay, water, and dust. Moreover, if you drive on gravel roads or streets riddled with potholes and cracked pavements, a skid plate will protect the undercarriage from debris that may cause damage. Alternately, you can live without it if you live in a city with well-maintained paved roads.
From a practical point of view, skid plates will make regular maintenance and oil changes hard. It will take almost double the time because it requires removing and reinstalling the front bumper.
In the end, fitting a skid plate to your Tacoma remains a personal choice. If you are considering one, a TRD or an RCI skid plate is a good option that fits perfectly on your Tacoma. In terms of price, it is on the high end of the spectrum at $ 400.
It is worth the investment if you ask me!
Undercoating
Modern-day vehicles are built with corrosion-resistant materials, which makes this process unnecessary. Nonetheless, adding an extra layer of protection is never a bad idea. Undercoating will defend the bottom side of your truck from water, salt, debris, and other road chemicals that lead to corrosion or rust.
In fact, keeping your vehicle rust-free will hold and add to its resale value. Undercoating presumably lasts up to two years and should be applied annually. Many dealerships offer undercoating options for new or used vehicles, and it costs about $ 150. For a few extra bucks, you can get the best undercoating from professional grade 3M or Fluid Film for your Tacoma.
The chemicals can be harmful. Thus, I recommend you hire a professional to do the job.
Paint Protection Film and Vinyl Wrap
These are great options to protect the paint, enhance the looks, and increase the resale value of your truck.
Paint Protection Film or PPF is a transparent, light, and thin layer of thermoplastic urethane applied over the paint of the vehicle. Urethane has some distinct and unique properties featuring extreme elasticity. Put simply, it is so flexible it heals itself from minor chips and scratches caused by road debris.
You can apply PPF on the headlights as well. Some of the benefits of PPF include enhanced glossy finish, durability in extreme temperatures, and superior protection against Ultraviolet light and chemicals. PFF is easy to remove with no glue marks left on the paint (like peeling a banana).
Many people often choose a clear PPF to preserve the original paint finish. However, PPF currently comes in different colors and designs. Did you know that you can apply Carbon Fiber designed PPF on your truck?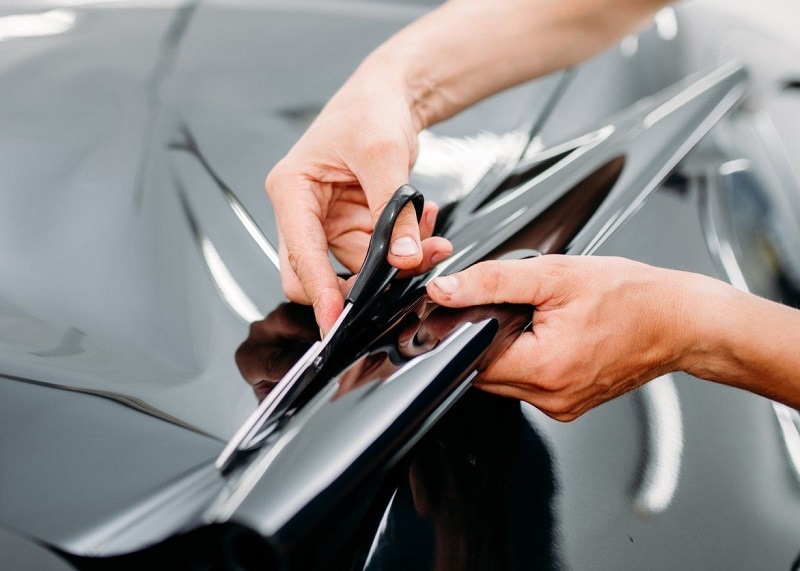 Applying PPF is a delicate process and should be done by professionals. Depending on the type of protection film and the vehicle you own, say a Tacoma, it will cost you $ 800 to $ 5000.
Vinyl Wrap is the newest and most creative innovation in the automotive customization world. It keeps the exterior of your truck safe from external elements and drastically changes its looks. Vinyl comes in thousands of color options and designs. Depending on material quality and driving conditions, it can last from three to seven years. Vinyl wrap is not permanent and can be removed at any given time.
For every Yin, there is a Yang.
Simply put, there are a couple of downsides to vinyl wrap. For instance, cheap vinyl is thin, less durable, and may ruin the paint with glue marks. In addition, if you live in a hot area where your truck is under continuous sun exposure, the vinyl will stretch due to the heat and starts to come off.
With that said, do your research thoroughly before applying vinyl or PPF to your Tacoma. Hire professionals to do the work and ensure that the materials are high quality.
Bed liners and tonneau covers
Since Tacoma is a pickup truck that hauls cargo from Point A to point B in its bed, you will find a bed liner and cover very useful. First of all, a bed liner is meant to protect the floor and sidewalls from dents, scratches, UV light and ensure a safe trip for the cargo. The most common types of bed liners are drop-in and spray-on liners. As their names suggest, drop-in liners are rubberized shells you drop into the bed of your Tacoma, while spray-on liners are material sprayed on the bed using a spray gun.
On the other hand, a tonneau cover is installed over the bed to protect its valuables from natural elements and theft. There are roll-up soft covers, folding hardcovers, and snug covers. The latter is a shell that goes over the bed and gives your truck the look of an SUV.
Practicality and convenience
Center console organizer
There is not much to say about this part because the name says it all. A set of storage compartments goes in the center console. It helps keep your cabin tidy and gives you more space. There are different organizers, and most of the time offer item-specific storage. For instance, it provides a specific place for your phone, coins, cables, pen, and much more.
Center console organizers come in different types, shapes, and sizes. They feature durable ABS plastic construction with a rubber finish to prevent slips and slides. Not all of them thought. Some organizers are made with high-quality materials with an Alcantara finish.
Center console organizers come as a tray that drops on top of the center console. Additional types include double storage organizers with lockable compartments to fit more items. If money is no object, you can replace the center console entirely with a new one.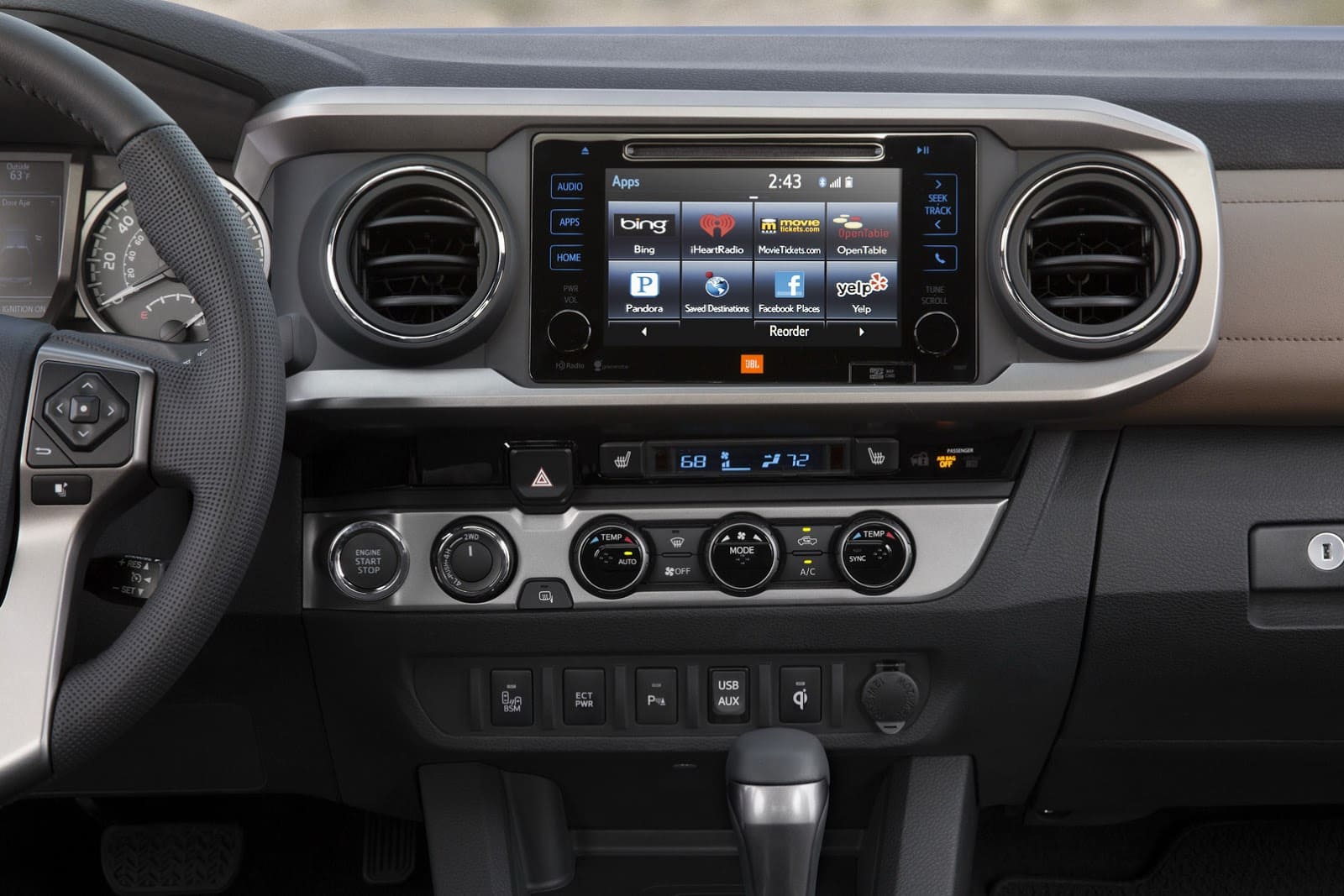 Dash kits and covers
Dash kits are interior trims fabricated to accentuate the dashboard and additional panels in the cabin. Dash kits are aftermarket accessories that either replace or apply on top of the existing dash and interior panels to enhance the looks and aesthetics. The available materials and finish variations give you the freedom to be innovative and creative with personalizing the cabin. For example, you can get Carbon Fiber, aluminum, wood, or camouflage.
Dash kits are CAD designed and laser cut to ensure a perfect fit for your Tacoma. In addition, they come with a gloss polyurethane finish for maximum protection again UV light and external elements. The price starts at $ 160 and changes depending on the design, finish, and components. To illustrate, a complete interior dash kit including inserts for the doors and center console from Remin or B&I costs about $ 250 or more.
Dash covers are a cheaper alternative to a dash kit. They are custom-made for each vehicle make and model with matching edges to accommodate the curves of the dash. Dash covers provide extra protection and prevent cracking and fading. For $ 50 or less, you can get your Tacoma a high-quality cover from DashMat, Dash Designs, or Coverking.
Touchscreen Displays
Many would agree that a touchscreen display is crucial to have. It is versatile and offers many benefits. It comes with satellite navigation to get to your destination quickly and safely. Furthermore, it comes with integrated Android Auto and Apple CarPlay to connect your phone and use the apps.
From the factory, the Tacoma comes with a 6–8-inch touchscreen as standard. However, it is outdated compared to the latest tech available on the market. Fortunately, you can replace the stock display with a 9-inch or a larger 12-inch touchscreen with better graphics, no lag, and advanced features.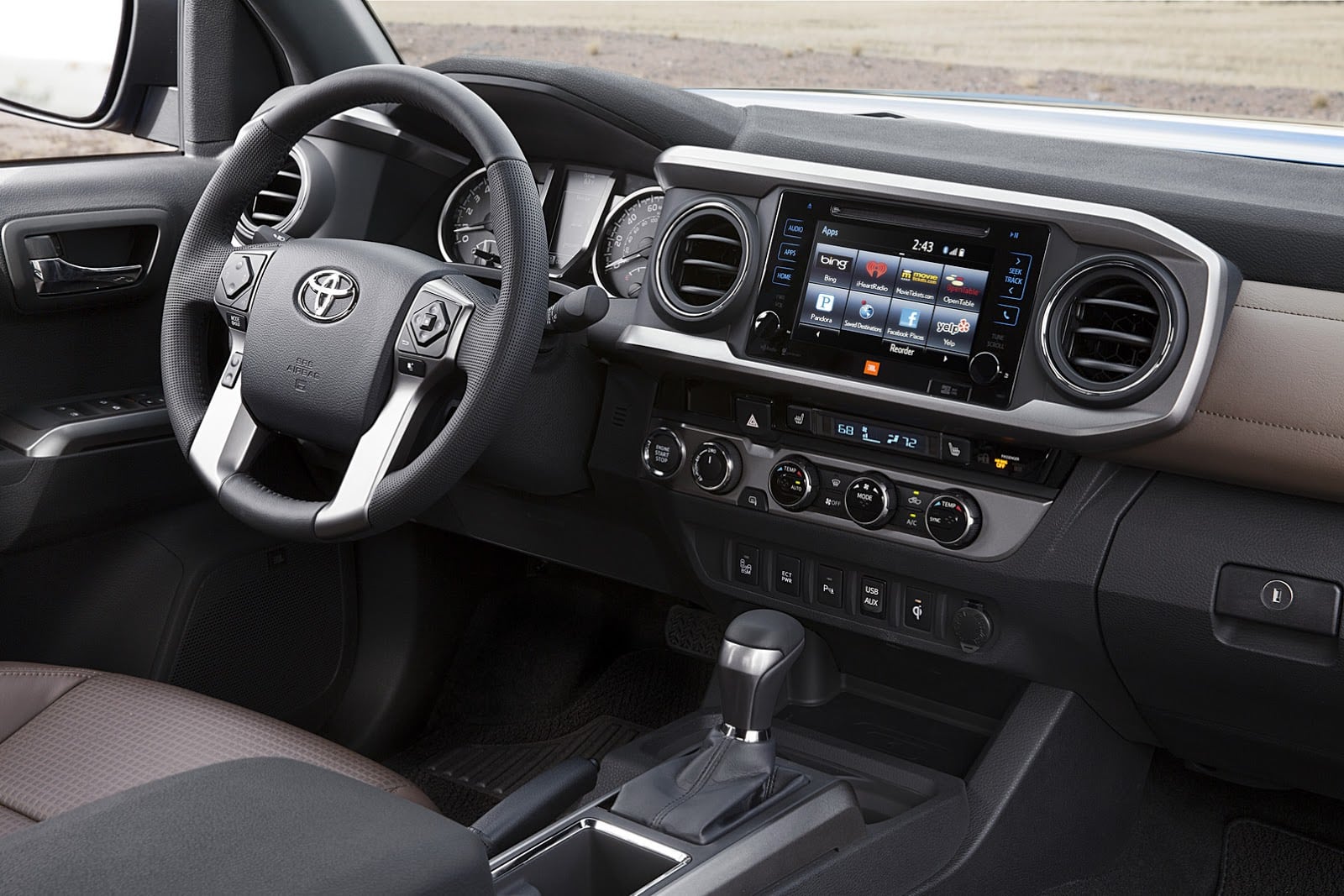 Custom gauges
Toyota offers the Tacoma a big analog speedometer on the right and rev counter on the left with a 4.2-inch multi-information screen in the middle. Gauge clusters provide you with vital stats like fuel economy, tire pressure, and trips details.
Analog gauges are stylish and give the vehicle a classic look, but they are old-fashioned and less informing than the digital gauges you get on modern cars. The good news is you can fit your Tacoma with a digital gauge cluster that gives detailed stats about the truck, change colors, shapes, and serve as a GPS as well.
Sound system
Good music makes a long haul more enjoyable. Toyota equips the Tacoma with a standard six speakers audio system on the base models while higher trims receive an additional subwoofer. You can upgrade the factory speakers with better ones from Sony or an aftermarket subwoofer. They are durable and produce better sound.
Cabin air filter
If you suffer from respiratory issues or allergies, this can save your life. A cabin air filter is a pleated item made of multi-layer materials such as cotton engineered to trap all the contaminants from getting into the cabin. The filter often sits behind the glove box and cleans the air from debris as it moves inside the HVAC system.
A clogged or dirty cabin air filter will decrease the airflow, overstress the AC, and produce a poor odor. For about $ 80, you can get your hands on a K&N top-quality air filter. It is made from polyurethane, and it comes with 10 years warranty. Additionally, you can wash it and use it again instead of throwing it away ad buying a new one.
Engine maintenance and performance
Spark plugs
Most people forget that these even exist. Spark plugs supply your engine with that tiny electric spark to ignite the fuel and air mixture to create an explosion, which pushes the engine to produce power. Spark plugs must be in excellent condition so the engine can run at its peak performance.
However, damaged or corroded spark plugs reduced fuel efficiency, causing an engine misfire, hard starts, and idling. Moreover, foul spark plugs can cause heavy damage to the interior of the engine cylinder. Damage like that is not cheap to fix.
If your Tacoma experience any of these symptoms, a trip to your local mechanic is in order.
To prevent such failure and any additional wallet-draining trips to the mechanic, you can install a set of NGK or Bosch Iridium spark plugs. They offer better performance and a longer lifespan due to the iridium construction. They feature a copper core to prevent any fouling. In addition, the spark plugs use 24% less voltage to ignite.
Air intake
Air intakes or cold air intakes are designed to bring in cooler air in large volumes inside the combustion chamber. More airflow means more power and torque output and better fuel economy. Enhance the performance with a K&N cold air intake. You can install it in the comfort of your garage in less than two hours.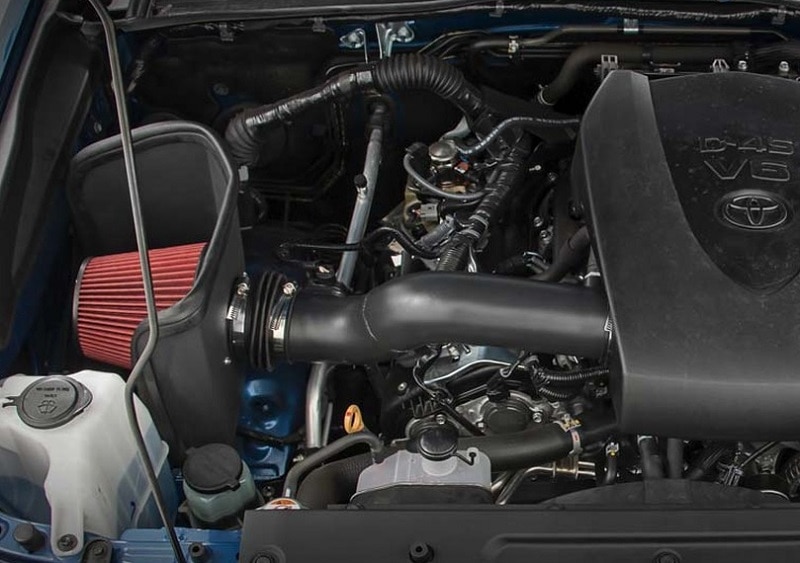 Serpentine and Timing belt
The serpentine and timing belt are crucial parts to keep an eye on. These two can be easily mixed up. In the end, they are both belts, but further than that, they are very different.
The serpentine belt is easy to spot. You will notice a thick rubber band that loops around the engine when you open the hood,. The serpentine belt connects the crankshaft on the outside to the rest of the engine parts to make sure they run smoothly and efficiently like the water pump. On the other hand, the timing belt is located further inside the engine. It connects the camshaft with the crankshaft and ensures they work in harmony. This synchronization guarantees the engine runs smoothly.
If you hear squealing noises, electrical failures, engine stalling, or a warning light comes up on the dash, there is a high chance that the serpentine belt needs a check-up. Recommendations on when to change the serpentine belt differ from one manufacturer to another. But, as a safety precaution, it should be checked every 60,000 to 100,000 miles. A worn-out serpentine belt may cause power steering failure and eventually lead to an accident. The cost of replacing it is about $ 300 or less at any mechanic shop.
Surprisingly, the timing belt is also recommended to check or swap out every 60,000 to 100,000 miles. On the contrary to the serpentine belt, the timing belt costs up to $ 1000 to replace because you will have to disassemble almost the entire engine to reach it. In addition, it is crucial to make sure that it works hand in hand with the rest of the engine parts.
Lubricants and additives
Lubricants have an impact on engine life expectancy. Without any oil, the engine will overheat and sooner or later succumb and seize to work.
Engine oil
Oil is the blood that keeps the engine running smoothly and expands its lifespan. The oil decreases the friction between the moving parts and prevents premature wear and tear. Moreover, the oil serves as a coolant to keep the temperature down due to all the rubbing. The oil cleans the engine from residue, debris, contaminants and protects it from corrosion.
Oils recommended for Tacoma engines include:
The Mobil 1 extended performance full synthetic oil (SAE 05-W20)
The Valvoline advance full synthetic oil (SAE 0W-20)
The Pennzoil ultra-platinum full synthetic oil (SAE 0W-20).
Toyota recommends changing the oil every 7,000 to 10,000 miles.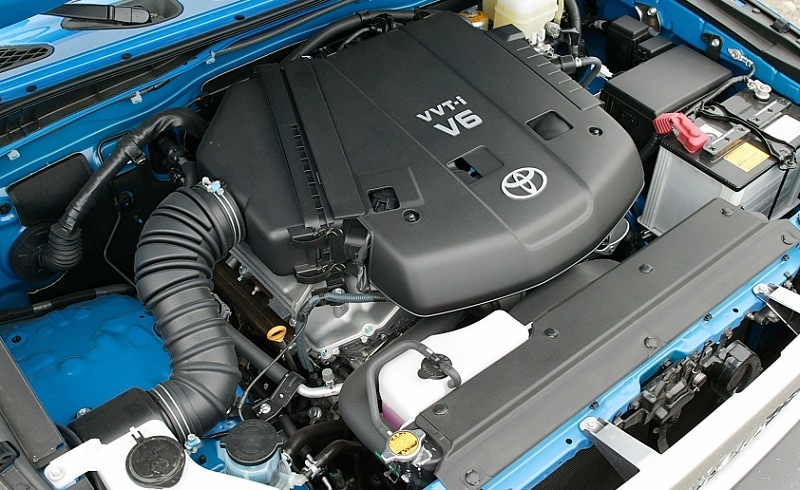 Transmission fluid
Just like the engine oil, transmission fluid is very essential for the health and safety of your gearbox and wallet. Transmission fluid is a lubricant that runs inside the transmission to prevent the bearings and moving parts from grinding in a manual gearbox. On the other side, the fluid provides hydraulic pressure and friction to allow the necessary components to move in automatic transmissions. Furthermore, the fluid keeps the transmission cool during gearshifts.
Manual transmission fluid has a thicker consistency, darker color, and a strong smell. On the other hand, automatic transmission fluid is thinner and comes in different colors depending on the manufacturer. That helps you distinguish between the various oils in your truck and makes it easier to find a leak.
It is recommended that you check the transmission fluid after 30,000 to 60,000 miles at least. Be aware that automatic transmission fluid does not work with a manual tranny and vice versa. Ensure to follow the factory recommendations and vehicle specifications before changing the fluid.
Off-roading gear
Without any additional modifications, Tacoma offers excellent performance on rough terrains. If you are an off-road enthusiast and love to hit the technical trails, you may need further upgrades to improve your Tacoma's performance.
Suspension
Tacoma is equipped with a good and capable off-road suspension, but it may struggle under extreme conditions. In that case, you need a pro suspension that gives better articulation, flexibility and can handle the weight. A suspension kit will provide better ground clearance and more room to fit larger tires. The best kits to install on your Tacoma are the FOX 2.0 or the Bilstein 5100 series.
These shocks feature steel construction and absorb road vibrations better than the stock suspension. Moreover, they come with a warranty against manufacturer defects and last longer.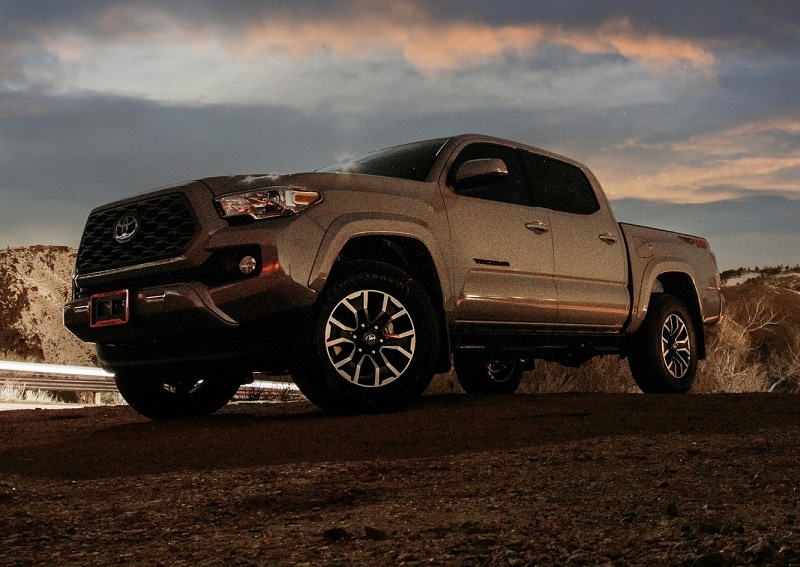 Bumpers
Tacoma's factory bumpers will most certainly not survive in extreme off-road conditions. Fixing the after every time you go trailblazing is not great for your wallet. Thus, you need to replace them with durable steel off-road bumpers. They feature rugged and durable construction with the ability to handle a winch. Plus, off-road bumpers offer better protection against rocks and rough terrains.
Winch
You can use a winch to get your truck out of a sticky situation like being stuck in the mud or during rock climbing. You can also use a winch to help other road users and remove hazards off the tracks. DV8 off-road 12,000 lbs. winch. It comes with a wireless remote, 86 feet of galvanized steel cable, and six horsepower motor. The DV8 winch comes with three years warranty and a $ 500 price tag.
Tires
Fitting bigger and tougher tires for better traction on rugged terrains is popular among off-roaders. In this case, look no further than the BFGoodrich T/A KO2 all-terrain tires.
Lightbars
Lightbars will light up the dark roads ahead and enhance the looks of your Tacoma. Lumen E-Mark combo 22" with DRLs is a sensible choice to go for. It features unique side reflectors to increase the light output.
In addition, it features spot beams for focused long-distance illumination and flood beams to illuminate open areas. It features dual-row 40 LED light bulbs with innovative technology for optimal performance.
Cleaning and waxing products
The easiest way to keep your Tacoma in tiptop shape is by cleaning it regularly. During the winter, you remove salt on snow and make sure you have good visibility. However, during summertime, all the attention is on the details.
You can go to a car wash, hire a professional detailer, or do it yourself in the comfort of your driveway. Everything you need is available at your local shop, from buckets and foam cleaners to microfiber mitts and towels.
Frequently Asked Questions
Question: How long can a Toyota Tacoma last?
Answer: Toyota is known for building reliable cars that last for years. Tacoma is expected to run for 300,000 miles before going to the shop for major repairs. Some online reports claim that a Tacoma can survive beyond 400,000 miles with reasonable driving and regular maintenance.
Question: Why is a used Tacoma so expensive?
Answer: Toyota Tacoma is expensive because they hold their value well. According to CarEdge, a Tacoma will hold on to 70% + of its original value after five years of the initial sale. In addition, they are cheaper to maintain, have a good reputation for reliability and they are very popular and in high demand.
Question: What is the difference between the TRD and TRD Pro?
Answer: The main difference between the TRD and the TRD Pro is the suspension. The TRD comes with TRD- tuned off-road suspension with Bilstein shocks, while the TRD Pro comes with 2.5-inch FOX coil-overs and shocks.
Final Thoughts
You can never go wrong with a Toyota. Tacoma is one of the best mid-size pickups money can buy. It is durable, reliable, does everything, and goes anywhere. You can use it as your daily grocery getter and family hauler. Moreover, it is a workhorse with impressive off-road capabilities.
It comes fully loaded from the factory and modifying it depends on your personal preferences. The guide above mainly focuses on the small and forgotten parts that need more attention from you to keep your precious investment on the road.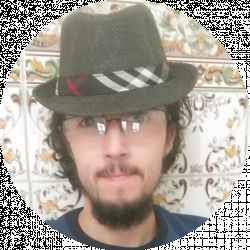 Latest posts by Tommy Verrcity
(see all)