The Jeep Grand Cherokee is the Toyota Corolla of the SUV world; there's so many, you see them every day and don't bat an eye. Supported by a unibody frame, coupled to 4 Wheel Drive System and your choice of V6 or V8 engines, the Grand Cherokee aims to be the luxury Jeep that everyone can drive. In this article, we'll be going through the Jeep Grand Cherokee models and years, examining the positives and negatives, and recommending which one you should buy. Let's get started.
1st Generation Grand Cherokee (1993-1998)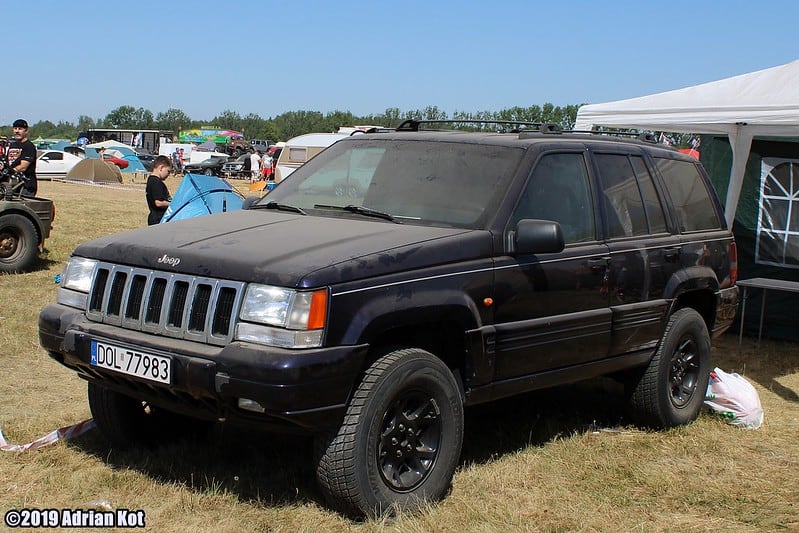 The 1st generation Cherokee was meant to be Chrysler's move into the SUV world. Chrysler at the time was still a relatively new company with plenty of creativity. Still, they had the sense to make the Dodge Durango, essentially a Grand Cherokee with a different body, just in case the launch went wrong.
The standard engine for the 1st gen Cherokee was the venerable 4.0 liter AMC straight 6. Transmission choices were a 4 speed automatic or 5 speed manual, coupled to your choice of AWD and RWD. There was also the optional 5.2 liter V8, and in 1998 a 5.9 liter "Magnum" V8 became an option as well.
Trim levels were SE, Laredo, and Limited. The SE trim had a full instrument panel, cloth seats, and 4WD as standard, but no power windows or locks. As a result, the SE model had sales numbers like week-old salad. The Laredo, or mid-level trim, came with power windows and locks, cruise control, and even a leather-wrapped steering wheel.
Finally, the Limited had leather seats, heated seats, keyless entry, a compass, digital climate control, and Jensen stereo as standard. Package groups with all trim levels included things such as fog lamps, along with luxury, lighting, and trailer towing packages.
The 5.9 Limited model, introduced in 1997, featured a high-flow exhaust, heavy-duty transmission, 150 amp alternator, and 2-speed cooling fan. In the event you want a 1st gen Grand Cherokee to do work, this may be the one for you.
If there are issues with the 1st gen Cherokee, it is rust. They like to rust on the tailgates, and behind the front wheels on both sides of the frame is a problem area. Keep an eye out under the fender liners as well; that is not an often cleaned area, and road salt will eat it away. While the 5.9 Magnum V8 is the engine your heart wants, the 4.0 straight 6 is practically unkillable and will keep running after the Jeep crumbles to dust, so get that one.
Pros
Relatively few electronics, so simple to work on
4.0 straight 6 is practically unkillable if low powered.
Good platform for offroading
Cons
Poor fuel economy
Rust issues combined with age make this a tricky purchase on the used market
Low towing capacity means you won't be towing much with this SUV
Continue reading related guides from models and years from the first Grand Cherokee generation:
2nd Gen Grand Cherokee (1999-2004)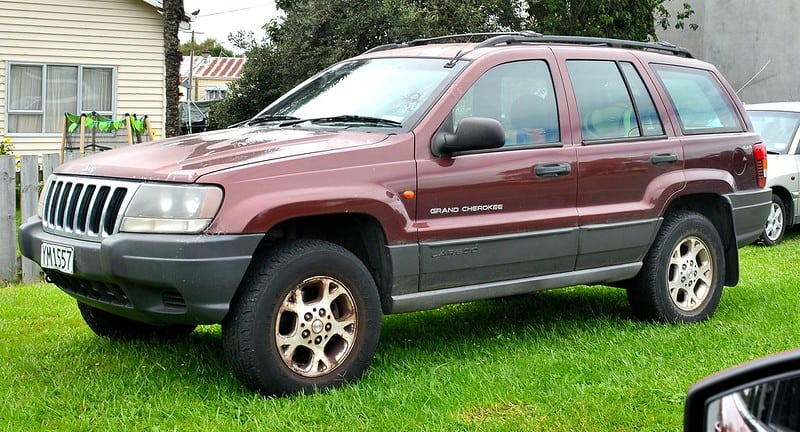 The 2nd gen Grand Cherokee was a completely different 4×4 vehicle from the 1st gen Cherokee; just 127 parts were shared with the prior generation. The 4.0 liter AMC straight 6 was retained, but the 5.2 and 5.9 liter V8s were replaced by a pair of PowerTech engines; a 4.7 liter V8 and a 3.7 liter V6, essentially a continuation of the Magnum engine series.
Gear heads will be pleased to note that a redesigned intake manifold adds 10 hp, important when you're late for hockey practice and using every bit of those horsepowers. For those who like their Jeeps to double as pre-runners on the weekends, you'll like that 70% of the frame on the 2nd gen Grand Cherokee is high-strength steel.
Drivetrain choices remain RWD and 4WD, but something called QuadraDrive was available. In simple terms, this is a regular transfer case with a clutch pack and a hydraulic pump. In events where the wheels are spinning, this device can route torque in varying amounts, as opposed to set amounts. It was basically an early version of modern AWD systems, which use clutch packs and couplers for a similar purpose.
The transmission is an interesting feature. It used 3 planetary sets of two gears, giving it in effect six theoretical speeds, and Jeep could program in more or less as desired. Four gears were used for upshifts and two for kickdown/downshifts. However, the 4.0 liter straight 6 remained coupled to the standard 4 speed automatic. Good, as the planetary transmission, or 45/54RFE, is not particularly reliable.
The interior was also redesigned to be larger, and all trim levels had more amenities, so there was no stripper model in the range. If you want a 2nd gen Grand Cherokee, you'll get better performance with the V8, but the straight 6 is still the best for overall mechanical reliability.
Pros
 High-strength steel frame means it will remain durable and tough for a very long time
Wide range of engines to suit everyone's desires
Bigger interior and more features standard across all trim levels
Cons
45/54RFE transmission is over-complicated and unreliable
Also suffers from rust issues, although not as bad as the 1st gen Cherokee
Not particularly good as an offroad build; you'll want to look elsewhere for that
Continue reading related guides from models and years from this generation:
3rd Gen Grand Cherokee (2005-2010)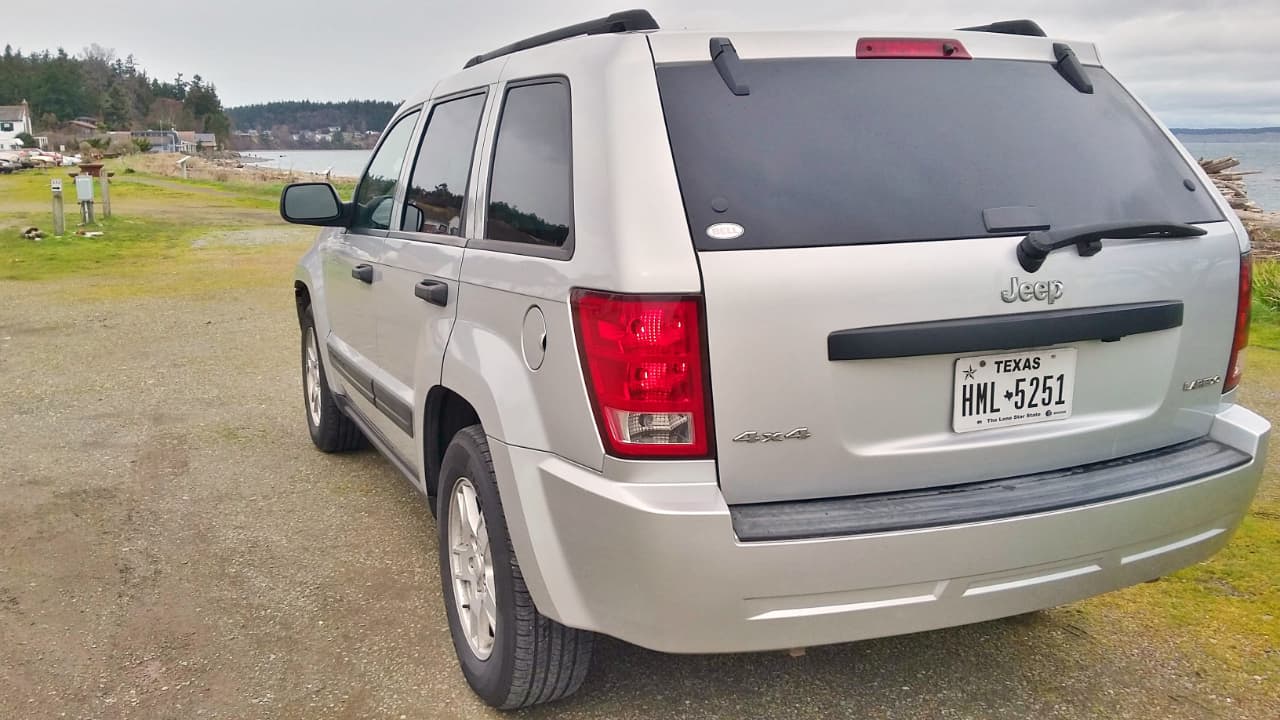 The 3rd gen Grand Cherokee debuted in 2004 as a 2005 model year, building upon the path set by the 2nd gen Grand Cherokee. The 4.0 liter straight 6 was dropped, replaced by the 3.7 liter V6 as the base engine. The next gen Quadra-Drive II system was available, as was a new 5.7 liter Hemi V8. The 4.7 liter V8 was refined to make more power.
Jeep also gave the 3rd gen Grand Cherokee independent front suspension instead of live axles front and rear. The lower half of the front bumper is removable to allow for larger approach angles offroad.
The 5.7 liter Hemi featured variable valve timing, and was the premium engine, turning out a stout 357 hp and 389 lb-ft. An SRT-8 model was also available, with a 6.1 liter V8 producing a rowdy 420 hp and 420 lb-ft.
A warning note is that the 5.7 Hemi suffers from the infamous "tick" in certain cases; this is usually a lifter or cam lobe making noise and surfaces when oil changes are not done regularly. Other than that, it is a good engine.
From 2007-2009, a Mercedes OM642 diesel V6 was also available, although those are rare examples in North America. It was available on every trim level except the base model. Towing capacity is a solid 7,000 pounds with the V8s; it is restricted to around 4500 with the V6.
Continue reading more about Jeep Grand Cherokee towing capacity throughout different generations.
You have a choice of Quadra Trac I, Quadra Trac II, and Quadra Drive II. The important thing to note here is that Quadra Trac I is full-time 4WD and cannot be put into the low range; there is no low-speed transfer case.
Quadra Trac II has limited-slip differentials front and rear. Quadra Drive II has a low-speed transfer case and clutch packs to distribute torque, along with locking rear and center differentials. It can also be activated manually using a lever. The transfer case can also be shifted into neutral for flat towing behind a bus if need be.
Choice of transmission is a 5 speed automatic, although Jeep uses different versions for the V6 and V8 models.
If you are considering a 3rd gen Cherokee, go for the 5.7 Hemi V8 in the Laredo or Limited trim levels, unless you prefer the SRT-8. You may be tempted to buy the diesel, but I would not recommend that; they are rare and so getting parts can be tough.
Read the following guides to learn more about the 5.7 Hemi Longevity and the most common 5.7 Hemi problems and solutions.
Pros
The ability to tow up to 7000 pounds makes this an SUV with actual utility
SRT-8 model is rowdy without sacrificing capability
Quadra Drive makes this big SUV much better offroad than prior generations
Independent front suspension for better ride and body control
Cons
The OM642 diesel is a good engine, although parts are difficult to find in the USA; you should choose a different engine when shopping for a 3rd gen
5.7 Hemi lifter/cam lobe noises can turn expensive if not addressed immediately, and unfortunately, keeping up on maintenance is no guarantee of safety
Independent front suspension means it won't be as capable offroad, if that is what you need
Continue reading related guides from models and years from this generation:
4th Gen Grand Cherokee (2011-2020)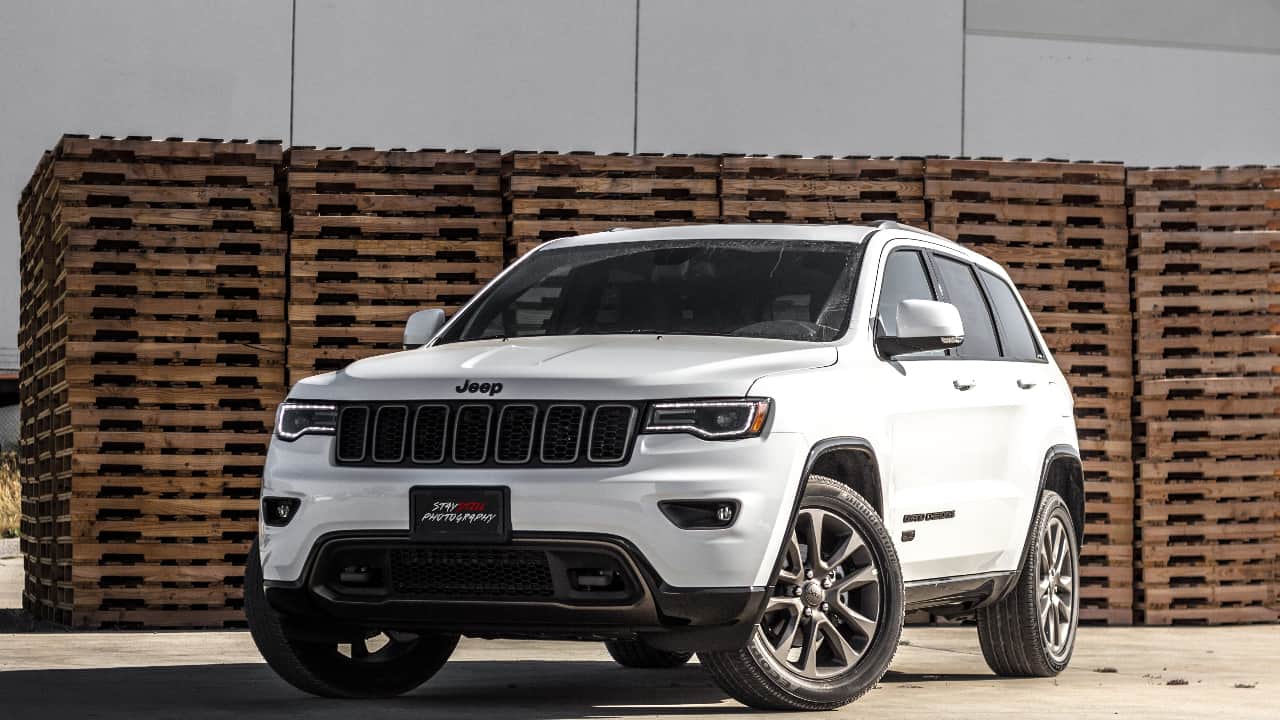 The 4th gen Grand Cherokee was bigger and badder than the 3rd gen it replaced. Engines were a 3.6 liter V6, 5.7 liter V8, 6.4 liter Hemi, 6.2 liter supercharged Hemi, and a 3.0 liter Ecodiesel V6. These were all coupled to 4WD; no 2WD available here.
The 4WD systems on offer were Quadra Trac I, Quadra Trac II, and Quadra Drive II. A new Selec-Terrain offroad driving mode system was available to configure chassis systems depending on the surface. Optional Quadra-Lift air suspension can also raise the vehicle to a max ground clearance of 11.4 inches for offroading. Lift modes are Park, Aero, Normal, Offroad 1, and Offroad 2, for those who like to party.
Towing capacity is a stout 6800 pounds for the V6 models and 7200 pounds for all V8 models; the only transmission is a 6 speed automatic.
For those who like their SUVs to haul kids to school and make passes at the strip, you'll want either the SRT-8, with a 6.4 liter V8 making 475 hp, or the Trackhawk, with a 6.2 liter supercharged V8 making a diabolical 707 hp. Both models are usable on and offroad, should that worry you. However, neither SRT model features Quadra-Lift, instead offering Bilstein dampers.
If you want a 4th gen Cherokee, it is really down to personal preference. The most desirable models are the SRT-8 and Trackhawk, but you'll do nicely with the 5.7 Hemi or Ecodiesel as well. The Ecodiesel in the 4th gen was produced in much larger numbers than the 3rd gen diesel, so parts are easier to get, and reliability is much better.
Overall, either the 5.7 or Ecodiesel is the best engine for an average lifestyle.
Pros
6.4 and 6.2 Hemis are great engines
Ecodiesel is much easier to get parts for and is somewhat more reliable
Towing capacity up to 7200 pounds means you can get by with this as your only vehicle
Next-gen Quadra Trac/Drive means more capability offroad, and Quadra Lift can vary ride height to boost fuel economy
Cons
5.7 Hemi still suffers from the ticking issue
Can get very expensive when fully optioned
3.6 Pentastar V6 is hit or miss on reliability
Still unibody; no body on frame construction here
FAQ
Question: I like to take long trips towing a trailer. Which Grand Cherokee is best for me?
Answer: If you make trips while towing a trailer, then consider the 4th gen Grand Cherokee with the 3.0 Ecodiesel, the 5.7 Hemi, or the 6.4 Hemi. Those have the best blend of power and capability, although you will be limited to 6800 pounds with the Ecodiesel and 7200 pounds with both V8s.
Question: I want to buy my kid a first car. Which Cherokee will be best?
Answer: When it comes to first cars, the slower the better. However, safety is also a concern, and so I would urge you to go with the 3rd or 4th gen Cherokees, as the 2nd gen had issues with gas tank placement relative to accidents.
Question: I am frequently offroad, but can only have one car. Which model of Grand Cherokee is best?
Answer: Any 4WD Grand Cherokee will be fairly capable offroad, but you'll want to go with the 4th gen in Trailhawk trim, which is specifically offroad oriented with different suspension and other components. It is available with the 3.6 liter V6, 5.7 V8, or 3.0 Ecodiesel depending on model year.
Verdict: Jeep Grand Cherokee: Which one should I buy?
The best Grand Cherokees are probably the 4th gen models, in terms of capability and interior quality. While any generation Cherokee will serve you well, you'll probably be happiest with a 4th gen model.
The reasoning behind this sentiment is that prior Jeeps have had issues with gas tank placement causing fires in rear end collisions, along with engine and rust issues. The solution to the gas tank issue was to install a trailer hitch, which doubles as a shield/brace in the event of a crash.
The 4th gen Grand Cherokee did not have this issue, so on the safety front it is better. Aside from safety, the 4th gen Grand Cherokee is better on the offroad and utility front; modern software and the ability to tow up to 7200 pounds set it apart from its predecessors.
Not only that, the 6.4 Hemi or supercharged 6.2 Hemi are certainly the best performance engines fitted to a Jeep, if that is one of your criteria when buying one.
The Trailhawk model is also very capable offroad. Overall, the Grand Cherokee is a decent car, and there's one for everyone. However, you'll get the best value for money with the 4th gen.
Continue reading related Grand Cherokee guides and comparisons: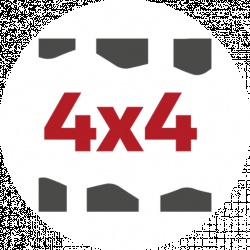 Latest posts by 4x4 Reports Team
(see all)