There are few names in American sport utility vehicles that are as well-known as the Jeep Cherokee. While the Grand Cherokee is the more popular model, the Cherokee is a terrific alternative for someone looking for a midsized SUV with excellent on- and off-road driving qualities and plenty of inside technology at a low price. Jeep Cherokee components for the interior and exterior are also available through the Jeep Performance Parts catalog.
No other company has such a large selection of accessories, yet while the Jeep Performance Parts catalog has numerous products for every car, it lacks diversity. That's where the aftermarket comes in, and the Cherokee, predictably, has a plethora of options.
If you're one of the Jeep Cherokee owners who bought the SUV to support an active lifestyle that frequently takes you off-road, there are a few crucial Jeep Cherokee accessories that can help you get the most out of your vehicle.
I've put together a list of eight items that will help you safeguard your Jeep both inside and out, as well as make your everyday commute a little easier. Each of these items is built to last, built to increase your vehicle's capabilities, and (of course) fit your Jeep Cherokee! I will say, some may not fit newer models, and some may not fit older models… Just make sure you check before you buy!
Related: Jeep Cherokee Bad Ground Symptoms. 
Recommended Accessories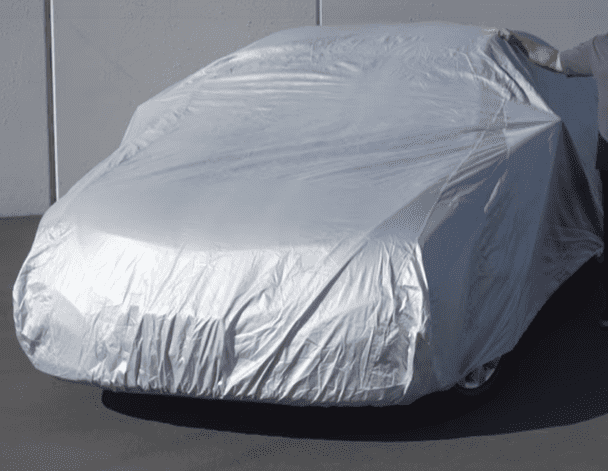 If you bought your Jeep Cherokee to go tearing through the woods, chances are you don't care about the long-term appearance of your paint, but the great majority of drivers want their vehicle's exterior to look as beautiful as possible for as long as possible.
If you fall into the second category, you can protect the paint with wax or special coats, but certain obstacles are simply too severe. Birds, irresponsible humans, and Mother Nature may all cause damage to the paint on your Cherokee, but a decent vehicle cover will minimize many of these issues.
If you bought your Jeep Cherokee to rip through the woods, chances are you don't care about the long-term appearance of your paint, but the great majority of drivers want their vehicle's exterior to look as beautiful as possible for as long as possible. If you fall into the second category, you can preserve the paint with wax or special coats, but certain obstacles are simply too enormous.
Birds, irresponsible humans, and Mother Nature may all cause damage to the paint of your Cherokee, but with a decent vehicle cover, many of these issues can be avoided.
Every cover comes with gust straps and a lock cord to keep it in place and secure from weather or thieves, and CarCovers.com provides a Platinum Shield for both versions of the contemporary Cherokee as well as previous instances.
Pros
Each car is custom-fitted
Protects the paint from corrosive substances and is simple to install
It protects against scratches
Allows for simpler snow removal
Cons
It won't keep bigger trash and falling items from scratching your paint
If you want to drive your Jeep Cherokee off-road, whether you want to frolic in the mud or get to a remote fishing site, the front end of the vehicle may take a beating. Fallen branches, thick foliage, and other debris in the woods may not only scratch the paint on the front end, but they may also harm the front fascia and the cooling system components behind it if you strike anything strong enough.
With a bar that stretches up towards the grille and a plate that wraps under the front end, this bull bar from Vanguard protects the centre of your Jeep's front fascia. This protects the cooling system while also allowing you to push through dense growth without fear of breaking the plastic fascia, which may save you a lot of money and time. The Vanguard bull bar is one of our favorite Jeep Cherokee accessories because of this.
Pros:
Prevents damage to the fascia and cooling system.
Creates a tough SUV appearance.
Inexpensive
Cons
For some owners, the rough appearance may be too much.
It adds considerable heft
Whether you take your Jeep Cherokee into the woods or spend all of your time driving on concrete roads in the city, your shoes will track mud into the inside. The manufactured floor mats do a good job of keeping certain liquids off the carpeting, but any significant dirt or wetness on your shoes will end up on the carpeting.
Even if you keep your shoes clean all the time, a spilled liter of cola or a chocolate milkshake can cause just as much harm as mud.The carpeted floor mats are useless in certain situations.
Fortunately, a solid set of rubber Jeep Cherokee floor mats will keep the carpeting safe from just about everything. Oedro's mats are custom tailored to each vehicle, tracing the full footwell and featuring raised edges to keep fluids and muck confined. You just remove them and rinse them.
OEDRO Floor Mats | Amazon
Built using TPE tri-extruded composition that is 100% safe, odorless, and environmentally sound in all weather conditions.
Buy at Amazon
We earn a commission if you make a purchase, at no additional cost to you.
10/01/2023 01:53 pm GMT
Pros
Tailored fit
Keeps liquids confined and off the carpet
It's simple to remove and clean
Cons
Carpeted mats are even more costly
It isn't compatible with any other models
The Jeep Cherokee offers a large cargo compartment that is ideal for hauling camping equipment or transporting your dogs. The only disadvantage of storing your dogs or hiking boots in the cargo compartment is that it is carpeted. It is quickly discolored, just like the carpeting around your feet.
Thus most owners invest in a cargo liner to preserve the carpeting in the back of the vehicle. The basic liner, on the other hand, will not protect the plastic trim along the cargo area's side or the back of the seats from your dog's claws.
We discovered this Jumbl Pet Jeep Cherokee cargo liner, which is ideal for safeguarding every region of your SUV's cargo space. It's marketed as a pet product, and it protects the carpets, side plastic trim, and even the painted bumper behind the hatch opening.
When you close the hatch, that bumper flap protects the inside of the hatch.It's also waterproof, so it'll keep animal accidents, and anything else spilled in the rear contained. This is one of the top Jeep Cherokee accessories available for pet owners.
Jumbl Pet Cargo Area Protector | Amazon
Waterproof Cargo Liner, 55" x 82": With Side Walls, Fits All Standard Vehicles - See Image 4 for more deatils.
Buy at Amazon
We earn a commission if you make a purchase, at no additional cost to you.
10/01/2023 02:10 pm GMT
Pros
It safeguards the entire cargo area
Waterproof
Universal
Cons
It's pricier than a standard cargo mat.
Whether you're driving on or off the road, your Jeep Cherokee's tires will kick up tiny pebbles and other debris, some of which will impact the body. Some of this material will chip the paint, which will lead to increased corrosion over time as the paint chips deeper.
Additionally, when driving through mud and snow, all of that crud becomes caked on the sides of your car. Jeep includes mud flaps as standard equipment, but if your Cherokee didn't come with them, the aftermarket is brimming with variations.
These Red Hound mud flaps are made of black molded plastic and are intended to properly match the Cherokee's sheet metal for a factory-like fitment. There is no need to drill these flaps because they use the same holes in the sheet metal as the Jeep units. You just attach them to the body with the provided fasteners, making it a craft that anybody can do.
Pros
Inexpensive
Installation is simple
Protects the body from being shattered by rocks.
It cleans the body
Cons
When offroading, it is possible that the vehicle will be destroyed
In the winter, it's possible to gather snow
Although the latest Jeep Cherokees have an innovative inside ventilation system that allows you to control the temperature all year, some individuals prefer fresh air. Of course, the problem with driving with your windows open is that you receive rainwater into the vehicle in bad weather. If you go offroading and have your windows open wide, you may get dirt in your vehicle.
Vent visors are a useful tool if you want to open your windows a little without worrying about rain seeping in. However typical vent visors attach to the outside of the body. Branches pushing on the windshield may take them off if you go offroading in that way.
This is when Voron Glass's vent visors come in useful. They adhere to the inside of the door frame with two-sided adhesive and the pressure of the glass. You may open all of your windows a couple of inches with them in place and not worry about the rain pouring in. That alone qualifies these ingenious glass vent visors for inclusion on our list of the top Jeep Cherokee accessories.
Voron Glass Tape-on Extra Durable Rain Guards | Amazon
Voron Glass car window air deflectors are made with an ultra-strong, reinforced polycarbonate material to protect against heat, wind, rain, and environmental damage when you're on the road.
Buy at Amazon
We earn a commission if you make a purchase, at no additional cost to you.
10/01/2023 02:32 pm GMT
Pros
Rain and muck will not get in through minor window openings
Rather than installing on the body, install in the window track
Cons
They're made of plastic to withstand heavy branch blows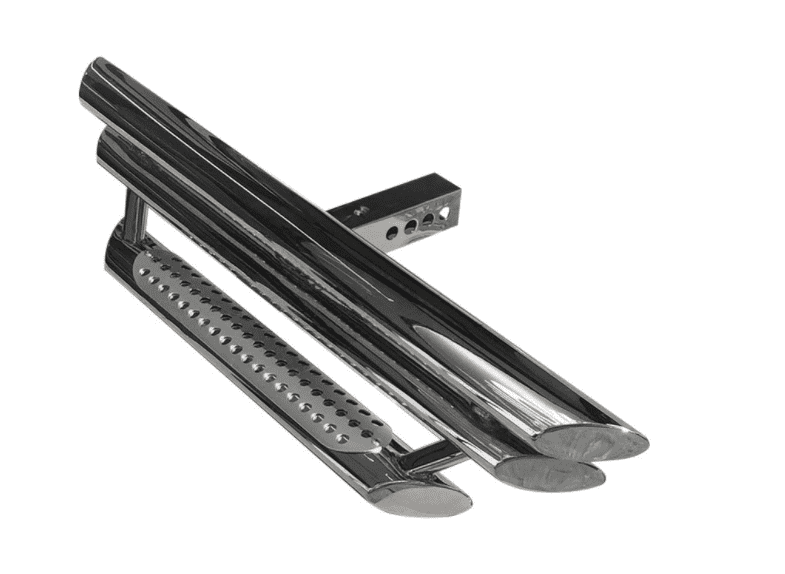 The Jeep Cherokee isn't exceptionally tall in terms of four-wheel-drive SUVs, but it is taller than the average sedan. If your Cherokee is a little too high for someone in your life to get in and out comfortably, a set of step bars is the ideal solution. While step bars are available in the Jeep accessories catalog for several cars, the Cherokee is not one of them, but there are a few aftermarket solutions.
Rugged Ridge manufactures a pair of chrome side step bars that install beneath the car and provide a lower stepping point than the door sill. It not only lowers the stepping point, but it also means you don't have to step out as far, making access and departure simpler for those with physical limitations.
Pros
It's simple to get in and out for passengers
Steps made of rubber for a solid footing
Cons
Expensive
It's possible that expert installation is required
Increase the vehicle's weight
If you lead an active lifestyle that results in a lot of dirt on your seats, or if you have children or dogs that are prone to making their own mess on your Jeep Cherokee's seats, you'll need a solid pair of waterproof seat covers. There are several alternatives available, however, the great majority of them are not waterproof because they are meant to look good in general. If the factory seat skins are already unsightly, the less costly covers would suffice, but waterproof coverings are required if you truly wish to preserve your seats.
These Aierxuan seat coverings have a leather-like texture, quilted bolsters, and contoured middle portions, giving your Jeep Cherokee a premium appearance. They're also waterproof, so if you spill anything or have a pile of off-road dirt in the rear seat, all you have to do is remove the cover and wash it. Because this is a general item, it may not fit as well as a set created expressly for the Cherokee, but that is the only drawback to this seat cover set.
Aierxuan 5pcs Car Seat Covers | Amazon
The product is made of high-quality faux leather, which is soft, durable, waterproof, scratch resistant.
Buy at Amazon
We earn a commission if you make a purchase, at no additional cost to you.
10/01/2023 02:58 pm GMT
Pros
Waterproof
Low-cost
Premium appearance
Cons
It's possible that the fit won't be factory-like
The Jeep Cherokee, like many other modern automobiles, lacks a convenient spot to store your phone. You can tuck your phone into a slot at the bottom of the middle stack, but you won't be able to charge it there, and you won't be able to view it very well.
This means you won't be able to use your phone for navigation or anything else unless you take it out of the small space in front of the shifter.
There are hundreds, if not thousands, of cell phone mounts on the market, but this one from VICSEED appeals to us. You may stick it to a window or smooth dash panel with the suction cup mount or clip it to the HVAC vent with the pinch mount.
The adjustable mounting arm contains a joint that allows you to alter the angle of the mount, and the phone location can be adjusted to fit most current phones.
VICSEED Ultra Stable Car Phone Holder Mount | Amazon
This phone car holder is made from the most advanced durable sturdy aviation-grade materials, it is the first phone mount car to pass most extreme test on the market, making it more resistant to abrasion and corrosion.
Buy at Amazon
We earn a commission if you make a purchase, at no additional cost to you.
10/01/2023 03:43 pm GMT
Pros
Can be mounted in a variety of locations
Adapts to handle most phones
Affordable
Universal
Cons
Some of the larger (newer) phones may not fit
We bought the Yakima JetStreams with our own money while we were looking for crossbars for our own automobile. The selection was swayed by the company's more than 40-year reputation, limited lifetime guarantee, and high-quality, innovative goods over its primary competition, Thule.
The JetStream roof rack has been on a Mazda5 for more than five years, and it still looks new. We had to purchase a set of Skyline towers to fit into the bar ends and four Landing Pads to securely connect to the factory roof attachment points because this minivan didn't come with factory rails.
It wasn't a cheap investment at roughly $450, but we've used them a lot since then, especially how effortlessly and securely they lock and unlatch from the roof. In the time it takes to go around the automobile, one person may put them on or take them off.
Assembly was difficult, and we had to make numerous tweaks to get them to fit perfectly, but after that, we've only done a once-a-year double check on the pads' tightness. They create very little wind noise, and the reduction in gas mileage is less than 1 MPG.
They come in 50-, 60-, and 70-inch widths and are compatible with the whole Yakima ecosystem, including several unique attachments. The Yakima JetStream Crossbar is a roof rack crossbar that strikes a mix between aerodynamics and durability.
Yakima JetStream Bar Aerodynamic Crossbars | Amazon
The high-performance JetFlow teardrop shape is strong, quiet and minimizes drag for maximum efficiency. The seamless aluminum construction is lightweight and sleek.
Buy at Amazon
We earn a commission if you make a purchase, at no additional cost to you.
10/01/2023 08:15 pm GMT
Pros
Lifetime limited warranty
Teardrop form for better aerodynamics
Insert with anti-slip properties
Towers with locks are available
There are several accessories that are compatible
Cons
It takes some time to assemble and install the furniture
Expensive was necessary since there were so many different elements
When it comes to cargo carriers with basket-style hitches, CURT has a reputation that is difficult to match. When not in use, this basket hitch baggage carrier (18153) has a folding shank (1.25- or two-inch) that allows it to be tilted up and out of the way. Additionally, the shank is slanted up to provide additional ground clearance.
When it's time to pack it up, the 60 x 24-inch deck and robust six-inch tall sidewalls provide enough of roof to keep your belongings safe while traveling. It's built of heavy-duty carbide steel and has a tubular construction with an E-coat and a carbide black powder coat finish.
The mesh bottom of this cargo carrier, which can transport up to 500 pounds, allows for easy trash removal. Because of the bolt-together style, this device is quite simple to install. If your vehicle has one, this load carrier may easily be fitted to a front hitch.
Curt Basket Hitch Cargo Carrier | Amazon
This trailer hitch cargo carrier keeps your items secure during travel, featuring 6-inch high walls around the cargo basket.
Buy at Amazon
We earn a commission if you make a purchase, at no additional cost to you.
10/01/2023 05:05 pm GMT
Pros
Folding shank to conserve space
500-pound maximum load capacity
Fits most 2-inch standard hitch mounts
6-inch height sides
Powder-coated finish
Cons
Removal is a little slower since it uses a bolt instead of a pin
Most automobile owners will find that this NOCO portable jump starter is just what they need to get their dead battery working again. This jump starter is small yet strong, with a 1,000 amp rating and up to 20 jump starts on a single charge. This jump starter is suitable for cars with gasoline engines of up to six liters and diesel engines of up to three liters. Despite this, it is just 6.57 x 3.15 x 7.72 inches in size and weighs less than three pounds.
When it comes to jump-starting your vehicle, safety is crucial, and this equipment has you covered. It has a foolproof design with spark-proof technology and reverses polarity protection, ensuring that nothing goes wrong even if you connect it to your battery improperly.
You may also use this jump starter as a portable battery bank on a regular basis to charge your USB gadgets. A built-in 100-lumen LED flashlight with seven settings may not be used much, but it's handy to have in an emergency.
Durability is another key thing to consider, as our Editor's Pick demonstrates. In that regard, this charger also ticks all the necessary boxes. Thanks to high-discharge lithium technology, it's safe to use in any environment, and the durable, water-resistant casing is rated at IP65. A rubberized over-molded housing on the outside aids to minimize scratching and marring of surfaces.
If you want additional power, NOCO provides a variety of battery jump starts ranging in size from a small Boost Max GB500 unit to a massive 6,250 amp Boost Max GB500 device intended to start industrial engines.
Pros
Spark-proof technology
Reverse polarity protection
Integrated LED light
Can be used as a portable battery bank
Rugged and durable design
1000 amps
Up to 20 jump starts
Can be used as a portable battery bank
Cons
The clamp design may not be compatible with all batteries
There is no USB-C connectivity
Consumers searching for more storage space have found the Fivklemnz rooftop freight carrier to be quite popular. It has up to 15 cubic feet of extra storage capacity, which is suitable for four to six luggage.
When not in use, the Fivklemnz may be folded up and kept in the carry bag that comes with it, unlike hard shell carriers. It folds down to approximately the size of a small backpack, making it easy to store.
The bag is constructed of 600D Oxford cotton and has a waterproof zipper with a double flap that keeps the rain out. This is 100% waterproof and rainproof, according to the manufacturer, so your belongings will stay dry.
When it comes to installation, the Fivklemnz cargo carrier has a non-slip protection mat, so you may use it without a roof rack system and not worry about harming your vehicle's roof. It also has eight adjustable straps that keep everything safe and tight even while driving at highway speeds.
Fivklemnz Car Rooftop Cargo Carrier | Amazon
For security reasons, we use 8 reinforced adjustable straps to keep the cargo carrier in place. In addition, equipped with free anti-slip mat to keep the cargo bag stay in place even in high speed road or bump road.
Buy at Amazon
We earn a commission if you make a purchase, at no additional cost to you.
10/01/2023 05:43 pm GMT
Pros
100% waterproof
quick installation
Compact size
Cons
The zipper does not come with a lock
Under tension
The straps can tear off the bag
According to some consumers
FAQs
Question: What can I add to my Jeep Cherokee?
Answer: What you add is always up to the owner. If it was my Jeep Cherokee, the first thing I would get would be a floor mat and then a roof rack. If you like the ski, bike, snowboard, or anything that involves outdoor activities, a roof rack is best. The floor mats are awesome because you can jump in your car as dirty as you are without dirtying the entirety of your car.
Question: What size are Jeep Cherokee Tires?
Answer: If you want to add more aggressive tires to your Jeep Cherokee, or if it's time to replace your present tires, you'll want to be sure you obtain the proper size. A tire retailer may put you in the correct path, but if you prefer to conduct your own research, below is the Cherokee's (most up-to-date information).
The Latitude versions come with 225/60R17 tires, while the Limited and Overland models come with 225/55R18 tires if you have a rare front-drive Cherokee. The Latitude has 225/65R17 tires on all four-wheel-drive variants, while the Limited and Overland get 225/60R18 tires on all four-wheel-drive models. The Cherokee Trailhawk is equipped with 245/65R18 off-road tires.v
Question: Do Jeep Cherokees have a lot of problems?
Answer: The 9-speed gearbox in the Cherokee and Renegade has harsh shifts, lurching issues, and a wiring harness flaw that can cause abrupt shutdowns or shift into neutral.
Question: Is Jeep discontinuing the Cherokee?
Answer: The most costly Jeep Cherokee will be phased out in 2021. The roughly $40,000 Overland trim will be eliminated with no replacement, according to a dealer order guide and confirmation from a Jeep spokeswoman.
Question: What year Jeep Cherokee should I avoid?
Answer: You should avoid Jeep Grand Cherokee year models with a lot of customer complaints, mechanical concerns, and expensive upkeep, just like any other product you buy. Models 2011, 2014, and 2015 are the worst Grand Cherokees to buy, according to data collected.
Conclusion
Jeep Cherokees are a stable of the Jeep lineup, which is after the classic Wrangler. Like any Jeep, really the customization options are endless, although I recommend that you pick and choose wisely, as some serious options (like many lift kits not included on this list) will void your car's warranty. Be careful with buying these!
If you were buying an accessory, I recommend the Yakima JetStream Aerodynamic Crossbars! These are definitely one of the most useful accessories, as well as being relatively affordable in comparison to other roof racks. Whether your throwing a bike up there or taking out those skis, you'll be ready for any outdoor adventure!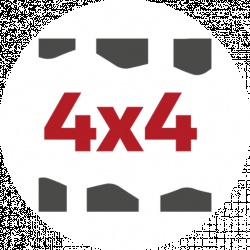 Latest posts by 4x4 Reports Team
(see all)