The Jeep Gladiator, in our opinion, is one of the greatest new cars launched in recent years. Jeep fans have been begging for the brand to produce another pickup truck for a long time, and what they have produced does not disappoint.
If you're lucky enough to own a Jeep Gladiator, we recommend upgrading your truck's protection. A bed cover, often known as a tonneau cover, is one option to explore.
When it comes to bed coverings, there are a plethora of alternatives available. However, the quality of a product might vary substantially. In this article, I will go through some of my favorites to help you choose the best Jeep Gladiator bed cap cover available today.
You'll discover a list of my top choices, Soft, and hard coverings are available, and I recommend double-checking the dimensions for each product to verify it fits your truck.
MaxMate Soft Roll-up Truck Bed Tonneau Cover | Amazon
Cover is dual-coated and made out of heavy duty 24oz. marine-grade vinyl, with built-in horizontal crossbars that offer support when cover is lying flat; and roll up with the tarp to provide full bed access when in need.
Buy at Amazon
We earn a commission if you make a purchase, at no additional cost to you.
10/01/2023 07:19 pm GMT
Benefits of Bed Caps
A Weather-resistant, Enclosed Space
Truck beds are like a giant box where you can store and move stuff, but you also need shelter from time to time. Don't cram everything into the vehicle's cab—invest in a truck cap.
Utilization of Truck Bed Storage to the Fullest Extent Possible
Adding a truck cap to the bed of your 4×4 does not imply that you will lose storage space. Some truck lids add height, allowing you to store enormous goods undercover.
Excellent Business Option
Rather than purchasing new trucks or commercial vehicles, you may simply put a cap on the truck you currently possess. This is especially useful if you work in gardening, construction, deliveries, or a related field.
Versatility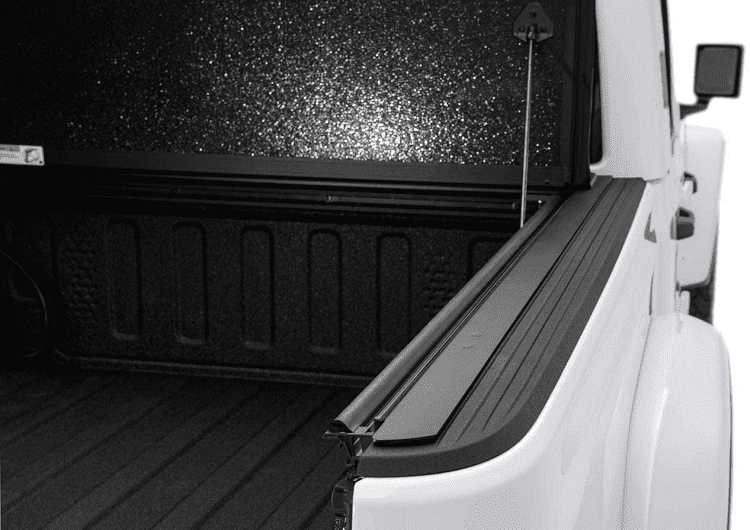 Installation and removal are quick depending on the type of truck cap you choose. This makes it simple to convert your truck from an open-bed vehicle to one capable of transporting products in a covered location. You will not be required to commit to either kind unless you desire to.
Protection
Most people are unaware that one of the primary advantages of putting a truck cap is the protection it provides for your truck bed. Though you may still use it often, the truck bed will not be exposed to extreme weather conditions such as harmful solar rays.
Additional Functions
Believe it or not, there are several advantages to adding a truck lid over having an open truck bed. Anyone who travels or camps, for example, may add roof rack rails on the truck top itself for even more storage.
Types of Bed Caps
Hard
One of the most prevalent forms is hard truck tops. They are usually painted the same color as the vehicle, but this isn't always the case. Hard truck tops can provide additional height in a covered truck bed area.
Many of these heavy truck covers include side and rear windows, some of which are open. The majority of hard hats are constructed of fiberglass. These fiberglass truck toppers aren't necessarily designed to resist the damage that your vehicle can incur. However, fiberglass caps are still rather hefty, easily weighing more than 100 pounds.
Soft
Hard truck caps are often constructed of aluminum or other heavy-duty metals, whereas soft truck caps are typically made of vinyl. Most materials are waterproof and/or weather-resistant, so you won't have to worry about your truck bed becoming wet in bad weather.
Soft truck caps are often lighter than hard caps, which may tip the scales at approximately 200 pounds. Most soft caps weigh hardly more than 80 pounds. Soft caps are also less difficult to remove and may have windows.
Tonneau
A tonneau cover is a form of soft truck cap that pulls over the length of the truck bed rather than on top of it. Tonneau covers are available in a range of styles, ranging from those with numerous panels that fold on top of one another for access to those that roll up like a blanket and stow towards the back of the cab.
Investing in a tonneau cover might be a fantastic method to protect the items you transfer in your truck bed, but they lack height.
Functionality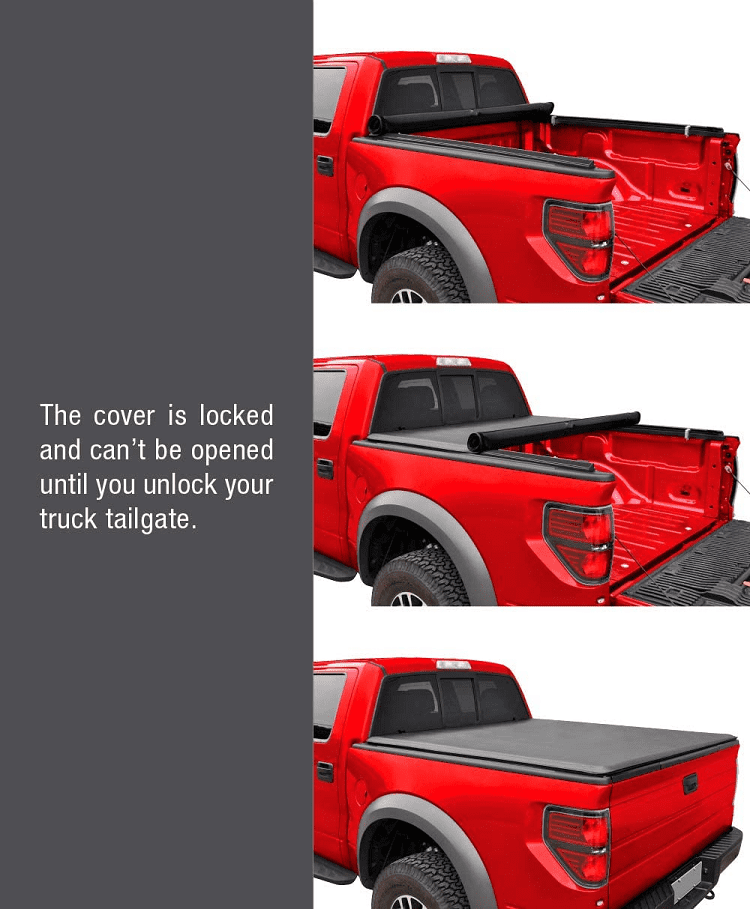 Roll-up Cover
A Jeep Gladiator roll-up Tonneau cover provides both protection and adaptability. The cover's revolutionary design allows you to roll it back and secure it. As a result, you may make the most of the jeep bed.
It is a simple tool to use. You do not need to hold the cover or detach it at all times.
The roll-up design is available in both hard and soft fabrics. The Jeep Gladiator hard roll-up Tonneau cover is usually preferred over the soft variety. It is simply due to improved weather resistance and theft security.
Tri-fold Cover
These covers fold up into three halves, making it much easier to reach the bed.
Instead of removing the entire cover, you can fold one or two parts to remove the necessary items. Jeep Gladiator Tri-fold Tonneau Covers are available in both soft and rigid versions.
Retractable Cover
A sliding mechanism is used in retractable Tonneau covers. It moves like a sliding glass door in and out of its open position. It may as well coil itself in a built-in canister, depending on the design.
Retractable Tonneau covers are classified into two types: motorized and manual. The motorized ones open and close the lid using a button or a remote. Manual retractable ones, on the other hand, need you to get out of your Jeep and manually open it.
While retractable Tonneau covers look great on your Jeep, they may take up a lot of bed room.
Hinged Cover
The Hinged Tonneau covers are one continuous component that is hinged to the truck bed. When you open the cover, it looks like a large hinged lid. Because there are no moving parts, these coverings provide great weather protection and security.
These, however, are frequently exceedingly heavy and difficult to install. Furthermore, the cover does not permit the transport of oversized material.
Things I Take Into Consideration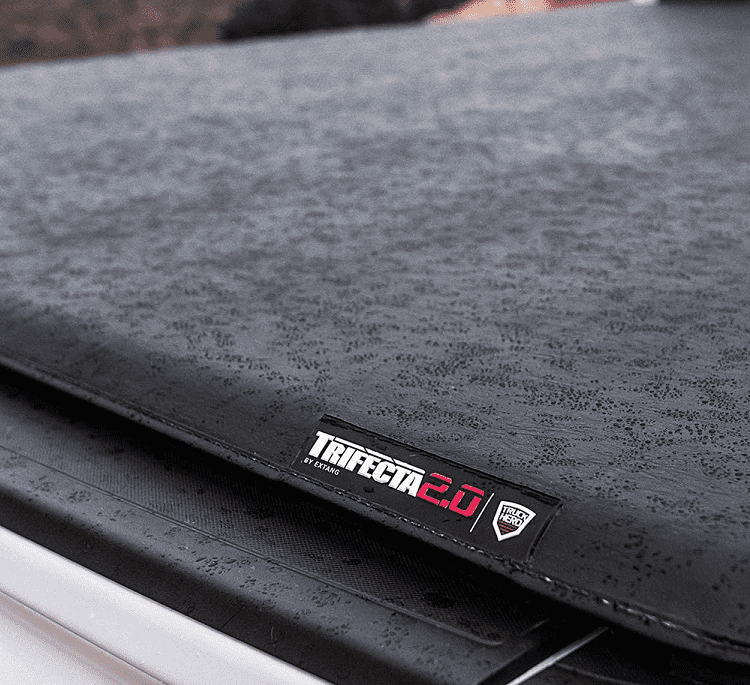 Weatherproof
A watertight seal is usually always required because one of the main reasons for acquiring a truck cap is to protect what's inside from the weather. The cap itself should be waterproof, but it should also be attached to the truck bed rails. With the finest truck caps, you can avoid worrying about moisture leaking into the contents of your truck bed.
Security
Truck caps must be safe in two ways: they must lock your belongings inside while also firmly clamping down onto your truck bed. Truck caps with side windows are constructed such that the windows can only be opened from within the bed.
To provide a safe environment, the rear glass should have some form of locking mechanism with corresponding keys. To keep the cap secure, the finest truck caps also employ sturdy, heavy-duty clamps.
Materials That are Long Lasting
Truck caps, whether hard or soft, should be manufactured of sturdy materials that can survive repeated outside use. These materials should be washable (either with a pressure washer or in an automated vehicle wash) and resist pollutants and particles. The greatest vehicle tops will not readily peel or tear.
Size
Truck caps are useless if they don't fit your car. Therefore getting the right size is critical. Not only is the length and breadth important, but so is the height. The greatest truck caps make the most of their size by allowing you to haul more within the confines of your truck bed.
Warranty
The top truck caps will come with a lifetime guarantee. However, not all manufacturers will provide such a benefit. If you want to use your truck cap for an extended period of time, consider purchasing a model with a lifetime guarantee. Those vehicle caps that do not come with lifetime guarantees may not last as long or be as good quality.
Bed Caps I Recommend for the Jeep Gladiator
One of these goods is the Rugged Ridge Tonneau cover Jeep Gladiator. With its adaptability and functionality, it has outperformed its competition. In our Rugged Ridge-Line X Tonneau cover review, we'll go over all of its features.
This Tonneau cover is stunning at first sight. It features a matte black finish that improves the look of your Jeep.
It features a nearly flat top that corresponds with the truck bed of the Jeep Gladiator. As a result, the Jeep's exterior is free of irregularities and unevenness.
Furthermore, it is fairly durable. This Tonneau cover is made of heavy-duty aluminum panels that have been coated with a Line-X specialty automotive coating. As a result, the cover is extremely resistant to weather and scrapes.
Even after years of hard usage, you will have a smooth Tonneau cover. It also implies that the Rugged Ridge 13550.24 Armis Hard Folding with Line X bed cover will keep the contents of the truck bed secure.
The cover's exact proportions ensure that it readily fits the Jeep bed. As a result, neither rain nor snow will be able to enter the bed. As a result, all of the stored items will remain dry and secure.
The Rugged Ridge Tonneau cover is a tri-fold hardcover with three pieces. You may fold them up one by one as needed.
The cover's surface does not bend or deflect due to its hardness. It does, however, fold up fairly effortlessly.
Overall, the Tonneau cover is simple to use. You do not need to remove the lid fully. Only open the portions that correspond to the contents of the truck bed and fold it back down.
Rugged Ridge 13550.24 Armis Hard Folding with LINE-X Bed Cover | Amazon
This folding bed cover features simple locking clamps that require minimal effort to operate and self-lock in position for added security. Our engineered cab clamps attach directly to your bed flanges without damage/alteration to your bed caps.
Buy at Amazon
We earn a commission if you make a purchase, at no additional cost to you.
10/01/2023 02:43 pm GMT
Pros
Modern design aesthetics

Sturdy

Weather-resistant

Complete theft defense

Full-bed accessibility

Easy-to-install

Easy-to-maintain

Excellent compatibility

A 5-year warranty is included
Cons
When opened, it obscures the back view
Tyger Auto T3 is the ideal option for keeping your stuff out of sight. Because of its massive features, this tonneau truck bed cover will steal the show.
The outstanding characteristics of this premium-quality truck bed cover account for its unwavering popularity. It measures 64.14 x 22.41 x 2.13 inches in dimensions. As a result, it is perfectly compatible with the Jeep Gladiator.
The Tri-fold cover is carefully constructed and weighs just 26.3 pounds. As a result, you won't have to worry about the extra weight of heavy metal truck bed coverings.
Its minimal weight is owing to the use of high-quality vinyl. As a result, the Tonneau cover does not skimp on durability. This cover is also lightweight and portable. The easy mobility and installation elevate your traveling experience to a new level.
The Tyger Auto T3 is a soft tonneau truck bed cover with vinyl fabric. In terms of stiffness and sturdiness, polyvinyl polymers outperform all other fibers. This Tonneau truck bed cover's superior quality is enhanced by its durable vinyl.
Furthermore, the Tyger Auto T3 cover has clamps on both the front and back sides. The front clamp is composed of integrated steel and has a strong grip. The solid grip at the back end is strong and long-lasting enough to drag.
The Tyger tri-fold tonneau cover has metal alloy or aluminum frames. The use of aluminum in the setting frames allows for quicker latching. The metal frames also contribute to the softcover's security and resistance.
In terms of security, soft tonneau truck bed coverings may fall short. As a consequence, someone with a softcover will be able to easily access the contents of your shipment. However, it will never let the objects become drenched in the rain. This trifold Tyger Auto A3 provides complete weather protection.
Tyger Auto T3 Soft Tri-fold Truck Bed Tonneau Cover | Amazon
Cover is dual-coated and made out of heavy duty 24oz. marine-grade vinyl, with aircraft-grade aluminum frames, and comes with stainless steel clamps for easy installation and great durability.
Buy at Amazon
We earn a commission if you make a purchase, at no additional cost to you.
10/01/2023 04:43 pm GMT
Pros
Installation is simple

Fuel-saving

Portable

Sturdy

Weather-resistant

Foldable
Cons
Security is grayed out
The BAK BAKFlip MX4 is the best answer for your truck bed cover needs. You don't have to go through a plethora of options to get a superb truck bed cover with eye-catching characteristics.
Because of its segmented design, the BAK BAKFlip MX4 Bed Tonneau Cover simplifies the setup. The folding parts allow access to the whole bed of your Jeep Gladiator. You can bend one or more parts depending on your needs.
The user also appreciates how easy it is to install the truck bed cover. This truck bed cover has a quick installation time. It may be put up in 5-10 minutes without the use of any special tools.
The BAK BAKFlip MX4 is likewise opulent in terms of design. The matte surface of MX4 and the black glossy finish of BAK are both intriguing. As a result, your gladiator or vehicle will have a more lively and bright appearance. The coal-black hue of the aluminum panels adds to the quality appearance of your car.
The matte surface is also impervious to harm. This is because it incorporates internationally obtained durable material and finely crushed powder into its finishing. As a result, it is resistant to UV rays and scratches.
The technical and private parameters are also convincing. This truck bed cover only weighs 55.9 pounds. So carrying this truck bed cover isn't a huge hassle. Furthermore, the product dimensions are competitive. The dimensions of this product are 68 x 8 x 23 inches.
The foldability of the cover allows you complete access to the massive truck bed. The unexpected feature is that you can open the lid from either the front or back. With the aid of strong clamps, the rest of the piece may be fastened in place.
The model's uniqueness is attributed to the newly introduced shock absorbers. These bumpers, which are installed along the sides of the panels, protect the cover from harm during wrathful driving. The shock absorbers dampen all vibrations and keep you secure while driving.
This BAK BAKFlip strong folding is capable of keeping you safe in any adverse weather conditions. It will protect your goods from any potential harm, whether it be heavy rain or the scorching heat of the sun.
Furthermore, the key benefit is that it is water-resistant. A high-quality, long-lasting seal is supplied around the whole circumference of the panel. It prevents water from entering the truck bed. As a result, your things or valuables will be secure even in the event of heavy rain.
Pros
Withstands shock

Water-resistant

Foldable

Durable

Sturdiness

Excellent locking system
Cons
Gator is a corporation that manufactures automobile products in the United States. It has a long history of producing high-quality Jeep components. It has created a dedicated and honest fan following all around the world as a result of this.
The Gator ETX Tonneau cover is another excellent product available at a reasonable price from the firm. It's a soft tri-fold Tonneau cover with good security and weather protection.
The Gator cover appears to have a dark exterior. Its smooth shape and matte finish complement the overall look of the Jeep Gladiator. The Tonneau cover is made of a high-quality metal frame that is coated in vinyl. As a result, the cover is extremely durable and strong.
It has a soft, pliable, and flexible surface. With the cover closed, you may store slightly bigger items in the truck bed. It will not, however, support the transport of too large items.
This Gator soft bed cover, like other tri-fold Tonneau covers, is divided into three pieces. Each one may be folded upwards to gain access to the bed.
You may open the Tonneau cover and secure it with an inbuilt buckling mechanism when you require 2/3 bed access to move bulky items. As a result, it is simpler to transport both large and little items.
The Gator ETX Tonneau cover incorporates simple and easy-to-use clamps for installation. You must position the cover on the bed and fasten the clamps. It does not necessitate the use of any specific tools or equipment.
The Tonneau cover may be installed in less than 10 minutes by yourself. However, be cautious when placing the clamps because they are located near the bed lights.
The Gator ETX tri-fold is designed to fit Jeep Gladiators from 2020 to 2021. Regardless, some users have noted that the measurements are incorrect.
Pros
Visually-pleasant

Durable

Weather protection is excellent.

Excellent security

Installation is simple.

Access to the whole bed
Cons
A truck bed cover that allows for complete bed access while also allowing for the mounting of various accessories becomes the source of unconditional affection. All of these characteristics, however, are not available in one location.
This TruXedo lo pro soft roll-up tonneau cover allows you to give your truck a high-end makeover.
The grain vinyl leather's black matte surface adds a striking appeal to your Jeep Gladiator. Furthermore, the fabric is long-lasting and usable, with a lifetime warranty.
This probed cover is only 81 x 10 x 6 inches in size. As a result, it can only be mounted on beds in this size range. The vehicle cover's weight is also appropriate. It weighs just 27 pounds, which is not excessive.
The fabric's vinyl component is also tear-resistant. With this premium-quality tonneau bed cover, you can easily survive the harsh and severe environment or extreme climatic conditions.
Whether it's the worst thunderstorm or a scorching sunstroke, the polymer-made leather fabric will be tough enough to withstand the elements.
People normally pick an easy-to-install bed cover for their Jeep gladiator. The TruXedo lo pro soft roll-up tonneau cover is simple to install. You may install it on your Jeep without the assistance of a technician or a mechanical tool kit.
There's no need for a drilling machine or nuts and bolts to attach it to the vehicle. It takes only 30 minutes to put it on your bed.
This bed cover, on the other hand, is roughly 34 inches above the truck bed. As a result, there is ample space for your luggage as well as additional equipment such as winches, tools, and so on. Only one side of the lid has latches or clamps for opening and holding.
The TruXedo lo pro soft roll-up will automatically set the tension and shield your valuable cargo from any disaster. The one-pull unlocking method is responsible for the design's simplicity and originality.
With a single movement, you may unclamp the bed cover from one side and roll it up for quick access to your belongings. The TruXedo lo pro soft bed cover may be rolled up to its full length. As a result, it is feasible to approach the complete bed cover.
As a result, in comparison to other models in its range, this truck bed cover secures the greatest number of features. It is the finest choice for your Jeep Gladiator since it is durable and one-of-a-kind.
TruXedo Lo Pro Soft Roll Up Truck Bed Tonneau Cover | Amazon
The best-selling roll-up truck bed cover in North America. Lo Pro's tear-resistant, leather-grained vinyl provides superior weather resistance and comes standard with aircraft grade aluminum bows designed to take on a heavy snow load.
Buy at Amazon
We earn a commission if you make a purchase, at no additional cost to you.
10/01/2023 07:04 pm GMT
Pros
Usability over time

Installation is quite simple

Durable

Personalized control

Installation is simple
Cons
The tonneau cover is made of tough marine-grade vinyl. It's only 24 ounces, but it's double-coated. As a result, despite its low weight, this beauty can withstand storms.
Although its thick surface thickens the sides, it also keeps them more intact. The cover fits snugly enough to keep the bed safe from the elements. It doesn't matter if it's a thunderstorm or a sandstorm.
It also has Velcro straps on the sides and a latch lock system on the tailgate. It holds the cover securely in place.
The tension mechanism allows customers to change the tension of the cover that sits atop the bed. It maintains the vinyl wrinkle-free and firmly in place.
As a result, any exterior particles are kept out and any interior components are kept in place. (Because this is a softcover, most people are concerned!) Furthermore, the business recommends it for a 5'2″ bed.
Furthermore, the latter comes with a ten-year warranty! That's correct. Maxmate provides you with such an extended guarantee not only to win your trust in the company's dependability but also to demonstrate its own pride in the quality of its products. Speaks loudly. Isn't that right?
The Maxmate soft roll-up truck bed tonneau cover is not only strong and handy, but it is also pretty beautiful. The cover is sleek and silky on the exterior. Because the vinyl coating is stain-resistant, you won't have to worry about continuous upkeep.
MaxMate Soft Roll-up Truck Bed Tonneau Cover | Amazon
Cover is dual-coated and made out of heavy duty 24oz. marine-grade vinyl, with built-in horizontal crossbars that offer support when cover is lying flat; and roll up with the tarp to provide full bed access when in need.
Buy at Amazon
We earn a commission if you make a purchase, at no additional cost to you.
10/01/2023 07:19 pm GMT
Pros
Installation is simple

Tear-resistant

Elegant style

The look is smooth

A ten-year warranty is included
Cons
The top of the Extang 2.0 Trifecta is sleek and smooth in grey. It features softer, more curved corners that do not protrude unusually. There is also a built-in corner tuck device to keep the softcover from drooping.
The Tonneau cover features a leather-grained fabric finish that looks fantastic. This Trifecta Extang cover provides your Jeep Gladiator a stunning high-end look once mounted.
This Extang Jeep Gladiator cover features a strong structure made of aircraft-grade aluminum on the inside. The high-quality material, along with the newly developed frame, provides remarkable structural strength.
As a result, the cover can survive any type of damage. The Jeep Gladiator can be driven in the most difficult terrains and climates. Nonetheless, the cover will seem and perform as if it were brand new.
Because it is lightweight, the Extang Trifecta Tonneau cover is simple to transport and use. It is divided into three soft foldable pieces. To access your bed, just open your tailgate, release the integrated EZ-Lock Clamp, and fold the sections.
If you choose to drive with the cover folded, a buckle secures it in the open position. The EZ-Lock Clamp automatically locks itself when closed for enhanced security.
The Trifecta 2.0 Trifold Tonneau cover also has double-pivot MAX hinges and Snap-On-seals. These products fill up the gaps and provide good protection. With this cover, no outside elements can get inside your Jeep Gladiator bed.
When it comes to installation, the Tonneau cover includes a simple yet efficient clamping mechanism that connects to the truck bed in seconds. You have the ability to do it yourself!
There will be two kinds of clamps: front and back. The Jaw-Grip front clamps tighten both vertically and horizontally. This procedure avoids the clamps from being overtightened and causing bed damage.
For cargo security, there are EZ-lock clamps on the backside that self-lock. These clamps are very powerful, making them indestructible.
Surprisingly, the cover arrives already built. Simply install the Tonneau cover on the vehicle bed and secure the clamps.
This, however, necessitates a little method that may be challenging for some. To install the washer, slip your fingers between the bed and the rear of the cab. Nonetheless, the general method is pretty straightforward.
Extang Trifecta 2.0 Soft Folding Truck Bed Tonneau Cover | Amazon
Easy to install & easy to operate. Two EZ-Lock clamps located at the tailgate keeps cover locked. Pull down each clamp, fold cover twice, buckle to the cab & go. Entire cover can be easily removed in minutes to haul that brand new sofa.
Buy at Amazon
We earn a commission if you make a purchase, at no additional cost to you.
10/01/2023 07:29 pm GMT
Pros
Excellent appearances

Excellent Security

Weather protection is excellent

Durable

Easy-to-use
Cons
Problems with installation
The Undercover Flex Ultra Tonneau cover is made of high-quality aluminum and is one of the lightest yet most durable Tonneau covers available. The manufacturing business appears to have recognized the shortcomings of the market's other dominant material, fiberglass.
Because this tonneau cover closely resembles the BakFlip MX4 (both in quality and performance! ), consumers may question which of the two is superior during your shopping survey. However, we believe that Undercover Armor VS BakFlip mx4 is a more true and deserving issue.
This is because these two are more skilled with one another than any other. Having said that, all undercover variations share more similarities than differences with BakFlip Max 4. As a result, it's safe to assume the same.
For example, identical to BakFlip Max4, it can tolerate harsh handling and bad weather conditions very well. As previously stated, it is made of nonferrous aluminum. As a result, it does not rust even in the most humid environments.
Externally, the metal panels are polished with black paint, giving it a matte appearance. The finish keeps the cover from fading even in the driest or most humid conditions and ensures that its sophisticated appearance remains consistent.
There may be some sharp edges on the metal itself. However, once installed, you will not find this to be an issue.
This Jeep Gladiator hard tonneau cover may be installed in three different locations, including:
Completely closed

Closed in part

Open
In the open position, the Tonneau cover is completely folded up and takes up very little room. You will have entire bed access, so you will be able to handle bulky goods with ease. The lid will be held in place by the twin pop-rods.
The panel has an automated latching mechanism for further security. It securely fastens the tonneau cover to the side L-rails.
Furthermore, the installation procedure is really simple. This tonneau cover is simple to install and does not require any drilling or special tools. If you decide you want to remove it later, you can do so easily.
Undercover also accommodates the requirement for illumination at night, and therefore an LED strip is available. It will brighten your bed at night and deliver you those pleasant sensations. Aside from that, the lights are really useful when it becomes too dark.
Furthermore, Undercover wants you to be completely assured in your purchase of these goods. As a result, the firm backs up this tonneau cover with a full 5-year warranty. If necessary, you can obtain a complete free-of-charge replacement.
Pros
Installation is simple

Cover that folds

Five-year warranty

System of Automatic Latching

Weather-resistant
Cons
Sharp edges are possible with aluminum panels
FAQ
Question: Do Bed Covers Help You Save Gas?
Answer: Yes, tonneau coverings can help you save money on petrol. It is simply due to the increased drag caused by the open truck bed. A Tonneau cover, on the other hand, reduces it. As a result, Tonneau coverings enhance fuel efficiency. The proportion of gas savings varies depending on the kind of Tonneau cover and driving style. It typically varies between 6% and 15%.
Question: What is the Lifespan of Vinyl Bed Covers?
Answer: The Tonneau cover may survive for a long time if properly maintained and cared for. Tonneau coverings made of vinyl, on the other hand, may survive for at least five years.
Question: Is it Possible to Paint a Bed Cover?
Answer: Yes, you may paint a Tonneau cover to suit your tastes. To begin, apply a heavy coat of primer to the cover. Dry it for 30 minutes or more, or until entirely dry. Apply three to five coats of clear paint before applying the base paint application. It should be dried for four to five hours.
Conclusion
It's now up to me to choose the finest. Although I have provided a thorough selection above, I understand how difficult it is to choose just one best tonneau cover for Jeep Gladiator.
A lot of people are perplexed by the selection of simply the greatest. No? So, if you want to make a secure purchase, I recommend MaxMate Soft Roll Up Tonneau Cover. The latter is a solid bet not just in terms of performance, but also in terms of usefulness and appearance.
Aside from that, our all-around favorite is the Rugged Ridge Armis Hard Folding Tonneau Cover. This tonneau cover's durability and safety are well appreciated.
MaxMate Soft Roll-up Truck Bed Tonneau Cover | Amazon
Cover is dual-coated and made out of heavy duty 24oz. marine-grade vinyl, with built-in horizontal crossbars that offer support when cover is lying flat; and roll up with the tarp to provide full bed access when in need.
Buy at Amazon
We earn a commission if you make a purchase, at no additional cost to you.
10/01/2023 07:19 pm GMT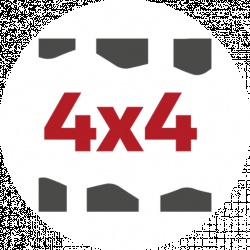 Latest posts by 4x4 Reports Team
(see all)