You're not alone if you drive a Ford F-150. Because of its mix of tremendous utility, clever performance, and pleasant cabin, the Ford F-150 is one of the most popular cars in the United States. The F-150 and E-150 have been the most produced vehicle in the United States ever! It's safe to say that these Fords pack a punch and have an endless amount of accessories available! 
But, no matter how much you like the design work that went into your F-150, we're sure there are some things you'd alter. Fortunately, the truck's popularity has resulted in an almost infinite number of aftermarket extras to make your F-150 even more useful.
It was difficult to narrow this list to the top F-150 accessories, but I believe that in my Ford F150 accessories guide, I've compiled a helpful list of products for both the inside and outside of your vehicle to help you get the most out of the F-150 its clever design.
The downside of accessories for an F-150 is that since there are such reliable cars with so many makes and models, it's hard to know if these car accessories will fit your year. Make sure you do thorough research before purchasing any products! 
As a result, this list includes items that will help you make the most of your truck's cargo box, keep smaller objects in the cabin better organized, and make your vehicle even more comfortable for your day-to-day driving needs. They are all reliable, receive (mostly) above 4-star reviews, and all are useful! 
If you want to get the most out of your Ford pickup truck, keep reading for some suggestions.
Recommended Accessories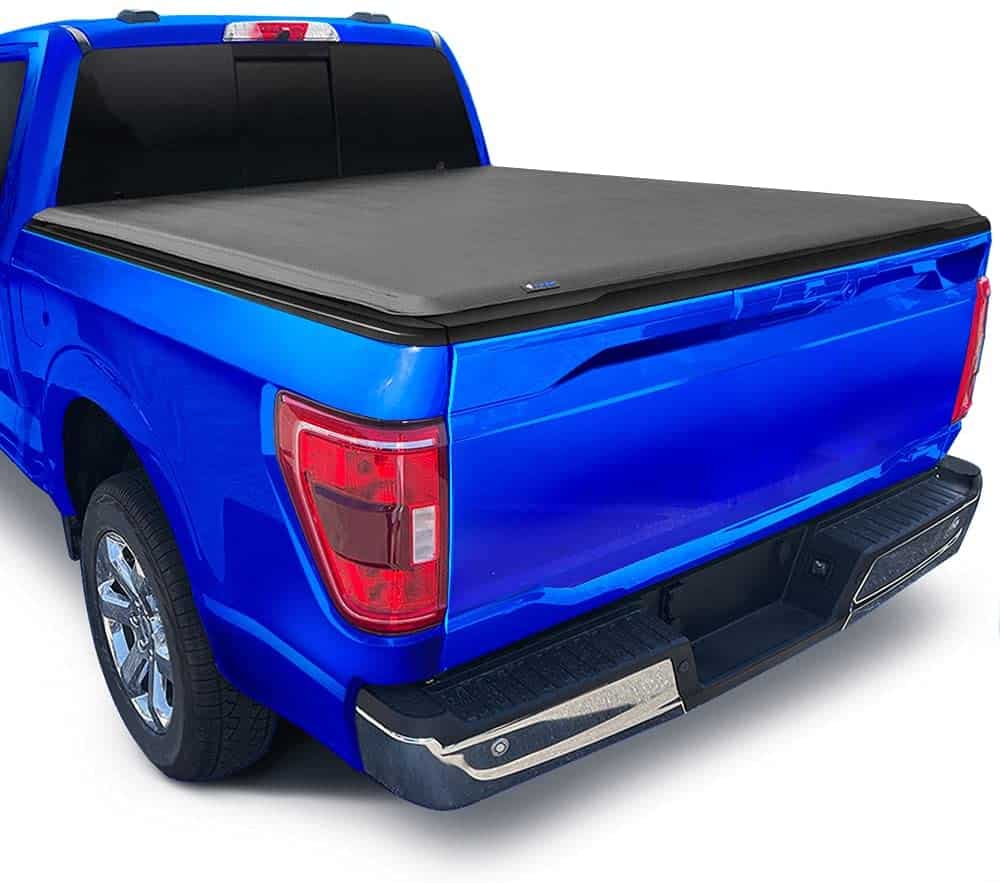 A tonneau cover is one of the most useful Ford F-150 additions because it converts your truck's bed into a private, weatherproof means to transfer items without compromising the truck's usability. The T1, a soft roll-up type, is our favorite of Tyger Auto's tonneau cover designs. The T1 is constructed of marine-grade vinyl and fits over an aircraft-grade aluminum frame, just like the rest of Tyger Auto's soft tonneau covers for the F-150.
According to the manufacturer, this tonneau cover can be installed in approximately 30 minutes without drilling into your truck's cargo bed. When the cover is in position, a pull-cable latch mechanism may be used to secure it. Tyger Auto promises that the T1 tonneau cover will not only keep your stuff safe but it will also protect it from the weather.
This cover fits three Ford F-150 generations: 2004 to 2008, 2009 to 2014, and the aluminum-bodied variant marketed from 2015 to 2021. The Tyger Auto T1 is now available for F-150s with 5.5-foot and 6.5-footbeds.
Pros:
Easy installation in 30 minutes with no equipment required, safe and weathertight to protect your cargo
Cons:
You may need an extra piece of weatherstripping on some vehicles to completely seal the leading edge of the cover; one customer complained the cover sagged with time and flapped when traveling at high speeds.
Tyger Auto T1 Tonneau Cover | Amazon
Easy No-Drilling installation with the provided DIY instruction and hardware. Seals with velcro strip on the sides while maintains easy access to the bed of your truck when needed.
Buy at Amazon
We earn a commission if you make a purchase, at no additional cost to you.
09/27/2023 04:28 pm GMT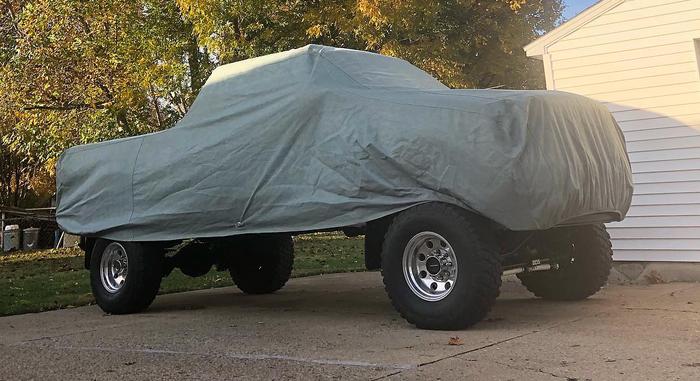 All truck coverings are not created equal. Seal Skin Guaranteed Fit Truck Covers are the professional, robust, and ultra-tough protection you've been seeking for your Ford F-150 while it's not working for you.
They mean it when they say "ultra-tough." Seal Skin is a terrific place to start if you want the greatest hail-resistant vehicle cover at an unbelievable price. They make their covers in-house and sell them directly to customers, eliminating the need for a middleman to jack up the price. Anti-rotting thread protects these tight-fitting vehicle coverings against nearly everything – hail, snow, ice, rain, sunlight – you name it, Seal Skin can handle it.
You can rest easy knowing your vehicle is receiving the TLC it deserves with five layers of waterproof and hail-proof protection that yet allows your truck to breathe. Seal Skin has the most affordable waterproof, hail-proof vehicle coverings on the market; other rivals' standard pricing for the same level of protection is much more.
One of the finest features of their product is that not only are their truck covers extremely durable, but they also provide a snug fit around the outside of your F-150. You're also getting a company with a reputation for quality and honesty, with a 10-year warranty, 400k verified customers and 95k reviews.
Your Ford F-150 puts in a lot of effort for you, and it deserves to be safeguarded if you want it to last. That's exactly what the Seal Skin Guaranteed Fit Truck Cover will do. You're that much closer to strong protection for your tough vehicle with a dead-simple website that makes it easy to browse to just the perfect cover.
Pros:
Best hail-resistant vehicle cover, ultra-tough, five layers of protection, 10-year guarantee, snug fit, free shipping in the United States
Cons:
In excessively sunny settings, some fading of the cover color may occur over time.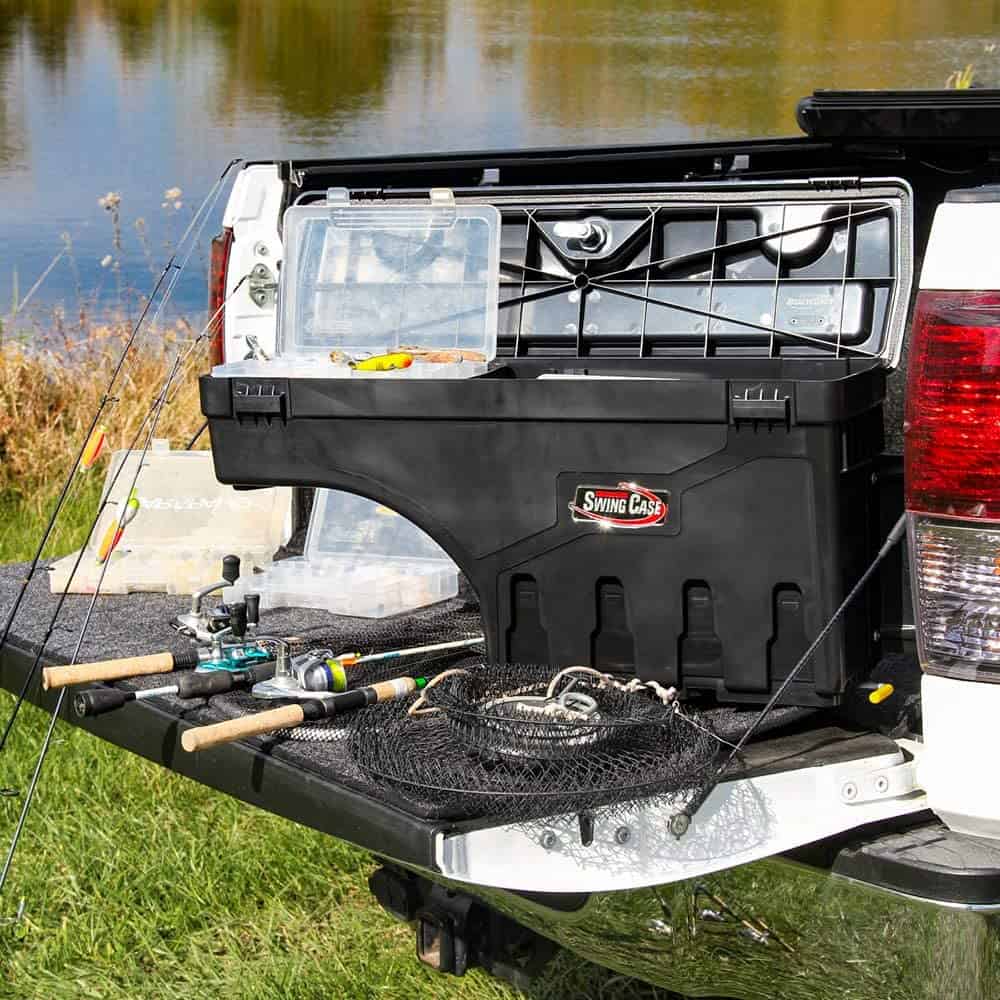 This swing-out, bed-mounted bin might be just what you need if you wish your Ford F-150 had a built-in option for storing small goods in the cargo box. Undercover's clever designers built a box that fits snugly against the side of your truck's bed and stays hidden. The SwingCase, on the other hand, swings around 180 degrees to end up out over your tailgate, allowing you to retrieve the contents while standing on the ground.
The SwingCase's top not only locks for security but also locks into place when placed against the side of the bed to keep it from rolling about as you drive. The SwingCase will not require any additional tools to install, according to the manufacturer. When correctly placed, the top of the SwingCase lies about three inches below your truck's bed rail, so it won't interfere with your tonneau cover. In addition, once the SwingCase's hardware is fitted in your truck, you can effortlessly remove the box and replace it without using any tools.
Undercover makes the SwingCase suit either the driver's or passenger's side of your truck's bed.
Pros:
Easy removal without tools, flexible installation possibilities
Cons:
Installation necessitates drilling into your truck's cargo box; 75-pound weight restriction is minimal.
UnderCover SwingCase Truck Bed Storage Box | Amazon
Need a place to store all your tools, trailer accessories, jumper cables, or sporting goods? Compatible with virtually all truck bed covers, the UnderCover SwingCase is simple to install and easily accessible making it the ultimate cargo storage solution.
Buy at Amazon
We earn a commission if you make a purchase, at no additional cost to you.
09/27/2023 06:55 pm GMT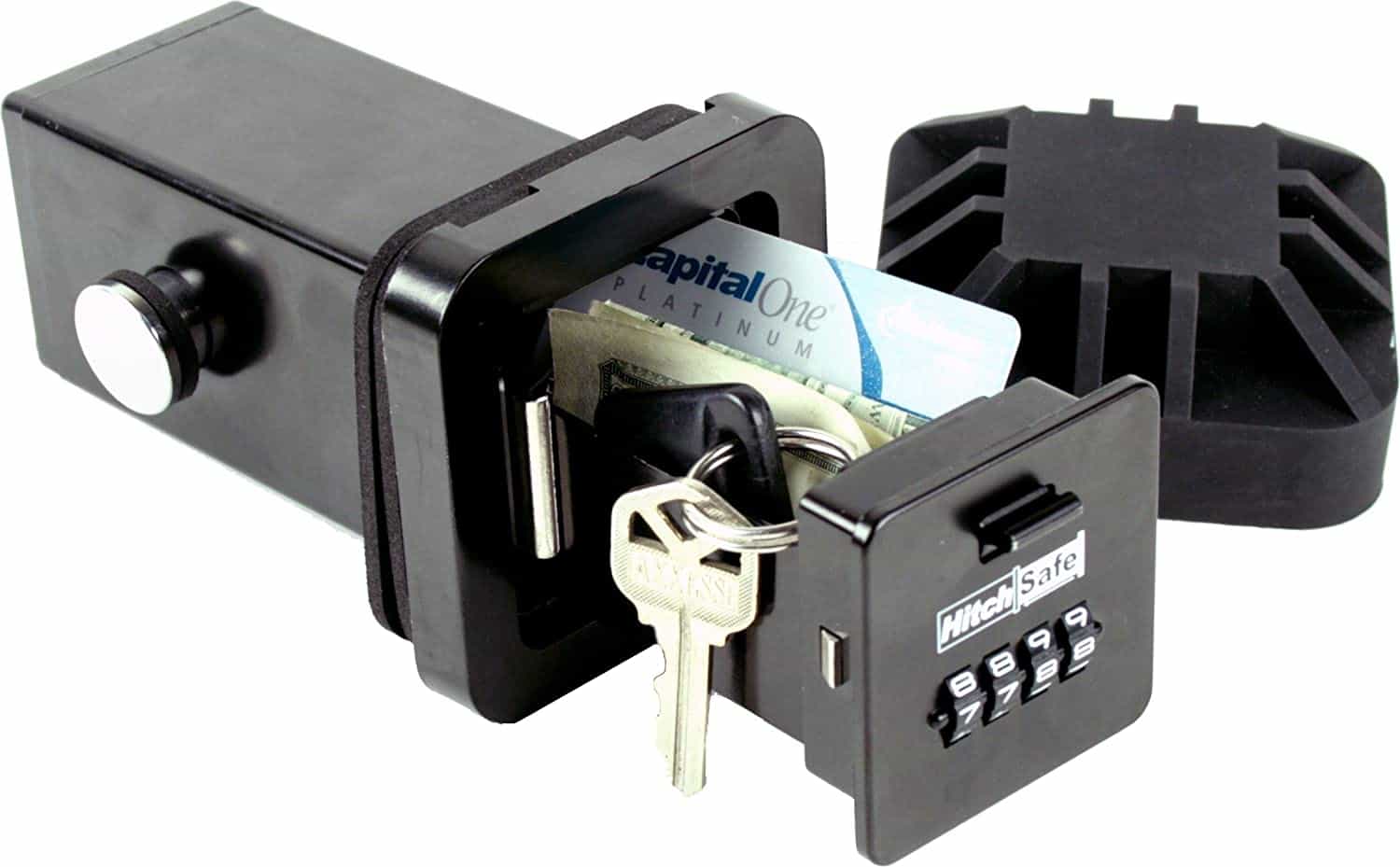 I had no clue this sort of product existed, but what an ingenious idea! The HitchSafe key vault is a small safe that fits into the trailer hitch of your Ford F-150 and may be used to store a wallet, keys, and other valuables when you're not using your vehicle.
You can always secure stuff like a wallet or cash in your truck's glove box or center console. However, what if you're going swimming or boating and won't be able to keep your truck's key fob dry? Put it in the HitchSafe key vault to keep it safe. Another useful application for this vault is to keep a spare key on hand if you lock yourself out of your truck.
After you've stowed your treasures inside, cover the vault's combination lock with a rubber cover. Pull the top off the vault, dial a four-digit combination into the HitchSafe's front-mounted dials, and the spring-loaded drawer will open. The manufacturer claims that no tools are required to install the key vault in your F-150.
Pros:
A creative, covert way to store valuables out of sight; very affordable for a well-made device; installation requires no equipment.
Cons:
Users report the HitchSafe is water-resistant but will get wet inside if submerged, and if your vehicle has passive keyless entry, burglars may be able to unlock your truck if you place the key fob in the key vault.
HitchSafe Key Vault | Amazon
Enjoy outdoor activities without thinking of losing your keys, cards or valuables.
Buy at Amazon
We earn a commission if you make a purchase, at no additional cost to you.
09/27/2023 01:31 pm GMT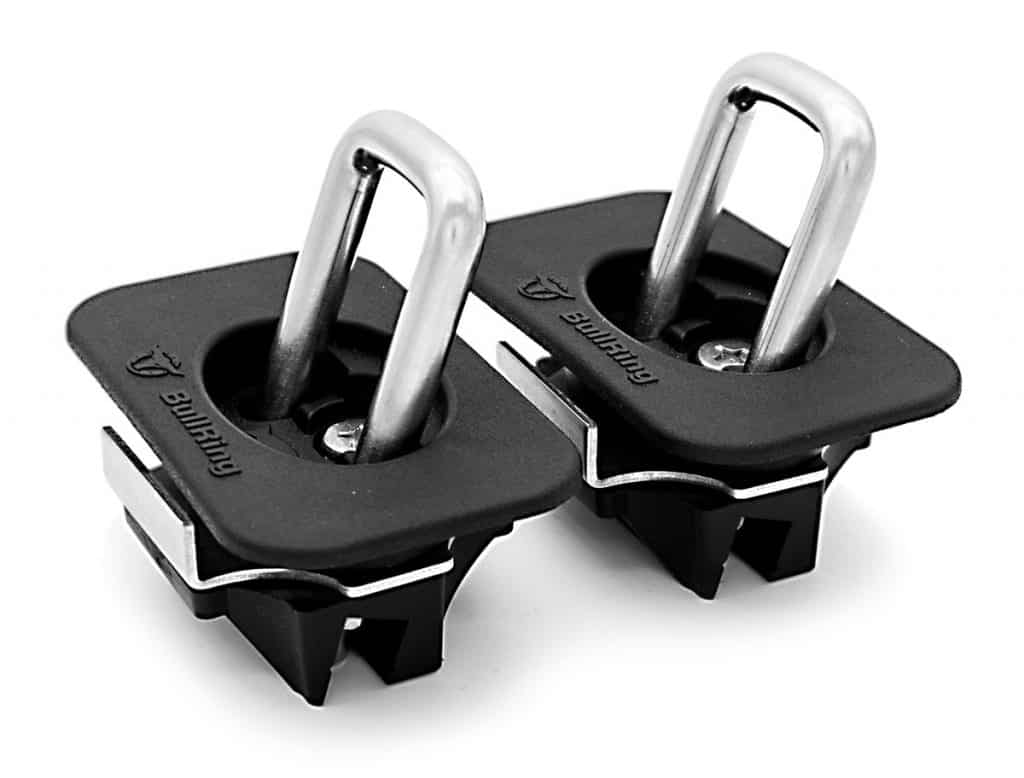 Have you ever wished your Ford F-150 pickup's bed rails were equipped with cargo tie-downs? If that's the case, Bull Ring's flush-mount tie-downs are the solution. Metal rings to which you may hook the end of a cargo retention strap or tie off a piece of rope are what these tie-downs are. However, the truly ingenious idea here is that when the rings aren't in use, they slip down below the top of the bed rail and stay out of the way until you need them.
Bull Ring's tie-downs are also meant to appear like OEM parts, with textured plastic that matches the top of your F-150's cargo bed rails. The business claims that you won't need any additional equipment to install these tie-downs in most circumstances. All you'll need is a screwdriver to secure the tie-downs once you've removed the covers from the holes at the back of your truck's bed rails. The tie-downs are rated for 1,000 lbs of weight after being fitted by Bull Ring.
Pros:
A clever design that increases the functionality of your truck; when not in use, retractable rings keep tonneau coverings and other accessories out of the way.
Cons:
On some F-150 versions, small adjustments to the truck and the product may be required to ensure a precise fit.
Bull Ring Truck Bed Tie-Downs | Amazon
While the stock anchor points are inside the bed where it's hard to reach, Bull Ring's retractable anchor points are easily installed into the stake pockets on top of your bed rails.
Buy at Amazon
We earn a commission if you make a purchase, at no additional cost to you.
09/27/2023 06:10 pm GMT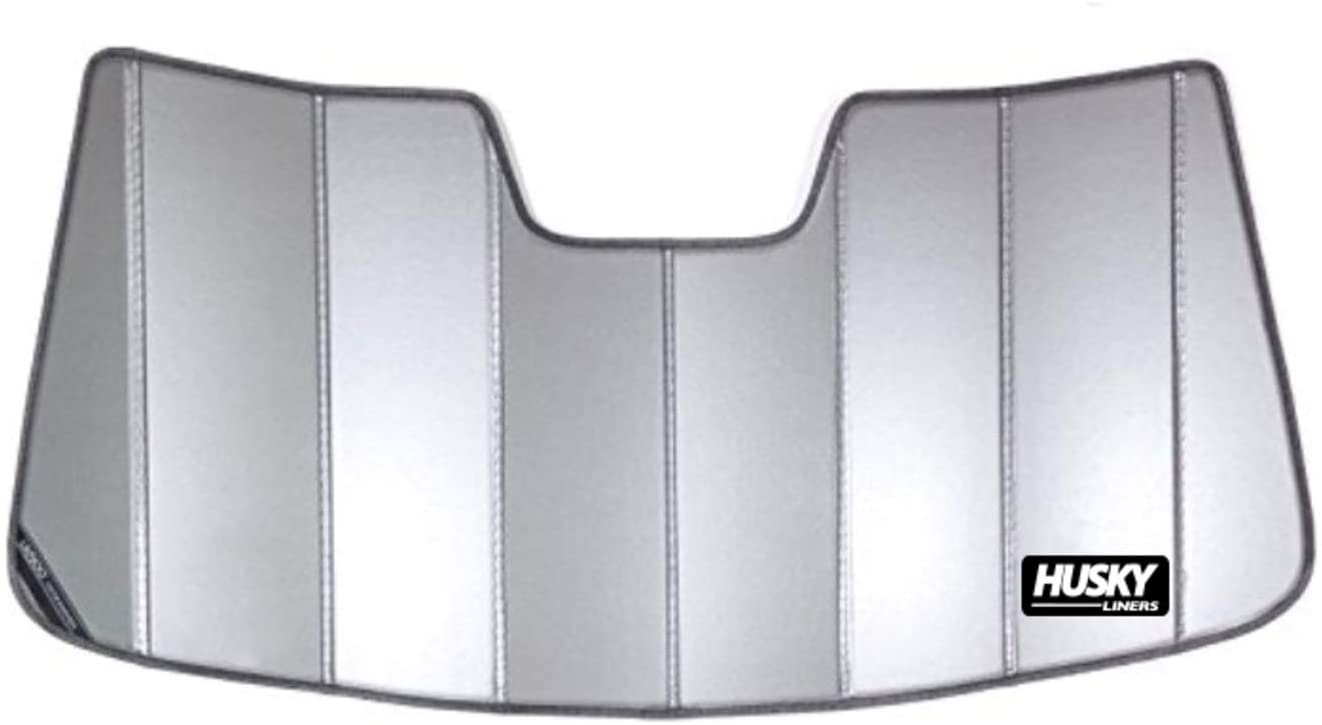 If you drive your F-150 in hot, sunny weather, you'll appreciate any assistance you can get keeping it cool while it's parked, so the cabin doesn't seem like a sauna every time you step behind the wheel. And, because the simplest obvious answer to a problem is often the best, we recommend Husky Liners' custom sunshade to keep your F-150 cool.
You've undoubtedly seen a product similar to this before, at a lower price. Beyond the shade's three-layer insulated structure, what you're paying for here is the way it's built to properly suit your F-150's windshield to block out as much direct sunlight as possible.
This sunshade's outward-facing side is reflective for maximum solar protection, and a foam core middle layer acts as an insulator against the sun's heat.
Husky Liners' sunshade not only helps to lower the temperature in your truck's cabin but also filters out harmful UV rays that can damage your truck's interior over time.
Pros:
Well-designed to suit the F-150's windshield, blocks dangerous UV rays, and folds away easily for storage
Cons:
It can be difficult to install around the F-150's A-pillar handles; some consumers claim the fit isn't as good as stated, and it's pricey.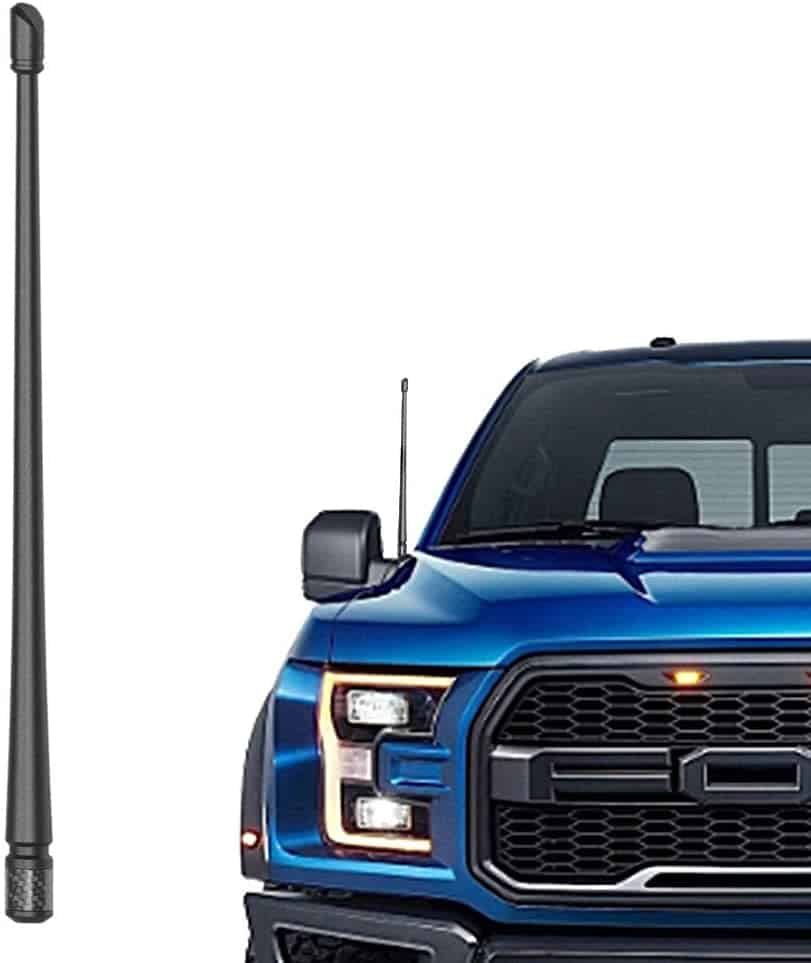 The tall, metal antenna that comes standard on the Ford F-150 is responsible for the good radio reception you get in your vehicle. If you're upset by the standard antenna hitting low-hanging garage doors or parking structure ceilings, Rydonair has a low-profile flexible rubber alternative antenna to help. Rydonair's design is flexible, much like your F-150's original antenna, so it will move with the wind on the highway but will always return to its upright position. A carbon fiber column adds extra strength and gives this antenna a high-tech flair. An aluminum base offers a solid mounting point, while an aluminum base provides a sturdy mounting point.
One caveat: because this antenna is shorter than the original, your radio's reception will almost certainly decrease. It's simple to install: the factory antenna is threaded into a mount on the fender, so simply remove it and replace it with your new Rydonair antenna. While the packaging for Rydonair's antenna states it suits F-150 vehicles sold till 2019, the company claims it will also fit pickups produced in 2020 and 2021.
Pros:
When put on a black F-150, this antenna gives a covert look by not hitting low garage doors or ceilings.
Cons:
Radio reception drops somewhat compared to the longer standard antenna, and the brass mounting stud must be handled with care to avoid breaking.
Rydonair Flexible Rubber Antenna | Amazon
The RYDONAIR rubber antenna fits Ford F-150 Raptor 2009+ (All Ford F-150 models 2009 thus 2022, but not for older year models).
Buy at Amazon
We earn a commission if you make a purchase, at no additional cost to you.
09/27/2023 09:23 pm GMT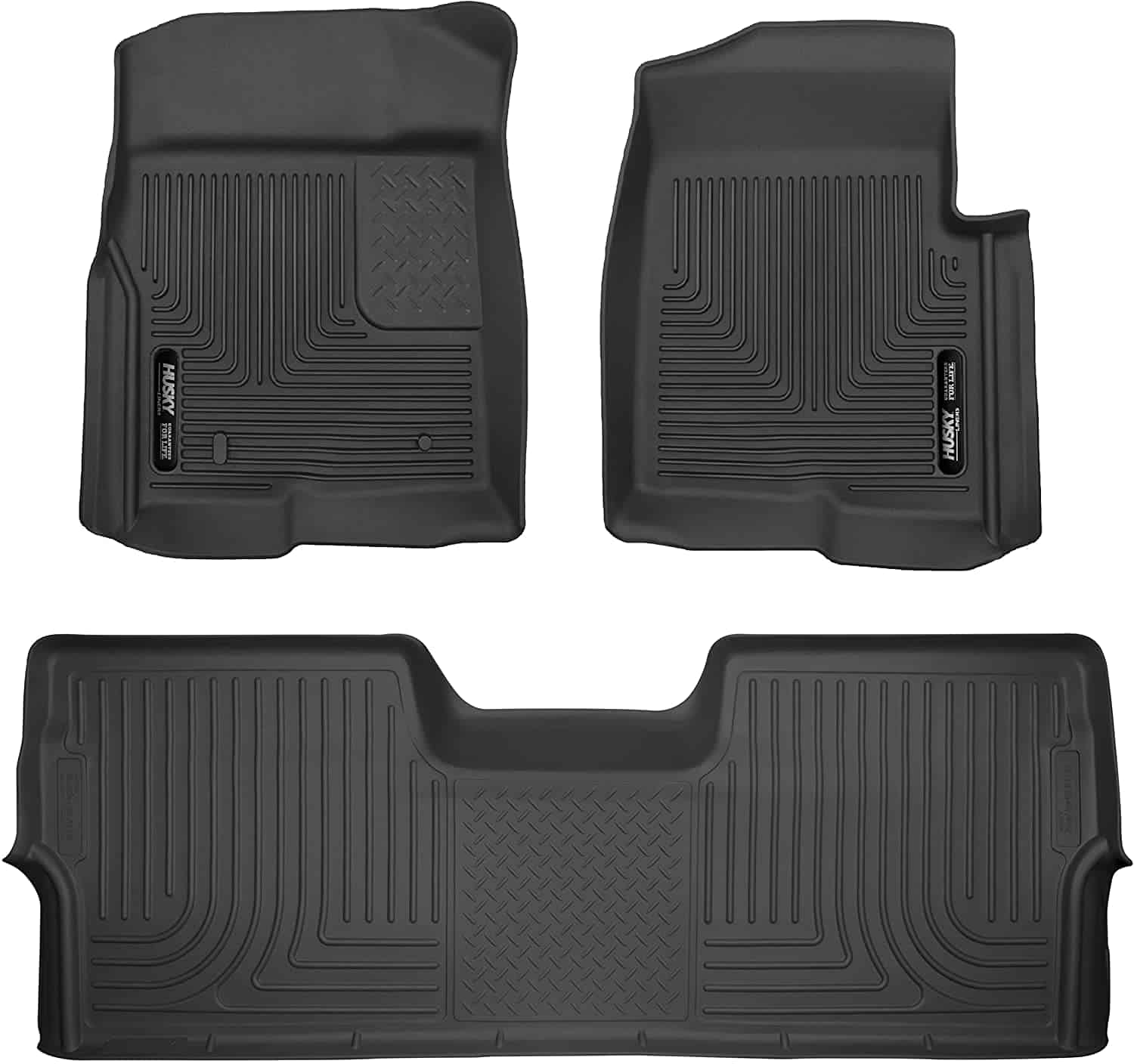 The Ford F-150 is a toughly constructed work truck at its heart, but we know that part of the reason it sells so well is that Ford has made it a pleasant vehicle for the daily drive as well. If you utilize your F-150 for both business and play, these Husky floor mats will protect the interior of your truck from the former while making the latter simpler to enjoy.
At first, look, paying a premium for a set of floor mats may seem counterintuitive. Isn't it true that they're only there to accumulate dirt?
Of course, but Husky Liners developed these mats to fit perfectly in your F-150 SuperCrew, collecting dirt and holding it in place, so it doesn't wind up all over your truck's carpet.
This three-piece set is intended particularly for F-150 SuperCrew vehicles with the front bucket seat option produced between 2015 and 2020. There's a separate mat for each front footwell, as well as a huge floor liner in the back seat that covers the whole floor, ensuring that all three rear passengers have a secure place to lay their feet.
Continue reading our full guide on how to find the best floor mats for your F-150.
Pros:
Raised edges keep debris confined and are designed to fit perfectly in your F-150.
Cons:
Floor mats are expensive, and the slick texture allows things on the floor to slide about
Husky Liners Weatherbeater Series | Amazon
Fits F-150 SuperCrew models only (has 4-full size doors). The rear liner covers foot well only (does not extend under the rear seat).
Buy at Amazon
We earn a commission if you make a purchase, at no additional cost to you.
09/27/2023 10:03 pm GMT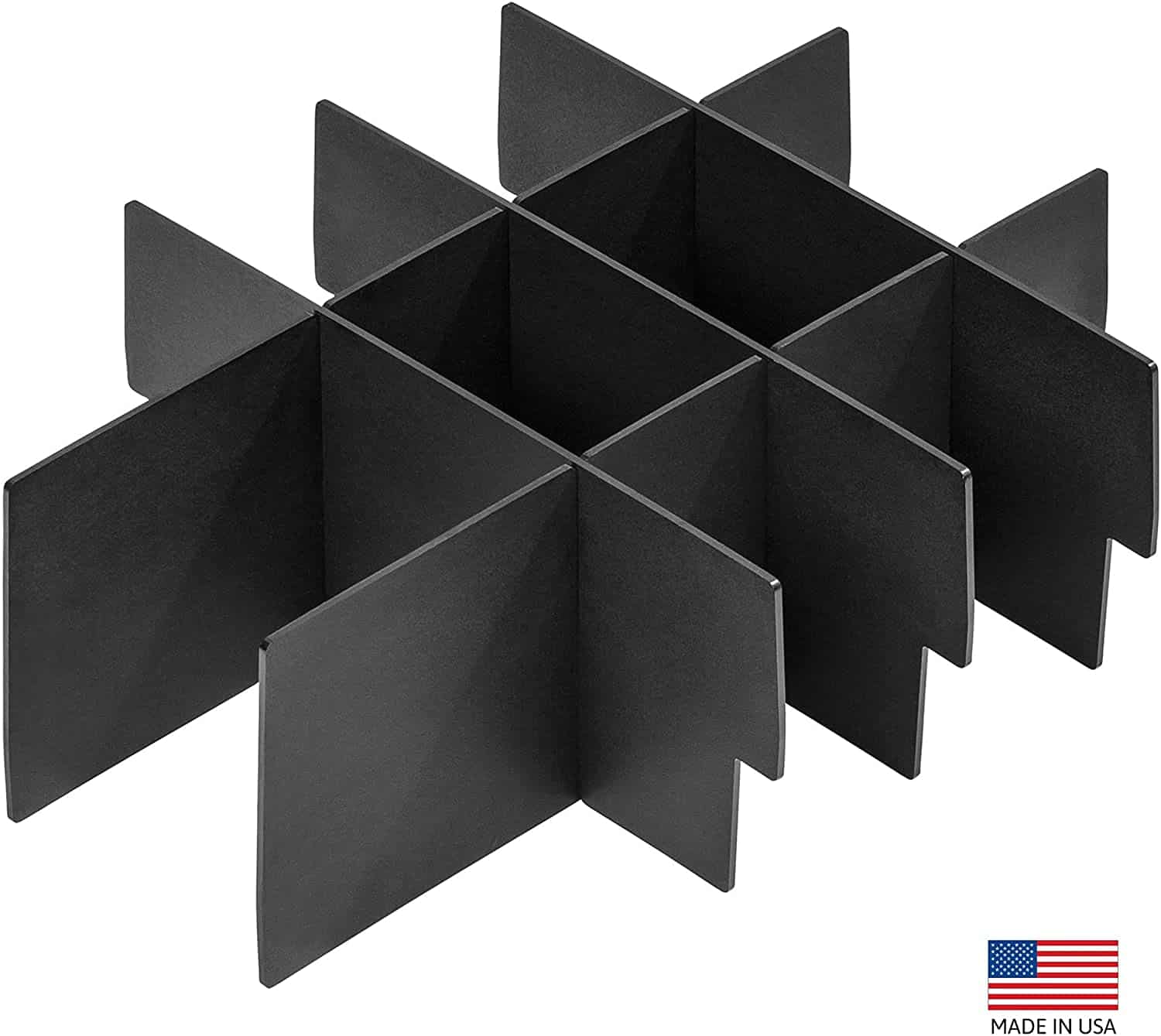 The cabin of your Ford F-150 was built to maximize your productivity on the job, but there are a few aspects that may be improved. One of these is the enormous storage bin in the center console of your truck. This is a convenient spot to store a variety of tiny objects, but if you're not cautious, that bin will quickly become an untamed mess, making it difficult to locate the item you need when you need it.
Vehicle OCD created this smart organizer for your F-150's center console.
This organizer divides your console bin into 12 smaller sections, excellent for keeping the goods you use every day neat. It's made of five pieces of plastic that slide together to form a grid. For a professional appearance and feel, the organizer is composed of 1/8-inch plastic with rounded corners. To reduce shaking while driving, the parts are intended to sit snugly in your truck's console.
According to the manufacturer, this organizer will fit the storage bin of any 2015-2020 F-150 with the front bucket seat option and the flow-through console.
Pros:
A brilliant method for keeping your truck organized, with no tools necessary for installation.
Cons:
Some customers have complained that their items were badly built, while others have said that some of the pieces were too lengthy and had to be chopped to fit in their vehicles.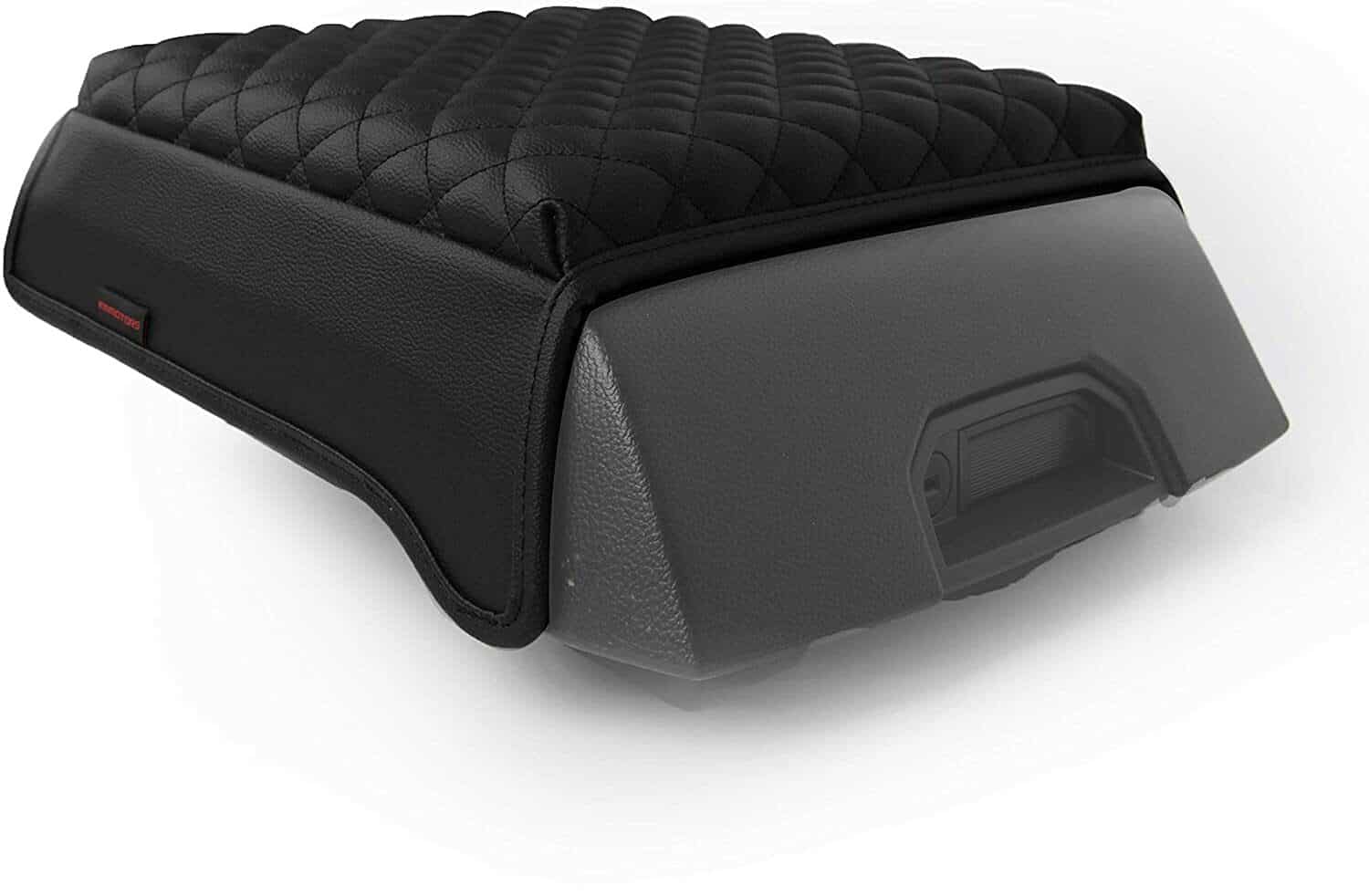 The center console of your Ford F-150 isn't simply for putting small goods in a safe, out-of-the-way spot. You and your front-seat passenger can rest their arms on the top of it. However, the rough, robust surface of most F-150 models may be unpleasant for lengthy trips. Take a look at this console armrest cushion from KMMOTORS if you're searching for a simple method to boost your truck's long-haul comfort.
This cushion is designed to fit snugly on top of your console and provides a cushioned surface covered in quilted leather upholstery for Ford F-150 vehicles sold from 2015 to 2020.
Flaps cover the sides of the console lid, giving it a polished look that resembles a real Ford addition. However, although this cushion covers the whole console, it still enables access to the latch that keeps the lid closed and does not obstruct the hinge on which the lid swings up.
There are three elastic straps that you wrap over the console lid for a snug fit when installing this armrest cushion. This product is only compatible with trucks that have the flow-through console option.
Pros:
Affordable leather upholstery, a simple way to add comfort and flair to your F-150's interior
Cons:
Despite KMMOTORS' claims, several customers allege that this product does not fit the 2020 model year.
Seven Sparta Rear Seat Release Kit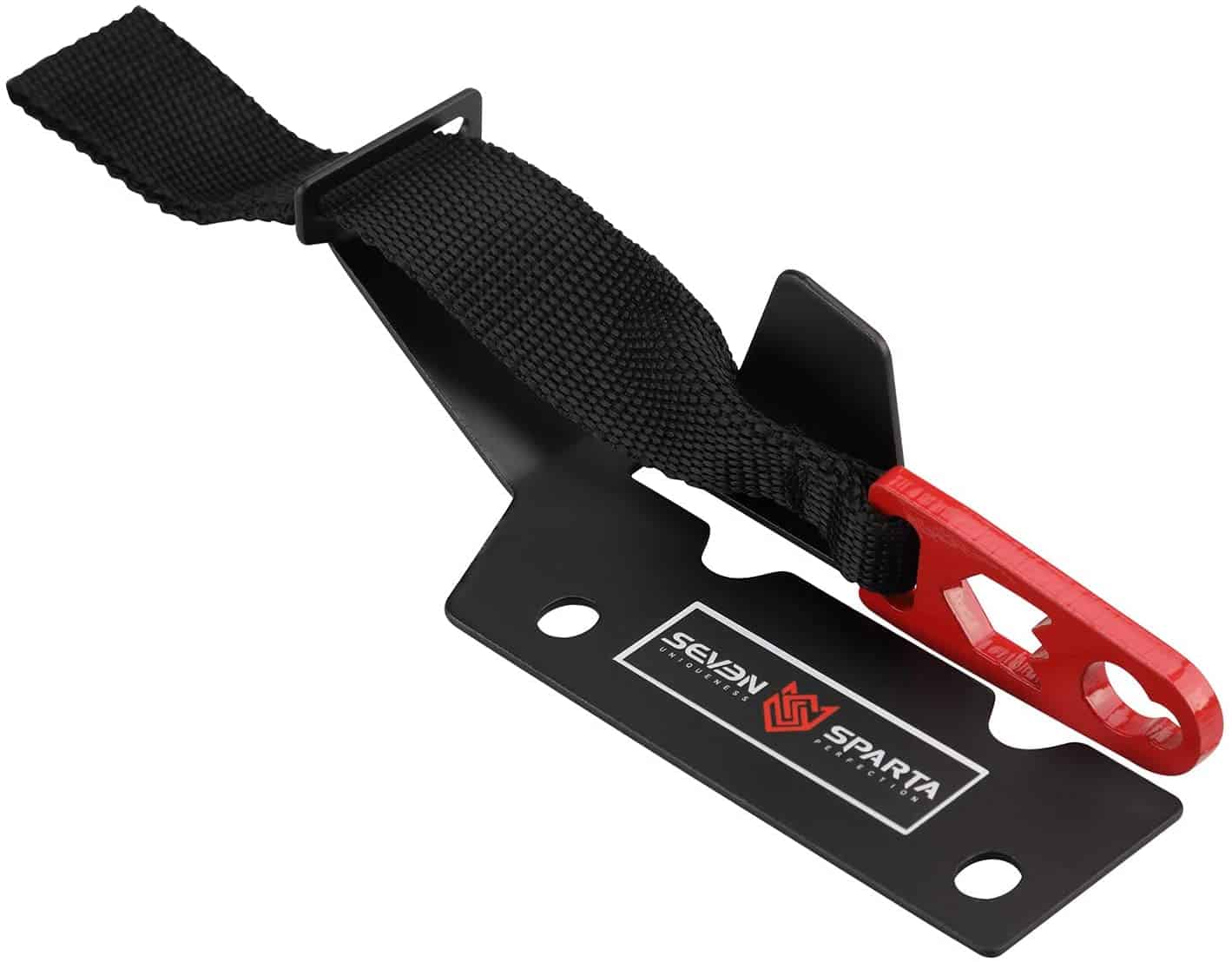 The iconic Ford F-150 comes in various body styles, including four-door SuperCrew and SuperCab variants with roomy rear seats. While you can fold the back seats for more luggage room, Seven Sparta has created a clever solution that makes the cabin of your F-150 even more useful by enabling easy access to the space behind the truck's rear seat.
The rear seatbacks of the Ford F-150 are supposed to fold flat, however on the driver's side; you must reach into the tiny space behind the seatback to press a small pin to release the seatback.
The solution comes from Seven Sparta: a simple seatback release mechanism that allows you to lower the seat by merely tugging on a strap.
This item replaces the factory-installed latch behind the driver's side rear seat on your Ford F-150. Simply remove the factory latch with a screwdriver and replace it with Seven Sparta's component. The durable nylon strap is visible above the top of the seatback; yank on it, and the seatback will fold down. The seatback release kit is made of high-quality steel and tough nylon by the business.
Pros:
Easy access to valuable space behind the back seat in any four-door Ford F-150.
Cons:
One customer claimed they had to adjust the component slightly to make it fit, and Seven stated they had to change the item to fit. Sparta has a design that is almost too exquisite to be buried beneath the seat.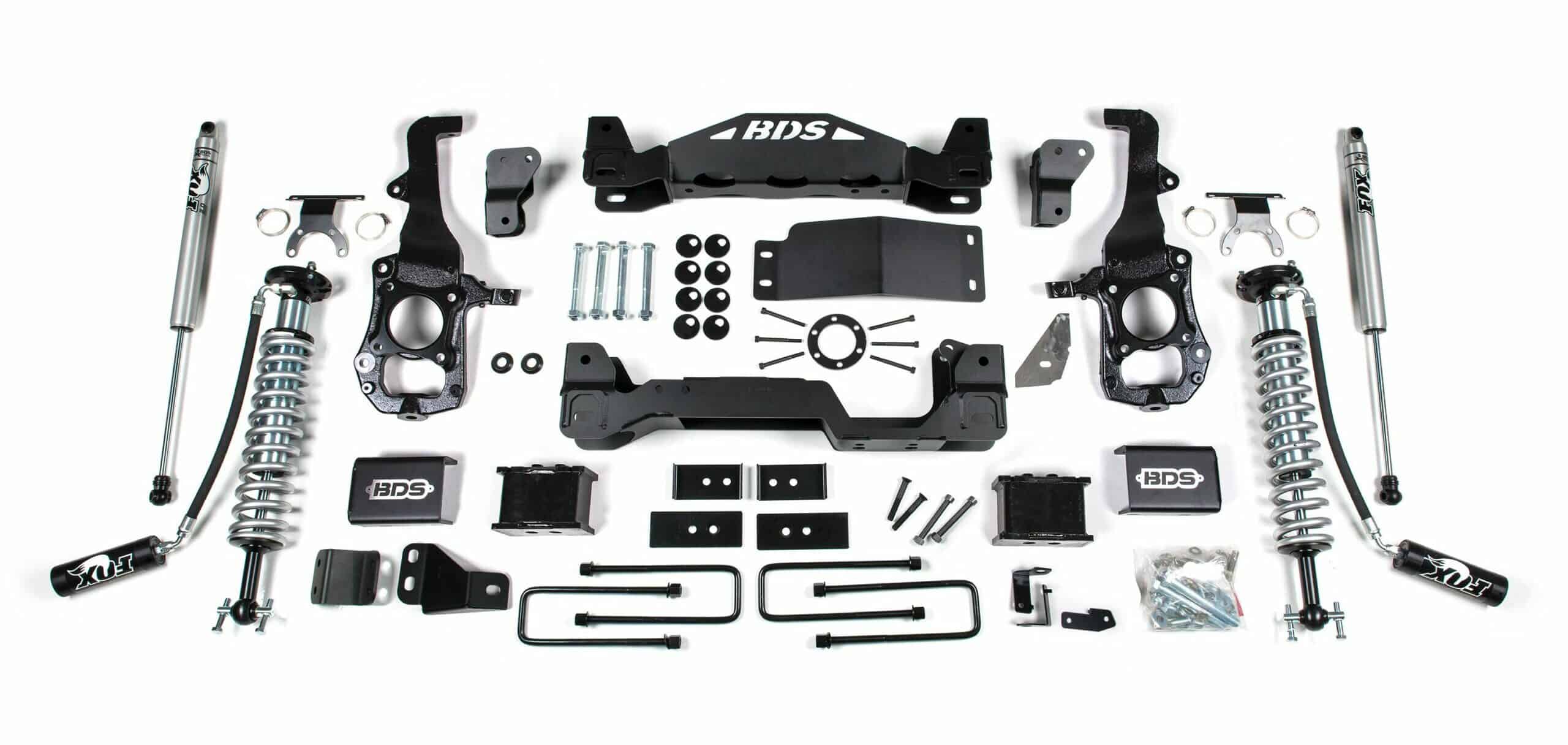 BDS is one of the first and best lift kit companies I'd look at if you're looking for a high-end complete suspension raise kit for your F-150. While their lift kits aren't inexpensive, they are among the finest on the market. Since its inception in 1996, the firm has been creating high-quality lift kits. Their items are available from a range of stores, both in-store and online. If you're lucky, that includes Amazon. They also have a great warranty policy, which should give you peace of mind that you're receiving the real deal.
If your budget isn't too tight, you'll discover that BDS is one of the better lift kit manufacturers. Their goods will not significantly affect the driving characteristics of your car, if at all, which is a certainty with some of the more budget-friendly solutions. I do have another cheaper option next, but this is undoubtedly one of the better lift kits available for your truck!
Pros:
High quality, rugged, will last a lifetime, basically invincible
Cons:
Expensive, needs a pro to install it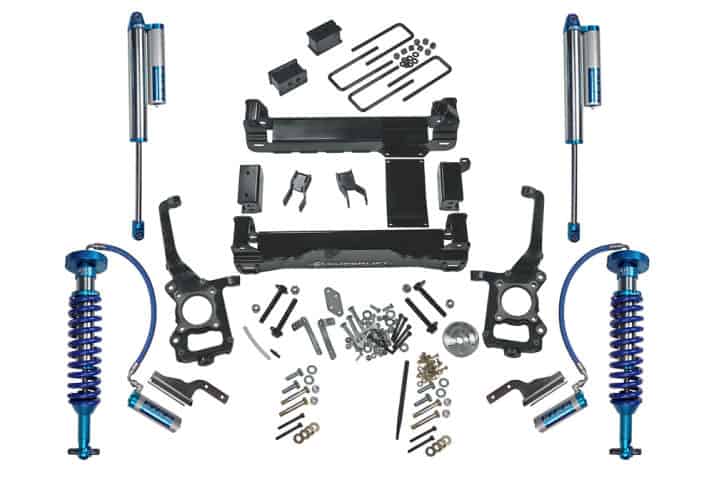 Superlift is another enticing alternative for individuals with a larger budget. You'll notice that their things aren't affordable once again. You will, however, know that you are getting a high-quality lift kit. It will ensure that your truck continues to operate as intended, in the manner that you are accustomed to. It will also have an eye-catching raise that will allow for bespoke tires and other features.
Superlift, in fact, has been around longer than any other lift kit manufacturers, with roots dating back to the 1970s. Their goods have won awards, and there's no doubt that they're made using the best materials available. Superlift is a wonderful alternative if you want a durable and dependable whole suspension lift kit.
Pros:
Rugged, high-quality, well-known brand, more budget-friendly
Cons: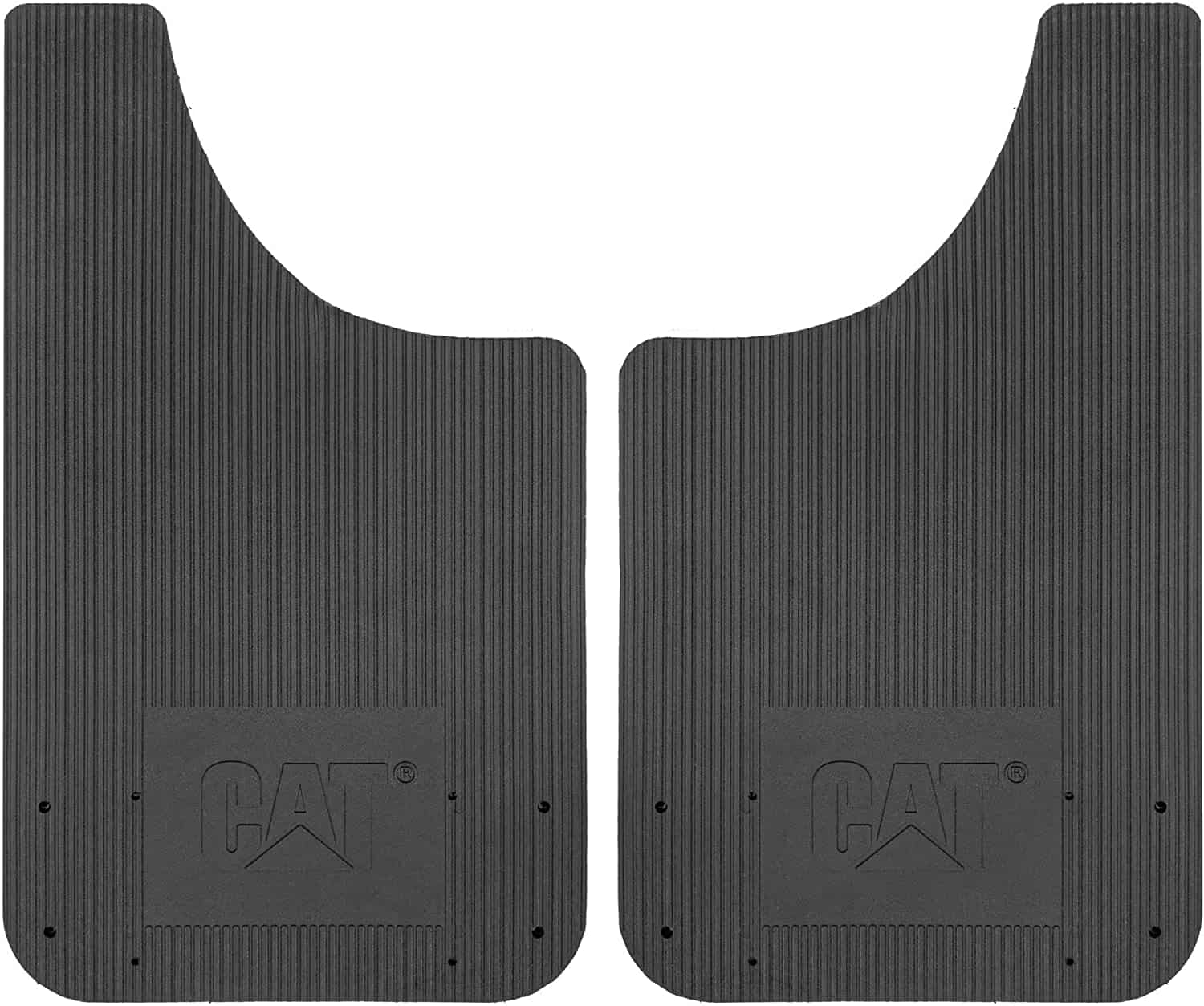 There are somewhat better-rated mud flaps on the market, but who wants to pay twice as much for them? Caterpillar wins the prize for offering a half-inch thick set of four mud flaps for the same price as a set of two from a rival. The bottom of these CAT flaps has a fluorescent weight, which prevents excessive movement and adds extra visibility at night. If your truck doesn't already have factory splash guards, be aware that adding these hefty flaps will almost certainly necessitate drilling into the stock wheel wells.
The installation definitely is a more difficult process, but these are the BEST guards on the market! Frankly, for those off-roading regularly, splash guards are probably not essential, but for those taking their trucks out on long weekends, these are awesome! It'll keep the underside of your vehicle in tip-top shape and limit the mud spray over your car! That means fewer trips to the car wash!
Pros:
For the price of two, you get a complete set of four flaps and screws; under extreme conditions, the substantial structure is unlikely to shred or shatter; muddy, slushy weather calls for thick, heavy-duty mud flaps
Cons:
Many vehicles need drilling; additional screws or grommets may be required in some cases; the Caterpillar logo is prominent, altering the vehicle's original look
Caterpillar CAT Heavy Duty Splash Guards | Amazon
Protect your car from dirt roads and stormy weather. Constructed of semi-rigid composite plastic, CAT mud flaps are ultra-tough and easy to install. We use premium grade material that is mildly flexible, unlike cheap hard plastic. Designed in the USA.
Buy at Amazon
We earn a commission if you make a purchase, at no additional cost to you.
09/27/2023 10:16 pm GMT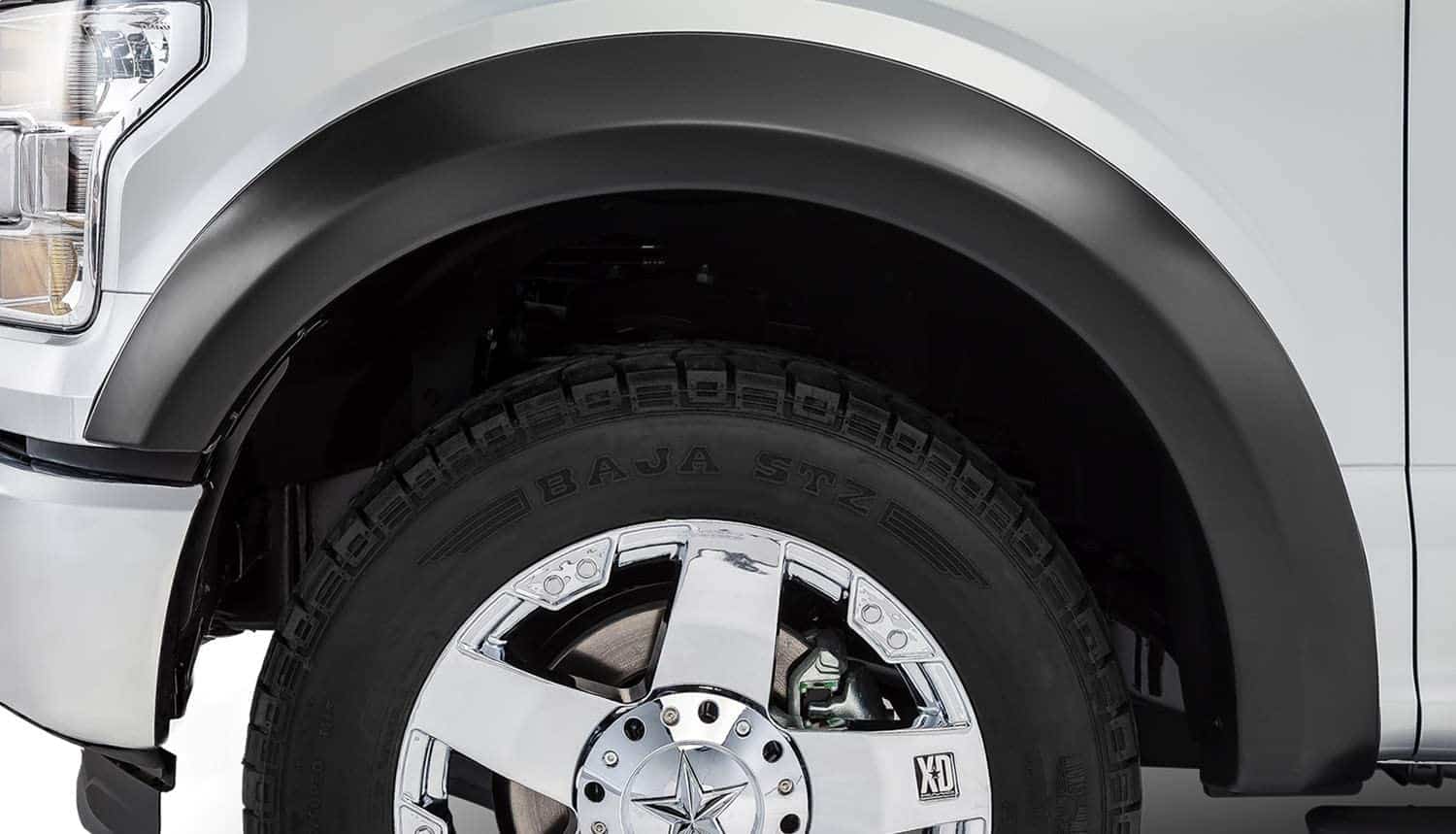 Stampede Trail Riderz Fender Flares are made to match and emphasize your OE appearance and require no equipment to install — just some automotive grade 3M tape. They're durable, high-impact, and come in a four-piece set. 
For those roughing it on the trails, there are perfect, giving you two inches of extra protection on those wheels of yours. We all know scratching a brand new pair of rims sucks, especially when they chose hundreds, maybe thousands to fix! 
The best part is these fender flares were designed to resist rocks, mud, you name it! It's hard to determine what you're gonna find on the trails, and the Stampede Trail Riderz has got your trucks back covered! 
Related: How to Find the Best F-150 Fender Flares
Pros:
Rugged, durable, easy to install, relatively cheap
Cons:
Visually not that appealing on older models 
Stampede Trail Riderz Fender Flares | Amazon
Stampede's Black Trail Riderz, ABS thermoplastic, smooth finish, and extended style fender flares protect your truck while making a bold and stylish statement.
Buy at Amazon
We earn a commission if you make a purchase, at no additional cost to you.
09/27/2023 07:48 pm GMT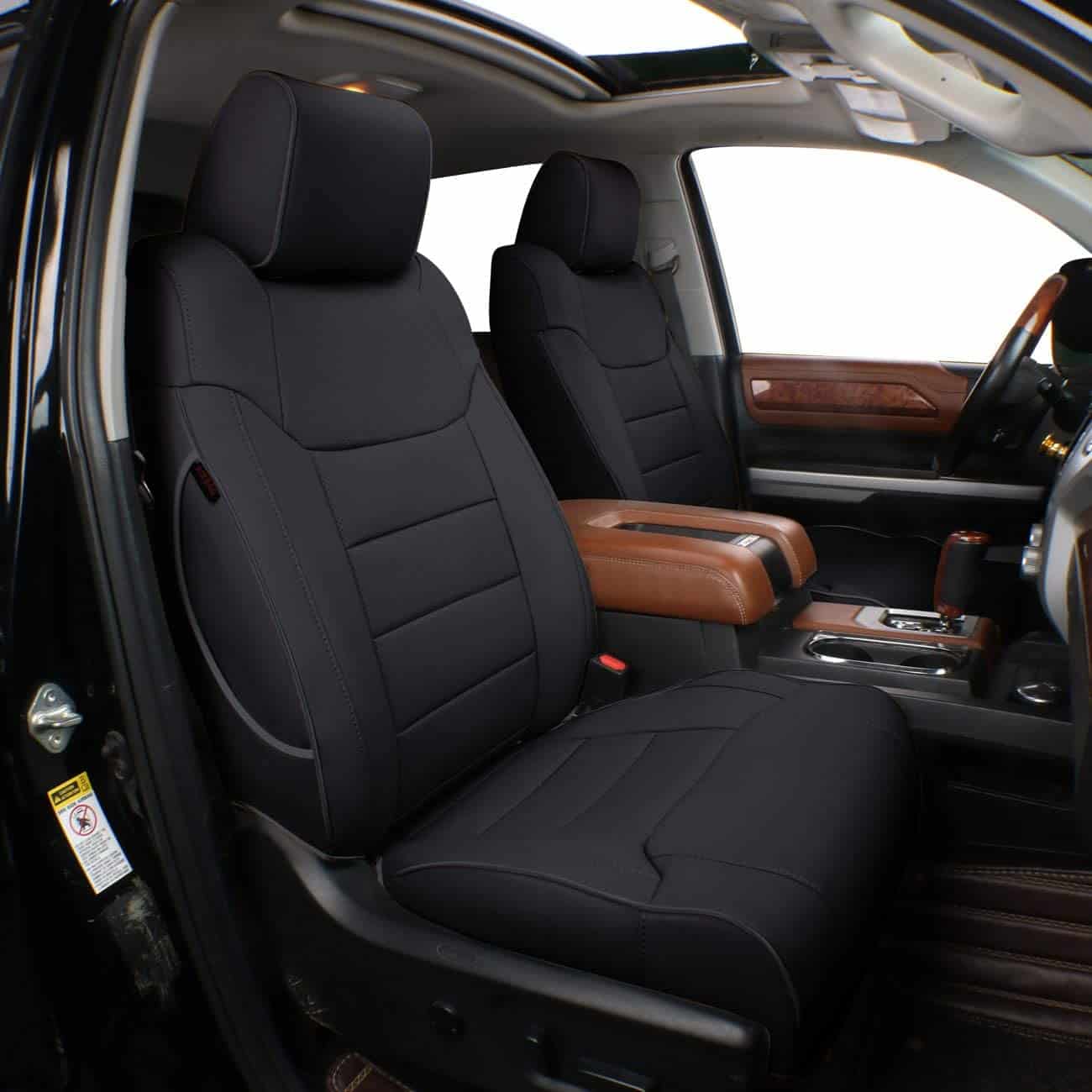 These seats have a good fit and a great finish, and they appear to be original equipment. Seven distinct color options are available, including one with red microsuede inserts. They're composed of PU leather, or polyurethane imitation leather, and are water-resistant. Watch the installation videos first because they're difficult to put together due to the tight fit. Buyers, on the other hand, feel they're a terrific fit once they're installed.
Pros:
It appears to be more costly than it is, the fit is unique, it has LATCH (child-seat) compatibility, a 60/40 folding seat, and access to the rear center armrest
Cons:
It is possible that installation will take some time and patience, designed for particular models, so be sure yours is one of them, the armrest and headrest coverings did not fit as well as the seat covers, according to customers
Leatherette by EKR | Amazon
These comfortable seat covers feature a 4-layer construction with thick foam padding for a comfortable feel and durable quality.
Buy at Amazon
We earn a commission if you make a purchase, at no additional cost to you.
09/27/2023 04:13 pm GMT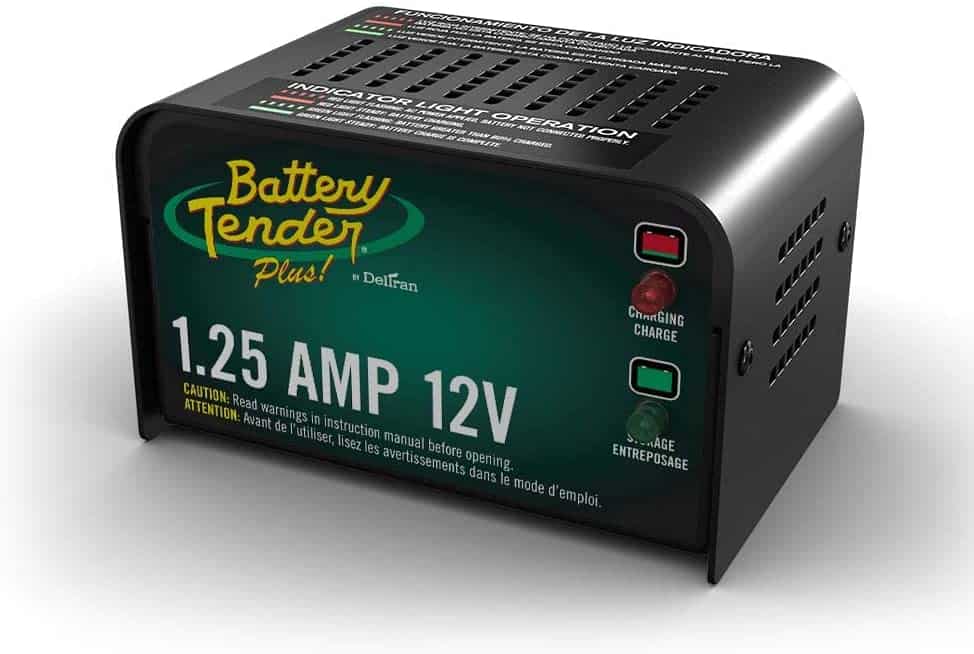 Batteries are depleted by cold weather and by leaving a car unattended. Battery maintainers are commonly employed by classic automobile owners to keep seldom used vehicles charged with a modest but steady source of electricity. Thousands of commuters' driving patterns were unexpectedly interrupted last year, resulting in vehicles being left in driveways or garages for longer periods of time, underscoring the advantage and need of having a maintainer.
The 1.25 Amp charger from Deltran's Battery Tender line of chargers and maintainers is one of the best. The Deltran Battery Plus 1.25 Amp unit is powerful enough to keep big truck batteries charged while simultaneously adjusting the voltage to accommodate for temperature, assuring even charging and extending battery life.
When a battery is fully charged, the system switches to trickle mode, restoring any charge that has naturally dissipated. The Battery Tender Plus 1.25 Amp costs $50, although Deltran offers a variety of other versions for lesser and heavier-duty applications.
Pros:
Extends your battery life, multiple options for different vehicles, different price points
Cons:
Heavy, a larger item to store in your truck
FAQ
Question: Are aftermarket F-150 accessories as well-designed as genuine Ford products?
Answer: Like many sectors, there are many low-cost items designed to earn quick income for a shady operation. The people in charge of these operations don't give a damn about their companies' reputations because they don't expect to be around long enough to make a difference.
There are, however, a plethora of well-made aftermarket F-150 accessories available from firms that aim to make you into a return client. You may rest confident that the components on our list are high-quality and made to withstand regular use.
Question: Why should you choose aftermarket accessories for your F-150 instead of genuine Ford parts?
Answer: It's quite difficult to create a vehicle that will satisfy 100 percent of purchasers all of the time—especially one that sells in such large quantities as the F-150. Despite Ford's considerable expertise in the pickup truck industry, you can bet that certain areas of the F-150's design will fall short of expectations, however narrowly. To be fair, Ford's engineers have a lot on their plates ensuring that the F-150 meets the demands of the majority of mainstream pickup truck consumers, so they don't want to waste time building pieces that they believe few purchasers would care about.
This is when the aftermarket enters the picture. Accessory manufacturers for the Ford F-150 have a distinct viewpoint on the market. They could see a pattern in enthusiast forums where many different drivers express they wish Ford had done something differently when creating the F-150 and see an opportunity to produce a product that addresses that concern.
Some of the goods made by those wishing drivers result in the formation of new aftermarket accessory firms.
Question: What else should I look for when searching for F-150 accessories?
Answer: Your best chance is to stay with items that have received a lot of positive feedback. Even if not all of the reviews are good, the opinions of previous consumers can help you decide if a product is suitable for you and how you intend to use it. Frankly, buying a car accessory should be taken seriously; some of these can hurt your car if installed wrong… While most of the time that's not the case, make sure you've bought a product with great reviews (like the one above)!
Conclusion
If there's are accessories that you NEED to purchase, I recommend a Tonneau Cover. While my pick would be the Tyger option, there are tons out there (they're just not as great)! If you want to haul anything when it's raining, or you're worried about something getting stolen, the Tonneau Cover is ideal! It keeps your tools dry, safe, and almost always can be locked with your car!
No matter what you choose, enjoy your accessories! Make sure you install it correctly, though!
Continue reading: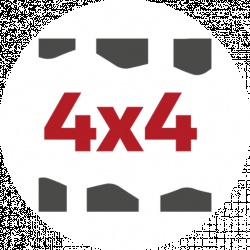 Latest posts by 4x4 Reports Team
(see all)