Do you have a 4×4 vehicle and you are looking for parts for the same? If so you should know there are a plethora of parts out there for you to choose from. So how do you know the best 4×4 parts?
It isn't easy differentiating parts that will work on your 4×4. After all, all vehicles are not the same. With this in mind, we have compiled a list of the best parts and accessories that you can get for your 4×4 vehicle. The following is information you can use to get parts and 4×4 accessories for your 4×4 irrespective of the make and model.
Our Top 7 Best 4×4 Replacement Parts Picks
There are parts that every 4×4 needs. They include air filters, shocks and struts, brake pads, tires, and so forth. Check out our list of the best of these products to guide you.
Best 4×4 Tires – BFGoodrich
BFGoodrich All-Terrain T/A KO2 is an all-terrain tire that started production in 2005. BFGoodrich classifies the T/A K02 model as the company's fourth-generation all-terrain tire. These tires are developed for on and off-road use> they are primarily for 4x4s, SUVs, and pickup trucks.
Drivers get to improve their confidence as they drive on these tires. It's because they offer drivers greater control on any terrain and weather condition. BFG applies a sidewall rubber compound to this model. It's more rigid and thicker than their previous versions.
The latest T/A KO tire design specializes in racing and off-road. It's developed for long wear times with better durability. A computerized optimization technique is applied to mold the rubber compound. It provides an interlocking tread block all-terrain pattern. This technique improves driving in wet or icy conditions.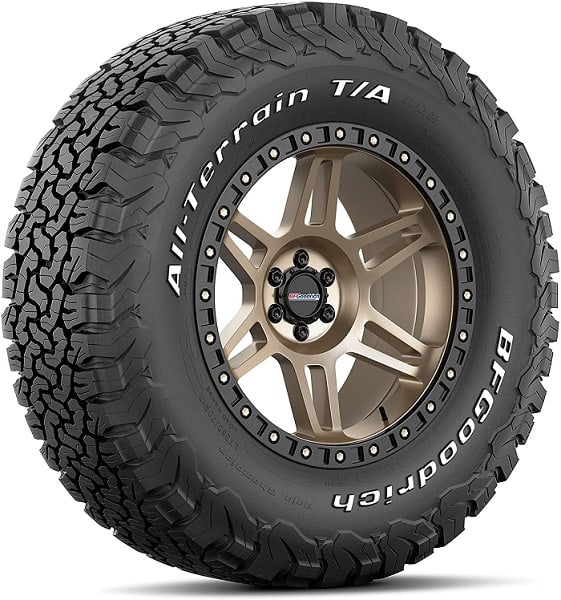 The latest BFG All Terrain TA K02 delivers 19% more traction on snow and 10% more traction on mud compared to the previous version of the KO 4×4 tires. The tire is fitted with side-biter lugs (protruding rubber blocks on the sidewall) to provide improved traction for snow and mud driving.
There are raised bars or mud buster bars in the shoulder tread area. They enhance traction in muddy and soft soil conditions. BFG 4×4 tires are branded with the mountain/snowflake symbol. It's an indicator that they meet the set standard requirements for driving in severe winter weather conditions.
There are unique locking 3-D sipes located around the tread. They are designed to provide more biting edges. They also offer the best grip for snow and ice terrains. Reviews from various drivers indicate this is another significant benefit of using this tire.
Some of the all-terrain tires in the market don't offer comfortable rides. The KO2 doesn't have this issue considering it is remarkably comfortable on or off-road. When it comes to noise, KO2 tires are very silent. This may be due to the improved design. These tires last longer because of the tread compound, which is chip, tear, and cut resistant.
The presence of the advanced footprint feature ensures wear and stress on the tire are evenly distributed. Stability is also enhanced by the interlocking tread design. BFGoodrich tires with a limited warranty have load ratings up to E. On the upside, 15–20-inch sizes are available in the market.
Pros
Tread-life
Off-road performance
Treads are tough and durable
Perfect traction on all terrains including wet and snowy roads
Best overall tire for 4×4
Cons
None worth complaining about
Best 4×4 Brake Pads – Power Stop K6268-36 Z36
Brake dust, a common problem with brake pads, is a side effect of the wear and tear of brake pads and brake disk rotors. Power Stop Z36 brake pads are designed to minimize the production of brake dust. The product is designed to reduce wear and tear that is the main cause of brake dust.
If your car's wheel gets coated with brake dust it is a sign of trouble. To avoid the issue, this model ensures the production of minimal brake dust. The brake pad produces 30% less dust than the other makes and models. The Z36 is great for 4×4 vehicles thanks to its unique double-layered high-temperature rubberized shims.
Power Stop conducted third-party tests in Los Angeles to determine the strength and performance of Z36 brake pads. The results showed the product produced fine dust particles with an insignificant negative impact on the pads. The particles produced are better for the environment.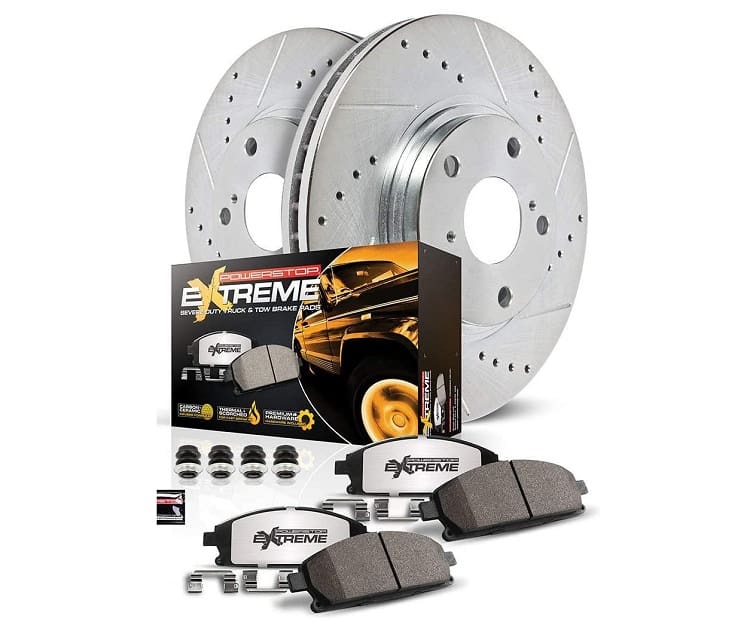 These brake pads come with double-layered rubberized shims that are resistant to high temperatures. This also helps in the reduction of noise levels. Regular brake pads in the market have a drawback. They have undesirable noise levels.
Power Stop also maintains an optimal standard. This is done through the incorporation of carbon-fiber ceramic as part of the construction materials for their products. This given model is perfect for larger vehicles, 4×4, and trucks that need heavy-duty performance.
The carbon fiber with a ceramic formation feature enables users to experience supreme braking with maximum strength and durability. In addition, carbon fiber has approximately 70% lighter structures in contrast to its metal counterpart.
Pros
Rubberized shims to ensure a noise-free atmosphere is maintained
Enhanced braking power
Prevents production of "hard to remove dust particles"
Improved rotor cooling effect
Rust-free
Cons
Rotors may warp in less than 10000 miles
Best 4×4 Exhaust – Magnaflow
Magnaflow, established in 1981, has become the best in cars' exhaust and muffler technology. Its head office is based in Rancho Santa Margarita, California. When searching for a muffler, a car silencer, or even an exhaust system for your car, you find that a Magnaflow system is one of the most popular options.
Their systems have excellent efficiency with numerous advantages. It's tuned with a dyno that is thoroughly tested with standard output numbers. The best-selling attribute for Magnaflow is its smooth and unique sound.
This exhaust system captures the exhaust gas from the engine and takes it out of the car. Simultaneously, it minimizes harmful emissions as well as excessive noise. This means a Magnaflow exhaust system will provide you with the engine power that you require.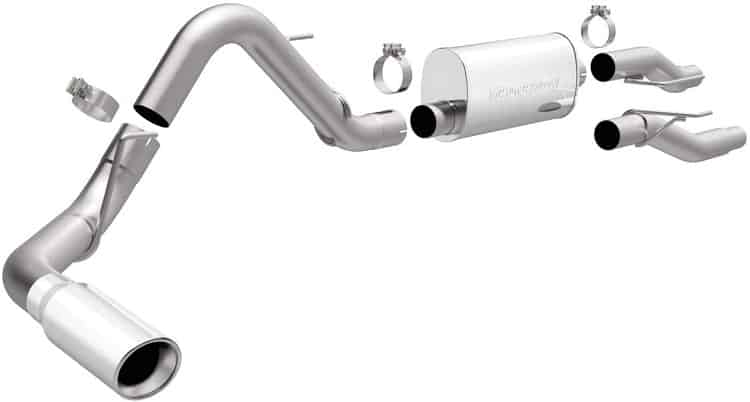 Additionally, it improves fuel efficiency for trucks, cars, 4x4s, and SUVs. It does all this while ensuring clean air emissions and high-quality sound is preserved.
Are you looking for a more resonant sound for your 4×4 and you are working on a tight budget? Magnaflow should be one of the options on the top of your list. This exhaust has a lifetime warranty cover. You can rely on this system if you own a 4×4 vehicle.
Magnaflow Exhaust Features
There are many features of this exhaust system including:
A tuned rumble
USA made product
Mainly made from is stainless steel
Magnaflow has been around for over four decades. Jerry Paolone founded Mgnaflow in 1981. They have a diverse product line that allows "picky" buyers to choose from a wide variety of products. Furthermore, their products run from standard mufflers, racing mufflers to 4×4 exhaust systems.
The company also has over 120 highly trained production employees. The Magnaflow exhaust system features several merits among the top contenders for the perfect exhaust system for your 4×4 vehicle. That said, a few demerits also exist for this particular exhaust system. Take a look at the pros and cons of the system below.
Pros
Lifetime warranty
Trouble-free installation
Perfect high-flow architecture
Eliminates back pressure from the engine
Minimizes power theft effects
Cons
Several products may not perform as well on trucks
Some backpressure loss
Best 4×4 Struts and Shocks – Monroe Struts and Shocks
It's now almost more than a century since Monroe started eyeing the automobile industry. In 1916, a young brainy mechanical entrepreneur in Monroe, Michigan, started a company that focused on manufacturing tire pumps. It had a production yield of over 5000 units weekly.
The company gradually attained immense growth attracting various investors interested in exploring the rapidly developing automobile industry. Monroe later introduced shock absorbers into its increasingly growing range of products.
The invention of shock absorbers relied on the design of a single-barrel pump. The idea was to increase driving smoothness. Monroe's focus and attention on shock absorbers enabled him to invent a double-action shock absorber.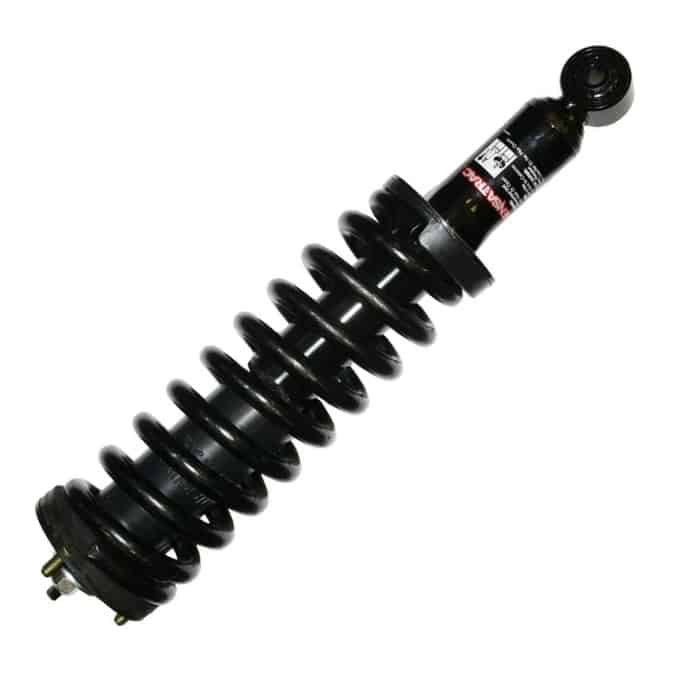 In the early 1940s, Monroe showed great interest in military and railroad suspension parts. He acquired worldwide licenses in the 70s to 80s. He later expanded the business to cover Australia, Mexico, Canada, Africa, and Europe. Later his company started producing struts. One of the things that made and still make their shocks and struts stand out is their high level of quality.
The suspension parts ensure a smooth ride on both rough and smooth roads. They are also perfect for paved roads, especially when driving at high speeds.
For instance, take a look at the Monroe Magnum shock absorber. It comes with a nitro-carburized rod that has self-lubrication properties. Monroe shocks perform well on small to large vehicles including 4x4s.
Pros
Smooth ride
Comfortable on paved roads at high speeds
Nitrocarburized rod with self-lubrication
Great on small and large vehicles
Available worldwide
Cons
Pricier than similar products
Best 4×4 Air Filter – K&N 33-2304 High-Performance Replacement Air Filter
Do you need an increase in acceleration and horsepower while ensuring quality air filtration? The K&N 33-2304 air filter is a great choice. Apart from being custom-designed to fit into your existing filter box, it is reusable and washable.
The simple drop-in design of the filter makes it easy to improve performance on your 4×4 vehicle. A 10-year or million-mile limited warranty gives you peace of mind. Depending on the driving conditions, this filter can last up to 50,000 miles.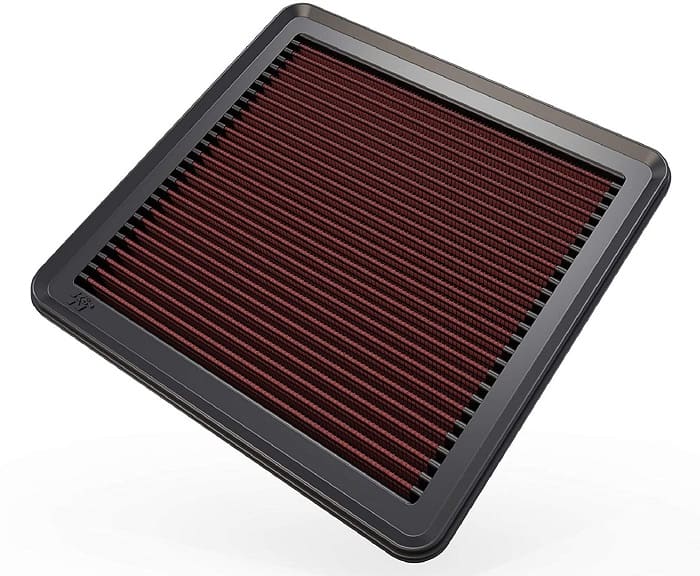 Unique characteristics and materials used to make the filter allow it to add up to 4 horsepower. There are two sheets of epoxy coated wire mesh that layer 6 layers of cotton gauze. Overall filtration and performance are possible because the filter is pleated. In case it fails and you have used it the right way, K&N will replace the filter at no extra charge.
Pros
Reusable
Improves engine performance
Enhances throttle response
Increases mileage
10-year limited warranty
Cons
It may not fit in all 4x4s
Washing the filter repeatedly may be tedious
Best 4×4 Light – Nilight 20-inch Light Bar
Even this 4×4 light looks like a traditional light bar, it's an IP67 rated double-row light. This means it can be used un1derwater for 30 minutes at a maximum depth of 1 meter. If you get stuck in floodwater, this rating is sufficient to help you wade through the water.
Rubber padding and EVA strips are used to ensure the wiring is not affected by water. The lights are segmented into floodlight and spotlight sections. As a result, you get maximum range, intensity, and length depending on your driving situation.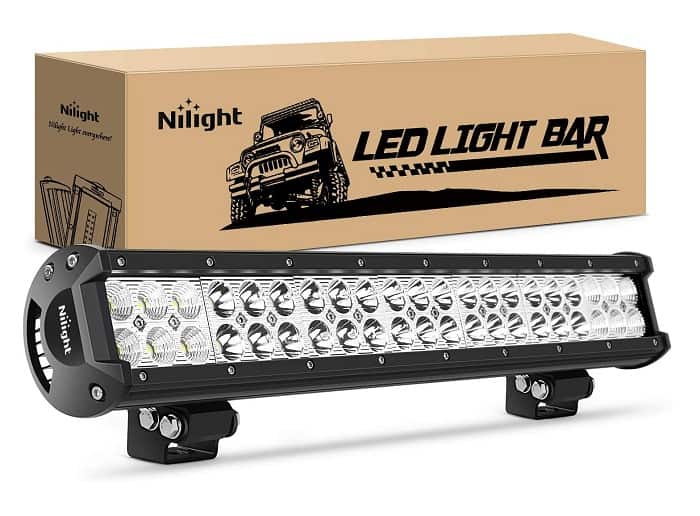 Nilight has customized chips in each of its LED lights. They glow brighter and last longer for consistent illumination. For multiple refraction angles, they're encased in textured cups. It means the light beams are more diffuse. With this in mind, the enhanced spread doesn't affect the intensity of your 4×4 lights.
Stainless steel brackets support the light bar and resist moisture, corrosion, and rust damage. You get optimal performance for up to 50,000 hours of continuous use. Am aluminum alloy case with 9 fins laminated with thermal grease surrounds the lights to ensure they shed heat. Wind resistance is cut down by the streamlined housing structure.
Pros
High protection performance
Better heat dissipation
Bright ray for clear visibility
100% water and dustproof
Maximum 50,000 hours of continuous use
Cons
Doesn't look modern
Pricey
Best 4×4 Winch – Smittybilt GEN 2 XRC
If you are looking to buy a quality winch at an affordable price, then this is a great option. It's one of the most popular winches for 4×4 vehicles in the market. The fact that it's a 17,500-pound winch means you should consider loads not exceeding 12,000 pounds.
The Smittybilt GEN 2 XRC is a power out and power in winch designed for regular use. It features an automatic load-holding brake for a secure and smooth winching experience. Additionally, it has a 3 stage planetary gear system.

If you don't want the 17,500-pound option, you can go for 15,500, 12,000, and 9,500 lbs options. All these options have the same features with the difference being the load capacity. All the models have a re-locatable control pack with 3 mounting options.
The Smittybilt GEN 2 XRC is waterproof considering it has an IP67 rating. You can comfortably operate it while wearing gloves thanks to the large free spooling clutch lever. A 94 feet heavy-duty cable and wired remote are part of the package.
Pros
Re-locatable control pack with 3 mounting options
Large free spooling clutch
Waterproof
12ft wired remote
Various load capacity options
Cons
Lack of a winch cover
No wireless remote
4×4 Part Buying Guide
We all know or have an idea of where to get new 4×4 parts. What about second-hand parts? Most people have no idea where to begin when it comes to second-hand vehicle parts. If you are working on a budget or need a quick fix for your 4×4 or any other car, read on to know how to get the best second-hand parts.
Are Second Hand 4×4 Parts Worth It?
Several reasons exist as to why you should consider buying second-hand car parts. Second-hand parts are an economical choice compared to buying new ones. Such 4×4 parts are always cheaper by at least 30%.
Additionally, they are an excellent green choice. The energy debt created during the production of the parts is fully paid off by cutting down on the number of new parts to be made. When you own an older 4×4 car, which the manufacturer no longer supports, second-hand parts are your best lifeline.
Lastly, buying second-hand parts leads to the funding of the "breaker industry." It helps the motorists keep their vehicles on the road without putting a big dent in their budget.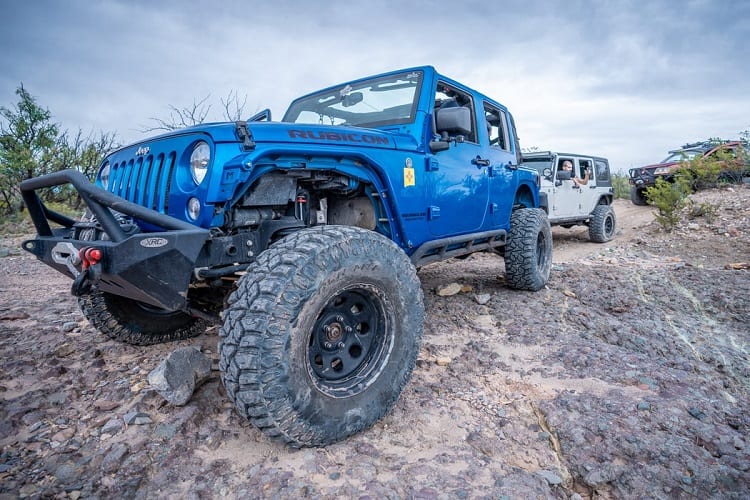 How to Identify the 4×4 Parts You Need
After diagnosing the problem with your vehicle, the next step is to ensure that you get the right part(s) for your model and make. There can be many different versions of a car from a single manufacturer. They may change the parts and design over the years.
Below are some simple steps for you to follow to ensure that you get the right part for your car:
Vehicle Identification Number (VIN)
This is a number that is unique to each car. You can use it to check whether you have the right 4×4 parts. Information stored in the manufacturer's data tables relates to various sets of numbers that will enable you to locate the correct part code.
Part Comparison
You can visit a second-hand vehicle parts shop to compare similar parts in stock. Due Diligence is required to confirm that every single component and fixing point is in the same position on the replacement.
Part Code
Sometimes you may get a code on the actual part you intend to replace. It's normally hidden underneath the grease and dirt which accumulates over the part. This code relates to a specific part on the manufacturer's catalog. It helps the second-hand part dealer or a broker to locate the part quickly.
Visual Identification
You may opt to take the part to an expert in a second-hand car parts shop if you have a local yard. At times they can recognize some 4×4 car parts just by looking at them. It will be easier to get a quick replacement by engaging them.
How to Find the Best 4×4 Parts
After noting the 4×4 parts that you need in your vehicle, the next step is finding someone who can sell them to you. The scarcer parts are more difficult to get. All the same, you can get several places where second-hand car parts are readily available. These places include the following:
Scrap Yards
Scrap yards for cars are flooded with parts. They are the best places to buy your 4×4 second-hand parts. You can speak to the seller one-on-one and negotiate on the pricing with friendly talk. These sellers are found through brokers and their networks.
Swap Meets
Amazingly, you can also attend events where auto-enthusiasts swap car parts. These are events that come along with additional attractions like hot food and buffed-up vintage cars. The Slough Swap Meet and the NRSA Southern Swap Meet are some of the popular swap meets.
Websites
There are plenty of sites that offer access to a network of sellers across the world. This increases the probability of getting high-quality parts. They offer 4×4 parts in good condition at fair prices.
Certified Dealers
You will find it quite difficult to get 4×4 parts if you don't mind paying the mark-up necessary. Even though purchasing the parts from dealers is a "sure bet", it costs you more but saves you time.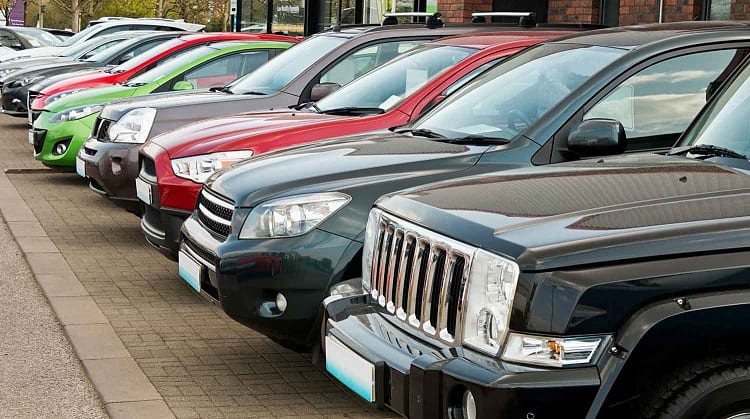 Enthusiast Forums
If you are looking for a scarce part, these can be a "godsend." As an avid fan of specific models of cars, you will have found a perfect source of certain parts. By using your expertise and the available recommendations, you will not miss the 4×4 part you need at the right price.
Getting the Best Price
Cost minimization versus buying new is the main reason for buying a second-hand car part. The big question that you have to ask yourself is how do you know if you are getting a good deal on a part? Is it possible to get a better price for the part?
A serious buyer can apply various techniques to ensure that they get the best price on any deal. These techniques include:
Buying
It is not advisable to jump for the first price that lands in your laps when buying parts. By doing this, you will not be able to know whether you have gained the deal of the century or are just paying over the odds.
You can only find the most cost-effective cost for your part by looking at three or more sellers. You can use a simple trick also by checking out the most recent sales of parts on various online stores. This gives you a clue of the going rate.
Haggling
If you are a risk-taker, don't be afraid to take chances. You should always ask for a specific price. If not, how will you know if the seller would let you have that part for that money? One of the keys to successful haggling is taking your time and never being too enthusiastic about any potential deal.
Additionally, you can also apply the old market bazaar trick of walking away from a specific purchase. Sometimes it makes the seller drop his price to meet your budget. Always make sure that your starting price range is lower than you can sensibly pay. The move offers you plenty of space to bargain.
Coupons
Usually, most companies that sell through local advertising outlets or online offer coupons that help drum up the business. Keep looking at the local media for money-off vouchers or search the internet for discount codes. They at times help cut a small percentage of your purchase with the parts' sellers.
4×4 Parts FAQs
Question: How Long do Tires Last on a 4×4 Vehicle?
Answer: It depends on how often you use them, your driving expertise, and the terrain. Overall, it's wise to have your tires checked annually especially if they are more than 5 years old. Most manufacturers give an estimate on longevity since factors such as driving habits, air pressure, and climate affect the longevity of your 4×4 tires. At the very least, replace tires before they are 10 years old.
Question: Is BFGoodrich Better than Michelin?
Answer: It depends. Compared to Michelin, they offer a better price-to-value ratio. When it comes to 4x4s, off-road, and light truck applications BFGoodrich is superior. Most of the products from Michelin cannot compete with their BFGoodrich counterparts.
Question: How Long do Shocks Last on a 4×4?
Answer: 4×4 shocks can laps up to a decade if you drive carefully, you're city-based, and drive on well-maintained smooth roads. If you drive on dirt roads or hit potholes often, you get a maximum of 5 years from your shock absorbers.
Can I Drive with My 4×4 LED Bar Light On?
Answer: No! The brightness of these light bars doesn't allow you to use them on public roads. They're designed to be used off-road or on 4×4 trails. Additionally, the law may require you to turn them off and cover them when you are driving on public roads. Some states and regions may fine you for driving on the highway without covers on these lights.
Question: How do I decide the Power of the 4×4 Winch I Should Use?
Answer: The heavier the car the more power you need on your winch. At the minimum, your winch should be able to pull 1.5 times your vehicle's weight. Get the right weight by multiplying your vehicle's gross weight by 1.5. Take note other factors may require you to get a more powerful winch.
Conclusion
The list above gives you the best options for several 4×4 parts and accessories. Of course, this list is not exhaustive. That said, use the buying guide to get your specific part for your 4×4 vehicle. It helps you know how to find a part, get the right part, and pay the right price.
Related reads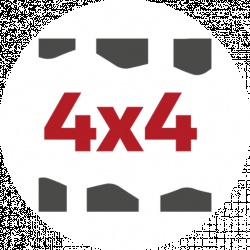 Latest posts by 4x4 Reports Team
(see all)