Your 4×4 vehicle is built to go anywhere and you probably push it to its limits. Even though your car works brilliantly, there are some things you can fit it with to make your driving experience even better. That's why we've put together this handy guide to the best 4×4 accessories, to help you find the perfect one for your vehicle.
We've done our research and identified some essential 4×4 accessories that are handy to have. 
But first, here's a quick look at the things to consider before choosing your car's accessories.
Choosing the Best 4×4 Accessories: Things to Consider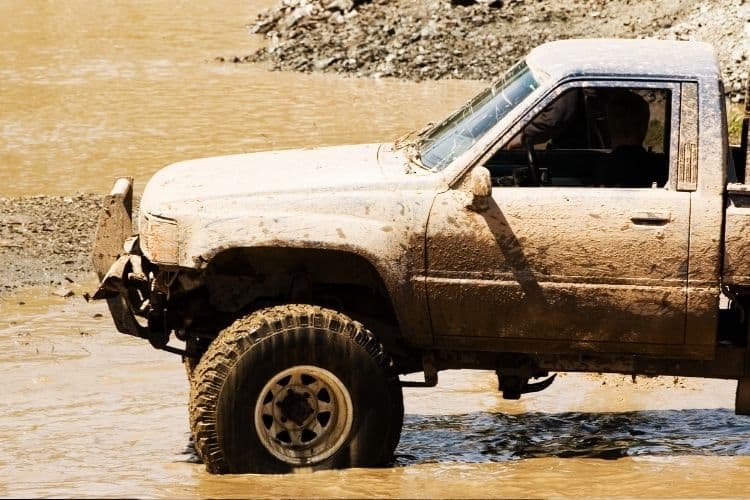 Your needs
How often do you go offroading? If your vehicle often takes you off the beaten track then there are accessories that will be handy to have, like traction mats or driving lights. Consider the driving situations you find yourself in and whether a particular accessory would make life easier for you. 
For instance, if you're always getting lost then a GPS navigation device would help. By thinking about your needs first, you'll avoid buying accessories that, although are cool, don't add any value.
Car model
Although most accessories are universal, some are tailored for specific car models. For example, you can't fit just any roof rack on your car. Before you buy an accessory, find out whether it is ideal for your 4×4 model, just to be sure. 
Price
Shop around for different prices before you settle on a dealer. The idea is to find the best price to allow you to save some cash in the process. Also, consider the cost of installation if you can't do it yourself. 
Local regulations
If you're going to make any significant modifications to your vehicle, first research the vehicle regulations in your area. Also, find out whether these changes will have an impact on your insurance cost. 
Thankfully, most of the essential accessories we've listed below don't require any professional installation and, aside from the driving lights, they don't count as car modification. 
10 Essential 4×4 Accessories
Tire Deflators
When driving on low-traction surfaces, deflating your tires will help you gain more grip. According to Staun, there are a few benefits of deflating your tires:
To increase traction.

To ease driving over obstacles like rocks.

It improves fuel economy.

Makes it easier to drive on soft surfaces like sand.
If you deflate the tires by at least 25%, you're likely to gain a whopping 250% more traction. This is because the tire will have a wider surface area that's in contact with the road/track.
So, when going offroad, you should consider deflating your tires to around 15 or 16 PSI. Arming your car with tire deflators will make this job easy. Some deflators are preset to a desired pressure level and, when screwed onto the tire valves, will automatically lower the pressure to the set level. 
These types are accurate, eliminating the need to manually check the level of each tire using a pressure gauge. 
Recommended Products
Staun Automatic Tire Deflators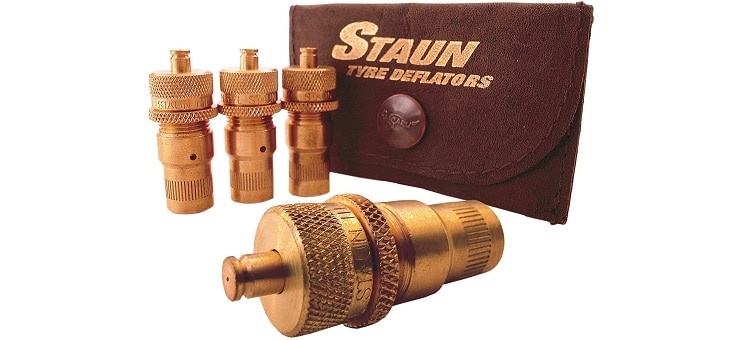 The Staun Tire Deflators are among the best in the market but they don't come cheap, costing almost $100. However, they're easy to use and very fast in deflating. 
These deflators come preset to 18 PSI but you can manually deflate to 6 PSI if you wish. To use them, all you need to do is screw them on the tire valve and they'll start to deflate the tires to the preset pressure level. 
Pros
The Staun tire deflators are easy to use.

They deflate tires quickly and to the precise pressure level.
Cons
ARB E-Z Deflator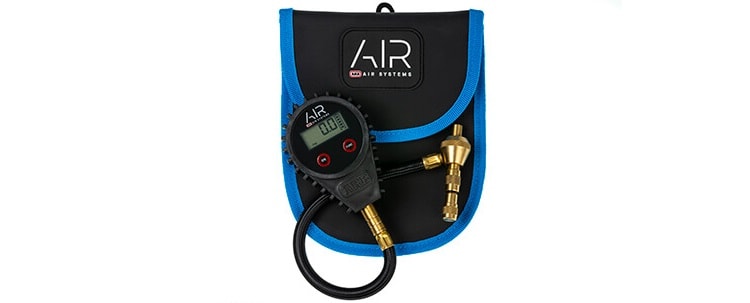 The ARB E-Z Deflator is an affordable corrosion resistance deflator that comes with a pressure gauge. Unlike Staun's deflators, this is a manual option that requires you to keep an eye on the gauge to get to the right pressure level. 
Pros
The ARB E-Z Deflator is affordable.

It has a high-quality corrosion-resistant build.

Deflation is fast and the gauge is easy to read.
Cons
ARB's deflator is fully manual, meaning it's up to you to make sure the pressure level is as required.
Air Compressor
If you're going to deflate your tires for offroading, you'll also want to re-inflate them when you get back on tarmac. Having an air compressor at hand is, therefore, a good idea.  
When looking for one, avoid those that take too long to inflate your tires. Consider those with a maximum of 100 to 150 PSI to be able to fill your tire within a few minutes.
Most air compressors plug into the car's cigarette lighter and use 12V power. These are just fine and should handle heavy use. You might also want to consider ones that connect directly to the car battery. Still, there are rechargeable air compressors that you can simply charge at home and stow in your 4×4. 
Recommended Products
Makita 12V Lithium-Ion Cordless Inflator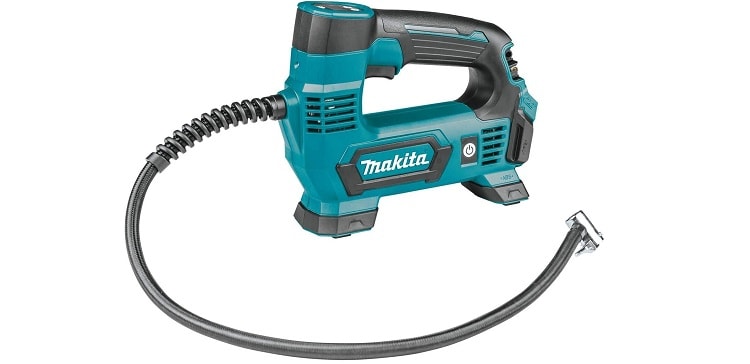 Makita's 12V inflator is a cordless device that's highly portable, weighing only 2.13 pounds (0.9 kgs). With a motor that can pump up to 120 PSI, you should be able to fill up your car's tires within minutes.
You can set your desired pressure level and it'll automatically turn off when the PSI is reached. Makita have fitted this inflator with a 12V/40A battery that can be recharged to full within 70 minutes.
Pros
It's compact and lightweight, making it a highly portable inflator.

This air compressor's motor can give up to 120 PSI.

Its battery charges to full within 70 minutes.

There's an automatic shut-off to prevent overfilling the tires.
Cons
It's a bit pricey for a pump.
AstroAI Portable Air Compressor Pump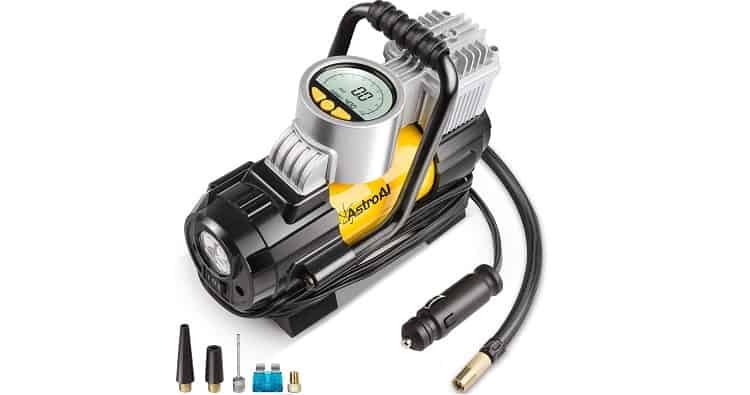 If you're looking for an air compressor that connects to your car's cigarette lighter then this inflator from AstroAI is a good option. It costs slightly over $30 making it one of the most affordable air compressors you can get.
AstroAI can handle a maximum pressure of 100 PSI, which is good enough for on-the-go inflation. And with an LED flashlight, you'll be able to fill up your 4×4's tires even at night.
Pros
The AstroAI air compressor is affordable.

It's light and compact, able to fit in most storage spaces in your 4×4.

It has an LED flashlight.
Cons
A maximum PSI of 100 is okay but might be inadequate for some situations.
Tire Repair Kits
You need not wait for roadside rescue when you have a trusty tire repair kit. This inexpensive accessory comes in handy for offroaders who, time and again, find themselves with a flat tire in the middle of nowhere. The kits will help you temporarily fix the tire so that it gets you to the nearest civilization.
There are tire repair kits that come with a liquid sealant that quickly dries when applied to the punctured area. These are quite easy to use and are best for novices. However, they're temporary fixes and are only meant to get you to the nearest garage.
You could also opt for repair kits with tire patches or string plugs; these are more permanent fixes.
Recommended Products
Boulder Tools 56-Piece Kit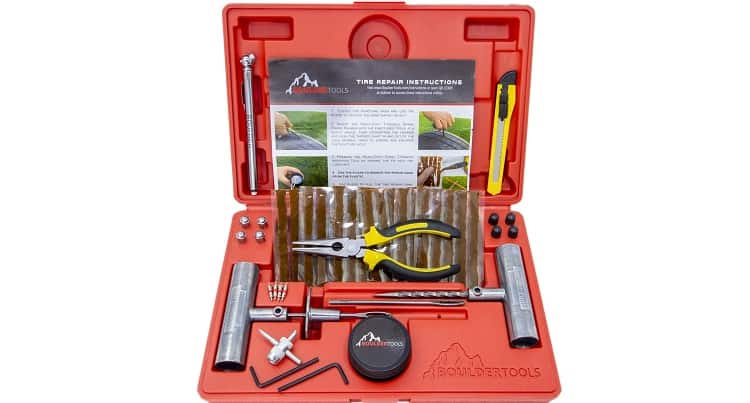 This elaborate kit is an all-inclusive accessory that will help you repair punctures of any size. You'll get an assortment of heavy-duty strings that are great for permanent repairs. With this kit, you won't need to visit the garage for puncture repairs. It also has a pair of pliers and two different T-handle tools: a spiral reaming tool and an insertion tool. 
Pros
The Boulder tire repair kit has an assortment of 56 pieces to help you repair any puncture size.

It comes with a strong and durable case.
Cons
The case is bulky and takes up a lot of storage space.
Slime 1034-A Automotive Accessories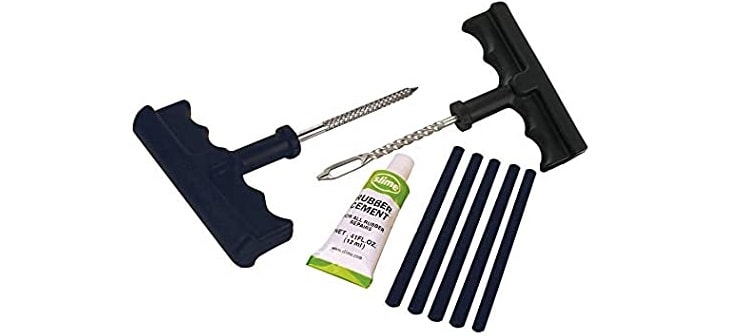 Slime's tire repair kit is meant for those looking for an inexpensive yet effective solution to their puncture problems. And it doesn't get simpler than this, made up of just two T-handle tools, a tube of rubber cement and five strings.
Costing just under $10, this repair kit is perfect for you if you occasionally go offroading and the larger kits are just overkill. However, you won't be able to fix larger punctures with this one.
Pros
The Slime tire repair kit is inexpensive.

It's meant for novices as there aren't too many confusing pieces.
Cons
You will only be able to fix small punctures.
Traction Mats
Most likely, you'll find yourself in a slippery situation, quite literally, when offroading. And one of the simplest ways to get your 4-by-4 out of the mud is by using traction mats. They work by giving your car's wheels somewhere with traction to move. All you need to do is place them on the slippery surface and let your wheels drive on them. 
As opposed to tire chains, traction mats are easy to use and save you the hassle of fitting the chains on your wheels. You also don't need to find a specific size for your vehicle since they generally have a universal size. 
Recommended Products
Maxtrax MKII FJ Vehicle Recovery Board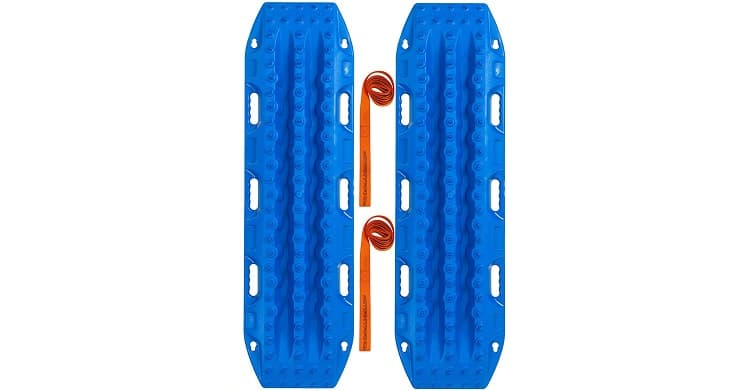 Maxtrax are known for quality products and their traction mats are no different. They're made from fiber-reinforced engineering-grade nylon, a material that gives them a light weight but guarantees durability. There's no doubt about the quality of this product, underscored by the awards it won in 2010. 
Pros
It's made from a strong and durable material.

The Maxtrax traction mats are portable and easy to stow in your 4×4.
Cons
These traction mats are costly, priced at over $300.
Escaper Buddy Traction Mats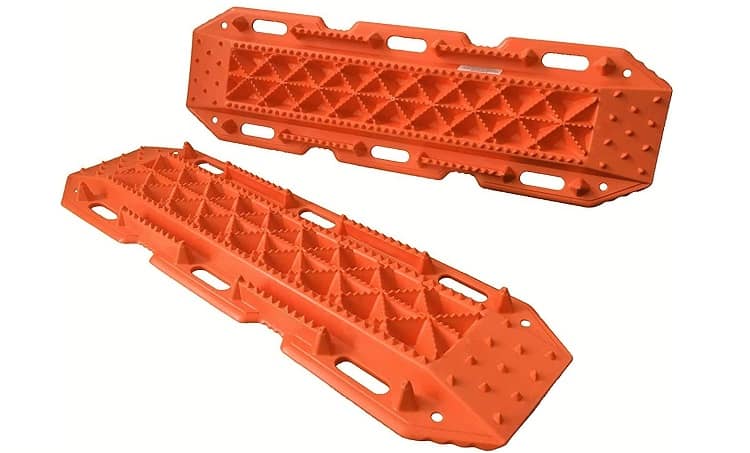 If you're looking for a more affordable option, consider the Escaper Buddy traction mats. These cost about $140, more than half the cost of Maxtrax's options. However, since they're made from polypropylene plastic, they're not quite as durable.
Still, the Escaper Buddy traction mats can handle vehicles that weigh up to 3 tonnes (6000 lbs) and they'll get you out of snowy, muddy or sandy situations. 
Pros
The Escaper Buddy traction mats are affordable.

They're lightweight.
Cons
They don't lock onto each other and so might take up a bit of space in storage.   
Recovery Straps
Recovery straps are important to have in your 4×4, if you are an offroader. Sometimes the power of your four-wheel-drive vehicle isn't enough to get you out of extreme mud or a ditch. This is where recovery straps (and another vehicle willing to help) will come in handy. 
With hooks on either side of the straps, you can easily attach them to the front tow mount of the stuck vehicle and the rear mount of the recovery vehicle. Also, the ideal recovery straps must have stretchy materials to reduce chances of them breaking. 
Note that recovery straps are different from tow straps, which are meant to tow a vehicle that's broken down but can freely move. They are made from a non-stretchy material and so they can easily break if you try and use them to recover a stuck vehicle. 
Recommended Products
Rhino USA Recovery Tow Strap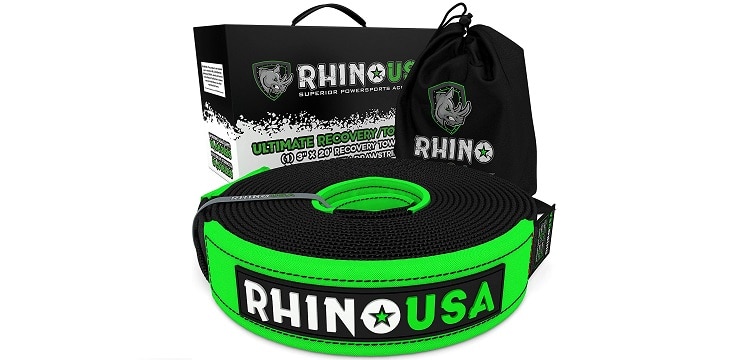 The Rhino recovery straps are very popular, known for their strength and affordability. Their durability is underscored by the polyester/silk material, which holds up well under heavy use.
Actually, Rhino assures us that these straps can handle over 30,000 lbs (13.6 tonnes). You can choose between their 20-foot and 30-foot recovery straps, or opt for the 8-foot tree saver. However, the shackles are sold separately.
Pros
The Rhino Recovery Straps are great for heavy use.

You get a carrying bag on purchase.

Rhino offers a lifetime warranty.
Cons
Shackles are sold separately.
Smittybilt Recovery Strap

If Rhino's option is too costly for you, consider Smittybilt's recovery straps. They're highly affordable but still offer the level of durability that you'll need in your straps. Made of nylon, you should be confident that the Smittybilt Recovery Straps will pull you out of most (if not all) situations. 
Their lowest pull rating is 20,000 lbs (9 tonnes), but you can go for the 20-foot by 4-inch strap that can handle 40,000 lbs (18 tonnes). 
Pros
They come in a variety of sizes with different pulling capacities. 

The nylon material is weather resistant and meant for heavy use.

It's affordable
Cons
The straps don't come with hooks or shackles.
Fire Extinguishers
In the event of a fire, which may happen for many reasons, it's important to have a fire extinguisher to save the situation. When looking for a fire extinguisher, pay close attention to the UL rating. This stands for Underwriters Laboratories, and it's a sign that a fire extinguisher has passed several safety tests.
Also, confirm the types of fires the extinguisher can put out. This is indicated using an alphanumeric code. The letters indicate the class of fire and the numbers show the amount of the extinguishing agent. Find out more about this here. 
Recommended Products
First Alert Fire Extinguisher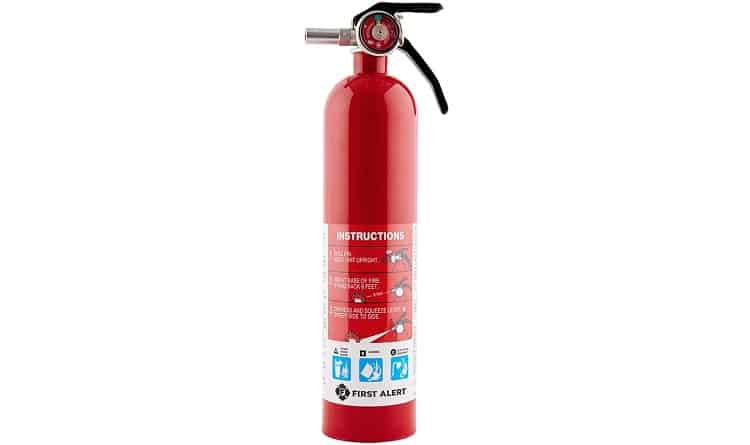 This portable fire extinguisher is a versatile accessory that can put out different fires, like oil and gas-fueled ones, as well as electrical fires. Its compact size makes it easy to store, so it won't take up too much space in your 4×4. 
Pros
It is compact and lightweight.

The fire extinguisher can put out oil, gas, electrical and grease fires.
Cons
It's too small for larger fires.
H3R Performance HG250B Fire Extinguisher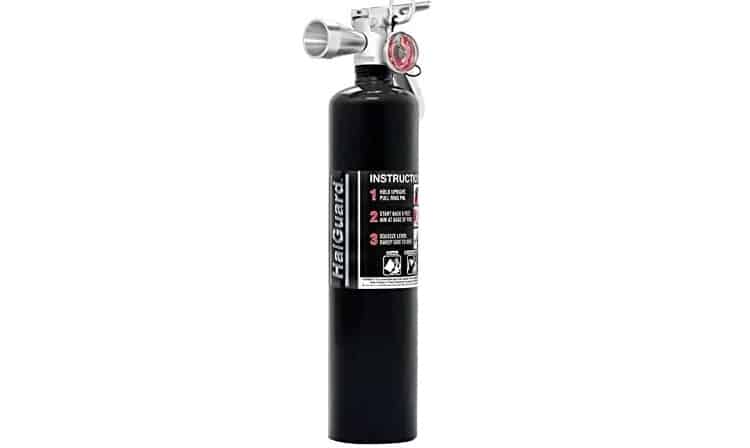 This is a much larger fire extinguisher than the previous recommendation. Since it's a professional-level fire extinguisher, it's also much more expensive. Meant for fires of all sizes, the H3R Performance has a special chemical formulation that's highly effective. And the fact that it doesn't leave a mess is even more appealing. 
Pros
The fire extinguisher is sold with a mount for easier storage. 

It can extinguish fires of different sizes.
Cons
Driving Lights
Sometimes your offroading escapades go well into the night, making it necessary for you to have extra light sources. With driving lights, your adventures during those ungodly hours will be less grueling.  
With the right driving lights for your 4×4, you'll not only have greater visibility but also add some style to your vehicle. There are a variety of shapes and sizes so you should find a pair that's perfect for your car. You can either choose fog lights, light bars, or spotlights, depending on the driving conditions in which you often find yourself.
Recommended Products
Hella 500 Series Driving Lamps

These halogen lamps by Hella are bright enough (55 watts) for pitch-black conditions. Built for the rough and tumble of the outdoors, these lights boast a rugged ABS housing as well as bonded glass lenses. 
On purchase, you'll get two protective shields and you can also accessorize with protective grilles, which are sold separately.
Pros
They have bright 55-watt halogen lamps.

The Hella 500 series driving lamps are built to withstand offroading abuse.
Cons
The installation instructions aren't very user friendly.
Nilight LED Light Bar

This light bar comes in a variety of sizes to fit different vehicles. It can even be used on boats. Made of aluminum alloy, the Nilight LED Light Bar is perfect for the tough offroading world. 
The light bar also has a silicon gel that conducts heat and keeps it cool. Its rugged build is emphasized by Nilight's inclusion of IP67 waterproofing, which allows you to use them in up to 3 feet (1 meter) of water for half an hour. And since it has stainless steel mounting brackets, you need not worry about accumulation of rust. 
Pros
The Nilight LED Light comes in a variety of sizes for different vehicles.

It's affordable.

This light bar is durable and is rated IP67 waterproof.
Cons
Moisture tends to penetrate into the lights although they're waterproof.
Medical Kits
Emergencies, in as much as we hope they don't happen, may arise at the most unforeseen moment. And offroading, being unpredictable, is likely to present the need for a medical kit, whether to handle a small injury or a serious one. 
So, to always be prepared, a medical kit is a must-have accessory in your 4×4 vehicle. Whether you're out camping or rock climbing, these kits will, at some point, help keep your experience outdoors from going downhill. 
Some essential items to have in a medical kit are band-aids, sanitizer, medical scissors, cotton swabs, antiseptic wipes, among others. 
Recommended Products
Adventure Medical Sportsman Series Medical Kit

This medical kit is packed with all the bits and pieces you'd need for most emergencies. You'll even get EMT shears, a splinter remover and an assortment of medications like Aspirin and Ibuprofen.
Everything in the Sportsman 200 kit is enough for up to four people, and it's tailored to the needs of outdoorsy individuals. All its items are packed in a handy bag that's no hassle to stow in your vehicle.
Pros
It has enough medical items for up to four people.

The bag is compact and easy to store.
Cons
This is a rather costly medical kit.
ESUPPORT 34-Piece Emergency Kit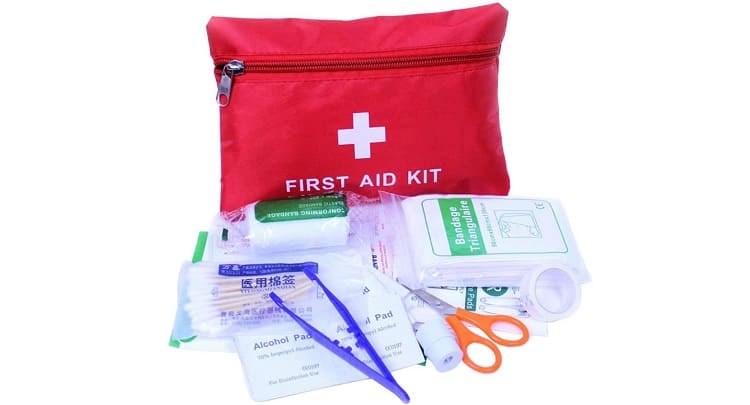 If you're looking for a smaller, more inexpensive kit then this is a good option. Since it's a small kit, it is best for occasional off roaders who only need a medical kit once in a while. It's easy to store this in your glove box, so it's always out of the way unless you need it. 
Inside the kit, you'll get the basic items: scissors, tweezers, elastic and triangular bandages, band-aids, among others, amounting to 34 in total. 
Pros
It has a compact and lightweight pouch that's water resistant. 

The ESUPPORT Emergency Kit is inexpensive.
Cons
The scissors and tweezers in the kit are of a low quality.
Hi-Lift Jacks
These are large accessories that, to many, are unnecessary but to the heavy off-roader, they're a necessity. Hi-Lift is one of the companies that manufacture these jacks that come in handy when recovering a stuck vehicle. However, there are other companies like Torin and XtremepowerUS, who have their own options. 
These jacks are steel bars of varied lengths: 36 inches, 42 inches, 48 inches and 60 inches. They also have different weights that they can handle (find out more here). No matter what size you get, you'll be able to lift and winch when stuck, to help you get your vehicle moving again. 
Recommended Products
Hi-Lift Jack HL-605 60" All-Cast Jack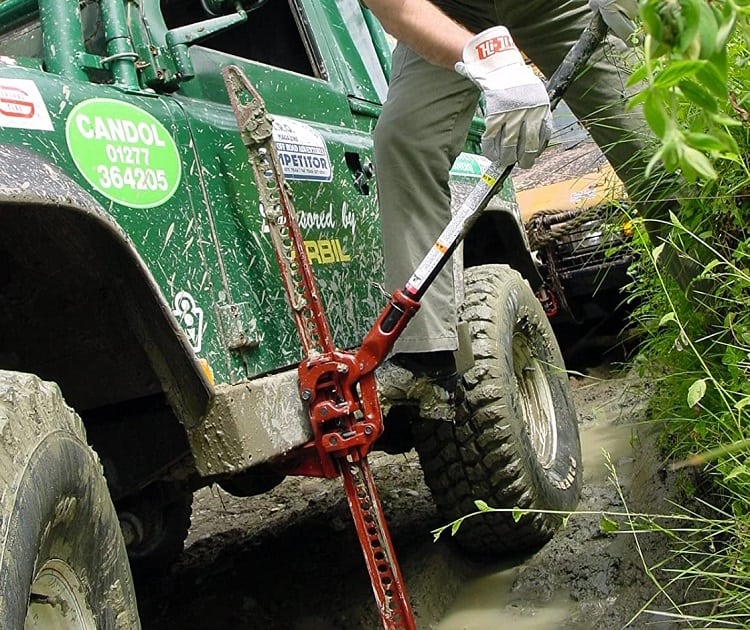 Hi-Lift's line of all-cast jacks are designed to withstand wear. In fact, they're stronger than steel, and Hi-Lift take pride in having the only all-cast jacks in the world. You can get either 60", 48" or 42" all-cast jacks that can be used on loads up to 3.2 tonnes (7000 lbs). 
Pros
The jack is made of cast iron, which is stronger than steel.

It can handle extreme situations.
Cons
It's heavy and difficult to store.
Torin TRA8485 48" Ratcheting Off Road Utility Jack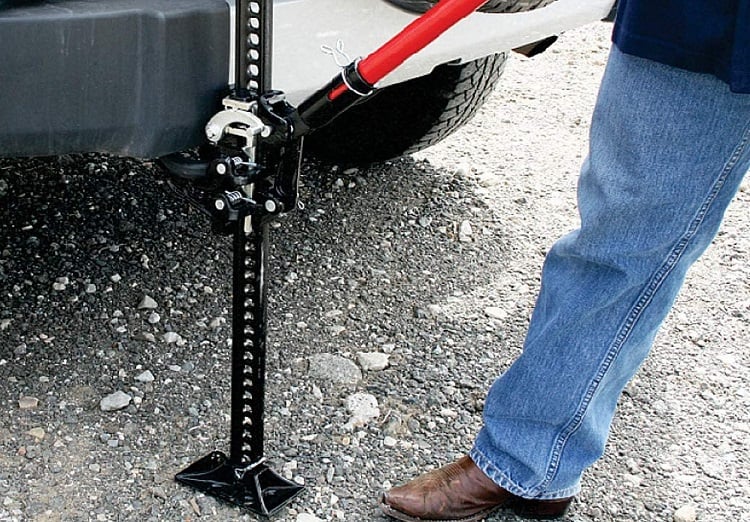 This 48" Torin jack has the capacity to lift up to 3 ton (6000 lbs), offering enough strength for your off-roading needs. It has a zinc-plated body that's able to resist rust, and the handle has a rubber grip for comfort. 
Torin are confident that this jack is reliable, and you'll get a one-year limited warranty on purchase as assurance.
Pros
The Torin jack is a more affordable option.

It's well built to withstand heavy use.
Cons
You always have to move the handle to the storage position in order to jack up a level.
Jump Starter
I've always found the jump starter to be one of the most handy accessories to have, especially when off-roading. Imagine yourself in a remote location in a car with no juice, perhaps because you forgot to turn off your lights. With a jump starter, you can be on the move again, no sweat. 
When looking for one of these, focus your attention on the compact lithium battery options. They're small but pack enough of a punch to revive most (if not all) 4-by-4 vehicles. Also, find out the total number of jumps you'll get per charge.
Recommended Products
NOCO Boost XL GB50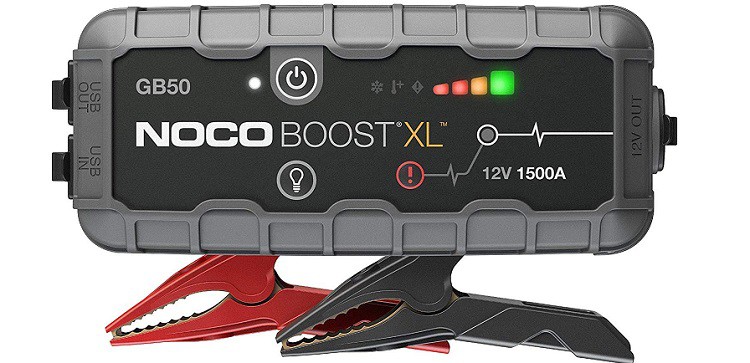 This jump starter from NOCO is one of the most powerful in the market, boasting 1500 amps of power that can jump-start your vehicle up to 30 times. This one is perfect for 4-by-4 vehicles of any size, up to 7-liter beasts. 
It's also able to recharge your mobile devices, making this the ideal accessory to have if you love the outdoor life. Moreover, the Noco Boost XL is IP65 water-resistant, so you shouldn't worry if it falls in a puddle of water or mud.
Pros
This is a versatile device that can jump-start your car and also recharge your smartphone and tablet.

It offers up to 30 jumps on a single charge.
Cons
The Noco Boost XL is costly.
DBPOWER 800A 18000mAh Jump Starter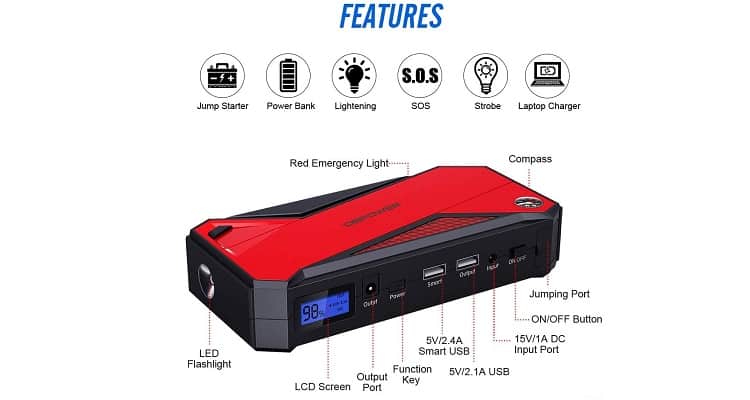 For a more affordable option, consider DBPOWER's jump-starter. It has less power than NOCO's jump-starter, with just 800 amps. This gives it the bandwidth for up to 20 jumps, which is not too shabby. 
The DBPOWER jump-starter can revive 4-by-4 vehicles with up to 7.2-liter gas engines or 5.5-liter diesel engines. Therefore, you should find this to be more than adequate. And with an 18000mAh battery, it can recharge your smartphone, tablet, or even your laptop. In fact, you get an 8-in-1 laptop adapter out of the box.
Pros
It's affordable.

This jump-starter can recharge your mobile devices and your laptop.

It comes with a 3-year warranty.
Cons
The user manual is rather unclear. 
Frequently Asked Questions
Question: What Should I Bring Off-Roading?
Answer: You'll need to bring a recovery kit with a recovery strap, a winch, shackles, and gloves. You'll also need to bring tire deflators, an air compressor, and recovery mats.
Question: What Makes a Good Off-Road Suspension?
Answer: A good off-road suspension should offer extra ground clearance. It should also give the car greater stability on rough terrain. 
Question: How Can I Make my Lifted Truck Ride Smoother?
Answer: You can fit larger tires, install reservoir shocks and invest in CV axles. Find out more here.
Question: Do Lift Kits Affect Steering?
Answer: Yes, a lifted vehicle might be slower to react to steering as the tie rod, axle, traction bar, and Panhand bar may have misaligned. 
Finally
4×4 accessories are essential to easing your off-roading experience. You don't have to get every single accessory on our list, just find the ones that you'll need the most. Consider how often you go off-roading and the situations you find yourself in to choose the ideal accessories.
Continue reading related accessories and modifications guide if you own:
or related accessories reviews and best of:
• Best Toyota Tacoma Bed Extenders Guide
• Best Toyota Tundra Seat Covers
• Best Toyota Tundra Camper Shells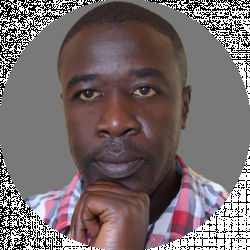 Latest posts by Barry Juma
(see all)