Toyota Tundra's are among the most popular trucks in the United States. According to estimates, this model has been sold for over 20 years, and there've been over two million vehicles sold in total. In fact, the yearly total since 2001 has been around 118,000 units. This truck is so popular among people because it is reliable, durable, and adaptable for those who want to install camper shells.
Yet, it can be incredibly challenging to find a camper shell for a Toyota Tundra should you not know how to look for one. That's why I've taken the time to share my extensive camper shell knowledge and help other curious minds learn everything they need to about camper shells for this model.
In this post, I'll discuss some of the best Toyota Tundra camper shells I have had experience with over the years. Each camper shell deserves a spot on this list for its ingenuity, solid construction, and usefulness. So continue reading to determine if you agree with me and if one of these camper shells might make its way onto the back of your Toyota Tundra.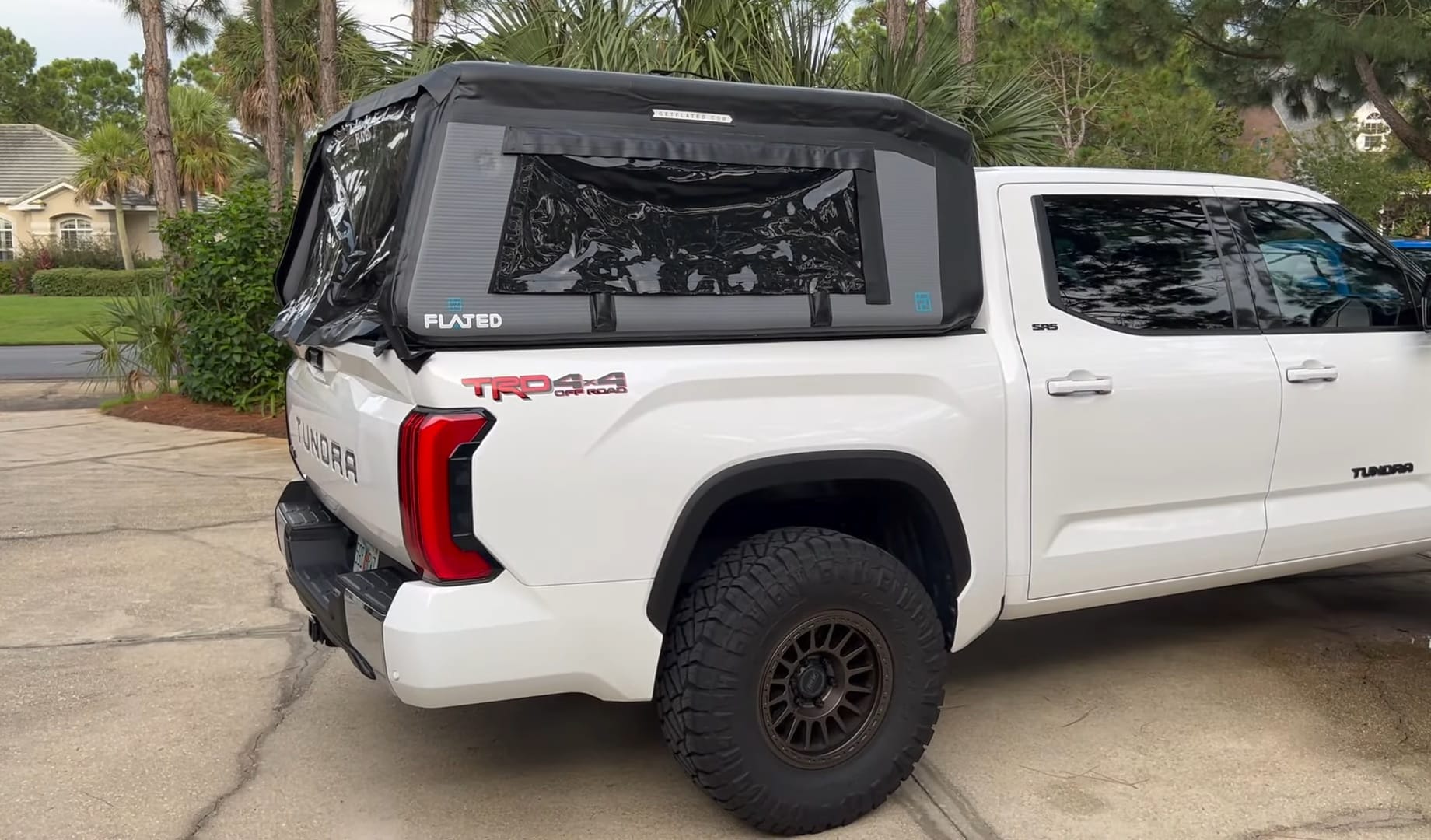 Bottom Line Upfront
Although there are numerous great Toyota Tundra camper shells on this list, the best one, in my opinion, is the Hawk Shell Slide-In Camper. This camper shell is constructed beautifully for drivers who love camping often or travel for work and want somewhere to stay without spending a small fortune on ongoing accommodation costs. It's also durable, spacious, and high quality, making it reliable – all things you need in a camper shell.
Toyota Tundra Overview and Vehicle Highlights
Before we dive deep into which camper shells you should consider, if you own a popular Toyota Tundra, it's a good idea to learn more about this vehicle. Should you own one, you might want to skip this section, but if you're considering buying a used model to fit a camper shell onto, stick around.
The Toyota Tundra is more than simply ruggedly good looks. This truck has impressive safety features, a powerful engine, cutting-edge technological features in the latter-year models, a user-friendly infotainment system, and lots of cargo space.
Not to mention this pickup truck is fuel efficient, so it can handle camper shell weights without causing drivers a humungous dent in their pockets. It's no wonder this pickup truck is incredibly popular in its class year after year.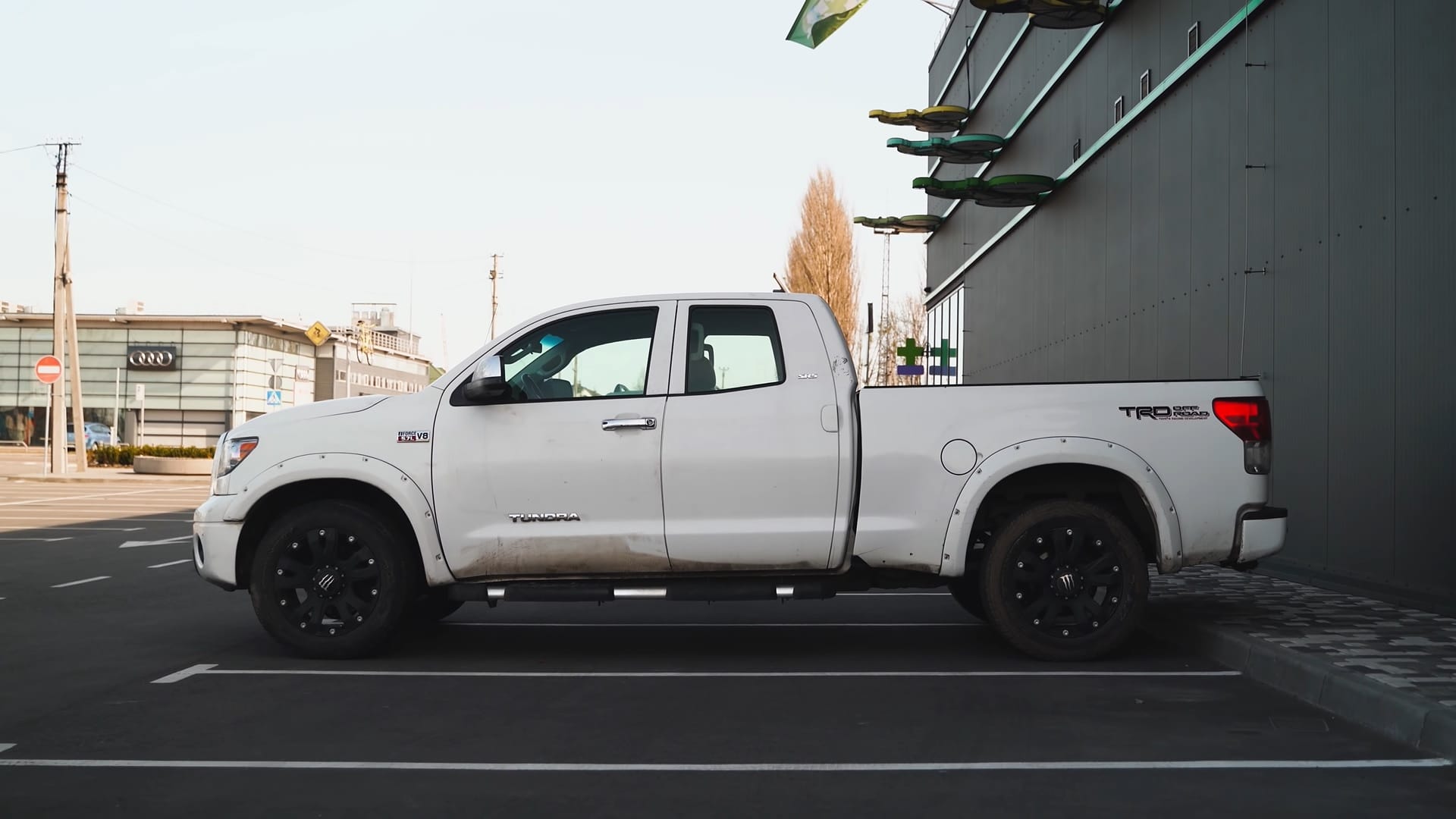 What Exactly Is a Truck Camper Shell?
Deciding on a truck camper shell is no easy task if you're not quite sure what these items are. Firstly, it's important to note that camper shells have differing names. For example, these automotive covers are referred to as a bed cap, box cap, shell, truck topper, or truck camper.
No matter its name, it is a specially designed covering used on your truck's bed to provide a canopy for tools, other items, or housing space. Often I used my truck camper shell for camping, so it came in handy during torrential downpours and adverse weather conditions when a tent wouldn't cut it.
Other times I would use the space to transport my pups safely from one location to the next without worrying about them jumping out the back of the truck and injuring themselves. Additionally, since most camper shells usually include side windows, there is enough air for your pets, so you needn't worry about a lack of oxygen. Of course, this will depend on the camper shell you buy, and we'll look at that next.
What Are Three Different Types of Toyota Tundra Camper Shells
Unfortunately, despite what you might have been led to believe, camper shells are not universal, meaning what might fit a Toyota Tundra won't necessarily fit a Toyota Tacoma. This means it's often best to avoid purchasing a second-hand camper shell for your Toyota Tundra from places like Gumtree and Craiglist unless you know without a doubt it'll fit your truck bed dimensions.
Besides ensuring the dimensions fit, you also need to decide on the type of truck camper you want for your Tundra. Although there are many different types, we've narrowed down the list to include three of the most popular camper shell versions Tundra owners choose. Armed with this information, you'll have a better chance of picking out your first camper shell than I did.
Fiberglass Hardshell Camper Shells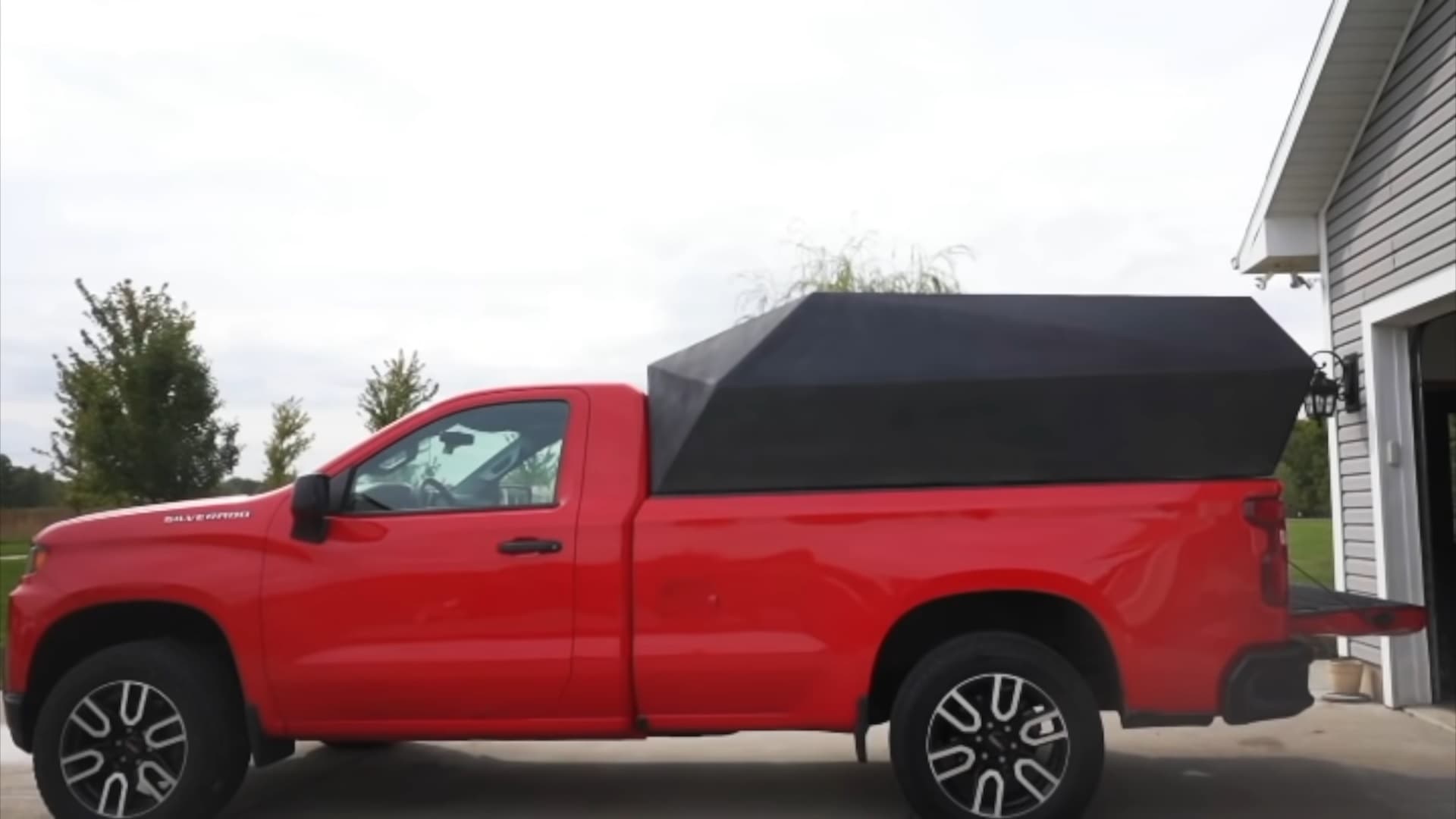 The most common type of camper shell is fiberglass. Many drivers consider these hardshell camper shells the most durable and lightweight. Even though they are not quite as versatile as soft top camper shells, they offer drivers significantly more insulation, durability, and protection from the elements.
Their lack of versatility is also often not an issue because there are various options available to drivers; trust me, I had a tough time choosing one when I saw all of them. For example, different styles suit multiple needs, window options with some being fixed or 'indoors' with open hinges to allow access to the back of the truck bed easily and conveniently.
In addition, other fiberglass camper shells have sliding windows which are especially useful if you plan on transporting pets or camping out in your truck bed. Many fiberglass caper shells also have different roof heights, so you can choose one that you know will accommodate your needs and not limit the usage of your truck bed.
Moreover, many fiberglass camper shells will allow you to carry a load atop them. In contrast, others will be able to install roof racks on them so you can add various accessories or even a rooftop tent or other outdoor gear you like to travel with, like your bicycle.
Fabric Camper Shells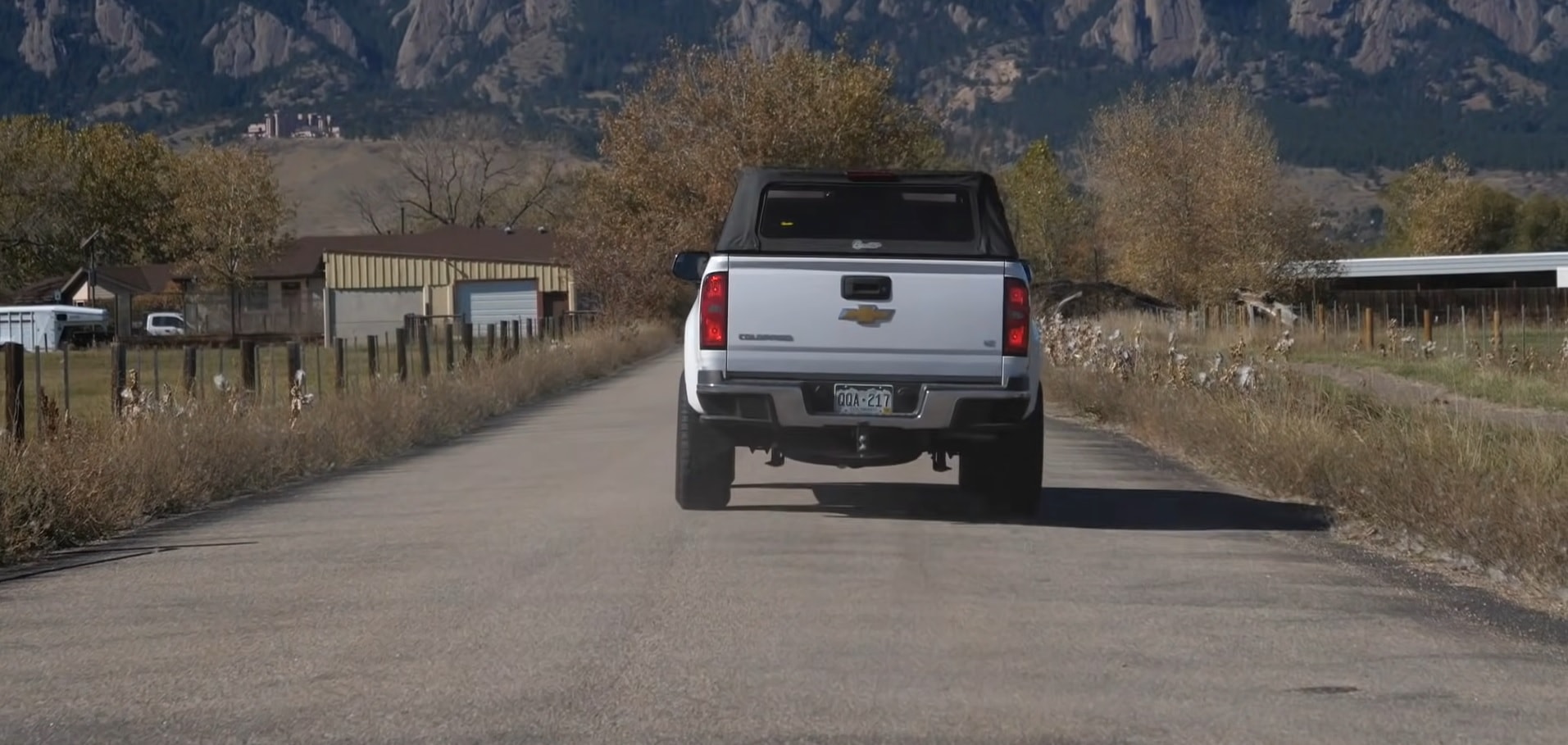 Fabric camper shells might not be everyone's favorite if they own a Toyota Tundra, but they are mine. These ingenious 'soft' shells are incredibly versatile and handy and much more affordable than fiberglass or metal camper shells on offer in most instances. Many reputable brands are also selling soft top camper shells for your Toyota Tundra, so you'll be spoilt for choices if you decide this is the right type for your needs.
Additionally, you should know that these tops will provide your truck bed with full coverage when fully extended. Hence, you needn't worry about your payload being unsafe from prying eyes or the elements.
Moreover, although fabric camper shells don't have set window fixtures, most have sides that can roll up easily so you can quickly access your truck bed. Fabric camper shells are also uber convenient and comfortable for summer camping trips because they don't lock in the heat like other shell options.
Ultimately, with a fabric camper shell, you can easily haul large or small items and access your truck bed. These shells fold away for unlimited height clearance, allowing you to haul anything from boats and motorcycles to furniture and plants. They truly do offer the best of both worlds, in my opinion.
Metal Camper Shells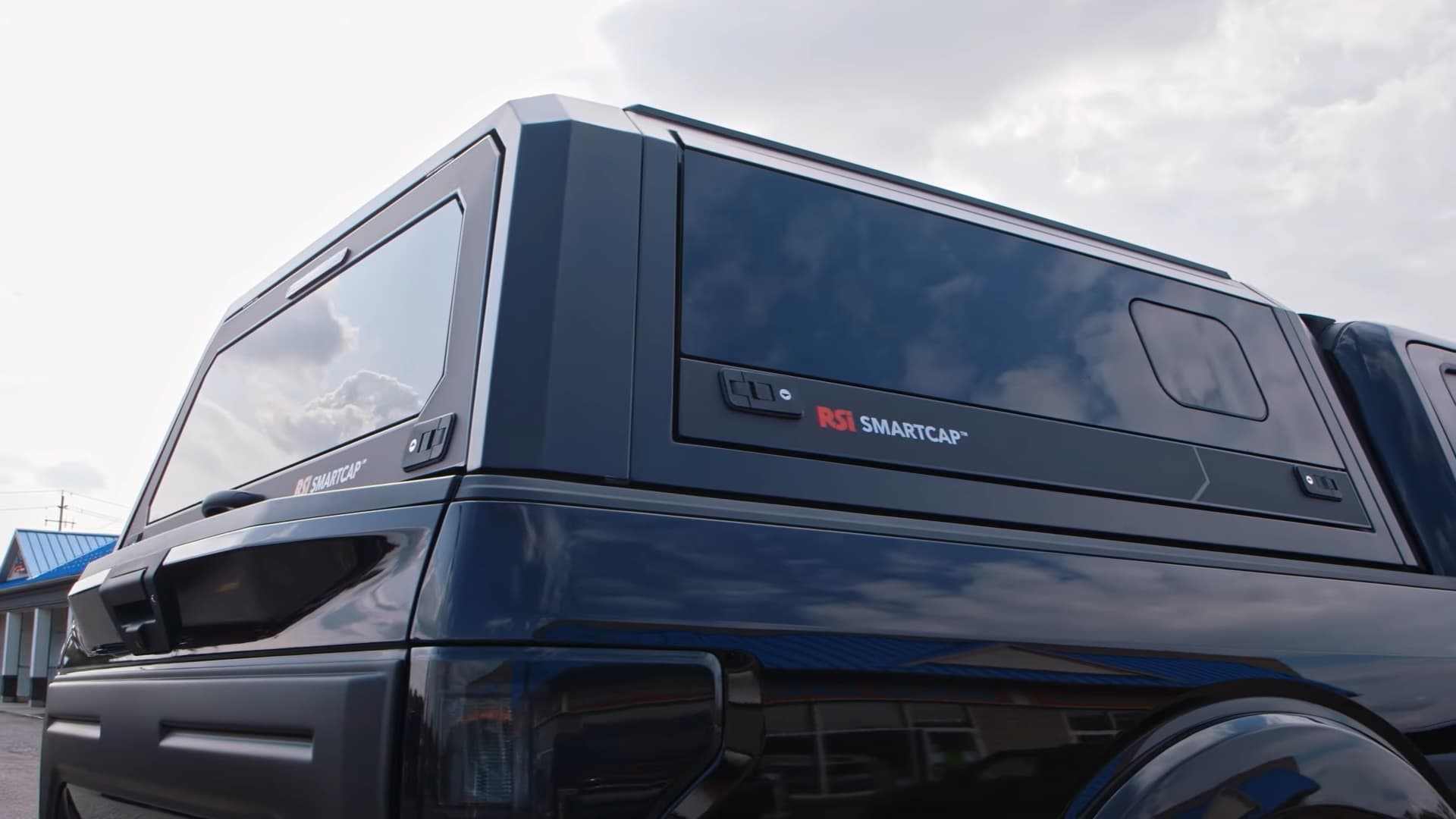 Are you an individual who is using your Toyota Tundra as a workhorse? If so, you may want to consider first looking at metal camper shell options. Although recreationally, these are the least popular; they are great for those who use their truck for work every day – whether to haul cement bags or tools.
Metal camper shells are incredibly durable and strong, making them the most 'heavy-duty' option. Although they are primarily used for hauling goods and keeping tools safe, they can also be used for long-term camping. For example, if you want to store camping equipment in your truck bed and not use the bed as a sleeping space, a metal camper shell would accommodate this need.
Yet, there are some disadvantages to this type of camper shell. For example, they are heavy, so they can mess with your fuel efficiency and provide less storage than other camper shell types. In addition, some consider them better for overlanding than work because they are semi-permanent fixtures, but this depends on your job type, so don't let that discourage you.
How to Select a Used Camper Shell for a Toyota Tundra
I wouldn't recommend purchasing a used camper shell unless you can see it and measure it in person to know it will fit and is in good enough condition for your Tundra.
However, I understand budget considerations and that not everyone has the coin to spend on a brand-new camper shell. That's why I've listed a few tips to consider that will help you select a used camper shell for your Toyota Tundra that won't leave you regretting your decision in the near future.
Don't buy broken: It might be tempting to purchase a broken camper shell if only a few items need replacement (a hinge or window) or repairs, as it could cost you much more in the long run. It's not worth the hassle, especially if you need your camper shell immediately.
Check the dimensions: I cannot urge this enough. If you're going to buy a second-hand camper shell, check the dimensions in person before you buy it. If the dimensions don't match your Tundras truck bed, it will not fit and be a waste of money and time better spent elsewhere.
Rail, tailgate, and cab shape: You must always check the shape of the rail, tailgate, and cab shape of a camper shell, as although some camper shells state they are suitable for Tundra models, they might not be based on these factors. So keep this in mind and do these checks when looking at the dimensions.
Don't trust sketchy marketplaces: Unfortunately, not every marketplace will have reliable or trustworthy sellers. Even if you buy from Facebook Marketplace or similar, there's a big chance you could be scammed. So be on guard against scammers and only ever pay for a used camper shell after speaking with the seller personally and preferably in person with the item present.
Check wear and tear: Camper shells are durable, but they do reach a point when their wear and tear is significant enough to warrant a new purchase. Unfortunately, many sellers know this and will try and sell their old camper shell to purchase a new one for their Tundra. So remember this when thoroughly inspecting the used camper shell you want to buy. For example, check if it has broken windows or hinges, numerous dents, rust, corrosion, or scratches. In addition, if it's a fabric camper shell, look for tears, thin spots, and torn or fraying seems alongside sun damage.
If you're buying second-hand, there's a high chance you could end up with a not-so-great camper shell for our Toyota Tundra, but this doesn't mean there is no hope. Should you keep the tips mentioned above in mind, you can score a bargain and save a buck!
Best Toyota Tundra Camper Shells
Now that you know significantly more about camper shells, it's time to look at four of the best Toyota Tundra camper shell options available on the market. Each of these shells is on this list for its own reason, and you might find one or more of them suitable for your needs. So let's dive in and discuss them!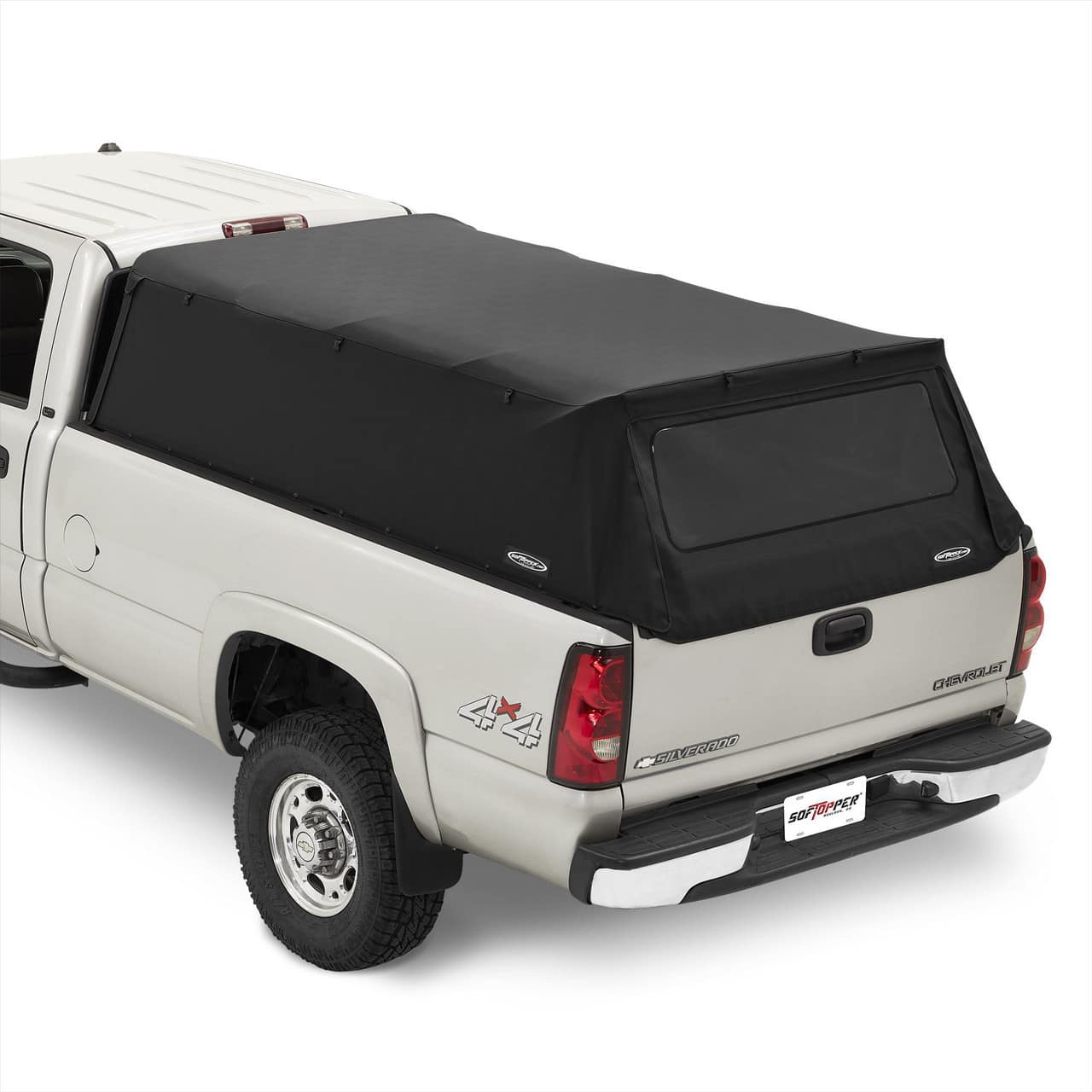 Are you on a budget and seeking a camper shell that is versatile but reliable? If so, you're going to love the Softopper camper shell. This stopper shell costs an estimated $1,000 and is easily fitted and removed whenever needed, thanks to its zipping and snap-close mechanisms. It also fits Toyota Tundra year models 2000 to 2023, which is not something every camper shell can offer.
The Softopper camper shell is incredibly lightweight at 18 to 30 pounds because it is made of durable fabric – specifically, a 2-ply laminated PVC-coated sailcloth. Thus providing cab high protection that flat tonneau covers cannot. Additionally, even though it is made out of a fabric-like material, it doesn't limit how much you can fit in your Tundra, although it does provide height restrictions.
Most drivers purchase this camper shell because it's perfect for camping, working, sporting events, and keeping items away from adverse weather conditions and would-be thieves. Uniquely the Softopper camper shell has roll-up canopy side panels or a rear window option that is easily rolled to access your truck bed without taking the entire shell off at once.
This camper shell also can be wholly installed in under an hour, and it is UV resistant to prevent fading and thinning and waterproof to prevent mildew, mold, and rot. These qualities make this Tundra camper shell four-season capable, especially considering the frame is made from durable anti-rust aluminum.
Pros
There is no need to harmfully drill into your truck to fit this camper shell.
All the parts for it are individually replaceable if something does break or succumb to wear and tear.
It is customizable, made from high-quality materials, comes in three colors, and is uber-easy to clean.
Cons
It has height restrictions that other camper shells don't have to contend with.
The PVC material is strong but not as durable as fiberglass or metal camper shells.
It comes with cancer and reproductive health warnings per California legal guidelines because of the materials used to make it.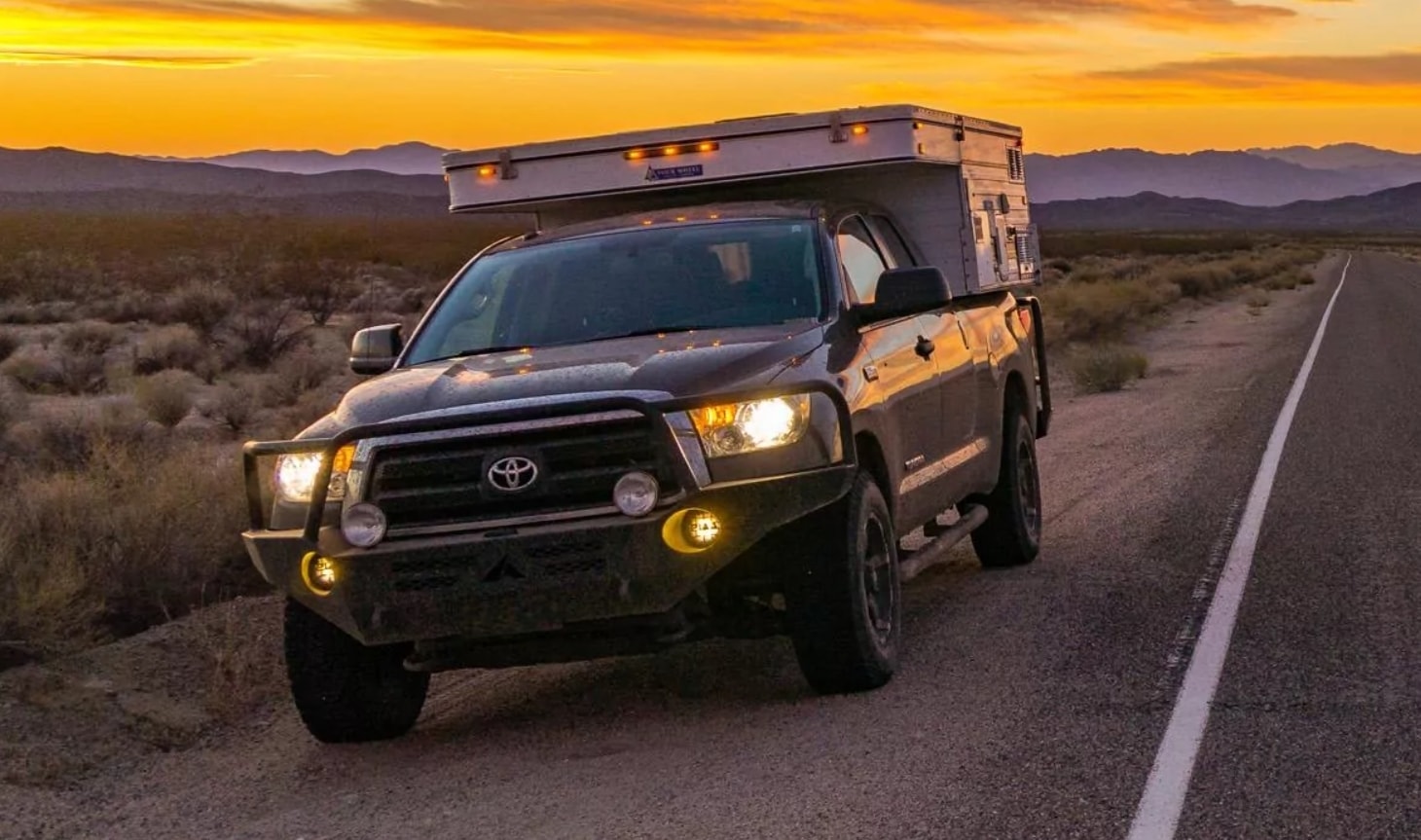 If you're like me and want a camper shell that acts as a motorhome without buying an RV, you should look at the Hawk Shell Slide In Camper. Although not technically a camper shell on its own, it deserves a spot on this list because it can be bought as a simple shell model or with outfitted optional extras that make it a verifiable home on wheels.
The Hawk Shell Slide-In Camper is rugged but aesthetically pleasing, and even though it basically makes your Tundra a home on wheels, it is lightweight thanks to its aluminum framing and low profile design. This carefully developed design greatly reduces strain and drag on your vehicle, ensuring maximum fuel efficiency.
In addition, this camper shell is a one-piece design that is waterproof, so it can handle decades of travel, as can your Toyota Tundra. With this in mind, it makes the hefty estimated price tag of $17,000 for shell models and $27,00 for fully equipped shell models worth it, and that's without considering the many extras it has. For example, this camper shell has multiple floorplan options for those who don't want a basic shell with nothing inside.
If you choose one of the floorplans with equipped features, you will have access to a roll-over sofa that converts into a bed and provides space for two children or adults to get a comfortable night's rest. A cab-over cabin bed is also approximately queen-sized, providing enough space for two people.
You can also have a refrigerator, stove, and composting toilet added if you so wish, which is something I have done for convenience. Moreover, these camper shells can be customized to the exact fit of your truck bed which is incredibly important, as you likely already know.
Pros
This camper shell can be equipped with appliances, beds, a sink, a toilet, and even a wet bath, or drivers can opt for a basic shell.
Reasonably priced, considering the quality of the build and the durability and fuel efficiency it provides.
The brand professionally installs it to ensure proper fitment of the camper shell.
Cons
It can be too expensive for those on a budget and might not be aesthetically pleasing for some.
There could be a wait time for customization and installation.
Not as fuel efficient as simple fabric camper shells, and upgrades put the price up by thousands of dollars.
GFC Platform Camper – Best for Long Distance Travel and Adventure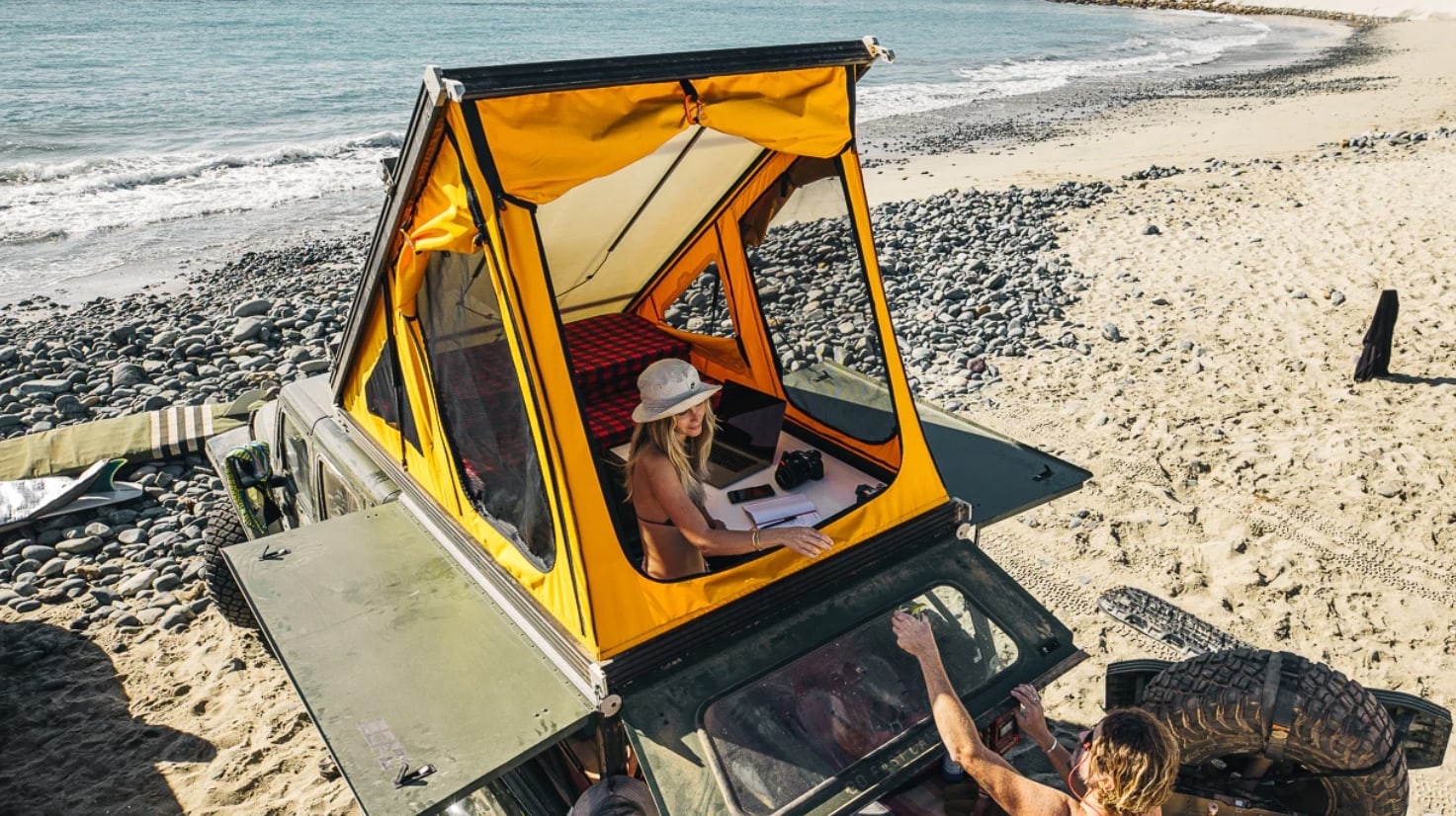 One of the best camper shells ideal for everyday use and for, traveling with pets and keeping tools ad other items safe, and camping with friends or family on your next adventure is the GFC Platform Camper. This camper has been designed with a platform top that converts into a rooftop tent, and that can be folded down to show a simple framed camper shell.
The GFC Platform Camper is also relatively affordable, with its base price starting at around $7,700. It can be custom fit to your Toyota Tundra, and it weighs 275 pounds with a dynamic roof load weight capacity of 500 pounds. It can also sleep two adults and a pet or a child and has been designed to be uber-safe, dependable, reliable, and weather resistant.
Another convenient attribute of this camper shell is that it can withstand any terrain, no matter where you decide to drive your Tundra. So should you want to travel to the beach or through a misty mountain forested area, you can do so without worrying you'll damage this camper shell or what it's protecting within its confines or above on its platform.
Additionally, with the GFC Platform Camper, you can set it up and fold it down within seconds, unlike other truck camper shells. The floor design of the platform pop-up tent is also transformable from a two-and-a-half-person bedroom space into a desk or office area. If you also require a bunk bed configuration, this camper shell for your Toyota Tundra can also do this. You'll likely also love that every GFC platform camper shell is serviceable and comes in different color options.
Pros
Incredibly durable 300 Denier coated polyester honeycomb ripstop fabric for the fold-down walling and windows.
All side panels of the aluminum camper shell box can be locked with the rear lockable from the inside or outside.
Strengthened joints and weatherproof rubber gasket alongside safety bed rails.
Cons
Not as spacious as other camper shells.
The rooftop tent section and entire camper shell must be dismantled from a Tundra if you need height to haul furniture or other objects.
Servicing can be costly and difficult to find if you don't take it to a GFC dealership.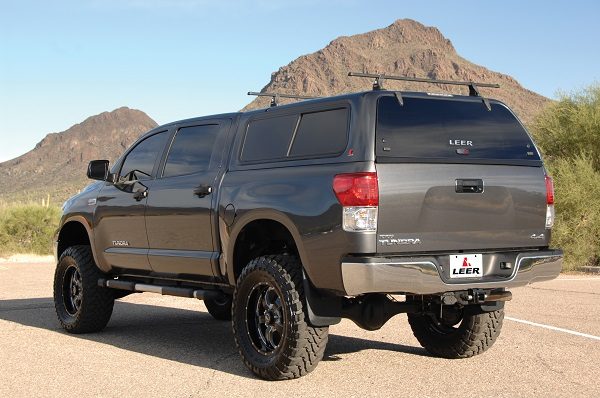 Those after a basic and regular camper shell for their Tundra need to consider California Camper Shells Incs Leer 100XR. Unlike the other options I discussed, this basic fiberglass design is fully removable, waterproof, and solidly designed.
It also looks like it's been designed for your Tundra (which it has), providing a seamless look that other camper shells might not offer. The only downside is that it mightn't fit every year model, so you must consult their website to ensure your year model can accommodate your Tundra.
The Leer 100XR is stylish and economical, with a starting price of about $2,700. So although it might not be the cheapest on our list, it's one of the cheaper models. In my opinion, it is ideal for anyone who wants more space and a one-piece curved design with tinted glass windows that open. This lock makes opening and closing the rear easy and convenient, so you can absolutely use it for work purposes.
Additionally, this camper shell has an insulated roof. If you decide camping might be a good idea, you can crash in the back of your locked camper shell on the back of your Tundra. There is also a high-rise design option that gives even more space for drivers that need it.
Pros
It comes with a recessed LED third brake light which is nifty to have when having a camper shell attached and driving at night.
There are skirted sides and an almost foolproof rotary latch system.
It can be taken off to haul higher loads.
Cons
Some would consider it a rudimentary design that is not wholly waterproof without further sealing.
It isn't wholly suitable for camping like other models.
It isn't made to universally fit all Tundra year models and cannot be customized.
Toyota Tundra Camper Shell FAQs
Question: Are Toyota Tundra Camper Shells Waterproof?
Answer: Some Toyota Tundra camper shells are waterproof, while others are not. It will depend on many factors whether a camper shell is waterproof. For example, fiberglass camper shells are generally the most waterproof if sealed after being purchased as an added precaution.
The same can be said for other camper shell types. In addition, if you buy a used camper shell for your Tundra, there is a greater chance it is not waterproof than if you bought brand new.
Question: How Much Do Toyota Camper Shells Generally Cost?
Answer: How much a Toyota Tundra camper shell costs will depend on many factors. For example, if you buy a used model, it will likely cost much less than if you purchase a brand-new one. In addition, how much a camper shell costs also depends on the type of camper shell, you buy for your Tundra.
For example, fabric camper shells are the most inexpensive, while fiberglass is the most expensive. With this in mind, typically, you can expect to pay from $500 to $5000 for a basic camper shell. If you buy a camper shell with additional camping features, these can cost upwards of $15,000.
Question: Are Toyota Tundra Truck Camper Shells Actually Worth It?
Answer: Ultimately, whether or not a camper shell is worth it for you depends on your Tundra needs and preferences. In most instances, camper shells are worth it, especially if you plan on using one to keep tools, furniture, and other transportable items safe from the elements and prying eyes.
They are also usually worth it for those who often travel with pets or want to use their Tundra's truck bed to camp. They are also worth it for those who want the back of their Toyota Tundra to act as a miniature RV while they maintain the performance of a pickup truck.
Wrap Up on the Best Toyota Tundra Camper Shells
Now you hopefully have a broader understanding of camper shells for Toyota Tundras and that there are many different options available. Each camper shell we discussed is the best for its purpose, so choosing one will depend on what you need a camper shell for and your specific style and budget requirements.
Out of all of them, the Hawk Shell Slide-In Camper is my favorite, but I am biased because I love to drive my Tundra and use it for camping too! Yet, the others have qualities that make them stand out against the competition too.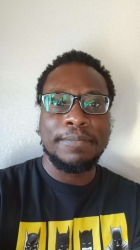 Latest posts by Jason Collins
(see all)