In May 1999, Toyota announced the T150 as a successor to the T100. However, the name was soon changed to Tundra to avoid mixups with the Ford F-150 model. Since its debut, the Toyota Tundra has been and probably will always be a full-size success. What separates the Tundra from the rest of the foreign pickups is its municipal touch.
The Tundra has a bold stance and more power than the former imports in the segment. As a result, it sits on the same page with big household nameplates like Ford and Chevy. From the get-go, Toyota Tundra was a big hit. It held the record of Toyota's initial sales and received the Truck of the Year Award from Motor Trend.
Toyota felt the need for a vehicle to give the big boys a run for their money so Tundra delivered by leaving an undeniable impact on the entire automotive industry. The first Gen Tundra was born with a 3.4-liter V-6 good for 190 horsepower and 220 lb-ft of torque. Later on, Toyota introduced a bigger 4.7-liter V-8 engine. It gained massive popularity in the United States market with its rugged design and reliability.
Fun Fact: Tundra was the first full-size American pickup truck manufactured by a Japanese company to get a V-8 engine.
Tundra lived through two generations and was offered a comprehensive selection of body styles, trims, motors, and transmissions. It inherited Toyota's legendary durability and reputation for its long lifespan.
But in the end, it remains a pickup truck with defects, imperfections, and prone to breakdowns, wear, and tear. It is a full-size pickup truck that has to do long and heavy hauls. As a result, some problems may pop every now and then.
Some of the most common problems include the brakes. It is not easy to stop a big rig like the Tundra, particularly when hauling heavy cargo. The constant heavy braking will cause the brakes to fade faster and respond poorly. Some consumers claimed to experience a significant nose-dive, loud screeching noise, and vibrations from the brake pedal.
Other problems include the engine struggling to deliver a decent performance after a particular mileage. You may hear clunking noises coming from the engine bay and face difficulties starting up the vehicle. Additional issues include poor fuel consumption, slow acceleration, overheating, and low oil pressure.
Those problems are caused by broken parts. Thus, this guide exists to provide you with an extensive list of options to avoid or fix such issues. These Toyota Tundra parts are divided into three categories can be seen from different perspectives. The categories include practicality, performance upgrades, and additional accessories.
P.S: purchasing parts for your Tundra is at your own risk and according to your personal liking. Verify the components warranty and fitment for the make and model of your vehicle.
Practicality Mods
Seat Covers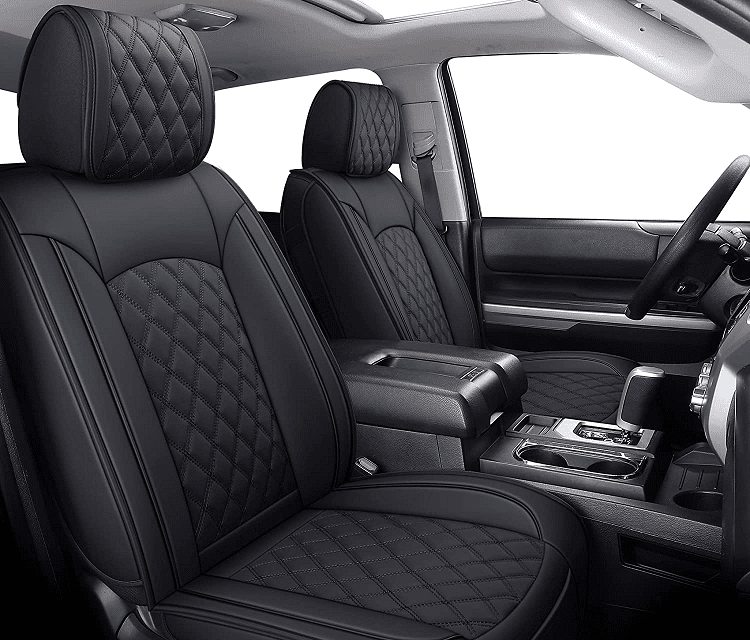 This is a practical and cheap option for you to protect your Tundra's upholstery. It is also a great choice to cover up worn-out seats. A proper seat cover will keep your interior safe for funky stuff like body fluids, liquid spills, pet hair, dreadful odor, and stains. In addition, it prevents cracking, washing out, and makes the car more enjoyable for you and your passengers.
With a $ 200 or less investment, you can protect your investment (your Tundra) with a nice set of Rough Country Neoprene black seat covers. For trailblazers who seek a satisfying ride, Rough Country offers a wide array of off-roading products with good value for money. The lineup includes suspension kits, wheels, tires, interior parts, and anything you need for an off-road adventure.
Rough Country seat covers feature a four-layer construction and foam padding for extra comfort. In addition, they feature a Neoprene and Polyester protective shell to ward off any kind of fluid and keep the seats fresh.
The set includes front, rear, and headrest covers (If you own a Crew Max cab) with easy and fast installation. They are made of sturdy materials with a soft-touch surface to pass the test of time. In addition to a one-year warranty against manufacturer defects.
A cheaper option to consider is new upholstery for your Tundra. Brands like Cipher Auto and Cerullo offer different upholstery materials for less than $ 70. Materials include vinyl, fabric, and leather.
Seats
If money is no object, you can buy a new set of seats. Many opts-out for OEM replacement seats to keep the factory interior look. However, the marker provides a wide variety of seats for different purposes. If you are an off-road enthusiast with a Baja-like driving style, trailblazer, or rock climber, racing bucket seats with 5-point harnesses are a great choice.
It provides extra protection while driving on rough terrains and hug you tight to prevent you from sliding around the place. On the other hand, if comfort is your number one priority, you can purchase a set of Cipher Auto or Recaro padded suspension seats.
Cabin Floor Liners
The purpose of floor liners is to provide comprehensive protection to your floor against soaking up spills and moisture. By extending a liner across the cabin floor of your Tundra, you leave nothing to chance. These bad boys are designed to ensure that no mud, water, or snow slips into the body of your Tundra.
One of my all-time favorites is the Husky X-Act Contour floor liners. These liners feature a soft-touch surface with deeper grooves to improve fluid draining. They feature cleats on the backside to ensure they stay put.
The Husky floor liners are easy to install, clean, and have a sleek finish to give it a factory look. These floor liners come with superior longevity backed up by a one-year warranty. Regarding the price, the husky floor liners are available for $ 120.
Installing TruShield molded floor liners is also a great way to keep your Tundra's floor and body safe from any kind of funky liquid spills. These liners are fabricated with a durable thermoplastic construction to provide reliable all-weather protection.
The TruShield floor liners are easy to clean, install, and compatible with OEM anchors to give you extra security. You can pick them up from an online store or a local shop for about $ 150.
Bed Liners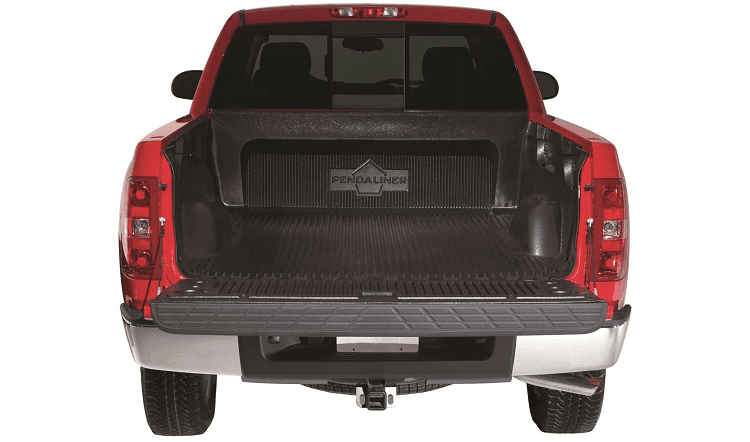 Toyota Tundra is a full-size pickup truck designed to haul heavy cargo for long distances. The purpose of a bed liner is to ensure your cargo arrives safely to its designated destination. On top of that, a bed liner can protect your bed from dents and damages, protects its resale value, and prevent the bed from rusting.
A common type of bed liner is the spray-on liner. These liners are usually made of polyurethane base and are sprayed on the bed with a spray gun. Rhino lining, Z-liner, and Liner-X are the best and robust spray-on bed liners on the markets today. Applied by experienced professionals, these liners provide 100% bed coverage, premium protection, and help reduce noise.
Interesting Read: How to Find the Best Toyota Tundra Bed Covers.
They can be custom colored to match the body paint color. However, before applying these liners, call to mind they are permanent and can be very expensive.
Another common type is drop-in bed liners. As the name implies, these bed liners are custom-made to fit the curves of your bed. Drop-in bed liners are commonly made of plastic and offer good protection against cargo damage. Another good thing about these liners is they can be replaced, plus a much lower price tag than spray-on liners.
The disadvantages with this type of bed liner may be a deal-breaker for you. To begin with, cargo slides around a lot, loose fitment can cause critical damage to the bed, and constant exposure to the natural elements results in warping and losing its shape.
If you are still interested in a drop-in bed liner, here are my recommendations to you. Pendaliner is one of the class-leading bed liners manufacturers in the business. The liner comes with a sleek finish and extreme protection against ultraviolet light. It comes with a unique rib design to prevent dents, scratches and helps in draining the bed out of water.
Pendaliner bed liners are made from tough polyethylene with resistance to gasoline, oils, and other chemicals of that matter. They feature a smooth anti-slip surface to keep your cargo in place. An additional benefit to this bed liner is that it offers protection to the tailgate and the sidewalls of your Tundra.
Carpet bed liners are available as well. You get the looks and feel of carpet that does the same work as plastic. BedRug bed liner is a good choice for your Tundra. This bed liner is resistant to ultraviolet light and stains.
On top of that, it consists of rugged construction to handle heavy cargo, skid-resistant surface, ¾-cushioned floor, and easily cleaned with a pressure washer. Bed liners are generally easy to find online or at a local store for around $ 150 and up to $ 400.
Floor Mats
Floor mats serve as a protector to your floor liner. They act as a buffer between the floor and the dirt you tack in with your footwear. They help keep your car clean against mud, food, and fluid spills. Furthermore, floor mats add a luxurious plush finish and increase the resale value of your Tundra.
There are tons of floor mat options available with flat, molded designs and a wide range of colors. There are all-weather floor mats, carpet mats, aluminum mats, rubber mats, and even custom monogrammed mats. The price range starts at $ 50 up to $ 200. The best floor mats brands you can get for your Tundra include WeatherTech, Husky, Lloyd, and 3D MAXpider.
Bed Mats
In the simplest of words, a bed mat is a floor mat for the exterior bed of the Tundra. It offers the same functionality as a bed liner bed with a few key differences. For instance, a bed mat is removable and protects only the floor. BedRug is a great manufacturer that you should really consider.
Tonneau Covers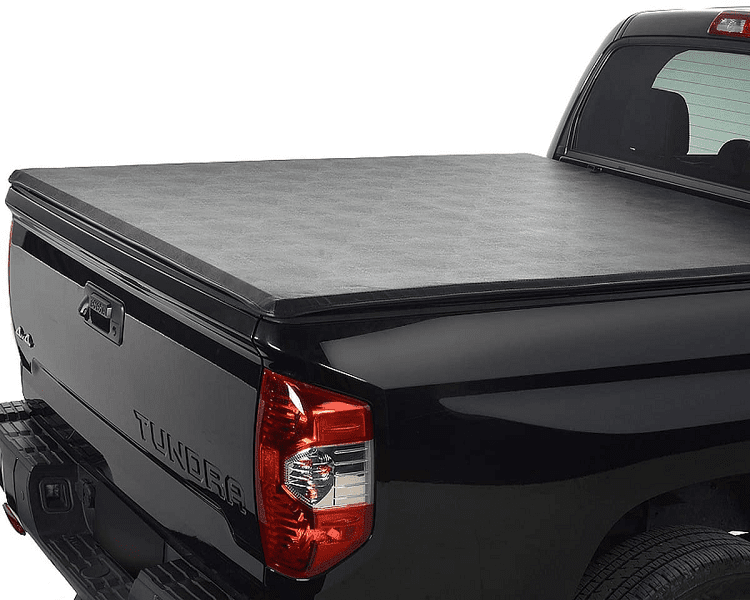 A tonneau cover is beneficial, particularly in bad weather. It provides protection for your cargo from rain, sun, dirt, and theft. Plus, a tonneau cover will help improve your fuel economy. Toyota Tundra is a massive full-size pickup truck. In other words, it is a big brick on wheels. This means a lot of drag and wind resistance, which leads to poor fuel consumption.
According to some studies conducted by presumably aerodynamic experts, adding a tonneau cover reduces drag coefficient by 5.7% and increases fuel consumption by 1.8%. Although 1.8% is not a lot, it adds up and makes a big difference over the years. Top recommendations for Tundra include the BAKflip G2 tri-fold tonneau cover, RedRock tri-fold hardcover, and Barricade low profile tri-fold hardcover.
Under-Seat Storage
Most truck owners work as contractors, sportsmen, or similar jobs that require tools and gears. Often, that gear ends up cluttering the seats and floor of the interior cabin. As a result, it gets damaged rolling around and can be dangerous and cause damage to you or your vehicle.
Furthermore, it can be very frustrating to find a particular tool in the middle of a massive pile of gizmos. Loose gear and tools are not only dangerous but also attract thieves.
What is the solution?
If you own an extended cab or crew cab Toyota Tundra, you will find free space to utilize under the rear seat. You can fit a storage case in that space to help you organize your tools effectively. That way, you will keep your Tundra looking clean and all your gear within reach and safe from thieves.
Fitting an under-seat storage case will take you about half an hour to finish. The bottom of each seat includes brackets to connect your storage case in place. They come in different construction materials like aluminum, steel, and heavy-duty polyethylene. Under-seat storage cases are custom-made to fit the make and model of your vehicle. They feature a standard three-way split with removable dividers to set it up the way you see fit.
For an average price tag of $ 200, you can get a DU-HA, WeatherTech, or Husky Liner GearBox storage case. They are durable and backed up with a limited lifetime warranty. You can purchase steel and aluminum cases, but they are on the high-end of the spectrum in terms of pricing.
Wireless Charging Pad
Almost every car currently roaming the streets comes with a wireless charging pad as an optional extra at most. Wireless charging pads are available in all shapes and sizes in your local or online shops.
These pads feature a smooth and soft non-slip surface to prevent your phone from sliding. Some of the benefits of wireless charging trays include fast charging without the hassle of plugging in electrical cords. It makes your interior look modern and sleek.
The pad is installed in the center console of your Tundra. Perfect spot if you ask me. The installation is easy and done within an hour. It is recommended that you hire a professional considering the wiring included in the installation process.
Running Boards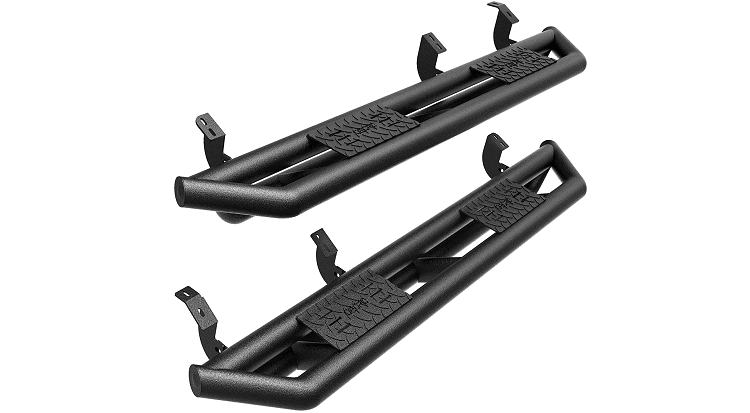 Running boards are footsteps that run along the sides of the cab. They can be flat boards or tubes with footpads. The main aim of a running board is to make getting into the cab safe and easy. In the case of the Tundra, it is recommended to have one because it is a big tall pickup.
In addition, running boards provide extra protection to the truck's body against road debris and add to the looks of your Tundra. Go Rhino RB20 black running boards are a good option. They feature solid and durable steel construction, and the price starts at $ 400 to $ 800.
There are more affordable options for less than $ 300 from Westin. They offer molded polymer step-side running boards with an aluminum base.
Continue reading: How to Find the Best Toyota Tundra Running Boards.
Lights
Headlights are a vital and versatile part of any vehicle. You can use them to signal to other road users to let them pass, warn them, or simply say hi! In addition, headlights will show you the way and guide you in any dark place. Factory headlights will do a fine job, but they look old-fashioned and start to underperform after a while.
Headlights are replaceable, and the latest models are made with cutting-edge technology to provide peak performance and durability. The new lights feature LED projectors lights, integrated sequential daytime running light bars, and UV-resistant polycarbonate lenses. The housing is often available in black or chrome.
Regarding performance, the new LEDs deliver intense illumination in the darkest places. A pair of Morimoto Gen 2XB or Spyder black LED lights will improve road visibility and the looks of your Tundra.
Performance Upgrades and Power Boosters
Superchargers/ Turbochargers
The Tundra lineup features a big 5.7-liter V-8 that only makes 381 horsepower, 401 lb-ft of torque, and sounds insane. That is shameful if you ask me a beefy engine like that should at least make 500 horsepower. Fortunately, the Tundra can get more power output by installing a supercharger.  
A supercharger is a forced induction device that pushes more air into the engine to work harder and produce more power and torque. As a result, you get better performance and throttle response. You can improve the performance by installing a TRD supercharger system. It features an air-to-liquid intercooler to boost the power to 504 horsepower and 550 lb-ft of torque.
Get even more power and torque with the Magnuson TVS1900 supercharger unit. The system includes an OEM-style manifold and lightweight rotors. Thus, making the unit quiet, attractive, easy to set in place, and maintain. It increases the power output to 543 horsepower and 535 lb-ft of torque.
Note to remember: the starting price for a supercharger unit is $ 7,000. It is not cheap!
While a supercharger delivers instant power, it ruins your fuel economy. If you are looking for an efficient power booster, you will be better off with a turbo kit. It features turbines that spin using gases flowing through the exhaust. The main drawback of a turbo kit is the lag. A solution to that problem is installing an anti-lag system with the kit.
Transmission
The transmission is a vital part of your Tundra or any vehicle of that matter. The gearbox transfers the power and torque output from the engine to the wheels by changing gears. Hence the name transmission. The new 2022 model is set to have a ten-speed automatic transmission. However, previous models were offered a six-speed automatic transmission with no manual option.
The six-speed worked well with the engine, but it fell short compared to its competition. It is not cheap to replace a transmission, but it is definitely worth it. You will harness more power, torque, speed, better control, and improve off-road performance by getting an eight or ten-speed automatic transmission for your Tundra.
Unfortunately, there are no manual transmissions for the Tundra. According to online forums, there is a slight possibility to do a manual swap on a Toyota Tundra. Many have said that a V160 tranny with an adapter plate and some metalwork will fit in it. However, it may cause ECU problems because a manual is supposedly not meant to go in a Tundra.
Suspension Kits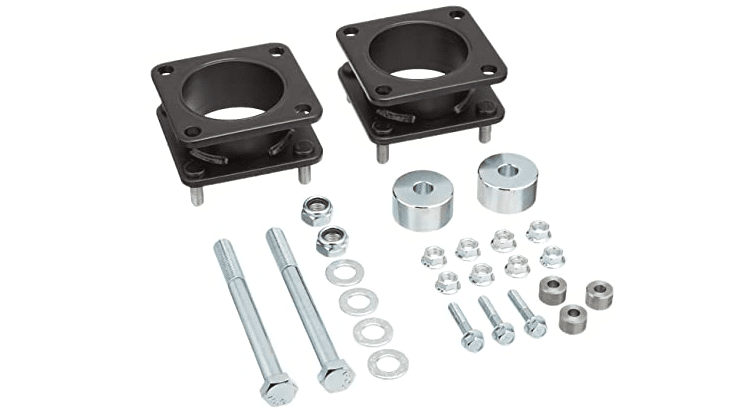 The ride quality depends on multiple factors, and suspension is the main component that will define how good the ride will be. Many Tundra fans love the OEM suspension because it provides a smooth and creamy ride on and off the road. Nonetheless, the ride can be bouncy on bumpy roads when the bed is empty. In addition, the factory setup comes with a rake.
Rake means that the front of the vehicle sits lower than the back. It helps with fuel economy because pickups are built like bricks, and the stance will level itself when you load the bed. There are many solutions to fix that issue.
First, purchasing a spacer leveling kit is the cheapest and most affordable option the market can offer. As the name suggests, the spacer is a hockey puck-shaped part that fits on the top mount of the OEM strut.
The aim of the spacer is to lift the front to give a more leveled stance. Some spacer kits include solid plastic or steel construction and allow you to fit larger wheels and tires for off-roading with 2.5 inches of lift. The cost of a good quality spacer kit from brands like Supreme Suspension and BDS ranges between $ 80 and $ 200.
Second, installing new shocks and coil springs. A prime example is the Bilstein B8 5100 shocks. The latter feature a mono-tube design with steel construction and cutting-edge technology. A spacer kit will give you the extra lift without compromising the original ride quality. On the other hand, shocks and coil springs will alter the ride quality, performance, and handling on and off-road.
For all 4X4 enthusiasts who love extreme off-roading and rock climbing, getting a 4+ inches lift kit is the way to go. A lift kit will provide you with better articulation, better clearance to fit 35 and 37-inch tires, and handle the weight with all the gear on board.
Wheels and Tires
Like suspension kits, wheels and tires can influence the ride quality, turning abilities, and even the fuel economy of your tuck. There is a wide array of wheels and tires with different and purposes. Michelin and Goodyear are class leaders when it comes to making good-quality tires. The latter is made for day-to-day driving.
Therefore, if you are going to take your Tundra off-roading, your best option is BFGoodrich. Such high-quality tires provide exceptional durability and improve vehicle performance when accelerating and under braking.
Moreover, the right tire mated to the right rim will increase the acceleration, provide better grip for better braking, and direct airflow to decrease drag and rolling resistance to improve fuel economy. For that reason, electric cars come with special rims and tires, to get the highest range possible.
Cosmetic Accessories
Body-Colored Trims and Chrome Accents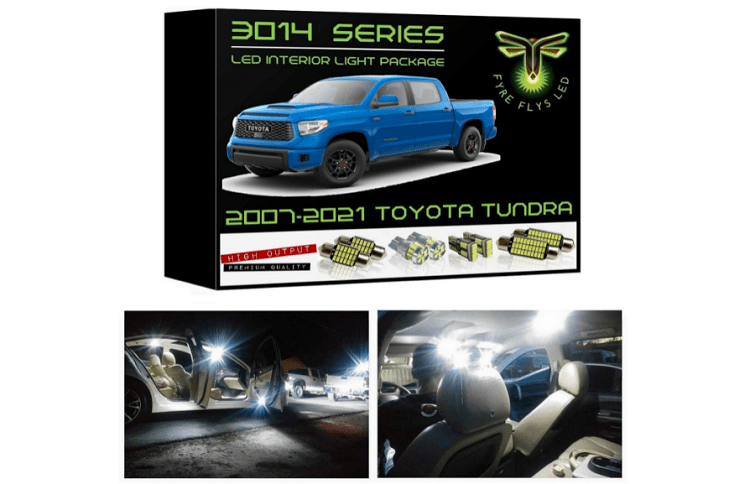 The exterior looks are a major wow factor for any vehicle. Many trucks roll off the assembly line with not-so-good-looking plastic add-ons.
Terrible, right?
The good news is you can fit additional accessories on your truck to fix that.
The bad news is that these options will cost you some cash.
For instance, some trim levels are offered with black plastic bumpers, which you can replace with body-colored or chrome bumpers. Add steel off-road bumpers to the list if you are one of the trailblazing types of people. You can restore the black plastic surrounds with chrome or body-colored parts like side mirrors, window surrounds, fuel caps, door handles, grilles, grille guards, and bull bars.
Wraps, Decals, and Badges
Emblems and badges are one way to identify the make and model of any vehicle. They have a chrome finish most of the time and black on high-end trims levels. Emblems, decals, and badges add to the looks of the vehicle. you can add as many as you want alongside stickers and racing decals.
You can add black inserts to the Tundra emblem on the tailgate, TRD decals, and off-road stickers on the bedsides, or delete all the badges at once. Not to mention, thousands of mod shops and garages offer paint protection film and wrapping services. It gives your truck a new different look, protects the original paint, and you can remove it if you want to sell your Tundra.
A matte red Tundra with smoked lights, tinted windows, and black wheels. That would definitely stand out from the crowd.
Exterior and Interior Lights
This mod is no stranger to anyone in the automotive community. Many people who own lifted pickups have installed a set of LEDs under the truck, inside the rims, wheel wells, grille, and hood scoops. On the other hand, you can fit your truck with ambient lights with the color of your own choice light like high-end luxury cars.
FAQs
Question: How Many Years Will a Toyota Tundra Last?
Answer: According to iSeeCars, a Toyota Tundra will last almost 300,000 miles before requiring major repairs. In other words, if you drive your Tundra on average 20,000 miles per year, it will live for 15 years or more with proper maintenance.
Question: Which Tundra Model is Best for Towing?
Answer: Towing capabilities vary according to body configuration and drive train. The Tundra with the highest towing capacity is the SR and SR5. Both trim levels have a max towing capacity of 10,100 lbs.
Question: What is the Best Year for Toyota Tundra?
Answer: You cannot go wrong with the newer Tundra models. However, consumer reports have shown that the best year for Tundra is 2013. This year's model received great reliability scores and good consumer satisfaction besides multiple awards. Many would recommend it as the best-used pickup for 25k.
Question: How Much Does it Cost to Maintain a Tundra?
Answer: According to RepairPal data, Tundra owners take their trucks to a mechanic three times a year on average. The annual repair cost is about $ 604.
To Wrap Up
Toyota Tundra is a legendary pickup with excellent performance and off-road capabilities. It comes with loads of amenities and serves as a workhorse and a family hauler. Most importantly, you can make it even better with performance, practicality, and cosmetic upgrades.
It is worth noting that most of these parts fit the 2014-2021 Tundra models, and purchasing them is at your risk. Thus, ensure to check the fitment and warranty of any component before buying or installing it.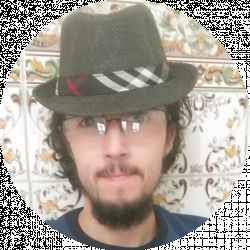 Latest posts by Tommy Verrcity
(see all)