The Ford F-150, the truck that needs no introduction. The F-Series saw the light of day in 1948 as a simple pickup. Now, seven and a half decades later, it became the best-selling truck in the United States. It held supremacy for well over 35 years and led its class with an iron fist. 
The F-150 is one of the most beloved pickup trucks offering superb practicality, gorgeous design, brilliant ride, and marvelous capabilities. 
Whether you need a workhorse or a daily grocery-getter, the F-150 has a fleet of trims and models to accommodate everyone' needs. For that reason, it is obvious that you are curious to know which is the best model year to go for. 
Well, you came to the right place. In this piece, we will showcase the best years for Ford F150 that you should consider purchasing, and why. 
Best Years to Own
Because they are dubbed as "the best years" does not mean they are immune to malfunctions. There isn't a vehicle on god's green earth that will run forever without throwing a fit.
Being the best means these years received very few complaints, and are likely less problematic than the other years. They might face some issues, but not big enough to sink your bank account to rock bottom.
1996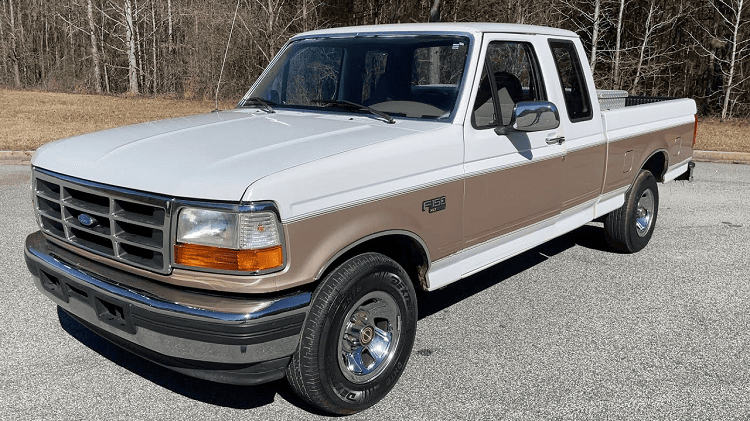 It is a well-known fact that the F-150 is the best-selling vehicle in the United States, and the success of the current generation goes back to the 90s. The 1996-year model was built with fortitude and purity in mind. Ford focused on durability and dependability to create a collectible classic F-150 that changed the pickups' playground. 
The 96 F-150 model was the last of its kind because pickup trucks started bulking in the following years. Thus, driving and parking it in tight spaces is a piece of cake.
It retains the traditionally boxy body style. However, it is softer with more round edges. It is more aerodynamic and has smoother body lines. 
For a truck that's nearly three decades old, 1996 F-150 offers a silky and steady ride on the road and decent handling. Under the hood, Ford gave the F-150 several engine options, including: 
4.9L Inline-6 / 150 hp – 260 lb-ft of torque.
5.0L V8 /  185 hp – 270 lb-ft of torque.
5.8L V8 / 210 hp – 325 lb-ft of torque.
7.5L V8 / 245 hp – 410 lb-ft of torque. 
All engines send the power to the rear or four wheels via a 5-speed manual or 4-speed automatic gearbox. I recommend the rear-wheel drive model with the 5.0L because it is fun to drive.
The Inline-6 was not popular among the masses due to the lack of power. Nonetheless, the powerplant lineup is solid and reliable. 
Speaking of reliability, not many complaints were reported against the 1996 F-150. Some owners claimed they were facing minor problems like the starter motor, which they fixed by themselves in minutes. Others even said they paid 12 $ to fix them. The 96-year models are listed for sale for 5,000 $ – 12,000 $. 
1998
The 25-year-old is still going strong to this day. 1998 is one of the brawny and reliable year models you can get your hands on today. This new generation ditched the old boxy design and adopted a more aerodynamic look. Thus, it looks softer and less menacing.
The interior design is the best in class, and handling is accurate and active. The ride is smooth, and refined, and does well over bumps. The 98' F-150 is also a respectable off-roader, so you don't have to worry about rough terrains. Additionally, the F-150 comes with a strong powerhouse lineup.
It includes a 4.2L V6 with 210 hp/ 255 lb-ft of torque, a 4.6L V8 making 220 hp/ 290 lb-ft of torque, and a  5.4L V8 putting out 235 hp/ 330 lb-ft of torque. Surprisingly, the 98' F-150 had very few complaints from customers. Not bad for a truck this old. The only problem this model faced was faulty spark plugs on the 5.4L V8.
2003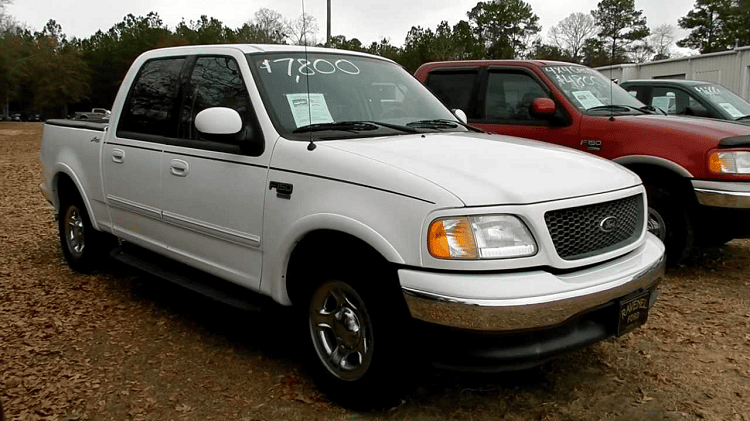 2003 is most definitely an upgrade from the previous generation. It comes with a sleek sporty design, with different configurations. The ride is more refined and a lot quieter thanks to the noise control package. Additionally, you get more amenities like an upgraded audio system, CD player, and lower anchors to fit a child safety seat. 
Other convenience add-ons include standard air conditioning, power-adjusted pedals, ABS, and remote keyless entry. All among the 75 improvements Ford introduced to the F-150.
The interior is modern and has loads of room for the entire family. The Supercab models are the largest in the lineup and can be a pain in the "You Know What!" to maneuver on tiny roads. 
The 2003 F-150 is characterized by a tall ride height. That's good news when you are trying to peek over traffic.
Yet, it is an absolute nightmare if you use the truck to load heavy cargo. In terms of performance, the F-150 is sublime on the road and provides a pleasant ride. But, the smaller engines are a bit underpowered when it comes to daily use. 
The best option is the big 5.4L V8 with an automatic transmission. The 2003-year model comes with three engines:
A 4.2L V6 produces  202 hp and 252 lb-ft of torque.

A 4.6L V8 makes 231 hp and 293 lb-ft of torque.

A 5.4L V8 pushing 260 hp and 350 lb-ft of torque.
The F-150 also features a supercharged 5.4L Triton V8 putting out 345 horsepower and 425 lb-ft of torque. But, it is limited to the Harley Davidson Edition. Not to mention, the SVT Lighting is back with a supercharged 5.4L V8. The latter makes 380 hp and 450 lb-ft of torque. 
03' is one of Ford F-150's best years, receiving very few complaints. Lots of owners praised the vehicle for its reliability, style, and performance. The handling and towing capabilities are insane. Moreover, hauling is nothing but child's play for the 03 F-150. 
2009
Another highly praised model of the F-150 is the 2009. Ford made subtle but essential changes to make sure their cash cow does fall short. The design has been revamped and inspired by the super duty series.
However, 09' year models are still based on the same formula of hauling power, durability, and different body styles. And now, ride quality was added to the mix.
The F-150 features a larger and comfier interior than most of its class-leading rivals. It offers high-quality materials and a magnificent infotainment system with an eight-inch display. The F-150 also comes with loads of safety equipment like ABS, stability control, and full airbags coverage for the interior. 
The 09' models are fitted with nothing but V8 engines. There are two 4.6L V8 on the list. The first puts out 248 hp and 293 lb-ft of torque, while the second makes 292 hp and 320 lb-ft of torque.
The third V8 unit is a 5.4L making 320 hp and 390 lb-ft. The power goes to the rear or all wheels via four and six-speed automatic gearboxes. 
2009 is a fantastic year for the F-150, offering pleasing performance and splendid payload and towing capabilities. However, it has zero chance of catching its competition in a stoplight drag race. If you want more speed, take a look at the Hemi-powered Ram, Toyota Tundra, or Chevy Silverado. 
2012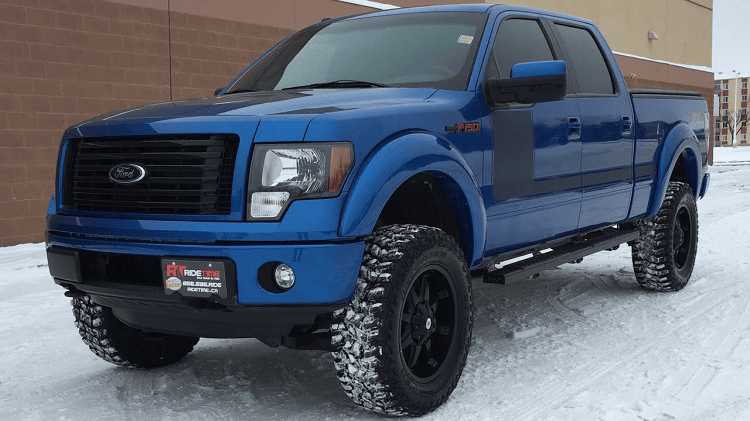 2012 was a remarkable year for the F-150. Though the changes flew under the radar, they were significant. For instance, all four-wheel-drive models come with a standard 36-gallon gas tank. Other upgrades were introduced to the drivetrain, including a two-speed automatic transfer case on the top-level trims. 
2012 is also one of the early years that Ford allowed buyers to personalize their own F-150. The latter come with endless configurations thanks to the various body styles, drivetrain, and engine options. Not to mention, the 2012 F-150 comes in nine different trim levels.
The interior is spacious, cozy, and gets more luxury-oriented with each trim level. It is perfect for long journeys, with a full family inside. Furthermore, it is rated to tow more than 11,000 pounds with proper equipment. The 2012 F-150 has a wonderful performance, soft ride, and pleasant handling.  
It is offered with two V6 engines and two V8s producing ample power for daily use. The basic 3.7L V6 makes 302 hp and 278 lb-ft of torque.
The second V6 is a smaller 3.4L, with twin turbos generating 365 hp and 420 lb-ft of torque. The 5.0L V8 is on the same power band as the twin-turbo V6 but down on torque. On the other hand, the big 6.2L V8 makes 411 hp. 
If you want a better mpg, go for the V6s.
2014
The 2014-year model F-150 carries on with fundamental yet sly changes. Nonetheless, it is one of the best pickups you can buy today. The interior is still on the large side, providing enough room for its passengers.
This year's model is also offered in nine trim levels, starting with the base workhorse, to the infamous off-roaders, and top-of-the-line luxury trims.
Each level has its perks and accessories, like dual-zone automatic climate control, power-adjustable seats, and parking sensors. Moreover, it has loads of safety features and a new infotainment system with a larger display and smartphone connectivity.
The Ride quality is decent, the handling is responsive, and the acceleration is satisfying for a daily driver. All that is thanks to the clever suspension and powerful engine lineup.
The latter includes a standard 3.7L V6, a twin-turbo 3.5L V6 dubbed the EcoBoost, a 5.0L V8, and 6.2L V8. All engines put out well over 300 horsepower and can haul 6,000 to 11,300 pounds.
2017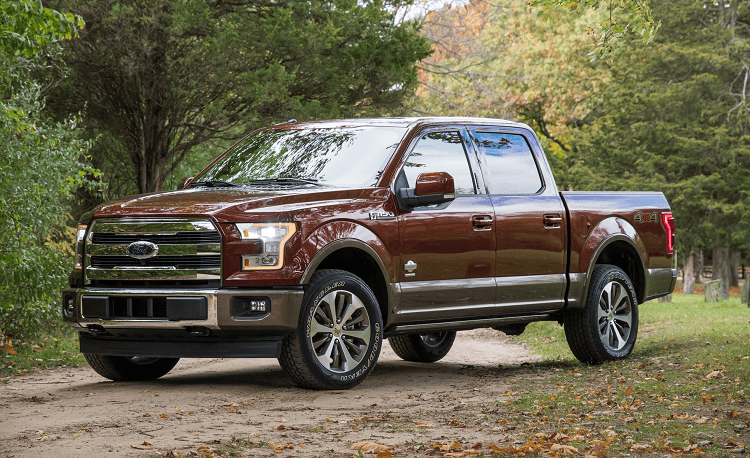 Can you believe that 2017 was six years ago? Time flies by, but not for the Ford F-150. This year received great customer satisfaction reviews and high-reliability scores.
The 2017-year model got a perfect 5-star rating from the NHTSA and IIHS. The cab is covered with airbags as standard. Moreover, it has traction control, stability control, 4-wheel ABS, child safety locks, and much more from the factory to ensure the well-being of the passengers.
In terms of performance, the 2017 F-150 is foolproof. Power delivery is almost immediate. Thus, it has splendid acceleration. It also has proper brakes and swift steering. For a truck this big, it is agile and easy to maneuver.
Additionally, if you are planning to hit rough terrains, F-150 off-road trims (mainly the Raptor) are ideal for you. 
It is very comfortable and loaded with features for driver convenience. Not to mention, 2017 was the first F-150 to get Android Auto and Apple CarPlay. Took them a while, but they got there in the end. What's more, Ford introduced a 10-speed gearbox mated to an EcoBoost 2.7L V-6 or a big 5.0L V8. 
It may not have nine trims as in previous years, but seven with endless configurations are more than enough to accommodate your needs.
2019
The 2019 Ford F-150 is by far my favorite one. It leads its class with the best towing and payload capabilities. It is ideal for both working and playing.
In terms of safety, the F-150 did not disappoint, scoring high in the NHTSA and IIHS crash tests. On this model, forward collision warning and the emergency braking are standard alongside a new 3.0L diesel V6.
As you would expect, it is a strong performance on and off the road. The engine lineup puts down a lot of torque and power, which is sublime for acceleration. The brakes are firm and can bring you to a dead stop in a blink of an eye. The steering is light at highway speed but ideal in tight spaces.
The interior features a reasonable layout, high-quality materials, advanced technology, and exceptional comfort.
2021, 2022 & 2023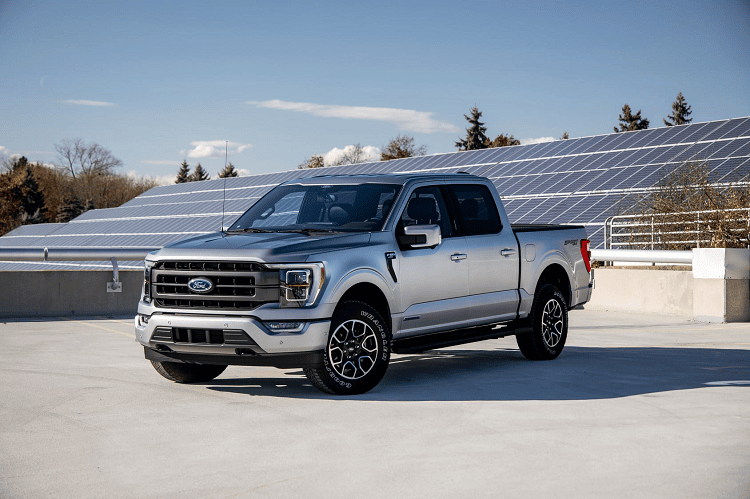 There isn't much to say about these years except they are the best in the business. They are brand new and loaded with the latest tech. They are very safe, super comfortable, and possibly better to live in than a family home. In addition, there are plenty of trim levels to pick from depending on what you intend to do. 
You have the base models for heavy-duty work, luxury trims for daily driving, and off-road editions. Though they have the highest price tag, they do offer a lot. Since they are fairly recent, they have low mileage and are still within their respective warranties. 
4X4 Reports Says…
The older generations (96-09) are a solid and more affordable choice. However, you are giving up a lot of advanced tech and fancy features that come with the more recent years. In addition, they may suffer from old age wear and tear, such as rust and sudden leaks. 
Yet again, the newer models (21-23) are too expensive for many interested buyers. However, they are the safest, most powerful, and still within their warranty. Our recommendation is the 2012, 2014, or 2017-year models. They are cheaper than the recent generations and better accommodating than the older ones.
Here is a list including some of the bad Ford F-150s that you must avoid: 
2004

2005

2010-2013

2015

2016
These model years received tons of complaints, suffer from many malfunctions, and were plagued with problems. To know more details about these money pits, check this piece.  
FAQs
Question: How Long does a Ford F-150 Last?
Answer: Since the average individual drives about 12,000 miles a year, a Ford F-150 can hold up to 200,000 miles (equivalent to 17 years) and possibly more. However, it must be regularly maintained.
Question:
Which F-150 Trim Level should I Go for? 
Answer: The Lariat trim level is the recommended trim to buy. It provides better value for money because it combines the top trim features with base trim price in one package. 
Question:
Are there Alternative Trucks to Consider Instead of the Ford F-150? 
Answer: The pickup truck segment is massive and encompasses a lot of options. Some of the F-150's worthy competitors are: 
GMC Sierra 1500

Chevrolet Silverado 1500

Ram 1500

Toyota Tundra
Final Thoughts
The F-150 has been around since the late 1940s and still going strong to this day. It proved itself to be the best one generation after another. It offers a fleet of trim levels fully loaded with the latest comfort features and safety technology.
Not to mention, the F-150 is a mind-blowing performer on and off the road. For that reason, it is, and possibly will always be, the best-selling vehicle in the US.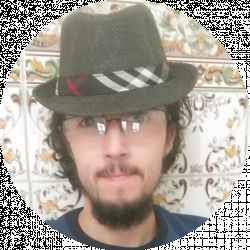 Latest posts by Tommy Verrcity
(see all)