The Toyota Tundra is the bigger, more powerful truck for those who want Toyota reliability but whose lifestyle is not compatible with a Tacoma. A durable engine, stout 4WD, and a beefy frame make this a great full-size truck for someone who uses their truck for both work and play.
Given that the Tundra only has two generations to date, there's been time to refine the recipe.
In this article to Toyota Tundra models, we'll go over each successive generation of Tundra, their positives and negatives, and end with a recommendation of which one you should buy. Let's get started. 
Main Differences Between 1st Generation vs 2nd Generation Tundra Tundra Models
The Main Differences Between 1st Generation vs 2nd Generation Tundra Tundra models are:
The 1st Generation Tundra is closer in size to a current Tacoma, whereas the 2nd Generation Tundra is similar in size to an F150.
The 1st Generation Tundra was more of a no-frills work truck, whereas the 2nd Generation Tundra has moved more toward the luxury truck with classic Toyota capability and reliability, with more tech to keep it modern.
The 1st Generation Tundra is your superior choice when it comes to modifying because replacement parts are cheaper, whereas the 2nd Generation Tundra is better to drive as it is because it has plentiful electronics to break.
the 1st Generation Tundra had a timing belt for the 4.7 V8, its most powerful engine, whereas the 2nd Generation Tundra's engines all had timing chains; It is not a deal breaker, but definitely something to keep in mind.
1st Generation Tundra (2000-2006)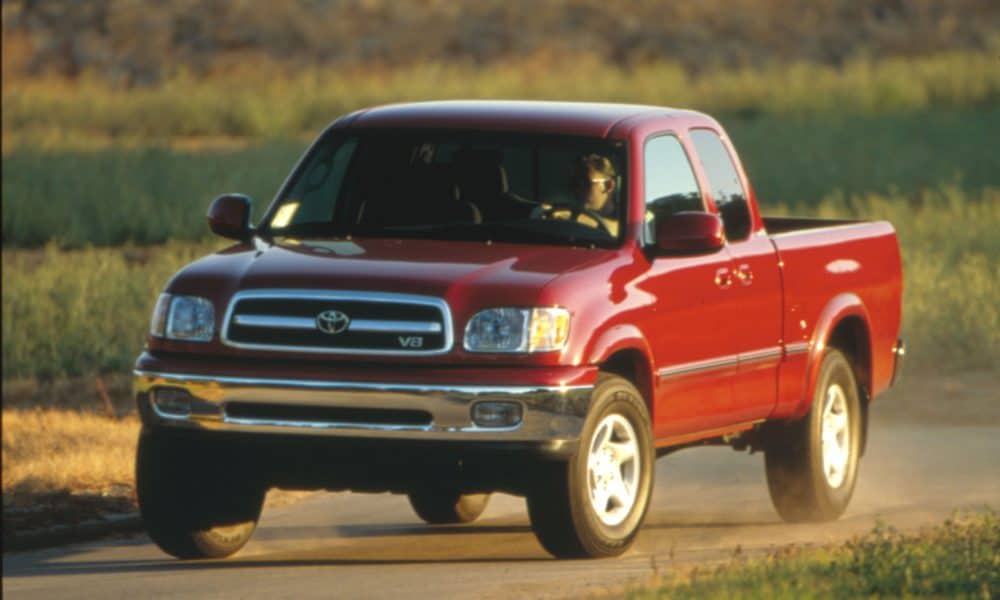 The first generation Toyota Tundra was released for the 2000 model year. Powered by choice of 3.4 liter V6 and later in its lifecycle, a 4.7-liter I-Force V8 and 4.0 liter V6, the 1st generation Tundra is basically a Japanese mimic of the Ford F150; Toyota was in fact sued on the grounds that the 1st gen Tundra, originally the T-100, was too close in name and appearance to the F150.
Superchargers were available for both the 3.4 liter V6 and 4.7 liter V8, although Toyota released an updated 4.7 with variable valve timing, and the supercharger option was dropped for the V8 after a short period of time. For those who are curious, the stock internals of the 4.7 will handle a max of 500 hp at the crank before grenading. 
Transmission options were a 5-speed manual and 4 speed automatic, to begin with, switching to a 6-speed manual and 5 speed automatic for 2004-2006. Towing capacity is a stout 4500 pounds with the V6, regardless of transmission. 
Towing capacity with the V8 is 6900 pounds with the automatic transmission and the Double Cab, rising to 7100 pounds with the V8, automatic, and Access | Regular Cab models. While that won't compete with modern trucks or even the current 2nd gen Tundra, it is still solid.
Standing at a maximum of 218×79.7×75.0 inches, the 1st gen Tundra is actually almost the exact same size as a current Tacoma while having more power and towing capacity. As a result, it makes a compelling alternative with the V8 and automatic transmission if you are cross-shopping them.
Where safety is a question, the IIHS rates the Tundra "Good" for overall frontal crash safety. Fuel economy ranges from 14 to 16 mpg combined with either V8 or V6, 2WD, or 4WD.
Continue reading our full guides on models from the 1st generation:
Pros
The 1st gen Tundra has the reliability of granite, and is a perfect "midsize" truck in today's world, especially with the 4.7 V8 and an optional TRD supercharger.
It is also a great base for offroad modifications; it really is a canvas on which to paint your picture.
Given that they are fairly cheap second hand, this is a great used truck or first car for someone.
Cons
It doesn't have the towing capacity of today's trucks or even the 2nd gen Tundra. If you do light work, this truck will do, but to tow and haul heavier objects, this is not the truck for you.
The frame is also too light to handle a full-size snowplow, so you won't be using this as a plow truck during the winter without a small plow.
This truck really works best if you cross shop it with a current Tacoma; it is too light-duty to stack up to a current Tundra or F150.
2nd Generation Tundra (2007-Present)
The 2nd gen Tundra was bigger and heavier than the truck it replaced. An automatic transmission was the only choice, coupled to a 4.0 liter V6, a 4.7 liter V8, or the 5.7-liter I-Force V8. 
The 5.7 V8 is your engine of choice here; all trim models with the 5.7 liter V8 come standard with 4.30 rear gearing, larger oil and transmission coolers, an integrated trailer hitch, and bigger brakes for fade resistance. 
As for trim levels, the Double and Regular Cabs are available with a 6.5 or 8-foot bed, while the CrewMax only comes with a 5.5-foot bed; this applies to the work truck trim level as well. 
Towing capacity is 10,400 pounds with the 5.7 liter V8 and Double Cab with the 6.5-foot bed. The 5.7 with CrewMax and the 5.5-foot bed can tow a maximum of 9800 pounds. However, regardless of bed length or trim, towing capacity is restricted to 5,000 pounds with all other Toyota Tundra models and engines. 
It's important to note here that the 2nd gen Tundra has many different trim levels available; Rock Warrior, TRD, Limited, etc. However, as long as you have the 5.7 liter V8, then your towing capacity ranges from 9800-10,400 pounds depending on bed length and cab design; the trim model does not affect performance. 
The fuel economy averages about 13 mpg, and that is not bad for a big, heavy truck. Safety is a priority with Toyotas, and the Tundra earned an overall "Good" score from the IIHS in front-impact safety, the highest possible rating for side-impact safety, and the highest rating for rear collision safety. 
In 2020, the 4.0 liter V6 and 4.6-liter V8 options were dropped, leaving the 5.7 liter V8 as the only option. The V6 and 4.6 V8 are fine engines, but the 5.7 V8 is the one you want and need. The extra torque and power are worth it. The regular cab model with the 8-foot bed was also discontinued, leaving the Double Cab as the entry-level configuration.
Pros
Much bigger and more capable than the 1st gen Tundra; a max towing capacity of 9800-10400 pounds is more than enough to tow your boat or light trailer.
Frame is strong enough to handle a plow if need be.
Good balance of work and luxury truck when optioned right.
5.7 I-Force V8 is the engine to have; plenty of power with good reliability and road manners.
Cons
Capable, but not able to tow as much as the properly equipped Ford F150, Dodge Ram 1500, or Chevy Silverado.
Parts are relatively expensive for a truck of this type and size.
While the truck is heavy and powerful enough to shoulder heavy loads, you will probably want to upgrade to something with a diesel if you tow/haul heavy loads quite frequently.
Continue reading our full guides on models from the new generation:
Verdict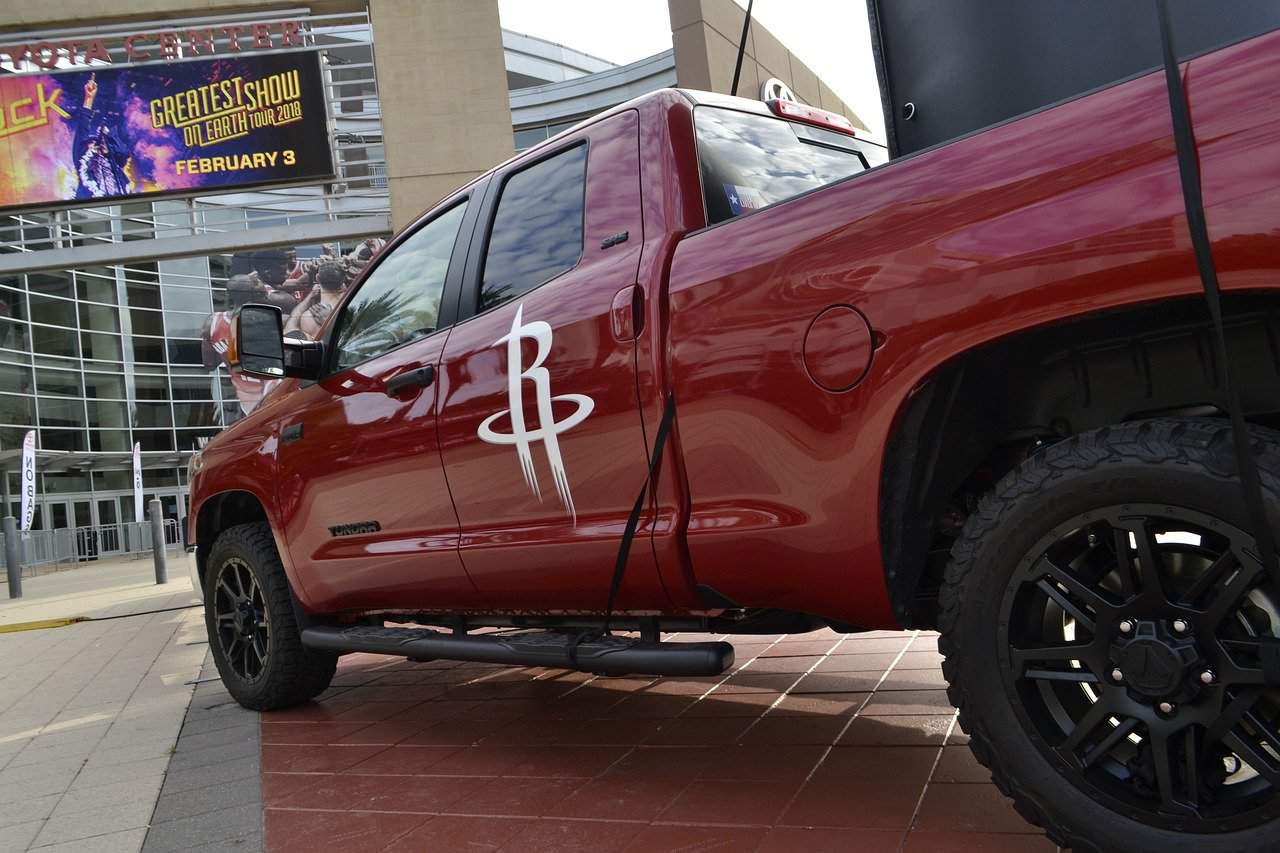 Given that the Tundra has only two generations, that raises the question of which one to buy. The no-brainer answer is the 2nd gen Tundra if you need to do heavier work or towing on a regular basis. The bigger engine and sturdier frame make the 2nd gen worth the extra money, and it will still outlast the planet. 
If you are in the midsize truck market, the 1st gen Tundra makes a compelling alternative to a current Tacoma. Install some simple mods (bigger tires, rock rails, etc.) along with a TRD supercharger, and you'll have a great truck that will be a great offroad build if you want. 
At the end of the day, the 2nd gen Tundra is the better truck here. It is more luxurious, modern, and capable while still having a huge amount of aftermarket parts available. 
Frequently Asked Questions
Question: Which generation of Tundra is more reliable?
Answer: Both the 1st and 2nd gen Tundras are extremely reliable vehicles and will never let you down, but the 2nd gen is more capable and will stand up to a lifetime of work better than the 1st gen. 
Question: I do frequent towing and hauling. Should I buy a 1st or 2nd gen Tundra?
Answer: Both generations will haul and tow just fine; obviously, the 2nd gen will haul and tow more. In both cases, the answer is to go for the biggest engine. For the 1st gen, that is the 4.7 liter V8. For the 2nd gen, you'll have the 5.7-liter I-Force V8. 
Question: I want to use my Tundra as a plow truck. Can I do that?
Answer: Both the 1st and 2nd gen Tundras will take a plow just fine, although not a massive blade. Get a small to midsize snowplow, and you'll be in business.
Question: I want to modify my Tundra. Which one is better?
Answer: In all honesty, you can't go wrong with either one. They're a great platform on which to start your offroad journey, and there's plenty of aftermarket parts available. 
Continue reading and see how Toyota Tundra compares to: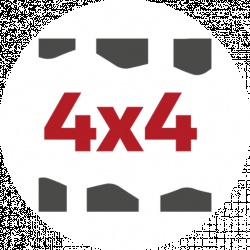 Latest posts by 4x4 Reports Team
(see all)