Toyota's reliability track record stays true in the Toyota Tundra, which was first launched in 2000. The 2012 model is a part of the vehicle's second generation, which was announced in 2007 for the 2008 model. With only two generations, the Tundra is still a young truck going up against seasoned players like Ford F150 or Chevrolet Silverado. If you're considering getting this full-sized truck over its competitors, this 2012 Toyota Tundra guide will help you make an informed decision.
To put together this piece, I spent some time finding out about the Toyota Tundra's features, which I share in-depth. You'll also learn about the 2012 Tundra's common problems to help you decide whether it's worth buying over its tried and true competitors.
Bottom Line Up Front 
If you're in the market for a 2012 Toyota Tundra, I recommend avoiding the 4.0-liter V6 model and opt for the 4.8-liter V8. Its fuel consumption isn't significantly more than the V6, but it offers more power for carrying more cargo. If you have a trailer, consider the 5.7-liter V8, as it can tow up to 10,000 lbs.
Overview of the 2012 Toyota Tundra
Exterior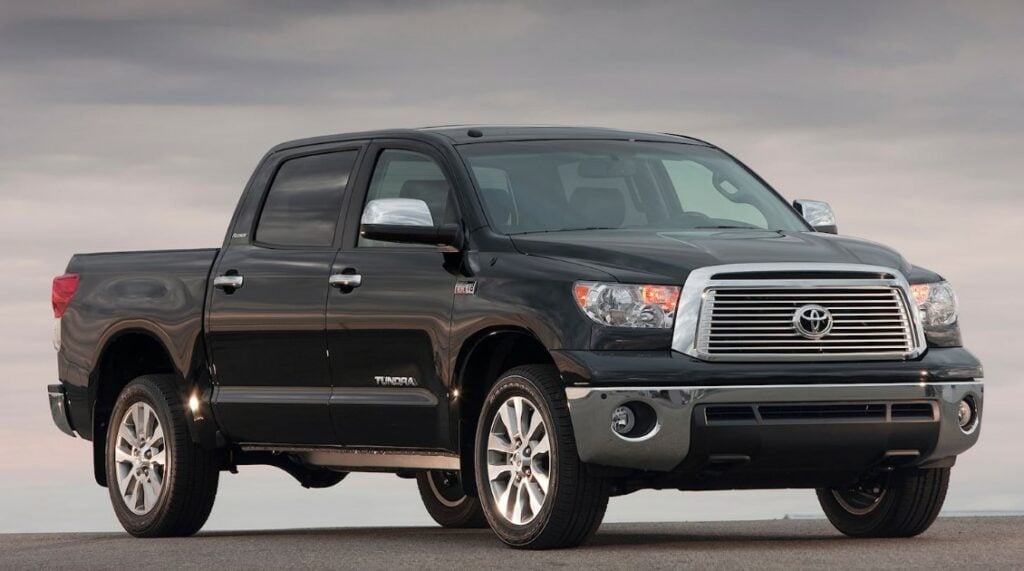 There's no doubt that the 2012 Toyota Tundra has a beefy look that towers over other vehicles on the road. Its bulging hood and huge doors were part of the second generation's facelift, showing how much the Tundra grew up since its launch in 2000.
Some reviewers claim that it has an angry demeanor, and I agree. Its domineering appearance is characterized by a large grille and front bumper, as well as its raised ride height. Incidentally, you can opt to install 20-inch wheels to make this already muscular truck feel more monstrous. If this feels overkill, the Tundra can still run on 17 or 18-inch wheels.
The 2012 Tundra came in three body types: Regular Cab, Double Cab, and CrewMax styles. Regular Cab models have two doors and the longest cargo bed of the three options (8 feet and 2 inches). Tundra's Double Cab models have four doors, but the two rear doors aren't standard full-sized ones; they're narrower secondary doors.
CrewMax models are people carriers with four full-sized doors and ample rooms for rear passengers. 
You can also get three cargo bed sizes in all models: standard bed, short bed, and long bed. The standard bed size is 6.5 feet, the short bed is 5.5 feet, and the long bed is 8 feet.
Both the Regular Cab and Double Cab models have standard and long-bed versions, but the CrewMax only comes with a short bed.
Interior
The Tundra's interior may not be as upscale as that of the Ford F150. Still, it's designed to be practical and comfortable. The seats in all models are well padded and deep enough to provide excellent thigh support. 
The front legroom is about 42.5 inches, more than what you get in a Ford F150 of the same year. However, headroom is slightly less than in an F-150; the Tundra offers 40.2 inches, just 0.8 inches less than its competitor. Still, this is a negligible difference. 
In the DoubleCab, rear passengers get 34.7 inches of leg room, which is 10 inches less than the space in a CrewMax model. But, don't get me wrong, passengers won't feel cramped in a Double Cab. It's just not as roomy as the CrewMax.
The back seat folds and slides to offer extra cargo space. The CrewMax offers a 40,20,40 split in the rear seat plus additional contouring for added comfort. 
You get ample storage space in the 2012 Toyota Tundra: a deep center console, various storage bins, and several cup holders. There are extra storage compartments underneath the back seat in both the Double Cab and CrewMax models.
MSRP Value & Current Value
The lowest-priced 2012 Toyota Tundra had a retail price of $25,155 at launch. This price would go up if you chose a long-bed version, a more powerful engine, four-wheel drive, and extras like parking assist, among others. The highest-specced Tundra cost upwards of $50,000.
According to CARFAX, you can get a Double Cab 2012 Tundra for at least $15,000, a CrewMax model for $18,000, and a Regular Cab for $12,000.
2012 Toyota Tundra Features and Specs
Engine Options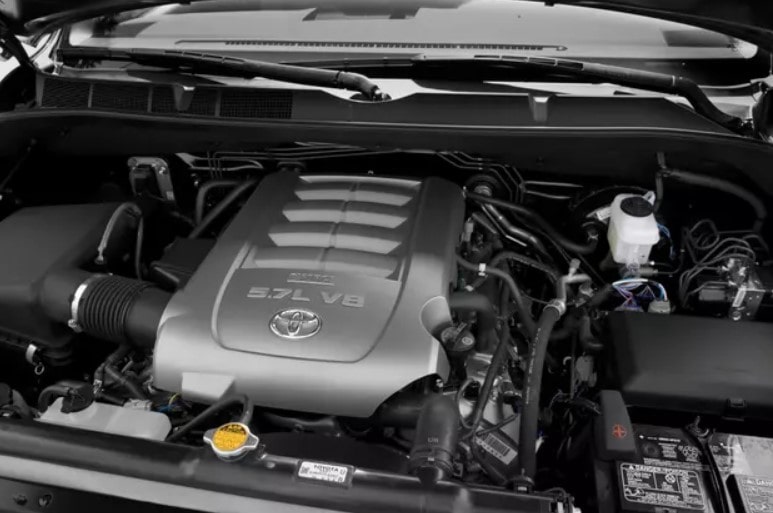 The 2012 Toyota Tundra has three engine options: a 4.0-liter V6, a 4.6-liter V8, and a beefy 5.7-liter V8. The base engine is rated at 270 horsepower with 278 lb-ft of torque. A step up to the 4.6L V8 gets you 310 horsepower with 327 lb-ft of torque. The muscular 5.7L can churn 381 horsepower, boasting a staggering 401 lb-ft of torque.
If you opt for the CrewMax model, you'll only get a V8 engine, but the Regular Cab and Double Cab models can have any of the three engine options. 
Transmission and Drivetrain
You get a 5-speed automatic transmission in the V6 engine and a 6-speed auto in both V8 engines. Both transmissions have smooth shifts that are hardly noticeable unless you're towing. Incidentally, there's a Tow mode that improves the performance of the transmission. 
All 2012 Toyota Tundra models have either two-wheel or four-wheel drive variants, with the 2-by-2s getting rear-wheel drive.
Safety Features
The 2012 Toyota Tundra is considered a safe vehicle, with standard electronic stability control, driver and passenger airbags, as well as overhead and knee airbags. 
According to IIHS (Insurance Institute for Highway Safety) tests, this truck offers 'good' protection in front and side impacts, with the 'good' rating being the highest one the scale.
The NHTSA (National Highway Traffic Safety Administration) gave this vehicle four stars out of five. 
Cargo and Towing Capacity
There are several configurations for the 2012 Toyota Tundra with different cargo and towing capacities. These capacities vary according to the engine, bed size, and drivetrain.
The lowest-specced Tundra, the standard bed 4×2 Regular Cab with a V6 engine, can tow up to 4900 lbs, and it has a maximum payload of 1620 lb. This payload increases to 1715 lb if you opt for the long bed model.
If you choose a 4.6L V8 model, you'll enjoy a maximum towing capacity of 8,600 lbs, and the 5.7L V8 models can tow up to 10,400 lbs.
The maximum payload you can get in a 2012 Tundra is 2090 lbs in the 5.7L Regular Cab model.
Fuel Economy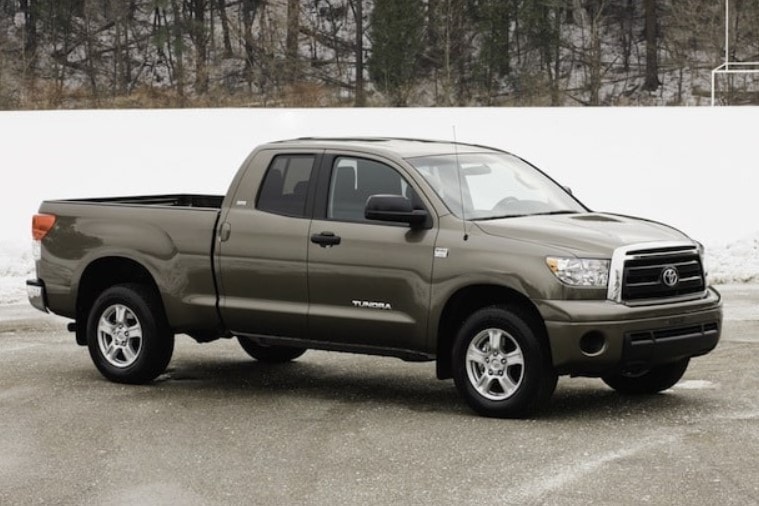 The table below breaks down the fuel consumption of the 2012 Toyota Tundra's different engines, according to estimates by fueleconomy.gov.
| | | | |
| --- | --- | --- | --- |
| Model | City (mpg) | Highway (mpg) | Combined (mpg) |
| 2WD 4L V6 | 16 | 20 | 18 |
| 2WD 4.6L V8 | 15 | 20 | 17 |
| 2WD 5.7L V8 | 14 | 18 | 15 |
| 4WD 4.6L V8 | 14 | 19 | 16 |
| 4WD 5.7L V8 | 13 | 17 | 15 |
The 4L V6 is the best option for work as it offers the greatest gas savings. However, you'll get better towing performance from the 5.7L V8, so consider this one if you have a trailer. 
2012 Toyota Tundra Common Problems
I did some research on the NHTSA website, carcomplaints.com, and RepairPal, and came up with a list of the most common complaints by owners of the 2012 Toyota Tundra. There are some minor problems that I haven't listed, but you can always check them out on one of the sites linked above. 
Air Induction Pump Failure
This is a common issue that 2012 Toyota Tundra owners complain about. In fact, there are over 100 complaints on RepairPal and dozens on CarComplaints. It starts with a flashing of the check engine light and then a loss of power. Often, code P0418 is brought up during diagnostics, confirming a problem in the air injector. 
Solving this may require replacing the air pump or the entire air injection system. Sadly, many users have reported spending upwards of $2000 to fix this problem.
Owners of the V8 Toyota Tundras have reported loud clicking sounds coming from the engine bay when accelerating or towing. This noise often suggests a leaking exhaust manifold due to the manifold warping and then cracking.
It's noted that the clicking noise is more pronounced when the engine is still cold but goes away after the engine has been running for a couple of minutes.
To fix the problem, you'll have to replace the exhaust manifold and the manifold gaskets.  
Premature Transmission Failure
There are reports on CarComplaints of the Tundra's transmission failing at low mileages, with some as low as under 1000 miles. Although this may not be as widespread as the air pump issue, it's still a worrying problem as the fix is an expensive process of rebuilding the transmission. 
A failure in the ignition coil leads to rough idling and running of the engine. This also causes the check engine light to flash. In this case, you'll need to replace the ignition coil as well as the spark plugs.
These are found near the catalytic converter underneath the truck. Whenever the oxygen sensors fail, you'll see the check engine light turn on and might also notice a decrease in the vehicle's performance. 
The solution to this is to replace the faulty oxygen sensors.
2012 Toyota Tundra Recalls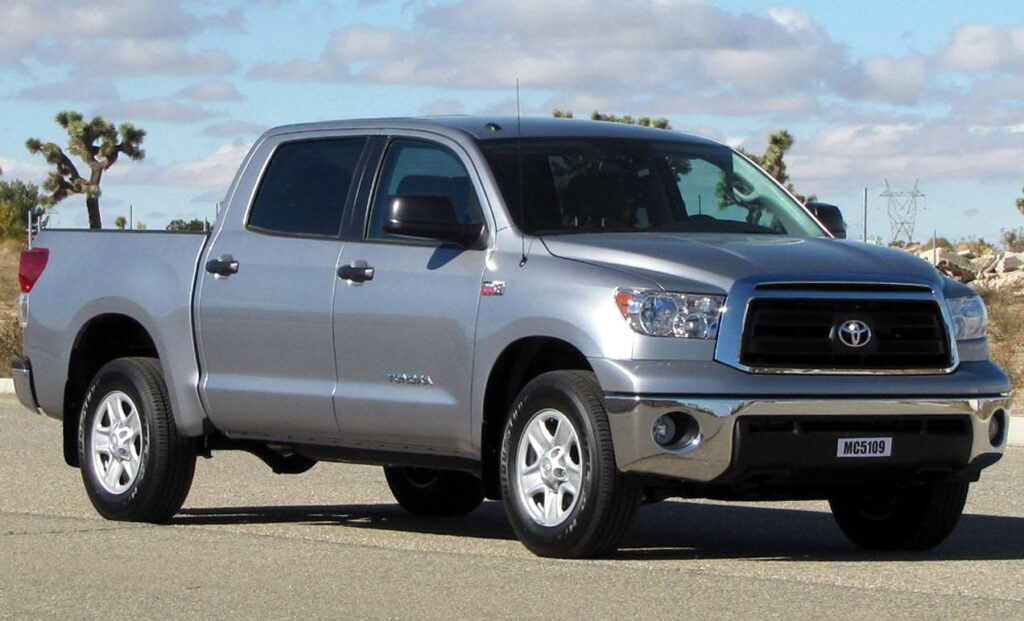 According to the NHTSA website, there have been four recalls on the 2012 Toyota Tundra. The table below lists these as well as the interventions made to solve the issues. Please note that there were two separate recalls to repair a power steering leak issue, which I've bundled together.
| | | |
| --- | --- | --- |
| Recall Date | Problem | Solution |
| January 2013 | Some second-generation Tundra models were reported to have uncalibrated front passenger seat occupant sensors, causing the passenger side airbags to fail to deploy in the event of a crash. | The affected vehicles were sent to dealers, who tested and recalibrated the sensors.  |
| April 2013 | Some 2012 Toyota Tundra models were among several Toyotas that were found to have inaccurate load capacity labels. | Accurate labels were sent to owners along with installation instructions. |
| November 2021 & December 2021 | Certain models of the Tundra had a manufacturing defect in the power steering gear assembly, leading to fluid leaks. | Vehicles with this issue had the entire power steering gear replaced. |
2012 Toyota Tundra Accessories
You can buy Toyota Tundra accessories on sites like Toyota's online parts center, Carid, 4wheelparts.com, and Extreme Terrain, among others. Below is a look at some accessories you might want to install in your 2012 Tundra.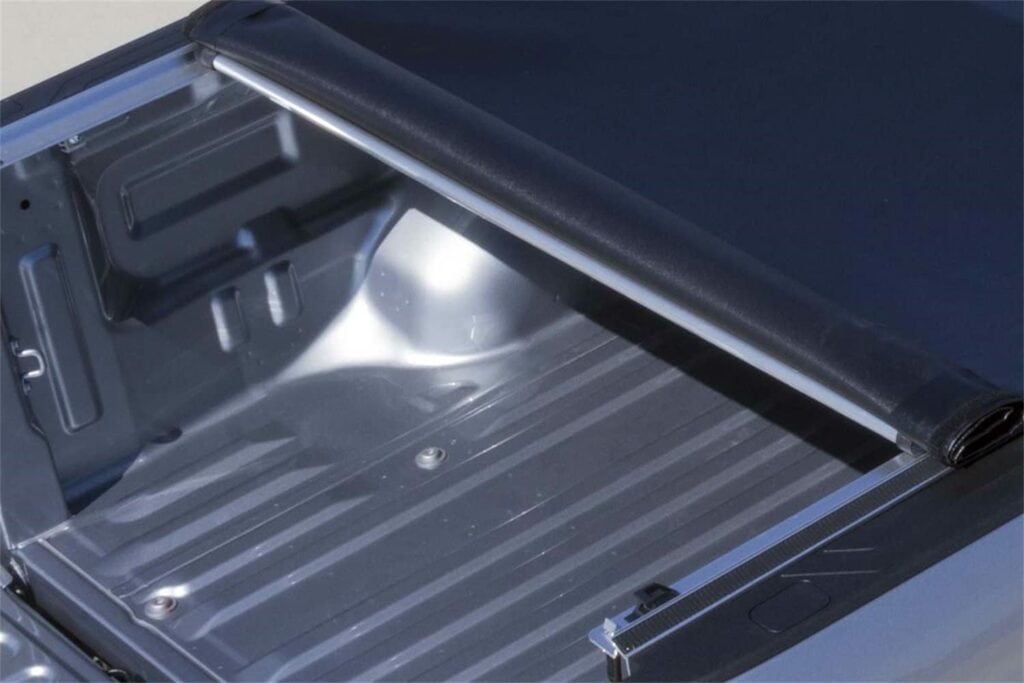 Tonneau covers protect cargo in the truck's bed. These can either be hard or soft, with the former costing more than the latter. You'll also have the option of roll-up, folding, retractable, or hinged tonneau covers. 
Your cover should ultimately depend on your budget and what you often carry on your truck. Some of the best tonneau covers are made by brands like Tyger, Truxedo, and Undercover. You can spend as little as $300 to as much as $2000 on a tonneau cover.
Seat Covers
To choose the best seat covers, consider things like the fabric you prefer. Of course, this depends on your budget. Leather covers are the most expensive – from $500 – but these look the best, in my opinion. If you're strapped for cash, you can choose leatherette, microsuede, or neoprene.
For the best fit, consider custom seat covers for your 2012 Toyota Tundra. However, these are more costly than universal covers, but they give a factory-like look. Covercraft has a good selection of seat covers for the Tundra.
Dash Kits/Covers
Reviewers have complained of the 2012 Tundra's rather plain interior, but you don't have to live with it if you prefer a bit more style. Dash kits are worth considering if you want to jazz up your Tundra's interior.
These come in various looks like wood, camo, carbon fiber, and aluminum. They're also designed to precisely fit the truck's dash and are not hard to install. If you're looking for a dash kit, I recommend RVinyl's products.
Roof Racks
If you're looking for extra cargo space, especially in the short-bed Tundras, a roof rack offers the most practical solution. Sadly, Tundras don't have factory roof rack holes, so owners have to drill these holes to install a roof rack. Still, this can be done with the help of appropriate drill bits.
There are several companies that make roof racks for the 2012 Tundra, like KC Light, Victory 4×4, and Cali Raised.
Also, if you're curious about this truck's replacement parts, check out our Toyota Tundra parts guide.
2012 Toyota Tundra Competitors
2012 Ford F150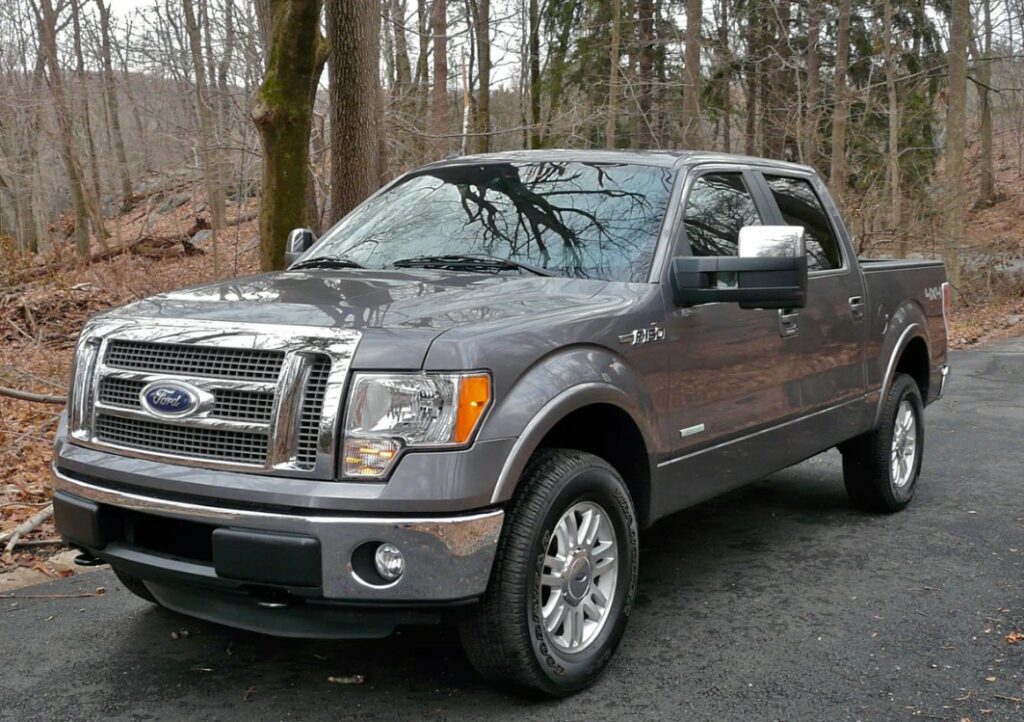 By 2012, the Ford F150 was well into its seventh generation, making it a more seasoned truck than the Toyota Tundra. By this time, this truck had cemented its place as the bestselling pickup truck in the US, a position that its competitors struggled, and still struggle, to attain.
The 2012 F150 had certainly grown up significantly compared to the previous generations. This model year had numerous configurations with four engine options. These were a 3.7-liter V6, a twin-turbo 3.5-liter V6, a 5-liter V8, and a 6.2-liter V8. Ford knows how to build their engines, giving its V6s more power than comparable V6 engines in its competitors like the Tundra of Chevrolet. 
Mated to all these engines were 6-speed transmissions that did a great job of pairing with the powerful motors. 
This truck also has three body styles: Regular Cab, Super Cab, and SuperCrew Cab. Each one offered the option of either a 5.5-foot, a 6.5-foot, or an 8-foot bed.  
The F150 is a more rugged and powerful alternative to the Toyota Tundra, with a larger fan base. Used 2012 Ford F-150s start at around $9000 for a low-specced one, but you can pay as much as $20,000 and above for the highest trim levels with the 6.2-liter V8.
2012 Chevrolet Silverado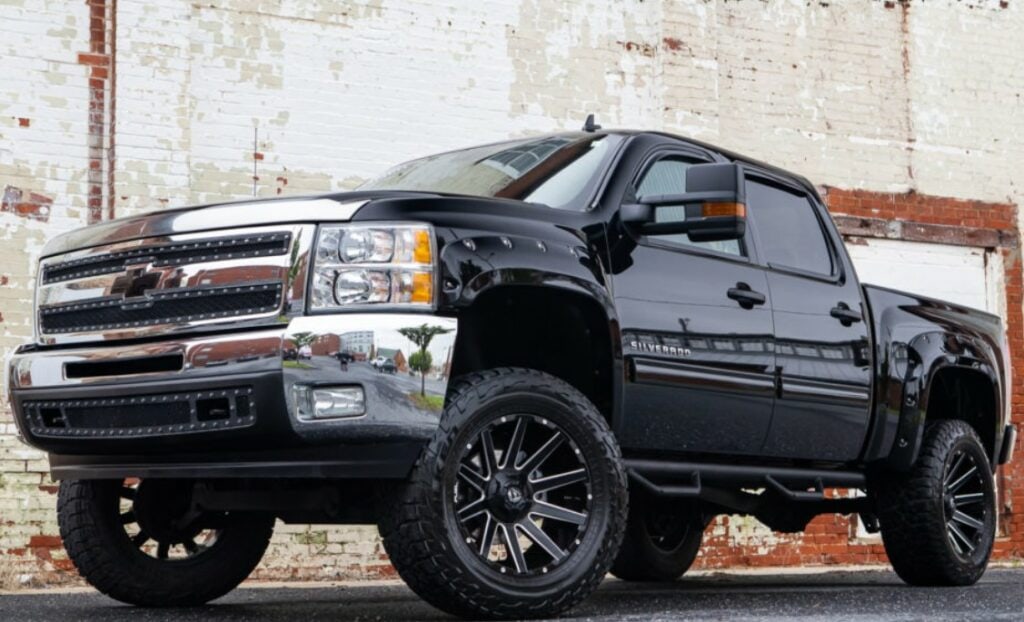 The Silverado started its life on the American roads in 1999 to challenge the dominance of the F150. Fast forward 13 years, and the 2012 Chevrolet Silverado was launched as part of the second generation with a different design from the previous. Of course, by this time, this truck had already run for five years into the second gen, so the 2012 model was a bit more refined than the previous years.
It retained what was good about its older siblings: excellent handling and a smooth ride. Still, this time came with improved electronic stability control and hill-start assist. Fans of the Chevy also celebrated the standard cruise control, which was optional in previous years.
Trim levels of the 2012 Silverado are WT, LS, LT, and LTZ. They all offered either a Regular Cab, Extended Cab, or Crew Cab model, just like the 2012 Tundra. Still, similar to the Tundra, the Silverado had three-bed sizes: 5.75 feet, 6 feet, and 8 feet, with the long-bed version only available in the Regular and Extended Cabs – the Crew Cab only got the short bed.
Following the pickup truck trend, the 2012 Silverado had four engine options: a 4.3-liter V6, a 4.8-liter V8, a 5.3-liter V8, and a 6.2-liter V8. The two smaller engines got a 4-speed automatic transmission, and their muscular V8 counterparts were given 6-speed auto transmissions.
2012 RAM 1500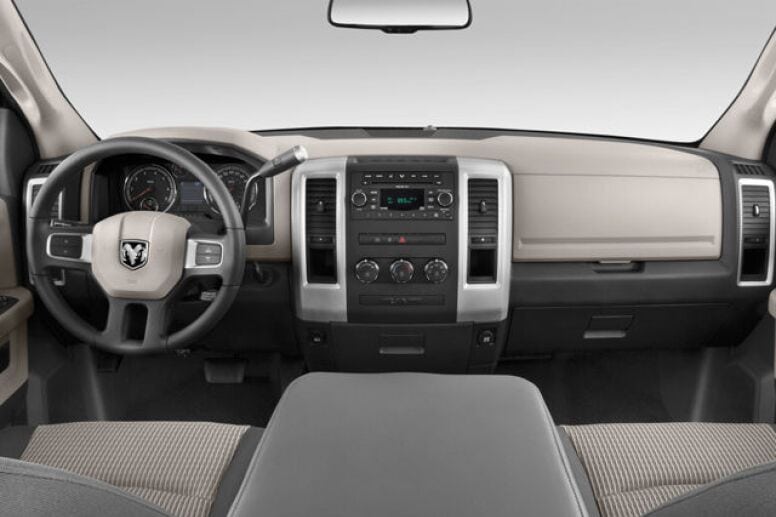 By 2012, the RAM 1500 pickup truck was in its fourth generation, which started in 2009. By this time, the truck was named just the RAM 1500, dropping the Dodge badge at the start of the new generation. But that's not all that changed in the truck; the company introduced a new V6 engine option known as the Pentastar and gave the RAM a larger grille and bumpers. All these changes made this vehicle more muscular than the previous generations.
The Pentastar V6 engine had a capacity of 3.6 liters and could churn out a staggering 395 horsepower. This was the preferred engine for most buyers as it also had an impressive fuel consumption of 18 mpg in the city and 20 mpg on the highway.
There's a second engine, however, for those still looking for more power. Its 5.7-liter V8 engine was a mighty beast that was perfect for towing, complemented by the efficient eight-speed automatic transmission. This engine can pull as much as 11,500 lbs, 1,500 more than what the Tundra's most powerful engine can tow.
It seems customary that a full-sized pickup truck will have three body styles, and the 2012 RAM 1500 maintained this trend. Buyers could choose between a Regular Cab, Quad Cab, and Crew Cab. 
Frequently Asked Questions
Question: Is the 2012 Toyota Tundra a good year?
Answer: Yes, the 2012 Toyota Tundra is a good year, with few reported complaints on the NHTSA website and carcomplaints.com. It also has a four-star safety rating from the NHTSA.
Question: How long will a 2012 Toyota Tundra last?
Answer: According to various reports, the 2012 Toyota Tundra can last for 350,000 miles if well maintained.
Question: What's cheaper, Tundra or Tacoma?
Answer: The Toyota Tacoma is cheaper than the Tundra because it's smaller and has less powerful engines.
Bottom Line
The 2012 Toyota Tundra is a reliable and powerful vehicle with decent fuel economy for a full-sized pickup truck. If you're considering one, find out whether it's had a transmission rebuild or replacement. Some models experienced transmission issues, especially those taken through extreme offroading.
Also, instead of getting the base 4.0-liter engine, consider going a step higher and choosing the 4.6-liter V8. Although it's more powerful than the V6, its fuel consumption isn't that much more than the smaller engine. For towing, the 5.7-liter V8 models are the clear winners.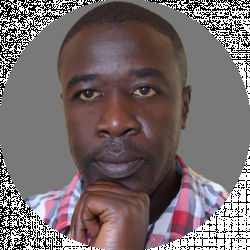 Latest posts by Barry Juma
(see all)