The Jeep Compass has grown up to be a loved crossover SUV, capable of tackling both off-road and tarmac situations. However, back in 2006 when it launched, this vehicle wasn't as refined as it is today. If you own an older-model Compass, chances are that you've noticed its sluggish transmission, floppy suspension, and tepid on-road performance. But, thankfully, there are aftermarket accessories designed to remedy these Jeep Compass shortcomings.
Whether you want to improve your vehicle's performance or look, this Jeep Compass accessories guide will help you find the right accessories for your needs. It contains information on handy interior and exterior accessories as well as recommended products that you can buy today. Keep reading to find out all you need to know.
Bottom Line Up Front: The right accessories for your Jeep Compass should improve the vehicle's performance, looks, and ease your driving experience. Interior accessories to consider include floor mats/liners, dash trim kits, seat covers, and sunshades. For the exterior, consider accessories like mud flaps, off-road bumpers, door visors, and roof racks. 
Keep reading to find out more about these accessories and get to know which products we recommend.
Do You Need Accessories?
The newer Jeep Compass models (from about 2017) are capable off-road vehicles that were lauded for their improvement over the older models. They're equipped with more bells and whistles – like an infotainment system with Apple CarPlay and Android Auto – and the interior is classier. If you own one of the newer models, chances are that the vehicle is already equipped with everything you need, unless you have a specific requirement. 
Older models may lack as many features, making them the best candidates for aftermarket accessories. However, it all depends on how you use your vehicle – we've taken a look at the things to consider later in this article. 
Jeep Compass Accessories
How We Selected Them
There are so many accessories that you can (and should) consider for your Jeep Compass, that it's impossible to add all of them in a single article. To come up with this list of recommended accessories, I considered accessories that do the following;
Offer protection to the car's interior or exterior.

Improve the look of the vehicle.

Boost the driving experience. 

Come in handy in emergency situations.
Later in the article, there's a list of recommended brands for each accessory listed below. Keep reading to check them out.
Interior Accessories
Floor Mats and Liners
Floor mats are designed to cover a section of your car's floor, but they don't entirely protect the carpet from spills as crumbs and liquids can easily go over the mat's edge. 
Liners are the perfect solution if you're looking for all-around protection of your Jeep's carpet. They are usually custom-made for each vehicle, so the fit is perfect. Liners' edges are raised to enable them to hold spills, preventing them from soiling the car's carpet.
For cost-effective protection from wear to your Jeep's carpet, floor mats are the right choice. However, if you want total protection, consider spending more on floor liners.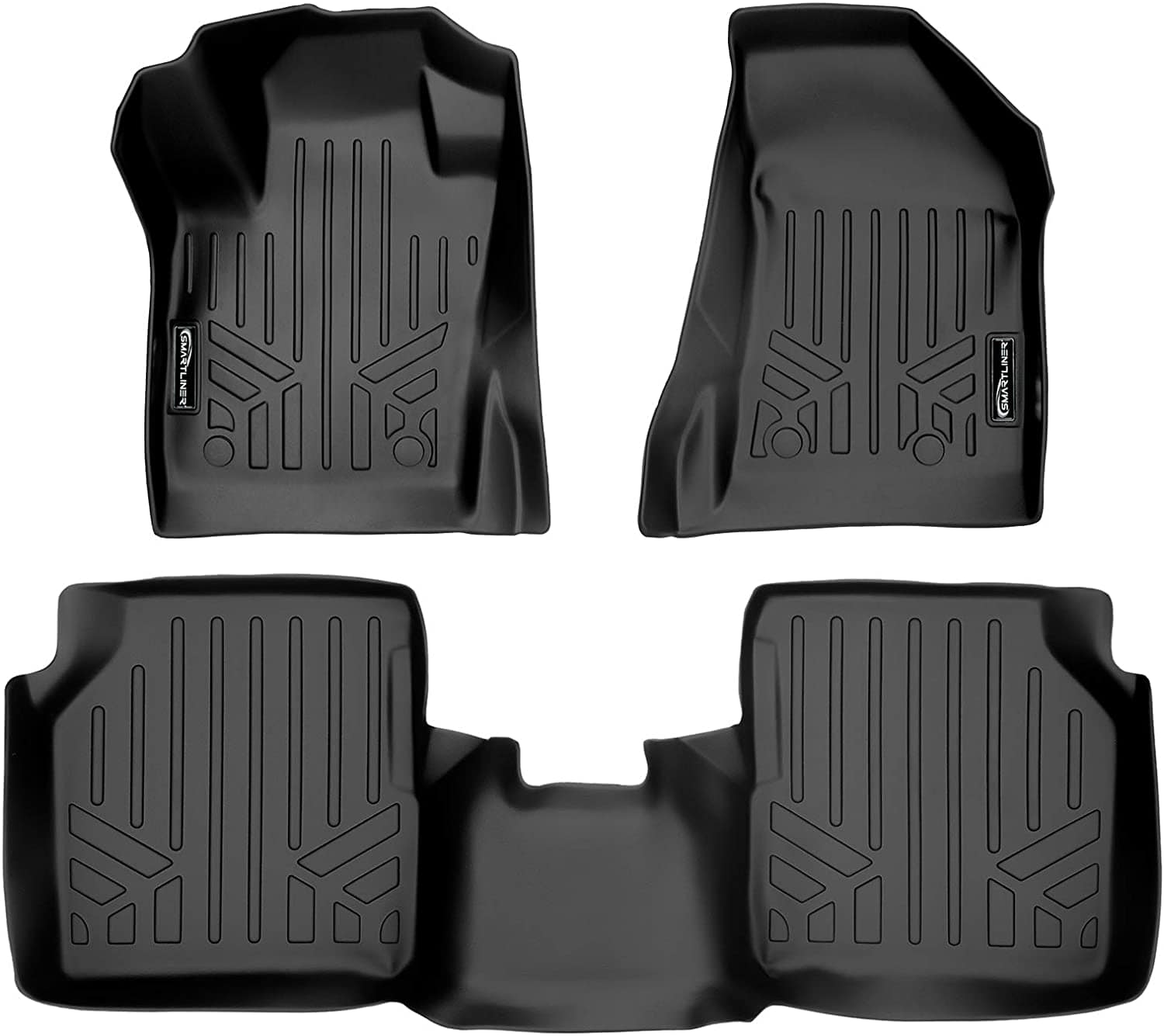 Smartliner is a renowned maker of floor mats and liners and their liner set is a great choice for your Jeep Compass.
This brand makes custom-fit liners that are praised for their perfect fit in whatever model for which they're made. Installing the liners is also easy; it only takes a few minutes.
Smartliner offers a lifetime warranty on their liners, a testament to the durability of these products. Plus, they're stain-resistant and easy to clean using your regular home cleaning products.
Pros 
They fit the vehicle perfectly.

Smartliner floor liners are made of durable polyethylene that's resistant to wear.

The liners' edges are raised to trap spills.

These floor liners look fancy and they'll improve the look of your Jeep Compass.

The company offers a lifetime warranty.

The liners are easy to clean – simply wipe them with soap and water.

They're affordable
Cons
There aren't different color options, just black.
Dash Kits & Covers
The earlier-year Jeep Compass models were accused of having cheap-looking interiors. This improved slightly from 2011, but reviewers largely agreed that this vehicle's interior is uninspiring at worst and bland at best. The solution is to get accessories that give the vehicle a bit more class and style, and these include dash kits and covers. 
Dash kits offer variety in color and design, allowing you to customize the look of your Jeep Compass interior. The kits are also easy to install, allowing you to quickly switch them up whenever you want.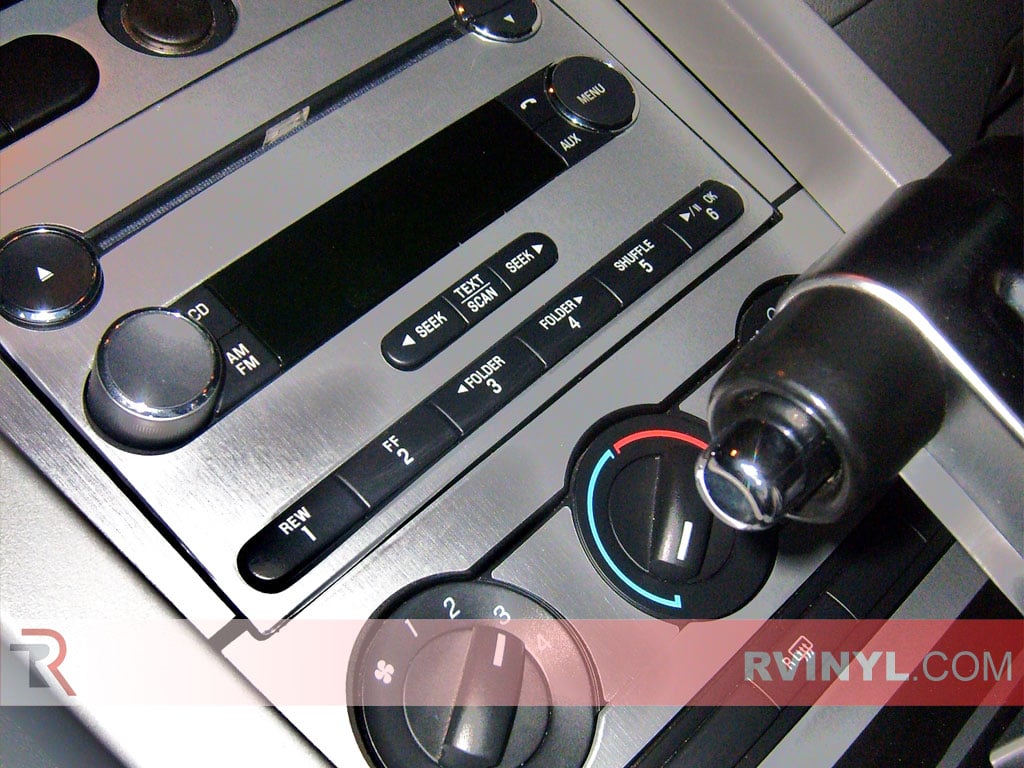 The Rdash kits are easy to install; the company assures us that it takes about an hour or less to transform your vehicle's interior. This dash kit is available for Jeep Compass models from 2009, and you can get about 50 designs ranging from different carbon fiber colors to various camo designs.
However, for a stylish look, I would recommend one of the carbon fiber options, but that's just my preference. Costing about $80, this is an inexpensive way of improving the interior of your Jeep Compass.
Pros
The Rdash kits are easy to install.

These kits are inexpensive.

There are lots of colors and designs from which to choose.

Rvinyl offers detailed installation instructions.

These kits are custom cut for each vehicle so they fit perfectly.
Cons
The Rdash kit isn't as durable as plastic trim kits.
Jump Starter
When choosing a jump starter for your Jeep Compass, you should consider your car battery's voltage. Typically, a Compass will run on a 12-volt battery, so regular jumpstarters will work fine.
Since the Jeep Compass has a four-cylinder engine, a 150 to 250 amp jump starter would be perfect, unless you're trying to jump-start a Compass with a completely flat battery.
In this case, you might need a slightly more powerful jump starter, say one with over 250 amps. 
Therefore, if choosing a jump starter, consider one that is slightly more powerful to give you more flexibility of use. 
The best jump starters are those with lithium-ion batteries as they're lighter and more powerful than their lead-acid counterparts.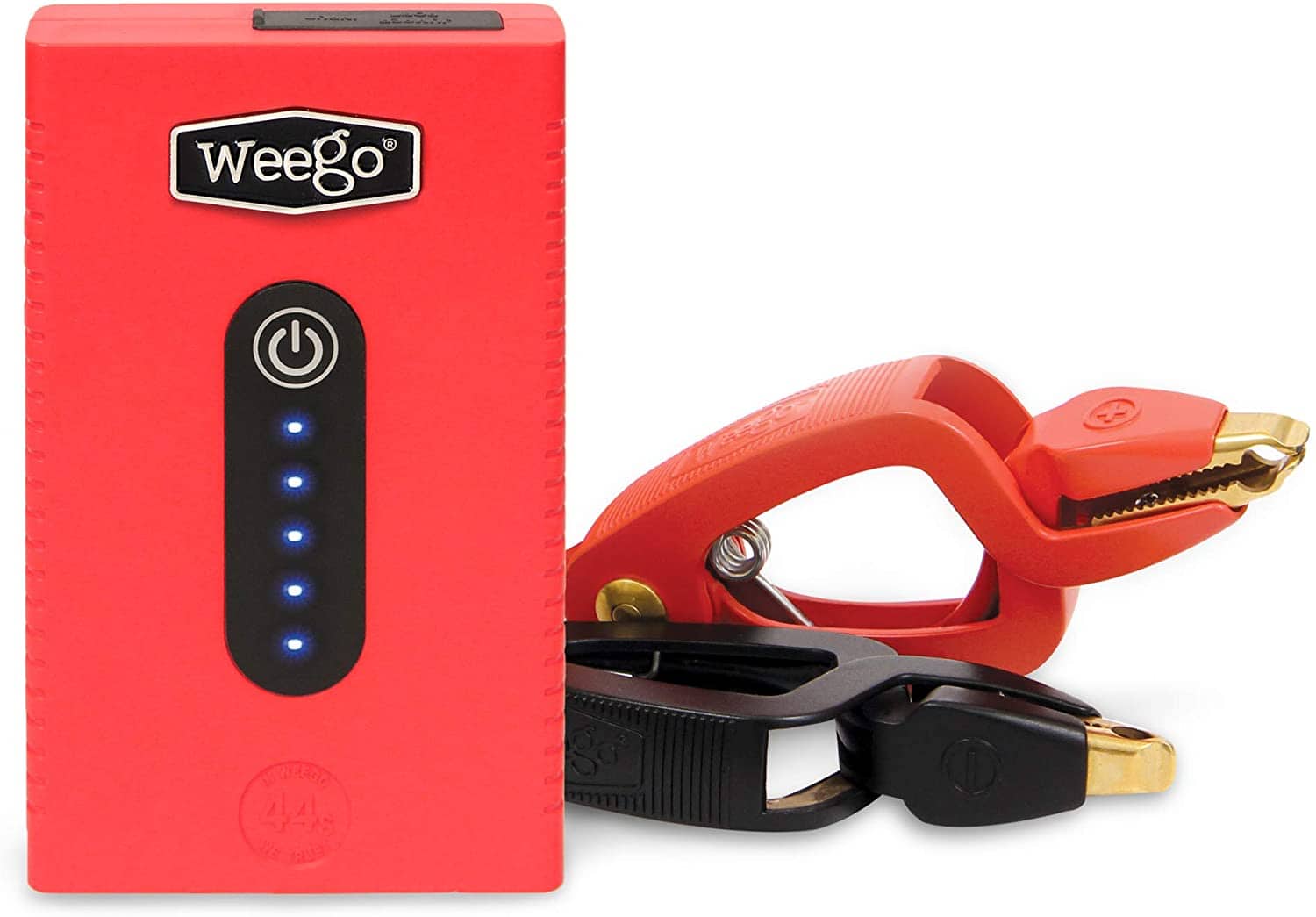 I picked this jump starter, first, because it's reasonably priced, costing just under $70 at the time of writing. Second, it's a small and lightweight product that's packed with enough power to jump-start any gas car with up to a 7-liter engine, or a diesel vehicle with an engine of up to 3.5 liters. Plus, you can use the 44S to jump-start a vehicle with a completely flat battery. 
The compact size of the Weego 44S means that you can easily store it in the glove compartment of your Jeep Compass – its only measures 5.6 inches by 3.4 inches by 1 inch and weighs less than one pound. 
Pros
The Weego 44s is compact and lightweight.

It is powerful enough to jumpstart all Jeep Compass models, even when the car battery is completely drained.

Its battery can hold a charge can remain charged for up to a year.

Recharging the Weego 44s to full only takes two and a half hours.

It's inexpensive.
Cons
There's no built-in flashlight.

You can't use it to recharge smaller devices like your smartphone.
Seat Covers
You can buy either universal or custom seat covers for your Jeep Compass. The custom covers are the best since they are a perfect fit for your vehicle. However, they cost more than universal ones. Still, I would recommend the custom covers as a long-term purchase since you'll get more value for your money. 
There are different materials for you to consider, like polyester, canvas, nylon, and leather, among others. Leather is considered the most durable and, if you ask me, it gives your vehicle the best look.
Most brands sell black and tan leather seat covers, but you're likely to find some companies that have other colors. The downside of leather seat covers is that they're costly. If you're on a tight budget and you still want the style of leather, consider faux leather covers.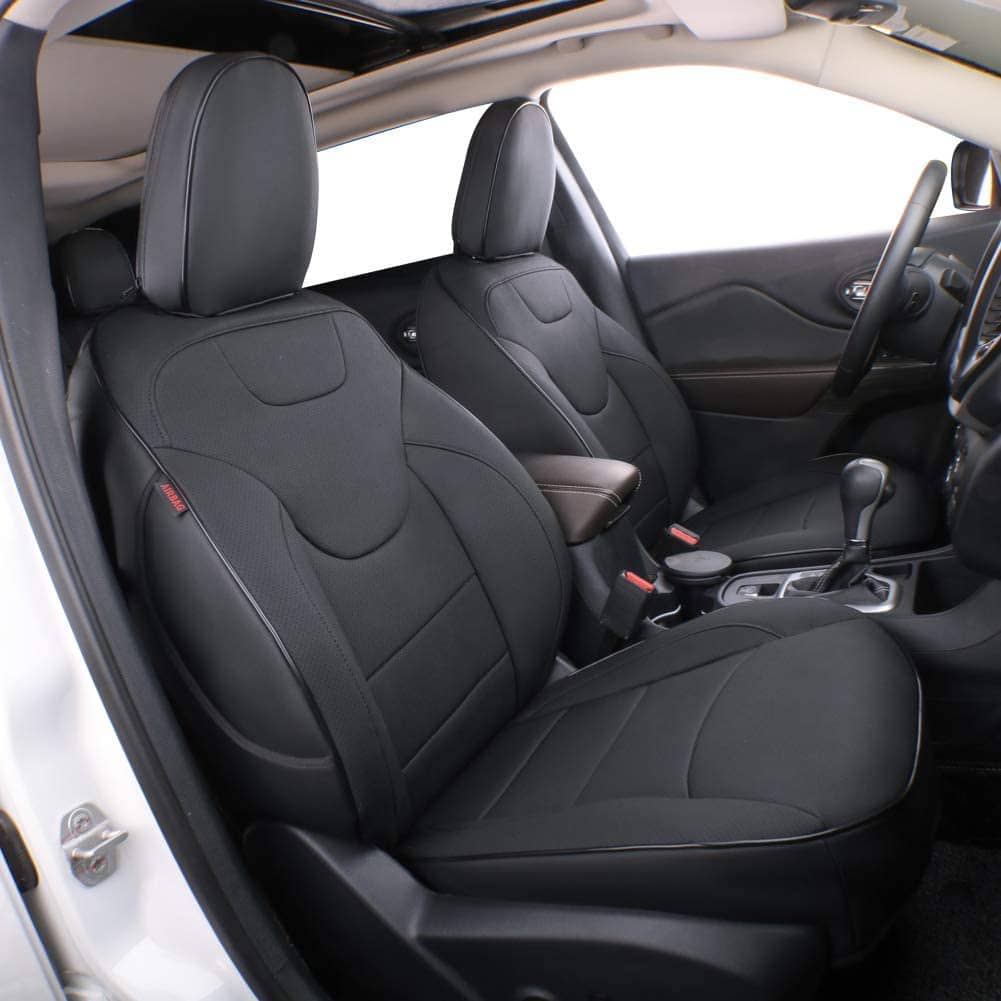 EKR's seat covers are custom designed to perfectly fit in any vehicle. In fact, when properly installed, they look like OEM seats.
However, installing these seats isn't very easy since they have a tight fit for an original look. You can still do it yourself, but prepare to spend some time getting this done. 
There are a number of color options, and you can also choose between neoprene and faux leather.
Both these materials are durable and water-resistant meaning the seat covers should last a long time if well cared for. 
Pros
The seat covers are stylish.

They fit perfectly and look like factory seats.

EKR's seat covers are highly durable and water-resistant.

There are a variety of color options.

You can get EKR covers for the front and rear seats as well as the headrests.

The company offers a two-year limited warranty.
Cons
Installation takes a bit of time to achieve the perfect fit.
Sunshades
UV rays degrade a car's interior over time, so if you live in a generally sunny area, consider getting a sunshade. If you don't get a lot of sunshine where you live, you might still need a sunshade for the summer months. 
Consider sunshades with UV resistance as those without will start to get sun damage over time. Also, consider the window area the shade will cover – shades that cover the entire window offer almost 100% UV protection.
The sunshade should also be easy to install, it shouldn't take you more than a few minutes to put up.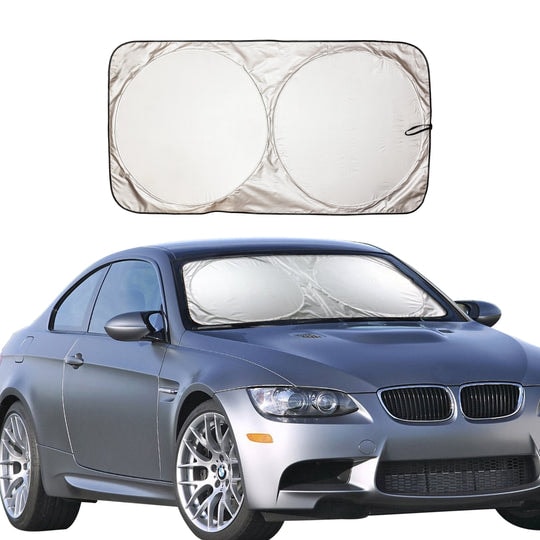 For about $15, you can protect your vehicle's interior from damage caused by exposure to the sun's UV rays. The EcoNour sunshade has s different design from standard accordion-style sunshades; it is rectangular-shaped with two circular sections.
Within these circles, there are high-density polyester linings that block the sun's UV rays, keeping the vehicle's interior cool when parked in the sun.
There are seven sizes available, so you'll find the perfect one for your Jeep Compass.
Pros
EcoNour's windshield sunshade is affordable.

It's easy to install.

It's also easy to remove and can be folded to a compact size for easy storage.

There are various sizes for different vehicles.
Cons
It's thin and not as durable as other sunshade brands.
Exterior Accessories
Mud Flaps
The Jeep Compass is a crossover SUV with a bit of Jeep's iconic offroad pedigree. This means that it's likely to come up against rough terrain from time to time if you choose to test its capability. Mud flaps protect your vehicle's rear bumper and rocker panel from getting pelted by pebbles and stone chips that are slung by the rear tires. They also protect those driving behind you from being on the receiving end of these projectiles. 
There are both universal and custom-fit mud flaps; custom flaps are specific to the car model and year so a 2012 Jeep Compass may not use mud flaps from a 2011 model.
Universal mud flaps are a cost-effective option, but they take longer to install since you'll have to customize them to fit your Compass.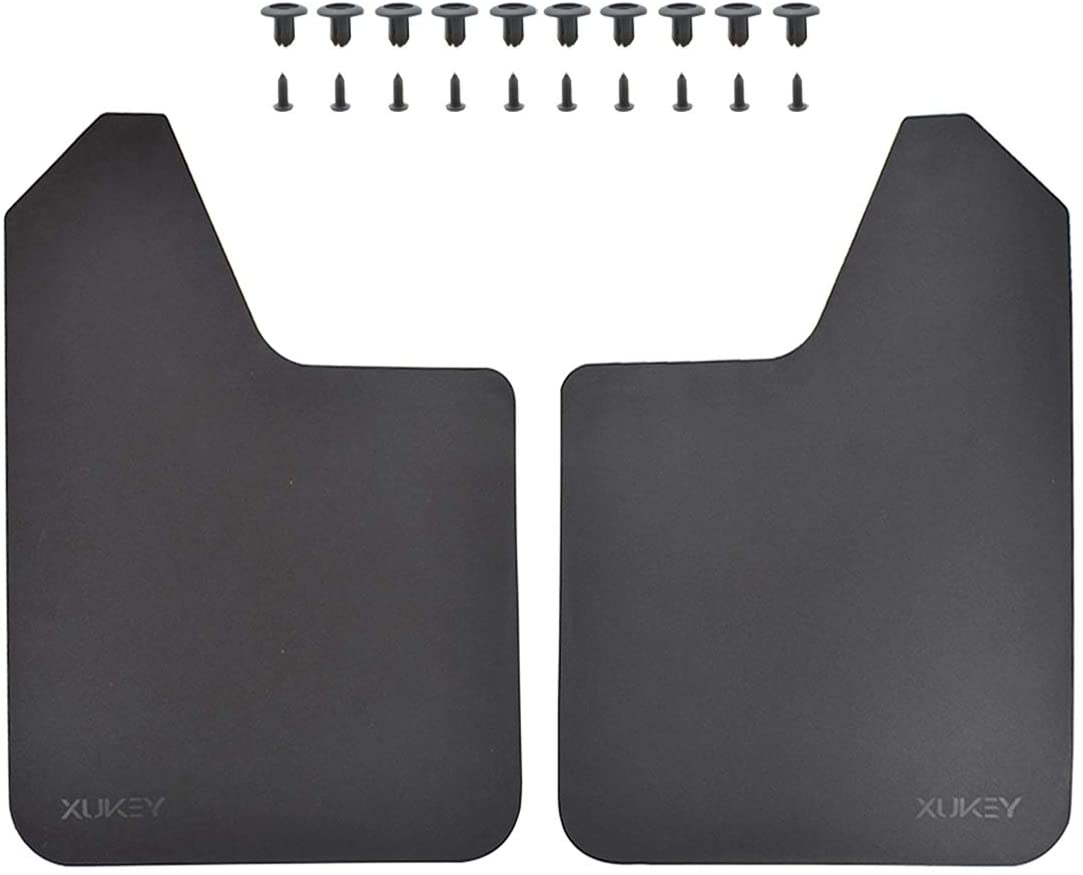 These mudflaps from Xukey are affordable options for your Jeep Compass, costing slightly over $15. At this price, you get a set of two splash guards that are designed to fit any vehicle that does light offroading, so they're perfect for the Compass.
Their durability is another reason you should consider them, with anti-freeze, waterproof and wear-resistant qualities, as Xukey assures us. The company also states that the flaps won't fade even after sustained exposure to harsh weather conditions.
Installation may take a bit of time – you'll need to customize its size to your vehicle and they may require some drilling for a secure fit. If you enjoy DIY projects, then this shouldn't be an issue.  
Pros
The Xukey universal mudflaps are inexpensive.

They're wear-resistant and have anti-freeze as well as waterproof qualities.

You can customize them to the size you prefer.

They are easy to clean.

You get three design options: black, carbon fiber, and red.
Cons
Installation may require some drilling of the flaps or wheel well.

They aren't ideal for heavy offroading.
Offroad Bumpers
There are different types of offroad bumpers for offroad vehicles ranging from pre-fabricated to modular. If you intend to take your Jeep Compass to rough terrain, then an offroad bumper will not only provide protection to the vehicle, it'll also improve the angle of approach and departure. These accessories also offer a secure place to mount a winch or to attach recovery straps. 
Granted, the Jeep Compass isn't an extreme offroader, however, a simple tube or Prerunner bumper would provide a strong place for mounting lights or a sturdy recovery point.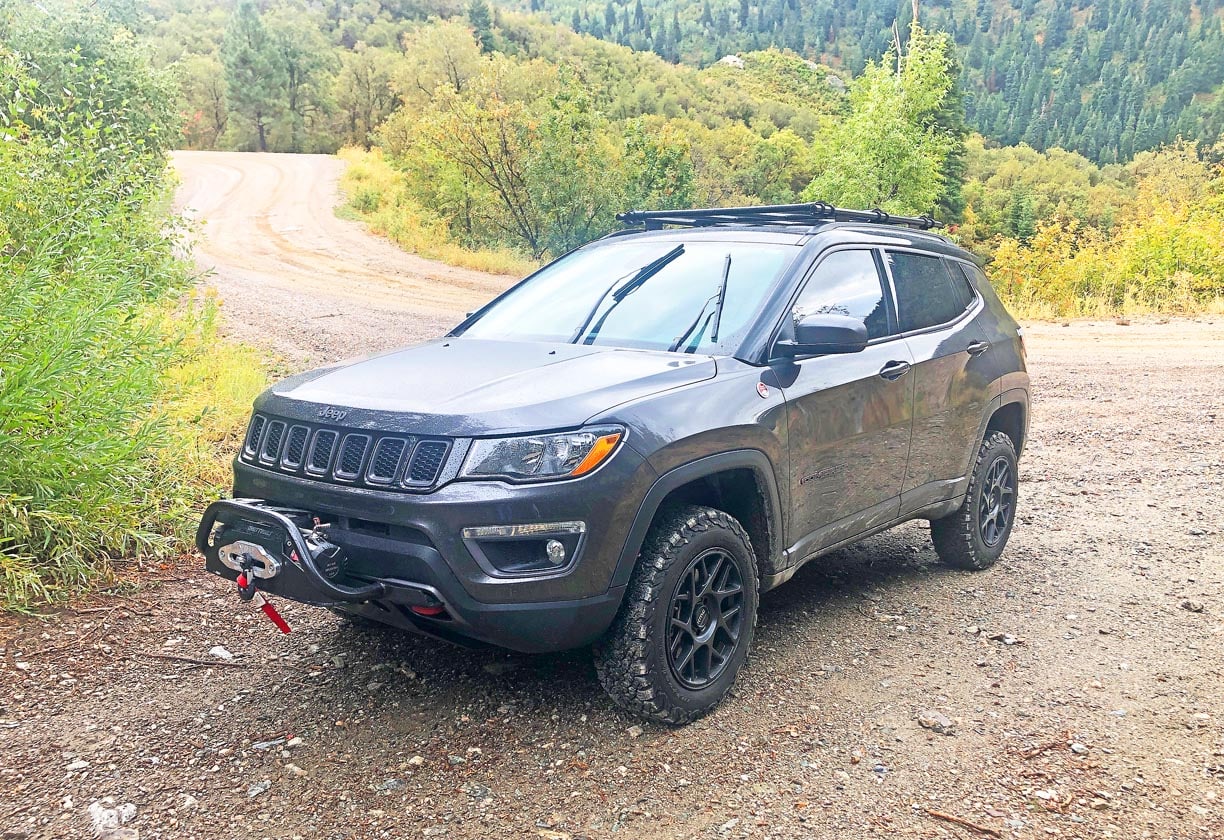 Rocky Road offers one of the few aftermarket bumper kits for the Jeep Compass, and their bumpers are an excellent accessory for your vehicle. You can get a kit with a winch attachment or one without.
The non-winch kit is unobtrusive, preserving the stylish look of the second-generation Jeep compass. Sadly, Rocky Road only has bumper kits for the second-gen models.
You can also install lights on these kits, as they have mounting tabs. There's also the option of getting the kit with a skid plate for extra off-road protection.
Rocky Road's bumper kits have a heavy-duty steel frame and they're treated with a powder-coat application that makes them resistant to wear.
Pros
These kits are unobtrusive yet they still give your vehicle a rugged look.

You can mount accessories like lights or a winch.

The kit can be installed at home if you're a DIYer. 
Cons
It's not compatible with all Jeep Compass models.
Roof Rack/Crossbars
At some point, you may need to transport bulky items like bikes, skis, surfboards, or even tents and a roof rack may come in handy. Roof racks come in different materials, but the best ones for your Jeep Compass are those made of aluminum – they're light and durable.
Also, consider a roof rack that's modular so that you're able to customize it for whatever you're carrying. The rack should also be easy to mount and dismount.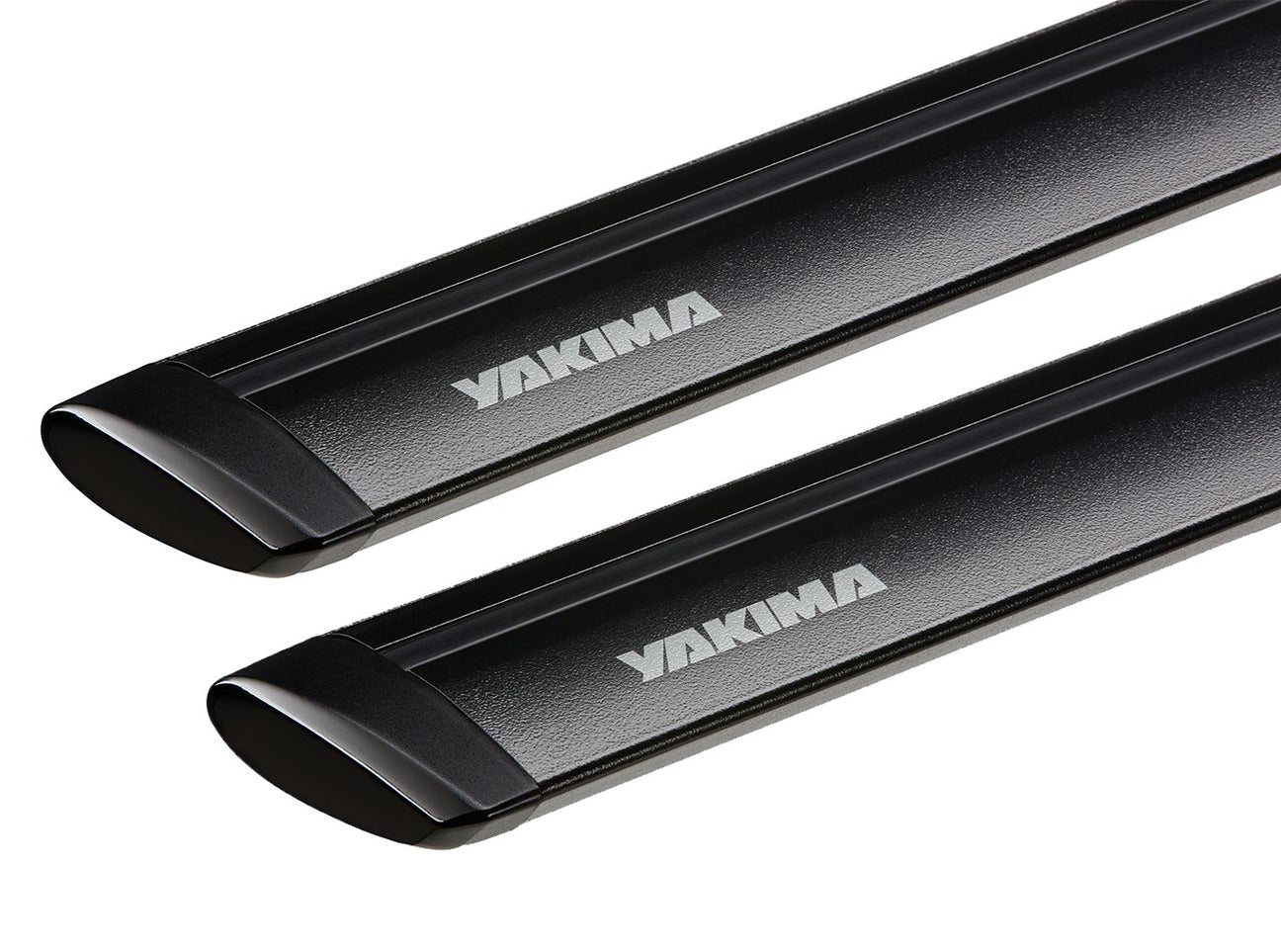 Yakima's JetStream crossbars are durable accessories that are designed to be aerodynamic, thus minimizing the hit your Jeep might take in fuel economy. They're made of aluminum, so these crossbars are lightweight yet durable to handle heavy loads. In fact, they can handle a load of up to 165 pounds (75 kilograms), but this also depends on the vehicle's carrying capacity.
Installing them is simple, you only need to mount them on the Jeep's gutters with the help of towers. Once installed, you'll have the freedom to secure your gear with specialty mounts that are sold separately.
There are also three sizes available: 50 inches, 60 inches, and 70 inches.
As an assurance of their quality, Yakima offers a limited lifetime warranty. 
Pros
These crossbars are lightweight and durable.

They're easy to install by one person.

Their aerodynamic quality ensures that the vehicle's fuel consumption isn't affected.
Cons
You might need to buy separate towers in order to install them on vehicles without roof rails or gutters.

They're costly.
Door Visors
Door visors are polarizing accessories in the car-enthusiast community – some say that they diminish a car's looks. However, they serve a couple of functions: they allow you to crack the window when it's raining, you can leave the window slightly open when the car is parked in the sun to keep the interior from getting too hot, and they also provide some shade from the sun.
Visors are easy to install with some simply taped onto the door.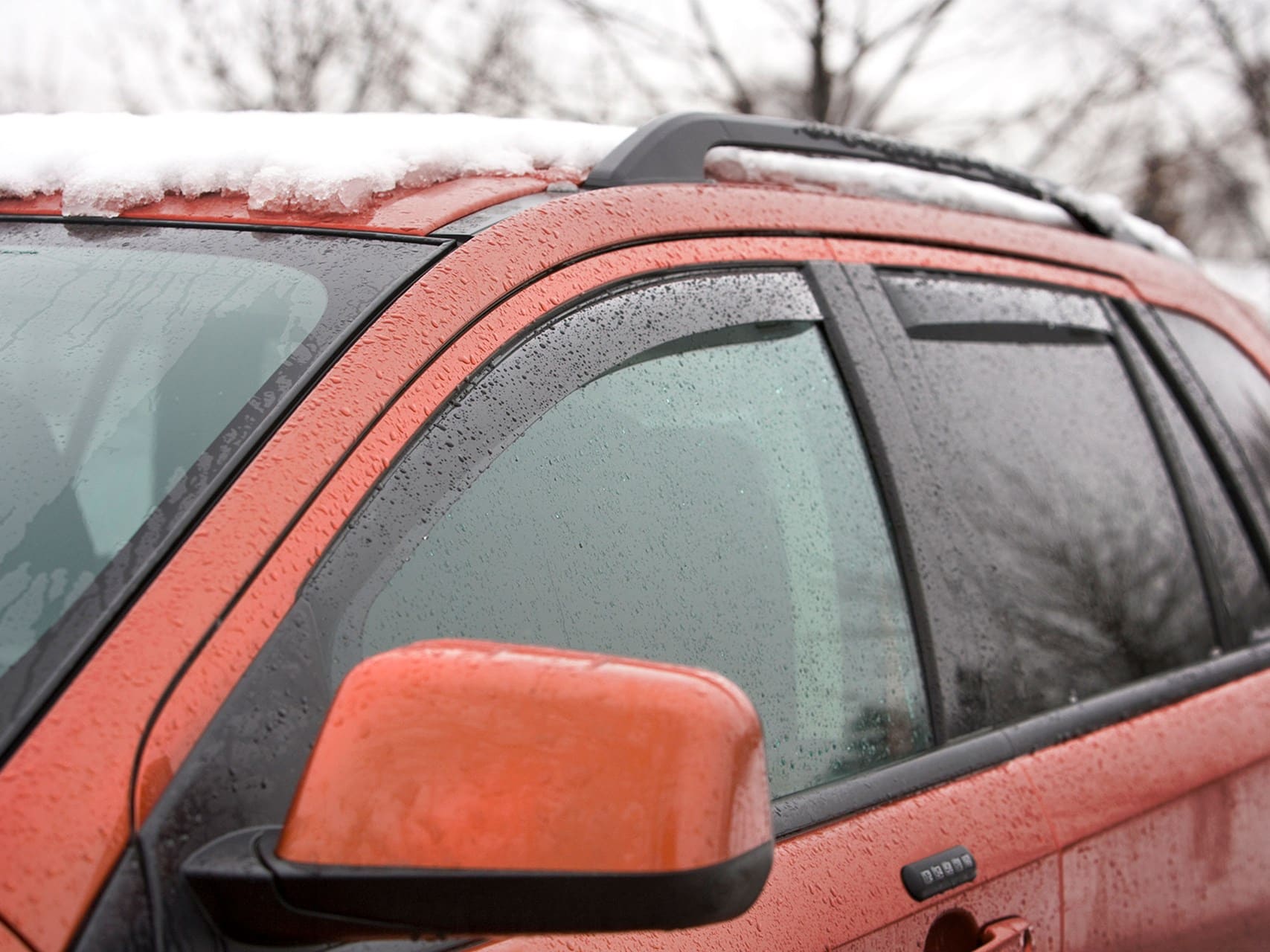 The WeatherTech brand is known for quality products and their window deflectors are a testament to this reputation. The company offers a limited lifetime warranty on these deflectors, which feel very sturdy thanks to the strong acrylic build.
They are easy to install since they are inserted in the window channel, and their fit is custom to the specific vehicle model. This makes them look like they were factory fitted, retaining the sleek look of the Jeep Compass.
However, you'll have to part with over $100 for a set of four of these window deflectors, making them some of the most expensive. 
Pros
They have a low-profile, sleek look.

These window visors are durable.

They're easy to install.
Cons
Frequently Asked Questions
Question: Does Jeep Compass have a lot of problems?
Answer: According to carcomplaints.com the 2007 and 2008 Jeep Compass models have the most problems, with most of the issues relating to suspension, electrical, and the engine. A lot of customers also complain of the CVT transmission overheating in the 2011 model.
Question: How can I make my Jeep Compass faster?
Answer: You can boost the power of your Jeep Compass by upgrading the cold air intake, which in turn increases the amount of air that the engine can pull in, thereby improving cylinder compression. Another way is by improving the exhaust system to allow the exhaust gases to be ejected more easily, resulting in improved vehicle performance.
Question: How much weight can a Jeep Compass hold?
Answer: A Jeep compass can carry from 1200 lbs (540 kgs) to about 1300 lbs (590 kgs).
Final Thoughts
There are lots of accessories that you can buy to improve the look and performance of your Jeep Compass. To find the right ones, consider how you use your vehicle so as to find the ones that will be most useful to you. Also, think about the durability of the accessory to find one that will last throughout the life of the Compass.
For a more comprehensive list of accessories to get for your vehicle, check out this guide to the best 4×4 accessories.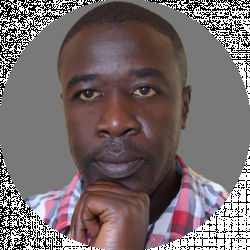 Latest posts by Barry Juma
(see all)