Jeep Wrangler, the number one 4×4 vehicle known for its aftermarket accessibility. If there is any guide for vehicle accessories, this is the one. Buckle your seatbelts, hop in your rooftop tent because it's time to get into the guide. This Jeep Wrangler Accessories guide will be broken into two sections: interior and exterior modifications. 
Interior Modifications
Mopar Black All-Weather 3-Piece Floor Mat Set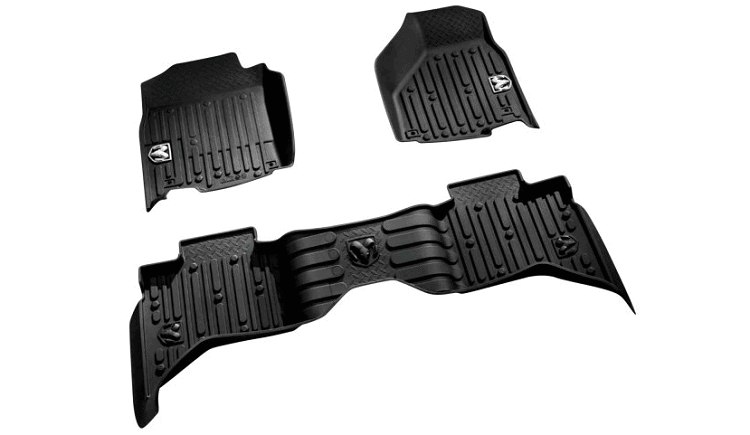 The Mopar Black All-Weather 3-piece floor mat set is genuinely an impressive floor mat. These mats protect the bottom of your vehicle from just about anything. From dirt, mud, ice, salt, or snow, these weather-resistant mats won't be letting your carpet dirty. 
The Mopar mats are genuine OEM mats that have the jeep emblem on them. For true Jeep fanatics, I know you're out there; this will be an exciting feature. 
The deep ribs in the matt trap any dirt or water. They feature a tire tread design that is rated for all four seasons. There is nothing that can penetrate this mat. 
Once the Mopar All-Weather Mats get fully lodged with grime, simply power or hose wash them down to clean them out. 
Pros
Easy to take out/in

Durable

Waterproof
Cons
Smittybilt Seat Cover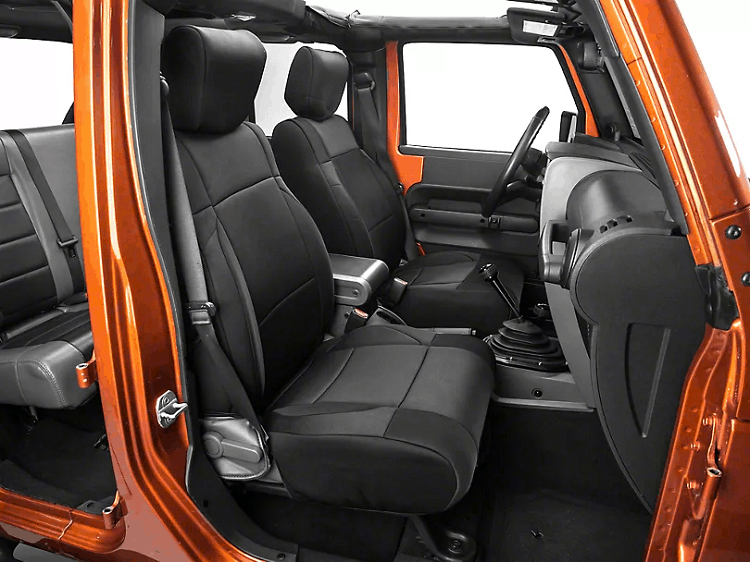 The Smittybilt seat cover covers all your interior spatial needs. It comes with a durable 600 denier polyester & PVC liner that is completely adjustable. 
The seat cover features seven pouches of varying sizes on the back of the seat. This allows for passengers or the driver to store their goods within the vehicle in a straightforward fashion. 
The pouches on the seat are adjustable to your requirements, meaning you can put them wherever you want. The Smittybilt comes with a MOLLE/PALs restraint system that allows the cover to be cinched down to the bottom of the seat. It is an easy, no-sweat, 5 minute install to put them on. 
Pros
Weather-resistant

Adds storage

Durable
Cons
More expensive than other brands

Reviews say it wiggles
Liberway Center Console Organizer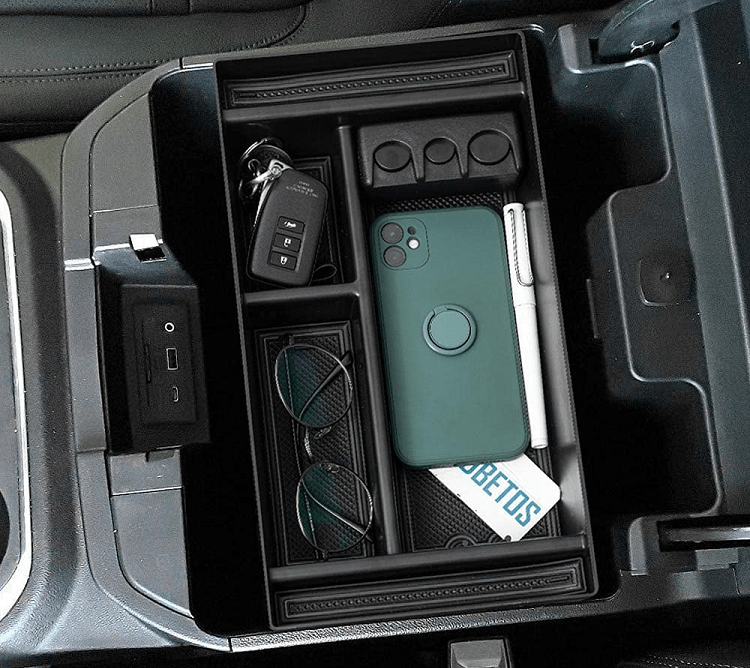 The Liberway center console organizer is an excellent tool for those who carry many things in their vehicle. I find it particularly helpful for people who use their Jeeps to overland in, as it leaves room for small items that are easy to lose. 
It simply fits into your Wrangler's center console, providing spaces for goods such as your phone, chargers, headphones, wallet, and more. It has a non-slip surface that holds it firmly in place.
The organizer's diamond-shaped plate texture is excellent for silent and secure storage. The item is constructed of high-quality plastic that is made to last you as long as your Jeep. 
The organizer has a tiny hole that allows a USB cable to pass through. If you're wary of aimlessly searching among your various stuff, purchase this organizer and put an end to your problems.
Pros
Helpful for storage

Makes it impossible to lose things 
Cons
It doesn't fit every model
Roll Bar Grab Handles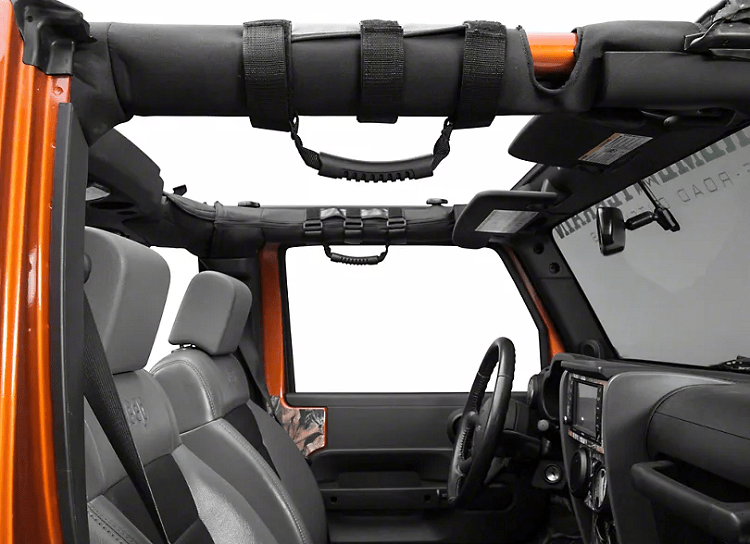 The roll bar grab handles are ideal for people using their Jeep for rough terrain. If you're going off-roading, you probably want some of these handles so you and your passengers can hold on when speeding around tight corners. 
Many people enjoy the vintage experience of having a pair of grips fastened to their Jeep's roll bar. Finally, you're welcome to join the celebration! Installing these roll bar handles is a breeze.
They're also relatively inexpensive, and they're composed of a durable ABS plastic and canvas combination. They include adjustable straps so that you may customize them to your liking. 
You'll even discover that they come in a set of four, so you can put one at each entrance! This package might be a fantastic investment for those of you who enjoy using your Wrangler off-road, especially with passengers.
I find it helps people who may have a hard time entering your vehicle, as they can use the handles to pull themselves in. 
Pros
Cost-effective

Adjustable
Cons
Alien Sunshade Mesh Shade Top Cover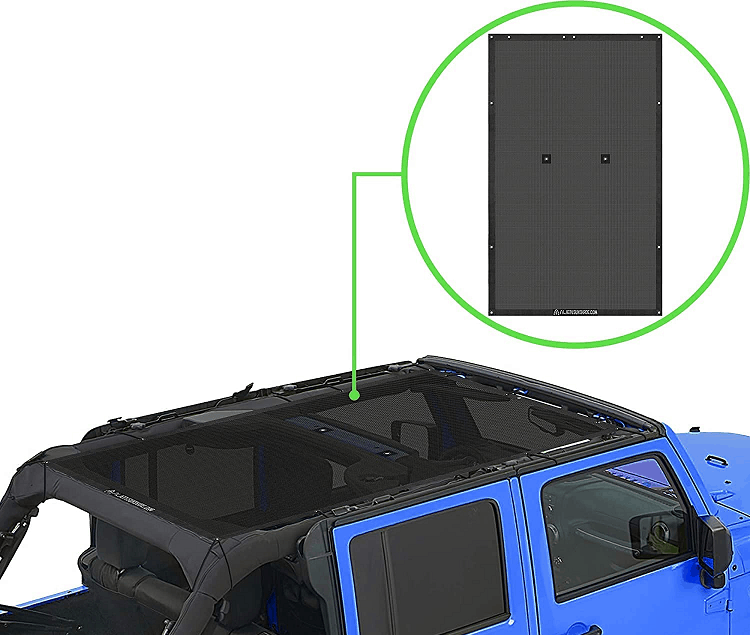 You'll want to get this mesh shade from Alien Sunshade if you don't want to give up the open-air, top-down of your Jeep Wrangler but yet want to protect your passengers and interior.
This shade top cover is available in a wide range of colors and styles for the 2007-2017 Jeep Wrangler 2-door and 4-door models, including tan, gray, forest, cobalt blue, steel blue, cherry red, chocolate, navy, sand, snow-white, buzz yellow, tank green, pink, green, gift blue, orange, lava, and wine.
You can even get a flag from the United States, Canada, or Texas on the cover. 
This shade top cover reduces UV exposure and wind noise thanks to its robust woven PVC mesh, double-sewn edges, and metal grommets. It comes with 13 bungee cords and requires no equipment or vehicle modifications for installation.
To get a snug fit, just wrap the cords around the roll bars. To install your hard top or soft top, you don't even have to remove this sunshade.
The best part is that Alien Sunshade offers a 10-year warranty against manufacturing faults.
Pros: 10-year warranty, install is easy, color options
Cons: expensive, whistles at high speeds 
ApolloIntech Overhead 6-Switch Panel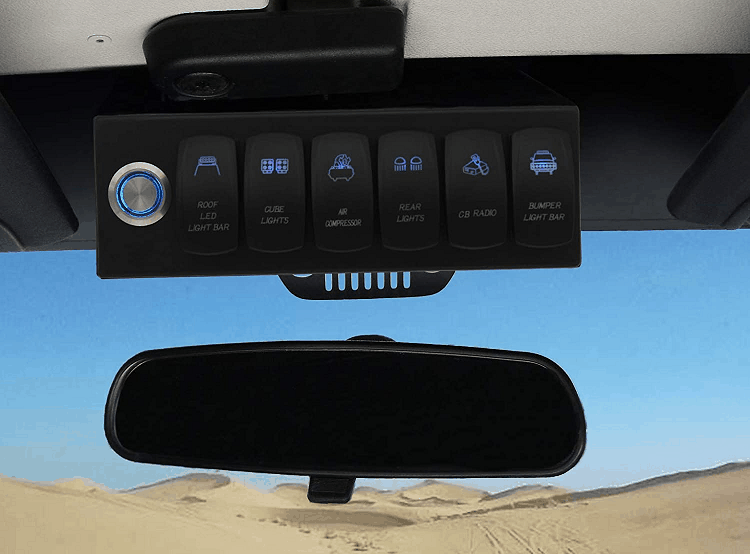 If you're one of the many Jeep Wrangler owners who take their vehicle off-road, an overhead switch panel is a good investment. This 6-switch pod/panel from ApolloIntech comes in two versions: pro and regular, with three different colored backlights: green, blue, and red.
The panel, designed for Jeep Wranglers from 2007 to 2018, has diodes to protect necessary accessories, like LED lighting, from "field collapse." It is best for Wrangler owners with multiple other accessories, as it acts as a motherboard for them. 
It has a maximum output of 100 amps. It is compatible with a broad selection of Contura V-Series rocker switch covers. This is a simple plug-and-play option for adding a rocker switch panel to your Jeep Wrangler.
Pros
Multiple options

Less expensive 
Cons
Sunpie Dash Tray Mount Phone Holder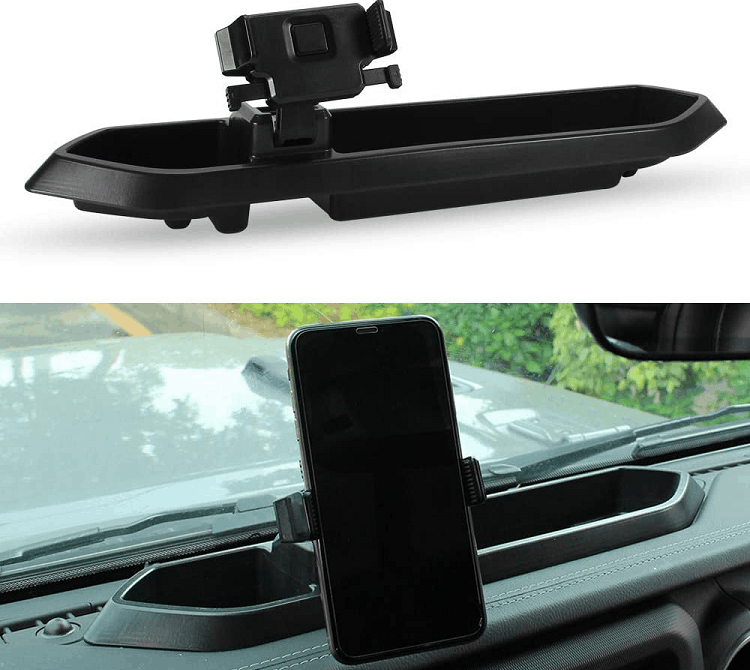 Are you weary of fumbling for your phone every time you exit the vehicle? Wish you could check your text messages and notifications without taking your eyes off the road while driving? The phone mount by Sunpie has found the solution to all these problems.
It mounts to the dash of your Wrangler JL and serves as a compact storage pocket as well as a phone holder. This is an effective method to stay connected to the world when on the road, whether you just want to visit connected to the internet or need to keep an eye on your GPS.
While there are many phone holders for cars on the market these days, the Sunpie dash tray is specific to Jeep and adds additional storage. Perfect for people who are prone to losing things, as well as those who often need GPS.
Pros
Not just an ordinary phone holder

Has storage

Has room to charge while mounted
Cons
Cheaper options available
Midland 40 Watt GMRS MicroMobile Two-Way Radio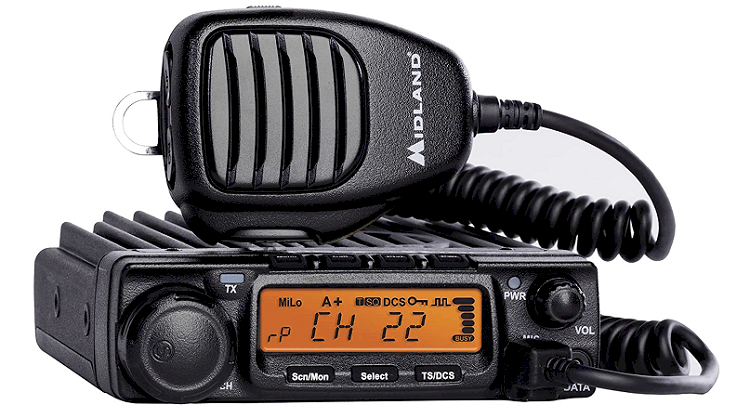 A CB Radio is a must-have addition if you plan on utilizing your Jeep to explore new territory. Especially if you're traveling with other off-roaders. There's virtually no other way to communicate with your pack unless you have one of these two-way radios.
Most off-road parks have no cell service, and you could get in trouble quickly. Consider how helpless you'd be if you were stranded in the middle of nowhere and couldn't get a signal on your phone. Yeah, it might wind up being a lot longer weekend than you anticipated!
But seriously, if you're going off-roading, invest in a CB radio, and you'll be fine. There are numerous CB radios on the market, but the Uniden is a popular and cheap type.
The Midland 40 Watt radio has a 65-mile range, meaning you can communicate with others further away than most other walkie-talkies.
The Midland also has 142 privacy channels so you and your friends can make sure nobody is listening in on you. It's also straightforward to mount anywhere in your car, although I recommend the dash. 
Pros
Long range

Top of the line
Cons
Exterior Modifications 
Fusion Bumper by GenRight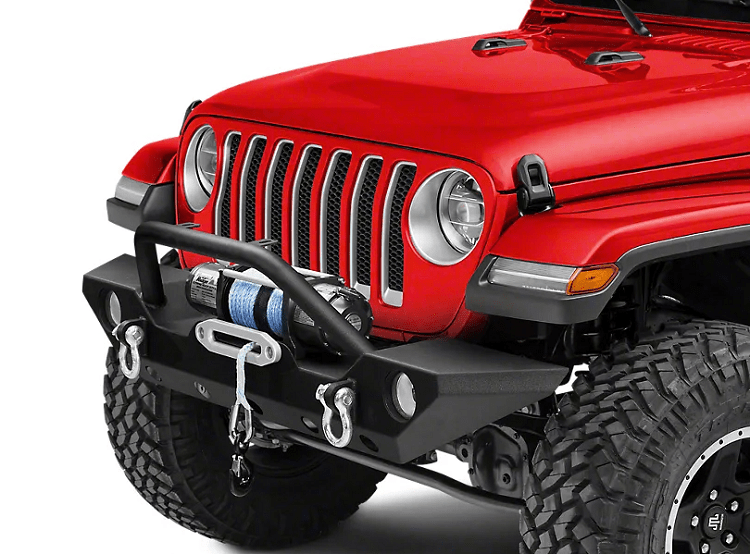 When it comes to armor upgrades, the most common question heard from new Jeep Wrangler owners is what to do first if they're on a budget.
Fusion Bumpers were created for those budget-friendly folks by GenRight. This made-in-America bumper series offers the renowned GenRight Quality at a reduced cost! They were designed to optimize usefulness as well as being robust.
Compared to standard bumpers, the Fusion Bumper series by GenRight for 2-door and 4-door Jeep Wranglers has improved approach and departure angles.
The bumpers are less prone to scrape against pebbles and other uneven dangers that cause the car to tilt forward or backward as it crosses them. This is perfect for off-road enthusiasts. 
Fusion bumpers are available in laser cut and formed high duty thick steel plate for optimum durability or nearly as strong 3/16″ thick 6061-T6 aluminum alloy for weight savings. You can even buy a stubby rear bumper to obtain the optimum departure angle, tire clearance, and weight savings.
The GenRight Fusion front bumpers accommodate a winch and are equipped with factory fog lights! Front sway bars from Rubicon are also compatible. Towing ease is provided by two Billet 3/4″ broad steel tow points welded to the front bumper. 
Pros
Cons
Heavier than other options

Bad for fuel efficiency 
Smittybilt 76882 XRC Textured Black Armor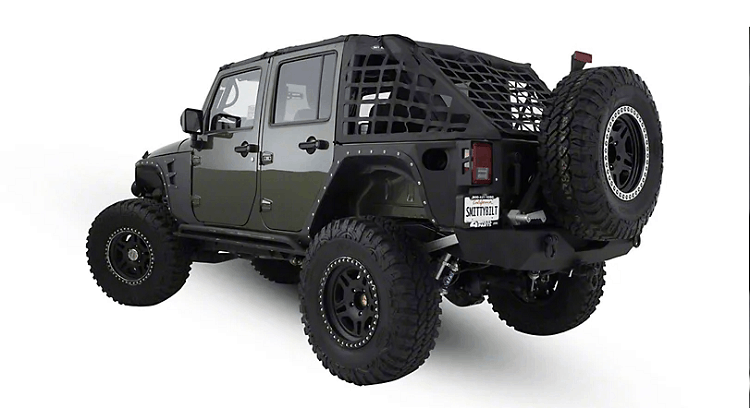 If you intend to go rock crawling, Body Armor for your Jeep is an excellent upgrade to make. This isn't the upgrade for you if you only want to hit the muddy trails or your Jeep is your everyday car. Body armor might add a lot of weight to your rig, but it's worth it to protect the body of your Jeep.
Keep in mind that they only protect you at moderate speeds, so if someone hits you on the road or you lose control, they will almost certainly be damaged. The Smittybilt 76882 XRC Textured Black Armor is a popular body armor choice that is attractive and functional.
The body armor is crafted of 3/16″ cold rolled steel and then powder coated in Smittybilt's signature series two-stage matte black powder coat finish. The Fenders have an inner fender liner that keeps mud, snow, and other debris out of the engine compartment, as well as removable sliding plates.
Pros
Durable

Rugged

Last a lifetime
Cons
Expensive

Will weigh down your Wrangler 
Rugged Ridge 11210.17 Hood Catch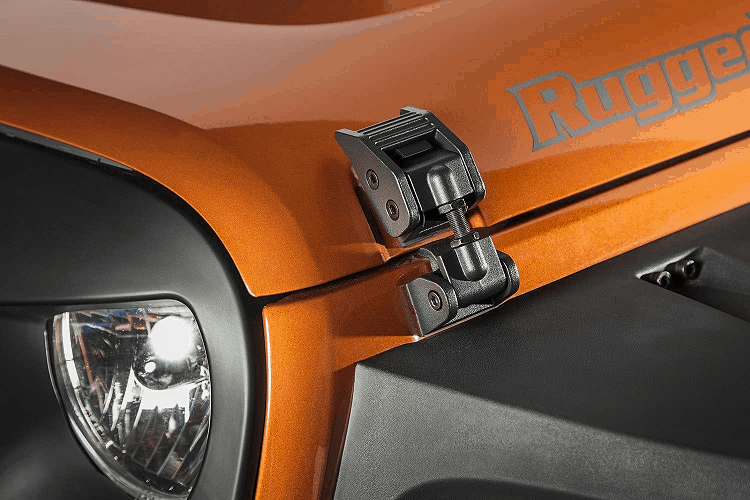 Let's face it; Jeeps aren't known for their smooth ride. This option will make your commute to work or off-roading adventure a little quieter. 
This hood catch does what it sounds like; it stops your hood from rattling. It comes with a 5-year warranty and with everything needed to install. 
The hood catch is adjustable in case you have purchased an aftermarket hood. The adjustable tension rods can fit virtually anything as it was designed to do. 
They are aesthetically pleasing and are available in black, textured black, or silver finish.
Pros
Rugged

Adjustable

Easy to install 
Cons
More expensive than they should be 
Rugged Ridge 11230.21 Black Headlight Guard 2-Pack

The next item on the list is another one from Rugged Ridge. These are headlight guards used for off-roading trails. These guards should fit regardless of whether you have stock or modified headlights. They protect your lights from brush, twigs, and other dangers, ensuring that they don't get scratched.
Furthermore, they just give your Wrangler a fresh appearance. The guards have outstanding customer reviews, and installation is simple once again.
Next time you're out on the trail and worried about something breaking your car, you wouldn't worry as much if you had these. There's no excuse not to get these protectors for your Jeep right now.
Pros
Cons
Name-brand expense

Broken headlights are all that common
Mopar Accessories Rack Kit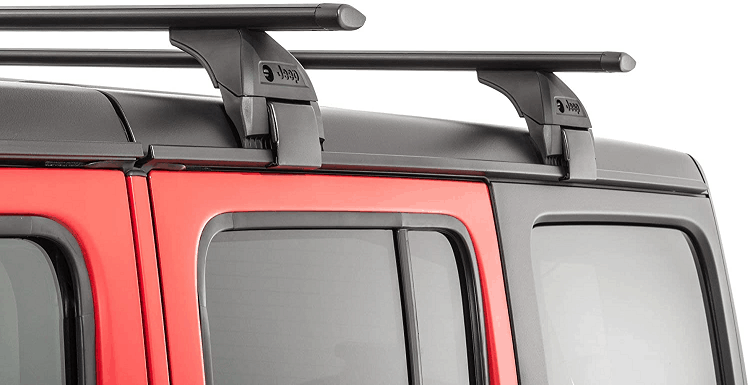 A quality rack kit for extra storage up top is another handy option for your Wrangler, especially if you go on frequent outdoor adventures. It is probably one of the most popular Jeep accessories for your car right now. 
This choice from Mopar Accessories has an authentic Jeep emblem as well as a long-lasting powder-coated aluminum structure. You won't have to drill holes to install the kit because it mounts directly to the hardtop drip rail.
However, some customers have reported that it took a little more effort to get it to fit. It shouldn't be too difficult, and the increased storage space is definitely worth the effort.
With a load capacity of 100 pounds, this kit is ideal for storing a container with extras like food, lightweight camping gear, and more. These are, without a doubt, some of our favorite Jeep Wrangler JL road trip accessories.
Pros
Will last a lifetime

Great budget option
Cons
May be difficult to install

Only rated for 100 pounds 
Simpson III Series – ARB (Rooftop Tent)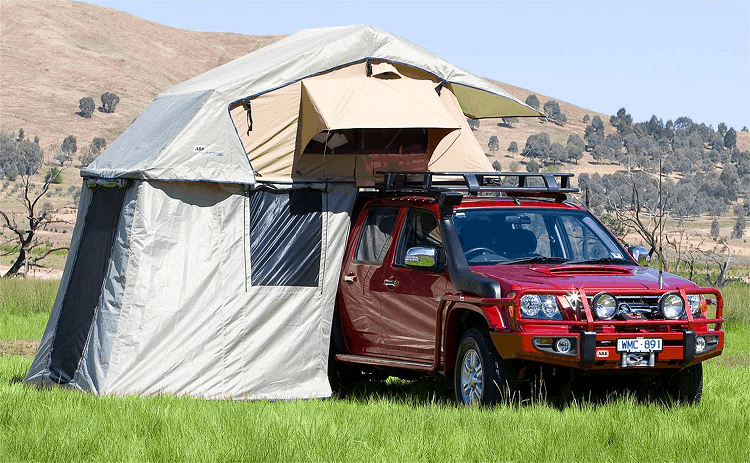 Finally, we have made it to the rooftop tent. I know someone was waiting for it on this list. Everyone is familiar with ARB; the Australian behemoth is one of the most well-known makers of automotive parts, accessories, and off-road gear in the world. Anyone who owns a Jeep will like their Simpson III Series rooftop tent.
As previously stated, everyone is familiar with ARB, and the Simpson III is a fantastic tent. The price is reasonable, and you also receive an Annex.
Those who have used roof rack tents previously know how convenient an annex can be, mainly when utilized as a changing room. It will be much appreciated by anyone needing a private place to change.
A high-quality poly-cotton rip-stop canvas is also included, 100% waterproof, and guaranteed to last long. You won't have any problems setting up the tent in the rain or high winds, and it's effortless to do so.
It's hardly expedition-grade, but it's undoubtedly a step up than Smittybilt's Overlander. And, of course, it'll fit nicely on any Jeep, whether it's over the crossbars or on an SRC rack.
Pros
Budget options

Provides an annex

Durable
Cons
Some reviews said it was hard to set up
Tyger Auto Textured Door Armour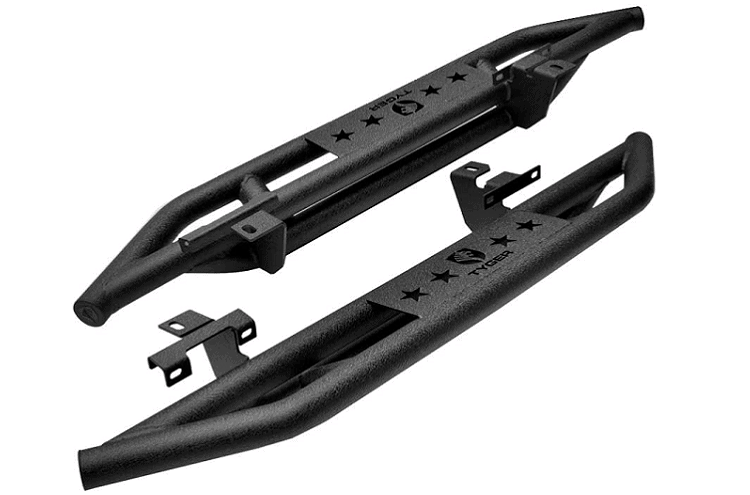 These running boards from famous manufacturer Tyger Auto are one of the best Jeep Wrangler JL additions. We don't think you'll find a more refined pair of running boards than these. They're stylish, functional, and durable as nails.
Side steps, running boards, or whatever you call them are among the most practical and elegant Jeep additions available. These stairs, in particular, have a distinctive Star Armor style that evokes military vehicles, which is where the history of Jeeps began.
Installing these Tyger Auto running boards is a simple bolt-on operation that takes only minutes. Whether or not your Jeep is raised, having a pair of side steps to aid you in and out is always a good idea.
These are, in our opinion, the most excellent Jeep Wrangler JL accessories money can buy. Just keep in mind that these procedures are only suitable with Wrangler JL four-door versions!
Pros
Durable

Easy to install

Not the most expensive

All-around great
Cons
YITAMOTOR 52″ 300W Combo + 2 Spot LED Light Bars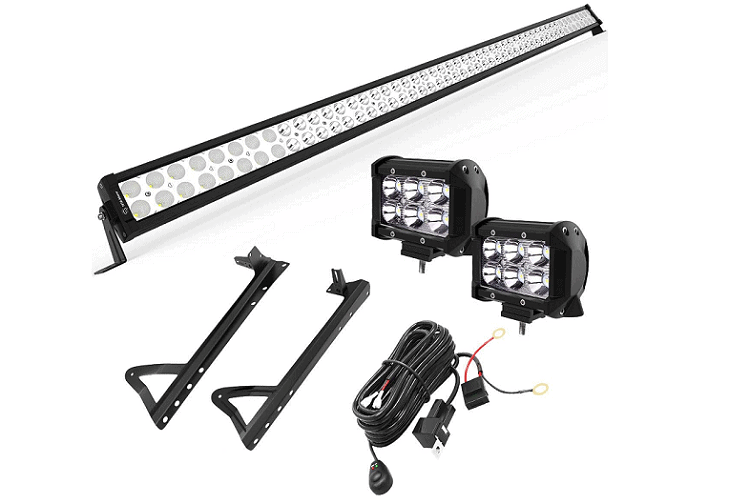 The Yitamotor light bar is a unique option on this list, as it is an accessory I own myself! This Yitamotor light bar emits a solid light beam with a brightness output of 27,000, lighting anything in my path and beyond. It is, without a doubt, the most incredible LED light bar for Jeep Wrangler available online for the price.
Despite the harsh weather conditions I've put it through, the housing is still in good shape, with no condensation concerns and nothing else to complain about. In saying that, I've done a very decent job of taking care of it, at least more than I'm supposed to.
What I like best about it is the combined light beam pattern, consisting of two floodlights and one spot beam for better visibility at night.
For my nighttime adventures, the added two spotlight bars give more than enough concentrated light beam. When I'm alone on the road, this device works flawlessly to replace my driving light. This version also includes an improved lens glass that can resist strong impact while maintaining excellent light transmission.
Because bolts aren't constructed of high-quality materials, they corroded fast. However, this minor hiccup can be readily remedied with another stainless steel bolt kit purchased at Walmart. With the price tag, this extra buy isn't too bad for my cash. Installing it takes some time and work, but once it's done, it's a breeze.
Pros
Budget-friendly

Waterproof

Incredibly effective 
Cons
Installation bolts are low quality 
Dewstone FreeForm Easy-Install Adventure Mirror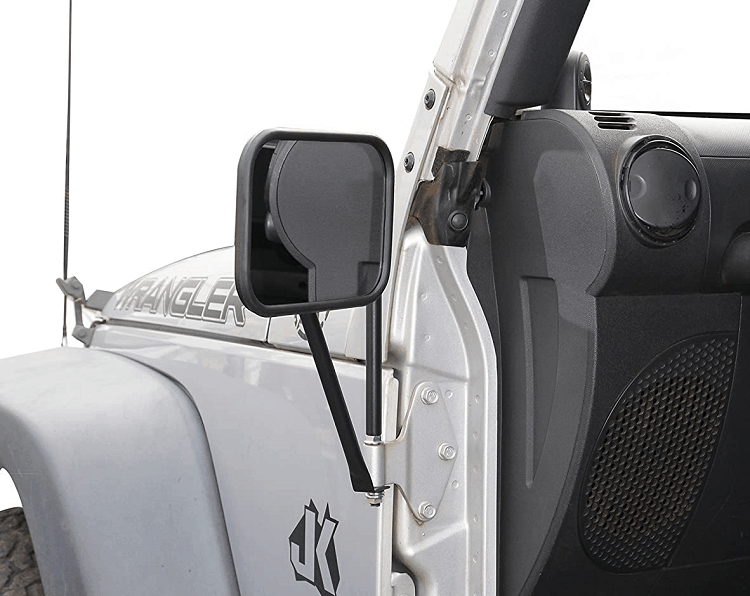 Do your Jeep Wrangler's side mirrors need to be replaced? Then have a look at these new ones. These simple-to-install side mirrors have vibration-dampening cross bracing, making them one of the best Jeep accessories available.
They're made to be easily fitted or removed in one step, and they provide you a clear view of the vehicles behind you while driving. Each mirror is equipped with an Omni-directional joint, allowing you to simply alter the mirror's position to get varied viewing angles.
In addition, each mirror is 7.7 inches in diameter. Surprisingly, you'll get a complimentary adhesive dashboard mat with this. This dashboard mat is non-slip.
You may use it to quickly secure your mobile phone or other precious objects against the dash. Two side mirrors for your Jeep Wrangler are included in this kit.
Pros
Cons
LX-LIGHT 7″ Round Black Cree LED Headlight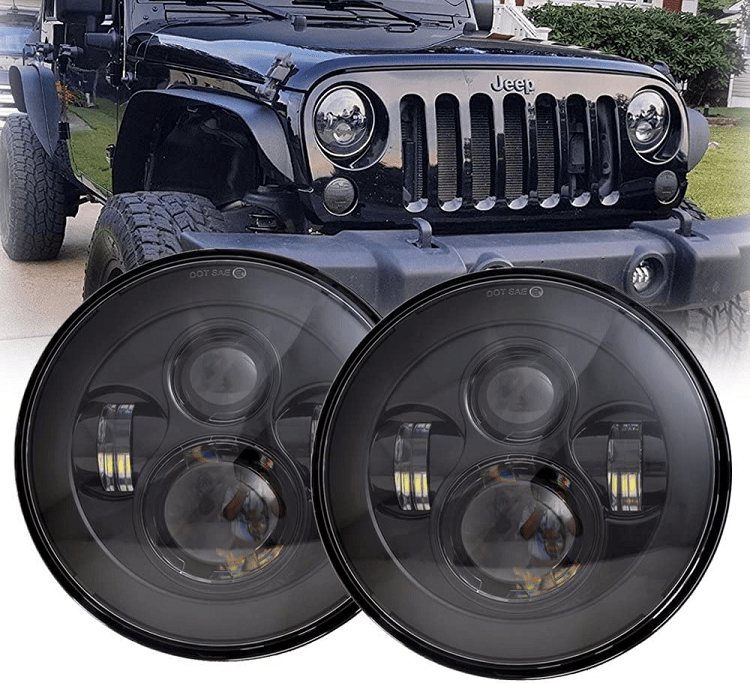 This is an excellent option if you want a high-end LED headlight set for your Jeep without spending a lot of money. A pair of 7-inch headlights are included with this kit.
These work with a variety of Jeep models. For easy installation, you'll also get a set of H4 to H13 adapters. These DOT-approved, simple-to-install LED headlights are legal on the road, 50 percent is brighter than comparable headlights, and IP67 waterproof.
Cree (original) chips were used to make them. According to the manufacturer, these LED lights have a lifespan of over 80,000 hours.
Each lamp features a 4500 lm high beam and 3200 lm low beam output lumens. They have a color temperature of 6000K.
These LED headlights require 45 watts of power. They can also work with a voltage range of 9 to 16 volts DC.
The lights have an anti-flicker technology built-in, making them safe to drive on uneven roads. They can be fitted in about 20 minutes.
Pros
Maintenance-free

Easy to install
Cons
Need special adjustments for different models 
LX-LIGHT 4D LED Tail Lights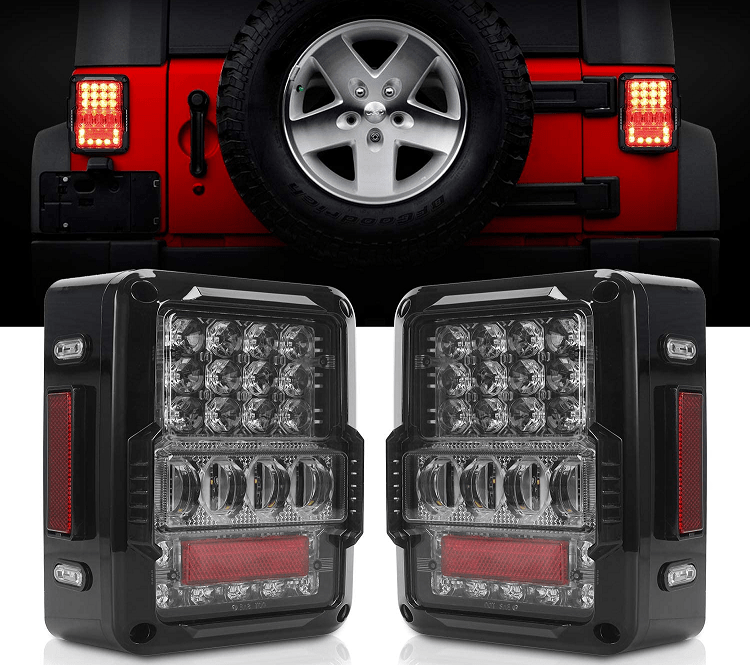 To go with your new headlights, you may as well get some new taillights! OSRAM LED chips are used in the creation of these lights. As a result, you can rely on the LED taillights' quality.
There will be no flickering because these have EMC built-in. According to the manufacturer, these are roughly three times brighter than your Jeep Wrangler's original tail light. Two LED taillights are included with this kit.
This pair of lights has a 9 to 16-volt input voltage range. These LED lights have a life expectancy of more than 50,000 hours. These are IP67 waterproof, as you can see.
These DOT-approved tail lights do not require you to alter your existing automobile circuit wiring, making them simple to install. 
Pros: Very bright, easy to install, affordable
Cons: NONE!
FAQ
Question: What are the Best Accessories for a Jeep Wrangler?
Answer: This depends on what you are using your Jeep for. In my opinion, the first thing you should purchase is a roof rack. With a roof rack, you will have more storage and carry equipment on top of your vehicle. 
Question: Are Jeep Wranglers Really That Bad?
Answer: They are well regarded as dependable vehicles. The 2020 Jeep Wrangler has proven to be one of the most unreliable vehicles of the year. It depends on what year and model. 
Question: Why are Jeep Wranglers so Expensive?
Answer: Jeep Wrangler is so expensive because of the brand. Not only are you paying for your vehicle, but the "Jeep tax" as well. 
Conclusion
Jeep Wranglers are easily the most easily accessorized vehicles on the market. They are endless options, some being aftermarket, and many being made by Jeep itself. For those looking for the best off-road rig, I recommend starting with a lift kit, new tires, and a light bar.
From there the possibilities are endless, I recommend getting the Simpson III Series – ARB (Rooftop Tent). It makes your camping significantly easier when you are looking for a quick tent set up in your vehicle. For overlanders, this should be an easy choice.
Continue reading: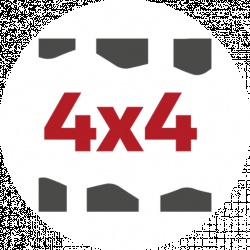 Latest posts by 4x4 Reports Team
(see all)