The Toyota Tundra is Toyota's answer to the Ford F150 and Chevy Silverado. Powered by a sturdy 5.7 liter V8 married to a six-speed automatic and 4WD, the Tundra is the work truck for those that need to get the job done. Like any truck, however, hard work creates dents and scratches in the bed.
One way to prevent that is a bed mat. In this article, we'll go over the best Toyota Tundra bed mat options, their pros and cons, and recommend one for you. Let's get started.
| Product Image | Primary Rating / Price | Primary Button |
| --- | --- | --- |
| | | |
| | | |
| | | |
12/08/2023 02:26 pm GMT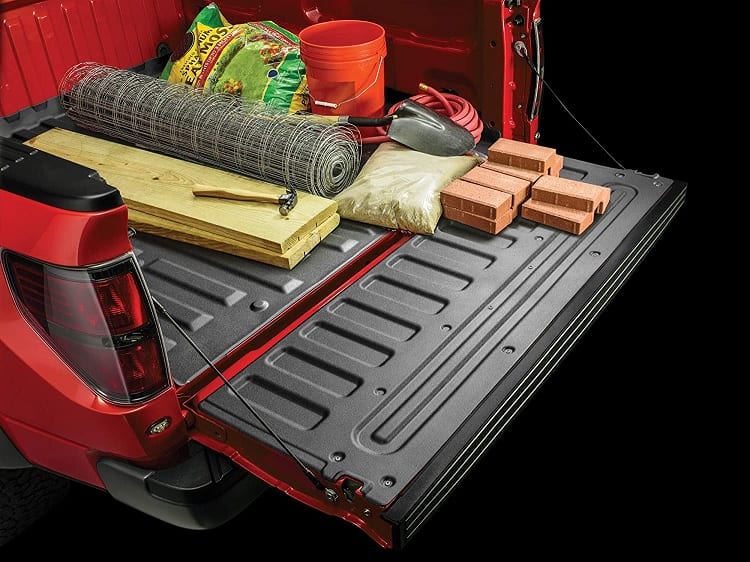 WeatherTech makes some of the best floor mats out there. They also happen to produce a bed mat liner for the Tundra. It is made out of heavy-duty elastomer, a type of combination rubber and plastic. This gives you both durability of hard plastic with the flexibility of heavy rubber; the best of both worlds.
A tailgate liner is also available to give maximum protection. The mat installs using a hook and loop system that utilizes existing holes in the bed, so no drilling is required. Not only that, it will fit under high-side liners as well, should you wish to line the bedsides too.
You will need to choose liners depending on the length of your truck bed, as the Tundra comes in 5'6, 6'6, and 8'2 bed lengths. Prices range from $225-$255 for a full set, depending on bed length.
Given that the mat is an elastomer, that means gasoline and other various solvents will take a heavy toll on it; be careful when hauling liquids. Other than that, however, the bed mat is very tough and will take anything you give it. 
Pros
Durable construction

Will fit any Tundra bed length

Resists both extreme heat and cold

Promotes water drainage
Cons
Expensive

Cannot withstand aggressive chemicals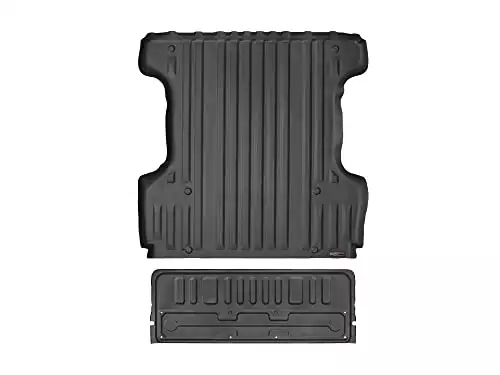 WeatherTech TechLiner | Amazon
TechLiner is a custom-fit pickup truck bed and tailgate liner that protects and shields the truck bed against scratches, dents, paint damage, and rust. No drilling is required and will not crack or break in extreme temperatures.
Buy at Amazon
We earn a commission if you make a purchase, at no additional cost to you.
12/08/2023 02:26 pm GMT
OEM Toyota Bed Mat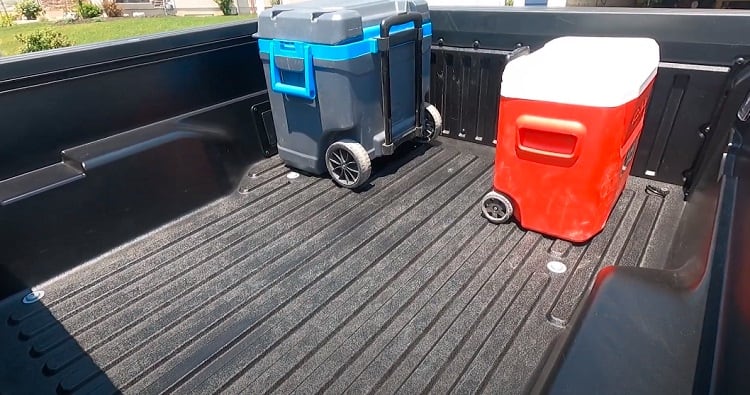 If the aftermarket is not your speed, Toyota sells OEM bed mats that can be installed at the dealer or by you if desired. There are no mounting hooks on the bed mat; it is designed to fit exactly to the bed contours.
Additionally, a ridged underside promotes airflow and water drainage to minimize rust. The mat itself is made from cord-enhanced rubber for greater durability and flexibility. It is a heavy-duty product; you will not need to replace it for a long time after purchasing.
At $120, the OEM Toyota bed mat is great value for money. It costs half the price of the WeatherTech equivalent and seems to match up in durability. You, of course, need to choose depending on your truck's bed length. If you aren't concerned with big-name brand products, consider the OEM Toyota bed mat. 
Pros
Competitive pricing

Heavy rubber construction means many years of use

Toyota branding guarantees high quality
Cons
Ridged Toyota logo in the center can make it tough to insert and remove objects

Cord-enhanced rubber is tough but has the potential to degrade over time
Rough Country makes a long line of durable, high-quality products for just about any truck. They also make bed mats for the Toyota Tundra. Constructed from 3/8 inch thick rubber with raised contours, the Rough Country mat is one of the best drop-in bed mats out there.  
Textured surfacing means your cargo won't slip, and recycled materials make it environmentally friendly. Unfortunately, it does not fit Tundras with drop-in bed liners; they change the shape of the bed too much. As it is, rubber, gasoline, and solvents will wreak havoc upon this liner.  
Unfortunately, this particular mat only fits Tundras with the 5'5 box, in addition to not fitting drop-in bed liners. While this is an issue, it should not be a deal-breaker if you have a Tundra with a 5'5 box. It is still a high-quality product despite its singular use case. Priced at $100, it is also good value for money. 
Pros
Textured surfacing for zero slip

3/8 inch thick rubber means durability and extra truck protection

Competitively priced at $100
Cons
Only fits Tundras with the 5'5 box

Will not work with drop-in plastic bed liners

Gasoline and other solvents will degrade the liner quite quickly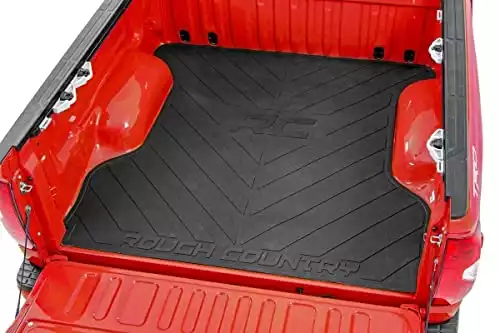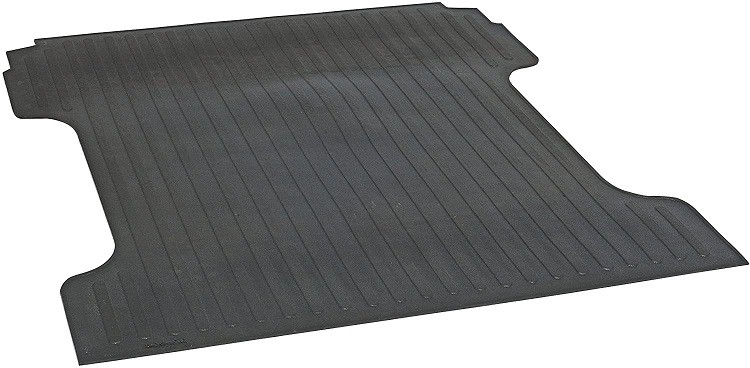 The Dee Zee mat may sound like a joke, but it is one of the best bed mats you can buy for a Tundra. 3/4 inch rubber construction guarantees durability, and rubber cleats secure cargo while ensuring water drainage. As a bonus, it will resist most chemical spills, like gasoline and other household solvents; however, it will not stand up to bleach very well.
You will need to purchase the mat depending on truck bed length; Dee Zee has options for every bed length of Tundra. It is a custom fit to account for any truck bed anomalies and ensure the best match. The mat is UV resistant to prevent fade, and it resists extreme cold easily. It also becomes a little tackier in direct sunlight to keep items stuck where they belong. 
Priced at just under $100, the Dee Zee bed mat is a great option if you need it. While it is not a big-name item, the quality is topnotch nonetheless. 
Pros
Resists most chemicals such as gasoline and household cleaner

Becomes tackier in direct sunlight for extra stick

Rubber knobs to secure cargo and drain water

Great price
Cons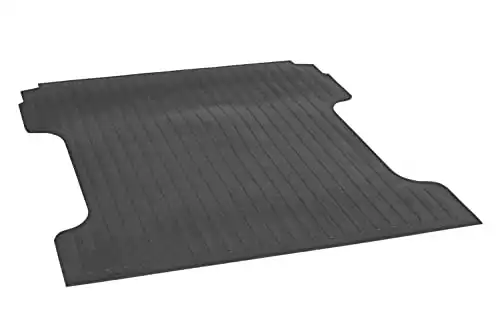 Dee Zee 86793 Bed Mat | Amazon
Dee Zee Heavyweight Bed Mats help prevent cargo from shifting and damaging your truck.
Buy at Amazon
We earn a commission if you make a purchase, at no additional cost to you.
12/07/2023 06:28 pm GMT
Universal Mat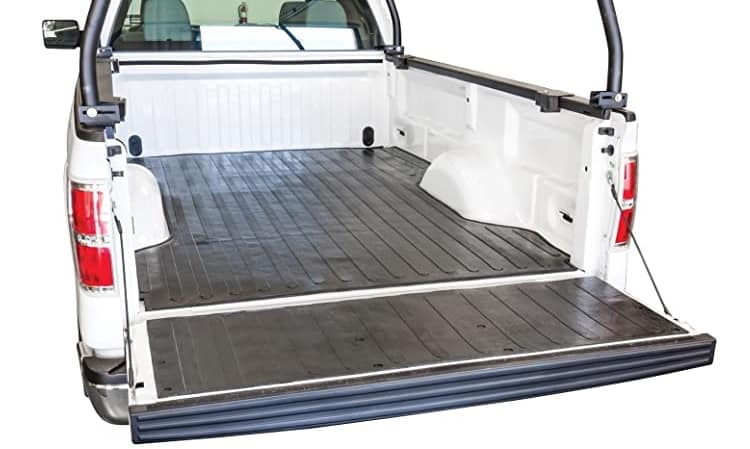 If custom mats are not what you want, consider a universal bed mat. It comes in a length and width suitable for most pickup truck beds, and you cut it down to fit. The material is heavy-duty rubber; no-frills and 3.75-inch thick rubber mean nothing will get through it. 
Being as the mat is one long rectangle, some trimming will be required. This is best done by marking out the areas to trim and cutting them with a reciprocating saw or large jigsaw. Once that is complete, the liner should drop in nicely.  
Another alternative is to use old horse stall mats. Those are much cheaper used and weigh about 100 pounds, making them very heavy and durable. They will also need to be cut to size using a large saw, but they will last a very long time with no issues. The universal mat retails for $168, but as it will fit any truck with some trimming, this is a fair price. 
Pros
Using a universal mat means you can trim to desired length and width

An old horse mat is very tough and quite heavy; perfect for a work truck

3/4 inch thick rubber means many years of bed protection
Cons
Trimming it yourself can lead to improper fit if done incorrectly

$145 price is on par with more custom bed mats that require zero trimming

Very heavy
BedRug is a rug-like drop-in bed mat for the Toyota Tundra. The top covering is essentially an extremely tough carpet; the underside is standard rubber. This is useful if you frequently transport delicate items or use your Tundra as an overland camping rig. It can be used for work, but heavy loads of coarse material or aggressive chemicals would damage it. 
The BedRug mat also comes with a tailgate liner for added protection. Unfortunately, this kit will not work with factory plastic drop-in liners. The same goes for aftermarket drop-in liners; they change the contours of the bed too much. With trimming, it could be made to fit, but this is not advised.
The BedRug liner is great for those who do not use their Tundra as a heavy work truck. That avenue will damage the liner and eventually damage the truck bed as well. For hauling things like camping equipment, this liner is fine. However, for doing heavy work, look elsewhere. For $187, it is also expensive compared to more durable, cheaper competition.
Pros
Great for an overland camping rig

Comes with a tailgate liner for extra protection
Cons
Will not work with drop-in liners

Carpet top means it cannot handle coarse material like gravel or firewood

Expensive compared to the competition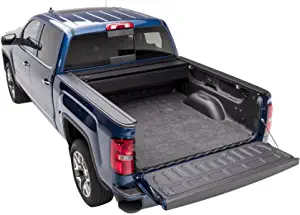 BedRug Bed Mat | Amazon
The BedRug Mat is made to fit your specific make and model and will give you the look and feel of carpet in an ultra-tough 100% polypropylene (essentially plastic) product.
Buy at Amazon
We earn a commission if you make a purchase, at no additional cost to you.
12/08/2023 08:56 am GMT
Westin produces many high-quality products, among which are Toyota Tundra bed mats. The mats are heat molded for a more precise fit-they should drop straight in with no fuss. At 3.75 inches thick, there is no worrying about protecting your truck bed.
The mat also features ridges to hold cargo and promote water drainage. Water drainage is crucial with bed mats and liners; if water does not drain properly, it can get under the mat and create rust spots over time. 
Westin makes mats for all Tundra bed lengths: 5'6, 6'6, and 8'2. They are also made from 100% recycled US materials and backed by a 3-year warranty from the date of purchase. Price varies from $130 to $160 depending on bed length. While that may seem expensive, it is a fair price for a great product.
Pros
Will fit all Tundra bed lengths

Heat molded for precise fitment

Ridges to hold cargo and promote water drainage
Cons
Not resistant to solvents

Pricing of $130-160 can be prohibitive to some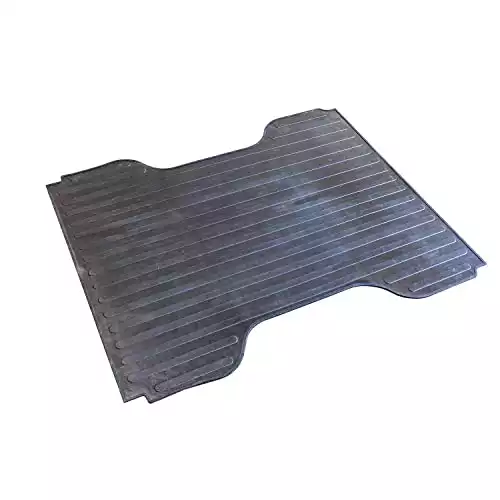 FAQs
Question: I Want to Install a Universal Bed Mat. How Do I Make it Fit?
Answer: Mark the area you want to trim, then cut with a heavy-duty saw. The mat is very thick and needs a power saw to cut it cleanly, but after that, you will have a very durable mat for a great price.
Question: Can I Trim a Longer Bed Mat to Fit My Short Bed Tundra?
Answer: It is possible, but I would not recommend it. Dedicated bed mats have bends and dip to accommodate a certain length of the truck bed; trimming it will result in a mat that does not fit properly. You can do this with a universal bed mat, but I would not do it with a dedicated mat.
Question: Is a Bedrug Liner for Heavy Work?
Answer: Not really. You can use it when hauling smooth heavy objects, but using it to haul gravel, or rough-cut firewood, will destroy the top layer of the liner.
Best Toyota Tundra Bed Mats: Which One Should I Buy?
Out of all bed mats in this article, you will be best served by the WeatherTech or OEM Toyota options. WeatherTech is well known for making extremely durable and high-quality products, and the OEM Toyota mats have a reputation for durability and longevity.
Between the two, however, you may want to choose the Toyota brand mats. They are not as heavy as WeatherTech mats, but they are better overall for those on a budget.
| Product Image | Primary Rating / Price | Primary Button |
| --- | --- | --- |
| | | |
| | | |
| | | |
12/08/2023 02:26 pm GMT

Didn't find what you are looking for? Check out our full guide on how to find the best accessories for Tundra.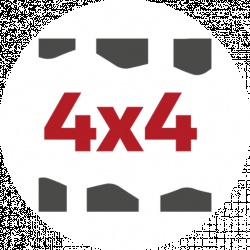 Latest posts by 4x4 Reports Team
(see all)