Introduction
The first generation of the Toyota Tundra was produced from 2000 to 2006 and is still one of the most capable pickup trucks available for purchase in the United States to this day. The first generation Tundra has a much smaller profile than its competition which allows it to be more maneuverable and while somehow not sacrificing load and towing capability.
Every year Toyota would release a newer version with incremental performance gains and more functionality. The 2005 model introduced significant changes over the 2004 model, such as an increase in displacement of its V-6 engine, while the V-8 model received variable valve timing (VVT), which increased horsepower and torque values. This change was made to address the power deficit Tundra was facing in comparison to the competition. The only visual changes made to the Tundra for this year are the updated head and tail lights.
Like all Toyotas, the Tundra was built with functionality, utility, value, and reliability in mind. The first-generation Tundra was designed to appeal to the masses and didn't have a wild or edgy look to it. By today's standards, the 2005 Tundra isn't the most attractive truck on the road, and the design has become quite dated.
When it comes to ride comfort, the 2005 Tundra is among the best. The soft and capable suspension can make the typical drive feel like you're in a sedan. The interior is moderately comfortable, and the cabin has a large amount of sound dampening, which further improves the daily driving experience. Before we get on with our complete 2005 Toyota Tundra Guide, let's look at some of the 2005 Toyota Tundra's specifications.
2005 Toyota Tundra Specifications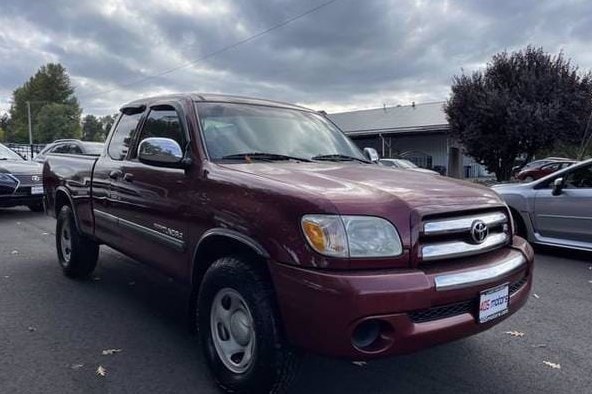 The 2005 Tundra came in 3 main trim levels and body styles. Owners could choose between regular, access cab (extended), and double cab (crew cab) body styles and three different trim levels: base, SR5, and LTD (limited) trims.
Depending on the choice of trim, the body style would be limited because the base trim was only offered as a Regular Cab and Regular Cabs were only offered with long beds. The SR5 and LTD trims are only available in the access and double cabs body styles which are limited to short beds.
The Tundra is available with a choice of engines and transmissions. A petrol 4.0 L V-6 engine and the other more powerful option was a petrol 4.7 L V-8 engine. Owners of the V-6 version could choose between a brand new manual transmission and an optional automatic transmission with overdrive, while the V-8 engine comes standard with an automatic transmission.
Performance
Engine
Petrol DOHC* 4.0 Liter V-6 Engine
Petrol DOHC* 4.7 Liter V-8 Engine with VVT-i**
Horsepower
245 HP (183 kW) @ 5,200 RPM

282 hp (207 kW) @ 5,400 RPM
Torque
282 lb/ft @ 3,800 RPM
325 lb/ft @ 3,400 RPM
MPG:
16 City / 20 Highway
15 City / 18 Highway
Drivetrain
Hauling / Towing Capacity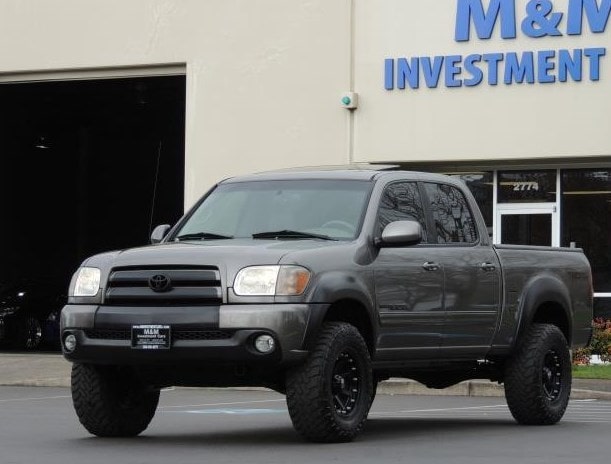 Regular Body: 2,025 lbs (918.5 kg) / 7,100 lbs (3220.5 kg)

Double Cab: 1,580 lbs (716.6 kg) / 5,020 lbs (2,277 kg)

Regular Body: 2,025 lbs (918.5 kg) / 7,100 lbs (3220.5 kg)

Double Cab: 1,580 lbs (716.6 kg) / 5,020 lbs (2,277 kg)

Standard Transmission

Six-speed manual

Five-speed automatic w/ Overdrive

Optional Transmission

Five-speed automatic w/ Overdrive

N/A
(*DOHC – Dual Overhead Cams, **VVTi – Variable Valve Timing)
Exterior Dimensions
Configuration
Double Cab
Access Cab
Regular
Wheelbase
140.5 in (355 cm)
128.3 in (326 cm)
128.3 in (326 cm)
Length w/o Rear Bumper
230.1 in (584 cm)
218.3 in (554 cm)
218.3 in (554 cm)
Width w/o Mirrors
79.3 in (201 cm)
78.7 in (200 cm)

78.7 in (200 cm)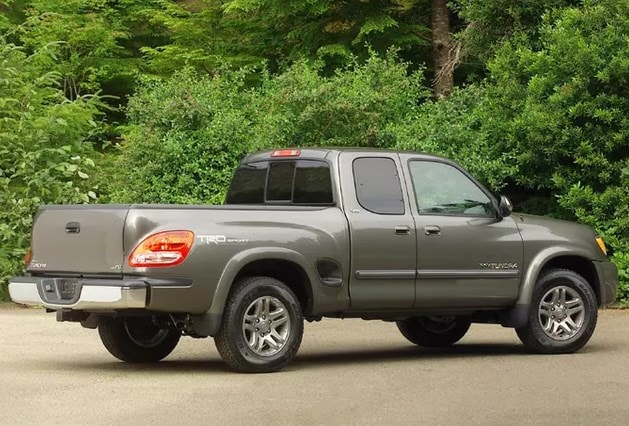 Height
74.0 in (187 cm
70.5 in (179 cm)

70.5 in (179 cm)
Ground Clearance Front
10.9 in (27 cm)
10.4 in (26 cm)
10.4 in (26 cm)
Ground Clearance Rear
10.9 in (27 cm)
10.4 in (26 cm)

10.4 in (26 cm)
Bed Length
74.3 in (189 cm)
76.5 in (194 cm)
98.2 in (249 cm)
Bed Width
63.3 in (161 cm)
62.8 in (159 cm)

62.8 in (159 cm)
Bed Width @ Wheelhousing
49.3 in (125 cm)
49.3 in (125 cm)

49.3 in (125 cm)
Bed Height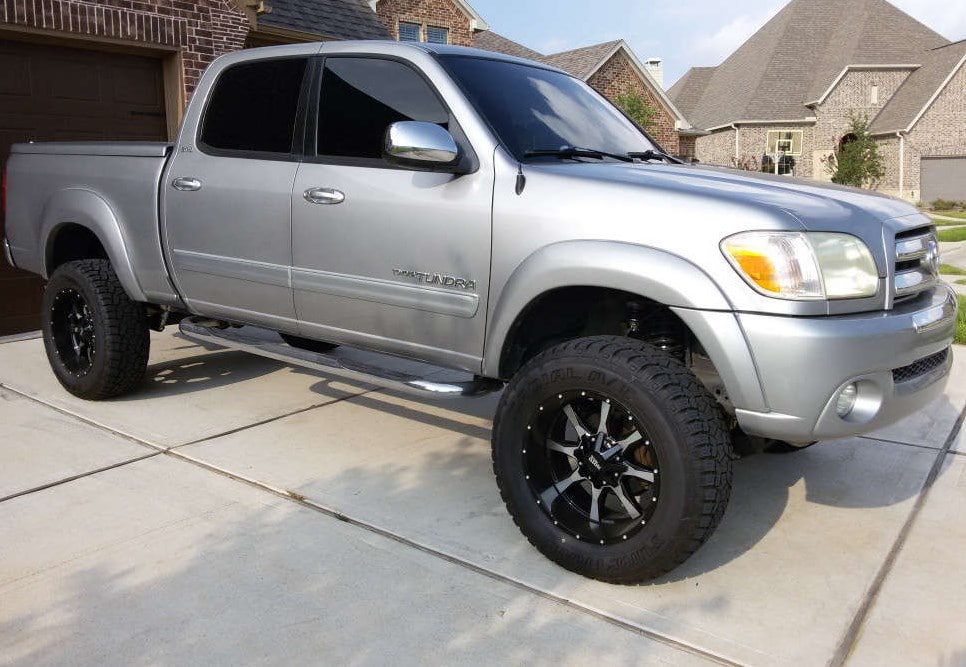 20.7 in (53 cm)
17.2 in (44 cm)
17.2 in (44 cm)
Interior Dimensions
Configuration
Double Cab
Access Cab
Regular
Passenger Capacity
Front Head Room
Front Shoulder Room
Front Hip Room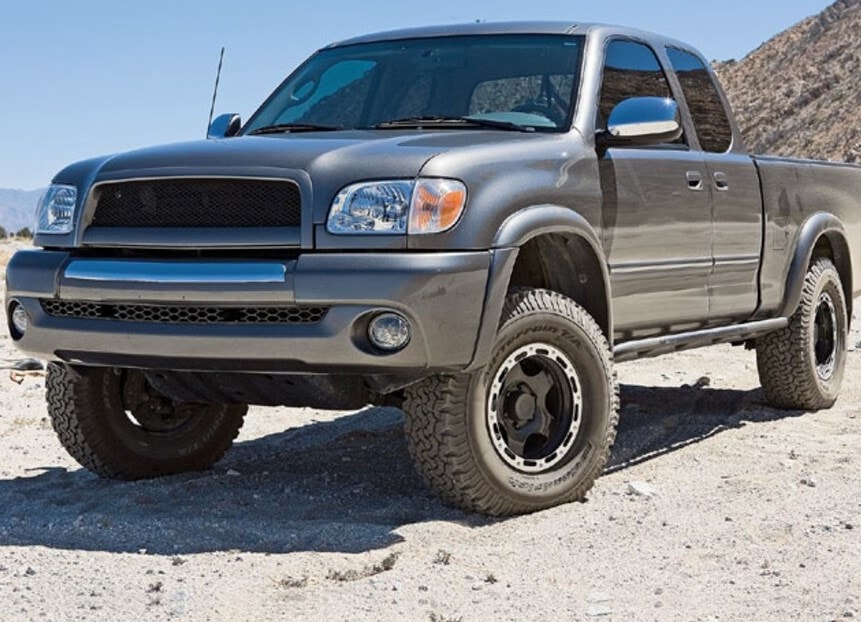 Front Leg Room
Rear Head Room
Rear Shoulder Room
Rear Hip Room
Rear Leg Room
2005 Toyota Tundra Performance
The 2005 Tundra is referred to by critics as a 7/8ths pickup. The term is used because the Tundra is smaller than its competition, namely the Nissan Titan, GMC Sierra, Ford F-150, and Chevrolet Silverado. The main disadvantage of being smaller in size is the inability to haul and tow as much weight as the competition, but for owners who aren't aiming to haul more than 2,025 lbs (918.5 kg) or tow more than 7,100 lbs (3,220.5 kg), the Tundra will be a better fit.
Most often, the word used to define the 2005 Toyota Tundra is refined. The driving experience is often compared to a large sedan rather than a pickup, which is a result of its smaller size and lighter frame. Throttle response is smooth, the truck is agile and quick off the line, and it responds to steering inputs quickly and smoothly.
Toyotas are known for being bulletproof, and the Tundra is a Toyota through and through. Owners of the 2005 Tundra report that the vehicle is still reliable and runs without any mechanical faults even after it has been driven over 150,000 miles.
Towing performance on the Tundra might seem lackluster when comparing spec sheets. However, there is more than meets the eye. 'When in two-wheel mode, the Tundra can easily tow a 3,000 lb (1,360 kg) trailer on a steep incline with no running start' (Autoblog). The suspension is balanced enough to handle bumps and rough terrain without transferring the motion over to the trailer.
Off-roading is where the Tundra proves itself thanks to a combination of an excellent suspension, a rigid frame, and a powerful 4WD system. The movement of the wheels is controlled, and the dampening is excellent. It manages to maneuver and keep all four wheels in contact with the road to get the most grip possible, which when combined with the 4WD system, allows the Tundra to transverse almost anything you throw at it.
2005 Toyota Tundra Prices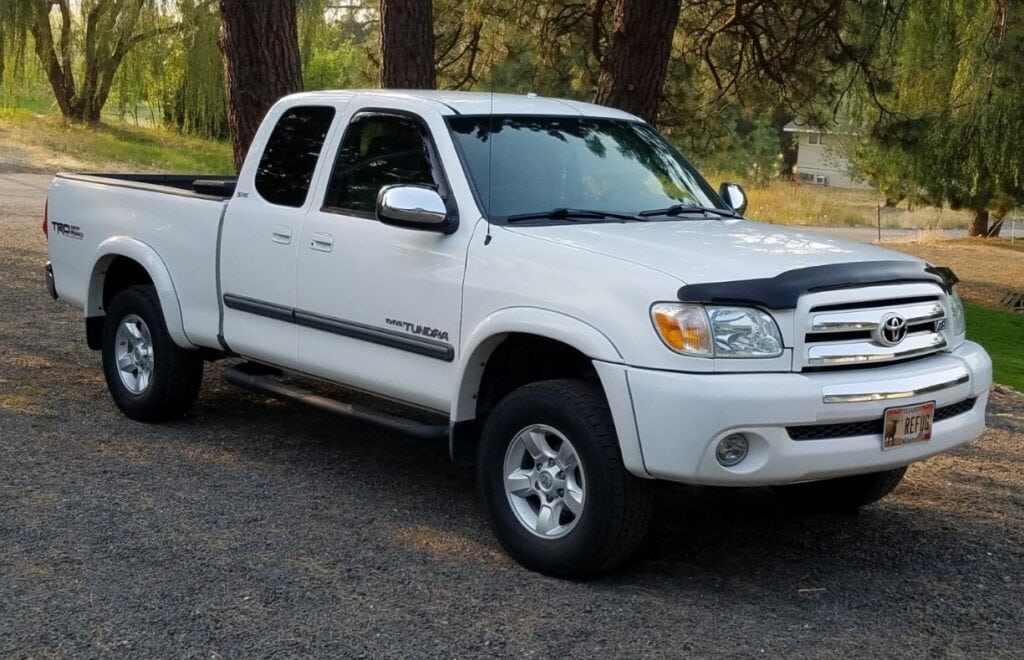 When it was first released, the base price for a bare-bones Regular Cab 2WD Tundra was $15,955. The SR5 Access Cab and Double Cab were priced at $22,410 and $26,120, respectively. The top of the line Limited trim models cost $27,075 for the Access Cab and $29,745 for the Double Cab.
Prices for a Toyota Tundra as of December 2021 range from between $9,500 to $18,000. Which is a bargain for a durable and reliable Toyota pickup which can be used as a work-horse or a daily driver. However, buyers should keep in mind that the 16-year-old vehicle has probably been used as intended, which means finding one that has been maintained well is a bit tough. Furthermore, most of these vehicles on the market have been used for a minimum of 150,000 miles.
The good news is that there are owners who continue to drive the 2005 Toyota Tundras with little to no issues with over 300,000 miles on the odometer and no signs of stopping anytime in the near future.
2005 Toyota Tundra Resale Value
In general, all Toyota brand vehicles have an excellent resale value, and the 2005 Tundra is more of the same. After accounting for inflation, the vehicle would've cost $30,590 brand new and can be bought today for roughly $12,000 – which is the average price for a 2005 Tundra SR5 Double Cab with around 130,000 miles – so it has retained value very well and depreciated slowly in comparison to other vehicles.
2005 Toyota Tundra Accessories & Modifications
The first generation Toyota Tundra is a massively popular pickup truck, and proof of this is the number of aftermarket parts available for the vehicle. Owners can choose to make small cosmetic adjustments or overhaul the entire vehicle with bumper kits, undercarriage armor,n suspension swaps, off-road wheels and tires, winches, tents, and bike racks. The only limit is your bank account.
The easiest and most significant change you can make to your Tundra is to increase the ride height. It increases both the performance and the aesthetic of the vehicle. The cheapest method would be to install spacers for your suspension. A set of front and rear spacers can cost as little as $100 and can increase the ride height of the Tundra by 2 inches.
From there on, you can purchase anything your heart desires from either online stores such as eBay Motors or local mechanics. There is a lot of support for this vehicle.
2005 Toyota Tundra Replacement Parts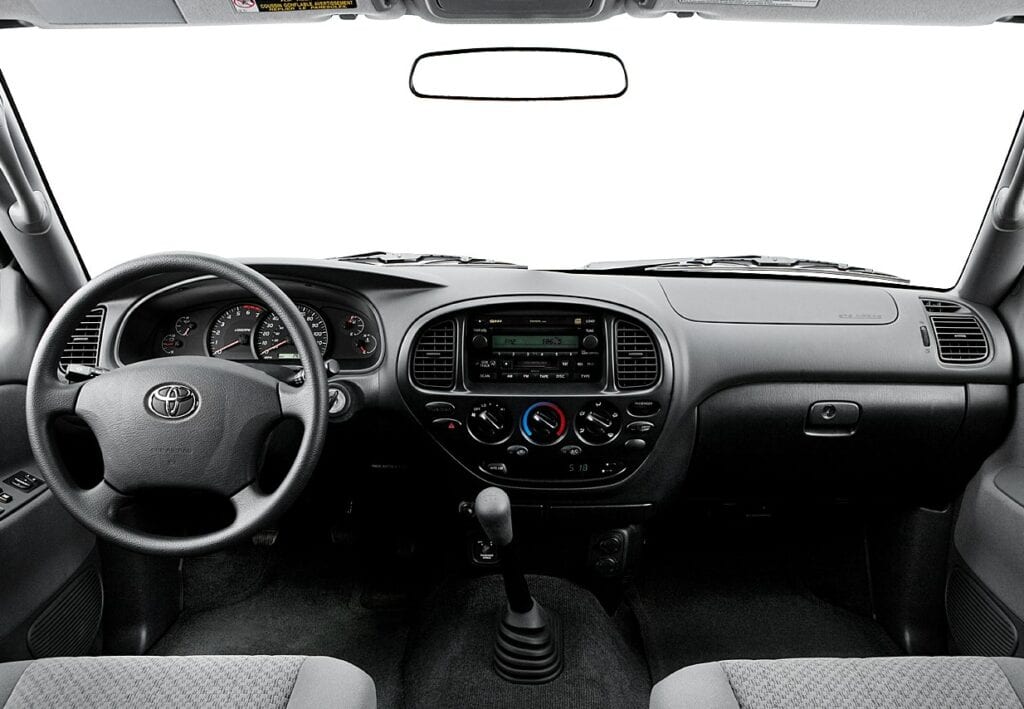 Replacement parts for the Toyota Tundra are easy to find, but if you're on the hunt for brand factory parts, you're out of luck. Second-hand and refurbished parts factory parts can be found from other first-generation Tundras.
However, all is not lost if brand new parts are what you insist on. The Tundra has massive support from the aftermarket community for replacement parts, and they can be purchased without breaking the bank,
2005 Toyota Tundra Maintenance Schedule
The 16-year-old Tundra is a tough vehicle. But regular maintenance is what will ensure it keeps running. Before purchasing one, make sure that the following maintenance has been carried out at the appropriate intervals.
Maintenance Schedule
Oil Change – Engine
Every 5,000 mi or 6 months (Whichever comes first)
Tire Rotation and Condition Check
General Fluid Level Check
Lubricate Propeller Shaft
Re-Torque Propeller Shaft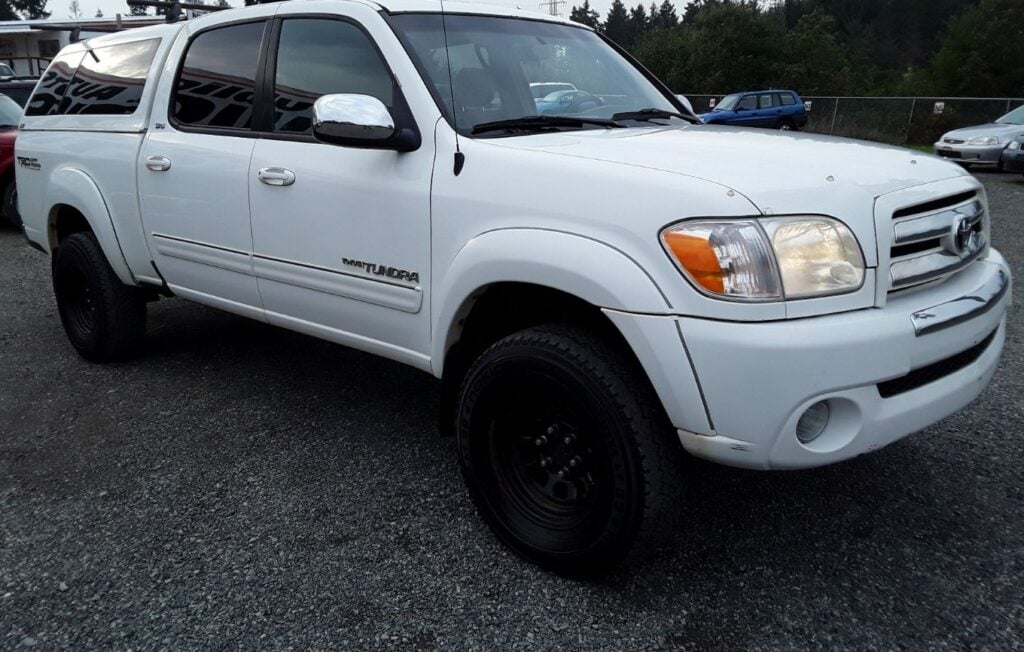 Check Air Filter
Replace Air Filter
Every 30,000 mi or as required
Check Cabin Air Filter
Replace Cabin Air Filter
Every 30,000 mi or as required
Transmission Oil Change
Every 30,000 mi for T4 or 90,000 for WS
Transfer Case Oil Change
Differential Oil Change
Engine Coolant Change
Spark Plugs Change
Every 30,000 mi or as required
Timing or Serpentine Belt Change
Brake Fluid Change
Every 24,000 mi or 24 months (Whichever comes first)
2005 Toyota Tundra Recalls
The National Highway Traffic Safety Administration (NHTSA) has issued 13 recalls for the 2005 Tundra (Cars.com). Two of these were made in 2009 and 2010 are of little consequence as it requires installing a load-carrying capacity label in regards to the tires and rims of the vehicle.
The remaining 11 are a bit more serious and could cause potential injuries. The first recall was made in 2005 and was in regards to the brake system. In some vehicles, the exhaust pipe flange would rub against the rear right brake line, which could cause it to rupture, resulting in brake failure.
One has to do with Tundra models that include the optional seat heater. The copper coils in the seat heater could be damaged if the seat is compressed too much. The damaged heater could then short circuit if in use and potentially cause a fire. The recall action necessitated that the dealers disconnect and refund the price of the seater heater. This particular recall was made in 2016.
Seven of these recalls concern the airbags. Four of which are about the frontal passenger airbag. The inflators on the airbag module had a tendency to rupture when the airbags are deployed, which caused metal fragments to be expelled. The fragments could strike the passenger and driver, resulting in serious injury or even death. The four recalls were made in 2014, 2015, 2018, and 2019. All four required the dealer to replace the airbag with a newer model that remedied the issue.
A recall was made because certain vehicles were missing an indicator light to show when the airbags were turned on and ready to deploy in the case of a crash. The dealers were to replace the indicator lens to remedy the issue. Another issue concerned the child restraint anchorage system and the manual on-off switch for the front passenger airbag, which didn't meet safety standards. Dealers were to remove the switch and add a new safety label to the visor.
Again, in 2016, another recall was made in regards to vehicles that had curtain airbags installed. Faulty programming could cause the airbags to inadvertently deploy, which can injury occupants. The fix was to replace the faulty module with a newly programmed one.
A recall was made for some Tundra models that lacked amber side reflex reflectors because of a particular headlight configuration which could increase the possibility of a crash. Dealers were to replace the noncompliant headlights.
Certain models had improper finishing on the lower ball joints in the front suspension. This caused the joints to deteriorate rapidly, which resulted in steering misalignment, noise in the suspension, and increased steering effort. The joints were to be replaced with compliant parts.
All the recalls were to be done free of both labor and part charges by the appropriate Toyota dealer.
2005 Toyota Tundra Common Problems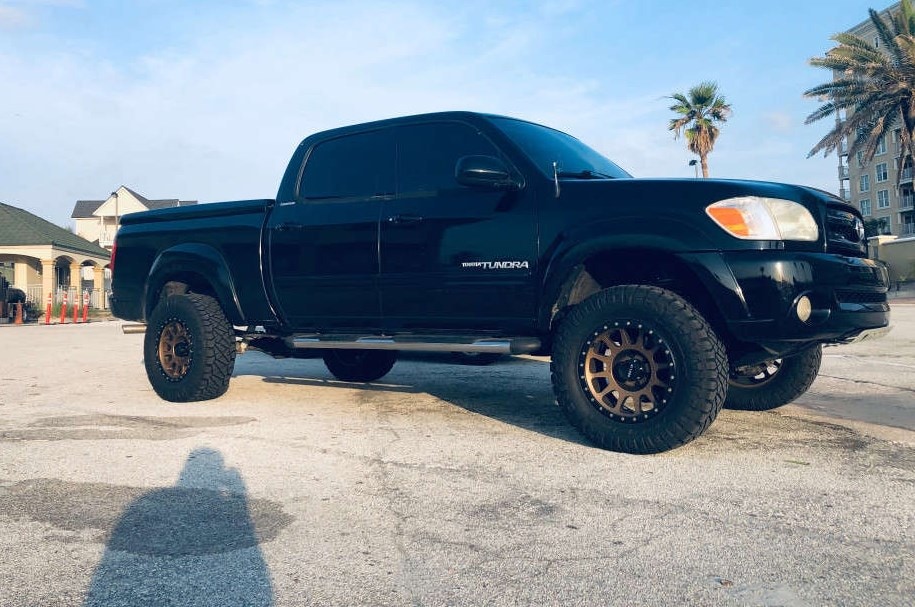 The 2005 Tundra is a durable and reliable vehicle. But it is not without its faults. Owners have multiple complaints about the model. Some are issues that show up with age. Smaller complaints include the rapid degradation of the interior trim. Many taller owners complain about the rearview mirror being interfering with their front visibility.
The biggest issues are with the Anti-lock Brake System (ABS) and the secondary air injection system. The ABS system on this particular model is known to be troublesome which results in the vehicle skidding under hard braking. The last issue only applies to drivers in the state of California (CA). The secondary air injection system has a fault that causes the pollutant levels from the vehicle to be higher than the state requirement. This requires a fix which costs around $3,000.
Frequently Asked Questions
Question: Should I worry about the recalls for the vehicle?
Answer: For the most part, no. Any truck on the road right now should already have the issues fixed. Unless the vehicle has been in storage, the only recall that potential buyers should be concerned about is the most recent recall concerning airbags in 2019.
Question: Is it worth buying a 16-year-old vehicle?
Answer: The Tundra is built to survive, and most do, even after being treated terribly. Purchasing a 2005 Tundra right now and expecting it to last for around 100,000 miles isn't asking for a lot out of the vehicle (provided you're ready for the maintenance that comes with it). The best bet would be to find a well-maintained Tundra with close less than or close to 100,000 miles on it. Since there are plenty of 2005 Tundras with close to 300,000 miles on the road, you can be assured that it will run for a good while.
Question: Why my 4×4 is flashing my back off?
Answer: The common issue is the codes. From time to time they need to be checked. The light is the warning.
References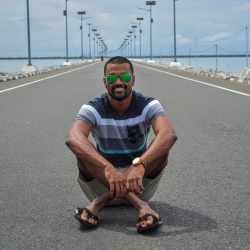 Latest posts by Trevin Casinader
(see all)