Let's talk about one of the most robust American trucks on the market, the indestructible Toyota Tundra. More specifically, I'm going to focus on the 2003 model year. You may think I've lost my marbles, as everybody knows Toyota is a Japanese car manufacturer. Still, not all of you are aware Tundra is actually built right here in the US.
Not only that, this truck was designed by Americans for Americans. Combine that with Toyota's impeccable reliability, and you'll end up with something that may be the perfect combo. So, in this 2003 Toyota Tundra Guide, we'll check out what this truck is like and what to look for when buying a used one.
2003 Toyota Tundra Specs
Trim Levels
Base 
SR5
Limited
T3 special edition
This Toyota Tundra is a part of the first generation lineup of this popular truck, produced between 2000 and 2006. The 2003 model was available in several trim levels and cabin configurations, with the Base being the entry-level.
This package is by no means luxurious, but trust me, it has everything an average truck owner might need, including the air con.
Still, if you want something a bit fancier, the SR5 or Limited trim levels are the way to go. These will bring in things like leather upholstery and stylish chrome body parts. And if you're lucky, you might just stumble up on one of the T3 models, which was only available for this particular production year, honoring the premiere of the Terminator 3 movie.
Engine and Transmission Options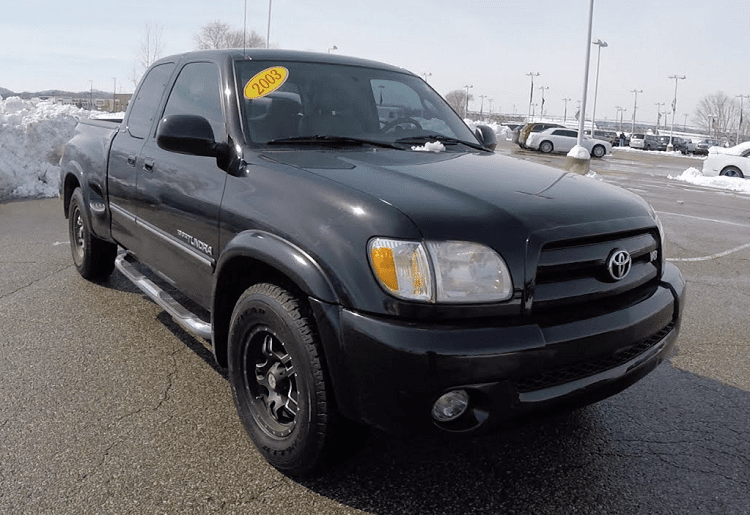 3.4-liter V6
4.7-liter V8
4-speed automatic
5-speed manual
In 2003, Toyota Tundra was available with choices of two gasoline engines. The smaller, 3.4-liter V6 delivered 190 horsepower, which may not seem that impressive. But even as such, this engine has a lot of low-down torque and decent performance.
Still, take my advice and go for the bigger V8, as this one has much more to offer. This includes 245 horsepower and a smooth 260-pound-feet of torque.
The same advice goes for the transmissions, where I believe the 5-speed manual is the better option. Although the 4-speed automatic does the job just fine, it's a bit outdated and sluggish.
Body Shapes
2-door Regular cab
4-door Access Cab
4-door Crew cab (full size)  
Body shapes included anything from a single cab with two seats to a practical access-door variant with a small rear bench. But unless you're heavily involved in hauling, go for the standard 4-door cabin configuration. With it, you'll get the most interior room without sacrificing cargo space too much.
2003 Toyota Tundra MPG
In my opinion, Toyota Tacoma actually offers a decent fuel economy, given its size and weight. With a smaller V6 engine and a manual transmission, it will return anywhere between 15 and 20 miles to the gallon.
Although a bit thirstier, trucks with V8s and automatic transmissions still offer moderate fuel economy. These will usually achieve 13 miles to the gallon in the city and up to 18 on the highway.
2003 Toyota Tundra Prices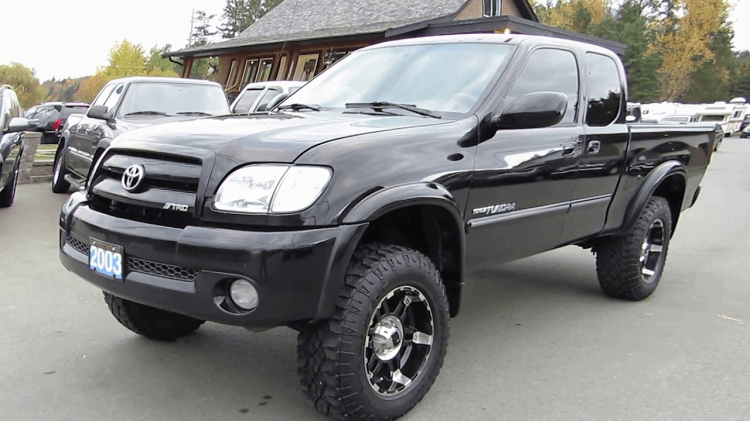 One of the keys behind Tundra's successful sales was its price, which was cheaper than the trucks it was made to compete with. If you were buying it in 2003, when it was brand new, you could get it for as low as $16,000.
That was, of course, for the Base model with no extra options. More luxurious trim levels, such as Limited or SR5, were priced between $20,000 and $28,000.
2003 Toyota Tundra Towing Capacity
If you're planning to tow a heavy trailer, Toyota Tundra will be the right choice. Even the entry-level Base models with rear-wheel-drive only will pull 5250 pounds with ease.
And this will go up to 7200 pounds for trucks with 4WD and V8 engines. To be perfectly honest, that's more than enough for almost any towing application you might need.
Best Accessories for 2003 Toyota Tundra
Steering Wheel Covers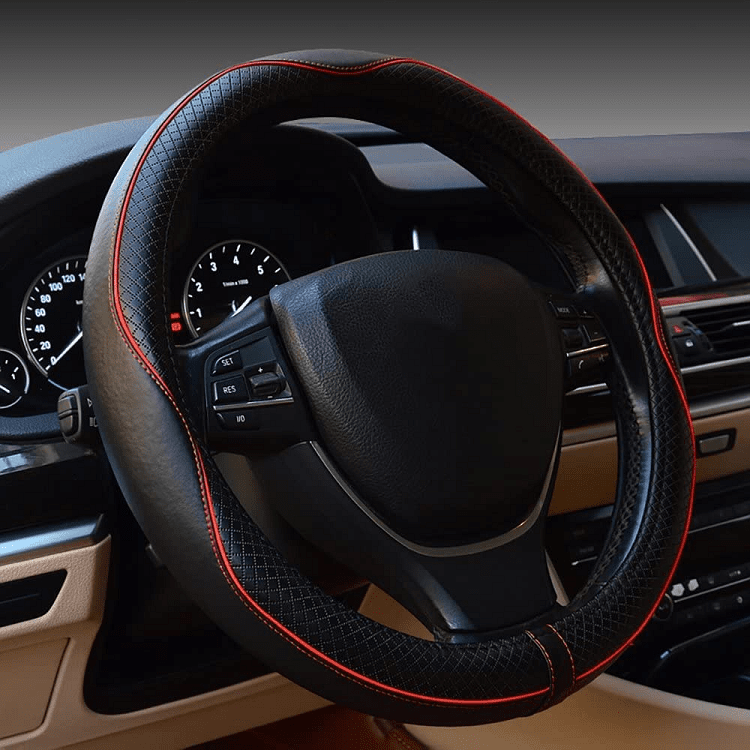 No matter how reliable it may be, there is no getting around the fact the 2003 Toyota Tundra is now almost two decades old. Even the best examples will show signs of wear, with worn leather on the steering wheel being the most common spot. Not only is this an eye sore, but such a wheel will have an unpleasant feel under the hands.
You may try to find another second-hand steering wheel in good shape or have yours reupholstered by a professional. But both of these options could prove to be difficult or time-consuming to achieve. Instead, I would recommend fitting a tailor-made steering wheel cover, such as this one.
Tonneau Covers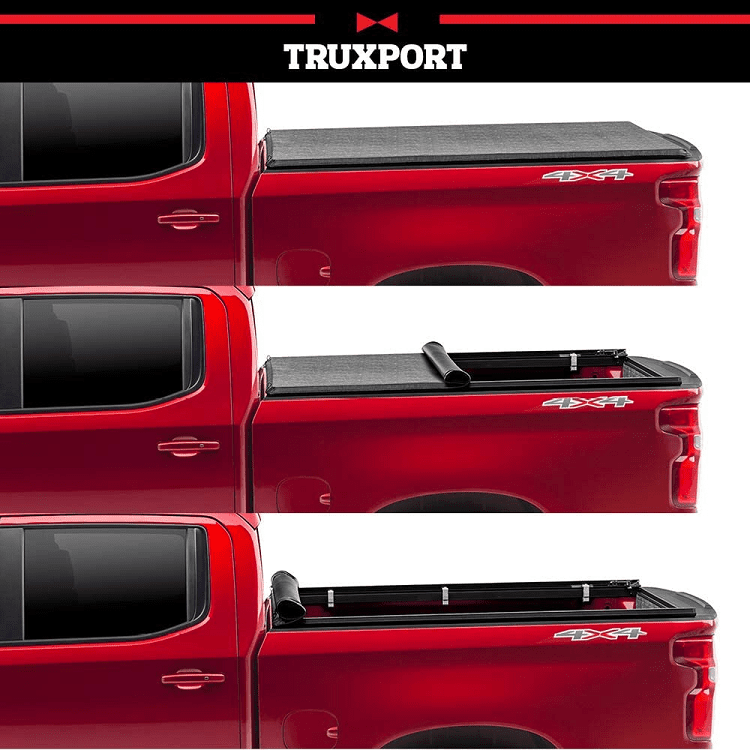 If this is your first time having a pickup truck, you're probably amazed by how practical these vehicles can be. I probably don't have to explain how that open bed is a superb feature for transporting all sorts of cargo, no matter how bulky or dirty. But this is also its biggest drawback, as it leaves all your stuff vulnerable to elements or thieves.
There is, however, a simple solution to the problem in the form of a tonneau cover. They are easy to install, simple to use, and, most importantly, can be quickly moved aside when you need extra cargo space.
Best Replacement Parts for 2003 Toyota Tundra
Brake Pads
Toyota Tundra is a large and heavy truck, and I've noticed they tend to wear their brake pads quite fast. And if driving on highways a lot, you could quickly find this frustrating and expensive. The only way to get around this problem is by fitting an upgraded brake pad kit to your Tundra.
Several aftermarket manufacturers are offering such products, but my personal pick would be Power Stop. Not only will their brake pads last longer, but they will give some extra stopping power. And that's something you really want in a truck weighing more than 4000 pounds.
Air Filters
If planning to do a lot of offroading in your Toyota, you will likely discover its stock intake setup is not the most practical combo. This paper filter will quickly clog up with dust and dirt, which robs the engine's performance.
Instead of constantly replacing it with new ones, which is time-consuming and expensive, I would swap it for a washable and reusable version. There are many options to choose from, but I've learned over the years that you can never go wrong with K&N.
Headlights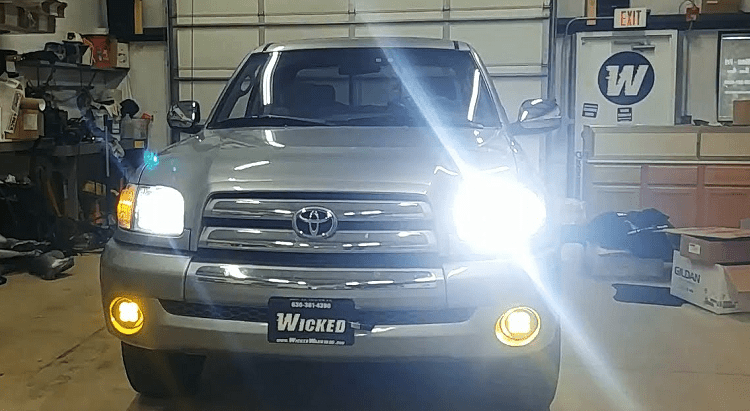 In all likelihood, the headlights on your Toyota Tundra are all faded and blurry. This is because the transparent plastic they are made from does not stand up to the test of time. Not only does this look nasty, but it also reduces visibility.
You can try to polish them out, but this will only help to a certain degree and usually won't last long until they fade again. And trust me, this is not something you want, especially considering how many excellent aftermarket products are available nowadays.
Assuming you don't want to stray away from the factory looks too much, I'd recommend these sleek AKKON headlights.
Tires
Toyota Tundra has an excellent four-wheel-drive system, and it can go places. At least, that is if there is enough grip to transfer all the power to the surface beneath it. So, if trails will be your primary playground, where you will spend most of your time, it would be a good idea to ditch those road-going tires in favor of something chunkier.
Sure, mud or all-terrain tires are a bit bumpier and noisier, which is their only downside. But they will quickly redeem themselves when you come across some demanding obstacles.
Best 2003 Toyota Tundra Mods
Lift Kits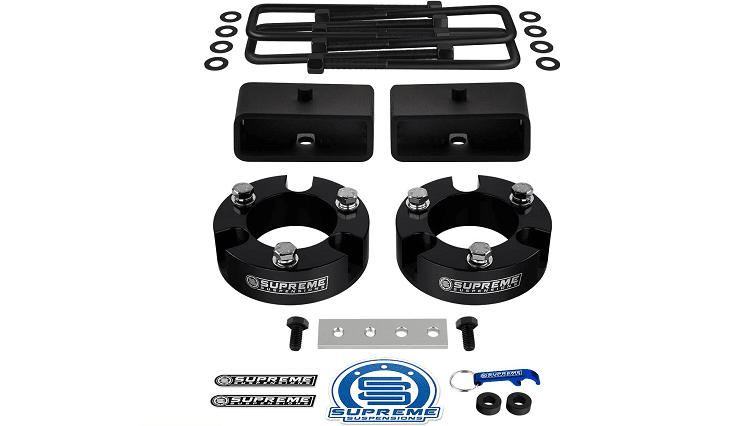 One thing every stock truck needs, in my opinion, is a lift kit. Besides increased ground clearance, which is extremely helpful when going over rough terrains, they will give the truck a more formidable stance and road presence.
Still, don't go overboard with the height, as it may upset handling and make your Tundra unstable. From my experience, two or three inches is just the perfect amount, as it doesn't require any other modifications to the suspension.
Side Steps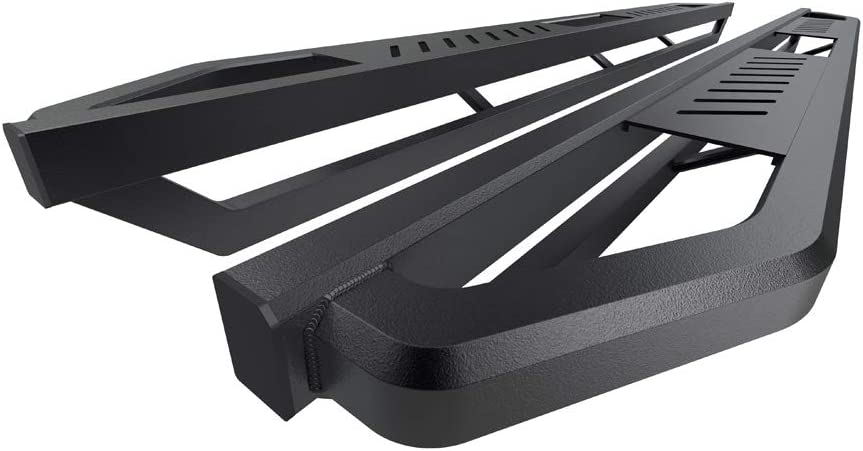 Having lifted your Toyota Tundra, you will probably quickly realize that getting in and out is now quite difficult. This is where step bars, which offer a convenient foothold and double as side protection, come into play.
These are available in different shapes and styles, although rattler boards are my personal favorites. They may not be as strong as drop bars, but they are undoubtedly the most elegant. And in my book, form and function have to go hand in hand.
Front Bumpers and Bull Bars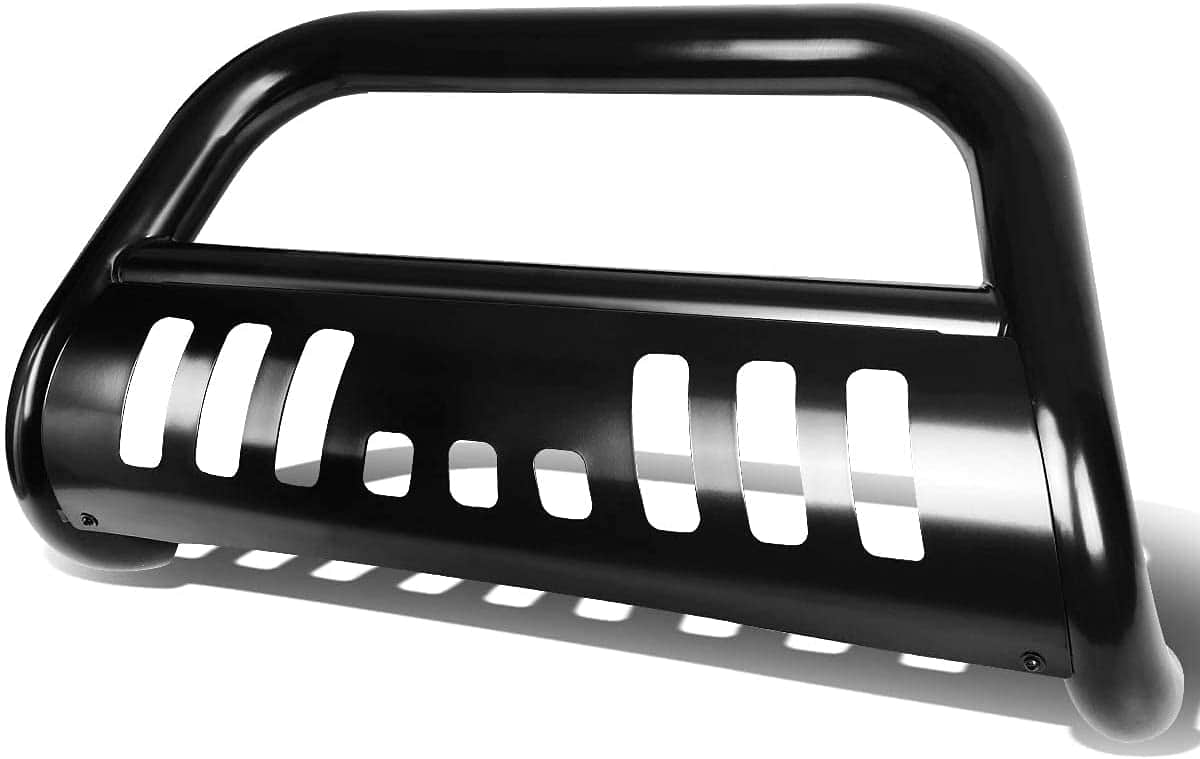 Adventurous offroading requires decent and sufficient levels of protection, which is not something Toyota Tundra and its stock bumpers offer. At first, they appear to be strong enough to cope with the challenges. But one wrong move on the trail and these plastic components will likely shatter into pieces.
This is something I would definitely want to avoid, and for me, fitting a steel front bumper is by far the best solution. With robust construction, these offer dependable front-end protection against all sorts of road and trail hazards.
Or, if you want something less extreme and more affordable, there are always bull bars as an option. They are easy to fit and won't change the looks of your Tundra that much.
2003 Toyota Tundra Maintenance Schedule
As I always like to point out, regular maintenance is the most important thing for the longevity of any vehicle. So, if you want your 2003 Toyota Tundra to last as long as possible, this is the bare minimum of work you'll have to do.
Every 10,000 Miles or Once a Year, whichever Comes First
Renew engine oil and filter
Rotate tires
Reset indicator lights
Every 20,000 Miles
Every 30,000 Miles
Renew engine air filter
Regrease prop-shafts
Check the level of all running fluids
Every 60,000 Miles
Renew fuel filter
Renew spark plugs
Check the auxiliary belt condition
Every 120,000 Miles
Renew transmission fluid
Renew rear differential fluid
Renew front differential fluid (4×4 vehicles only)
2003 Toyota Tundra Recalls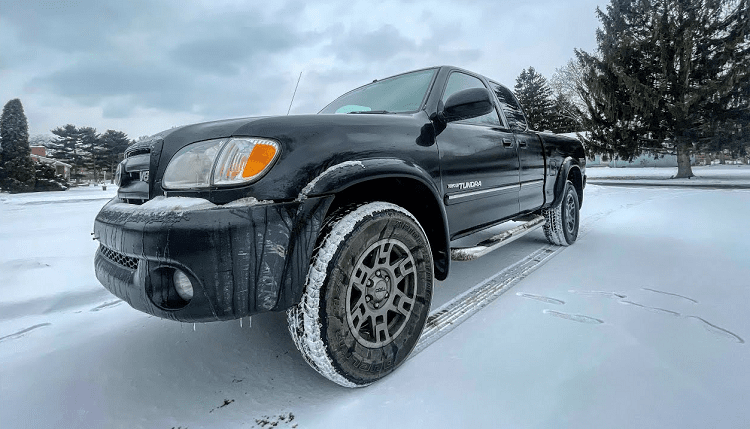 Over the years, Toyota had built its reputation as a manufacturer of robust and reliable vehicles, and their prime-selling truck wasn't going to be an exception. Still, even as such, the 2003 Tundra has certain flaws, with some of them causing recalls.
Among those, the airbag issues are the most prominent, with more than a million trucks being recalled. This is an ongoing problem, with airbags either not deploying in a crash or, even worse, exploding when activated.
And that sends sharp metal shards flying throughout the cabin, which is definitely not something you want to experience. So, if you just bought your Tundra, have this checked out by an authorized dealer.
2003 Toyota Tundra Common Problems
Like many other Toyota models, the 2003 Tundra proved to be a reliable vehicle. But there are, however, several issues many owners do complain about.
Uneven tire wear
Seat belt does not retract 
Excessive wind noise
Firstly, there is an annoying and, in some cases, the dangerous problem of uneven tire wear that affects these trucks. Not only is this expensive, but it can also make the vehicle less stable if left unchecked. The only solution I could advise here is to have all suspension components checked and replaced if needed and do an alignment.
The seat belt that doesn't retract itself is another common issue in many older Tundras. As expected, the driver's the more often affected by this problem. And the only feasible way of sorting this out is by replacing it with another second-hand part that still hasn't suffered from this failure.
These 2003 Toyota Tundras, from what I've heard, can be a bit noisy. The source of this problem is, in most cases, improperly fitting door seals, which result in excessive wind noise. If that's something you can't live with, a set of brand new door seals will save your day.
2003 Toyota Tundra Resale Value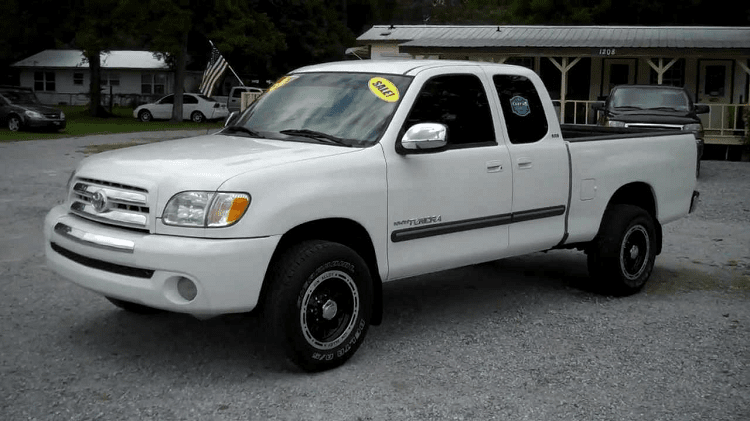 Being a robust and practical truck, the 2003 Toyota Tundra does hold its value quite well. At this moment, even the high-mileage models are priced at around $7,000.
But, believe me, reach a bit deeper into your bank account and get yourself something that is in good condition. A truck such as that will set you back approximately $10,000, which, in the long run, will be money well-spent.
2003 Toyota Tundra Guide: FAQs
Question: How Reliable is a 2003 Toyota Tundra?
Answer: What I've learned over the years is that these early Tundra are such robust trucks. Sure, like any other car, they have their share of problems, but none of them are devastating.
So, if you take good care of your 2003 Tundra and maintain it regularly, it may last for many years. Trust me, mileage as high as half a million is easily achievable in these trucks.
Question: Is a 2003 Toyota Tundra a Safe Truck?
Answer: The fact is that manufacturers in the early 2000s weren't that highly concerned about things such as crash ratings when designing their trucks. This is, however, not true for Toyota, whose first-gen Tundra brought significant safety features to this important automotive segment.
As a result, this was the first truck ever to be awarded a good rating in its crash tests. But then again, check if all relevant recalls have been performed on your vehicle, as these had several airbag-related issues.
2003 Toyota Tundra Final Thoughts
The 2003 Toyota Tundra is a part of this truck's first-generation production run, made between 2000 and 2006. This was the first truck Toyota made just for the US market and manufactured in a then all-new facility in Texas.
Due to its reliability and safety features, Tundra quickly became one of the most popular vehicles in its class, which is something that hasn't changed up to today.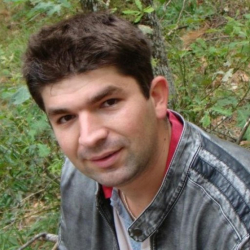 Latest posts by Bojan Popic
(see all)