If you are looking for a classic truck, a 1985 Ford F-150 will probably be impossible to avoid, right? Just one look is enough to realize that this truck looks great, even by today's standards. This is because of its timeless shape and design that perfectly embodies 80s retro style.
Another thing you may notice is that not many of these trucks are left on the market nowadays.
Still, that is not a surprise, considering these 4×4 vehicles have been around for more than 20 years. And those that do turn up in the classifieds quickly find new owners, despite a price tag that is usually hefty.
This means you will have to wisely choose when going through the sparse offerings of these trucks. To help you out with that, in this 1985 Ford F150 Guide, I will explain what these trucks are like and what to look for when buying one.
1985 Ford F-150 Specifications
Nicknamed Bullnose, this model is a part of seventh-generation F-150 trucks, whose production spanned from 1980 to 1986. Thanks to various improvements and upgrades, it proved crucial for Ford's market dominance in that automotive segment.
And being the first F-150 to receive a complete overhaul since 1965, it was also a turning point. Sure, this was not that obvious on the outside, as this truck looks roughly similar to its predecessor.
This is because all the significant differences are hiding under the skin. Firstly, it had a new chassis with the most modern ladder-frame design. Another key feature was the independent twin-I-beam suspension, which replaced the live axle in the front.
This setup ensured a smoother ride and better handling while robust enough. Lastly, engines in seventh-generation trucks started using electronic fuel injection instead of carburetors, which improved their performance and economy.
Equipment-wise, this model year was available in three trim levels. The entry-level, Standard models represented a workmans' truck and offered only the basics.
Apart from the seat and steering wheel, there was little else inside the cab of these trucks. A step up from the Standard trim was the XLT, which offers more plush upholstery and power windows, among other features.
And at the top of the range, there was the premium XLT Lariat trim. Luxurious captain chairs instead of regular bench seats, air condition as standard, and a chrome grille were just some distinguishing elements.
All trucks were available with the same powertrain options, regardless of trim level. A straight-six engine paired to a three-speed manual transmission was the standard offering.
Those who wanted more could choose between two V8 units and a four-speed transmission, either manual or automatic. Drivetrains were available in 2-wheel and 4-wheel drive configurations for all engine variants.
Average 1985 Ford F-150 MPG
The early 80s were challenging and demanding times for all US-based automotive manufacturers. Because of an ongoing oil crisis, gas mileage became one of the most crucial factors. Which was something in which a traditional American car was not very good.
And to make things worse, emission controls regulations became mandatory for light trucks such as F 150. Like most other manufacturers, Ford tackled this issue by improving their existing engines and introducing new ones.
By 1985 all of these popular trucks had electronic fuel injection, which helped improve their overall efficiency and performance. The following table will give a clear overview of the gas mileage, depending on the engine.
| Engine | Power (hp) |   Torque (lb-ft) | MPG |
| --- | --- | --- | --- |
| 4.9L In-line 6 | 125 | 250 | 14 City / 15 Hwy |
| 5.0L V8 | 190 | 285 | 12 City / 15 Hwy |
| 5.8L V8 | 250 | 280 | 11 City / 13 Hwy |
| 5.8L V8 High output version | 210 | 305 | 11 City / 12 Hwy |
1985 Ford F-150 Towing Capacity
A towing capacity for the basic 1985 F-150 is only a modest 2250 pounds. But as with most other trucks, these values would increase depending on drivetrain configurations and final drive radios. As a result, seventh-generation F150 with the most powerful engine and an optional towing package could pull up to 7500 pounds.
On its own, this is a pretty impressive number. In addition, these packages also offered upgrades such as additional cooling and a heavy-duty alternator, which increased reliability when towing a lot of loads.
Best Accessories for 1985 Ford F-150
After more than two decades of use, most of which was probably demanding, floor carpets in most 1985 Ford F-150s are likely to be worn and stained. And if you are having something like that in your own truck, a set of aftermarket floor mats may be an ideal solution. They will improve how the interior looks and make cleaning a lot easier.
Furthermore, floor mats may be a good idea even if carpets are in good shape, as they would help keep them that way. Out of all the similar products on the market, I would definitely recommend these floor mats from Husky Liners. They are tailor-cut to fit your truck, ensuring snug fitment, and are available in several colors.
Husky Liners | Amazon
Featuring our rugged diamond plate look and Formfit design, these classic liners offer protection for vehicles dating all the way back to the 1970s.
Buy at Amazon
We earn a commission if you make a purchase, at no additional cost to you.
09/27/2023 07:20 pm GMT
Like the rest of upholstery, seat covers in a truck this old may not be in their best shape. No matter how careful the previous owner might have been, time and usage have probably taken their toll. And even if seat covers are in pristine condition, their fabric is not what you would call luxurious. A truck was still primarily a utilitarian vehicle at that time, and so was its interior.
Still, you can easily overcome both of these problems by equipping your truck with a set of seat covers. There are plenty of products to choose from, but my personal pick would be these ones from Coverking.
Unlike their modern successors, most trucks in the 80s had cargo beds without any mats or similar means of protection. And having an exposed metal as the floor is more inconvenient than one might imagine. For a start, such a surface scratches easily, causing damaged areas to rust. Also, a painted metal floor is slippery, which causes all the unfastened cargo to slide around.
You can prevent this from happening by installing a protective mat on the bed floor. In my opinion, something like this custom-fit one from Dee Zee may be the best choice for this application.
Best 1985 Ford F-150 Replacement Parts
Most drivers are well aware that their trucks have air filters and have a pretty decent idea of what they do. These paper elements act as a barrier that stops airborne contaminants and particles from going into the engine, where they would cause all sorts of damage. But as you may imagine, a filter will get clogged up with dust and dirt with time, which obstructs airflow and consequently affects engine performance.
Because of that, you should replace the one in your truck at certain intervals, as this ensures an optimum engine operation improves fuel efficiency. Among all the air filters available for the 1985 F-150, I would recommend this one from Spectre Essentials.
Spectre Essentials Engine Air Filter | Amazon
Spectre Essentials Air filters are a direct replacement engine air filter. They can hold up to 50% more dirt than traditional paper air filters.
Buy at Amazon
We earn a commission if you make a purchase, at no additional cost to you.
09/27/2023 04:43 pm GMT
Like many other trucks, a seventh-generation F-150 is a versatile truck capable of doing many things. And this is something where tiers can make a difference, as they can change how the vehicle behaves in any given situation. If spending a lot of time on harsh terrains, a set of all-terrain tires is what you need, as these will ensure enough grip on all surfaces.
As opposed to them, touring tires may be a better option if your daily commutes are limited to paved roads and highways. In addition to less road noise and better ride quality, these will also help lower fuel consumption.
A 1985 F-150 was one of the first Ford trucks to receive an electronic fuel injection. And one of the things these few engine management systems heavily relied on was a reliable ignition. All gasoline engines use spark plugs for this purpose, which are simple parts that ignite the fuel-air mixture. With time, soot and other deposits generated during the combustion process will accumulate on the plug tip, affecting its ability to create a spark.
This causes the engine to run less smoothly and may even cause a misfire. To ensure optimum engine performance, you should regularly replace spark plugs on your truck. As with any other engine-related component, I would choose a product from a reputable manufacturer, such as these Denso ones.
Denso 5026 Spark Plug | Amazon
U-Groove ground electrode design gives the flame a groove to grow in, resulting in less flame dissipation and a larger flame front for more complete combustion. This translates to better fuel efficiency and improved throttle response
Buy at Amazon
We earn a commission if you make a purchase, at no additional cost to you.
09/26/2023 07:21 pm GMT
The Most Popular 1985 Ford F-150 Mods
One of the distinguishing features of any seventh-generation F-150 was its chromed front bumpers. They gave this popular truck an exquisite and sophisticated look. However, the surface of these bumpers may fade with time and become hazy, which would ruin an overall appearance of an otherwise mint truck.
If the bumper on your own truck has this problem, you can always try to restore its shine with purpose-made polishes. But if that gives no results, or if the bumper on your truck is scratched and damaged, you should consider replacing it with a new one. For example, this front bumper from Evan-Fischer will give your 1985 F-150 an updated appearance and a fresh new look.
Evan-Fischer Front Bumper | Amazon
Direct Replacement Bumper Compatible with 1980-1986 Ford F-150 / F-250 / F-350 / Bronco.
Buy at Amazon
We earn a commission if you make a purchase, at no additional cost to you.
09/27/2023 01:13 pm GMT
In the 80s, vehicle manufacturers rarely offered side steps and similar accessories as a factory option, and Ford was no different. Still, this is where aftermarket producers stepped in, offering a variety of products for this application. And these iBoard running boards from APS Auto Parts Specialist are a perfect example of what one such product should do and offer.
With a wide shape and non-slip step pads, they will ensure a secure foothold when getting in and out of your truck. And its robust aluminum construction will provide some extra side protection if you run onto some hidden obstacles.
APS iBoard Running Boards 5in Black | Amazon
The iBoard running board's full length rubberized step pad lets family and fur babies alike step in and out of your truck comfortably and safely.
Buy at Amazon
We earn a commission if you make a purchase, at no additional cost to you.
09/27/2023 04:01 am GMT
1985 Ford F-150 Maintenance Schedule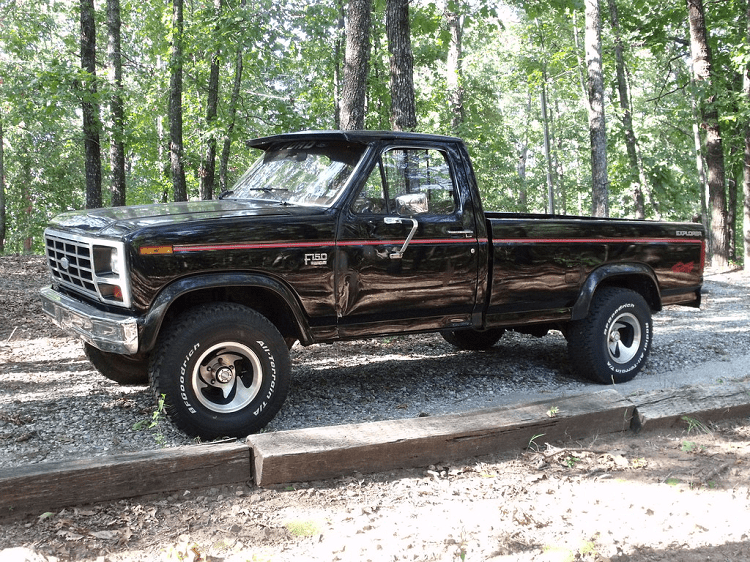 You have probably heard many times that an ounce of prevention is better than a pound of cure QR and have a good idea of what this famous saying is all about. And as I like to point out, this applies to cars as well.
This is where maintenance comes into play. Despite their differences, all vehicles have various fluids and components that need to be replaced renewed after some time. Manufacturers have pre-determined schedules for each model, making maintenance easier for the owners. And for the 1985 Ford F-150, this schedule goes as follows.
Every 3,000 miles or 3 months, whichever comes first
Renew engine oil and filter
Check the power steering fluid level
Check the automatic transmission fluid level
Every 7,500 miles or 6 months, whichever comes first
Inspect all wheels and re-tighten lug nuts
Check the battery charge level and overall condition
Check the serpentine belt and renew if needed
Check all coolant hoses for cracks and renew if needed
Every 15,000 miles
Renew fuel filter
Rotate tires
Check the suspension and steering components and renew if needed
Every 30,000 miles
Renew engine air filter
Flush and renew engine coolant
Renew spark plugs and lead wires
Renew PCV valve and filter
Every 60,000 miles
Renew transmission fluid (both automatic and manual)
Renew transfer-box fluid (4WD models only)
1985 Ford F-150 Recalls
A quick search on the Internet will reveal that the 1985 F-150 does not have many recalls to its name. There was a recall regarding the emergency brake and the other caused by fuel injector issues.
And the latter only affected a small batch of vehicles. There are several reasons for this, with simple construction and robust mechanics being the most significant. As there was not much to go wrong in the first place, these trucks were quite reliable. Additionally, the recall regulations were less strict than they are nowadays.
1985 Ford F-150 Common Problems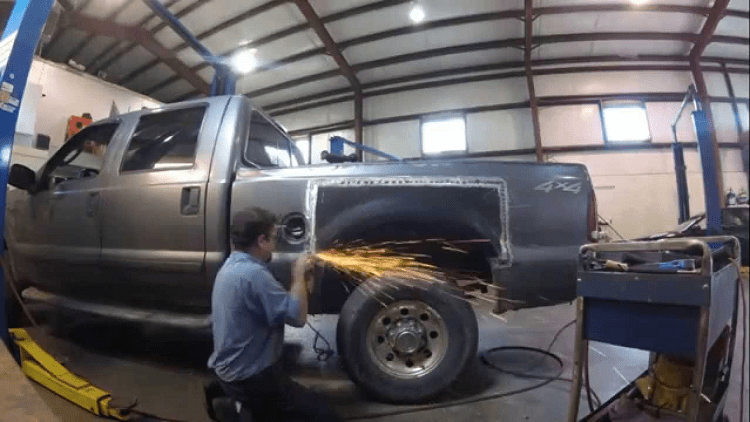 "Build Ford Tough" is a slogan Ford uses to describe how rugged their trucks are. And thanks to its robust construction, the seventh-generation F-150 really lives up to this name. But even as such, this is not a completely bulletproof vehicle, as it has some faults of its own.
Stalling and hard-starting are the most common engine-related issues with these trucks, especially when the engine is cold. The reasons for this range from clogged idle-air control valves and fouled spark plugs to leaking fuel injectors. In most cases, doing a thorough tune-up will solve the problem.
Like most vehicles suffer from that time, late seventh-generating F-150 trucks have severe issues with rust.
Although Ford focused heavily on improving corrosion protection, some parts were still prone to rust. This includes various spots exposed to external damage, such as fenders and doors. A far bigger problem is frame corrosion, which can compromise trucks' structural integrity if severe enough.
1985 Ford F-150 Market Value
There are always a few seventh-generation F-150 trucks selling on the market, with prices starting as little as 1000 bucks. However, most such low-priced examples are in pretty bad shape and may require much work. So, unless you plan to do a full-scale restoration, I would suggest steering clear from such vehicles. Instead, it would be a much better idea to look for a truck that has no apparent flaws, both mechanically and visually.
You can expect a vehicle like that to set you back anywhere from $3,000 to $8,000. And ins some cases, the prices can go as high as $15,000. This is, however, for trucks in pristine condition, with low mileage and proven service records.
Frequently Asked Questions
Question: Which is the Best engine for the 1985 Ford F-150?
Answer: This particular F-150 model had a selection of three different engines, with each of them having its upsides. A standard in-line-6 engine was simple in construction, making it reliable in the long run and easy to work on. On the downside, it did not have much power. This is why many buyers would go for one of the two V8 engines. The smaller unit offered formidable performance, ensuring its popularity among sportier drivers. A bigger V8 engine has an abundance of torque across the RPM range, making it ideal for towing and other similar heavy-duty applications.
Question: Why Are 1985 Ford F-150 Trucks so Expensive?
Answer: Currently, asking prices for these trucks range anywhere between $3,000 to far beyond $10,000. And you may feel this is a lot for a vehicle that is more than two decades old.
However, there are more than a few good reasons for this. For a start, these robust trucks will last for a long time, as long as you take good care of them. Additionally, their retro design makes them hugely popular among nostalgic automotive enthusiasts. And most importantly, the number of trucks that are still running and in good shape is not that high nowadays. As a result, such examples hold their value quite well.
Question: How Many Miles Can a 1985 Ford F-150 Last?
Answer: Giving predictions on how many miles a vehicle could cover before it breaks down is one of the toughest challenges in the automotive business. This is because the actual numbers depend on several factors, including build quality and how the vehicle is used throughout its life.
To put it simply, a well-maintained truck that spent most of its time on the highway will last longer than a neglected one. But regardless of that, you can expect your 1985 F-150 to do anywhere between 200,000 and 300,000 miles.
Last Words
As you may have learned from this article, the 1985 F-150 is a part of Fords' hugely successful seventh-generation of trucks. Commonly known as Bullnose, it managed to do so by combining classic retro design with modern technology.
As a result, this truck solidified its position as the best-selling light-duty vehicle on the market with ease. And even today, a seventh-generation F-150 is a popular truck among automotive vehicles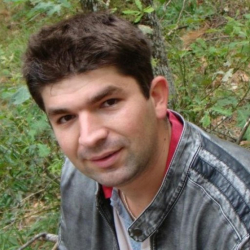 Latest posts by Bojan Popic
(see all)