Hello, Jeep fans or soon-to-be Jeep fans! This article will pit the much-loved but now decommissioned Jeep Patriot vs Cherokee, the broadly similar surviving brother. I've chosen to compare the newest available models for each.
As a result, I've ended up pitting the 2017 Patriot against the 2022 Cherokee. "That seems a little unfair," you might say, but then, such is life. The Cherokee has continued while the Patriot – love it or not – hasn't. That's just how it is.
I'm a trained and experienced car mechanic, and, crucially, I'm open-minded. I never worked in a manufacturer dealership, so I'm used to seeing all sorts of vehicles (in all sorts of conditions!)
When I look for a personal-use car, I focus mostly on how good it feels to drive. Horsepower, acceleration, size, aesthetics, and fuel efficiency are all important factors, but they're nothing if you don't actively enjoy your journey.
As we compare the Jeep Patriot and Cherokee SUV models in this article, I'll go through several factors. Overall, though, as I mentioned, I think it comes down to driving experience.
Do you want an off-road toy or a practical road car that occasionally heads off the beaten track? If you can establish that right now, here at the start, you'll find it much easier to know what you're after.
Your inner excitable child might be all for a great 4×4; however, the practicalities of life, money and family mean that most people will have to settle for the latter.
In this article, I've chosen to compare the two models based on a few factors:
Road performance (including towing)

Off-road performance

Price

Functionality and practicality

Aesthetics
I'll also briefly suggest some alternatives following the same factors. If you're considering buying a Patriot or a Cherokee, I hope this page can help you decide between the two (or perhaps mean you get something else entirely!).
Comparison Overview: Bottom Line Up Front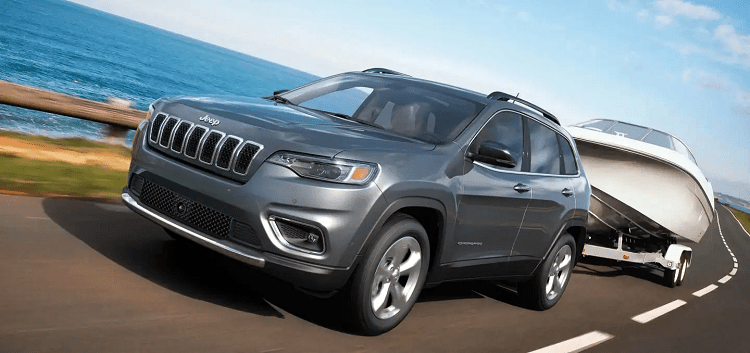 In summary, I'd give both cars about a 7 out of 10. Both are reasonably affordable and bring with them above-average off-road performance. The smaller Patriot might be less powerful, but it weighs less, meaning there's more potential for lower running costs.
The modern Cherokee is more comfortable and practical, with much more power available in comparison. The trade-off? Dollars. Many of them. A 2022 Jeep Cherokee far outprices the Patriot, even when it was new.
Main Differences Between Jeep Patriot and Cherokee
Overall, these two vehicles are pretty similar. That said, the main differences between the Jeep Patriot and the Jeep Cherokee are:
The Patriot was discontinued in 2017, whereas the Cherokee is an ongoing model.
The Cherokee is (like for like) a few hundred pounds heavier, whereas the Patriot is a lighter model.
You'll get more power out of the Cherokee (especially with the V6) and better acceleration, whereas the Patriot is less powerful due to its small engine and irritating CVT.
An average-priced second-hand Patriot costs $14,000 to $20,000, whereas an equivalent Cherokee costs $26,000 to $38,000.
The Cherokee tows up to 4,500 lbs, whereas the Patriot only tows up to 2,000 lbs.
The Cherokee is quite superior off-road, whereas the Patriot has less ground clearance and less power.
The Cherokee has a larger fuel tank, whereas the Patriot's is slightly smaller.
Getting Up to Speed
Before comparing the two cars (2017 Patriot vs 2022 Cherokee), it's worth having a brief overview of each. Who knows? Perhaps this section will be all you need to make up your mind!
Jeep Patriot Overview
Production of the Jeep Patriot came to its end with Model Year 2017. At the time, the base trim (Sport) was a front-wheel drive with a 5-speed manual as standard.
You could upgrade to a CVT or 6-speed automatic if preferred (although the stick shift is best). The 2.0-liter in-line 4 (upgradable with DOHC and VVT) could give you up to 30 mpg in standard tests. Not too bad, really.
Here's a blitz approach to the numerical facts. Curb weight: 3,136 lbs. Maximum horsepower and torque: 158 hp and 141 lb-ft. 8 inches of ground clearance. Alright.
Up the spec to the 4WD Sport and the increased weight (3,263 lbs) and transmission mean the mpg drops off a bit – more like 26 or 27. Rising through the specifications and trims essentially gives you marginally better 4×4 performance as the everyday road practicality diminishes more and more.
Jeep Cherokee Overview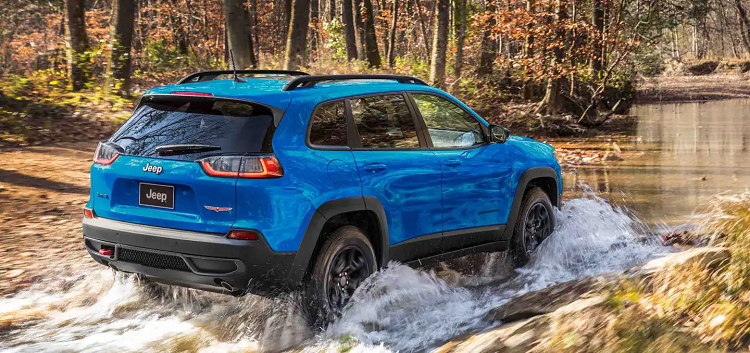 The 2022 Jeep Cherokee is an average all-around car but obviously weighted towards off-roading. The front-wheel-drive Altitude spec comes with a 9-speed automatic, transferring power from the 2.4-liter inline-4 to the front wheels. Expect up to 31 mpg on highways and a combined average of 25 mpg.
In reality, you should look for models with the V6. This is widely reported to be much more powerful and responsive (271 hp, up from 180). Expect less fuel economy (23 combined mpg) and about 10% more CO2 emissions. Look at the Latitude trim (about $35,000). For an authentic off-roader experience, look no further than the Trailhawk.
This 4×4 model is built for cross-country expeditions and is only $37,545. It's not too much more, but it's at least double what you'll pay for an equivalent Patriot.
The Cherokee is a capable off-roader, although the modern version is trying hard to be a road car, primarily (as you'd expect). It's comfortable, too. Firm but not harsh.
The Cherokee struggles in a similar way to the Patriot. It's a little too heavy-handed for daily runaround use, and the prices are unnecessarily high, especially considering the equipment specification levels are only average. It's only really worth considering if serious off-roading is your thing.
Jeep Patriot vs
 Cherokee: Road Performance
Regarding road performance, the Cherokee and Patriot are fairly statistically similar. At best, they'll each put out around 30 mpg and average close to 27 mpg across all your journeys.
You get more power from the Cherokee, meaning it'll accelerate noticeably quicker. The 9-speed automatic is also reasonably advanced (but nothing special). It reduces the economic and environmental impact of the V6 engine (which you should definitely invest in).
The 2022 Cherokee shows significant improvements on models from a few years ago. Handling is much better, and the suspension is still pretty good. It's firm to control body roll but far from juddery. If I were comparing the older 2017 Cherokee with the Patriot, the latter would win, hands down.
When it comes to towing, the Patriot can't hold a candle to the Cherokee. Try though it might, it's like a marathon runner in a weightlifting competition (or vice versa): it simply isn't built for it.
The 2017 Patriot has a standard max towing capacity of 1,000 pounds (unbraked). A towing package is available, raising the bar to 2,000 pounds. In comparison, the Cherokee can pull 2,000 pounds before any optional extras.
With the proper selections, you can increase this to 4,500 pounds. No contest, really. But then, bigger isn't always better! What do you need to pull? A massive RV or a normal-sized two-horse trailer? The Patriot might have a much lower towing capacity, but it might be all you need!
Jeep Patriot vs Cherokee: Off-Road Performance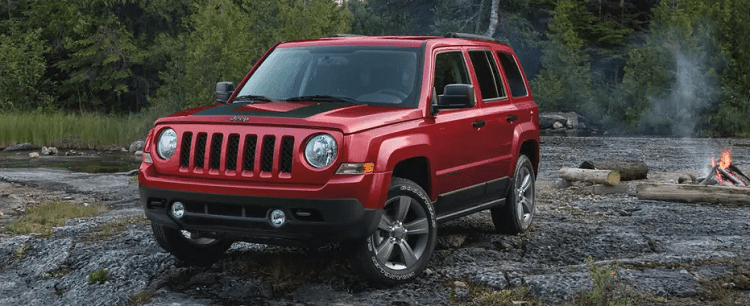 Compared to the Cherokee, the Patriot again can't compete. It has less ground clearance (the Cherokee can come with 11.4 inches with the Trailhawk package!) and less power, especially compared with the V6. It also has much less torque than the I4. Neither have a mechanical locking rear diff; instead, there's an electronic control system.
The Patriot is a plucky little car, but you need the Cherokee for the more serious stuff between these two vehicles. Specifically, you want the Trailhawk model. This comes with superior 4×4 options, active hill descent, and crawl speed control.
Jeep Patriot vs Cherokee: Price
The Jeep Patriot is much cheaper upfront than the Cherokee, even going by the MRSP when new. You'll have found a basic Patriot for around $18,000 in 2017, straight from the dealer.
A four-wheel-drive version brings the price up to just over $20,000. Even with all the optional bells and whistles on the top-of-the-range model, you would've been unlikely to exceed $30,000.
The Cherokee, however. Well. The current MRSP is $29,995 for the basic model before optional extras. For reference, the top trim line available on the 2017 Patriot was the 4WD Latitude.
Before any extras, this would have cost you less than $26,000. That is, the baseline Cherokee is $4,000 more expensive than the top-of-the-range Patriot. The Trailhawk 4×4 – the one a 4×4 enthusiast simply has to get – is $37,545 before extras. It's a better car, undoubtedly… but is it that much better? Really?
So, do running costs make a difference? No, not really. Overall, the two are strikingly similar. They'll put out virtually the same fuel economy, and although the 9-speed automatic in the Cherokee makes highway cruising pretty efficient, the Patriot's manual transmission does the job too. Avoid the CVT wherever possible!
As a side note, this section probably spells out why the Patriot was discontinued. It had very little in terms of modern technology. This helped keep the price down but made it less appealing than competitors. In fact, the Patriot almost competes against other Jeep models rather than anything else in particular.
Jeep Patriot vs
 Cherokee: Functionality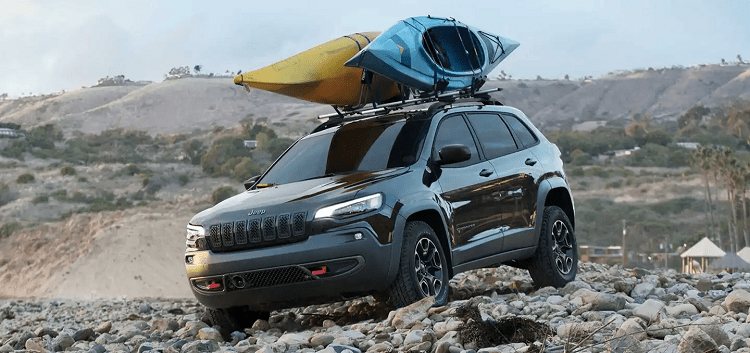 Although running costs are similar, the Cherokee has a bigger fuel tank. You'll be paying about the same amount for fuel each year, but you won't have to fill up quite so often.
That might be a deciding factor if you regularly make long journeys. However, a few extra annual three-minute fuel stops won't significantly impact your daily routine.
Functionally and practically, these two cars are virtually the same. The Cherokee is a smidgen bigger – a few cubic inches, not enough to make any real difference. Although they're similar sizes, the lower interior design of the Cherokee makes it feel more spacious. In that way, it could be argued that it's been designed slightly better.
Jeep Patriot vs Cherokee: Aesthetics
We'll finish with the fickle and vain stuff. Looks shouldn't matter too much these days. It's all about performance, whether on-road, off-road, or financial. But apparently, I have strong opinions on it anyway, so why not?
To my eye – and perhaps it's true that beauty is in the eye of the beholder – the Patriot is so much better looking than the Cherokee. Not that the Cherokee is ugly by any stretch of the imagination. It just looks the same as every. Other. SUV. In. The. World. Ughh! Sorry, it's a bit of a sore subject for me.
Something about the Patriot is so retro but classy and modern. I love its circular headlights and the subtle notes back to the original Willys Jeep – its bareness, for a start. That's really appealing to a lot of people, myself included.
There isn't much else to say, really. Both the interiors are plastic-y and pretty dull. But there's something more externally visually attractive about the Patriot to me.
Alternative Vehicles to Consider
Jeep Wrangler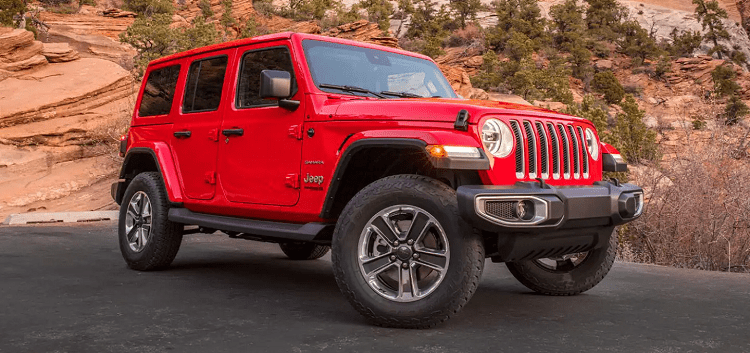 As an off-roader alternative, consider the Jeep Wrangler. The Wrangler will run rings around the Patriot and the Cherokee all day long. It looks somewhat similar to the Patriot, just better – a perfect example of how to mix retro design with sleek, aggressive, modern curves.
Of course, don't expect fuel economy to be anything more than 20 mpg unless you do a lot of highway driving. But that's not what this car's about.
The Wrangler Rubicon (top-level trim) is a pure off-roader. It's not trying to be something it's not (unlike the Cherokee). It's got a range of impressive engines and true locking rear diffs – the sign of a proper 4×4. If going off the beaten track is your thing, look no further than this model.
Unfortunately, expect to pay quite a lot of money for the Rubicon. $75,000 or more. Yep. It's a bit much for a toy. Instead, you might consider a mid-range spec Wrangler. Prices are about the same as a Trailhawk Cherokee, but the off-road heritage is a little clearer to see and feel.
Mazda CX-5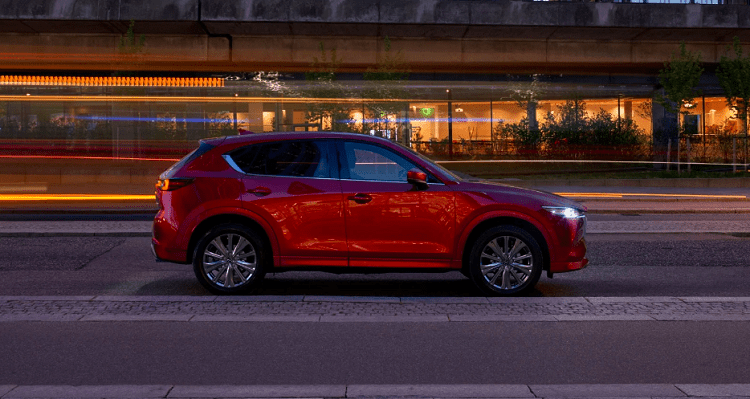 If the Wrangler is the creme-de-la-creme of off-roading, the Mazda CX-5 is the king of road-going compact SUVs. Not only is it affordable, but it's also great to drive! It even looks pretty good (for an SUV) with the right wheels and paint.
Of course, don't expect the CX-5 to match the Jeeps off-road. It's not built for that. But that's also good! The CX-5 can venture off for some light off-roading with its simple all-wheel-drive settings, but it's not trying to be a jack of all trades.
It knows what it is! It's with good reason that many automotive journalists and critics give this car a 9 or 10 out of 10.
If you want something affordable, practical, and fun and to drive across the occasional field, this is what you need.
Ford Bronco Sport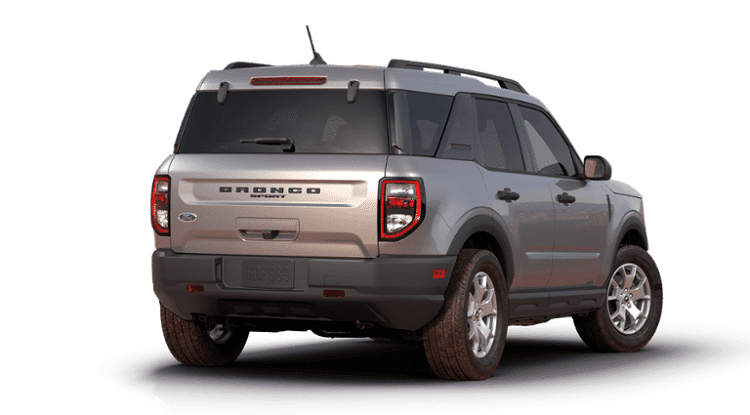 The Ford Bronco is tremendous fun. Look for the Badlands trim if you want to get serious about off-roading and competing with the Cherokee Trailhawk. This will probably cost you around $36,000, similar to the Jeep.
However, the Bronco offers more off-road performance and on-road comfort. For the same price, why would you not?
Frequently Asked Questions
Question: Is the Jeep Patriot a Reliable Car?
Answer: The Jeep Patriot isn't exceptionally reliable. It can develop any number of problems over the years. Although maintenance costs aren't too bad, they're certainly more than you'd want. RepairPal reports an average yearly expenditure of about $600. Ouch.
Look to the east if you're after a reliable road-going SUV worth every penny. Honda, Hyundai, and Mazda have the best options by far.
Question: Why Did Jeep Stop Making the Patriot?
Answer: Jeep stopped making the Patriot because it stopped selling well. While it has some good aspects, the main selling point was, "Oh, that's obviously a Jeep." Inside it was pretty bare, and at first, A/C didn't even come as standard. It's slow (painfully so) and doesn't really have much going for it.
I think the Patriot suffered from the same problem as the Cherokee and many vehicles today. It just lost sight of its target market and tried to be too many things to too many people.
As the price increased, the technology stayed far away from the interior. Customers sensibly looked elsewhere, where you could get much more car for your money. Now, it's been replaced by the Compass. Again, the Compass is decent but pretty meh.
Question: Is the Jeep Cherokee Better than the Ford Escape?
Answer: Some suggest that the Cherokee is superior to the Escape. I disagree on most fronts.
For off-roading, the Cherokee will probably go further than the Escape. However, the Ford is slightly cheaper, more fuel efficient, and clearly built for the road. It can't tow quite so much (3,500 lbs vs 4,500 lbs), but still, there's plenty of torque.
I'd suggest the Ford Escape over the Cherokee for the average driver's practical daily usage. Alternatively, if your budget has a little wiggle room, check out the Grand Cherokee. That's a good car.
Conclusion
Common sense might tell you to get the Cherokee. Models from previous years have held their value pretty well, although the current automotive market, pandemic, and economic conditions may mean this is a slight anomaly. It's superior in almost every way: on-road, off-road, performance, comfort, practicality, and so on.
But to me, there's a more raw appeal about the Patriot. It isn't anywhere near as good, overall, certainly. There's just something captivating about it.
It's like your friend from school that worked hard but failed every class – they didn't do well, and all the teachers (critics) didn't like or pay much attention to them, but you loved hanging out with them anyway.
If you want to keep your costs down or don't have much up front, I'd actually suggest the Patriot. Despite the undeniable superiority of the Cherokee, budget considerations – since they're so significant – overrule it for me.
There we go; I've surprised even myself. It isn't as good, but they also hold their value reasonably well. You can anticipate a few persnickety niggles along the way, but expect to have some modest fun, too.
Alternatively, I'd suggest any of the alternatives listed above over both the Patriot and the Cherokee. To be blunt, they're all better at one aspect or another.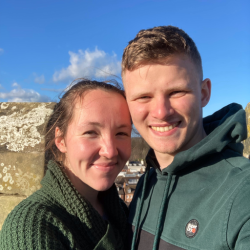 Latest posts by Ben Kitchen
(see all)