In this 1977 Ford F150 guide, I'll be walking you through this adored classic pickup truck. The F150 is, as most people know, the best-selling consumer vehicle in the USA (closely followed by the Chevy Silverado and Ram pickups, respectively).
1977, in particular, marked Ford's domination of the pickup market, as the F150 took the spot of the best-selling truck. Check out this 1977 Ford Pickup Truck leaflet for a real blast from the past.
Nowadays, the 1977 Ford F150 is regarded as a classic car, with admirers and enthusiasts willing to pay a pretty penny to get their hands on one.
Interested in learning more about this incredible vehicle? Read on.
History of the 1977 Ford F150
In 1977, the Ford F-Series was approaching the end of its sixth-generation models, spanning from 1973 to 1979. Like the previous two generations, it was heavily based on the 1965 F-Series.
(The subsequent seventh generation was completely redesigned, as Ford tends to do every ten or 15 years.)
The Ford F150 was introduced to the market in 1975 and quickly became the most popular choice for buyers. Initially, Ford designed it to find a way around emissions standards. It was noticeably more practical and led to the inevitable phasing out of the F100 in the early 80s. Ford switched to designing the F150 as its base model instead.
The sixth-generation F150 had the platform code "F151". Although it was still classified as a half-ton truck, it could handle greater loads than the F100, with a GVWR of between 6,050 and 6,500 pounds.
The redesign from the fifth-generation included moving the fuel tank to the rear (for safety reasons) and ramping up the use of rust-resistant materials, such as galvanized sheet metal and zinc-coated steel.
In 1977 specifically, the Ford F150 received a minor exterior redesign, including plastic trim around the fenders (also to help prevent corrosion). The cowl insignias were placed nearer to the windshield and made smaller. The fuel tank's placement behind the seat was also discontinued for the last time. As well as this, Ford implemented a rectangular fuel door in the bed to hide the gas cap.
The short-box Flareside and mag-style hubcaps significantly increased the truck's aesthetics, making it more appealing to a younger market.
New 351 and 400 CID V8s were also introduced to replace the now-aging 360 and 390 CID V8s, respectively. While the 351 Windsor V8 would go onto bed one of the most successful engines in Ford's history, the 400 would fizzle out after a few years.
1977 Ford F150 – available specifications and engine sizes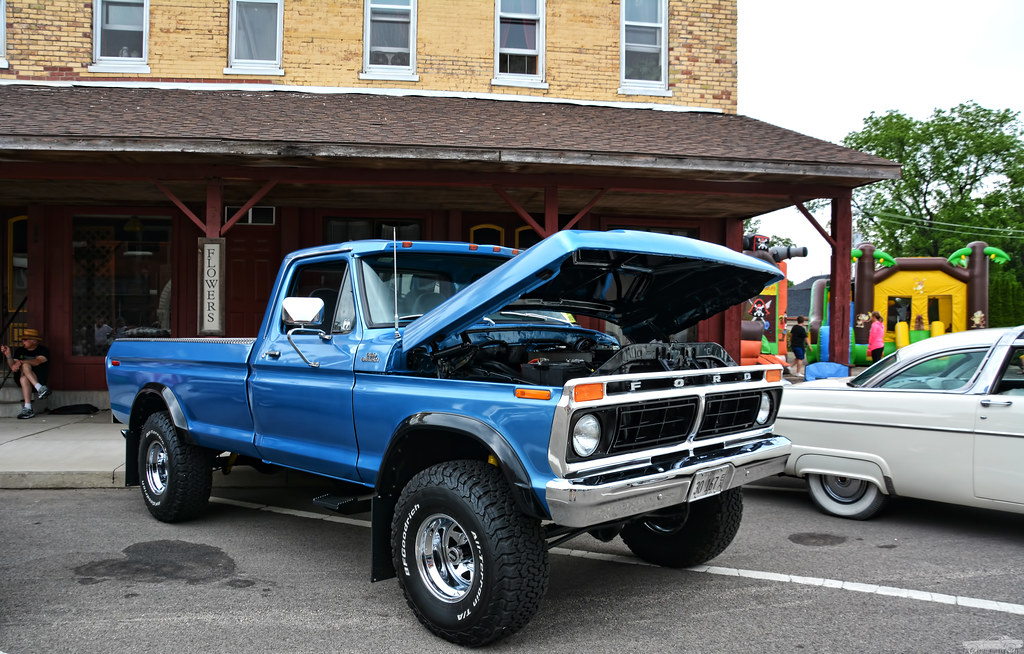 The sixth-generation Ford F150 was available in three different trim specifications:
Custom (standard)

Ranger

Ranger XLT
For all models, you could get either a Regular and SuperCab edition.
For the 1977 Ford F150, you had a choice of five engines:
300 CID Inline-6

, producing 117 bhp.

302 CID V8

, producing 130 bhp.

351 CID Windsor V8

, producing 160 bhp.

400 CID V8

, producing 169 bhp.

460 CID V8

, producing 200-239 bhp.
From the above statistics, it might be clear why the 400 CID engine failed to gain traction, with the smaller 351 Windsor V8 producing near enough the same performance levels.
You could get either a three-speed automatic or three-speed manual transmission in your 1977 Ford F150.
With an optional towing extra, the 1977 F150 could tow up to 10,000 lbs
Color schemes
In terms of color, you had a wide range of options available, with at least sixteen different exterior paint choices.
Medium Copper

Copper Metallic

Candyapple Red

Castillo Red

Chrome Yellow

Indio Tan

Dark Cinnamon

Raven Black

Wimbledon White

Silver Metallic

Midnight Blue Metallic

Bahama Blue

Light Blue

Light Jade

New Jade Glow

Dark Jade Metallic
While I've been unable to find any definite statistics for this, a quick search online suggests that the most popular colors were the reds and blues. Raven Black and Wimbledon White also come up pretty often.
Best 1977 Ford F150 Accessories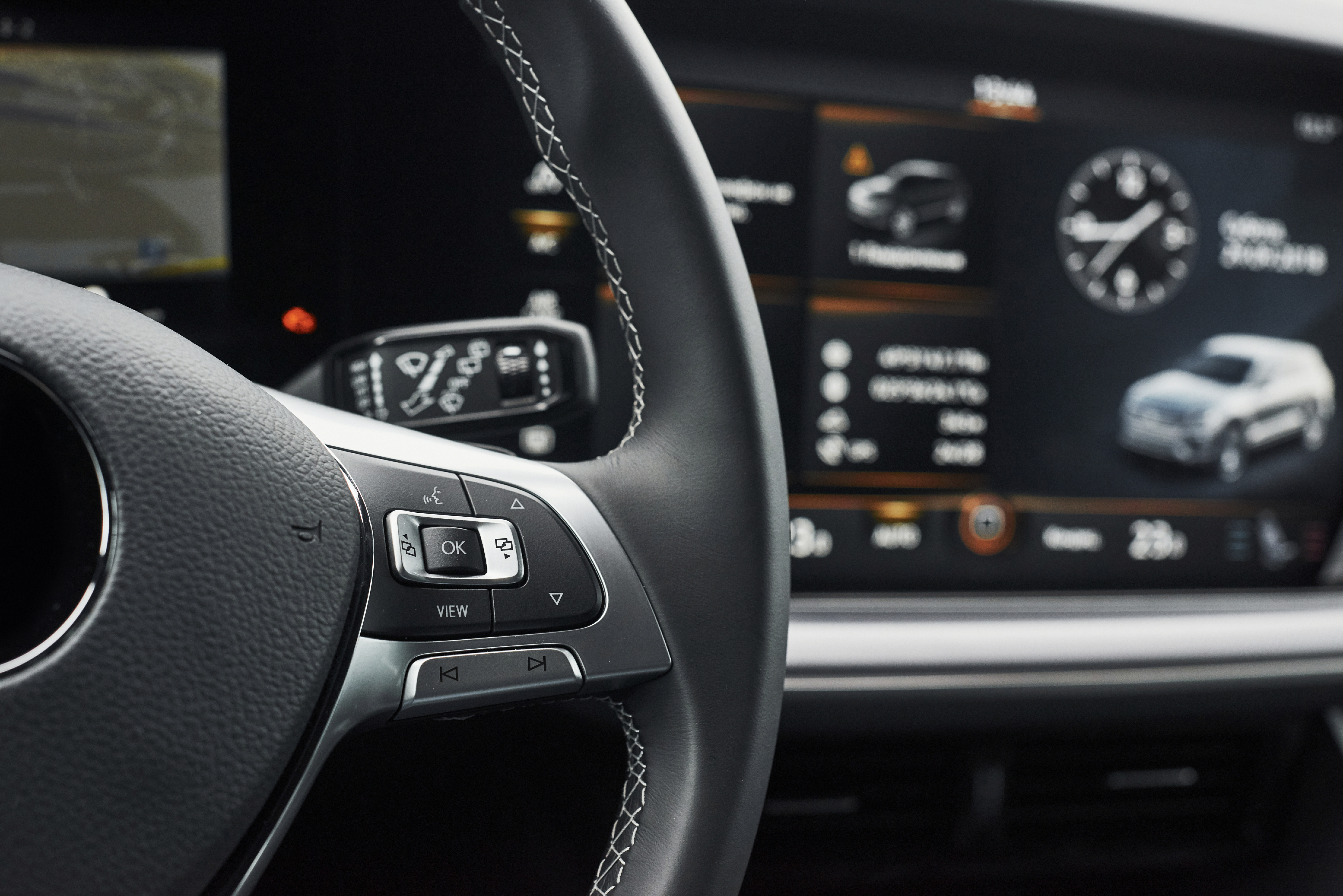 1977 Ford F150 Floor Mats
While rarely something particularly noteworthy in a vehicle, floor mats can subtly affect an occupant's overall opinion. Some people, myself included, like to change the stock accessories for aftermarket versions with a little more pizzazz or practicality.
Hundreds of these are available from aftermarket sellers like CARiD. To (potentially) keep you from having to surf through the many different options, I've selected just two for you to have a glance over, one for looks and one for usefulness.
Of course, if you'd like a more comprehensive search yourself, follow the link to head directly over to CARiD's selection of 1977 Ford F150 floor mats.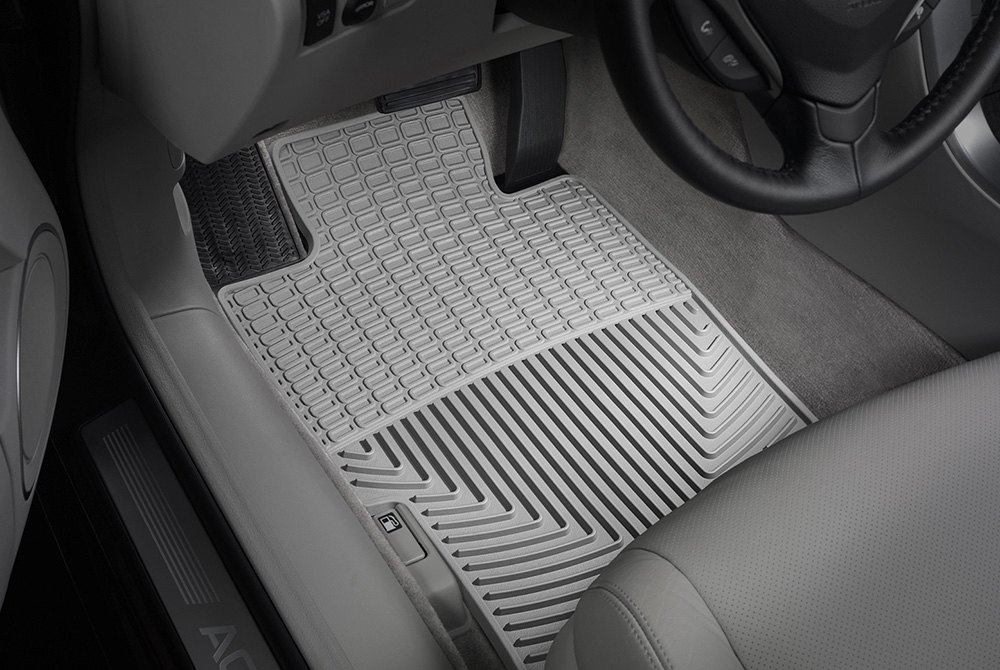 You should be aware that many floor mats require a little trimming before they'll fit snugly into your footwell.
Option 1 (practicality)
:
When it comes to using an F150 for arguably its original purpose – offroading, farming, and generally dirty work – rubber mats are unquestionably the way forward. The rubber helps protect the fragile carpets underneath from the moisture and bacteria on the soles of our shoes. It's also much easier to clean with a simple hose down (outside the truck, naturally).
Two of the most popular brands are Dee Zee and Plasticolor. However, for me, the best heavy-duty rubber floor mat is the Road Comforts Cooper Tire set. It's a universal fit, so you'll probably need to cut those cutting tools out, but it offers a great mix of style, grip, durability, and ease of cleaning. You can also get them for the back seats, if necessary.
Option 2 (style)
:
Carpet floor mats come in many more different colors, styles, and combinations than their counterparts since the material are much simpler to work with. Again, there are hundreds of options out there. Many of these sport text and logos galore. Of course, suppose you're a die-hard Ford fan.
In that case, you probably aren't too excited about dropping some Chevy or Ram floor mats into your cabin (although there are plenty available at reasonable prices). For you, I think these simple plain-colored mats are the way to go – in particular, the blue option. Especially if your F150 has a black interior, I think they'd be a great way to subtly add some flavor to the cabin. Made by Auto Custom Carpets, they'll once again probably need a little cutting to size.
As mentioned, there are many hundreds of options out there. Make sure you do a little digging before settling on any custom floor mats. You should expect to pay around $25 (budget), $55 (standard) or $130 (premium) for aftermarket mats.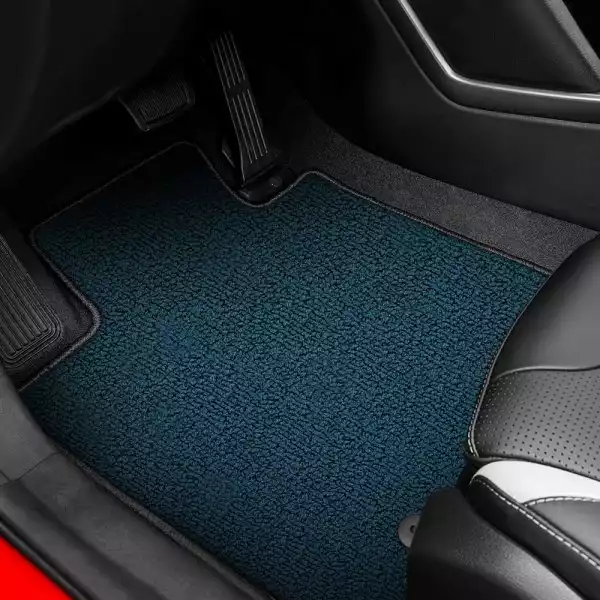 1977 Ford F150 Seat Cover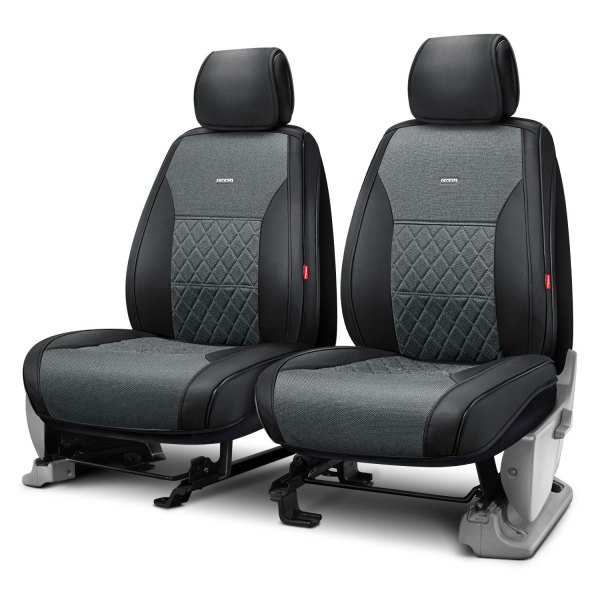 Just like floor mats, seat cover options for the 1977 F150 are in plenteous supply.
Most seat covers should fall into the "practical" category to some degree. Their fundamental purpose is to protect the seat beneath them from stains and damage. However, some are certainly more heavy-duty than others.
Again, I'll give you a couple of options – seat covers that make an impact in your cabin. We'll take products from CARiD's lineup once more since the selection is so vast. Of course, the products listed here are simply based on my opinion. If neither of them floats your boat, check out a much broader list from CARiD here.
Option 1 (versatility)
:
Some seat covers are placed to be left on permanently (such as the ones listed below). For the Seat Armour Towel Seat covers I've chosen to list here, you can remove and reinstall the seat cover in minutes. This particular range showcases a certain branch of the US military, so it's for all you patriots out there.
As you might expect, the trade-off for versatility is that they don't look quite so sleek as other options. However, they are, nevertheless, an excellent option for an outing on a muddy day or to take the dog for a walk.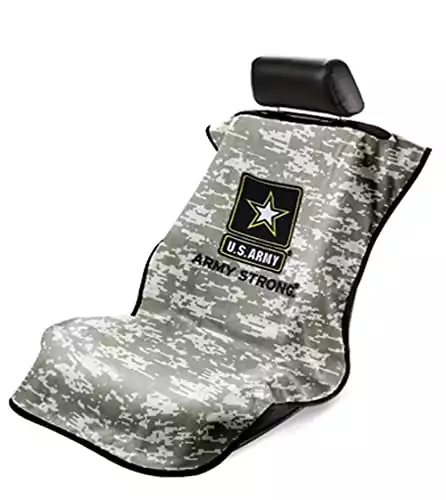 Seat Armour - Towel Seat Cover with Military Logo | Amazon
Seat Armour Car Seat Protector Towels are quickly becoming the essential automotive accessory that not only protects your car upholstery from damaging elements but also doubles as the ultimate car seat towel that can be used everywhere you go.
Check Price
We earn a commission if you make a purchase, at no additional cost to you.
12/07/2023 11:20 am GMT
Option 2 (style)
:
Changing your seats' appearance goes a long way to make the interior feel fresh and new. You could go in one of several directions, such as synthetic leather, fleece, cotton, extra padding, towel, and so on. For my line of thinking, check out the Rixxu Forza seat covers. I'm a sucker for the blue-accented black covers, but you could pick almost any color to match your F150's interior.
Some seat covers are sold in pairs; others as a single package. Make sure you check this before you buy anything, as you could end up paying twice as much as you thought (or receiving twice as many goods as you expected).
On average, expect to fork out about $50 to $60 each for some decent seat covers. More premium products (such as high-quality leather options) could be closer to $70 or $80 each.
Before buying any seat covers, it saves everyone time and money to double-check that they will fit your specific model and trim.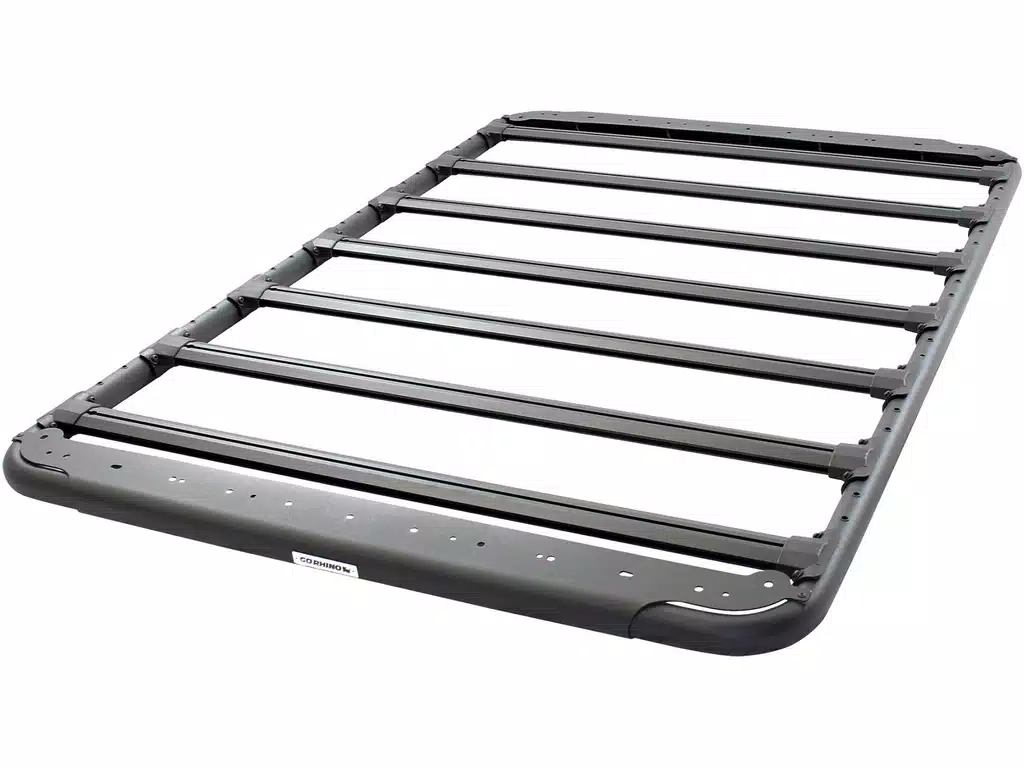 For the avid offroader, a roof rack is often seen as essential. It can function as a bike, board or boat rack, camping equipment bearer, or extra luggage carrier. Some professionals – such as window cleaners or bricklayers – might also use a roof rack to bring along essential equipment like ladders that simply don't safely fit in a truck bed.
When retrofitting a roof rack to an older vehicle – such as the 1977 F150 in question – I'd recommend getting some professional help. That is unless you're confident in your expertise as an engineer. It might cost you a couple of hours' labor for fitting, but trust me – the skill, professionalism, and, crucially, warranty that should be provided by the trusted company you enlist will be invaluable. If a roof rack were to be incorrectly installed, it could fly off. At high speeds, this could cause severe damage to vehicles behind you. While this is perhaps unlikely to happen, you could face criminal charges – so I'd always say it's better to be safe than sorry.
Here's a list of a few aftermarket 1977 Ford F150 roof racks available from Real Truck. Basic, budget models start at $100 (plus the options), rising to about $600 for firmer, more reliable models. At the premium end, prices can exceed $1,000.
The Go Rhino SRM500 is probably a good option for the average user of a roof rack. It's light, so it won't affect your truck's maneuverability or fuel economy. At the same time, it's more than capable of carrying everyday items you might need to put on a roof rack and should last you many years. With pre-drilled holes you can mount light fixtures too, it's an option worth considering if you'll be installing these in the future. To cap it all off, you'll get a five-year warranty with it, protecting you against any manufacturer defects.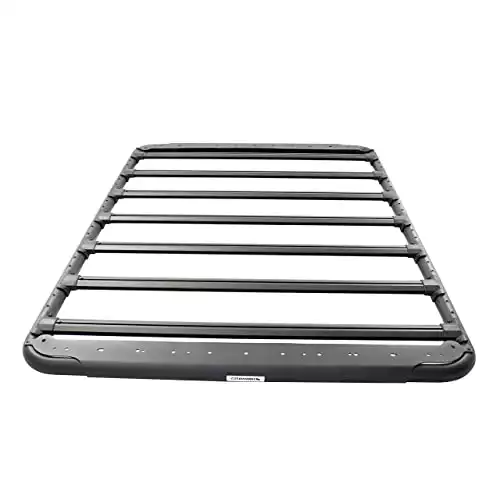 Go Rhino SRM500 | Amazon
A traditional shape combined with modern technology that pushes the preconceived notions of what a roof rack should be this 2" diameter tubular low-profile flat rack is packed with detail.
Buy at Amazon
We earn a commission if you make a purchase, at no additional cost to you.
12/07/2023 01:56 pm GMT
1977 Ford F150 Replacement Parts
When we think about replacement parts, the most important thing is that you find pieces made to OEM – Original Equipment Manufacturer – specifications. If a product has been approved to match the specifications of, in this case, Ford's parts, you can rest assured that it'll fit.
Never buy any parts that aren't listed as "OEM". It's just asking for an unnecessary load of trouble. The only exception to this rule might be if you've done some modifications and, therefore, the parts on your vehicle aren't OEM anyway. For example, if you've done a complete engine swap, there's no need to look for spark plugs that fit the production engine. They won't fit in the new one.
That being said, aftermarket replacement parts are still made to varying degrees of quality. Usually – but not always – the more you pay, the higher the quality. But it's not always necessary or cost-effective to get premium versions of everything.
Here are a few products you could consider when changing your tires, air filter, or brakes.
1977 Ford F150 Tires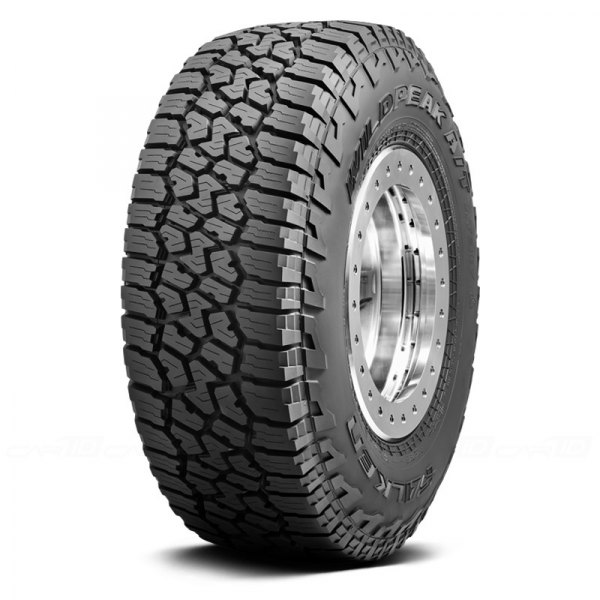 Most stock 1977 F150s came with 235/75R15. Always ensure any tires you buy will fit your wheels before purchasing them! If you have custom wheels, you'll, of course, need tires of different sizes.
When you buy new tires, check the load index. For a 4×4 vehicle, this statistic is likely to be the most appropriate, along with its general ratings.
The load index gives you an idea of how much GVW a tire can support. Standard tires for the 1977 Ford F150 generally bear around 2,000 lbs at each wheel. Across the four wheels, that means you can safely transport a total weight of 8,000 lbs (that figure includes the weight of the truck itself). Since the stock 1977 F150 has a GVWR of up to 6,500 lbs, this should be plenty.
If you need to transport more than this, you may need to consider reinforcing the chassis and suspension before even thinking about higher load-bearing tires.
One of the best options I could find is the Falken Wildpeak A/T3W. They are all-season and all-terrain tires, so they should function reasonably well offroad without the accompanying drop in fuel economy. With a speed rating of T (118 mph) and a load index of 2,271 lbs/tire, it should have more than enough.
Here's a complete list of tires you could get for a stock 1977 F150.
After you buy any tires, bear in mind that you'll need to pay labor charges – or buy a tire fitter – before they can be attached to your wheels and then your truck.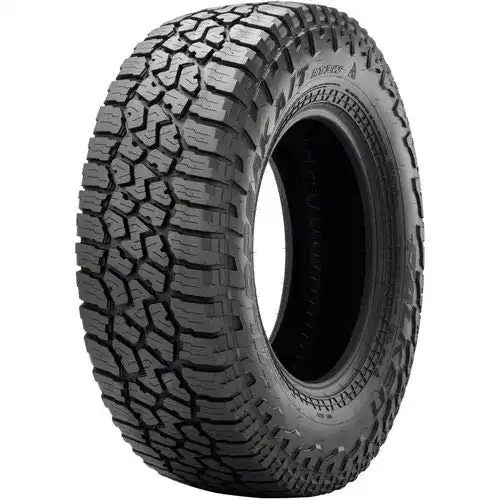 Falken Wildpeak A/T3W | Amazon
The WILDPEAK A/T3W is engineered for adventure, any time and in any weather. The A/T3W combines aggressive off-road ability and rugged terrain driving without compromise on the pavement.
Buy at Amazon
We earn a commission if you make a purchase, at no additional cost to you.
12/07/2023 04:28 am GMT
1977 Ford F150 Air Filter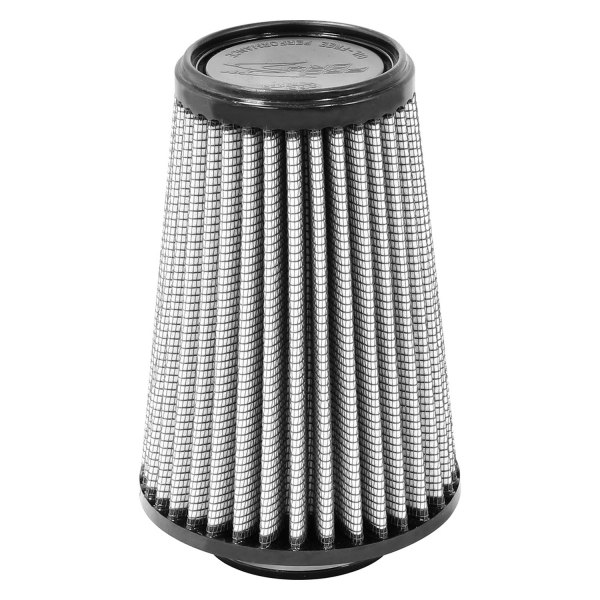 An air filter purifies all the air passing through it as it heads into the engine, removing particulates. The exact one you'll need depends on your engine size – they're all different.
Before buying an air filter, use an online checking tool to double-check it'll fit your specific F150 trim.
Like this one from WIX, OEM air filters shouldn't cost you anything much more than $10. Replacing them shouldn't be too tricky either.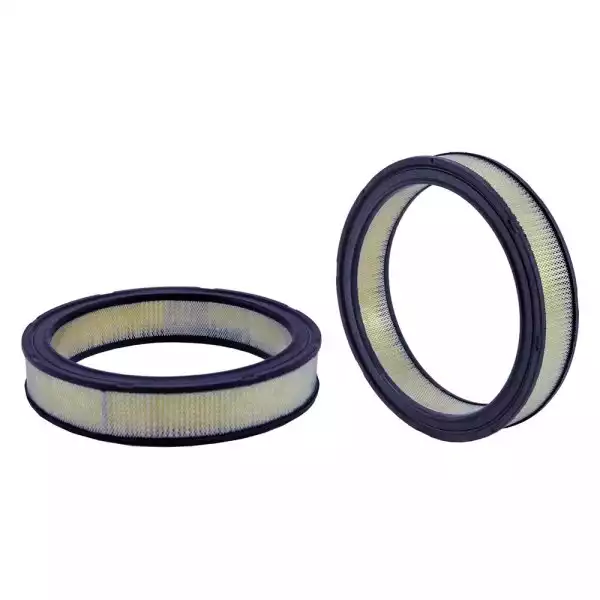 WIX® - Ford F-150 1977 Air Filter | Carid
WIX air filters play a vital part in preventing foreign particles like soot, carbon and abrasives from entering the fuel mix and damaging your engine. WIX air filter media features nine pleats per inch, resulting in a longer life and the ability to capture more engine-killing contaminants.
Check Price
We earn a commission if you make a purchase, at no additional cost to you.
If you want, you could opt for an upgrade and purchase a tapered air filter. These do optimize performance to some extent because they aren't enclosed in a box, resulting in more air passing through. Technically, they allow for a more significant "flow rate" of oxygen. They'll also give off a great noise when you accelerate hard. However, all this comes at a price – a price of about ten times a stock air filter. If you have more money to spare and feel like this is worth investing in, check out this tapered air filter from aFe.
Both the parts mentioned here fit the 351 CID Windsor V8.
aFe® - Tapered Gray Air Filter | Carid
This high flow Pro DRY S air filters are constructed with 100% polyurethane on all sides and will out flow the stock paper filters for improved performance.
Check Price
We earn a commission if you make a purchase, at no additional cost to you.
1977 Ford F150 Brakes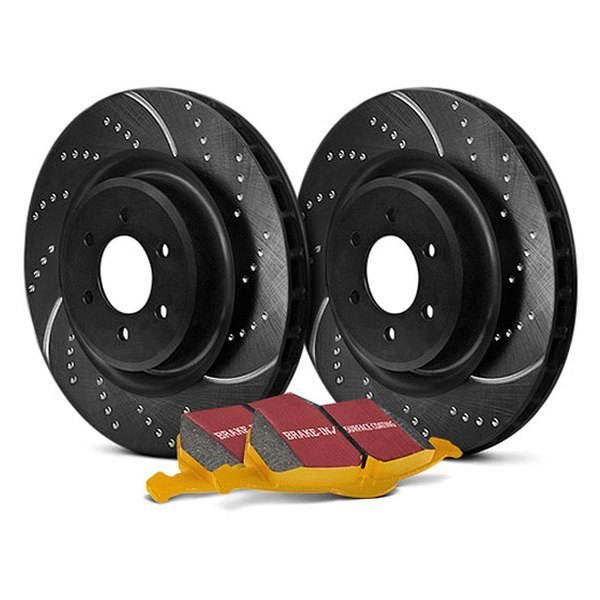 The brakes are, obviously, one of the most essential parts of driving. No brakes? No stopping.
A good set of brakes should last a long time, but they'll all wear out eventually. 
Many people recommend changing just the pads when you need new brakes. While this is an option and perfectly legal, I would recommend spending more money and replacing the rotors at the same time too. The reason for this is that the pad sits on the rotor's face and makes a groove into the surface, digging ever so slightly deeper every time you press the pedal. When you replace the pad, the new one will likely have to-be-expected manufacturer's defects. This might mean it doesn't sit in precisely the same groove, which can seriously impact your stopping power.
Standard brakes will be fine in most circumstances and should set you back somewhere around $150 to $250 for a set of rotors (2) and pads (4). For example, have a look at these from EBC.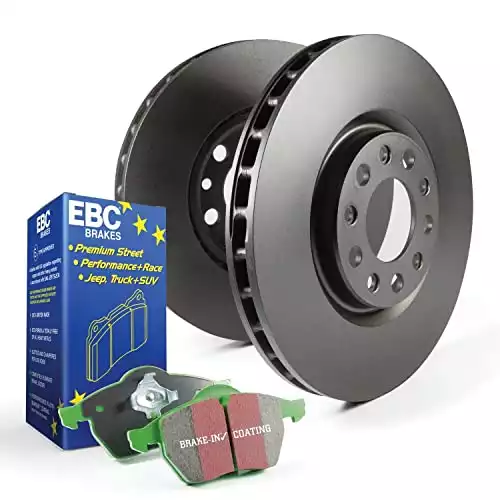 EBC Break Kit | Amazon
High-efficiency EBC pads built with Aramid fiber, fully shimmed, slotted and chamfered and featuring the EBC patented Brake-in coating for fast pad seating after installation.
Buy at Amazon
We earn a commission if you make a purchase, at no additional cost to you.
12/07/2023 03:05 am GMT
Vented rotors are made for higher performance or, importantly, towing. If you're using the car as a day-to-day rider, I don't think these are necessary – but, of course, it's up to you! They'll set you back a bit more, probably somewhere in between $300 and $450. The EBC Stage 5 Super Street Dimpled and Slotted Front Brake Kit is an excellent place to start!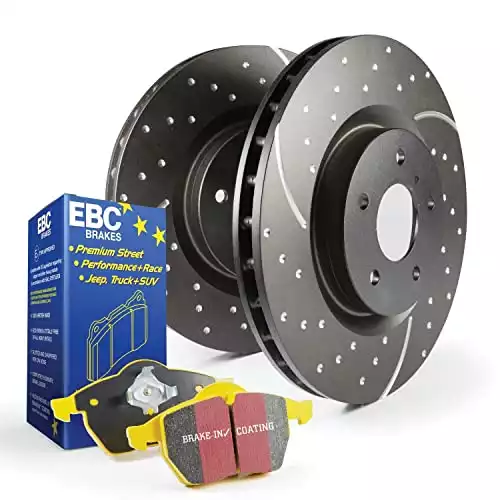 Maintenance tips
Looking after a 1977 F150 won't be notably different from looking after any other classic vehicle. You should regularly check and top up/repair:
Tyre pressures

Oil levels

Exhaust

Emissions levels
If you notice a drop in performance, you should – in the same way as if you were driving any car – get it checked out immediately. Either do that yourself or take it to a local shop.
Use the proper engine oil to preserve the truck
I would always recommend using synthetic (or high mileage) engine oil for any vehicle. Although it probably costs about twice the amount of conventional oil, it's so much better at keeping your motor clean, rust-free, and running smoothly.
This is also true when it comes to older engines, such as those 45-year-old ones you'll inevitably find in a 1977 Ford F150. Although, yes, these were undoubtedly designed for more traditional oil types, they are by now probably suffering from some kind of corrosion on the camshaft.
Engine oils should contain small amounts of a zinc compound to help prevent rust on this vital component and therefore keep a whole range of problems at bay.
If you don't want to use synthetic oil, you can still use a traditional type; just don't expect the engine to behave as nicely or last quite as long.
Look for ZDTP (zinc dithiophosphate) on synthetic oils and ZDDP (zinc dialkyldithiophosphate – how many syllables can we get in one word?!) if you're exploring conventional oils.
Common problems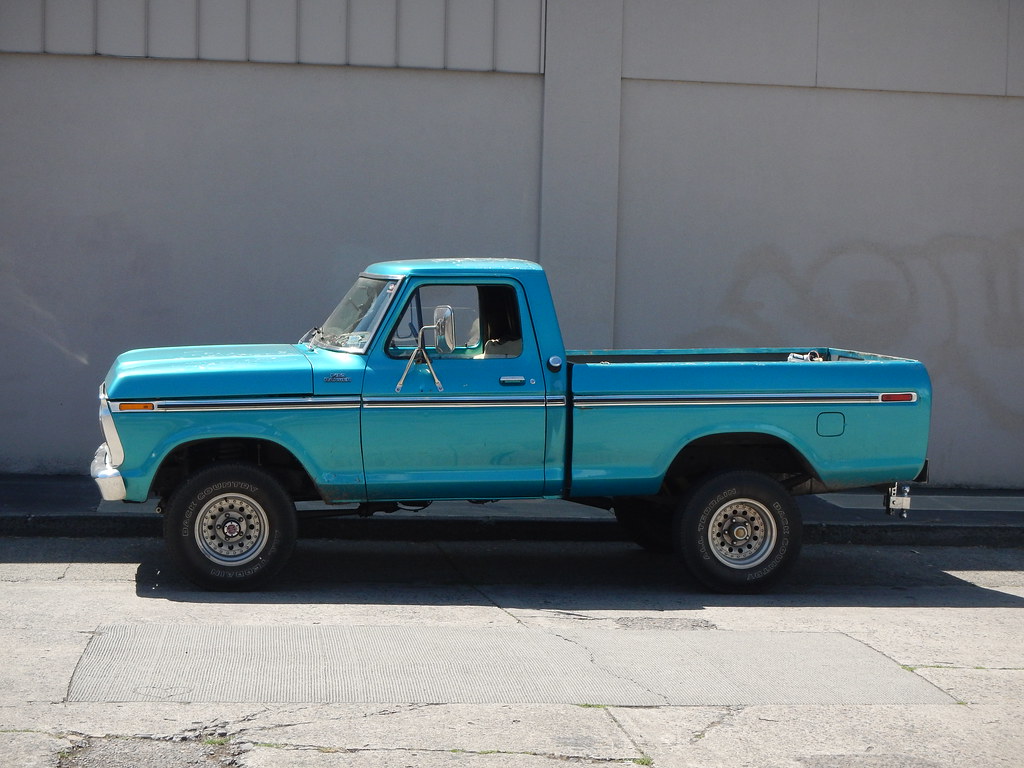 Fuel lines
On F150s from this period, the fuel lines running from the tank (under the bed) to the engine were known to be faulty. The issue could stem from Ford's moving the fuel tank to the rear about this time, so the whole system was in a bit of a learning curve. Poor fuel lines might result in several symptoms, such as stalling, reduced power, and rough idling.
Even worse, a previous owner may have replaced the line with a rubber one to save money. While this is all well and good for a while, the rubber will dry rot (like the small cracks that appear in older tires), leading to leaks, lack of vacuum, and eventually a collapsed line. If you find rubber lines, replace them with OEM parts.
Carbon deposits
Any vehicle will be subject to carbon deposits inside the combustion chambers, especially in older models. Carbon deposits are tiny bits of unburnt fuel: hydrocarbons. If your engine suffers from this, you'll notice hard starts, rough idling, low power, and misfires. Your Check Engine light may also pop on.
It's almost impossible to effectively burn off 100% of the fuel entering the cylinder, hence newer systems like EGR (Exhaust Gas Recirculation), fuel injectors, engine modes, and advanced ECUs. These newer methods help considerably, although even they aren't perfect. In 1977, despite EGR, carbon deposits were a constant thorn in the owners' sides.
To clear the carbon out, you could pour a recommended additive into your tank and drive on the freeway for a little while. Other options include disassembling the engine and manually cleaning the affected parts with something like Seafoam Spray (something I'd only recommend if you're a trained mechanic) or paying for a full carbon cleaning service.
Fuel filter
One of the less-often thought about filters, the fuel filter usually needs to be replaced every few years anyway. However, many people forget about them (or ignore them because they're often tricky to get out and put back in!). In a 1977 Ford F150, if either the main or in-line fuel filter is clogged up, you'll notice poor acceleration, hard starting, rough idling, and potentially a Check Engine light.
Part of your diagnosis should include checking and potentially replacing the fuel filter(s). You might find that a previous owner has completely removed the in-line filter, which may be causing problems. If this is the case, you should install a replacement. You shouldn't expect to pay more than $10 or $15 for the part and maybe an hour or two's labor at most.
Aside from these, watch out for electrical issues. These can often be solved by cleaning the battery terminals and checking for bad ground. You should also avoid the 400 CID engine if at all possible. It has very few good reviews.
1977 Ford F150 Recalls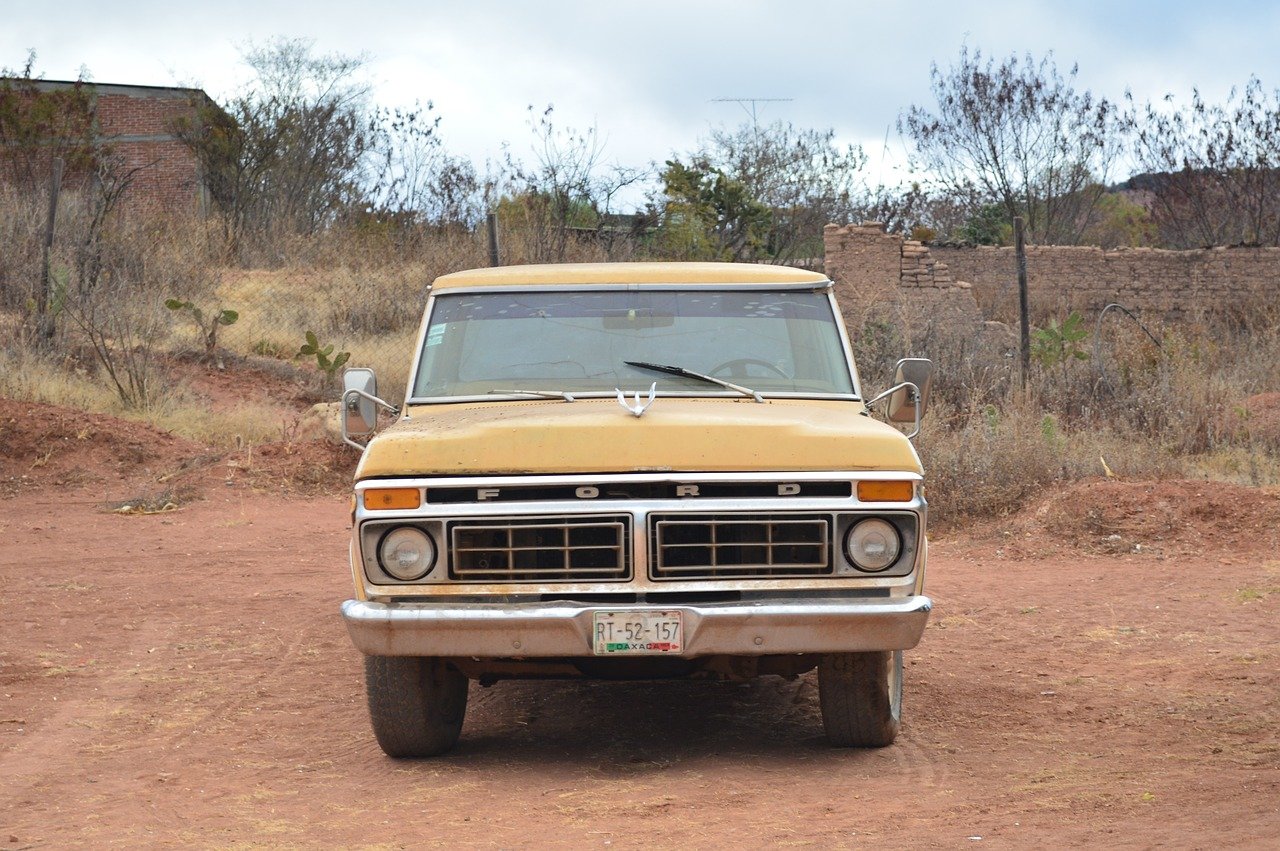 Three recalls affected the 1977 Ford F150 (among other Ford vehicles).
NHTSA Recall 77V141000
"Fuel leakage at the rubber hose connecting the fuel inlet tube to the carburetor filter… due to insufficient insertion of the fuel tube into the hose or improper positioning of the hose clamp" (see Car Problem Zoo for full details). This affected the newer 351 and 400 CID V8s and would have been fixed through a free clamp replacement and hose adjustment. Check your 1977 F150 has the spring-type clamp rather than the existing version and that there are no current leaks at this point.
NHTSA Recall 77V161000
This recall involves potentially faulty carburetors "in which, under certain circumstances, the secondary throttle plates may stick open" (check out Justia Auto Recalls for a more detailed view). It was imperative to fix it as a stuck-open throttle would mean the vehicle could accelerate after releasing the pedal. This recall may have affected up to 16,000 Ford models, which required dealerships to replace the carburetor for free.
NHTSA Recall 77V218000
"the manual steering gears may contain steering gear recirculatory balls that could fracture…" due to "improper heat-treatment during manufacture and can eventually cause increased steering effort" (see Justia Auto Recalls for all the information). It was thought that this 1977 recall could have affected up to 40,000 F150s. A dealership would inspect and replace the steering gear's ball bearings for free.
1977 Ford F150 costs and running costs
Back in 1977, a brand new Ford F150 would probably set a buyer back about $5,000 (depending on the trim level and optional extras).
These days, you should expect to fork out a fair amount of money for a 1977 Ford F150 in top-notch condition. Hagerty has a useful valuing tool that you may like to check out. Follow this link to have a quick look.
As Hagerty shows, a 1977 F150 in the best condition possible will likely go for about $50,000. One in excellent condition will set you back nearer $25,000 to $30,000, where a decent example will be somewhere around $16,000. "Fair" models will still cost around $8,000 or $9,000.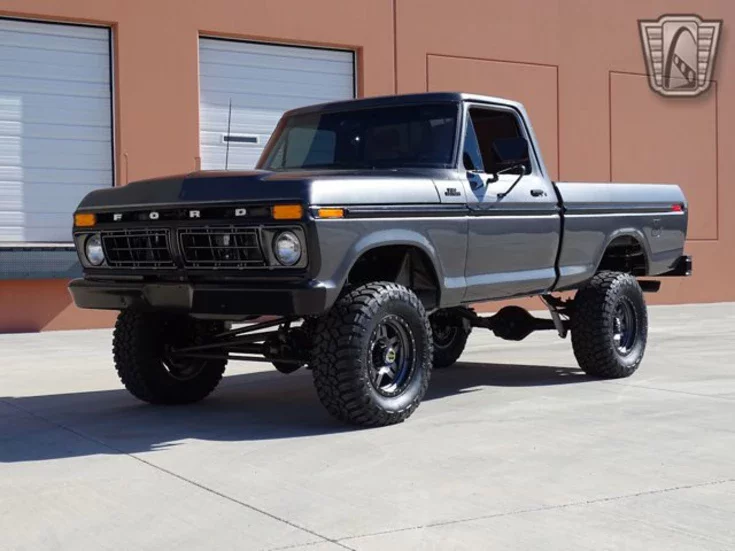 A quick look at the 1977 F150s currently listed on Auto Trader would seem to match Hagerty's valuations very closely.
Most owners with the 1977 Ford F150s report about 12 to 14 mpg. The average American drives 14,263 miles per year, according to KBB. If we take 13 mpg as an approximation, you'll have a fuel cost of $3,623.90 per annum. You should also set aside some money for maintenance, insurance, and to prepare for any costly repairs. All in all, you can expect to pay around $5,000 to $6,000 if you use a 1977 F150 as a daily runner.
If you only plan on using the car on limited occasions – for example, a weekend drive – these expenses will be considerably lower. I would estimate annual costs of around $1,500 to $3,000, depending on exactly how you use it.
Owner opinions
For this section, I looked up a vast range of 1977 Ford F150 reviews and comments from owners themselves. In reality, this is probably the most valuable information for a potential buyer. It's not theoretical or based on mathematics and statistics: it's real-world opinions and case studies. 
Overall, most owners love their 1977 F150 – especially those who use it as a weekend truck rather than their daily drive. The design is iconic and stands out, with plenty of room for hot rod customization (see more about Ken Block's ever-so-slightly 1977 Ford F150 here).
Many owners bought their trucks with the specific intention of modifying them. The simple way it's been put together makes this process not only fun but cost-effective, with plenty of reporting modifications like: 
bigger tires, 

engine swaps (expect to pay many thousands), 

and 

body kits

.
There are a few potential pitfalls you should always watch out for, too.
First of all, this is an older vehicle. As such, it will inevitably be prone to things like rust and 45 years' worth of wear and tear. That's kind of unavoidable unless the previous owners have done a fantastic job of taking care of it. The other thing to watch for is if it's been stood for years, which can lead to its issues. Checking for a buildup of dust, rust, moisture, any evidence of pests, and tire and battery conditions would be good points to start. If the mileage seems too low to be true, there's probably a catch somewhere in there.
The second biggest issue probably relates to fuel economy. Most owners report the same thing: fuel economy isn't great. Sure, it's not the worst thing in the world, and if you're looking to buy an old pickup truck, then it's probably not top of your agenda, but it's well worth taking it into account.
Rust is also a common issue for cars around this time. Check every bit of exposed metal you can see before committing to a purchase, as rust can be a real car killer. If you want to be extra safe, stick to drier areas like California (away from the coastline) and the famous Tappen ("Rust Valley", as on the Netflix show) in BC, Western Canada.
As mentioned earlier in this article, always avoid the 400 CID V8 if at all possible. Very few owners, reviewers, or journalists had anything good to say about it.
Because of the truck's age and the time in which it was built, you shouldn't expect the power output to be exceptionally high, despite the massive engines. However, they generally produce plenty of low-range torque, making them perfect for towing and off-the-line bursts of acceleration.
Frequently asked questions
Question: What is a Windsor V8?
Answer: "Windsor" engines are Ford 90-degree overhead valve small-block V8s. They were first introduced in 1961 and named after the place of manufacture (Windsor, Ontario), but the term was never officially adopted by Ford.
As enthusiasts began using it more regularly, Ford started unofficially naming engines "Windsors" in 1969 to distinguish two 351 CID V8s. Although they had the same displacements, the two motors – one produced in Windsor, Ontario, and the other in Cleveland, Ohio – had very different design setups. Thus, they were designated the 351W (Windsor) and the 351C (Cleveland).
Question: How much horsepower does a 1977 Ford F150 have?
Answer: A 1977 Ford F150 may have had between 117 and 239 horsepower when new depending on the engine. One of the most popular engines, the 351 CID Windsor V8, kicked out 160 hp when it first came off the production line.
A significant portion of this power will probably have faded if it hasn't been well-maintained with time. Even a well-looked-after model will see some performance losses. A tune-up might get most of it back, but probably not all of it.
Question: What is the difference between F100 and F150?
Answer: The Ford F100 was first released in 1953. It represented a time when the company started making truck interiors feel more like cars. The F150 was introduced in 1975 to get around the emissions laws of the day. These laws related a vehicle's emissions to its weight (GVW). It was given the F150 name to represent its specifications, between the pre-existing F100 and F250.
Compared to the F100, the F150 has a greater GVW and stiffer suspension, making it a more practical truck. As consumers realized this and the emissions laws clamped down more on the F100, the F150 took its well-deserved share of the market and went on to become the best-selling vehicle of all time.
Overall opinion on the 1977 Ford F150
So, having read all this, should you get a 1977 Ford F150? Here's my honest opinion.
The 1977 Ford F150 is great for two types of people: modification die-hards and those who adore historical vehicles. 
If you want to get your hands on a vehicle perfect for converting into a hot rod, a classic 1977 F150 is one of your best options. They're put together in a relatively straightforward manner, making them simple to work with and cheap, too!
If you can find a good example, too, then driving one of these will transport you back to the 70s. For some people, the love of driving is what they're looking for in a car, looking to connect to those original pioneering engineers. You might be one of those people appreciating this truck for what it is – a game-changing work of art.
In my opinion, though, a 1977 Ford F150 shouldn't be bought as a daily-use car. Well, not unless you have a full bank vault ready to splash out on it. As great as this original pickup is, it's just so expensive – first to buy and then run. No matter how incredible it might be to have one, the practical mind inside me convinces me that there are far more appropriate options on the market today – options at half the price that come with full warranties.
Rather, I'd suggest that the 1977 F150s now mainly belong to collectors and long-term enthusiasts. 
Have a different opinion? Please feel free to let me know your thoughts in the comments below! Thanks very much for reading.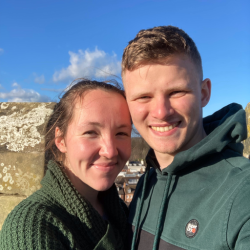 Latest posts by Ben Kitchen
(see all)