Intro (Jeep Gladiator + Wheels)
When it comes to the best Jeep Gladiator wheels, you have a wide range to choose from. Of course, your specific 4×4 make and model will narrow the results down considerably.
The Jeep Gladiator (JT), based on the same platform as the popular Wrangler JL, was put on sale in April 2019 (MY 2020) and is the company's first pickup truck since the discontinuation of the Comanche in 1992. Resurrecting the name from the earlier Gladiator of 1962 to 1988, it's currently available in nine trim levels:
Sport
Sport S
Willys
Overland
80th Anniversary Edition
Freedom
Mojave
Rubicon
High Altitude
Different trims come with individual wheel sizes, so knowing your exact model is essential when looking for new ones. Aside from the standard design levels, the Overland and Rubicon are the most popular.
In this guide, I'll go through a few of the best Jeep Gladiator wheels available and why it might be worth looking at them.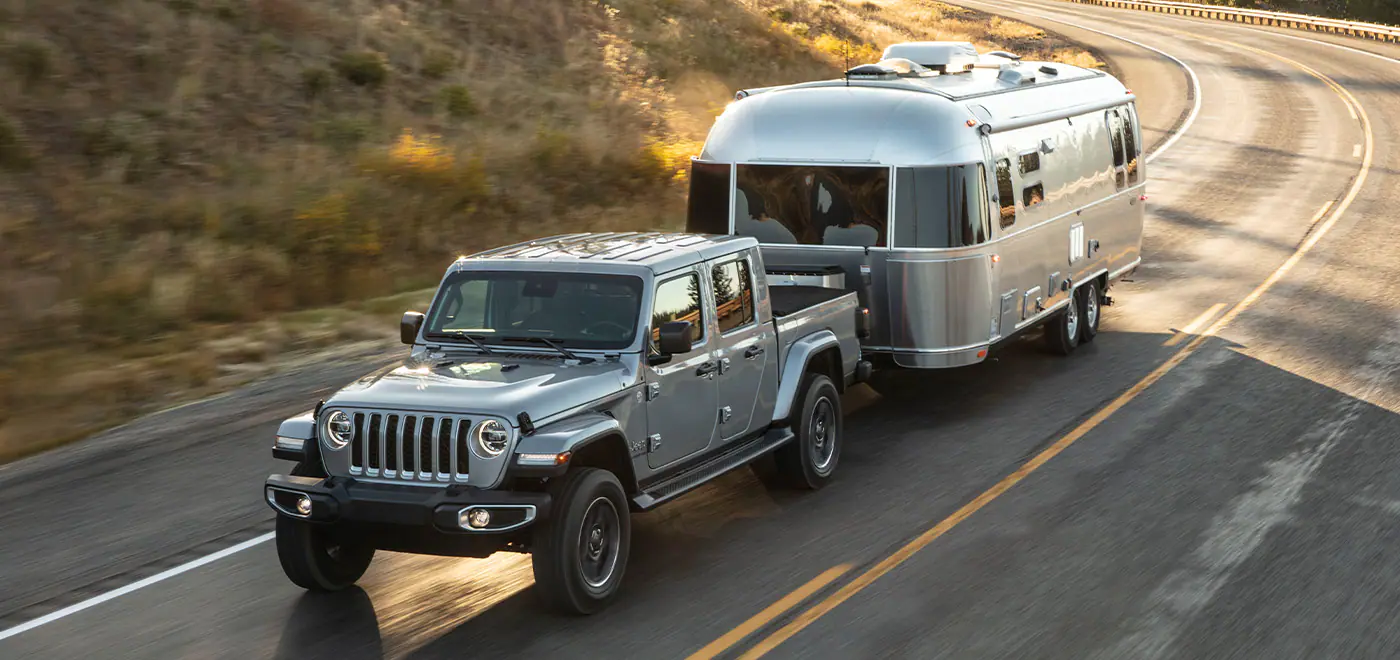 What to look for with new Jeep Gladiator wheels
There are a few different reasons why you might be looking for new wheels. For example, they might have sustained irreparable damage in a collision or from a pothole. Alternatively, you might simply be looking to spruce the pickup's appearance up a bit.
Whatever your reason for needing new Jeep Gladiator wheels, you should take a few things into account.
Budget
Before you get started, it's always worth establishing your budget beforehand. That way, you don't get carried away in the moment and find yourself spending $1,000 more than you meant to. Jeep Gladiator wheels cost, on average, somewhere between $200 and $500 each.
However, you'll find the odd budget or premium option outside this range. Considering you'll need five (four plus a spare), a new set will cost you from a minimum of $1,000 up to $2,500. (And that's before we consider tires.)
Appearance
For many people, their truck's appearance is the most important thing of all. Whether you fit into this category or not, it's a good idea to ensure the design of the wheels you're buying fits with how you want the vehicle to look. Jeep Gladiator wheels tend to come in either a matte, gloss, or polished finish – consider which is best for your truck. Although it's rare, you could get colorful wheels, too, if you were so inclined.
Correct fit
getting wheels that fit is, of course, the most basic and crucial aspect of buying a new set. Although it might sound obvious, it's a trap that many, many people fall into. All Jeep Gladiator wheels are built differently. They'll be different widths and thicknesses and be designed for different tires. They'll also have different stud patterns, offsets, and backspacing distances. Before committing to buy any wheels, ensure they are the correct:
Stud pattern
5x127mm, or 5×5 inches for the Jeep Gladiator
Size (i.e., will they fit?)
The wheel bay on a Gladiator is so huge that you can fit wheels with considerably wider diameters than the 17- or 18-inch stock versions. However, excessively wide wheels – for example, 25-inches with massive offroad tires – might not fit properly and would require a lift kit.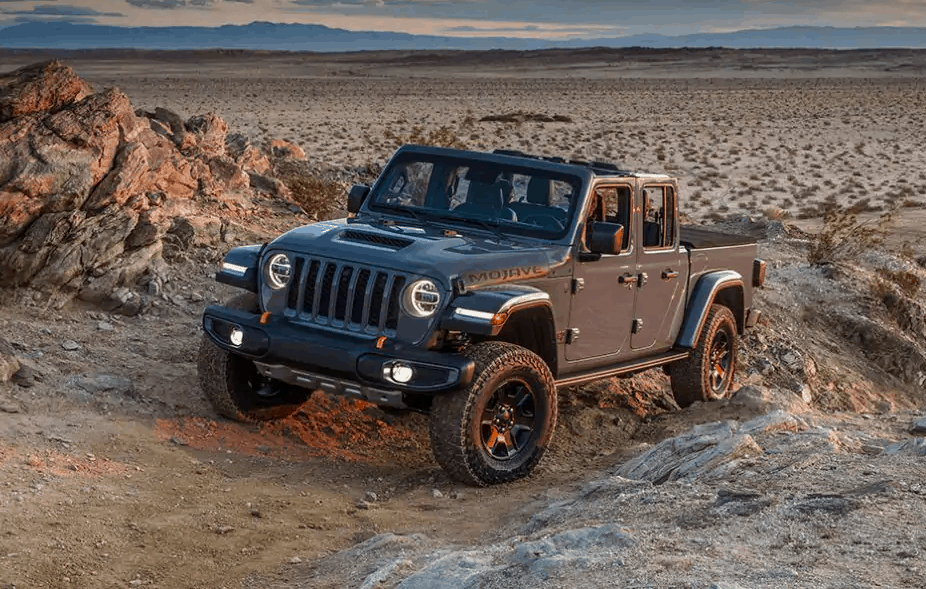 Offset and backspacing
If you buy wider wheels than your originals, the backspace and offset measurements should compensate for this. Aftermarket companies should always account for this when they build wheels, and it's vital to check the measurements are correct.
They're in-built into the wheel – there's nothing you can do to change them. Unless you know your way around trucks or are prepared to take it to a professional, I wouldn't recommend playing with this. Many aftermarket wheels are considerably wider than the OEMs, meaning they come with significant offset and backspacing variations (see below).
Legality
Every country and every state has different laws regarding how you can modify your car. In particular, you should make yourself aware of:
The maximum legal road width for a car.
Whether wheels are allowed to stick out from the side, or they need wider aftermarket arches to cover them.
To what extent you can modify your car before needing to inform either the DMV, your insurance company, or both.
Ensuring that your Jeep Gladiator, after modification, is still safe to drive. You have a responsibility to keep the road safe for both yourself and other road users. An irresponsible mod job could land you in legal or moral deep water in the case of an accident.
What are offset and backspacing?
It's pretty tricky to summarise offset and backspacing in a few brief words, but I'll give it a go.
Offset refers to the horizontal distance from the wheel's mounting plate (the surface that mates to the brake rotor) to the wheel's centreline (imagine the line when you cut your bagel precisely in half).
Most OEM-approved (Original Equipment Manufacturer) wheels come with positive offset, which means the mounting plate is nearer the wheel's face. The face is the part you can see when it's on the car.
By contrast, a wheel with negative offset – usually only found on aftermarket wheels – has its mounting plate closer to the back – the rotor side, if you like. You typically see this on aftermarket wheels because they tend to be wider. Without this negative offset, the wider wheel and tire assembly would encroach further back into the suspension, causing dangerous tire wear, road noise, ride problems, and suspension failure.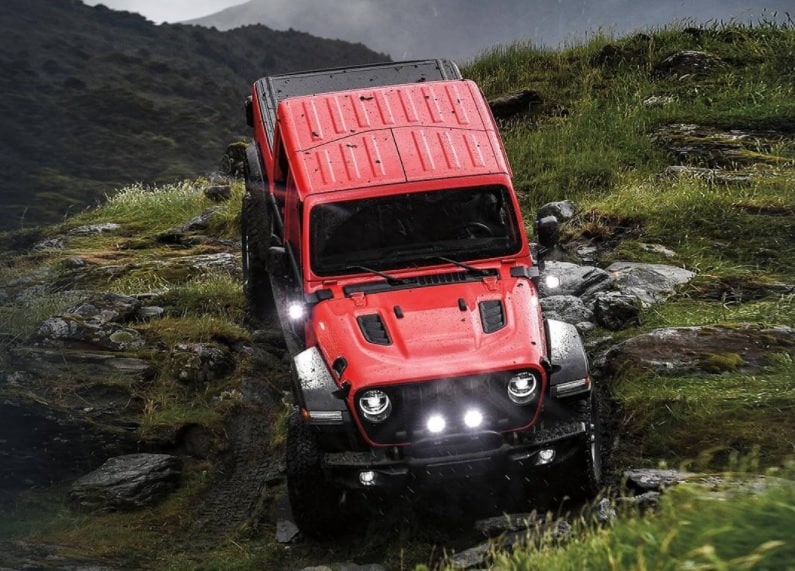 Backspacing is similar to offset. Again it's the distance from the mounting plate, but this time to the wheel's inside lip – the side nearest the suspension. An increase in backspacing means the wheel is closer to the suspension, whereas a decrease means it moves towards the outside of the car.
That's why it's absolutely essential to get wheels with the correct offset and backspacing. If you're unsure, you should either take your Gladiator to a professional tire shop or stick to OEM wheels of the same dimensions as the originals (usually 17-inches by 7.5-inches, but not always!).
How to understand lug/bolt patterns
A bolt pattern is made up of two numbers. For example, on all Jeep Gladiators, the bolt pattern is 5×5.
The concept is relatively simple. The first number – 5, in the case of the Gladiator – refers to how many bolts or lug nuts hold the wheel onto the vehicle.
The second number references the diameter of the imaginary circle passing through the center of those holes. If we're still using the Gladiator as an example, it would be 5-inches.
You might see the bolt pattern expressed in millimeters. On the Jeep Gladiator, this would be written as 5x127mm.
When buying new wheels for any vehicle, it's crucial to know the bolt pattern and ensure the new ones match it. If you don't, the wheels simply won't fit on your car, and you'll have to either return them or resell them.
For example, if you bought a 4×5 or 5×4.5 wheel and tried to fit it to a Gladiator, it would simply be impossible to get it on. Like the Ugly Stepsisters trying to force their feet into that glass slipper, it's just not going to happen.
Best Jeep Gladiator Wheels
Most aftermarket wheels for the Jeep Gladiator will fit all of the different specifications. Occasionally, it might be necessary to consider a lift kit, too.
For the 2021 Jeep Gladiator, most specifications utilize OEM 17-inch diameter wheels with a 7.5-inch depth. The exceptions to this are:
High Altitude – 20-inch diameter, 8.0-inch depth
80th Anniversary Edition – 18-inch diameter, 7.5-inch depth
Overland – 18-inch diameter, 7.5-inch depth
Aftermarket wheels for the Jeep Gladiator generally don't follow these same wheel sizes. Before ordering any wheels with different widths, offsets, or backspacing to your originals, it's worth getting a guarantee from the provider that you can return them if they don't fit.
Here are some of the best Jeep Gladiator wheels currently available.
Mopar Performance 17-inch Beadlock Capable
Mopar Performance was responsible for designing, R&D, and testing all Jeep offroaders and 4x4s, including the Gladiator. This makes them most people's first choice when it comes to the best Jeep Gladiator wheels. They don't just produce OEM-approved wheels; they produced the OEM wheels.
For this reason, I've put it first on this list.
I've chosen to feature this Authentic Mopar Performance Wheel 17-inch here. Significantly, it's produced to OEM standards, with a 17-inch diameter and 8-inch thickness, 4.4-inches of backspacing, and an offset of 12mm.
For people simply looking for a like-for-like replacement, this is a great option and comparable in price to most aftermarket wheels.
Here's a very quick video review from CJ Offroad on YouTube checking the wheel out on a Jeep Wrangler.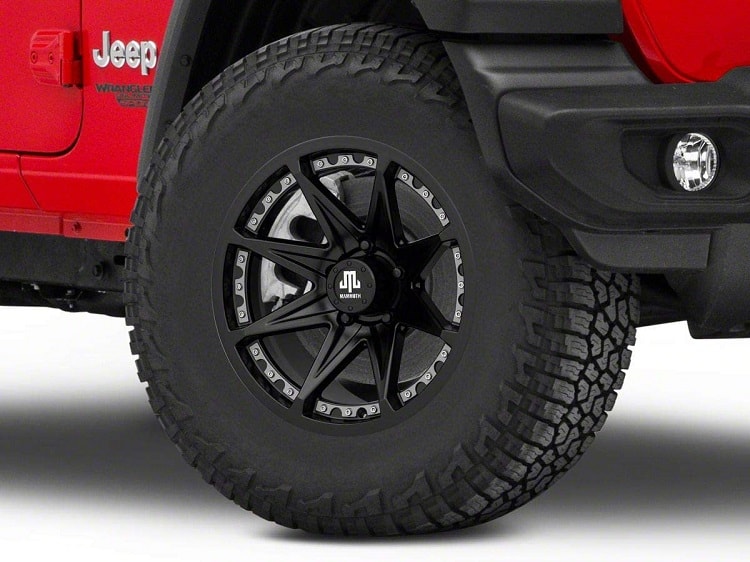 Mammoth 4×4 offers a wide selection of aftermarket wheels available for both the Jeep Wrangler and Gladiator, exclusively available from Extreme Terrain and American Trucks. One of the more popular Mammoth products is the Type 88.
This 17-inch diameter wheel is 9 inches deep, with an offset of -6mm and 4.76 inches of backspacing. They should be set up so there's no scrub and no lift needed, although you may like to purchase a kit alongside it. With a paintable, removable gunmetal trim, customers commonly fit them with 265/70R17, 285/70R17, or 315/70R17 tires.
The Mammoth Type 88 is a good, reliable, and low-cost option for a new set of wheels.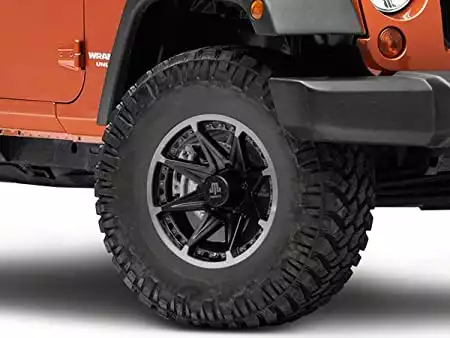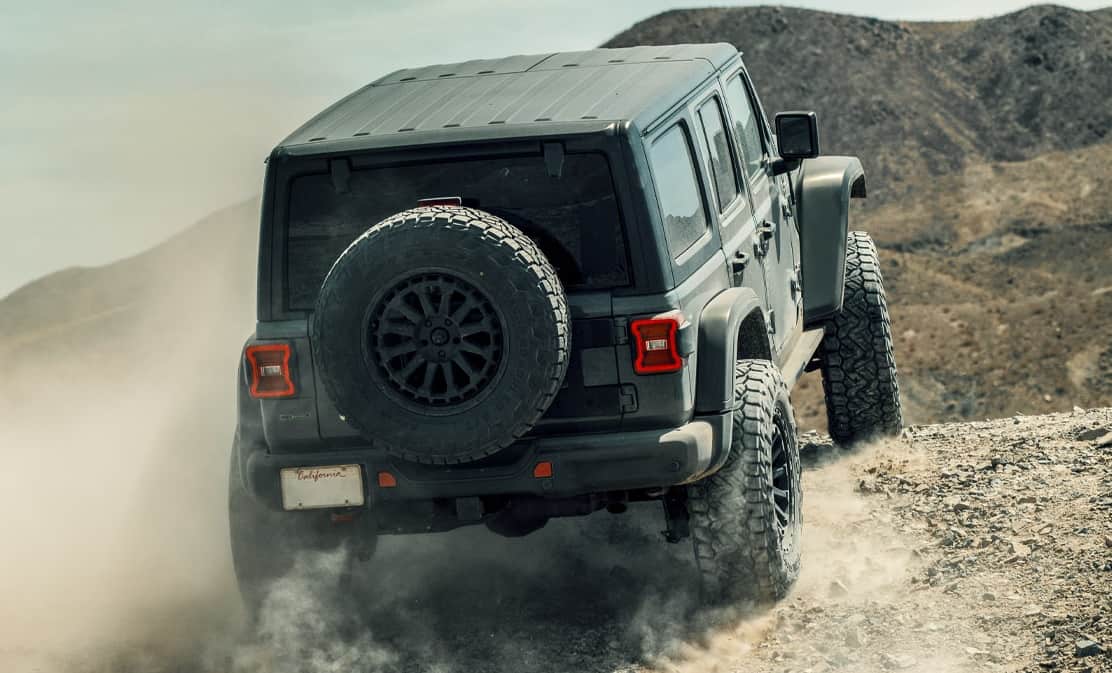 Black Rhino is also a company synonymous with aftermarket wheel production. The Warlord series is one of its most common for the Jeep Gladiator.
These 8-, 9- or 10-inch-thick wheels come with an offset of 30mm, -12mm, and -23mm, respectively. The 8-inch wheels have a higher load rating than the others, something which may be of note to the serious trucker or offroader, with 2,700 pounds rather than 2,250.
You can get Black Rhino Warlord wheels in matte black or matte gunmetal. In my opinion, it's hard to go wrong with either color, especially on a heavy-duty offroad 4×4.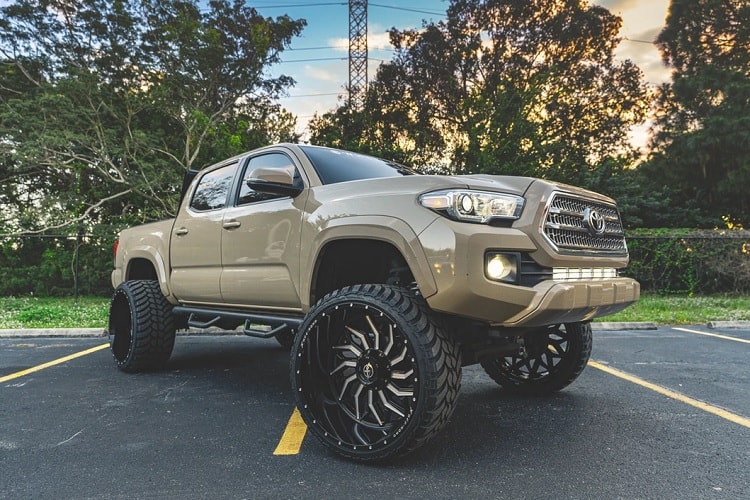 This company produces a wide range of fascinatingly eye-catching wheels. It was hard for me to pick out any in particular, so I've featured my personal favorite here.
Meet the XF Offroad XF-226. As a 22- by 12-inch wheel, it's enormous, with some serious offset (-44mm) and 4.7 inches of backspacing. You'll be able to use it both on the road and in relatively intense off-road conditions.
If you're considering fitting wheels this large to your Jeep Gladiator, it might be best to consider a lift kit, too. The wheels will fit just fine regardless, but you might get the occasional wheel arch rub when going over deeper, harsher bumps.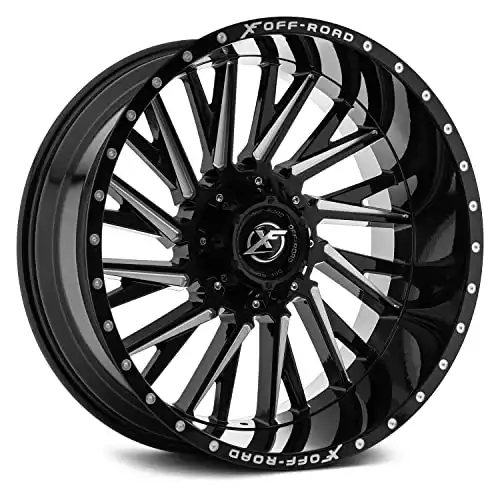 XF Offroad XF-226 Custom Wheel | Amazon
Make your rig stand out and get it ready for just about anything while out on the trails with this state-of-the-art wheel from XF Off-Road.
Buy at Amazon
We earn a commission if you make a purchase, at no additional cost to you.
Fuel Wheels is one of the best aftermarket brands available for Jeep Gladiators. One of the most popular wheels for fitting to Gladiators is the Assault, available with either a 17-inch or 18-inch diameter.
The aluminum-alloy wheels are designed aggressively without being too outrageous and are a great mid-range option. It has an offset of -12mm.
Overall, this is an option to make your Gladiator stand out from the crowd and definitely one to consider.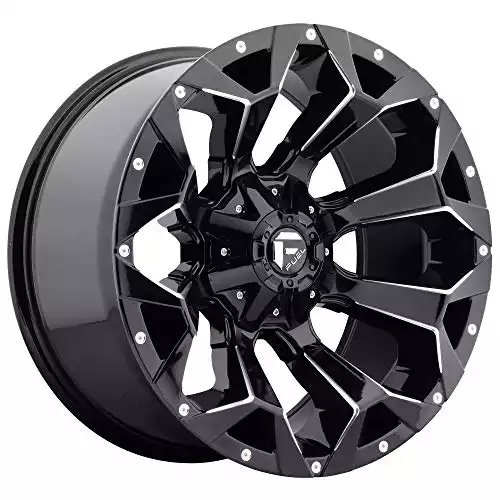 FUEL Off-Road Assault D576 Wheel | Amazon
Fuel Off-road manufactures the most advanced off-road wheels, offering the latest in design and engineering innovations on the market.
Buy at Amazon
We earn a commission if you make a purchase, at no additional cost to you.
12/06/2023 06:28 pm GMT
Just wheels or wheels + tires packages?
Unless you buy OEM-sized wheels, you'll probably need a new set of tires. Many vendors and suppliers offer wheels plus tires packages which, in many cases, may be cheaper than buying them separately.
When you see a wheels plus tires package, you should first check where you can get them fitted. Many of these suppliers will offer you free fitting, but if you have to travel 100 miles to get them, it might not be worth it.
Likewise, if you opt for the deal and get tires supplied but not fitted, check the tire fitting cost at your local shop. The fitting cost could be higher than the fuel cost of traveling to the supplier's workshop.
In short, before committing to a wheels and tires package, I'd recommend researching your local tire suppliers. Compare how much they charge and use that information to decide what the best option for you is.
FAQs
Question: What bolt pattern is my Jeep Gladiator?
Answer: All Jeep Gladiators have a 5-inch by 5-inch pattern, something that's really useful to know. You might see it written in any of the following formats:
• 5×5 (or 5"x5")
• 5×127 (or 5"x127mm)
Question: How much do the best new Jeep Gladiator wheels cost?
Answer: On average, the best aftermarket Jeep Gladiator wheels cost between $250 and $500 each, although you can get your hands on a few cheaper versions. For five wheels (four plus a spare), that's between $1,250 and $2,500.
On top of these costs, you'll need to set something aside for a new set of tires and fitting charges.
Expect tire costs to be $250 to $350 each, meaning five would come to $1,250 to $1,750.
When you buy wheels and tires this expensive, the seller might fit them for free. However, if you take them to an independent shop, you can expect to pay between $5 and $15 per wheel for balancing and fitting.
In total then, the minimum you should expect to pay for the best new Jeep Gladiator wheels is $2,500. The maximum would be around $4,325.
Question: Is it worth fitting new wheels to my Jeep Gladiator?
Answer: Ultimately, when it comes down to cars, in general, that's a decision that's up to you. Is it worth it to you?
Contrary to what car salespeople might have you believe, vehicles are very rarely a good financial investment. They almost always depreciate and depreciate quickly (although, due to the ongoing Covid pandemic and worldwide chip shortage leading to fewer new cars being around, used cars are actually currently increasing in value, something virtually unheard of before now!).
Fitting new aftermarket wheels to your Jeep Gladiator may or may not affect its value, depending on who you sell it to. I'd recommend keeping the originals if they're in good condition and perhaps including them in the sale when it eventually comes to it.
Modifying a car is almost always an emotional investment in yourself rather than anything else. It's more exhilarating and more enjoyable for you – not necessarily better from an economic point of view.
So, in answer to the question "is it worth it?" to fit new wheels to a Jeep Gladiator, my best response is that it's down to you. Maybe! But maybe not.
Expect to be paying at least $2,500, including tires. In return, your Gladiator might look nicer and perform slightly better. How much that's worth to you is something to answer for yourself.
Question: Can I get bigger or wider Jeep Gladiator wheels than the originals?
Answer: In the States, you certainly can, although it's essential to be aware of the legal requirements in different states.
In other countries around the world, it's a little trickier. For example, in the UK, your tires can't exceed the width of your vehicle, meaning you'll also need to get some aftermarket wings. Both of these modifications need to be declared to the DVLA and your insurance.
Question: What is a wheel load rating?
Answer: The wheel load rating is a measurement, usually in pounds, of the vehicle's heaviest gross axle weight (how much weight the axle can support), divided by 2 (representing how it is spread across the two wheels).
When you buy a wheel, check the wheel load rating to make sure it matches both your car's needs and what you use it for. For people using their Gladiator as a simple city run-around car, this won't be as relevant to you as those using it for regularly transporting heavy objects.
Conclusion
The Jeep Gladiator is a great pickup truck with plenty of room for modification and tuning. When it comes to the wheels, there are plenty of aftermarket and OEM options available.
While I can't make any decisions for you, of course, I hope this article will help you to make your own decision about whether to buy a new set of the best Jeep Gladiator wheels.
Thank you for reading.
Continue reading more guides about the Jeep Gladiator and learn how to find:
Links: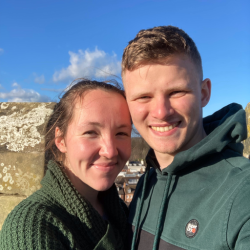 Latest posts by Ben Kitchen
(see all)