1948 was the year when the executives at Ford saw their dream come to reality when their first F-series pickup truck hit production. The Ford F150 was introduced in 1984 in the F-series line of trucks. The 1986 model had a short bed and long bed variant. The key difference is the wheelbase. So far, there have been 14 generations of the F-series pickup truck. 
What we are going to discuss is the seventh generation Ford F-series trucks. The Ford F150 1986 model can still be seen around on the roads because of its quality, which Ford has put into their F-series line of trucks. The seventh generation of Ford F-series pickup trucks was introduced in 1980, and it stayed around for six years till 1986.
The Ford F-series has had a reputation that still makes one spend money on it. There are a lot of customers, specifically loyal ones, who still prefer the F-series truck by Ford over its competitors. 
The 1986 Ford F-series was a complete redesign from the outgoing generation and received a full overhaul from the chassis up. One of the vital design upgrades was the removal of the letters "FORD" and replacing them with the oval blue Ford Logo. Despite an overhaul, it still shared mechanical parts with the Ford E-series.
Our 1986 Ford F150 Guide will dive deep into the details for the 1986 Ford F-series pickup trucks.
1986 Ford F150 Specs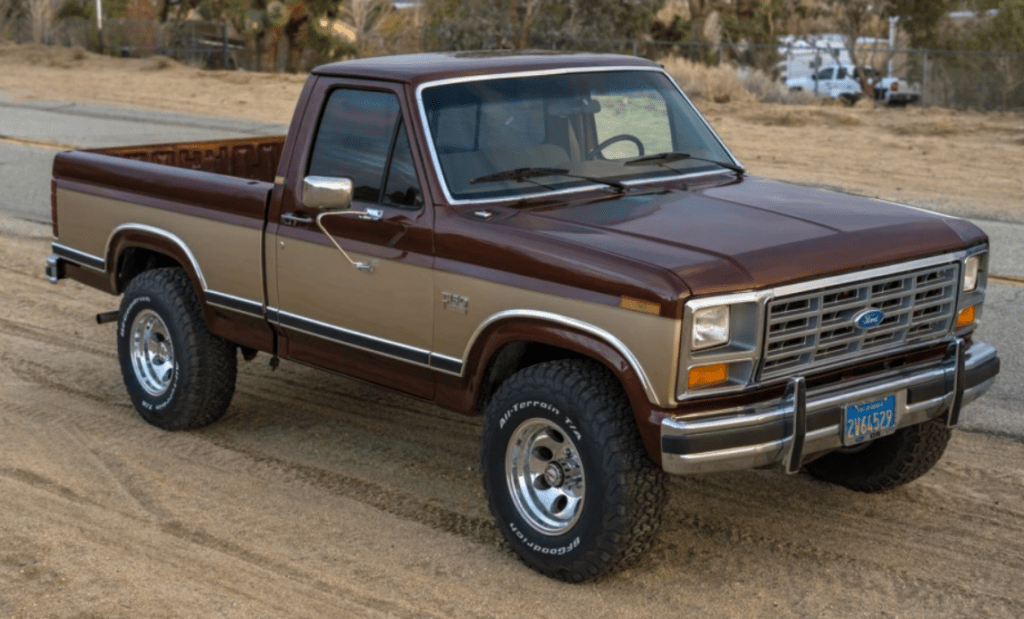 1986 Ford F150 Variants/Trim Levels
Ford F150 was a very popular pickup truck at the time. One of the reasons for the popularity was the various trim levels and variants offered for sale. For the 1986 model year, there were three variants on sale for the Ford F150 pickup truck.
The 1986 Ford F150 was offered as a Standard or a Supercab body style. These were available with either the Flareside or Styleside bed. The single cab variant was also called the standard truck, and the extended cabin variant was known as Supercab.
Engine Options
Ford F150 1986 was offered with different engine sizes. The standard engine was the 4.9-liter Inline 6 that produced 122 horsepower and 255 lb-ft of torque. The second option was the 4.9-liter V8, also monikered as 5.0L on the truck. This engine was capable of producing 185 horsepower with 270 lb-ft of torque. 
Then there were two 5.8-liter variants as well. The newly introduced 5.8-liter V8 produced 150 horsepower and 280 lb-ft of torque. There was a higher-output version of this 5.8-liter engine that produced 210 horsepower with 305 lb-ft of torque. It was, however, a special order option for the Ford F150 1986.
Ford did offer two diesel engines, but these didn't make their way to the F150 variant of the Ford F-series trucks.
Transmission Options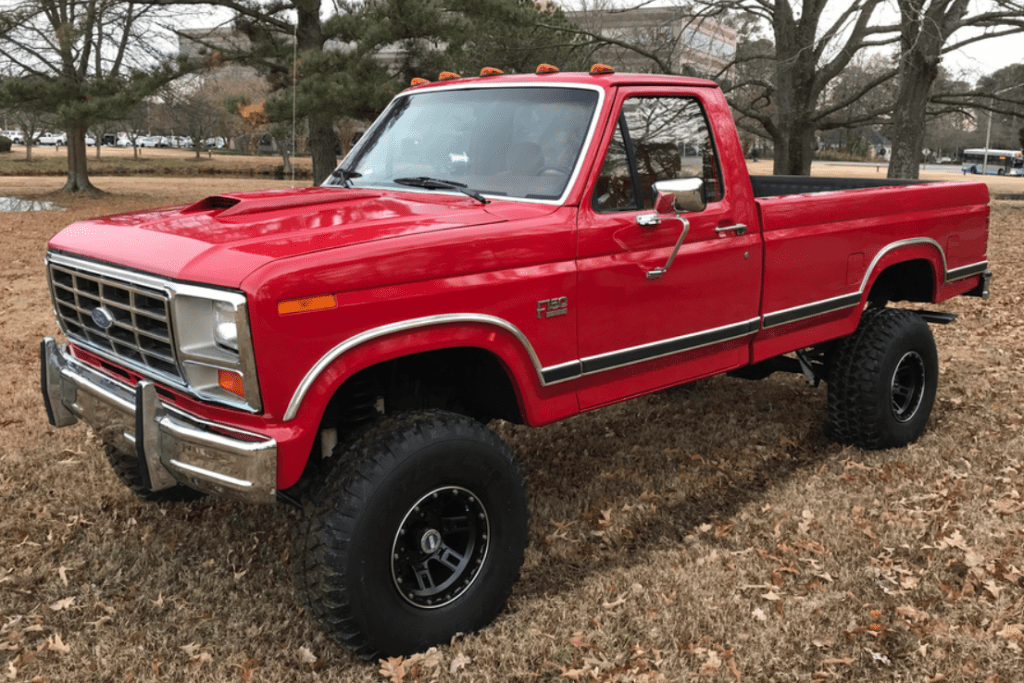 The Ford F150 had three different transmission options for the truck's lineup. There was a column-shifted 3-speed manual transmission offered for the 2WD variants. The 2WD models were also offered with a 4-speed manual transmission as an option. This 4-speed manual transmission was standard on the 4WD models. 
Later on, a 4-speed automatic with overdrive was also offered as an option for the 4WD variants of the Ford F150 in 1986.
Drivetrain Options
The Ford F150 for the 1986 model year was offered with two drivetrain options. One was a rear-wheel-drive-only variant for the 2WD models. There was an optional 4×4 variant as well. It was dependent on the buyer which drivetrain option would work for them at the time of ordering their Ford F150.
1986 Ford F150 MPG
The Ford F150 1986 was offered with quite large engine displacements. Ford offered a 3-speed manual to make matters even worse, as standard. Both of these factors take a toll on the fuel economy. Some drivers could achieve decent fuel economy, but that was only the case on highways. Urban driving was costly on the 1986 F150.
| | |
| --- | --- |
| 1986 Ford F150 trim levels | MPG City/Highway |
| 4.9 L, 6 cyl, Manual 3-speed | 15/17 |
| 4.9 L, 6 cyl, Manual 4-speed | 18/23 |
| 5.0 L, 8 cyl, Manual 4-speed | 15/20 |
| 5.0 L, 8 cyl, Automatic 3-speed | 12/14 |
| 5.8 L, 8 cyl, Automatic 3-speed | 11/14 |
The most economical variant out of the Ford F150 1986's lineup was the 4.9-liter 4-speed manual variant, which allowed the vehicle owners to achieve a decent MPG number.
1986 Ford F150 Prices
It is an exciting area to discuss since the prices for the Ford F150 for the 1986 variant will vary heavily on its condition. Now treated as somewhat of a classic, the F150 was once within the budget of many buyers. While writing this article, we just looked at a very well-known marketplace for used cars, carsforsale.com.
The Ford F150 1986 vary hugely based on the condition of the vehicle. Some are priced as low as $ 3500.00 for a decent condition truck. Some owners who immaculately maintained their F150s are asking for upwards of $20,000 for the 1986 model year.
So like we anticipated, there are some trucks available in pristine condition while highly cared for by their owners. Then some were daily-driven vehicles and have tenured over the years, causing substantial depreciation.
A few important factors to consider here are:
Mileage – low mileage ones will be priced higher

Condition – no rust, no corrosion, etc

Tires – tires can tell how well the vehicle's suspension is and so on

Trim Level – what equipment the vehicle was ordered with

Aftermarket parts – availability and prices

Seller – how sparingly the seller has used the vehicle

Vehicle maintenance record if available
1986 Ford F150 Accessories
Because the Ford F150 1986 is more than 30 years old, finding OEM parts can be a cumbersome task. The best bet is to go for aftermarket accessories in this case. The Ford F150 1986 was a very successful vehicle back in the day. It automatically translates to the easy availability of aftermarket parts.
There are Ford F150 1986 owners clubs that have built their vehicles entirely on aftermarket parts. The bumpers for the Ford F150 for the 1986 year can be found on eBay in both used or aftermarket categories. Here is a link if you want to buy one or learn more. You can also find these on Amazon.com, and here is a link to buy these.
The Ford F150 1986 was a pretty popular truck even from Ford standards. It has managed to stay around for over 30 years, and there is no shortage of accessories and parts. We recommend that instead of spending time looking for OEM parts, it would be much better to go for some high-quality aftermarket options.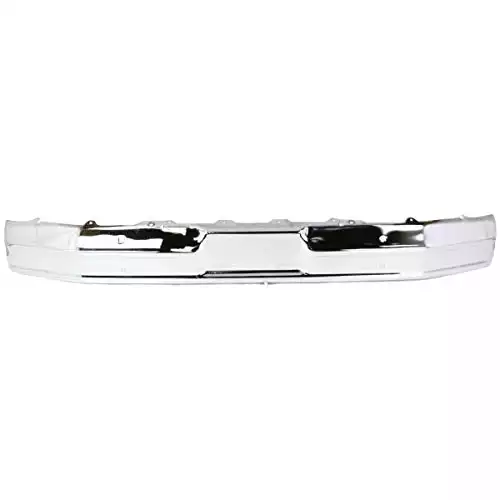 1986 Ford F150 Camping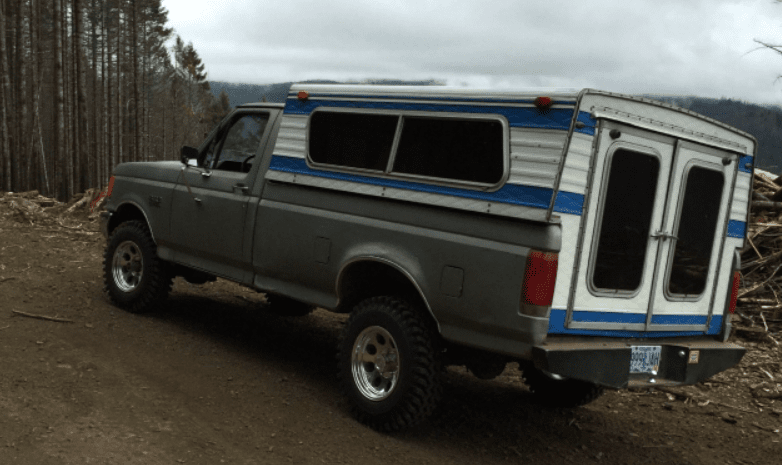 Camping is a pretty fun activity. We have quite a few of our team members who love to camp. The vehicles that go for such endeavors are trucks most of the time. The Ford F150 1986 is also a popular model for going off-road. And given it is a truck, it becomes a great all-rounder in camping scenarios.
A good idea is to first familiarise yourself with the camping environment you have chosen. Choosing the right place will save you a tonne of money and hassle. Then gear your vehicle for the trip so that any unforecast situation doesn't stay unsolvable. 
There is plenty of room to carry stuff, and there are a lot of accessories that can transform your Ford F150 from just a mere truck to a full-blown camping solution. There can be many utensils and accessories you might need while camping—these range from camping cookware to winches and lights and so on.
Amazon.com has plenty of these items that you can choose from, and they will serve the purpose just right. Here is a link that you check these out from.
Roof racks can serve various purposes. They can be used for carrying stuff. They can be used as a harness for your camps if you choose ones to be installed using the bed of your vehicle as to the sitting area. The amount of stuff one needs to carry at times is overwhelming for your Ford F150. A roof rack is an excellent solution for similar situations.
It is always good to be ready for any situation than repent later. Choosing a roof rack is a no-brainer. There are plenty of these available from aftermarket accessory makers on Amazon.com at affordable prices. Here is a link to learn more about these and buy if you want.
Best 1986 Ford F150 Replacement Parts
If you are worried about the availability of replacement parts for the Ford F150 1986, worry not. There are a plethora of options available from your local parts store or online through Amazon.com or eBay. There used to be a time when aftermarket manufacturers were limited, but not anymore.
When we talk about 1986, it can not be argued that the Ford F150 of this year is a pretty old vehicle. But with the trends shifting towards off-roading, the aftermarket has answered a lot of unanswered needs. So one can be at peace of mind that no matter how old a vehicle you own, aftermarket parts answer your parts and accessories needs.
Ford F150 1986 was introduced with 235/75-15 tire size. Meant for off-roading, the choice of tires for Ford F150 1986 is virtually unlimited. As a precaution, for tire purchase, we suggest visiting a nearby place where you can see the tires first before buying. It is a better way of choosing the right tires. Just so know, to add bigger tires, you might need a lift kit. 
If you are an online buyer, plenty of online stores offer you plenty of choices. We have seen some great options on Tirerack.com that are reasonably priced as well. They start at $ 97.99 and go all the way to $ 189.81, depending on your choice. You can follow this link for more information.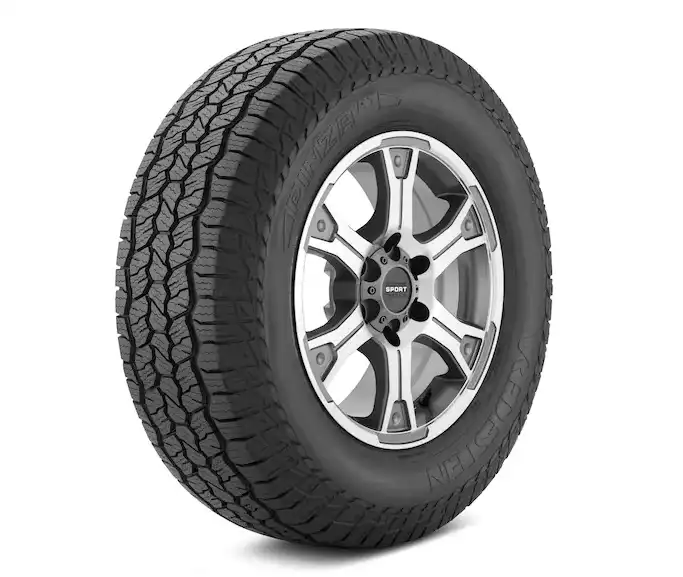 The air filters are the main source of preventing dust and air particles from entering the combustion system. Air filters accumulate dust and other molecular particles and prevent them from mixing with the fuel. After some use, the air filters need to be changed, which is simply uncompromisable. 
If the air filters remain unchanged for long periods, they can cause all sorts of issues with engine performance. You might start noticing a considerable drop in fuel efficiency. Moreover, there are instances where your vehicle won't run as smoothly as it should. It is mainly due to the clogging of air filters.
For Ford F150 1986, many aftermarket options are available both at your local auto parts store or online. For instance, we saw some very reasonably priced options on Amazon.com that won't break your bank. Here is a link to buy them and learn more about them.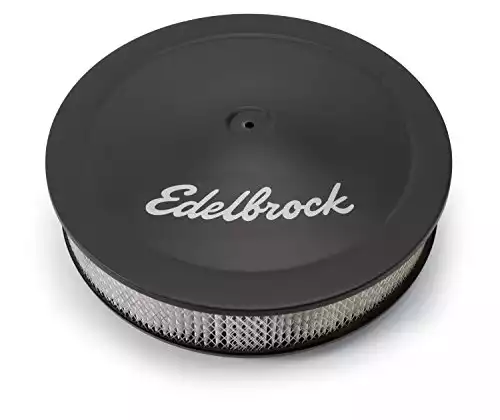 If you currently have a Ford F150 1986, chances are your headlights would have gone milky. Due to UV rays and weather exposure, the surface of the glass covering of the lights goes rough. It can lead to all sorts of visibility issues, particularly during night driving.
Finding OEM headlights for Ford F150 1986 might be an issue. But there are plenty of aftermarket options for all sorts of problems related to headlights. We have seen these online both on eBay and Amazon.com, and they are priced reasonably as well. Here is a link for some we saw on Amazon.com in case you would like to learn more.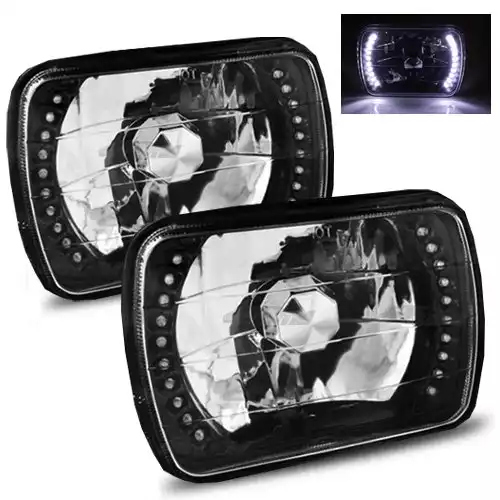 Brake pads for trucks and SUVs need more attention than those on cars. Primarily because trucks and SUVs spend quite some time off-roading. For Ford F150 1986, the brake pads are readily available from aftermarket manufacturers. Here is a link.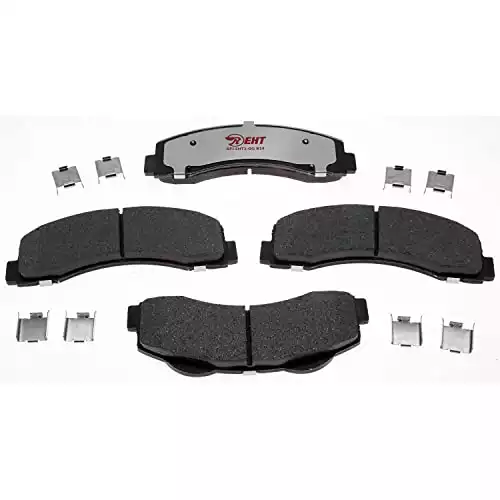 1986 Ford F150 Mods
Ford F150 1986 has a certain fanbase that just won't sell their trucks. They keep them alive with modifications and personalizations. If you are someone who has bought a Ford F150 1986 recently, chances are you would also like to make some modifications to it. Moreover, there is a high chance you want to personalize it to your liking.
Let us now see what we have as options for the Ford F150 1986 on the modifications and personalization front.
1986 Ford F150 Lift Kits
Lift kits are used mainly to raise the vehicle's ride height. These are essentially spacers that offer a ride height increase of 1-2.5 inches. It allows for better ground clearance that every truck owner dreams of, making your Ford F150 look more aggressive, and that added ground clearance is a clear benefit.
In addition to added ground clearance, you may also put bigger wheels and tires to your Ford F150. There hardly would be any OEM option available for the Ford F150 1986, as far as we know. But this is easily fixed with the availability of aftermarket options for the Ford F150. Supreme Suspensions is one such aftermarket manufacturer.
On Amazon.com, Supreme Suspensions has listed their kit that works for all Ford F150 trucks from 1983 to 1996. If you want to buy this kit or learn more about it, here is the link.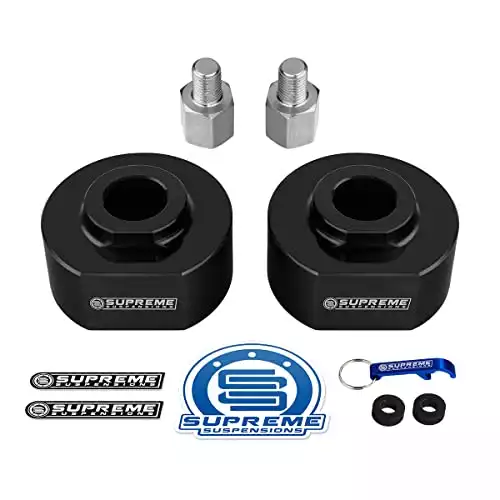 1986 Ford F150 Maintenance Schedule
When you buy a car, one hidden trouble that comes along is a regular maintenance schedule. It is far more attention-worthy in the case of trucks and SUVs. You would hardly come across a truck stuck somewhere after being well taken care of. On the other hand, if a truck or SUV isn't maintained, it becomes an off-road risk immediately.
It is valid for newer trucks only. It becomes an even more excruciating ownership chore for a truck as old as the Ford F150 1986. You have to fully ensure that your truck is well maintained, or else you would be stranded somewhere far in the desert or mountains or wherever you planned on going; help is pretty unreachable in remote areas.
There are wear and tear issues with older trucks that need far more attention than regular sedans or family cars. A regular maintenance schedule must be followed to prevent all of this from happening. We will take a look at the intervals and maintenance tasks that need to be done.
1986 Ford F150
Miles
Maintenance Schedule

After 10000 miles

Replace:

Engine oil

Oil filter

Tire alignment

Inspect:

Transmission fluid

Brake System (pads, rotors, drums, lines, and fluid)

Cooling system (hoses and fluid)

Wheels

After 20000 miles

Replace:

Engine oil

Oil filter

Tire alignment

Inspect:

Transmission fluid

Brake System (pads, rotors, drums, lines, and fluid)

Cooling system (hoses and fluid)

Wheels

After 30000 miles

Replace:

Engine oil

Oil filter

Engine air filter

Brake fluid

Tire alignment

Clean Mass Airflow Sensor

Inspect:

Transmission fluid

Brake system (pads, rotors, drums, and lines)

Cooling system (hoses and fluid)

Wheels

After 40000 miles

Replace:

Engine oil

Oil filter

Tire alignment

Inspect:

Transmission fluid

Brake System (pads, rotors, drums, lines, and fluid)

Cooling system (hoses and fluid)

Wheels
The required maintenance for the Ford F150 1986 isn't going to be easy given the vehicle's age. But if you keep a due diligence mindset about its maintenance, it might as well last another 30 years.
1986 Ford F150 Recalls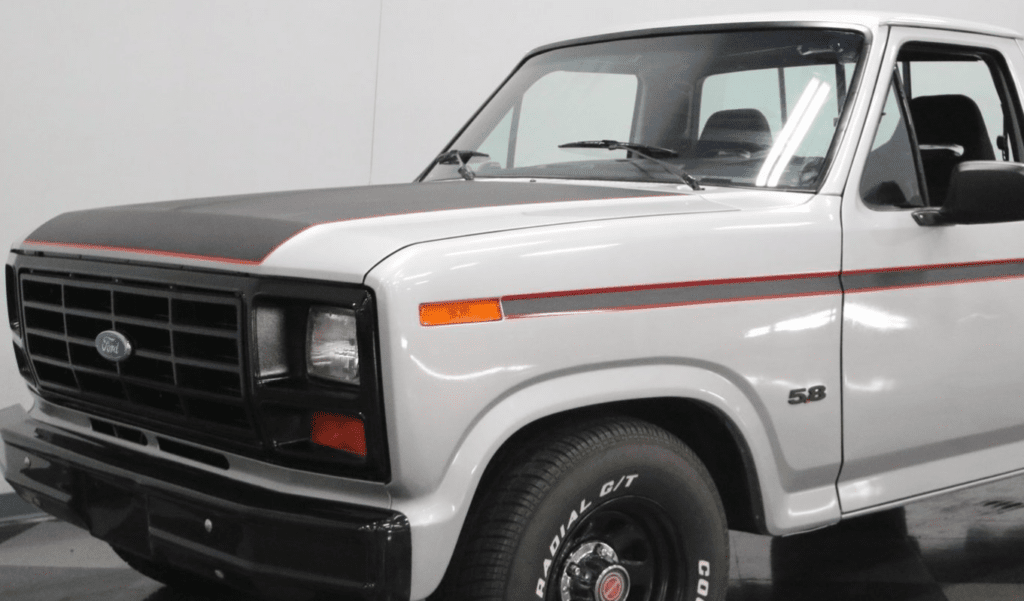 The Ford F150 1986 was a rugged and sturdy off-roader. As they used to say, "Built Ford Tough" back in the day, it didn't have many issues. But there was one recall reported for the 1986 Ford F150.
1986 Ford F150 Coupling Could Disengage Due To Fuel Pressure, Vibration, And Engine Movements
Ford F150 1986 was known for one standard-issue across many of the units sold. The coupling is used to disengage because of fuel pressure at times. In some instances, it was caused by vibration and engine movements. It was particular to the Ford F150 1986. This issue was known to have been present in 360,000 vehicles.
The recall was announced on Sep 4, 1987. Under this recall, Ford observed that the spring lock fuel line coupling wasn't appropriately engaged due to engine vibration, fuel pressure, and engine movements. To fix this, Ford installed retainer clips on top of the coupling. It prevented the coupling from separating and leaking fuel.
This preventive measure rectified the issue, and no further instances were recorded. 
1986 Ford F150 Common Problems
No matter how smart or error-free the manufacturing practices are, there is still room for error. Most of these common problems occur due to missing regular maintenance. We would again like to emphasize that routine maintenance can save you a lot of trouble. Now let's look at some common problems reported on various forums online.
1986 Ford F150 Catalytic Converter Issues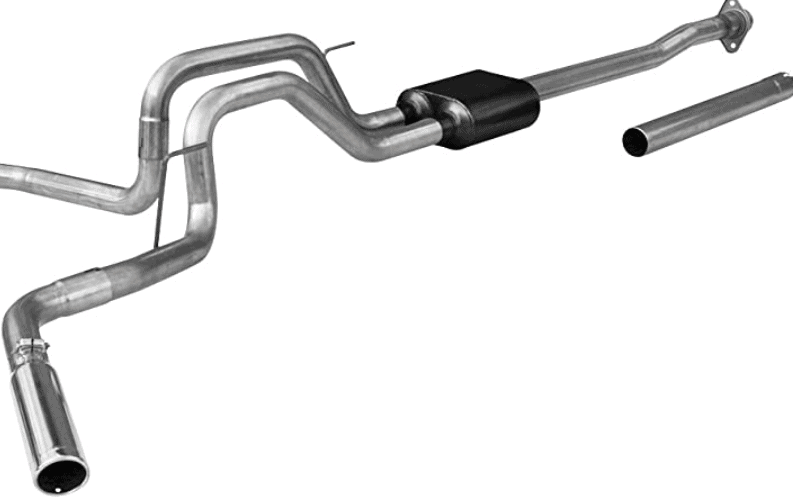 Some Ford F150 1986 owners reported issues pertaining to the Catalytic Converters on these trucks. A car owner from Philadelphia reported an issue with the Catalytic Converter on his truck. The resolution was to replace the catalytic converter. This solution cost the owner $350.00, but the problem was gone once replaced.
1986 Ford F150 Fuel System and Exhaust problems
The Ford F150 1986 had some fuel system and exhaust-related issues. Drivers experienced weird engine running behavior between 500-1000 RPM while idling. A person who reported this issue was suggested by another blogger to check if the behavior stays the same on a full tank. To this, the person reporting the issue stated that this wasn't the case.
The easy fix for this was the replace the fuel pressure regulator. This was an easy and cheap fix that cost only $25.00, which isn't much expensive to get the issue fixed.
1986 Ford F150 Resale Value
Because the Ford F150 1986 is a 30-plus-year-old truck, it can be easily categorized as a Ford Classic. There is a fair chance that looking for a decent-condition truck will cost you an arm and a leg. It is not to say that you can't find cheaper trucks, but this heavily depends on the truck's condition.
On Carsforsale.com the Ford F150 1986 is listed with prices ranging from as low as $ 3795.00 to as high as $ 23,900.00 depending on condition. Some vintage car dealers might have these with prices as high as $50,000 and upwards. 
Always look for a clean title and low mileage whenever in the market for a used vehicle. These two factors can make your buying decision an easy one.
1986 Ford F150 Competitors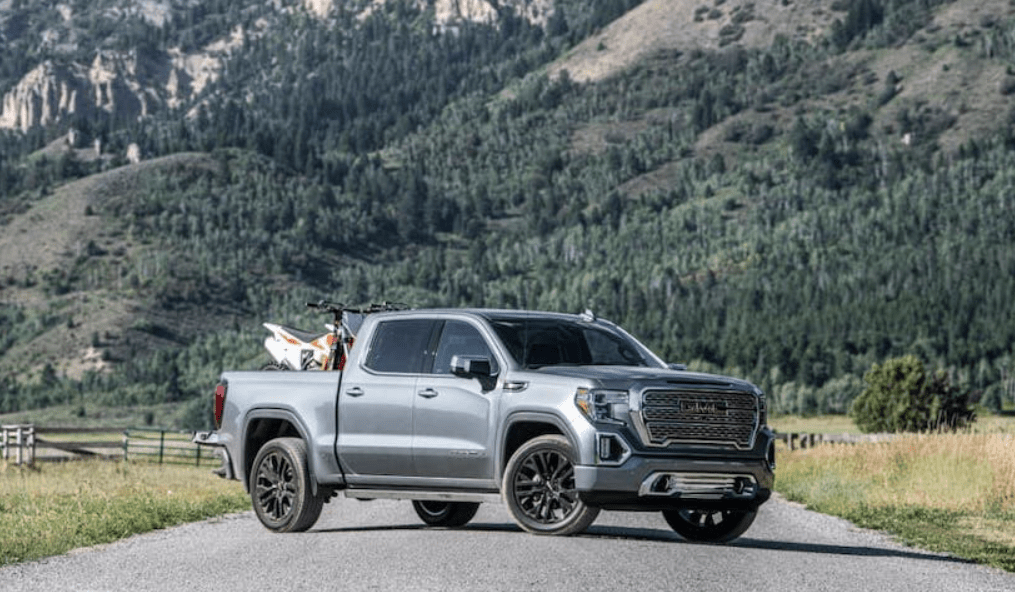 The Ford F150 1986 wasn't the only student in the class. It certainly had some tough competition. It was a compact pickup truck with some big names to fight against like Dodge, GMC, Chevrolet, etc. 
Here is a list of some of the competitors it was up against.
Chevrolet C-Series pickup trucks

Dodge RAM D-series pickup trucks
GMC/Chevrolet and Dodge's above offerings had their pros and cons. But in 1986, the Ford F150 was the most sold vehicle in North America. It included all the sedans and SUVs sold in 1986. The mind-boggling sales figure of more than half a million units says it all. To be precise, Ford sold 544,969 units in 1986. It was a clear answer to the competitions of Ford F150 that it was simply better than them.
1986 Ford F150 FAQs
Question: What is the annual maintenance for Ford F150 1986?
Answer: The average cost of annual maintenance for the Ford F150 1986 is $ 788.00, which is considerably higher. But let's also not forget that we are talking of a truck that is more than 30 years in age. 
Question: Which Ford F150 1986 Engine was the best
Answer: Ford offered the F150 with several variants. If we are talking about the power output, the 5.8-liter HO was the best choice. It provided a torquey and powerful engine that was good enough for off-roading back in its day.
The 4.9-liter 4-speed manual was the best option if we are talking fuel economy. It offered the best fuel economy out of all of Ford's engines for the F150 in 1986.
Question: Can we still find OEM parts for the Ford F150 1986?
Answer: The answer to this question cannot be that you won't find OEM parts. The real question here is the price of these parts. After being on the roads for 30 plus years, it is not impossible to find OEM parts, but for sure, it is hard and expensive.
We would suggest not to keep a strict mindset about OEM parts. The aftermarket options are really good and reasonably priced. So we would recommend going for the aftermarket parts and spending more time enjoying them instead of looking for OEM parts.
However, if you require a stock look and are okay with all the grinding work, you can check the dealerships operating since the early 80s or before. Some dealerships might have what you are looking for somewhere deep in their storage. You never know. And then there is the used market, where you might find what you are looking for at a fair price.
Final Thoughts
The Ford F150 1986 was undoubtedly a fantastic truck back in its day. Its sales numbers speak for themselves. There were some issues with the truck, considering that every manufactured product has some flaws. But with the availability of aftermarket parts and geeky solutions, this problem will no longer be a problem. 
The value of these trucks is obviously on the rise depending on how well maintained they are. It also means that if you already have one, you will probably reap the benefits whenever you want to sell yours. It is condition-dependent. However, if you are in the market for one, chances are you are going to spend some big money for a well-maintained ford F150.
Good luck and happy off-roading.
Research Citations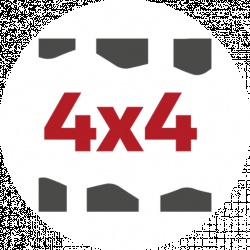 Latest posts by 4x4 Reports Team
(see all)