The Toyota Tundra is a beautiful truck that boasts both a super powerful engine and an incredibly high-quality interior for a remarkably comfortable ride. As a pickup truck that easily blends function and style together with ease, the 4×4 has some magnificent and spacious seats to further compound its trucking experience.
Like any other vehicle, the seats of the Tundra are often put through the wringer, and they can absolutely be prone to dirt build-up and wear and tear after a long period of use. This is why getting seat covers for your Toyota Tundra is always a great idea. 
Either as a forethought or an afterthought, seat covers tend to deliver benefits beyond whatever reason you may have purchased them for. That said, choosing the perfect seat cover requires some effort, as you will want to ensure that it protects the seats of your Tundra.
You also want to make sure it not only matches but also improves the aesthetics of your vehicle's interior. Fortunately, I understand this struggle all too well. So with that in mind, I've gone ahead and have made it easier for you with this easy guide to my top choices of Toyota Tundra seat covers.
At a Glance: Best Toyota Tundra Seat Covers
09/27/2023 11:01 pm GMT
What Exactly Is a Car Seat Cover?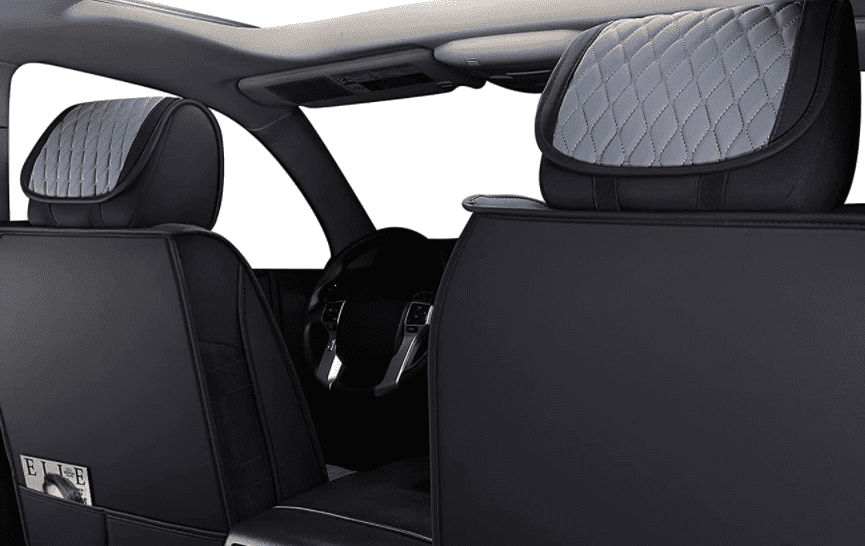 A car seat cover is a protective upholstery that helps to preserve the visible surface of your vehicle's seat. Car seat covers act as shields for the original furnishings in our vehicles, as they help to prevent potential dirt and stains from messing up our car seats.
Car seat covers also give the interiors of your ride a new look, especially when it's different from the manufactured seat design. When most people want a makeover for the interior of their cars and trucks, a seat cover is an inexpensive and efficient way of making that happen.
Car seat covers are usually custom-made for different car models, but there are universal options for buyers who do not want to go through many hoops. To pick a fitting seat cover, all you need is to consider your vehicle type, model, and year. 
Main Differences Between Custom Seat Covers vs Universal Seat Covers
The main differences between custom seat covers vs universal seat covers are:
Custom seat covers are designed for specific makes and models of vehicles, whereas universal ones can fit a wider range of seat types.

Custom seat covers tend to be more unique to each vehicle's model, whereas universal seat covers are more generic.

Custom seat covers are a bit more expensive, as they have a more streamlined design, whereas universal seat covers have a wider reach and are more affordable.
Let's take a detailed look at each one, shall we?
Their Appearance
Custom seat covers are intended for a particular model of vehicle, so they are designed in a way that sits snug and properly covers the entire frame of your seats. Conversely, universal covers are designed to fit a large number of different cars with similar seat designs.
This means that with custom seats, you won't be able to tell the difference from the appearance of an original seat cover. On the other hand, with universal seat covers, people can immediately tell that you have a seat cover on. 
Their Fit and Uniqueness
Custom seat covers are unique to each vehicle model, and that includes all the fits and cuts. They are designed with all the seat's functionality in mind. You get clean cutouts for every button, lever, and even armrests that are on your truck's seat. 
With universal covers, though, they don't have the same considerations that specifically fit the needs of any particular vehicle. This is a crucial safety feature to consider as universal seat covers may not favor vehicles with seat-side airbags. Custom seat covers will already have spaces to ensure that your seat's full functionality is not obstructed. 
Their Overall Price
Generally, custom seat covers tend to be a little bit more costly than universal seat covers. This is because they have a more streamlined design, while universal seat covers are often more affordable and have a wider reach for vehicles. 
This also depends on the product quality, too, since a higher cost may also mean that the quality level of your seat cover is going to be much better. This also reflects in the amount of warranty you may expect on these products, as well.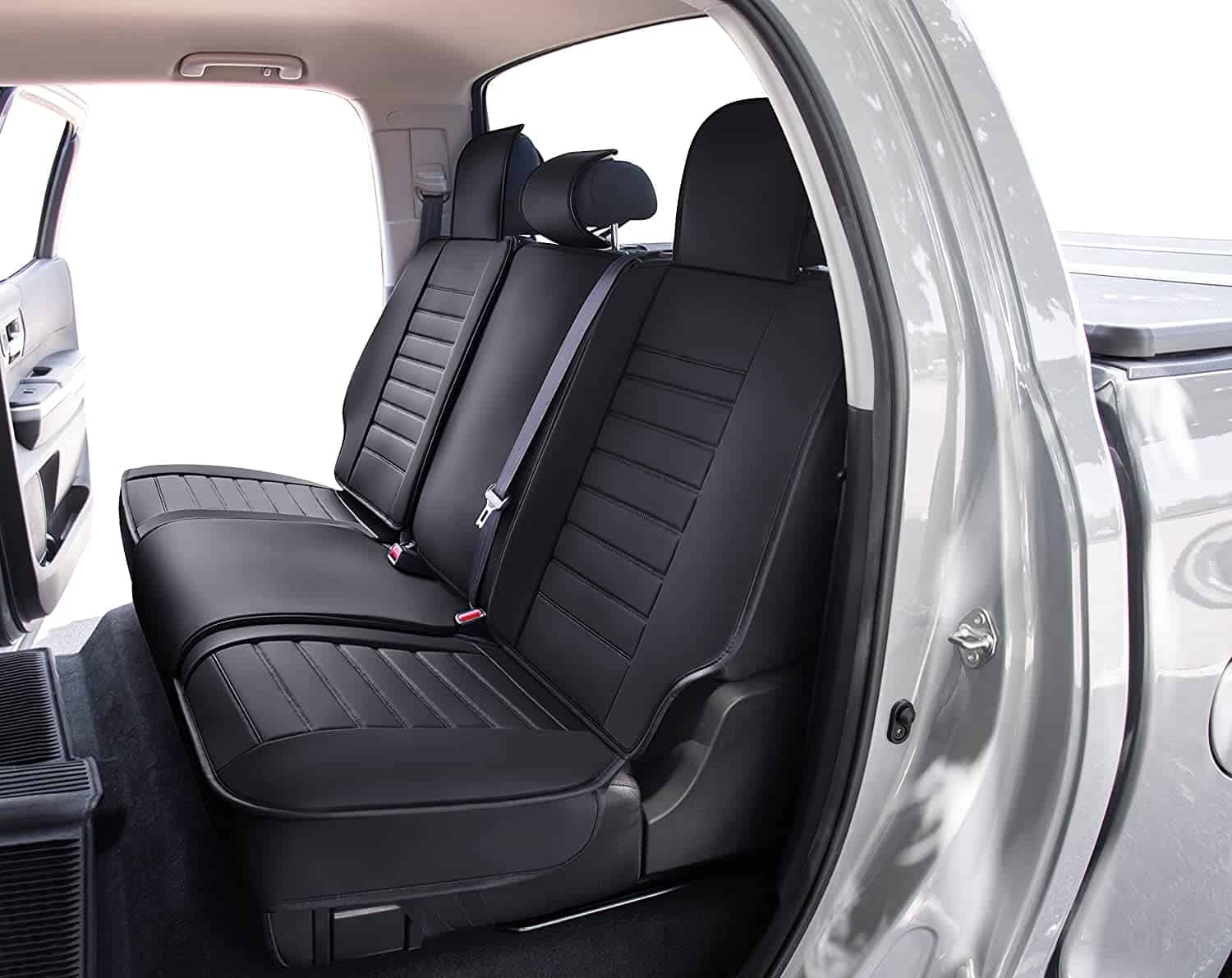 What Are the Benefits of Using Seat Covers?
Whether you just bought your Toyota Tundra or you've had yours for a while, there's never a bad time for getting a new seat cover for your truck. As they're designed to conveniently slide over your factory-made seats, they can instantly refresh the interior of your truck.
Let's go ahead and look at some reasons why they are great investments. Here's a quick view of the benefits of seat covers:
They slow down the aging process of your factory Tundra seats.

They can help protect your factory seats.

They allow you to personalize your Tundra interior.

They bring an improved appearance to your truck.

They offer protection from the sun's UV rays.
Slow Down the Aging Process
While this may sound like a mantra for most skincare products, the fact is, seat covers actually do a great job at slowing the aging pace of your original Tundra seat. New seat leather will remain astonishingly new after many years of being under a seat cover. 
Also, seats that are already suffering from wear and tear can also use some pause in the aging process when a seat cover is thrown on them. This drastically slows down the decline of the original seat materials and helps to ensure that your Tundra retains higher resale value. 
Moreover, when you eventually take off the seat covers, it's always satisfying to see your original car seat fabric looking so new and fresh. Not half bad, right?
Protection for Your Seats
Keeping car seats in their pristine state is a hard feat to accomplish, but using seat covers makes it all too easy for you. If you have kids or pets (or even both!), then you already know how hard it is to keep your truck seats dry or clean. 
You constantly have to watch out for muddy feet, spilled drinks, or sticky foods. All these leave terrible stains that may not be easily removed from your seat. With seat covers, your original Tundra seats are protected and shielded from all of the grime, dust, sweat, and dirt that may find their way onto them. 
These are also very easy to clean, too. All you need to do is give them a quick rub-down with a slightly damp piece of fabric, then voilà! You can have a worry-free drive with kids eating in the back seat.
Personalize Your Tundra
We never have any say in how our cars and trucks are designed for most of us. Even though we may be head over heels with our new Toyota Tundra, eventually, we get that itch to make it our own. Sure, we try to make it as comfortable as we can for as long as we own them, but it's always nice to add a little something extra to it.
To some people, it may mean that they keep using their vehicle as it originally came. Some of us, though, may accessorize the car as little or as much as we can – until we are satisfied that it is a complete reflection of who we are. 
Seat covers are perfect for customizing the interior look and feel of your truck. With them, you can really reflect your choice of seat colors, fabric, and material, or just make some bold statement about your style. You get that satisfaction from making your Tundra really yours.
Improved Aesthetics
After driving your truck around for a while, it will gradually lose its new truck feel. While the body of the truck can easily be rebranded, the tear and wear of your truck seats will easily tell passengers that your car is getting old. 
Sweat tends to leave, shall we say, interesting marks on your seats. And the seats themselves may start getting loose at their seams. With seat covers, you can get all those ugly and torn parts out of sight.
Protection From the Sun's UV Rays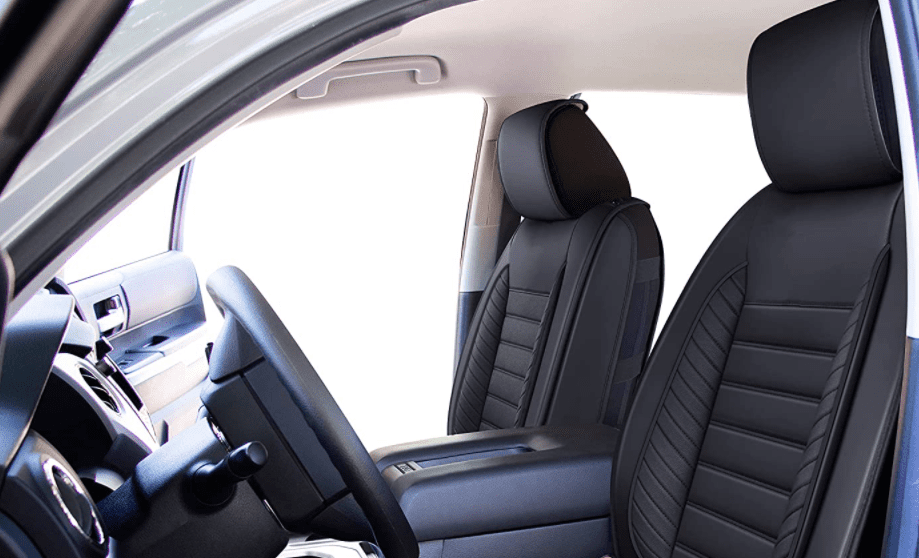 Factory seats may easily suffer unwanted wear after spending much time in the sun. Sometimes, they may even be partially faded, making them look a lot worse. Seat covers offer UV ray protection to retain their own looks while keeping your original seat in its original color. 
The Downsides of Using Seat Covers in Your Truck
Since we are considering custom seat covers for Toyota Tundra, it's hard to find many downsides with them. However, these few are worth a mention for seat covers in general, such as:
They can take away from your truck's originality.

They might not be as comfortable as you'd like.

It can be kind of annoying to take them on and off for cleaning.
A Little Bit of Unoriginality
Of course, nothing can compare to an original, but these seat covers can only come close to the feel of the factory-made product. Sometimes, that original newness is what you need, but you'll have to settle for a seat cover to conceal all that hideousness on your old car seat.
Somewhat Reduced Comfort
While most seat covers are designed to bring new appeal to your worn car seats, you may have to sacrifice the comfort you've known and are used to for these new seat covers. Some materials may also get a few degrees warmer than your regular seats. Sure, you'll get used to them with time, but you might miss that old feel you've grown to love. 
Added Cleaning Stress
Even though your seat covers are meant to keep your original seats in their neat state, you may find that you will have to fuss with removing these seat covers once in a while for complete and detailed cleaning. Of course, this may not be possible with your original car seats, but those few minutes for removing and reinstalling seat covers can definitely be annoying.
What Was My Selection Criteria for Choosing The Best Toyota Tundra Seat Covers?
Now that you know what you stand to gain from using seat covers in your Toyota Tundra, I'm excited to show you my top picks of seat covers for any Toyota Tundra out there. In choosing these seat covers, I considered some important factors that would help to make a good buying decision, such as:
The Fit and Aesthetics

The Comfort

The Build Materials

The Functionality

The Overall Price
Here's a further breakdown of these key factors in my selection criteria.
The Fit and Aesthetics
Personally, I prioritize style as well as functionality when looking for a seat cover. As much as a product should be able to serve its purpose, it should also look pleasing to the eyes while doing its job. Seat covers are meant to bring a new look and feel to the interiors of your Toyota Tundra, and that is what drove most of the products I've selected.
These seat covers are custom-made for particular years and models so that you can get the best fit. No sagging or excess space when fitting them, neither will they be too tight for the seats. In fact, they should look like a new set of factory seats.
The Comfort
Seat covers should be as comfortable as the factory seats. Otherwise, they wouldn't be tolerable. When picking these seat covers, I focused on how comfortable these seat covers are. With extra padding for breathability, their snug fit will ensure that they stay intact and do not cause any irritation. 
The Build Materials
Choosing products that are made from quality materials will ensure that your seats enjoy long-lasting protection. With materials like faux leather and Neoprene that are versatile and resistant to UV damage, these seat covers are hardwired to withstand wear and tear. No doubt, they can take pretty much anything your pets and kids may throw at them.
The Functionality
While making your interior look beautiful, seat covers should also protect your original seats. After all, that's a huge role it's meant to play. These seat covers are efficient in protecting your seats from water and ultraviolet rays.
This will save you from spending an arm and a leg on repairs in the long run, as well. They are also practical, as they support all your seat functions. 
The Overall Price
Getting good and durable seat covers can be a tough one, as they can be very pricey. But no worries, I set out for great products that fit all the criteria above, while keeping the budget well below a $250 mark. You will find that these products are a great bargain. Also, they have options for purchasing fewer seats if you can't afford the full set. 
The Best Toyota Tundra Seat Covers Available for 2022
Going with all of the criteria above, I was able to select the following seat covers for you. These have been selected after a thorough evaluation, and I consider them to be a fantastic value for money. Keep reading to find out which is my favorite among these top picks! 
Features:
Custom Fit for 2008-22 Crewmax and Double Cab

Premium Faux Leather Material

Includes Airbag Compatibility
With over 10 years of making trusted automotive products, Aierxuan brings its high-quality standards to these seat covers. With a faux leather material that is completely waterproof and resistant to wear, these custom-fit seat covers give you complete safety and maximum comfort.
They're also highly functional, as these seat covers have been designed with all the workings of your car seat in mind. The back seat covers are made to fit your 40 by 60 bench split for easy lifting and dropping. 
Fitted with anti-slip materials to hold it firmly in place, these seat covers allow smooth conduction of your original seat heating and cooling capabilities. The Aierxuan Toyota Tundra seat covers are designed with the original car seats in mind so that they do not hinder any buttons or levers attached to the seats. 
With an easy installation that can be completed well under 30 minutes, they allow you the purchase options for full sets or two pieces for front seat covers only. And yes, they come with complete covers for your headrests.
Pros:
Premium and realistic aesthetics with faux leather material

Partially exposed sides for airbags deployment and safety

No extra tools needed for installation

Cleans easily with just a wet towel

Reliable customer experience that promises free replacement for missing parts.
Cons:
Installation may take up to 25 minutes (but there's a video guide for help)

Adjustable back seat covers are only available for full set purchase.
Features:
Customized fit for 2008-2021 Tundra Trucks

Wear and Water Resistant Faux Leather.

Added Storage Pockets for Convenience

Airbag Compatibility for Safety
If you are a lover of some solid black car seat covers, then the Yiertai Tundra seat covers are perfect for you. Designed with beautifully crafted threadwork in different colors of your choice, the Yiertai Seat covers feature reliable waterproof faux leather that is comfortable and soft.
With bottom layers that are designed to prevent skidding when installed, these seat covers are easy to clean. Its functional design puts safety first, thanks to its features like cutouts for the airbags on the sides of the seats. Even better is its fit around levers and buttons or other seat functions (like baby car seat support).
Another feature I love about the Yiertai seat covers is the storage pockets that are strategically placed on them. You can easily hold small items to free your hands for other stuff. The Yiertai comes with an installation manual and video for easy and swift installation, too.
Pros:
Waterproof and dirt-resistant material that gives your seats a new look

Headrest is removable for easy installation

Two pockets on each seat cover for storing small items

Quick and easy installation under twenty minutes

Available in a two-seat or full set option
Cons:
Only available in black, with a choice of embroidery color

Headrest covers may require particular attention when installing 
Features:
SoftTouch Material That Is Breathable in All Climate

4-Layer Construction for Comfort and Function

Airbag-Compatible Design

Storage Pockets for Handy Items
EKR is a company known for producing top-tier automotive accessories and products. They brought their excellence to the production of these seat covers with a special 4-layer construction. The leatherette used for the finish is a soft material that is perforated to allow breathability and regulated temperature no matter the weather.
These seat covers are specifically made for Tundra CrewMax from 2014 up until 2021 to ensure that they fit your car seats like a glove. It gives your interior that luxurious feel that only EKR can bring, with customized stitching that emulates factory seat design.
Installing these seat covers is surprisingly easy, and they provide adequate protection against dirt, wear, tear, and stains for your original car seats. Even better, they do all these without sacrificing or hindering the functions built into your original car seats. The EKR Full set covers are priced a little above $200, but the realistic look and feel are worth every penny.
EKR Full Set Seat Covers for Tundra CrewMax 2014-2021 | Amazon
For a tailored fit, choose EKR's custom-made seat covers. Unlike universal seat covers, our custom seat covers are designed to accommodate all the features of the row of your seats, including full access to all functions of your seats such as seat belts, airbags, and heated seats.!
Buy at Amazon
We earn a commission if you make a purchase, at no additional cost to you.
09/28/2023 05:33 pm GMT
Pros:
Proprietary build material maintains a regulated temperature in extreme climates

Snug fit that is aesthetically pleasing, resembling real seats

Design allows complete access to every original seat-dependent function

Precise stitch work for enhanced quality and longevity

Easy installation that requires no extra tools
Cons:
Seat covers are not completely waterproof as they have tiny pores for breathability

Strappings may differ from what is advertised

A little pricier than other seat covers on the list 
Features:
Custom Cover Fit for 2007-2022 Tundra

Waterproof Faux Leather

Different Color Options for Choice

Airbag Compatibility
For people who have the Toyota Tundra that goes as far back as the 2007 model, finding a seat cover that checks all your boxes may be quite difficult. Thankfully, the Oasis seat covers are perfect for your Tundra. For a brand that supports older models, it doesn't sacrifice anything to deliver good-looking seat covers.
The Oasis Auto Covers is designed to give you that premium feel in five different color shades. Whatever color you choose, you can count on its faux leather to provide protection from dust, dirt, water, and sweat. Its waterproofness means you can worry less about kids spilling drinks, too, and get it clean with just a damp piece of cloth.
On purchase, you are provided with a detailed installation video to help ensure that you have a stress-free installation for the perfect result. Also, Oasis Auto are confident in their products to allow you to make a risk-free purchase and stand behind all of them with a 30-day money-back guarantee.
Pros:
Wide range of color options to choose from

Get a first-class interior transformation for your Tundra for just under $200

Seat covers could be bought as a full set or in pairs for either rear or front seats

Detailed instructions for fast and smooth installation 
Cons:
Seat cover is very thick and may add a few centimeters to your seat height

Straps may prove a little tough to fit underneath large seats 
Features:
Custom Fit for 2014-2020 Tundra

Two-tone design for driver and passenger seats

Neoprene material for efficiency and durability

Individual piece for each seat component
CarsCover has designed these simple and clean two-toned seat covers for Toyota Tundras within the 2014 and 2020 years. Made from the popular Neoprene material, the seat covers are able to withstand anything thrown at them. 
They are ruggedly durable and completely waterproof, not to mention their high resistance to wear and tear. While these covers only come in two for both the driver and passenger seat, it proves itself as a great bargain. Each piece is separated into three, the headrest, the backrest, and the bottom. 
This ensures an undeniably snug fit once installed. Custom fitted for different Tundra models within the years mentioned, the CarsCover neoprene covers and protects your seats entirely, keeping it safe from fade, spills and damage. 
Pros:
Complete fit, quite snug, and realistic finish

Easy to maintain

Neoprene material protects your seats and is waterproof
Cons:
Only sold for two seats (driver and passenger seats)

Installation takes time as each piece is divided into parts 
The Best Use Tips for Toyota Tundra Seat Covers
Like every other accessory you get for your truck, understanding the best ways to use them helps to increase their lifespan. Here's a couple of tips to enjoy the best from your new Toyota Tundra seat covers.
The Installation
All of the products I have selected above come with easy-to-understand installation videos. In fact, most of them come with installation manuals for backup. 
With that in mind, it's always best to follow the steps highlighted in the videos or manuals. Installing these seats is completely DIY, and you won't go wrong if you follow the recommended steps outlined in the instructional materials.
Maintenance
Since most of these seat covers are waterproof, they are usually easy to maintain. Cleaning them is easy with a piece of wet cloth, and no hard scrubbing is required. Also, it's important to take note of the cleaning requirements as recommended by the manufacturers.
FAQs
Question: How do I choose a car seat cover?
Answer: When choosing a car seat cover, you have to prioritize quality, functionality, and aesthetics. Choosing seat covers with high quality will ensure that they last long and are efficient, and the materials themselves can tell how functional they are. Appearances are also important, as your seat covers are the face of your care interior. 
Question: What color seat cover is best for my Toyota Tundra?
Answer: To pick a color, you need to consider your passengers. For instance, are they mainly kids, or are grownups that can be careful and not damage them? If you are carrying pets, you may consider seat covers that do not have lighter colors or use materials that are easily damaged. 
Question: Is a seat cover really necessary?
Answer: Seat covers perform many functions that we may not think that our cars need. For example, they:
• Protect our factory seats from harsh UV rays.
• Act as stain and water repellent.
• And generally serve to keep our car seats in the best state possible. 
All these reduce repair costs as well as help to retain high resale value for our trucks. So maybe while the word "necessary" isn't the right word, "recommended" may be a better choice of terms.
Question: Are all seat covers universal?
Answer: Seat covers can be either universal or custom-fitted. Universal seat covers are made to fit many makes and models of vehicles, while custom-fitted models are made to fit a particular make and model of vehicle. 
Universal seat covers may be advisable if you have less knowledge about your car make and model information. Otherwise, your car would be better off with a custom-fit seat cover.
Question: Which company's seat cover is best?
Answer: While there are many companies that strive to fill the gap in the seat cover market, all of them have their strengths and weaknesses. Some may have features that are not available in others and vice versa. However, the list above shows some interesting picks that you may find helpful. 
My Final Thoughts
At this point, this article may have been a real eye-opener about the interesting world of Toyota Tundra seat covers. You may now have an idea how selecting such a simple accessory for your car can be quite a daunting task. 
Thankfully, this article has clarified the important attributes to look out for when selecting a car seat cover. You will need to couple this with the main reasons you decided to get seat covers for your Tundra. 
While you may have other preferences driven by your own needs, my favorite pick in the top list of Toyota Tundra seat covers is the YIERTAI Seat Cover for 2008-2022 Toyota Tundra CrewMax. I just love it when everything ticks all the right boxes. 
For starters, it's right underneath the $200 price point for the full set. Also, its minimal design with small colors popping in the embroidery feels just right. It's compatible with all the seat functions on a Tundra without any hindrance or flaws. 
And we also should not forget those convenient pockets for storing small things like phones, pens, and notes. Moreover, their customer service is top-notch, as they offer free replacement for any missing or damaged part. Quality and durable products should not be hard to get, and the Yiertai seat covers prove this.
If you haven't decided yet, you may need to look at our picks over again and carefully to select your next set of seat covers for your beloved Tundra. Hopefully, though, the details in this guide will help you make better decisions that you won't regret! No matter what you decide, though, I hope you love your selection as much as I enjoyed helping you pick it out!
09/27/2023 11:01 pm GMT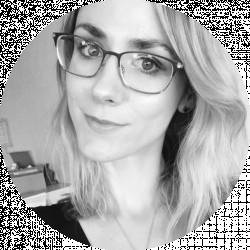 Latest posts by Karyl Trejo
(see all)