For adventurous riders who enjoy traversing off-road tracks with their trucks, there is nothing like feeling the wind in your hair. Trucks like the Jeep Wrangler have made it possible to have an open-air experience without stepping out of your vehicle. 
Whether you're riding with your family or enjoying the terrains with your buddy, taking off the top of your truck adds to the thrill. However, it may leave you a few worries about the harshness of some of the earth's natural elements.
The sun can bring so much warmth to your cruise and also go on to hit you with some unhealthy amount of ultraviolet rays — while also heating up the interior of your vehicle. Perfect weather could also turn cloudy, bringing an unexpected downpour to drench you, making the whole ride unpleasant. 
Thankfully, there are bikini tops for your Jeep to help you enjoy your cruise with as little worry about the climate as possible. And in turn, you can enjoy a cruise down Main Street or even off-road, no matter what the weather outside might be!
What Is A Jeep Bikini Top?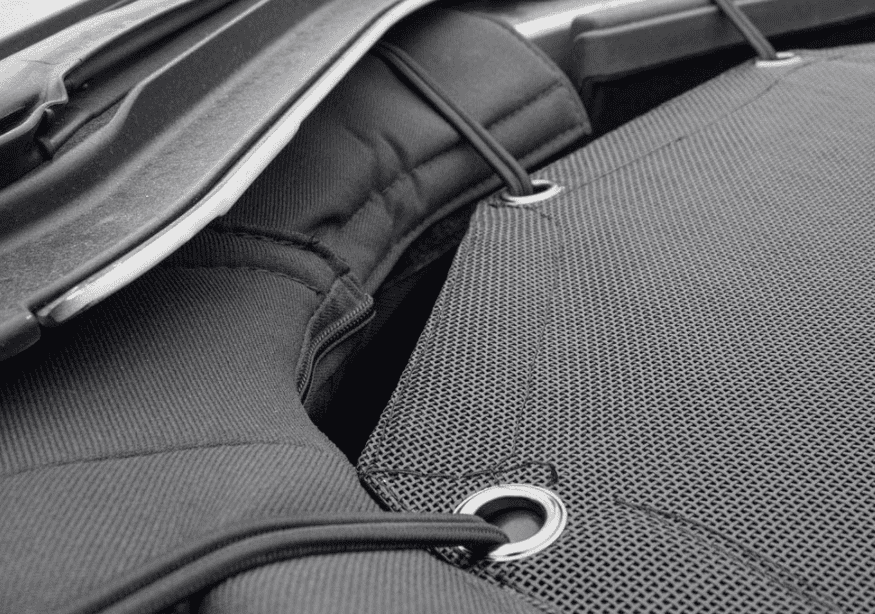 A bikini top is a type of soft-top accessory for Jeep models that can go topless. Jeep bikini tops provide an adequate amount of shade for you as you cruise your favorite spots while also letting you enjoy the outdoor feel you stepped out for. 
Jeep bikini tops can be referred to as a light sunshade, as well, as it doesn't cover the sides and back of your Jeep. Riding topless is usually glorious, but it can quickly go awry in some extreme weather. Jeep bikini tops give you the confidence to enjoy every glorious moment of your ride, as it significantly reduces the negative effects that come with driving topless. 
Bikini tops are available to fit various Jeep Wrangler exteriors and even some Jeep Gladiators. Since choosing the right one is a special task, this article is my gift to help you make an easier decision.
The Major Differences between a Jeep Bikini Top, a Soft Top, and a Hard Top
Typically, most Jeep Wrangler models will come with a hardtop, and some may come with a soft top, whereas a Bikini top has to be purchased separately. Although some soft tops can easily be converted to something similar to a bikini top, purchasing a proper bikini top is necessary for the best open-air experience.
Choosing the right bikini top is a necessity to enjoy the open-air experience that your Jeep offers without getting scorched by the sun. To help you understand the differences between the two, I went ahead and broke them down for you.
The Surface Area: 

Jeep bikini tops are usually sized to sufficiently create a cover over the two doors of your Jeep only, whereas soft tops go further to cover the back of your Jeep. 

Hardtops

 even go further to provide window coverage for some Jeep models.

The Convenience: 

Jeep bikini tops allow easy setup and set down, and you don't have to worry about using tools, as it usually takes less than twenty minutes, whereas soft tops may require using some tools to securely fit them. When compared to bikini tops, hard tops may even require some level of expertise to place them securely.

The Affordability: 

Since Jeep bikini tops cover less area, thereby requiring fewer production materials and cost, purchasing one for your Jeep will never break the bank. At the same time, other soft tops and hardtops are much more expensive to purchase.

The Flexibility: 

Jeep bikini tops are very flexible and versatile, and you can easily swap them out. Since they take up very little space, they can be easily stored. Whereas hardtops, on the other hand, are more rigid and less versatile. As they're usually set in their shape, they also require a larger amount of space for storage.
Benefits of Jeep Bikini Tops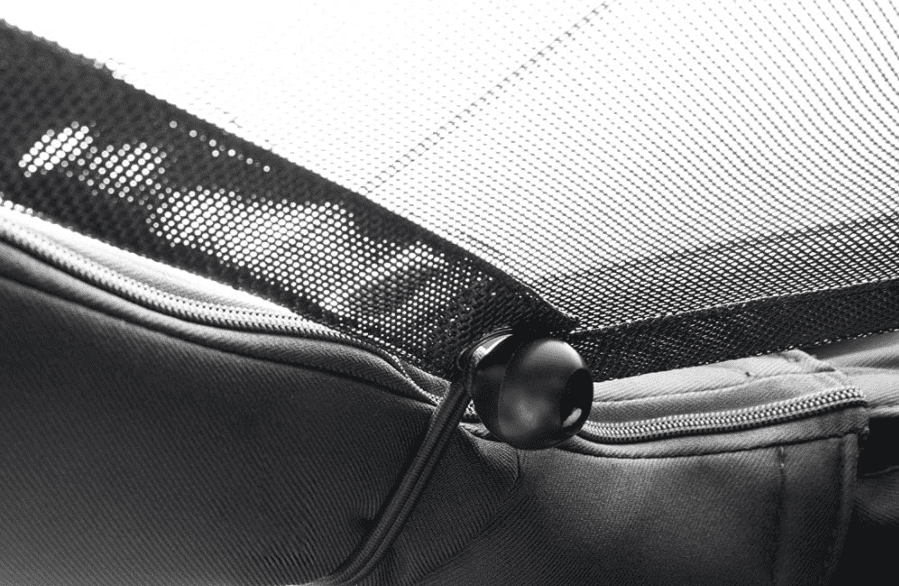 Jeep vehicles are known for their versatility and ruggedness, and what better to enjoy these than on those extreme tracks? Naturally, you would want to enjoy the wild with your Jeep's top off, but I have realized pairing it with a suitable Jeep bikini top makes it much better. Here are some merits of equipping your Wrangler with a Jeep bikini top:
Enjoy the Open Air Experience

Relief From the Weather

Interior Protection
Let's go ahead and break down these points, shall we?
Enjoy the Open Air Experience
People usually get a Wrangler so they can enjoy nature in all its goodness, and it's only ideal to use these vehicles with their top off. However, Jeep bikini tops guarantee that you don't lose out on this fundamental Jeep experience. 
With the bikini top, you're not entirely shut off from the sun rays, the wind is not limited to any side of the vehicle, and you can hear and feel every part of nature as you drive through. In fact, using a Jeep bikini top guarantees that everyone in the vehicle gets an unhindered view of the remarkable sites you visit.
Relief From the Weather
Driving topless means that you're in direct contact with most elements of climate. The sun shines directly on you and the interior of your vehicle, as well as rain and dust. Other types of tops may eliminate these elements of nature, but Jeep bikini tops help you to embrace the best parts of these climates. 
They help you enjoy a regulated amount of the sun rays (for that much-needed Vitamin D!) while keeping you safe from harmful UV rays. This is often the biggest disadvantage of riding topless, direct exposure to the sun that leads to serious degrees of sunburn.
Riding on a windy day becomes easier with a Jeep bikini top, too, as you have just the right amount of wind to keep the thrill going. And yes, the wind noise is audibly reduced. 
While most Jeep bikini tops may not be designed to keep you dry through a heavy downpour, adventurists who want to experience a drive in the rain can rely on these tops to break most of the downpour keeping them mildly soggy for a thrilling drive through an unexpected rainstorm.
Interior Protection
Jeep bikini tops don't only protect you from sunburn, but they also protect the interior of your precious vehicles. Direct rays of the sun can adversely affect the furnishings of your Jeep, as it increases the rate of wear and tear. 
With bikini tops, you can drive around assured that the leather on your seats is protected from the direct hits of the sun. While they cannot entirely stop these, Jeep bikini tops may also catch dust and debris that may be floating or dropping overhead.
Downsides of Using a Jeep Bikini Top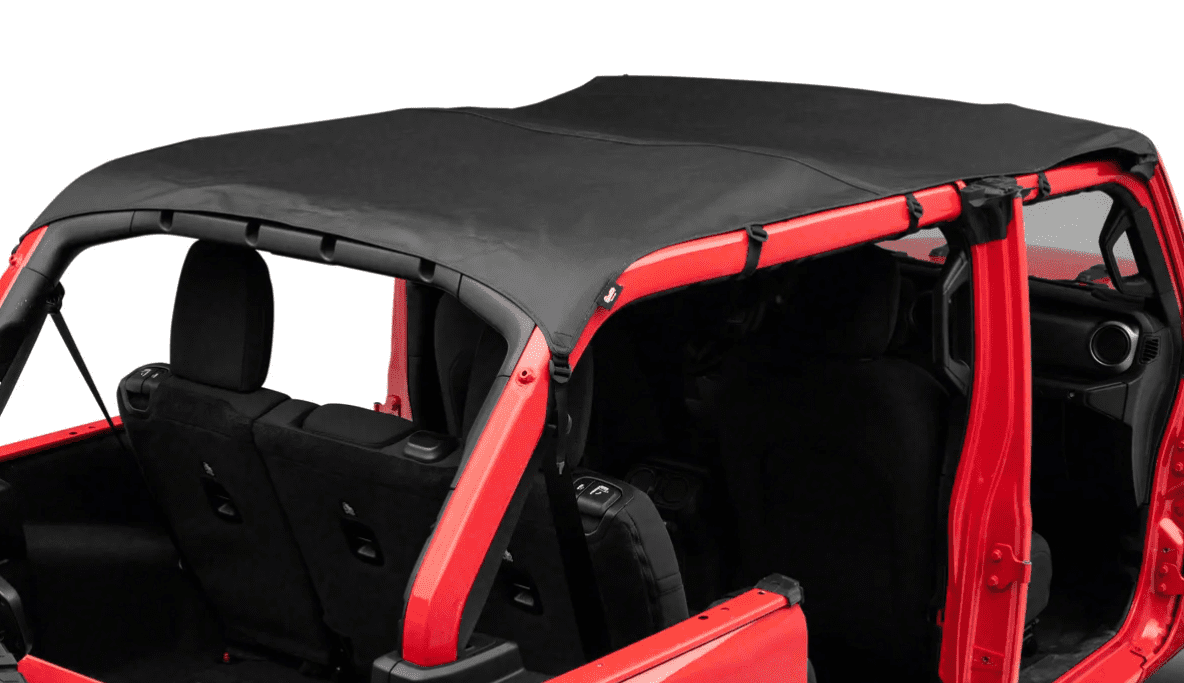 Bikini tops encourage drivers to have more open-air, off-road trips. However, they also come with a few disadvantages that you would do well to know, too. That way, you can prepare your mind for swift alternatives when buying them.
Two major things to keep in mind are:
The Weather Considerations

Your Safety
Weather Considerations
Using a bikini top is usually perfect when you have clear weather, but you may always need the certainty that you're going to have adventure-friendly weather to ensure that your open-air experience is not ruined. Bikini tops are great for keeping UV rays away, but they don't do so well to keep you dry in a rainstorm. 
Of course, you may not mind the mild wetness as it contributes to the outdoor experience, but people may often find it annoying to be soggy while in a Jeep. Harsh weather conditions like snowfall in winter may even make you regret using a bikini top, as it's harder to keep the inside of your Jeep warm with bikini tops. 
Safety
As a bikini top will only cover the top of your Jeep, your Jeep may feel a lot more exposed than when you have a factory hardtop placed. You will need to be more careful with the possessions you keep and leave inside your Jeep. 
Anyone can easily reach inside your Jeep and make away with valuables that are placed in obvious locations. However, this may be curbed by being a lot more cautious whenever you set out with a bikini top on your Jeep.
My Top Five Picks of the Best Jeep Bikini Tops Available
Like choosing my Jeep Wrangler, selecting the perfect bikini top for my Jeep is a process that requires sufficient thought. You definitely want that bikini top that serves its purpose with regard to protection, as well as enhancing your open-air experience. So out of the multitude of Jeep sunshades, I have carefully picked these out for you.
My Selection Criteria
I'm sure that you will be interested in my basis for selecting these bikini tops, as such a decision isn't one that should be made lightly. The following criteria were considered in choosing the perfect bikini top for the following Wrangler models.
Retained an Open-Air Feel. 

Since you intend to drive your Jeep with the top off, an ideal bikini top should not take away from that experience. It should allow you to feel the warmth of the sun, the softness of the wind, and the thrill of driving through nature. So all of my picks checked the box of ensuring that you fully experience the open air as intended.

Protection From the Elements. 

Naturally, your bikini top should provide complete protection from UV rays and the wind, but the rain's another issue altogether. The mesh materials used to allow adequate sunlight and air in bikini tops may allow rain to seep through, so my goal was to provide protection from light rain showers and encourage you to enjoy the thrill of driving in it.

Price and Quality. 

While I carefully ensured that every bikini top stayed well below a maximum price point, you will find that these Jeep bikini tops just might seem too good to be true. You will get good value for money, as they are made with materials that are durable and won't succumb easily to wear and tear.

Ease of Installation. 

Because I don't want my readers to stress out, all my picks are entirely easy to set up or set down. In fact, there are some bikini tops on my lists that may not require up to five minutes of set-up.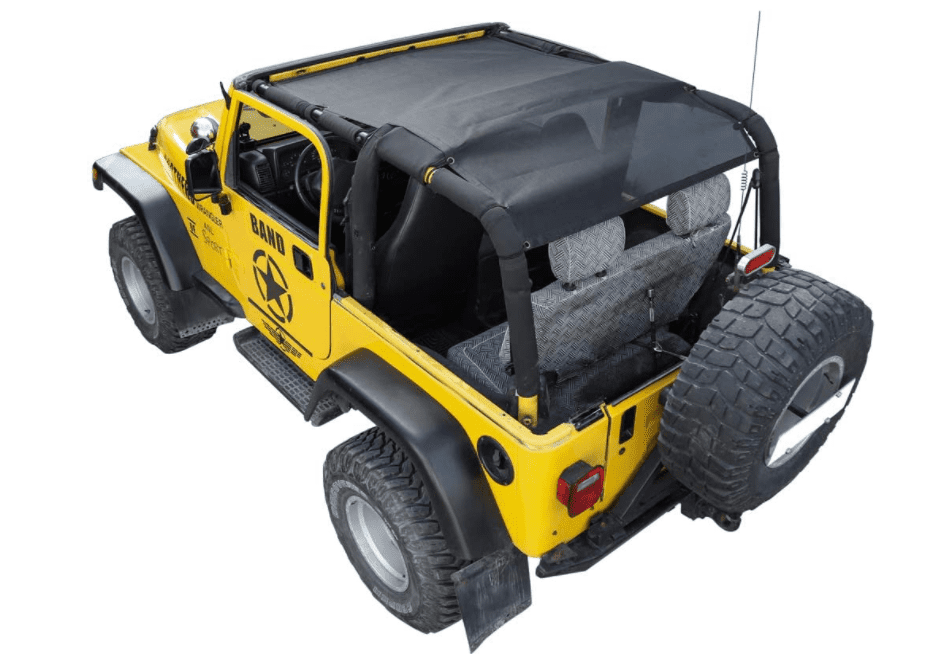 For a bikini top that is absolutely lightweight but completely durable, the JeCar Mesh Shade Bikini Top is a sure winner for all TJ Wrangler owners. Made exclusively for the 1997 – 2006 Jeep Wrangler TJ, this bikini top is sure to be a beauty on your Wrangler TJ. 
Effortlessly combining simplicity and efficiency, the JeCar Mesh shade is awesome for keeping riders safe from harsh UV rays. It's designed to keep you protected from the unforgiving glare of the sun and the heat it brings, too. You and your Jeep interior don't have to bake in the heat from the sun, as it allows for adequate airflow and ample transparency for sufficient lighting.
The JeCar Mesh Shade Bikini top is also praised for its rugged construction. Made with top-quality and approved polyester, it's designed to stand stains and endure wear and tear. Its materials are also well fitted to ease installations too. 
One common review among buyers is about how easy the JeCar Mesh Shade is to install. It comes with bungee cords and doesn't require any tools for installation. Without much hassle, you will find that you can place your TJ bikini top well in under ten minutes. All you need is to swiftly fasten the bungee cords around your roll bars snugly, and you're good to go.
Pros:
Requires no extra hardware or tools and is easily set up in no time

JeCar Mesh Shade doesn't require any additional accessories that are sold separately.

Doesn't need any modifications to your 

Wrangler TJ

Not ridiculously inexpensive, either (a very affordable option compared to others!)

Provides adequate shade from harsh UV rays

It keeps your interior well-lit, and you dry in really light rain.
Cons:
It doesn't provide any protection for a heavy downpour of rain

It may be quite noisy when running at high speed (but can be reduced by rolling up windows)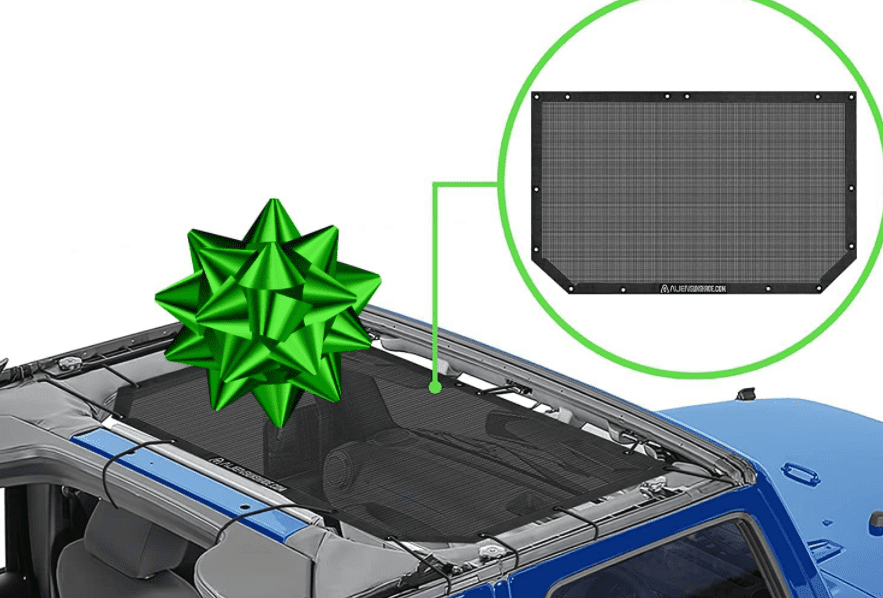 Alien Sunshade has been in production for over five years, and they've been doing a satisfactory job ever since. The alien sunshade is perfect for the Wrangler JK or JKU model, fitting them so well that they aren't obvious from a side view of the Jeep. 
Made from polyester materials, they come in a wide range of colors for easy customization. To further satisfy customers, this bikini top comes in two options. A separated option that covers both cabins separately, or a full-length option that covers the entire top of your vehicle in one stretch. 
The former option is available for riders who might choose not to cover the entire vehicle for a more open-air experience. The Alien sunshade boasts layered stitching that is reinforced for a long-lasting experience, as well. The edges are double-sewn and treated with metal grommets so that users can enjoy durable protection from the UV rays.
They also don't suffer much wear and tear, another huge plus. Installing both options of the sunshade is completely easy, and it's versatile enough to be kept on while you place your soft or hard top on. This way, you don't need to remove and replace it each time you need to take your top off.
Pros:
Mesh filters keep out up to 90% of sunlight

Enjoy unrivaled coolness and protection from UV rays

It offers a wide range of colors to pick from for customization.

Versatile options for installations (from two-piece choices to one long-form to cover the entire stretch)

Quieter rides with well-fitted mesh that don't flap or move around noisily in the wind.

Allows placement of hardtops while still in place.
Cons:
Installing JK models from 2017 or 2018 can be a little difficult

Some JK models may not fit completely (but can be replaced)

Price can get pretty steep if you're looking for the full-length option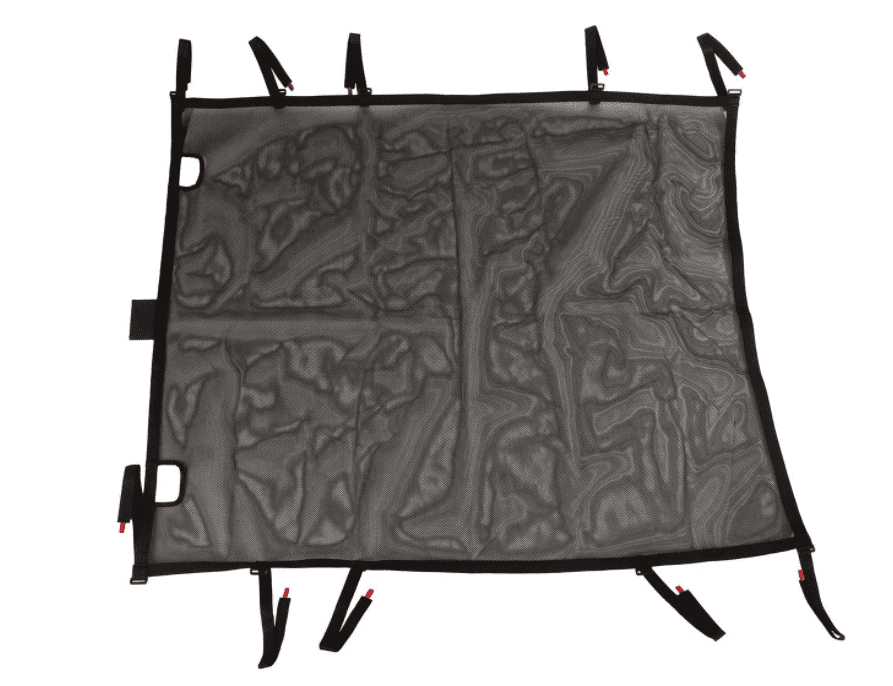 To enjoy that gentle warmth that the sun brings without paying dearly with your skin, this JL model bikini top is perfect for its price. Rugged Ridge is renowned for dependable Jeep accessories, and they did great with this one also. 
With reinforced mesh fabric and straps that are fully adjustable, the Eclipse Sun Shade provides sufficient protection from unsafe UV rays while ensuring that you enjoy your open-air nature experience. The Eclipse Sun Shade from Rugged Ridge boasts a five-year warranty to ensure that users are at peace with their purchase. 
Even better is its compatibility with hard and soft tops on the Jeep Wrangler JL. You don't need to worry about replacing it every time you need to take it out for a cruise. It can easily sit under your hard and soft top without fuss, ready to go whenever you need it. 
But if you intend to remove and store it, that's totally fine, too. You don't have to worry about reinstalling it, as you can get it placed in minutes.
Pros:
Eclipse Sunshade is easily installed and offers long-term durability

Enjoy adequate protection for all passengers and seats in the cabin

Can keep it permanently placed, as it's easily compatible with hard tops and soft tops

It doesn't require additional accessories or tools for installation
Cons:
Mesh material won't provide any protection against slight rain showers

Won't keep out noise in any way (might flap, adding unwanted noise in your cabin)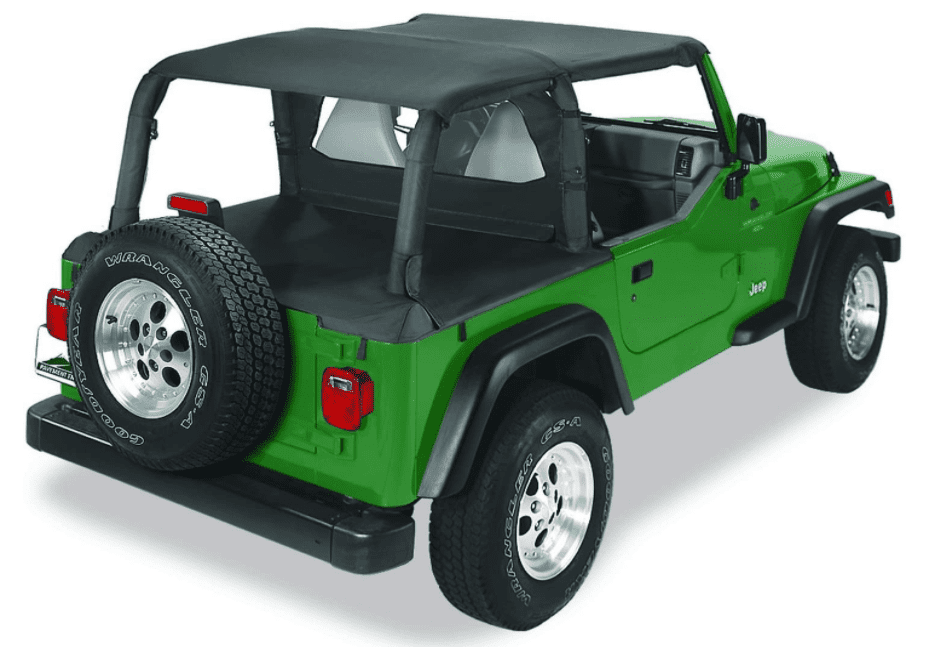 If you're rocking one of these vintage Wrangler YJ, you may just be interested in this Black Denim sun cap. With an interesting choice of material for production, the Pavement Ends offers you nothing but complete protection. It's designed in a safari-style, as it runs from the front to the back of your vehicle. 
This sun cap is manufactured from UV-resistant vinyl to protect you and yours from the direct rays of the sun. You can drive around completely sure that the interior of your vehicle is also protected. The density of the material gives you an added advantage as it protects you from heavy downpours. 
In rainstorms, you can worry less about keeping your head dry, as this bikini top is equipped with heavy-duty straps that ensure sturdy and rigid firmness. This also means that you don't have to worry about noise, as those straps work with their buckles to remove flapping in the wind. 
Installation of this bikini top is also completely easy, as is removing it. However, it does require that you have the No-Drill Header from Bestop (which is a windshield channel) before you can install it.
Pros:
Pavement Ends Sun Cap is an intensely durable bikini top

Once installed, it stays fit and taut

Covers the entire vehicle, ensuring that all passengers are protected

Enjoy rides in the rain, as water cannot penetrate the fabric

Valuables also are protected from the rain

Quick and easy installation with top-grade durable accessories
Cons:
Material density may reduce the open-air experience

Less enjoyable for people who want the feel of the sun.

Requires additional windshield channel for installation (which you'll need to purchase separately)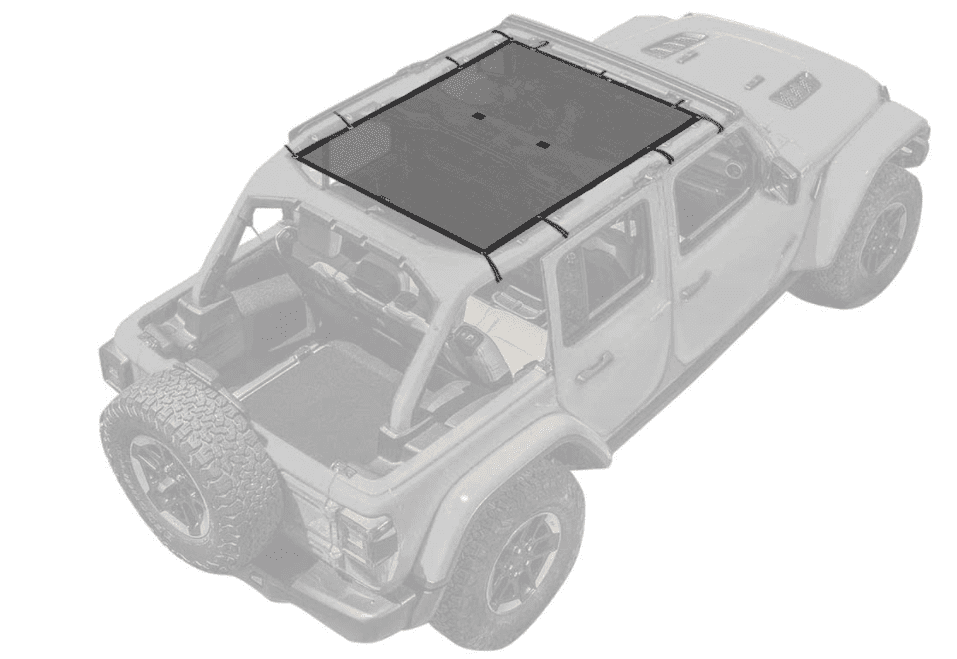 How about a Jeep bikini top that is not limited to only one model? The Motor Trend Mesh Sunshade is all that and a lot more. Its versatility is amazing, as it can conveniently fit different models from a huge range of years. 
Manufactured from polyester that is coated in vinyl, this sunshade provides adequate protection from the sun as it keeps out as much as 905 of the sun's UV rays. Your interior is protected as well as your skin. To ensure durability, the material is reinforced with edges that are double-sewn and metallic grommets.
If you have more than one Wrangler model, you can save on the cost by purchasing this universal bikini top. Its ease of installation makes it a breeze to put on and remove when needed. Owners of Jeep Wrangler JL may enjoy this bikini top even more as it fits this model without hassle. 
For some models, installation can cause a bit of hassle, but you don't need to purchase additional channels to use this sunshade by Motor Trend. You can enjoy your adventurous rides with less noise, as the WC101 will stay nice and taut during fast and rough rides.
Pros:
Motor Trend WC101 bikini top is versatile and perfect for a wide range of Wranglers

Enjoy your ride with less noise and protection from up to 90% of harsh UV rays.

Can keep the WC101 bikini top on with some soft tops and hardtops (though it may require taking off some straps)
Cons:
For some models, installation may require more attention and effort (however, there are plenty of easy-to-understand instructions to ease the process)

Bikini top often ships with some missing hardware (but customer service is on hand to send replacements!)
My Best Use Tips
To enjoy the experience a Jeep bikini top will provide, you should consider the following tips:
It's okay to wait.

 Don't make your purchase until you're completely certain that the bikini top is right for your Jeep model and year. Model years are very important as they ensure that you get the right fit, and this can help prevent you from wasting your money on something you will have to manage.

Know its limitations.

 It's important to understand that a bikini top cannot replace your hardtop. In areas with extreme climate conditions, a bikini top won't serve you much during most of the year. While they may provide protection from UV rays, if you live in an area with unpredictable weather, packing a soft top is never a bad idea.

Stay alert to changing weather.

 Softer bikini tops can be fragile in colder temperatures, making them become brittle. If you're hauling stuff from Point A to Point B, don't let anything bump against them, as they can crack or tear.

Don't take a soft top through an automatic car wash.

 The pressure inside an automatic car wash is too intense, and it can actually wind up damaging it and flooding the inside of your Jeep. Instead, simply wash it at home with a garden hose (as a 

power washer

 can also be too strong).
Frequently Asked Questions
Question: What does a bikini top do for a Jeep?
Answer: Jeep bikini tops are built for people who want to experience an open-air ride in their Jeep. They are designed to give you the feel of a topless Jeep while protecting you and the interior of your Jeep from the direct ultraviolet rays of the sun. Most Jeep bikini tops provide over 90% protection from the harsh ultraviolet rays.
Question: Are all Jeep bikini tops universal?
Answer: While there are few bikini tops that are universal, most bikini tops are designed particularly for Jeeps according to model years. This way, manufacturers can ensure efficiency and perfect fit. However, you can check my list above for a universal bikini top.
Question: Are Jeep bikini tops waterproof?
Answer: Jeep bikini tops are mainly designed to keep you safe from ultraviolet rays. Since most tops are made with reinforced mesh materials, they may greatly reduce the downpour to a trickle so that you don't get completely soaked. Also, my list features a particular bikini top that is manufactured from a waterproof material.
Question: How do you install a Bikini top on a Jeep?
Answer: Installing a bikini top is never a tedious job, and my list of Jeep bikini tops proves that. Most Jeep bikini tops require bungee cords and straps to fit them in place, and all of these are usually supplied with your purchase, along with an easy-to-use instruction manual. Oftentimes, you may require a windshield channel that is usually sold separately.
Question: Are Jeep bikini tops really worth it?
Answer: Jeep bikini tops are underestimated until you're caught in the sun with the top of your Jeep off. While my picks of bikini tops are quite affordable, you will find that they serve their purpose to keep you cool and safe from harsh climate temperatures.
My Final Thoughts
Enjoying the summer breeze in your Jeep Wrangler will never get better than having your bikini top in place. Whether you're cruising on an off-road path or you're just taking a trip across town, your Jeep bikini top will help you enhance the open-air experience.
Although I understand that choosing a suitable bikini top for your Jeep Wrangler is more personal as you may need to seriously consider your Jeep model and its year, here is my favorite pick from my recommendations. I love the WC101 Mesh Sunshade Cover by Motor Trend.
I've seen how versatile it is, and I know that every Jeep enthusiast will appreciate this, too. Moreover, people who are new to the open-air Jeep game may find that they can just pick this one without worrying about the model of their Jeep.
Finally, accessorizing your Jeep Wrangler with a bikini top is never a bad idea, and it can make your driving experience all the more enjoyable. After all, the best place for your Jeep is out on the open road — and with these bikini tops on them, you'll enjoy the ride so much more!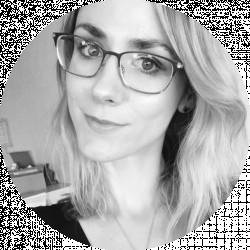 Latest posts by Karyl Trejo
(see all)