Overview
The Jeep Wrangler is one of the highest-selling SUVs in the world thanks to its super-durable built quality and exceptional off-roading capability. Our 2008 Jeep Wrangler guide will see how this model firmly maintains its reputation as a hardcore off-road vehicle while offering additional features and a more refined driving experience than previous models.
The Jeep Wrangler is loud and slow, offers sluggish handling, gives a poor fuel mileage, has a hard plastic interior, and is equipped with doors that provide little crash protection.
Furthermore, breaking into the Jeep Wrangler is only a zipper away. These are some of the most common evaluations deduced by a layman when inquired about the Jeep Wrangler. Well, all these absurd, negative comments would add up to suggest that such a vehicle may barely be worthy of basic truck duty.
And yet the Jeep Wrangler is puzzlingly alluring; it is one of the Top-10 best-selling SUVs. It has been engineered to exist and persist specifically for the audience who want something that delivers serious off-roading ability with a rugged image.
The Jeep Wrangler's legacy boasts attributes and features that no other SUV offers on the market. For instance, consider the foldable windshield and the removable doors. Now, why would anyone want something like that? Well, because it serves a purpose (for example, hunting), plus it looks cool too.
Moreover, the steep departure and approach angles coupled with a ground clearance of 10.2 inches and short wheelbase (the two-door variant) makes the Wrangler your go-to SUV for off-roading and tours. Believe it or not, if the Jeep Wrangler can't get you there, you will probably need a helicopter.
The four-door variant, known as the Unlimited model, is the only one on the market that offers a convertible top. Yes, it takes two people, a couple of pages of the instruction manual, muscle, and good use of the brain to remove and install the top, but it's worth it.
Considering the availability of four doors, optional hardtop, spacious rear seats, and ample cargo capacity make the Wrangler practical for daily use. From getting the grocery to picking up folks from the airport, the Wrangler serves you perfectly.
However, keep in mind that the Jeep Wrangler is not a high-end luxury sofa set. It is not as quiet or comfortable as other SUVs. It is a niche vehicle with its own imperfections that buyers should consider before jumping on to a decision.
The Wrangler has managed to maintain its heritage without compromising on new technological features such as power windows and navigation. The idea remains the same while incorporating useful advancements accordingly; hardcore off-roading.
Jeep Wrangler 2008 Variants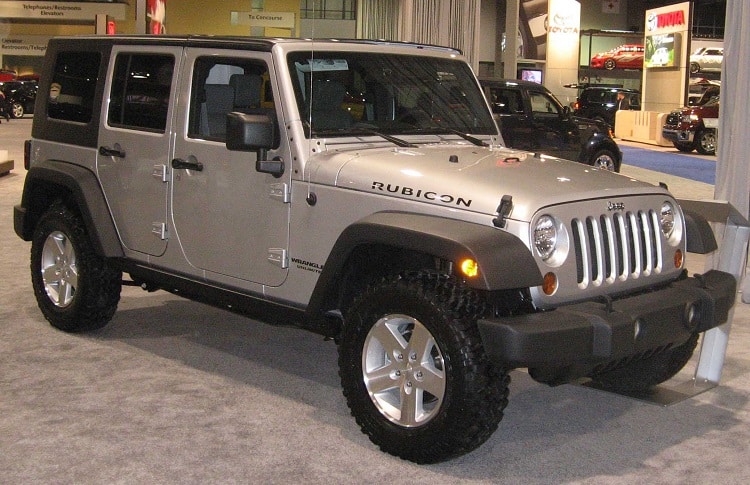 The Jeep Wrangler 2008 is a two-door, small SUV with a convertible top offered in two body styles (two-door regular and four-door Unlimited) and three trims (X, Rubicon, and Sahara).
The X is the base variant equipped with removable half doors and plastic windows, whereas the Rubicon and Sahara offer full doors and glass windows. However, buyers can also opt for half doors with the Rubicon and Sahara if they wish.
The base variant Wrangler X has a standard CD player with an audio jack. If you opt for the "C" package, you get air-conditioning, a center console, and upgraded seat covers. If you opt for the "S" package, you get these features plus alloy rims, cruise control, tow hooks, and a temperature/compass display.
You can go for the Sunrider top (sunroof-equipped soft top), Freedom top (three-piece hardtop), limited-slip differential, power locks and windows, remote engine start, keyless entry, an MP3/six-CD changer, satellite radio, and an Infinity audio system.
Next is the Jeep Wrangler Sahara variant. Besides having several Wrangler X's optional upgrades as standard (such as the Sunrider top), the Sahara also features body-colored fenders, upgraded seats, 17-inch alloy rims, and a heavy-duty suspension.
The optional upgrades for the Sahara include 18-inch alloy rims, a 20 GB hard drive expansion pack for the media system, and a special navigation system for off-highway tracking.
Last but not the least, is the Jeep Wrangler Rubicon. The Rubicon is Jeep's highly upgraded Wrangler for maximum off-roading. Rubicon's electronically disconnecting stabilizer bar, special off-road tires, and serious drivetrain upgrades make it one rugged off-roader.
What's New With the 2008 Jeep Wrangler?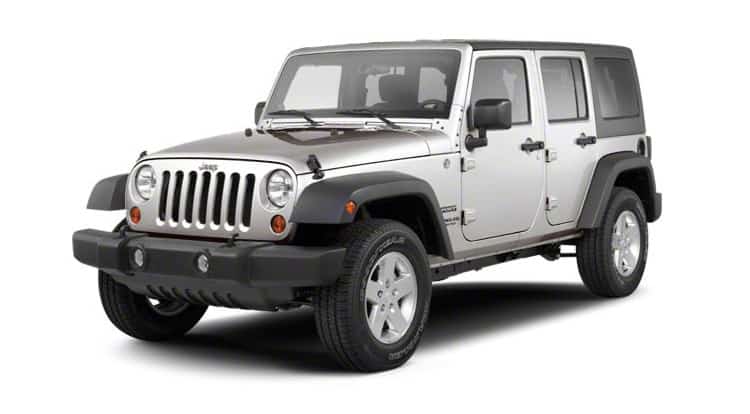 Jeep gave the Wrangler a facelift in 2007, and it moved on to 2008 with cosmetic changes only. The added features include remote ignition, a standard Sunrider top for the Wrangler Rubicon and Sahara, and a new body kit package for the four-door and two-door variants.
Performance
The Jeep Wrangler 2008 is powered by a standard 3.8-liter V6, coupled to a 6-speed manual transmission or an optional 4-speed automatic.
The engine produces 237 pound-feet of torque and 202 horsepower. Mainly the Wrangler comes with the 4×4 option, well equipped with low and high gears, however, the Unlimited model can be had with rear-drive only as well.
As far as the Rubicon is concerned, it has got heavy-duty axles, electronically locking rear and front differentials, and extra-low gearing. As per statistics, the Wrangler Unlimited takes about 10 seconds to hit a speed of 60 mph.
Safety
The Jeep Wrangler features stability control through a rollover sensor and anti-locking brakes. The side airbags on the front seats are optional though, without which the Wrangler's side-impact crash rating is only "Marginal".
With the optional side airbags opted, the Wrangler has earned a "Good" rating for frontal impacts as awarded by the Insurance Institute for Highway Safety.
Driving Experience
The Jeep Wrangler 2008 is engineered for off-roading, so you should keep in mind that it is not made for maintaining a great fuel economy or providing a high luxury driving experience. Its job is to battle through terrain to get you where no ordinary vehicle can.
With this objective in mind, the Rubicon delivers greatly. The Unlimited model also shares the same attributes, however, its longer wheelbase and weight limit its maneuverability as compared to the two-door variant.
Though made specifically for off-roading, the Jeep Wrangler is fine for everyday commute too. It has a light, fairly decent steering sharpness, and is fun to drive. The long braking distance though is not desirable, nor is the V6 engine which has plenty of torque but is completely timid on the highway when trying to accelerate quickly.
Interior
The Jeep Wrangler is designed to withstand muck, dirt, and dust, therefore, its interior mainly consists of hard plastics which can easily withstand such conditions and then be cleaned easily too. However, you can still get a navigation system and power windows.
Indeed, plastics can be irritating particularly when you have you your armrest made from them. Overall, the interior is robust and solid, so it's better to throw out any luxury-interior based expectations when planning to buy a Jeep Wrangler, otherwise, you will find yourself regretting buying something so rigorous.
As for the seating capacity, the 2-door Wrangler's backseat has space for two individuals, whereas the Unlimited can fit in three. The 4-door features a cargo space of 86 cubic feet when the second row of seats is folded. When equipped with the soft top, cargo storing inside the Jeep Wrangler can turn out to be a risky decision.
The exterior-mounted zippers keep the plastic rear windows in position, therefore car thieves can easily access the cargo area. Only the glove box and center console can be locked in the Jeep Wrangler.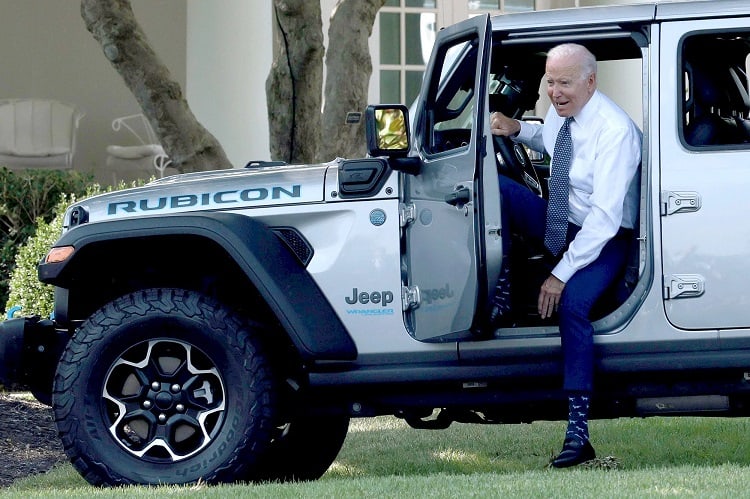 Jeep Wrangler 2008 Pros
Top-of-the-line off-roading capability.
Up to three convertible top options are available.
Also available as a four-door model.
More than enough torque.
Highly customizable.
Jeep Wrangler 2008 Cons
Has a noisy engine.
Bouncy suspension.
Sluggish handling.
Uncomfortable seats.
Poor fuel economy.
Poor acceleration.
Most Common Questions Car Buyers Ask Before Purchasing a Jeep Wrangler
Question: How Many Miles do Jeep Wranglers Last?
Answer: Well that depends upon how well the car is maintained. A Wrangler kept with great care can last up to 400,000 miles, whereas a roughly used one will start having serious problems at 100,000 miles.
Question: Do Jeeps Have a lot of Problems?
Answer: Over time, Jeep has bugged out all the flaws and problems that had been causing trouble to the Wrangler. The Jeep Wrangler 2019 has been relatively trouble-free, however, a few problems related to the steering unit have still been reported.
Question: Is Jeep Wrangler a Good Daily Driver?
Answer: The most popular complaint about the Jeep Wrangler is that it's not great for daily driving. Well, that is because the Wrangler is not designed to be so, it has been engineered to crawl over terrain no other vehicle can, and that is the reason it lacks the comfort of a daily driver.
Question: Which Jeep is Best for Highway Driving?
Answer: The Jeep Grand Cherokee is the best Jeep for highway driving. It has been designed to cater to both off-roading and daily driving.
Question: Is Jeep Wrangler Comfortable for Long Drives?
Answer: The Jeep Wrangler may not be the best SUV for long drives due to its noisy engine and overall stiff built. The Wrangler's interior is not particularly made for the highest comfort so long drives may feel somewhat punishing.
Question: What are the Advantages of Owning a Jeep Wrangler?
Answer: A Jeep Wrangler has great ground clearance which facilitates not only enhanced visibility on the road but also allows you to crawl over all types of terrain. The main advantage here is the serious off-roading capability which will take you places no ordinary vehicle can.
Question. Why is Jeep Wrangler Resale so High?
Answer: Jeep Wrangler has proved to be a dependable vehicle with time, which is why it now holds a high resale value. Jeep also has a long 5-year/60,000 miles powertrain warranty, which reflects the quality it has been designed with.
Question: Do Jeep Wranglers Hold Their Resale Value?
Answer: This is the part where Jeep Wranglers have an edge over the competition. The Jeep Wrangler is not only easy on your pocket but also has a high resale value. A Jeep Wrangler can retain up to 70% of its MSRP even after three years of use. This number is reduced just to a little below 60% with an ownership of 5 years.
Question: Are Jeeps Expensive to Fix?
Answer: Jeep has an average annual repair cost of $634, which shows that its ownership cost is above average.
Question: How Much Does a used 2008 Jeep Wrangler Cost?
Answer: A used Jeep Wrangler 2008 can be purchased starting from $11,000. The price range can extend well above $40,000 depending upon upgrades.
Question: Why are Jeeps so Expensive Now?
Answer: Jeep Wranglers are high in demand whereas their production is kept limited which causes the demand, and therefore the prices to go up.
What's the Verdict on the Jeep Wrangler 2008?
Well, in my opinion, I would only go for such a Spartan vehicle if I really require something so hardcore. For example, if my daily need is traveling down the highway, then the Jeep Wrangler is of no use for me. On the other hand, if I love to go on canyon tours and off-roading, then the Jeep Wrangler is not a choice, but a need.
With so many customizable features, such as soft and hard tops, upgradable tires and rims, and removable body panels, the Jeep Wrangler is a very impressive vehicle to consider for serious off-roading. Likewise, the Jeep Wrangler is not a luxury vehicle, neither should it be considered like one.
Most buyers complain that the Wrangler is not a comfortable vehicle, well that is because it is specifically designed to withstand the harsh, wet, and muddy lands where your Toyota Camry would stick and die. Similarly, the Jeep Wrangler is also not designed to focus on providing the best fuel economy.
People fail to understand that the Jeep Wrangler is a niche vehicle that focuses on off-roading and endurance. It will consume more fuel if it has to but will not compromise on reaching the desired location.
However, there are also a few contenders in the market which provide likewise off-road capability without compromising on comfort as much as the Jeep Wrangler does, which I would also like to consider before making a decision.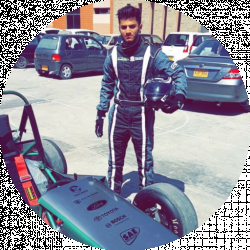 Latest posts by Zabrain Arshad
(see all)