The Toyota Tacoma was introduced in 1995 as a replacement for the Toyota Hilux (commonly known as Toyota Pickup) as a compact pickup truck.
While the Toyota Pickup offered maximum durability and a take-me-anywhere attitude, the Tacoma was engineered with a focus on safety, handling, ride quality, and comfort over payload capacity and ruggedness; this was done to serve the Canadian and U.S. market, where people also used pickup trucks as daily drivers instead of exclusively for commercial use.
The second-generation Tacoma was upgraded to a mid-size pickup and was available from 2005 to 2015; it offered better ergonomics, power, and size, along with a wide range of trim configurations.
The third-generation Toyota Tacoma featured an all-new design and a stylish exterior with its larger grille, character lines, and LED headlights. By late 2016, Toyota added the TRD Pro trim to the Tacoma lineup, adding off-road tuned FOX shocks, LED fog lights, a TRD Pro skid plate, and a TRD Pro cat-back exhaust. By 2021, a TRD Lift Kit was also introduced, which added Bilstein shocks and increased the overall ground clearance by 1.7 inches.
The Tacoma ranks as the best-selling truck in the U.S. thanks to its ever-lasting build quality and legendary durability. Not only is it reliable on-road, but it outperforms contending trucks off-road as well, which is another reason why it has a six-figure sale volume; outdoor enthusiasts love it.
But to handle the rough terrain and deal with the dirt, debris, and mud encountered while running out in the wild, protecting Tacoma's interior is as important as keeping the exterior safe; thus begins our quest to find you the best Toyota Tacoma floor mats. Among the sea of options, we will look at the top-performing Tacoma floor mats, compare their utility, and then decide the best one for you.
Bottom Line Up Front
In this race for the best Toyota Tacoma floor mats, the Husky Liners' X-Act Contour floor liners deliver optimum performance thanks to their soft yet rugged build quality, lifetime warranty, and rich design. But with such a high price, it's not everyone's cup of tea. In that case, you can consider getting Westin Automotive's Sure Fit floor liners which provide the same practicality at half the price.
My Top Picks
Husky Liners' X-Act Contour: 

The most premium floor liners you can buy for your Tacoma; from perfect finish to soft and durable material, the X-Act Contour offers the best quality.

Husky Liners' Weatherbeater: 

As good as the X-Act Contour, minus the softness. Very durable with a very fine fit.

Westin Automotive's Sure Fit: 

As durable as the Husky Liners', but at a fraction of the price. These provide full floor coverage but are less appealing.
Difference between Floor Liners and Floor Mats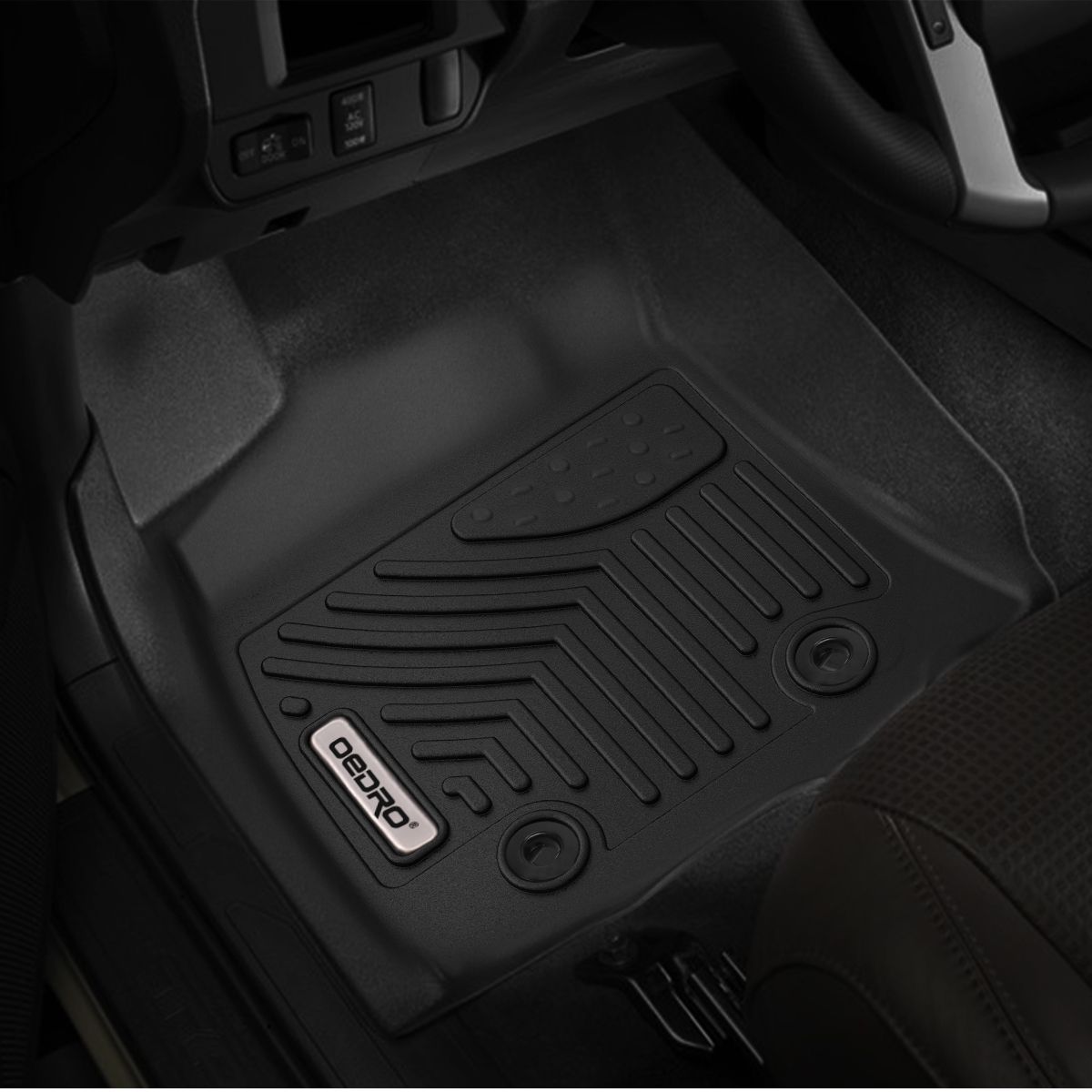 You might think they are the same, but floor liners are different from floor mats. As the name suggests, floor mats only cover a portion of the floor, mainly where you would place your feet. They are shorter in size but are easier to remove, clean, and install. Because they only cover a fraction of the floor, they do not completely protect it; floor liners do that.
Floor liners, on the other hand, are designed to protect the entire cabin bottom. They are larger and hence are comparatively difficult to remove and install; they are also more expensive than floor mats.
Floor mats are recommended to deal with everyday dirt and minor spills during pavement driving, but they quickly get dirty. But if you are an adventure seeker and love spending time off-road, you must get floor liners.
A Few Considerations
With a sea of options and prices, what makes one-floor mat different from the other? Let me explain. Floor mats are divided with respect to design, price, and material.
Design: 

Floor mats are available in various designs; from plain and simple to rugged and heavy-duty, each design serves a purpose. A densely textured floor liner will offer better grip and protection when you are off-road, whereas a carpet mat will add a touch of elegance and luxury to the cabin while compromising on floor protection.

Price: 

Floor mats vary from $20 to well above $300. You will find universal-fit floor mats to be cheaper than custom-sized ones. Similarly, the material, pattern, and size determine the price of the floor mats.

Material: 

Floor mats are available in a variety of material types. Carpet/fiber floor mats add a luxurious touch to the interior; they are plush and come in a range of colors to match the cabin's theme. However, they have a short life and require regular cleaning. Rubber/thermoplastic floor mats combine the best usability; they are flexible yet durable but are expensive. Vinyl floor mats provide better durability than carpet floor mats, are easier to clean, and offer a cost-effective solution for your interior.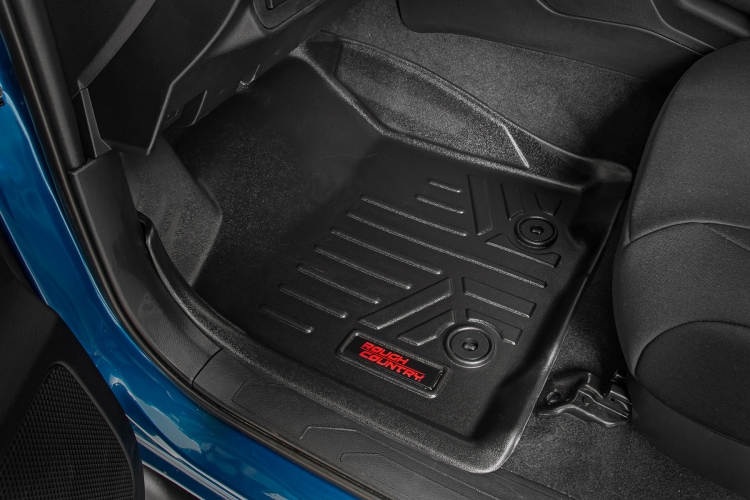 Recommended Toyota Tacoma Floor Mats
With such a long list of floor mats, it is hard to decide which one to buy, especially when considering an expensive one. Therefore I have collected the highest-rated Tacoma floor mats based on design, warranty, and durability. These floor mats come in a range of long-lasting patterns and offer a minimum warranty period of 2 years. Since Tacoma is made for utility and off-roading, I have focused on floor liners that go with Tacoma's character.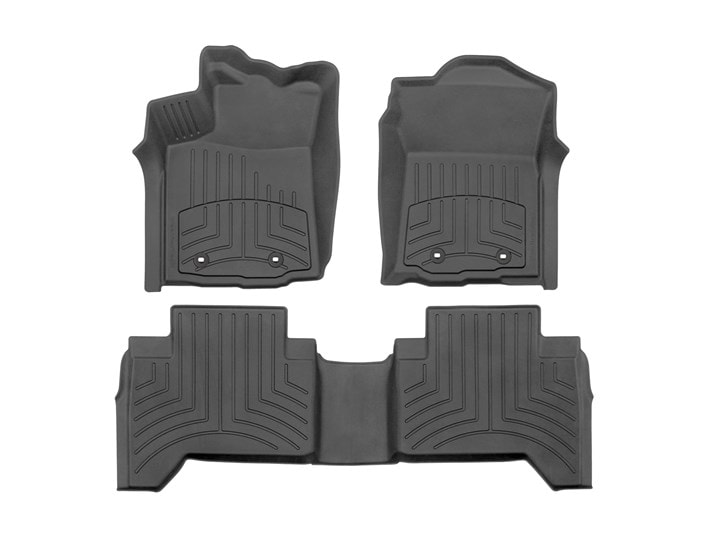 WeatherTech designs and manufactures top-quality products for a range of vehicles. The FloorLiner HP's tight fit is achieved by laser scanning Tacoma's floor size. Besides protecting the front and rear floor, it also protects the sides.
The FloorLiner HP is a premium WeatherTech product; it's made from a thermoplastic elastomer compound, which gives it a soft rubber-like look but is extremely durable. This is one of the best floor liners you can buy if you are willing to spend $205. This floor liner has been engineered to sustain abuse and extreme weather conditions; it will not break, curl, or crack. Moreover, it is free from PVC, lead, cadmium, and latex and is one hundred percent recyclable.
To prevent the FloorLiner HP from moving about the vehicle floor, WeatherTech has integrated non-slip nibs that keep it locked. The beveled edges maintain the floor liner's stability by preventing its sides from caving in, and a watertight seal ensures carpet protection keeping spills from leaking in.
Overall the WeatherTech FloorLiner HP offers great interior protection with its high-walled and rugged floor liners which helps contain all kinds of dirt, debris, and spills. Its edges extend over the door sill, draining all spills outside the vehicle. It comes with a limited lifetime warranty and is offered in black, grey, and cocoa colors.
Pros

Fits in tightly

Made from durable material

Spill-proof design

Limited lifetime warranty.
Cons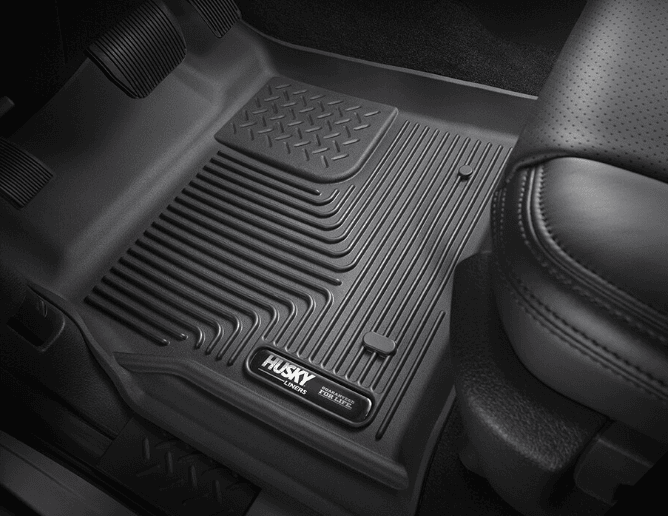 Husky Liners uses 3D laser-scanning technology to scan the floor and produces perfectly sized interior liners and mats for a variety of vehicles which provide a glove-like fit. Similar to the WeatherTech, Husky Liners also offers premium quality vehicle products. The X-Act Contour floor liners are designed with hundreds of locking cleats that firmly anchor to Tacoma's vinyl or carpet, preventing slippage and providing a stable surface to grip your feet.
The X-Act Contour floor liners integrate a rubberized dura grip design which yields the optimum strength while ensuring plush softness; it can handle chemicals such as battery acid, oil, and fuel. It stays flat all over, with no curls or gaps, and contains spills and dirt thanks to its raised edges.
Husky Liners offer a limited lifetime warranty on their X-Act Contour floor liners. The front-floor liners cost $128.95, while the second-seat floor liners cost $109.95. However, rear floor liners are built on demand; therefore, their total delivery time takes around two to three weeks.
Pros

Made from durable material

Limited lifetime warranty
Cons

Expensive

The rear floor liner has a two-week delivery time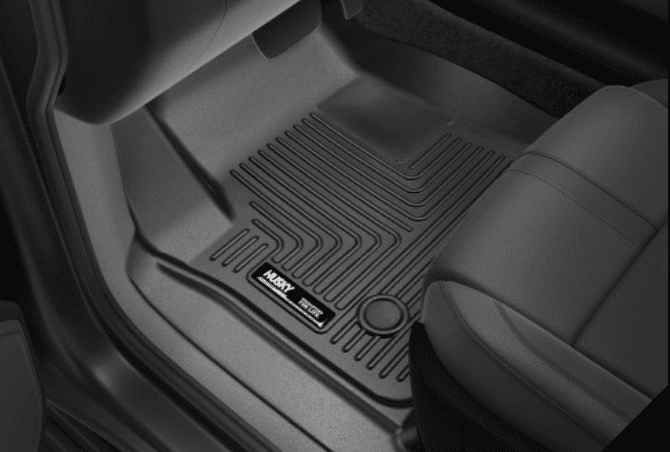 Husky Liners' Weatherbeater is similar to their X-Act Contour floor liner; these are also produced through 3D scanning for maximum precision. However, the Weatherbeater lacks the dura grip technology, which is known for making the floor liners super soft. Therefore, compared to the X-Act Contour, these floor liners are slightly rigid but provide the same strength and resistance against mud and spills.
On the other hand, the X-Act Contour is soft and provides a pliable feel when you step in barefoot. The Weatherbeater, on the contrary, is molded from thermoplastic olefins, which tend to go hard in cold weather. However, that is not a flaw; it can also deal with battery acid and other chemical spills without affecting its service life.
Overall, the Weatherbeater offers the same performance as the X-Act Contour, minus the softness. If you would not mind getting a slightly hard floor liner, get the Weatherbeater, it's a little less expensive and costs $110.95 and $102.95 for the front and rear floors, respectively. A limited lifetime warranty is standard.
Pros

Made from durable material

Limited lifetime warranty

Cheaper than X-Act Contour with almost the same specs
Cons
Gets hard in low temperatures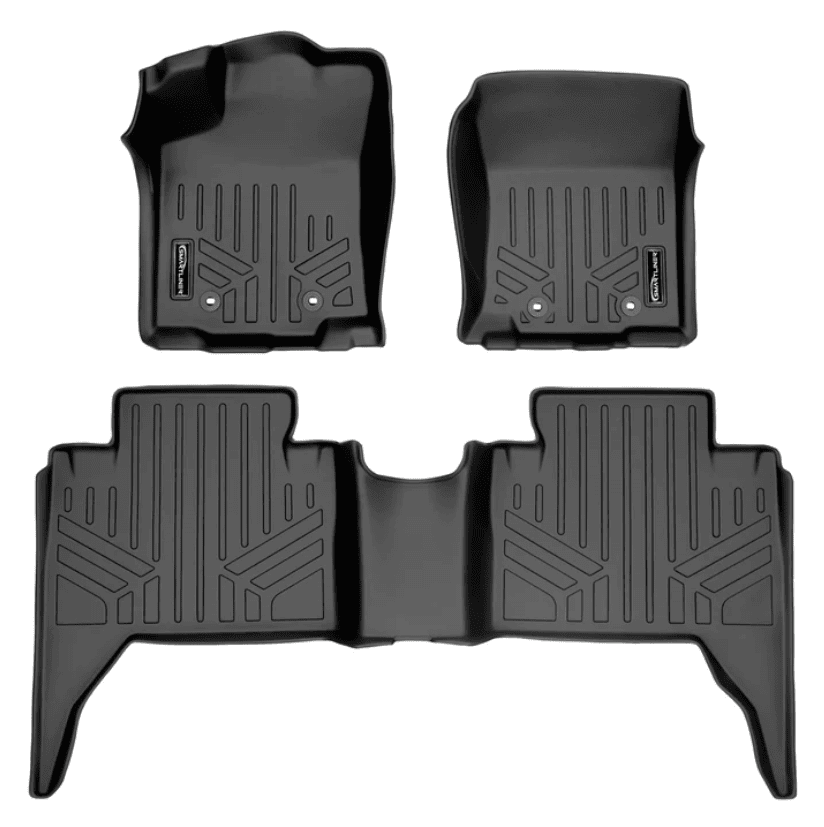 Smartliner produces precise floor mats using 3D scanning technology for several vehicles, including the Toyota Tacoma models from the model year 2005 to date. If you have a pre-2005 model, you must consider a different brand. Smartliner floor liners are made from flexible rubber, which makes them easy to install and remove; moreover, their anti-slip nibs plant them firmly on the floor, and their anti-skid surface keeps cargo from sliding.
Smartliner floor liners are made from one hundred percent recyclable materials yet are odorless to ensure your cabin stays fragrant. Cleaning is easy; mild soap and a damp cloth are enough to remove all sorts of dirt, debris, and spills. Smartliner offers great value for money; although their ten-year limited lifetime warranty is sufficient to provide peace of mind, a lifetime warranty would have been appreciated. Overall, at $129.99 with free delivery and zero waiting time, it's a great deal.
Pros

Easy cleaning

Odorless

Quick installation

Affordable
Cons
Not available for pre-2005 Toyota Tacoma models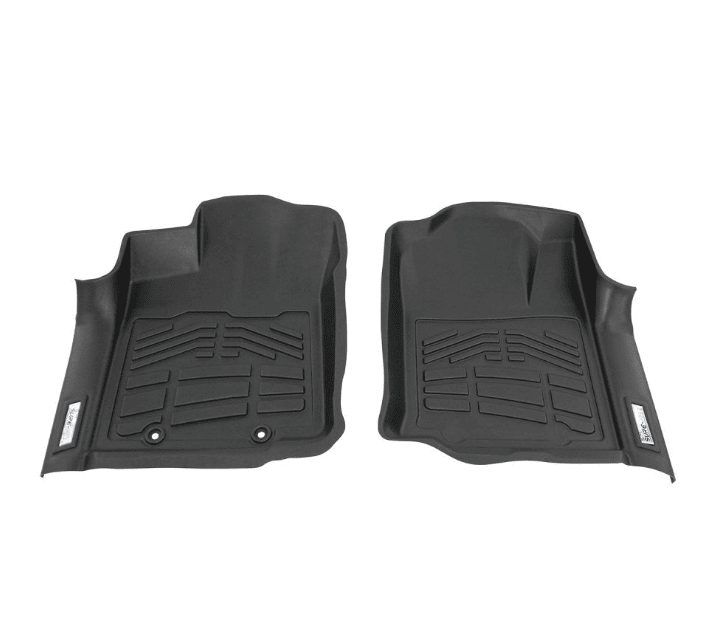 Westin Automotive offers an affordable solution to protect your Tacoma factory carpet with a full-coverage floor liner. The Sure Fit floor liner is designed to have a tactile surface and a rigid core, providing foot grip and durability to deal with all types of spills and debris. These digitally measured floor liners are molded from rubberized copolymer and nicely fit in to provide full coverage; however, they are incompatible with vinyl floors.
These liners attach via factory-fitted retention hooks and 3M securing points and are available in gray, tan, and black finish. Westin Automotive offers a limited lifetime warranty with these floor liners. These cost $112.35 for a 2021 Toyota Tacoma double cab, plus you get free delivery. Overall, these floor liners offer value for money; they are durable, fairly priced, and offer full floor coverage. They are not as premium as WeatherTech or Husky Liners, but they get the job done at half the price.
Pros

Lifetime warranty

Free shipping

Affordable
Cons
Not compatible with vinyl floors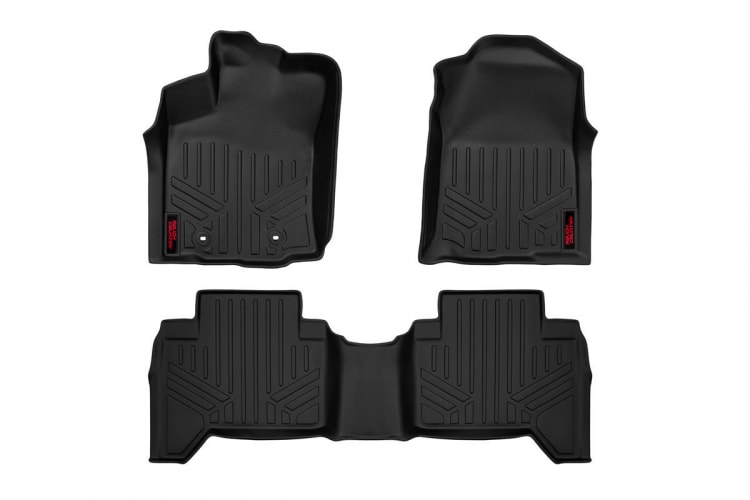 Protect your Tacoma's factory-fitted carpet with Rough Country's heavy-duty floor liners, which are reliable even in extreme temperatures; molded from Polyethylene, these ultra-durable floor mats offer a rigid yet semi-flexible shape that is very easy to clean. Rough Country backs its floor liners with a limited lifetime warranty; these will never break, split or crack over time.
The long-lasting design ensures your carpet remains fresh while the raised edges keep the accumulated moisture, mud, and dirt from spreading on the floor.
Rough Country achieves a high level of fit thanks to laser-measured floor contours, which make the liners follow each line precisely; once it is placed on the carpet, it holds its place firmly, and the textured surface provides great traction for muddy boots. The driver liner hooks to the retention locks, while the passenger side does not.
Moreover, these liners are only compatible with double cabin models; these do not fit Toyota Tacoma models, which have vinyl flooring or manual transmission. The price starts at $159.95, but you get free shipping.
Pros
Lifetime warranty

Free shipping

Affordable
Cons
Not compatible with vinyl floors

Not compatible with manual transmission models

Only compatible with double cabin models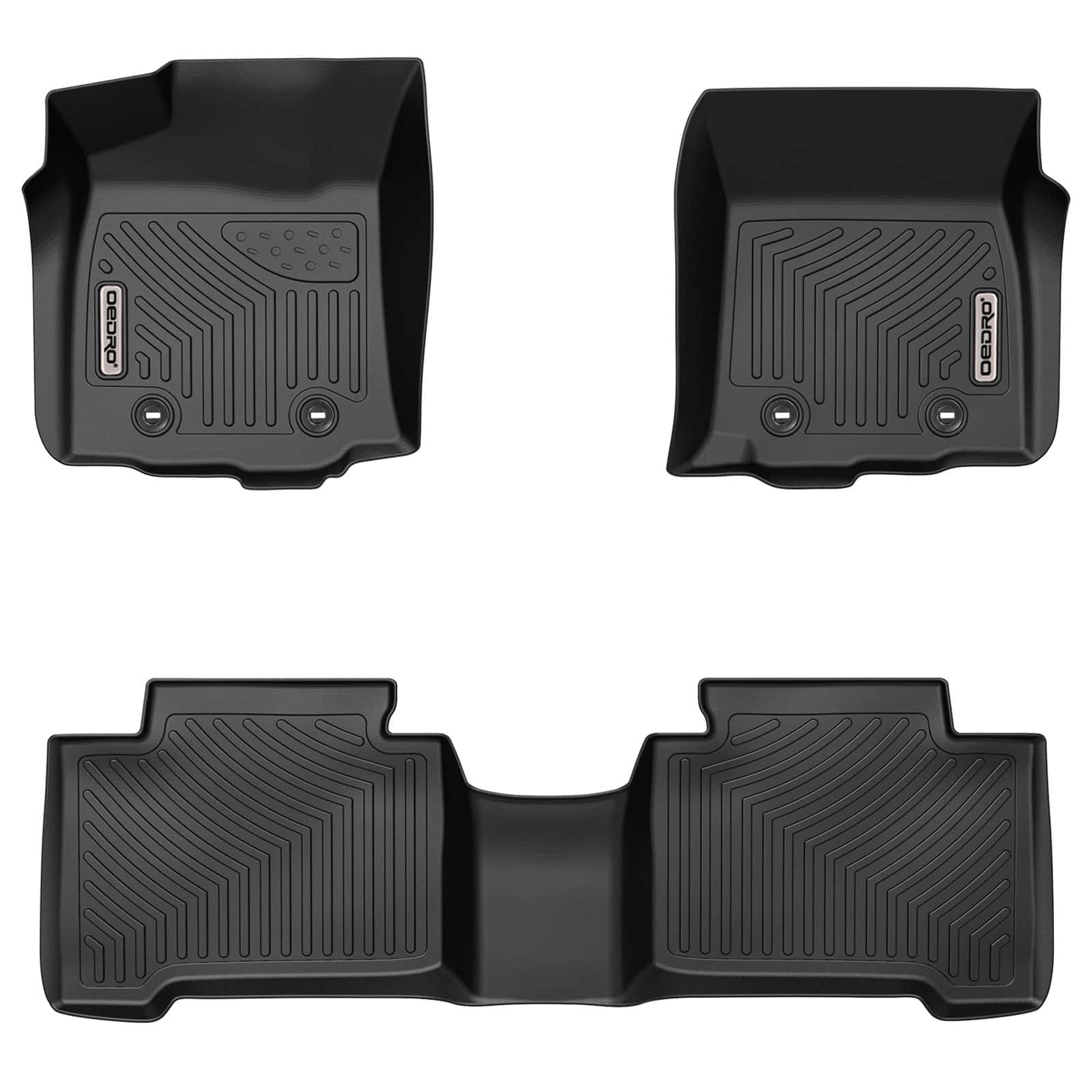 OEDRO offers an affordable floor solution for people who live in a cold climate. Its floor liners store substantial mud, snow, debris, spills, and water with its "Y" shape design, providing full carpet protection at all times. Its durable yet dense synthetic rubber (thermoplastic elastomer) remains soft and flexible at freezing temperatures, allowing easy cleaning and mobility.
Under anti-skid nibs holds the floor liner in position, while the heavy-duty grooved surface texture provides grip and traction no matter how rough the terrain gets. Its extended border and thick construction ensure no liquid penetrates or flows over the sides to spoil the carpet.
Furthermore, the front liners (driver and passenger) secure to the floor anchor points to prevent them from moving about or obstructing the pedals. These liners also protect the carpet edges by going over the plastic molding, which separates it from the door jam.
These floor liners provide the best balance between fit and flexibility, priced at $109.99. However, these are only compatible with double cabin and automatic transmission Toyota Tacoma models and only come with a two-year limited warranty.
Pros
Remains soft in a cold climate

Affordable
Cons
Not compatible with manual transmission models

Only compatible with double cabin models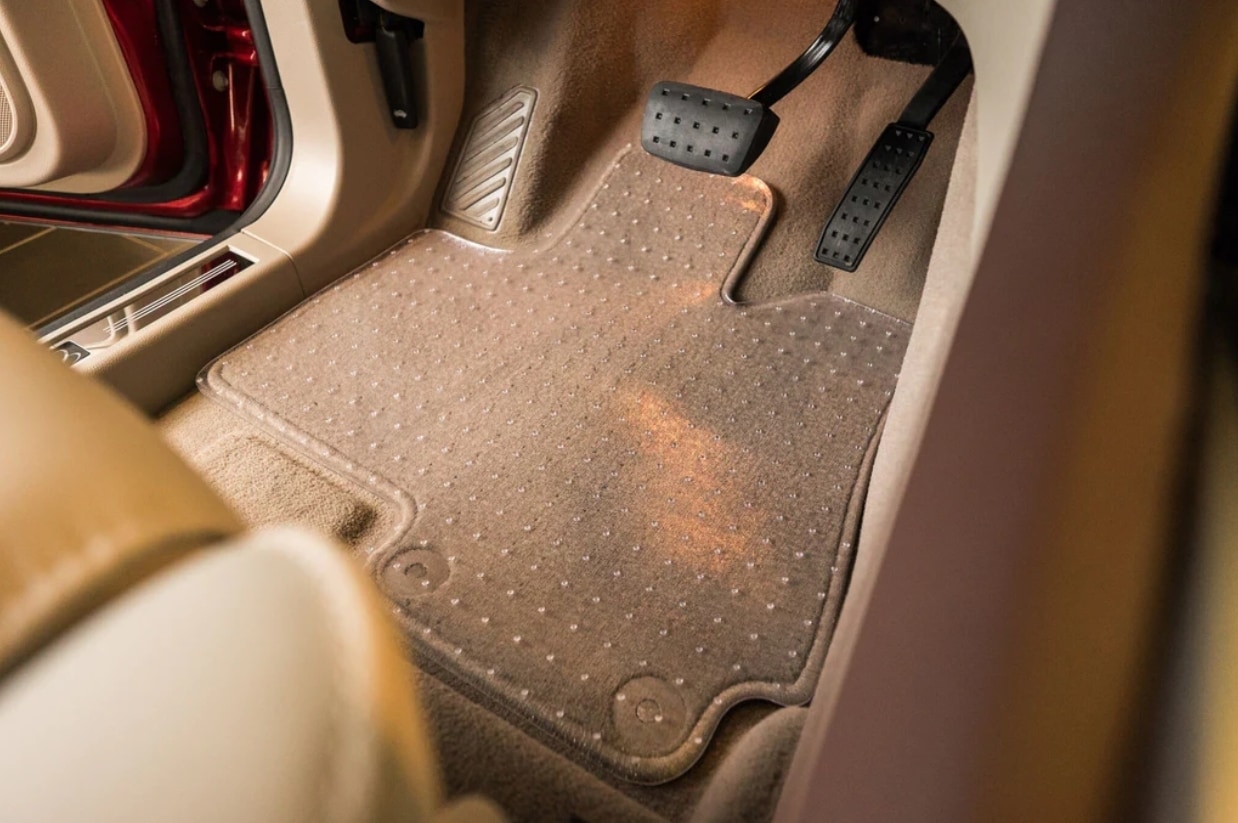 ExactMats has been providing clear overlay vehicle mats since 1997; their design intent involves maintaining the original outlook of the interior cabin while safeguarding the carpets. These vinyl mats are 80 mils thick (2mm), or you could say about 20 sheets of paper, and firmly rest on the OEM carpet mats; each one precisely meets the exact shape and size. But do not take its minimal thickness for granted; it's designed to be super durable, which is why ExactMat's limited lifetime durability warranty backs it.
These clear mats integrate anti-skid nibs placed at every square inch to maintain the balance between form and function. The textured surface hides in plain sight yet add a subtle touch to the interior while ensuring traction at all times. These mats are easy to clean; soap and water will do the job. With free shipping, you can buy these mats for as low as $109.
However, these are made on order, therefore take about three to five business days to be delivered. Moreover, these are only suited for pavement driving; these just protect your OEM mats from getting dirty. These mats cannot protect your interior if you plan to go off-road or are a construction worker. These are only intended to maintain your vehicle's OEM look while collecting minor dirt and particles.
Pros
Affordable

Retains the original look of your vehicle

Looks very neat
Cons:
Does not provide full carpet protection

Spills can overflow these mats
FAQS
Question: Are rubber car mats better than carpet mats?
Answer: It depends on the use; if you love spending time outdoors where you face mud, dust, water, and debris, or you work in a field where you carry several tools with you in your vehicle, then rubber mats will serve you better thanks to their rugged build quality and long service life. On the other hand, carpet mats provide little interior protection; they are designed to elevate the level of comfort and provide a plush floor to place your feet. In summary, rubber mats protect while carpet mats provide comfort.
Question: Is it worth buying car floor mats?
Answer: Absolutely; car floor mats not only fit better than OEM mats but also extend the carpet's life by providing complete floor coverage. Aftermarket floor mats also add a stylish look to your vehicle thanks to their rich texture and deep color schemes.
Question: What is the best brand for car mats?
Answer: Husky Liners provides the best car mats for floor protection. Its X-Act Contour floor liners with duragrip technology provide a soft-touch rubber compound that remains flexible even in cold weather. At the same time, its Weatherbeater series offer a rigid solution for heavy-duty use. Their liners are designed through 3d scanning of the vehicle contours resulting in a perfect fit. Moreover, their quality is top-notch, evident from their highly-detailed liners and lifetime warranty.
Verdict
The Toyota Tacoma is one rugged pickup truck that has proved its worth and capability through the hands of thousands of adventure enthusiasts and hardworking professionals. While Toyota succeeds in manufacturing such a successful and reliable vehicle, its OEM floor mats fail to stand up to Tacoma's reputation, especially when preparing to step into the wild.
This is why getting an aftermarket floor liner is a wise choice to protect your vehicle's interior against what nature throws in and to maintain a firm and stable floor when crawling steep rocks.
With the best Tacoma floor mats lined up here, it's up to you to decide. Be mindful of your budget and drive terrain when picking a floor mat. While the Husky Liner's X-Act Contour floor liners offer the best performance in every aspect, they sure are expensive. But then again, do you really need them? Or can you walk away with a cheap alternative such as the Westin Automotive's Sure Fit; they are just less detailed than the Husky's but offer the same protection.
For pavement driving, you really do not need to spend so much on floor liners; carpet floor mats will suffice. And if you are into luxury, then you should try the ExactMats clear overlay floor mats; these blend in with the theme of your Tacoma's interior and ensure your OEM mats are protected yet visible. Not the best in terms of carpet protection, but hey, you are not going off-road, are you?
So here you have it, the best floor mats and the best buying advice you can get. Make sure you think carefully about your budget and driving conditions before deciding. Cheers!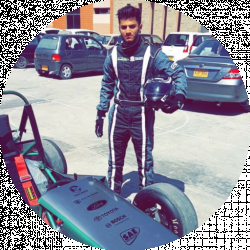 Latest posts by Zabrain Arshad
(see all)