The Toyota Tundra was introduced in 2000 as a full-size pickup to be used as a reliable workhorse. By 2007, the Tundra was redesigned to be bigger and more powerful, with a payload and towing capacity of 2000 and 10000 pounds, respectively. This second generation later received minor cosmetic changes in 2014, but the layout still remained the same. In 2022, Toyota launched the third generation Tundra with a brand new design; the V8 was dropped, and a more powerful 3.4-liter twin-turbo V6 with an optional hybrid version maximized power as well as fuel economy.
The Tundra has a history of being exceptionally durable; Victor Sheppard drove his 2007 Toyota Tundra over one million miles, after which Toyota bought it back from him to run vehicle diagnostics; the engineers found the engine to be as good as new. But if you plan to go off-road with the stock bumpers, you will not get so far.
Stock bumpers complete the vehicle's look and provide convenience with integrated fog lights and driver-assist sensors, but off-road, they are prone to severe damage and scratches. Therefore, getting an aftermarket upgrade is a much better decision, but with such a huge variety of front bumpers, which one is right for you? Thus begins our quest to find you the best Tundra front bumper.
In this article, we will look at the top-performing front bumpers, compare their utility, and decide which is the best Tundra front bumper for your needs.
Bottom Line Up Front
C4 Fabrication's Overland Series Front Bumper for the 3rd generation Tundra combines the best convenience and ruggedness thanks to its modular design and full TSS compatibility. If this is too much for you, consider the Southern Style Offroad's Slimline Hybrid, which adds the same capability under a sleek finish to your Tundra.
My Top Picks
C4 Fabrication Overland: Solid build quality and high customization options make the Overland series bumper a worthy companion for wild adventures.
SSO Slimline Hybrid: Equally capable as other bumpers, but with a minimal design that adds a fine finish to your Tundra.
CBI Covert: Blends in with the original styling of your Tundra while adding a 12000-pound capacity winch and 20″ light bar.
Why Should You Consider Getting an Aftermarket Toyota Tundra Front Bumper?
Recovery: An aftermarket front bumper is designed to provide ruggedness and utility for the harshest terrain. It fastens to the vehicle's frame and features shackle mounts and a winch, providing a convenient escape from sticky situations.
Durability: These tough bumpers are fabricated from thick steel plates and are rated to handle terrain abuse. From sharp rocks to rushing rivers, these bumpers stand strong against whatever nature throws. OEM bumpers do not stand a chance in extreme outdoor conditions.
Multi-Purpose Mounts: Accessories such as lights, wheel mounts, and winches can be installed on these bumpers, allowing greater vehicle functionality.
Improved Articulation: An aftermarket front bumper is designed to sit higher than an OEM bumper; therefore, it improves the vehicle's approach angle, allowing you to climb steep hills without grazing the ground.
Types of Aftermarket Bumpers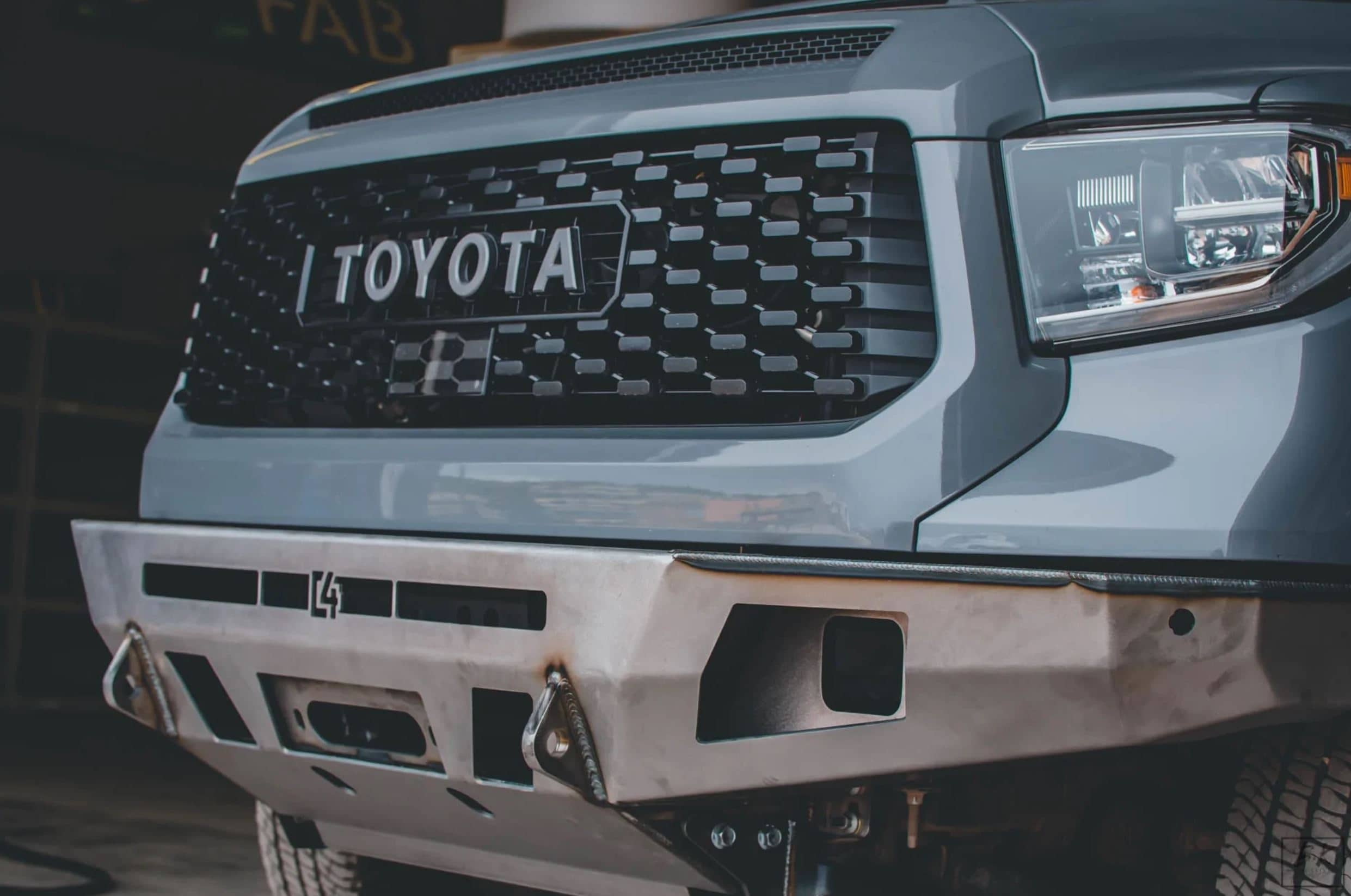 The aftermarket bumper industry is divided into bumper types to cover various applications, just like the Tundra, which is offered in a range of trims. This allows the user to choose a bumper that meets his needs, whether he is planning to use his Tundra for rock crawling or as a farm truck.
Bull Bars: Bulls bars or pre-runner bumpers integrate an elevated metal tube ahead of the vehicle's grille. These protect against impacts, besides adding a mean look to the vehicle.
Grille Guards: Grille guard bumpers provide overall protection for the entire front of the vehicle. They incorporate a dense steel tube frame structure that provides maximum protection but adds weight to the vehicle.
Tube Bumpers: These are made of steel tubes instead of steel plates. Tube bumpers provide substantial protection against rough terrains and add little weight to the vehicle but are less resourceful due to their minimal design.
Base Bumpers: As the name suggests, these bumpers are made from steel plates that focus on providing heavy-duty utility by integrating mounting brackets, winches, and recovery points.
Recommended Toyota Tundra Front Bumpers
With the aftermarket flooded with a sea of options, it's hard to decide which one to buy. Aftermarket bumpers are not cheap; therefore, picking one without research is a risky gamble. Therefore I have done your homework for you and selected the highest-rated Tundra front bumpers based on budget, convenience, ruggedness, and versatility.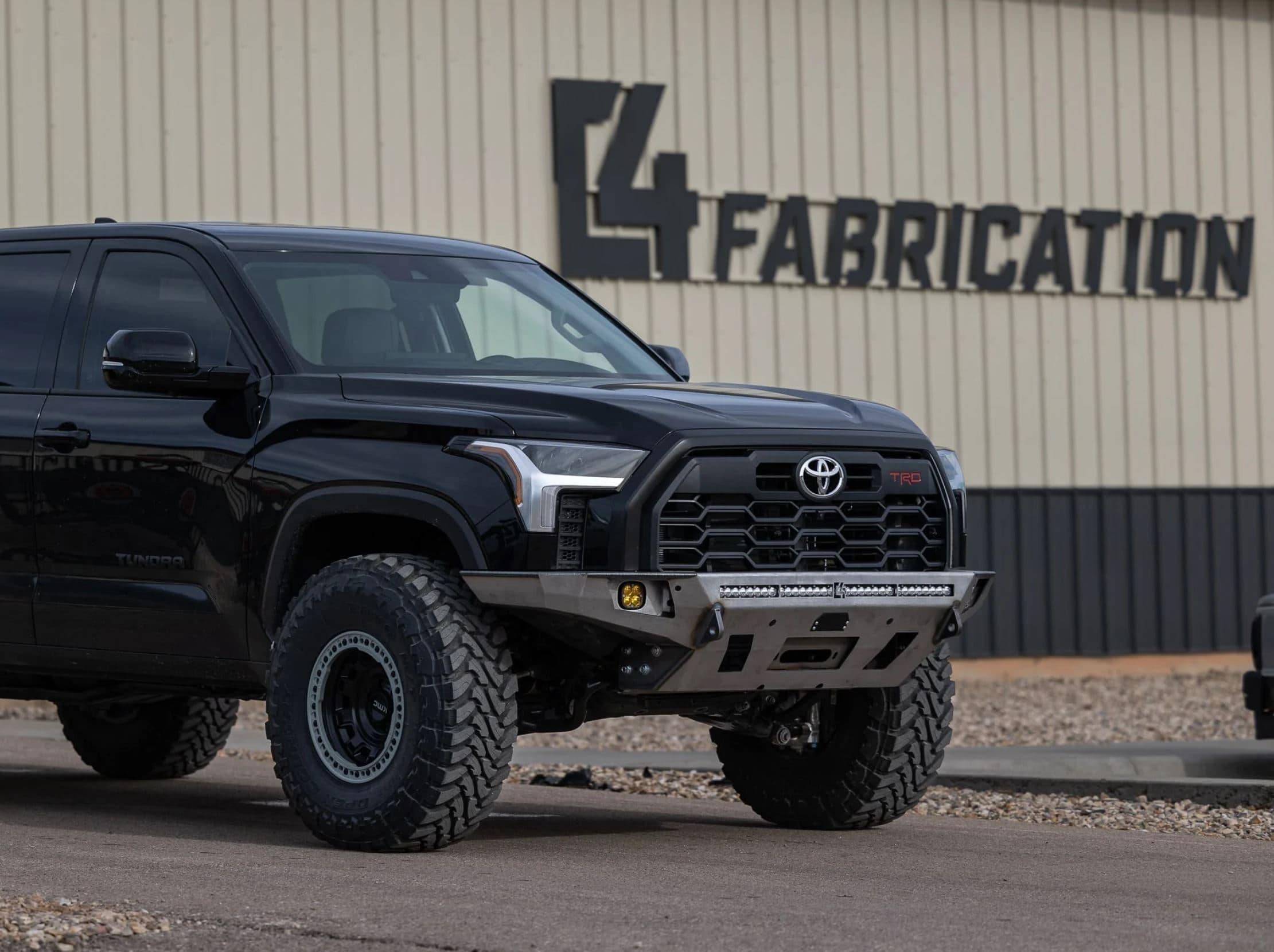 C4 Fabrication produces high-quality outdoor equipment for a range of 4×4 vehicles. Constructed for the 3rd generation Toyota Tundra, The Tundra Overland Series Front Bumper integrates a modular design which accommodates space for many optional accessories.
It retains the complete functionality of the front-mounted camera, parking sensors, and Toyota Safety Sense (TSS), even with all the bull bar options. The middle and low-positioned bull bars are visible in the front camera; however, they do not completely block the camera view. This bumper has light cutouts for single-row 40″ light bars (Baja Designs S8) as standard, which cannot be removed.
Unfortunately, you cannot use OEM fog lights, but the design offers space for Baja Squadron fog lights. Excluding the low bull bar option, all bumper configurations can accommodate LP9s; but will require drilling.
While installing, you will need to slightly trim the fender flares and plastic panels on each side under the headlamps, but the factory fender liners can be attached to the bumper easily via pre-drilled holes.
Constructed out of 3/16″ pickled and oiled steel, the Overland Series bumper balances weight and strength to provide optimum resourcefulness. Its winch and mounting plates are made from ¼" thick steel plates and its ¾" D-shackles mounts are standard and pre-welded on all bumpers. Similarly, the heavy-duty bull bar is formed from hot rolled electric welded tubes with a wall thickness of 0.12″ with diameters of 1 1/2″ and ¾".
Excluding the Smitty XRC 12k, it fits most winches ranging from 12k to 8k, with the ideal ones being the ZEON series and WARN VR. C4 also recommends using a hawse fairlead and synthetic rope-based winches for better functionality and easy installation.
The bumper weighs 182 pounds when equipped with headlight hoops and a full bull bar ($2354), 174 pounds with the mid-height bull bar ($2194), 168 pounds with the low-height bull bar ($2094), and 160 pounds without any bar ($1994). Although you get free shipping, you will need to get the bumper painted or powder coated before installation to protect it from rust.
Pros:
Modular design.
Rugged built quality.
Cons:
Expensive.
Needs trimming OEM panels.
Requires paint/powder coating.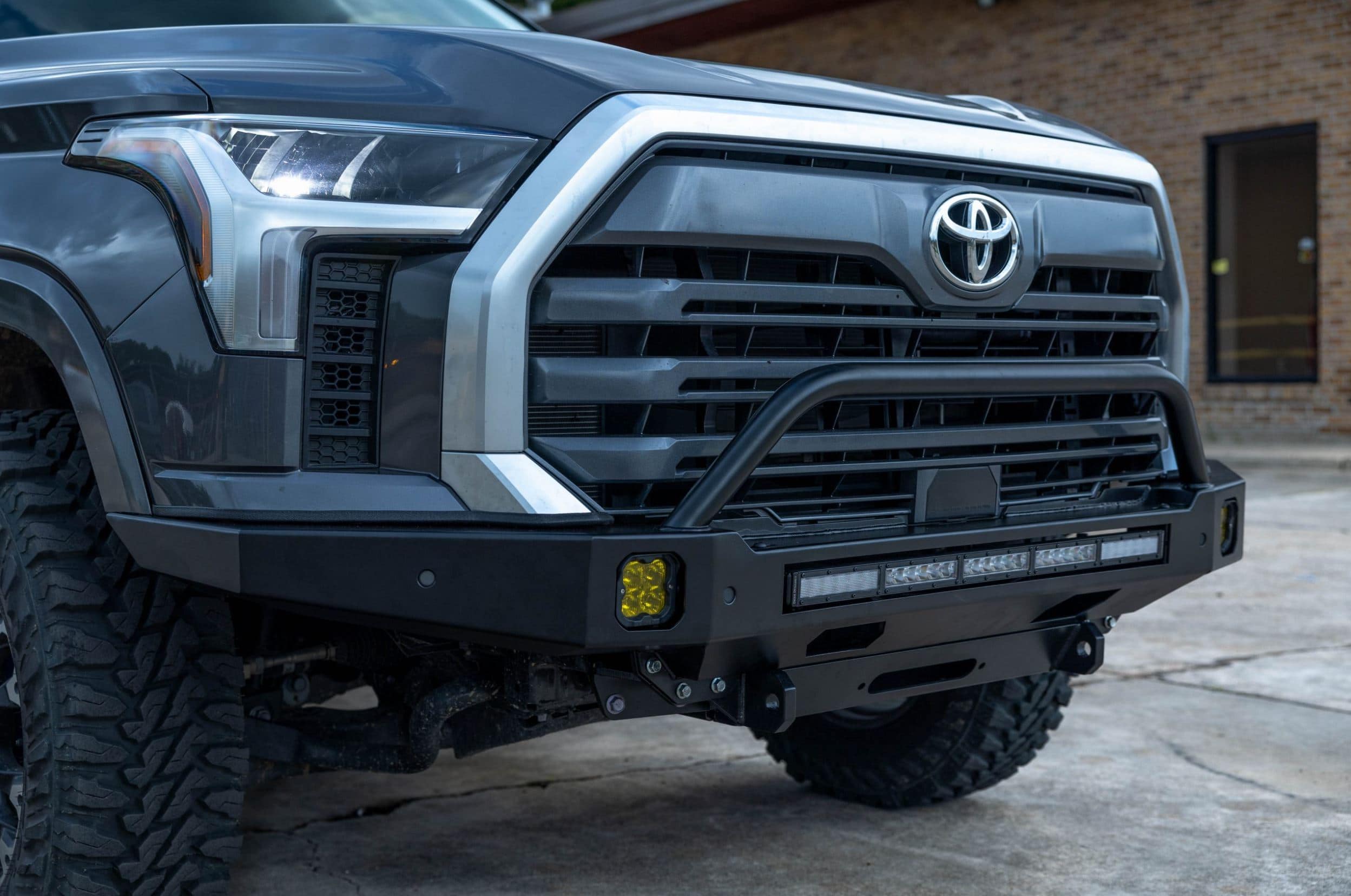 Southern Style Offroad (SSO) provides a sleek finish with its lightweight yet sturdy Slimline Hybrid bumper. It maintains a low profile by keeping the design minimum while integrating functionality. On average, these lightweight bumpers only weigh 60 pounds, which is 40-35 pounds more than your OEM bumper but are well-engineered to provide space for 12000 to 10000-pound winches. The frame is constructed from 3/8″, 3/16″, and 1/8″ thick steel plates and integrates ¾" welded shackle mounts with universal access holes and a 30″ light-bar cutout.
SSO fabricates these bumpers upon order; therefore, lead times vary depending on the number of orders and sale promotions. Moreover, SSO allows you the freedom to choose the metal you as per your needs. However, they also charge a 20% order cancellation fee and a $50 order change fee. The delivery time varies from 70 to 50 business days, with a $299 delivery fee when shipped to your area hub or $550 when shipped to your house.
These bumpers start at $1473 and include an optional bull bar that protects the grill and radiator against impacts. You can get it for as low as $1178.4 through sale promotions. The optional matte black powder coat elevates the total cost to $1338.40. Keep in mind that no light bars are included in the package.
Overall, the Slimline Hybrid bumper adds a very neat look besides upgrading the functionality of your 3rd generation Tundra. It's a perfect choice for light off-roading as well as everyday use.
Pros:
Cons: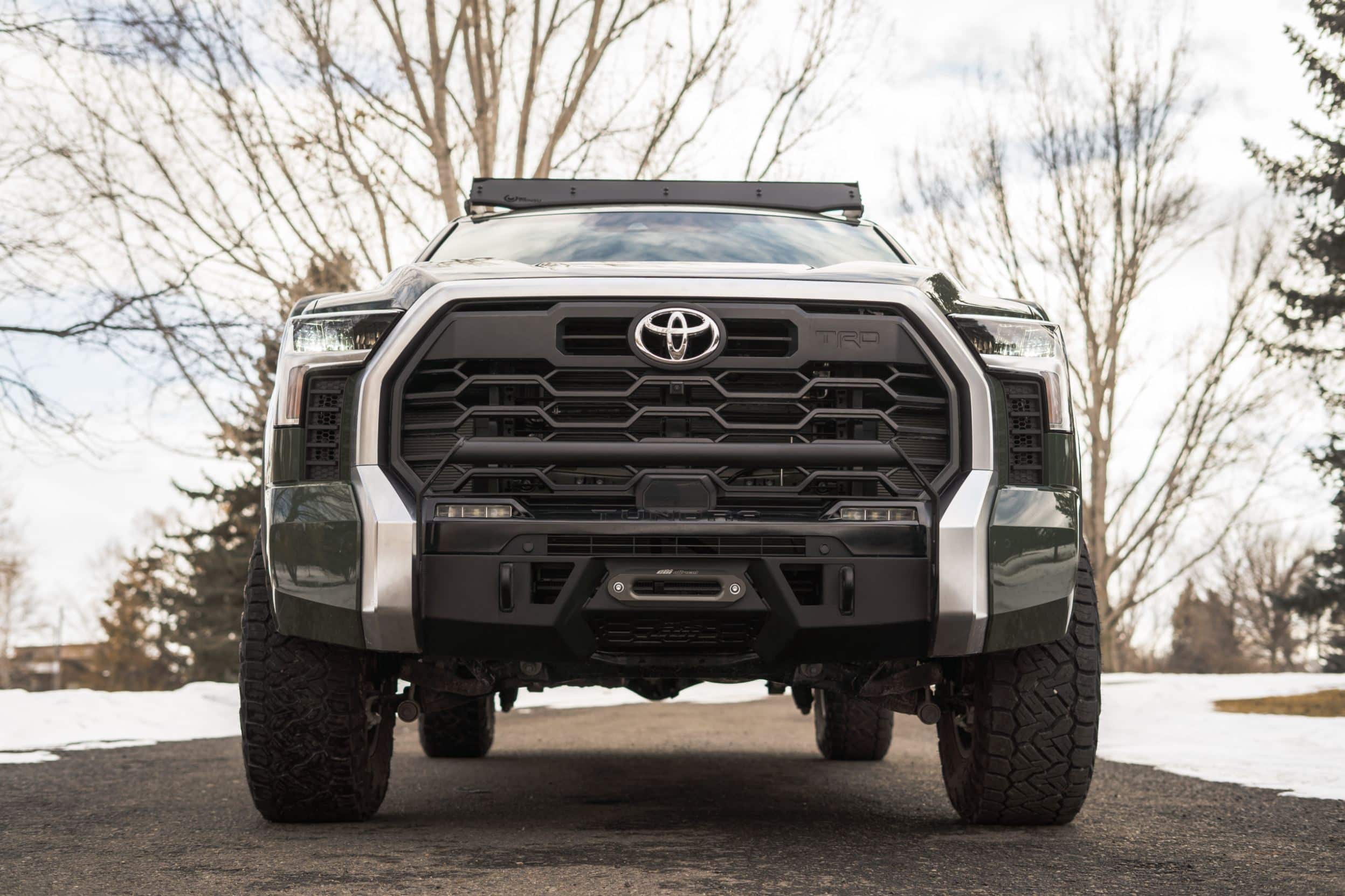 CBI brings an innovative design with its compact front bumper for the 3rd generation Toyota Tundra. This bumper is engineered to camouflage into the Tundra's original styling with its minimal construction while integrating utility and convenience. Apparently, it does not look tough like other bumpers mentioned here, but it packs a punch with its dense structure.
Its winch mount is made from ¼" thick steel plate, which can accommodate up to 12000-pound capacity winches. And its sturdy D shackle mounts are welded directly in line with the vehicle's frame to progress loads directly to the chassis for maximum strength in critical situations.
You will notice that this bumper lacks additional guards and grills, but regarding capability, this bumper delivers 100 percent performance when needed. A 20″ light bar frame is smoothly blended in the bumper's frame to maintain optimum visibility in low light conditions.
Installation requires a little trimming, but it's not a lot of chores; you will have to cut down the front end of the bumper where this new one will fit but this task is eased by the bumper's two-piece design, which requires just a few tools. You can get the optional grille guard for further protection if you want.
The best thing about this bumper is its limited lifetime warranty, so you can always count on it. However, this bumper is incompatible with the 2022 Toyota Tundra TRD trim and other trims with an active front spoiler. The CBI Toyota Tundra Covert front bumper starts at $1000 and rises to $1150 with the optional grill guard, but under promotions, the price drops to $850 and $977.5, respectively.
As the name suggests, it's a covert yet rugged bumper, which may not provide complete front protection off-road due to exposed bumper sides, but for light off-roading on slightly rough terrains, it's a fair deal.
Pros:
Compact design.
Lightweight.
Cons:
Requires trimming OEM bumper.
Expensive considering its small size.
Frontend not fully protected.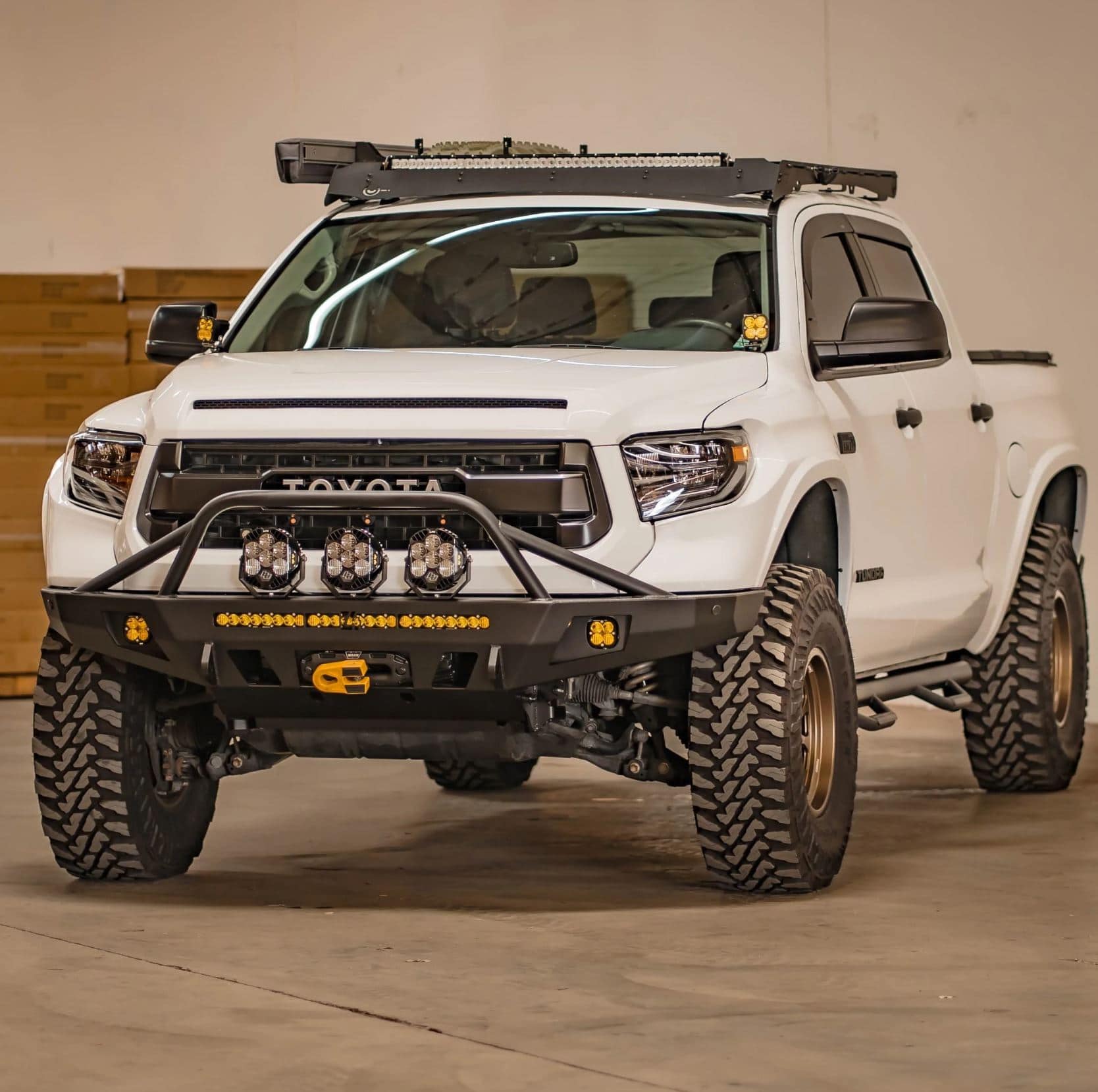 C4 Fabrication's 2nd generation Toyota Tundra front bumper for model years 2014 to 2021 carries the same outlook as available with the 3rd generation. The frame is fabricated from pickled and oiled 3/16″ thick steel plates with ¼" thick winch and mounting brackets.
¾" thick welded D shackle mounts handle all sorts of loads in extreme conditions, whereas the .12-inch thick 1 ¾" diameter hot rolled electrically welded bull bar provides the required strength to counter unforeseen impacts.
You can choose between three types of bull bar configurations with this bumper; no bull bar, mid-height bull bar, and full-height bull bar with tube gussets. The full-height bull bar blocks the Toyota Safety Sense sensors on regular grilles; however, they are functional with TRD Pro grilles.
The mid-height bull bar, on the other hand, allows full TSS functionality on all trims. It depends on how much you value the TSS, based on which shall you choose the bull bar configuration. All bumpers have drilled holes to fit parking sensors.
This bumper easily fits Warn VR series, Warn Zeon series, Smittybilt X20, and ComeUp winches. Most winches with load capacity varying from 12000 to 8000 pounds and adjustable electrical control boxes are compatible and recommended; integrated control boxes must be fitted by trimming grille support brackets.
Synthetic winch ropes and hawse fairleads are ideal and are recommended for fitment. You can also install aftermarket and TRD Pro OEM skid plates with this bumper. The bumper design ideally connects the Baja Designs S8 light bar; however other 30-inch single-row light bars, such as RIGID 30″ SR series and Extreme LED 30″ 5D, will also fit.
The price starts at $1809 without the bull bar, but I recommended getting one. The mid-height bull bar adds another $77, while the full-height bull bar elevates the total price to $1999. Do not forget to set aside money for powder coating or painting the bumper because it ships as bare steel. Shipping is free.
Pros:
Sturdy frame.
Free shipping.
Bolt-on design.
Cons:
TSS is not fully functional.
Requires paint/powder coating.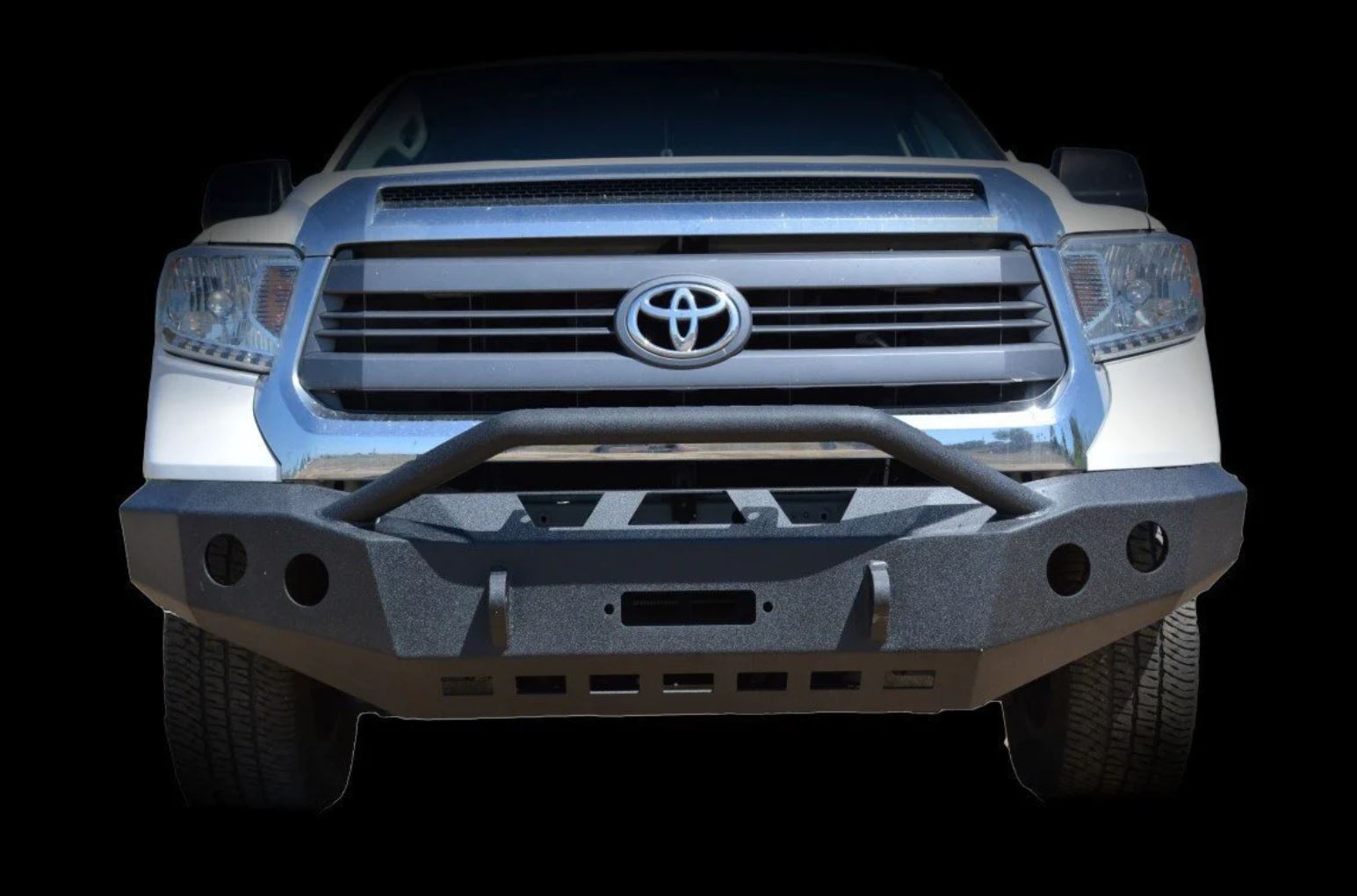 DV8 Offroad produces economical vehicle outdoor equipment, which is simple yet delivers the required demands out in the wild. This bumper is constructed from 3-piece high tensile 3/16″ thick steel plates with ¼" thick reinforcements. It can carry a winch with a load capacity of 12500 pounds and has 4 round cutaways which fit 3.5-inch fog lights.
The DV8 2014-2021 Tundra front bumper also comes standard with two D shackles and two welded D shackle mounts which deliver the load directly to the Tundra's frame. For protection against rust, the bumper gets a two-stage matte black powder coat. It also has a low-height bull bar which is standard on all bumpers. However, you can ask DV8 to fabricate one without the bull bar, but that may take longer to deliver.
The price starts at $899.99, and you get free delivery. You can add a 12000-pound winch with synthetic rope for $709.99 and four 3.5″ round fog lights for $239.96. Although it lacks the style modern front bumpers offer, it does check all the boxes you will need on your trail.
Pros:
Cheap.
Includes two-stage powder coat.
Free delivery.
Cons:
Not as stylish as competitors.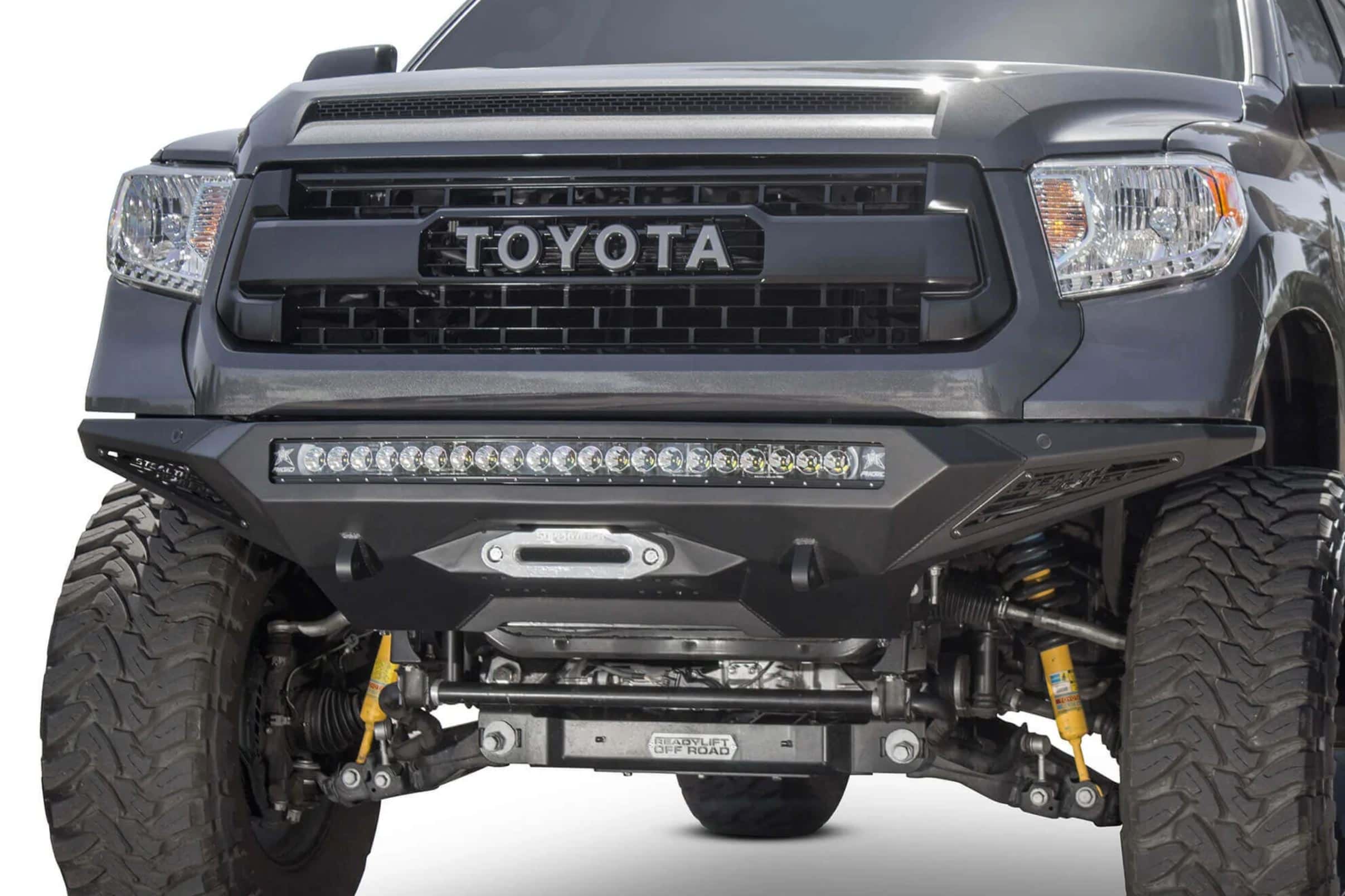 ADD produces finely crafted yet heavy-duty off-road parts for a range of trucks and SUVs. The Stealth Fighter Winch front bumper is beautifully constructed to compliment the Tundra with its steel contours. Besides adding functionality, this bumper adds a finesse finish to the Tundra's appearance. ADD has given great attention to detail, as you can judge from the bumper edge and see how it smoothly blends in with the rest of the vehicle.
This bumper bolts tight at the front to increase the Tundra's approach angle, a major advantage when climbing steep terrains. It includes two reinforced and welded clevis mounts to clamp ¾" D shackles which are a must-have when things get sticky.
Thanks to sensor cutouts, you can also use the Tundra's original front parking sensors with this bumper, allowing full OEM functionality. Moreover, it integrates space for a 40″ light bar or ten cube lights for maximum visibility. Additionally, you can install 10″ SR light bars behind the side panels.
The ADD Stealth Fighter front bumper is a premium product; it fits seamlessly with the Tundra's lines yet offers maximum utility. However, there is no bull bar available. The bumper is finished in a hammer black powder coat, while the panels are finished in a satin black powder coat. Prices start at $2299.98, excluding shipping.
You can also add ADD's recommended fairleads, side lights, center lights, and a winch as per your requirements, but that will lead your total to almost $5000. Installation is a two-person job with an estimated time of 2 hours with the required tools in hand.
Pros:
Premium build quality.
High attention to detail.
Cons: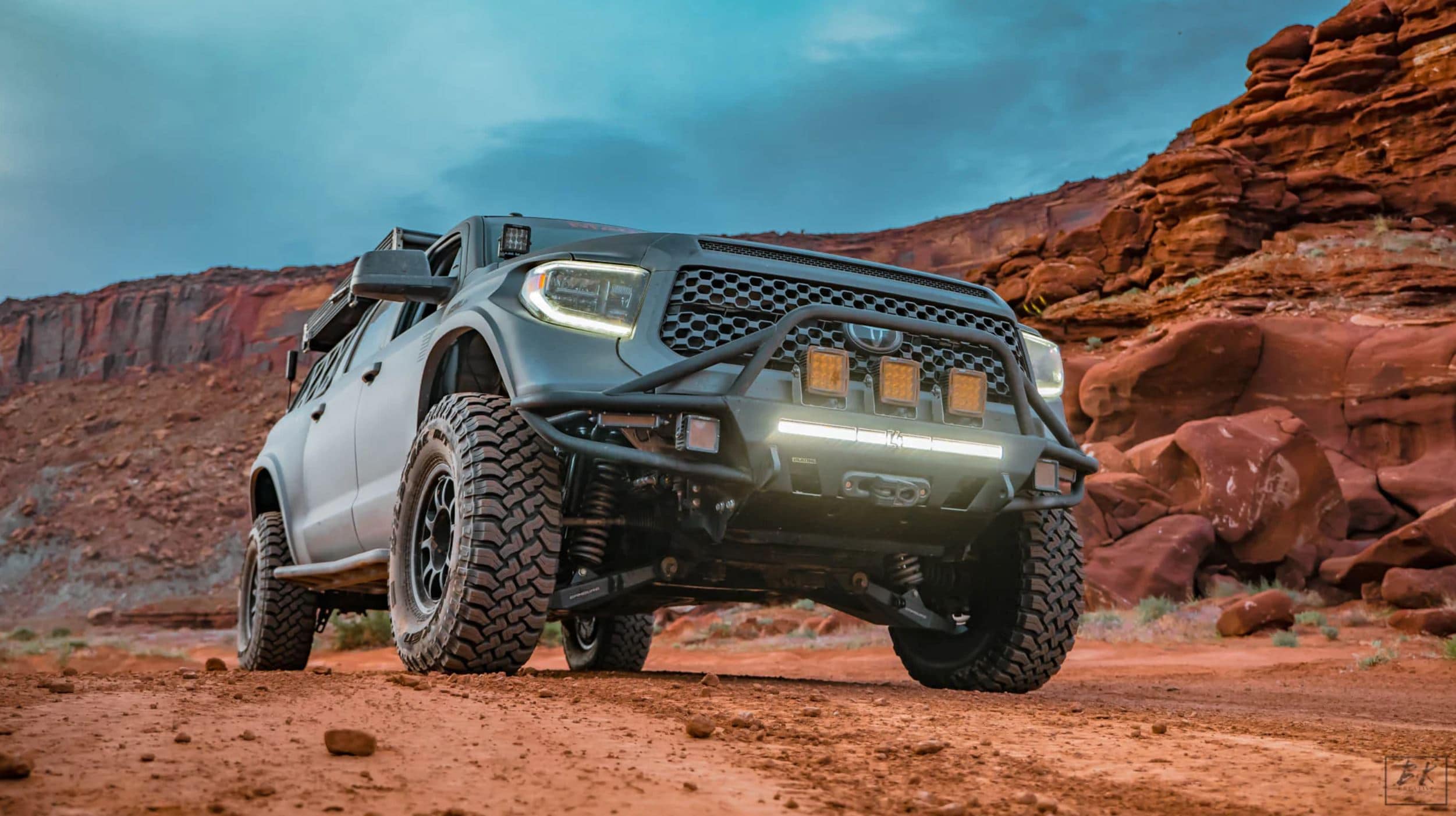 C4 Fabrication brings you a hybrid front bumper for the 2nd generation Toyota Tundra featuring a plate and tube frame construction to pull down the overall weight while maximizing functionality. The design includes 0.12″ thick 1 ¾" hot rolled electric welded tubular sides and a 3/16″ thick pickled and oiled steel center portion with a reinforced ¼" thick winch bracket and 3/8″ thick mounting plates. The steel tubes reduce the overall weight to 150 pounds without the bull bar; on the other hand, it weighs 165 pounds with the full-height bull bar.
This bumper requires no drilling or trimming of the OEM plastic panels and directly bolts onto the existing bumper mounts. But like other C4 bumpers, this one also ships bare steel and requires painting or powder coating to inhibit rust. Two 3/4″ thick D shackle mounts are welded and come as standard on all bumpers.
Bull bars are available; a mid-height bull bar adds $80, while the full-height bull bar with side gussets adds $185. TSS functionality, winch configuration, and skid compatibility remain the same, as mentioned in the above C4 fabrication bumper. The bumper integrates space to fit 30″ single-row light bars and comes with pre-drilled holes to install LP6 or LP9 lights.
The price starts at $1745, and you get free shipping. If you want parking sensors, add another $80. You can also attach a range of accessories to it, such as fog lights, light bars, winches, and fairleads.
Overall, this bumper cuts on weight, providing better fuel economy, but in comparison with full steel-plated bumpers, it offers slightly less side protection. Moreover, the tube sides add a beautiful finish to your Tundra.
Pros:
Lightweight.
Free shipping.
Bolt-on design.
Cons:
TSS is not fully functional.
Requires paint/powder coating.
FAQs
Question: Is it worth getting an aftermarket front bumper?
Answer: Indeed it is. An aftermarket bumper increases the overall functionality of your vehicle in many ways; firstly, it provides a rugged front which can handle impacts and protects the vehicle against crashes. Secondly, it elevates the approach angle of your vehicle, allowing you to crawl over steeper terrains. Thirdly, it adds utility by integrating winches, fog lights, and mounting brackets, which come in handy in extreme outdoor conditions.
Question: Are Toyota Tundras good trucks?
Answer: The Toyota Tundra is one of the most capable and durable pickup trucks ever produced. You can judge this because a 2007 Toyota Tundra ran more than one million miles with only routine maintenance and timely oil change. And when Toyota engineers diagnosed the engine performance, they found it to be working at its full potential. The 2nd generation Toyota only suffered from a bad fuel economy, but that has been taken care of by dropping the big and thirsty V8 and installing a new 3.4-liter twin-turbo V6 hybrid, which maintains a better fuel economy and pumps out more power.
Question: Do steel bumpers affect gas mileage?
Answer: Steel bumpers have their pros and cons. A steel bumper protects your vehicle against impacts and provides a better approach angle when crawling over tough terrains. However, weighing in at around 150 to 200 pounds, they drop your gas mileage and affect other driving aspects such as braking, suspension, and acceleration.
Verdict
Upgrading to an aftermarket bumper has more advantages than disadvantages. The downside is that it adds more weight to your vehicle and drops the gas mileage. But other than that, you get better protection against collisions, elevated approach angles, and increased utility.
But the main question remains; which aftermarket front bumper is the best for you? Well, it all depends on your budget, drive terrain, and your requirements. Some people just want to look chunky, so they buy whichever bumper they find most attractive. But if you want efficiency, you better think about it first.
I have recommended the top Tundra front bumper based on our evaluation criteria; now, all you have to do is consider your budget, your style, and what accessories you would like to install before making a decision.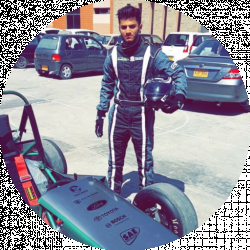 Latest posts by Zabrain Arshad
(see all)