So, you're planning on taking your Toyota 4Runner off-roading? Depending on the layout and environmental conditions of the tracks you have in mind, rock sliders are probably a good idea.
Rock sliders protect your 4Runner's side bodywork and undercarriage from damage. They're metal frames attached underneath the rocker panels, door sills, B-pillar (and C-pillar, if applicable), and doors. By wrapping around that edge, they keep dangerous objects like rocks or tree trunks away from your car, minimizing bumps, dents, and scrapes.
It's easy to mistake rock sliders for generic steps. Rock sliders serve a dual purpose to make it easier to get into your 4Runner.
Choosing the best 4Runner rock sliders is no simple task (although I'm going to give it a go!). You'll find options with or without steps or kick-outs. Steel and aluminum are both available. Most can be bolted on, but some need welding. The list goes on.
The 4Runner is in its fifth generation (as it has been since MY 2010), so I'm assuming this is the vehicle you have. It's by far the most common in the US. Although it's seen a few cosmetic changes, technological incorporations, and trim upgrades, the overall body is essentially the same as it was 13 years ago.
My apologies for the long introduction! With all that out the way, come with me to look at some of the best 4Runner rock sliders out there.
Bottom Line Up Front
Of all the 4Runner rock sliders I've examined for this list, my mind keeps looping back to the White Knuckle Off-Road 4Runner Rock Sliders.
These check almost all my boxes. They aren't bad value, they're extremely tough, and tons of optional extras are available. They'll do whatever you need them to do.
My Top Picks at a Glance
Depending on your situation, you may like to consider these 4Runner rock sliders:
What Makes a Good 4runner Rock Slider?
First, let me point out that my article on the best 4Runner rock sliders will only consider actual sliders. I'm not interested in anything that looks like a slider or gives the impression that your car has them. The real deals, and that's it.
Since you're reading this on a 4×4 site, I assume that's what you're looking for, too!
Here are the things I've factored in to narrow down the best 4Runner rock sliders.
Material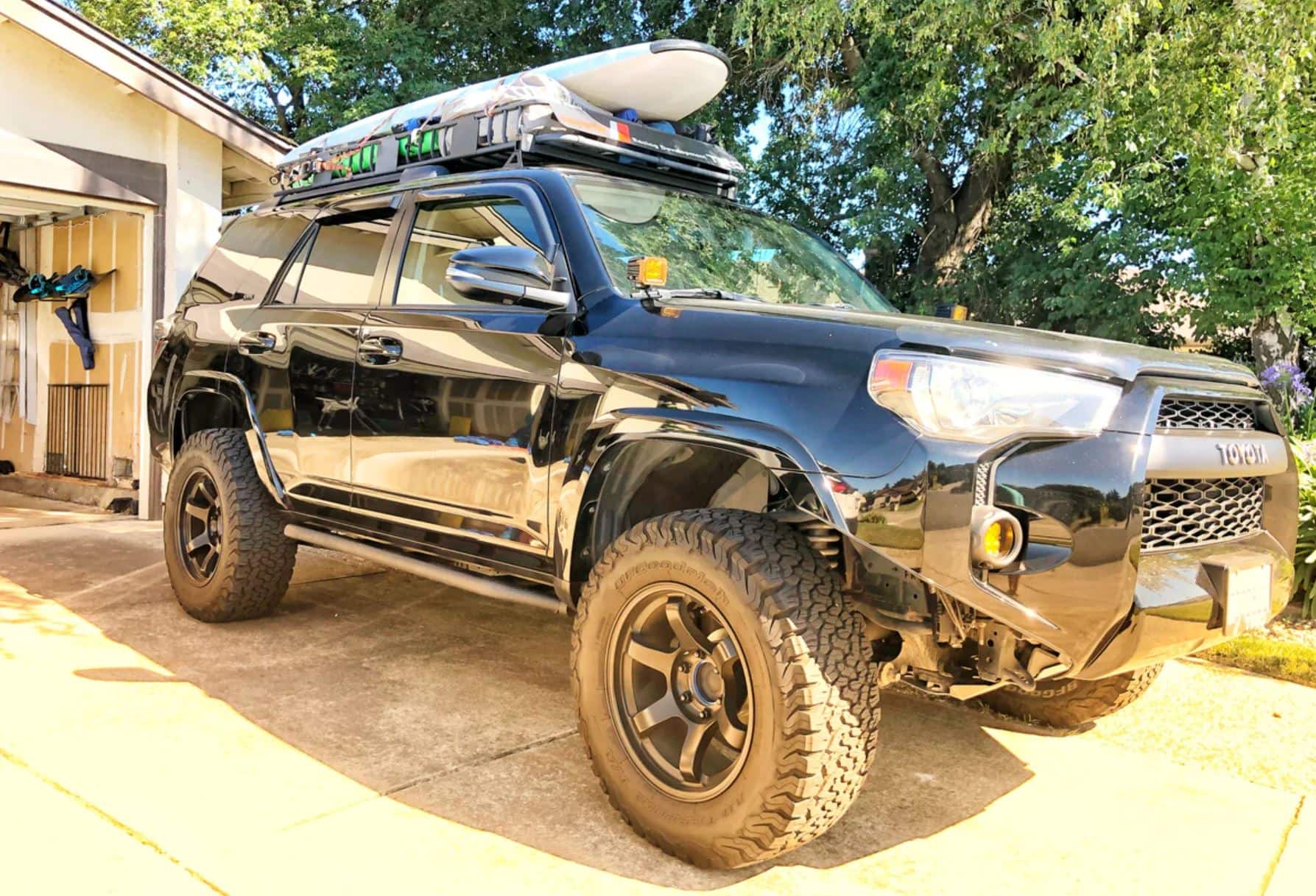 Most rock sliders are made of steel, but aluminum models are available, too. In these cases, the material just isn't as robust as good old-fashioned steel.
You'll usually find steel tubing (sometimes square-cut) rock sliders. The two types of steel most commonly used are HREW (Hot Rolled Electric Welded) and DOM (Drawn Over Mandrel).
HREW is relatively strong and will be fine for the odd bump, but DOM is the really tough stuff.
Kick-outs
Kick-outs are a vital part of taking your 4Runner off the beaten track. They're those carefully-engineered sticking-out bumps on the rear ends of the sliders. These literally 'push' your car away from anything you'd otherwise scrape past or over.
Again, you don't need kick-outs if you're never going to leave paved asphalt. But if you're going for a practical off-roading-assisting component, rock sliders would be incomplete without them.
Angle
The most protective and solid rock sliders wrap around the bodywork with a steep angle (usually up to 25°). They offer better defense against any objects you might drive around or past. I've included a couple of 20° models on this page.
The downside is that they don't work so well as a step. There's nowhere to put a top plate ('filler plate' – see below) because the framing is too angled.
Top Plates
Top plates (also known as step plates or filler plates) sit in the space between the steel tubing framework on flat (0°) rock sliders. You can stand on them, preventing your foot from slipping through and the inevitable nasty fall and broken leg.
Some top plates are bolt-on while others come welded to the sliders. I would choose no top plate if possible, but check the steel tubing has a grippy finish suitable for getting in and out. Skipping the top plate saves a little money and, in my opinion, gives the 4Runner a little more of a rugged, outdoor look.
However, if you have problems with movement (especially in your knees) or regularly transport elderly people, kids, or pets, a top plate (with a 0° angle) it is.
Installation (Bolt-On or Weld-In)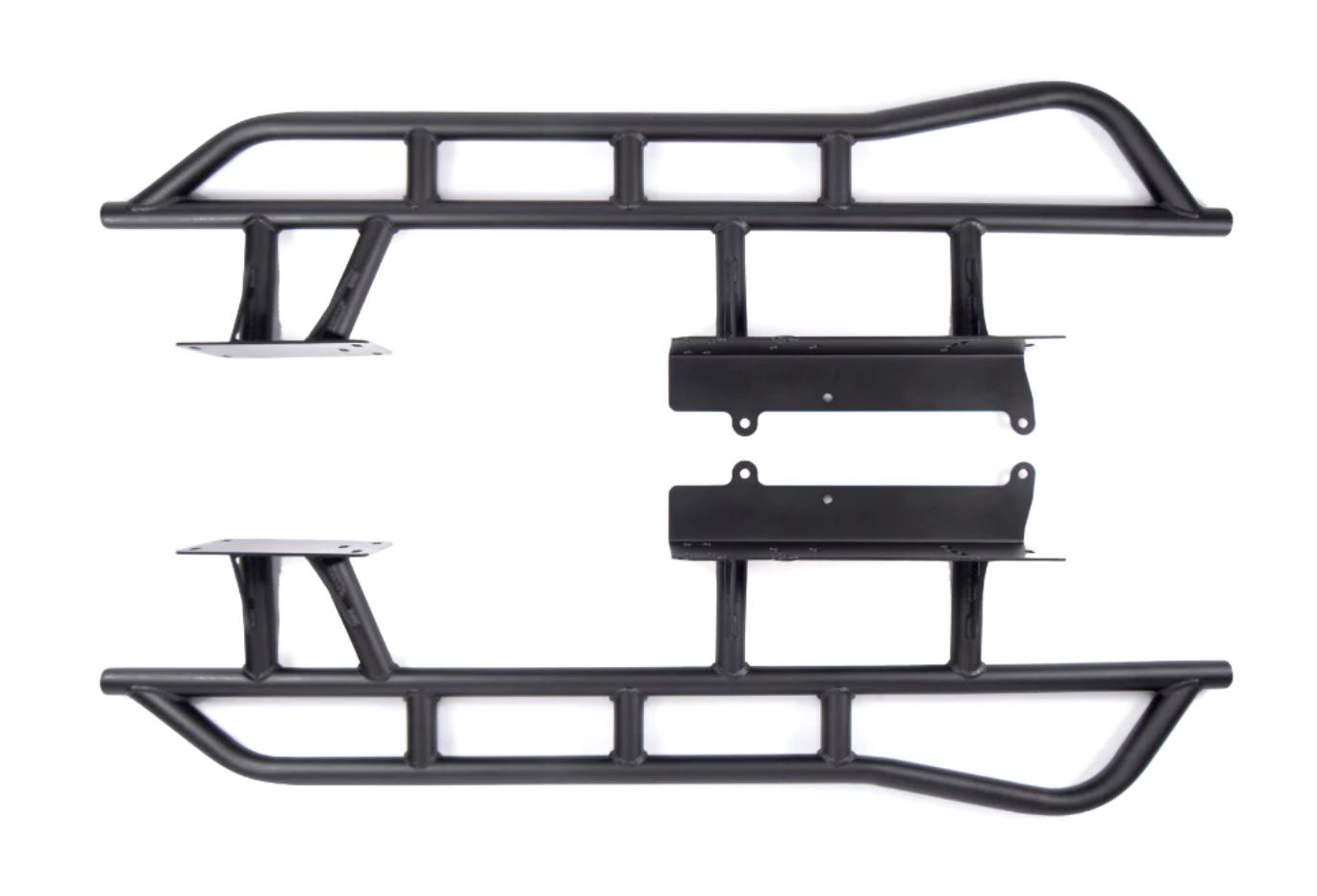 When you purchase bolt-on rock sliders for a 4Runner, they usually fit directly into the existing mounting bolt holes. In most cases, there's no need to drill anything extra. That's good news because creating new holes in the metal chassis often leads to structural rust.
Welded rock sliders are attached using a TIG welder and should be installed by an expert. This is typically a stronger, more robust option, but it's essentially permanent. Make sure you get it right, or you're stuffed!
Either way, I suggest hiring a mechanic or technician to install your rock sliders. Ensuring it's done correctly will pay off in the long run!
Finish
Rock sliders and their optional top plates are typically finished with either a bed-liner finish or powder coating. Neither is notably worse or better.
A bed-liner finish is more grippy and, therefore, most appropriate if you want to use the rock slider as a step. Go for powder coating for durability, scratch resistance, and potentially more color/design options.
You'll also see 'raw' finishes from some manufacturers. That's a fancy way of saying that it hasn't been finished. Opt for this if you're going to finish it yourself at home or hire a dedicated engineering company.
Cost
If I were to provide a very general overview, I'd say the mid-range products come in at about $1,000. You will find little – if anything – for less than $700, and if you can, you'll need to pay extra for certain things like a finish or mounting equipment (bolts, etc.).
Top-of-the-range rock sliders might hit $1,300 or so.
Remember that the cost will go up as you're filling out your choices on these websites. When it says "starting at $800", you'll add $100 to $300 in extras, like kick-outs, powder coating, and top plates.
4Runner Rock Slider Options
You will likely have heard of most of the companies I'll mention. Most are popular, with a wide national and international presence. What can I say? They're good!
In no particular order, here are a few rock sliders you could consider for your 4Runner. Of course, there are hundreds out there. I've done what I can to narrow down the best options for you.
Homemade (or custom-designed) rock sliders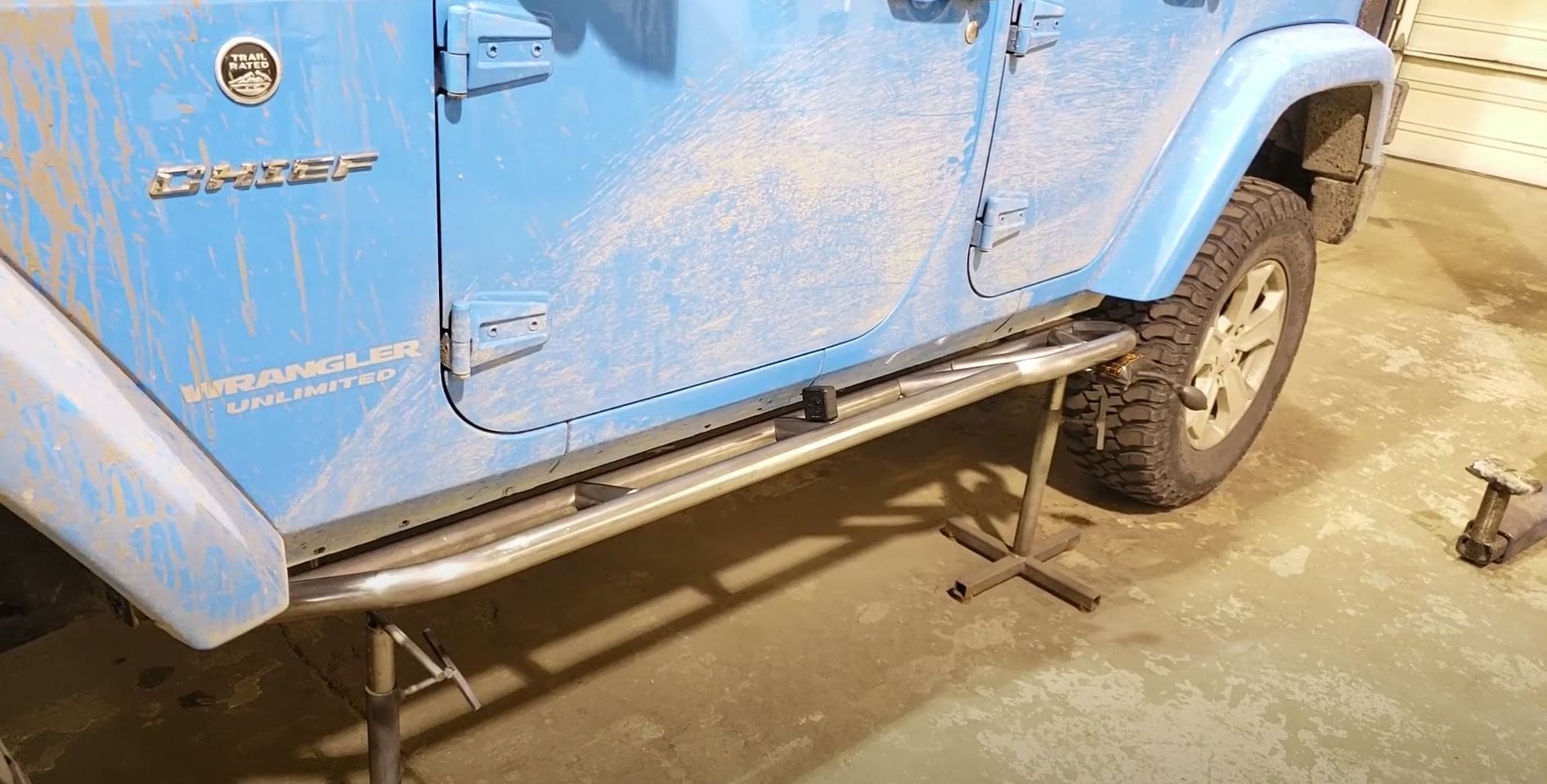 Let me start out by suggesting custom rock sliders. These days, although many manufacturers exist worldwide, the vast majority of rock sliders look pretty similar. They're either glorified steps or basic roll cages.
There's nothing wrong with that at all. I'm going to walk you through a few of them below after all.
But, to my mind, there's nothing quite like a customized part. If you're fortunate enough to have the mechanical and engineering know-how, manufacturing tools and facilities, have a go yourself! For most of us, hiring a professional company to do all that work on our behalf is a better option.
By going down this route, you'll end up with something functional for your needs. You could also tailor it to your 4Runner with a bespoke powder coating color or random little extra design features.
Get in touch with small engineering firms around you. It might also be helpful to build a small network with local mechanics and off-roading enthusiasts. Check social media groups in your local area to get started.
Pros
Endless customization options

No need to browse through hundreds of parts

Can be made to fit what you need it to do
Cons
More expensive

Parts are more likely to fail if incorrectly designed or mounted

You'll worry more about damaging them than stock options
Cali Raised LED: Trail Edition Bolt-On Rock Sliders
DOM steel; ~50 lbs per side; Bolt-on (with welding option); 20° angle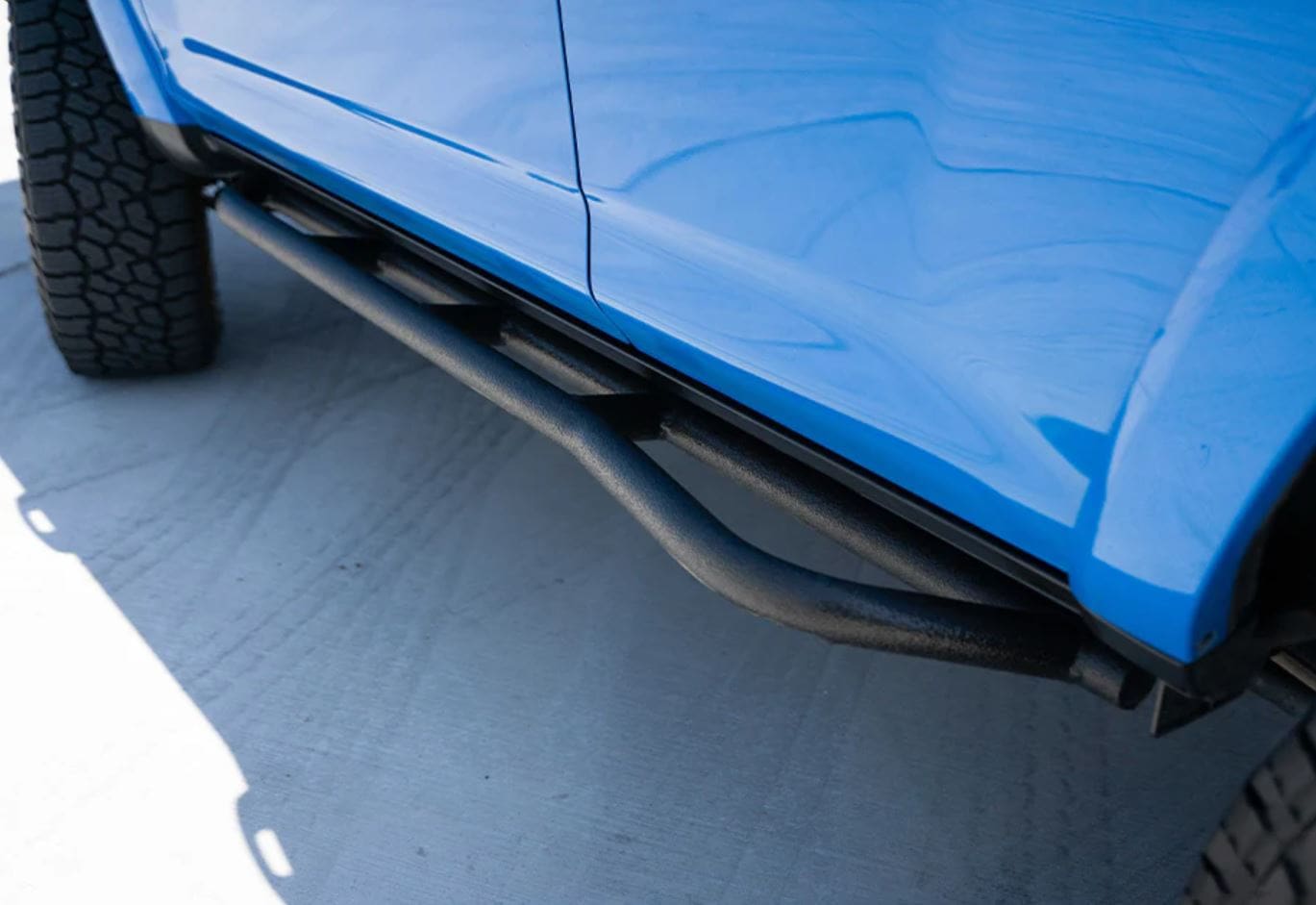 The Trail Edition of these rock sliders from Cali Raised LED is well worth considering. Throw all those thoughts of a comfortable step in the trash; this is the real deal.
With .120-inch-thick DOM tubing and .188-inch steel frame plates, these rock sliders fit around your 4Runner's chassis. It's designed to be bolted on, making installation relatively simple, with no modification to the existing frame. The 20° angle means much more protection when you're out on your adventures. They're also rated to the vehicle's weight, which is good news if you need to use them as a recovery point.
If you're serious about off-roading, get the kick-outs. Note that the Trail Edition rock sliders can't be used as a step.
If that sounds a bit much for you, you can also get a standard Step Version of these rock sliders. They sit at a 0° angle and come with a filler plate to make a step.
These parts are compatible with any fifth-gen 4Runner from 2010 apart from the 2022/2023 models with KDSS.
Pros
Strong but lightweight

Several options

Easy-to-understand instructions and customer support

Mix and match finishes
Cons
Not available for KDSS models (unlike competitors)

Tougher rock sliders are out there
C4 Fabrication 4Runner Rock Sliders
DOM steel; 60 lbs without step plate (step plate: 5lbs); Bolt-on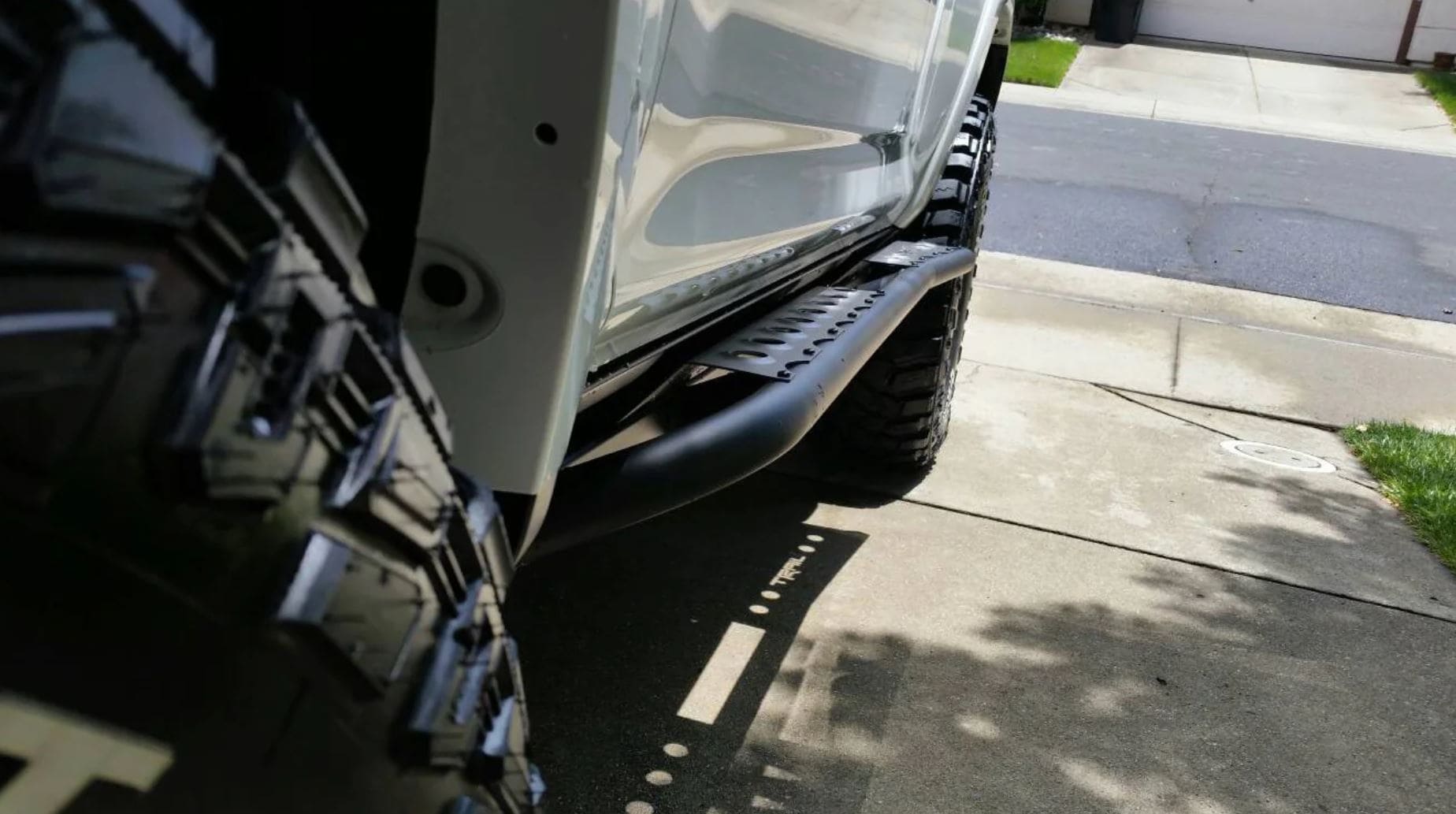 These 4Runner rock sliders from C4 Fabrication are one of my premium options. Like the option from Cali Raised, they're made of .120-inch tubular DOM steel with .188-inch mounting plates. That's as strong as they ever need to be. It's also designed to be 100% bolt-mounted, so there's no need to drill or cut anything. Good.
Kick-outs are included as standard (despite not being officially mentioned in the description).
This option, though, comes with 10.9-grade (metric) mounting hardware, a step up from the Grade 8 requirement of most other models. (Most people agree that metric grade 10.9 equals SAE Grade 8).
It comes with step plates as standard, although you need to pay a little extra to have the C4 branding removed, which I think is a little cheeky. These plates are dimple died for grip. Crucially, they're removable.
This comes into play because C4 ships all rock sliders with a raw (that is, no) finish. You'll have to do this yourself (and I'd recommend powder coating).
These C4 Fabrication Rock Sliders are compatible with 4Runners from MY 2014, including KDSS setups (select this in the purchase options!). That is, apart from the Limited or 2022/2023 Sport specs.
Pros
Extremely high-grade mounting equipment

45° slider support legs

Option to fit KDSS models
Cons
Definitely on the 'ooph' side of the financial spectrum

Extra cost involved for finishing
RSG Metal Works Rock Sliders
DOM or HREW; ~50 lbs per side; Bolt-on; Angled (unspecified)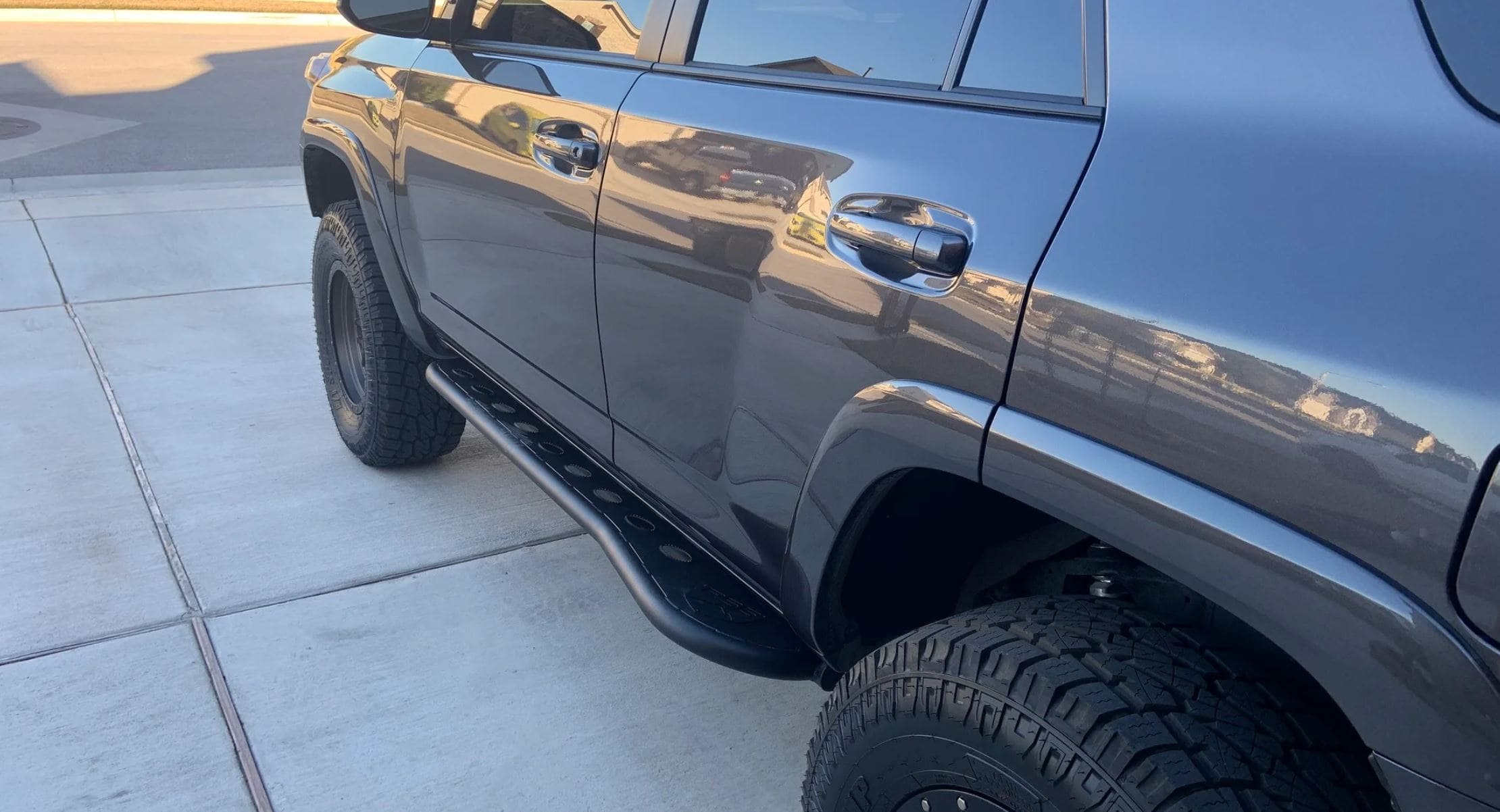 These rock sliders from RSG Metal Works are certainly intriguing. I've included them in this list to provide a hot-rolled steel option for would-be buyers.
You'll find several options for 4Runner rock sliders from RSG. I've selected what I'd consider to be the best all-rounders (angled with grippy top plates). You'll find other options on their site.
As I've described above, you can get these in either DOM or HREW steel tubing. HREW is considerably cheaper (about $150 less). Of course, the familiar downside is that it doesn't hold up to intense damage quite so well. However, if your off-roading is limited to narrow forest trails (as opposed to rocky inclines and valleys), it'll do just fine. Kick-outs are standard, which is always fantastic in my mind.
RSG's 4Runner rock sliders are some of the most carefully designed I've come across, with a four-leg design helping to absorb flexion forces. The frame plates are also .250-inch steel, which is as thick as you need. These come with Grade 8 mounting materials.
If you want them to come powder coated rather than raw, it's another $150/$175 (in total across both). Unless you have some fancy colors in mind, I suggest taking this cost on the chin. It'll cost that much anyway; leaving them bare isn't an option.
You can get these rock sliders for any fifth-generation 4Runner, with or without KDSS. As usual, Limited models and 2022 Sport specs will struggle to accommodate them. RSG suggests removing the XREAS system and rocker trim for these. Alternatively, switch the Sport rocker trim for that found on the Off-road stock spec.
Pros
Clever design

Thick frame mounting plates

Bolts into existing chassis bolt holes

HREW option
Cons
HREW tubing won't last as long in heavy-duty 4x4ing (although you could select DOM at checkout)

The cost is a little high, even with HREW steel instead of DOM
White Knuckle Off-Road 4Runner Rock Sliders
DOM or HREW; ~55 lbs to 60 lbs; 11° or 0°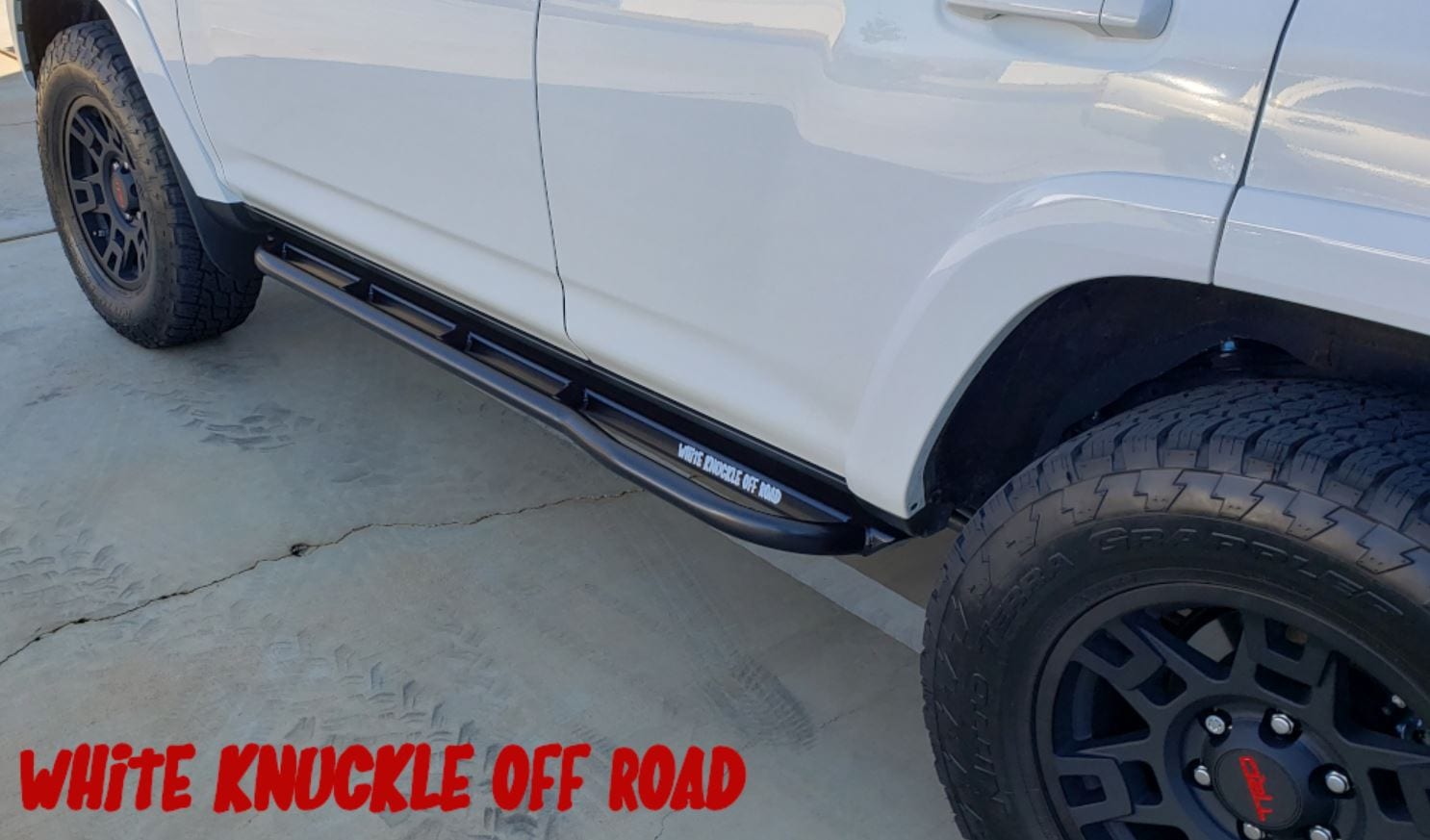 White Knuckle Off-Road has some of the most heavy-duty rock sliders you can get. Assuming you want something able to stand up for itself, go for the DOM steel. This comes in standard .120-inch tubing. Kick-outs are also standard, and, as I've mentioned, I think that's ideal.
.375-inch mounting plates are crazy. In fact, one might even argue they're excessive. However, if you're a serious off-roader and you know you'll need to transmit a lot of force through your rock sliders at some point, look no further.
The kit comes with all the mounting equipment (as you'd expect), and there's no need to drill any extra holes. In fact, it's so tough that White Knuckle even suggests you can safely use the rock slider as a jacking point. Of course, other sliders offer this too, but few quite so blatantly encourage it.
The customizable options are the most attractive part of White Knuckle 4Runner rock sliders. Choose between HREW and DOM, raw finish or black powder coating, and whether you want the 11° and top plate. The top plate itself either covers just the rear or the entire thing.
On top of this, you can use these rock sliders with or without KDSS. Ensure you select the correct model type at the checkout.
Pros
Extremely strong

Highly recommended

Great value compared to performance

Works with KDSS or no KDSS
Cons
I would like to see a steeper angle (20°+)

Extra costs for minor things
RCI Toyota 4Runner Rock Sliders
DOM; 45 lbs per side; Bolt-on; 20° (standard) or 5°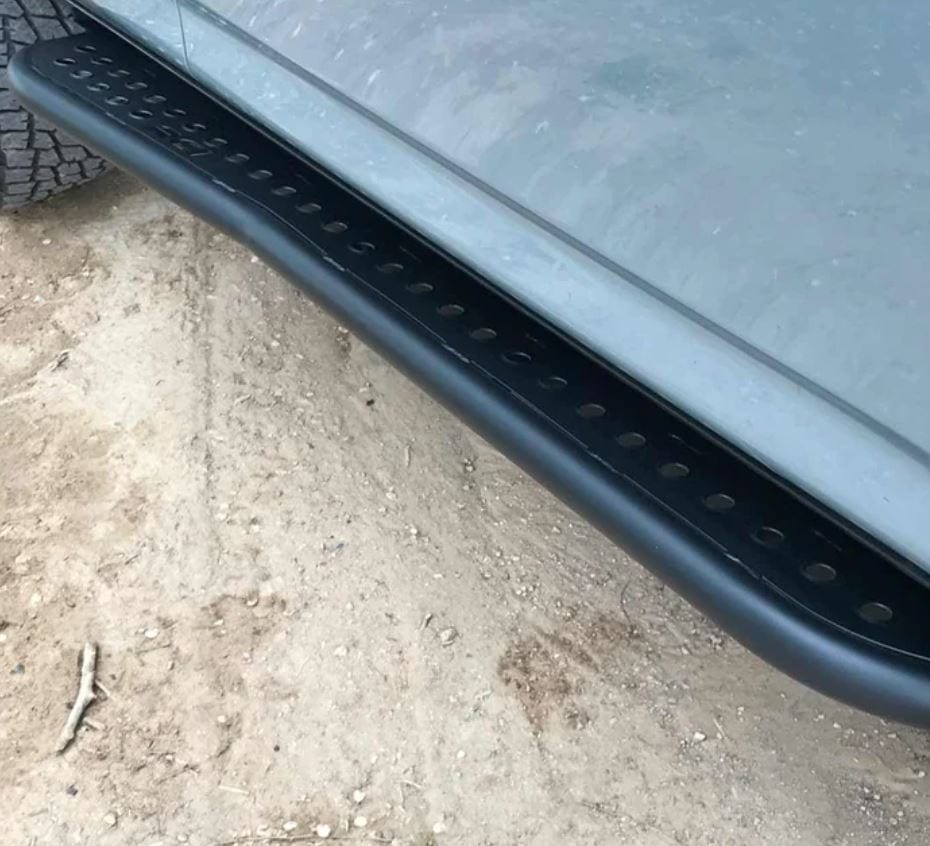 I've added these RCI 4Runner rock sliders to this list because they're a great budget option. They're still strong and will do everything an average off-roader would need, but at a very reasonable cost.
The DOM steel tubing does its job just as well as any competitor. One continuous .250-inch mounting plate attached to the center of the 4Runner's frame offers 15 mounting points. All this considered, the lightweight nature of these rock sliders is very impressive. However, I can't quite visualize why they've gone with this design.
Kick-outs are standard (woohoo!). Top plates are optional. They cover the entire length and add around $175 to the total price (at the time of writing). It's also worth paying the extra $150 if you're happy with the bog-standard black powder coating.
I like the higher angles for rock sliders. They give more ground clearance and protection, and I'd trade that for the practicality of getting in and out using the 'step'. If you're like me, get the standard 20° angle and skip the top plate. If not, opt for the 5° choice and pay the additional fee for something to stand on.
You can use these rock sliders on 4Runners with and without KDSS. As usual, the Limited and 2022/2023 Sport specs mean you must make a few changes to the trim and XREAS system.
The main downside? The mounting hardware is Grade 5/Grade 8. This lags behind the premium rock sliders on this list. The part itself might be substantial, but will the bolts deform under intense loads? They should! But there are more robust options.
Pros
Good value (budget option)

Works with KDSS 4Runners

Solid frame mounting plate

Welded-on top plate
Cons
Grade 5 mounting hardware

Delivery costs
Frequently Asked Questions
Question: Should you get rock sliders for a Toyota 4Runner?
Answer: Well… if you want to!
Yes, if you're going off-roading, because rock sliders protect the rocker panels from damage. These sit at the bottom of each side of your car. Although they look insignificant, they're some of the most expensive parts to repair.
You probably don't need rock sliders if your 4x4ing involves little more than driving through a gentle forest or around a field. You might like to get them, just in case. You'll know your personal circumstances better than I do.
Finally, you don't need rock sliders if you only drive your 4Runner on the road. Of course, you could still get them since they provide extra protection against things like door dings in parking lots.
Question: Should you weld or bolt rock sliders to a 4Runner frame?
Answer: I'm not a welder, but from my understanding of mechanics and weight distribution, welding is fine, provided you get the appropriate professional to do it. Lots of small mounting plates would be in order.
I suggest using bolt-on rock sliders instead. A fifth-generation 4Runner will already have the mounting points there, so there shouldn't be any need to drill into your frame. That's asking for trouble.
You can also remove bolt-on rock sliders whenever you need to. That's a huge advantage. I advise using Grade 8 mounting hardware – this works just as well as a weld. It should be supplied as part of the rock slider kit.
Question: Are kick-outs important for a rock slider?
Answer: Yes. I would even question why one would get a rock slider without a kick-out.
You don't need them, and it's your choice at the end of the day. But, so far as I'm concerned, a rock slider without a kick-out is purely cosmetic. It would be like having a pair of heavy-duty hiking boots made of tissue paper and nothing else. What's the point? You may as well just wear your flip-flops.
In short, kick-outs are the entire point of rock sliders, so don't skip over them.
Conclusion
I stand by my recommendation of the White Knuckle Off-Road 4Runner Rock Sliders.
I suggest contacting the manufacturer if you have more questions about whether it'll fit your car or what angle to get. In fact, that applies to all rock slider producers. Be bold and ask questions! You aren't committed to a sale until you click 'Buy', so use your time wisely – you have plenty of it.
Just before I finish up, here's a shout-out to Rago Fab. I've never actually come across one in person, but I'm a big admirer of the 4Runner rock sliders they produce. Think heavy, heavy duty and practicality. They're just about getting the job done, and I love that.
Unfortunately, Rago Fab has no 4Runner rock sliders at the time of writing. Insert sad face here. I've included a link to the page in case they rerelease relevant products. It's worth checking, at least!
Thanks for reading to the end of this page! I hope I've helped you decide on the best 4Runner rock slider or at least provided some inspiration.
Enjoy your treks off the beaten track!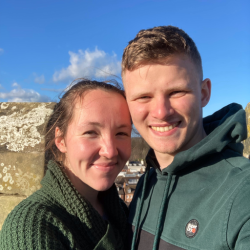 Latest posts by Ben Kitchen
(see all)