The Toyota 4Runner was introduced in 1984 as a mid-size SUV based on the Toyota pickup with a fiberglass body on the bed. Since then, it has undergone significant design changes and has become one of the most capable SUVs on the planet. Its rugged nature and exceptional off-road performance have built its reputation as an excellent vehicle for people who love to spend their days outdoor.
The last major design update was done in 2009 for the fifth-generation. Since then, the 4Runner has only received minor cosmetic changes, and has been selling with its aged design.
As a vehicle built for off-road trails, the 4Runner integrates a durable design: solid 4×4 suspension with skid plates for protection, a high safety rating, generous engine performance, and ample loading capacity. This includes towing a trailer or loading the 4Runner with gear and cargo. But for a week-long adventure, you will need more space than what is already available inside the 4Runner to carry all the gear you will need for your trip, and if you cannot take a trailer because of rough terrain, you will need a roof rack.
A roof rack adds functionality and utility to the vehicle by allowing you to utilize your vehicle's roof. Depending on the type of roof rack you choose, you can add a range of items on the top. Adding a ladder makes this process way more convenient; it lets you fasten cargo easily, and when you have a tent clamped to the roof rack, it provides a decent climbing position.
But with a wide variety of roof racks and ladders in the market, it gets confusing which one to buy. Thus begins our quest to find the best roof rack with a ladder for your 4Runner.
In this article, we will explore some of the best 4Runner roof racks with ladders, compare their load capacities, and decide which one suits you the best.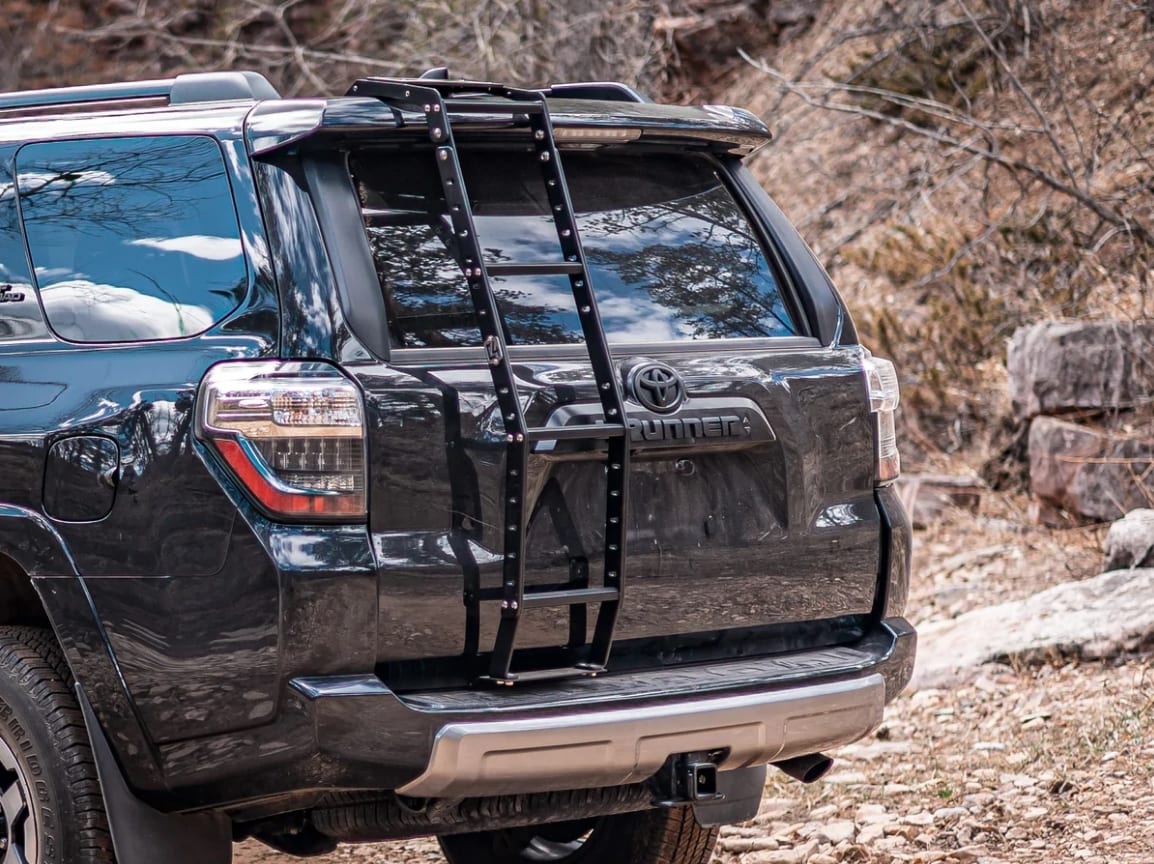 Bottom Line Up Front
The Sherpa Crestone and C4 Fabrication's Summit Hatch ladder combination offers the best load capacities and adds an alluring look to the 5th-generation 4Runner. However, you can get similar characteristics with the Victory 4×4's aluminum-based roof rack and steel ladder at a lower price.
A Quick Peek at the Best Ones
Sherpa The Crestone and Summit Hatch ladder: Premium build quality with an exceptional 700-pound static load capacity makes the Crestone a worthy companion out in the wild. The Summit Hatch ladder adds convenience by allowing extra cargo mounts.
Prinsu 5th gen: Similar to the Sherpa in design and convenience, but with a slightly lower load rating and very affordable package.
Gobi 4th gen Ranger: Costs as much as competing for roof racks with ladders, but comes with free shipping and two extra crossbars which maximize utility.
Factors You Should Consider First
Before buying a roof rack and a ladder, you first need to understand how it all works, the requirements, and the limitations.
While the latest 4Runners come with factory-fitted roof racks or roof rails, not all generations are lucky enough to have roof mounts. Generally, a roof rack and a ladder can either be drilled into the roof, attached to the vehicle's rain gutter, or fastened to existing roof mounts. The best option here is to have a roof rack and ladder that can be mechanically clamped without drilling.
Keep in mind that a roof rack adds weight to your vehicle; moreover, it also increases air resistance and wind noise, reducing the vehicle's fuel economy and disturbing the cabin's peaceful environment.
Material Selection
A roof rack and a ladder will perform and last depending upon its design, and a big chunk of their performance is based on their material selection. While steel allows the construction to be the most rugged, it also remains prone to rust. On the other hand, aluminum frames eliminate the fear of rust, but significantly elevates the cost of the structure.
Load Capacity

The load capacity tells you how much weight you can safely carry without causing harm to the structure of the roof rack or the vehicle.
The curb weight: Overall weight of the vehicle with a tank full of fuel and standard equipment.
The Gross Vehicle Weight Rating (GVWR) is the maximum weight the vehicle is designed to carry including the curb weight.
You should also keep in mind your 4Runner's roof load capacity since it varies from model to model.
Lastly, all roof racks and ladders have their respective weight ratings to determine how much cargo they can carry.
Variety of Roof Racks
Besides material and load capacity, roof racks are also differentiated by type.
Basket roof racks: The most commonly used roof racks which provide maximum load capacity while retaining strength due to their dense structure construction.
Flat roof racks eliminate side rails and provide a flat platform to easily mount items of different sizes.
Load bars are simply cross bars that offer the versatility to attach anything as long as it fits.
Recommended Toyota 4Runner Roof Racks with Ladders
Manufacturers design their roof racks and ladders to be universally fitted to a maximum number of vehicles or models; they make sure their design is flexible enough to be compatible with a different roof rack or ladder. Therefore they do not limit their products and sell their roof rack and ladder separately as well for maximum convenience and better business.
I have therefore collected the top-performing and highly durable roof racks and their matching ladders based on budget, versatility, durability, and convenience.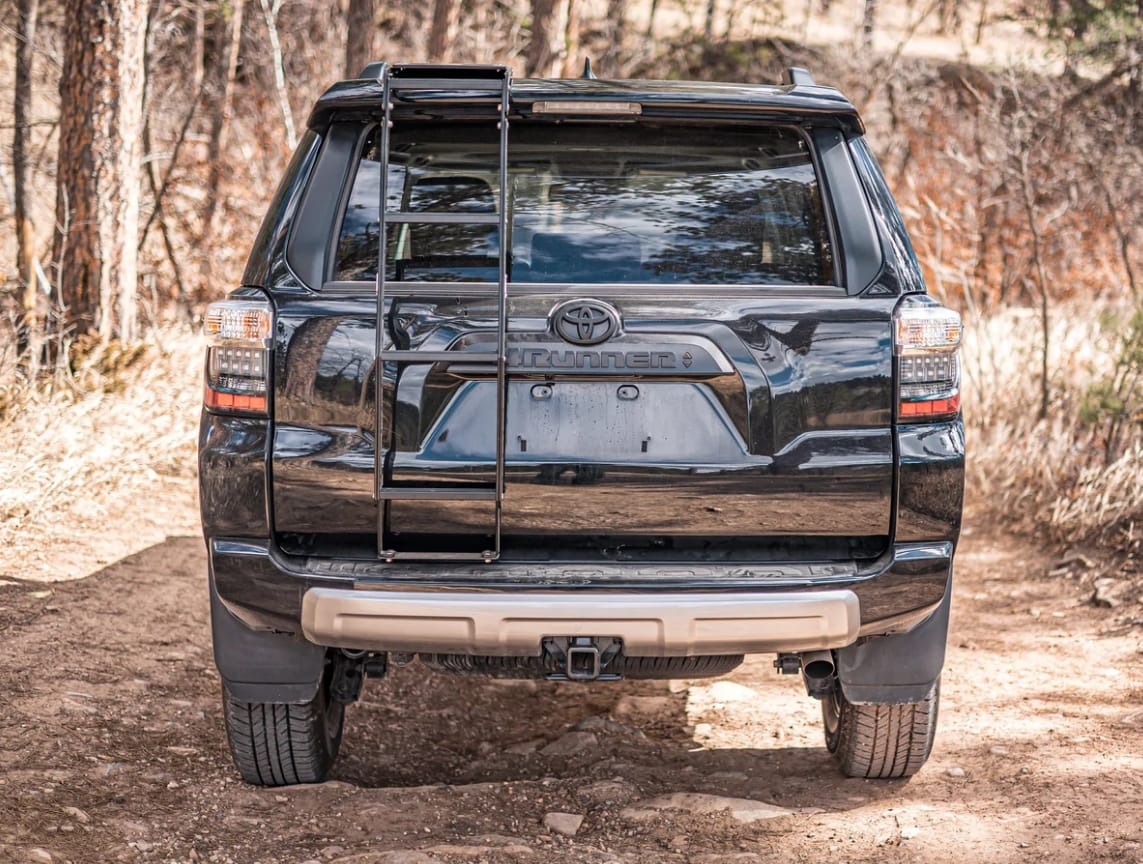 The Crestone is a full-length roof rack designed for the 5th-generation 4Runner with a static and dynamic load rating of 700 300 pounds, respectively. The Crestone is constructed from stainless steel fasteners and aircraft-grade ¼-inch thick aluminum side panels, allowing it to outlive steel roof racks.
Its nine extrusion crossbars make the structure dense and rigid, providing great versatility for bolting your gear. It measures 95″ x47.5x" 2.5″ , weighs 50 pounds, fastens to the existing 4Runner mounts, and comes with a lifetime warranty.
Sherpa lets you customize the Crestone according to your taste; the wind fairing is available either with full height or half height which allows space for a single row light bar; the rack finish is available either bare processed aluminum or black powder coat, and the crossbar finish is available as silver or black anodized. The Crestone starts at $1099, but if you opt for the black anodized crossbar finish and powder coat, the cost rises to $1399, excluding shipping.
The C4 Fabrication's Summit Hatch ladder offers similar modularity and styling as the Crestone roof rack. The ladder and all its parts are processed with a black powder coat and use aluminum and steel for its design; the main structure and main steps are made from aluminum, while the Rotopax brackets and optional steps are derived from steel. However, the powder coating protects the steel parts, so you do not have to worry about rust.
The Summit Hatch ladder also includes rubber tread strips which provide foot grip regardless of the weather conditions, and is slotted with holes on each side to bolt on any accessory easily. Although its load rating is exceptional at 20 pounds dynamic and 250 pounds static, its base mount requires it to be drilled. Moreover, it is quite expensive at $549, and additional steps and Rotopax mounts will cost you even more.
Pros
Very sturdy
No fear of rust
Cons
Expensive
Requires drilling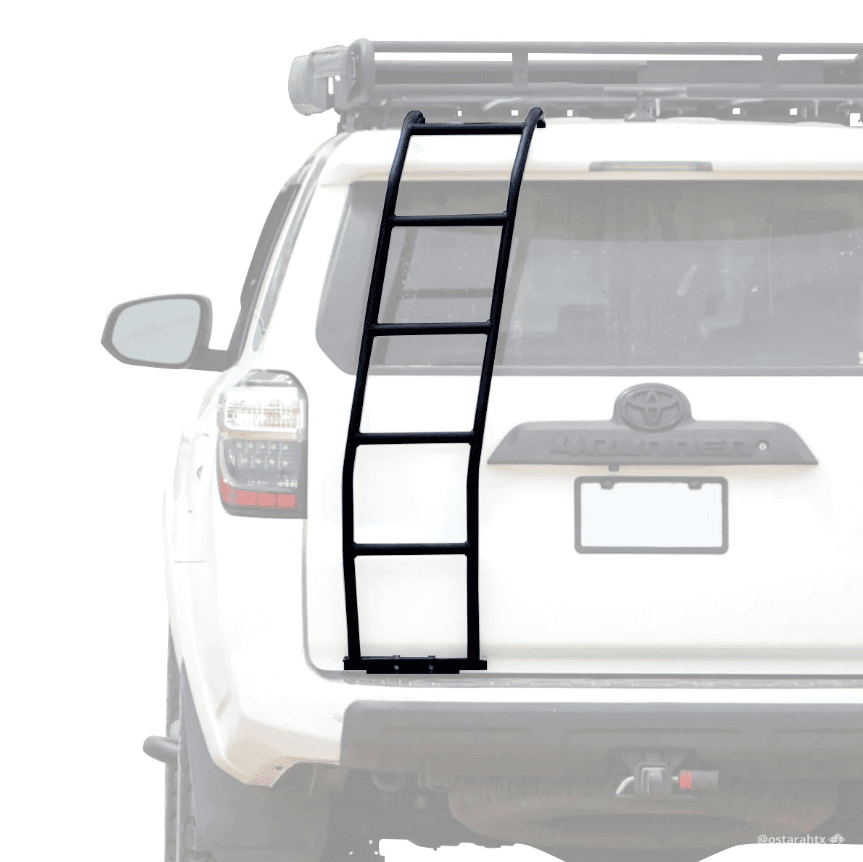 BajaRack produces a range of adventure equipment for a variety of off-road vehicles. The 5th generation long-basket roof rack's structure comprises cold-rolled steel tubes of 1″, ½", and ¾" and comes with all mounting brackets, a 1.57mm aluminum wind deflector, and stainless steel fasteners. The entire structure is painted with epoxy primer and then powder coated to inhibit rust and maintain a long service life.
The roof rack has an ample cargo area of 25.66 square feet, allowing you to carry all your gear easily. But weighing 80 pounds, it is quite heavy, and installing it is a two-person job, even though it mounts on the existing roof points. The load capacity is also great at 600 and 300 pounds for static and dynamic loading, respectively. But this rack does not feature a cutout sunroof, although it has one for the shark fin antenna.
The ladder is made from 1″ carbon steel tubes, 1/8″ and 3/16″ steel plates, and similarly undercoated and powder coated like the roof rack. It weighs 17 pounds and can handle a static load of 200 pounds. The best thing about this combo is that neither the rack nor the ladder require drilling and can be clamped on easily.
Overall, the BajaRack 5th generation 4Runner long-basket roof rack and ladder provide generous cargo area and load capacity. Individually, the ladder and rack cost $395 and $1530, respectively, but you can buy them both as a bundle for $1865.
Pros
Strong and rugged
Attachable accessories are available
Cons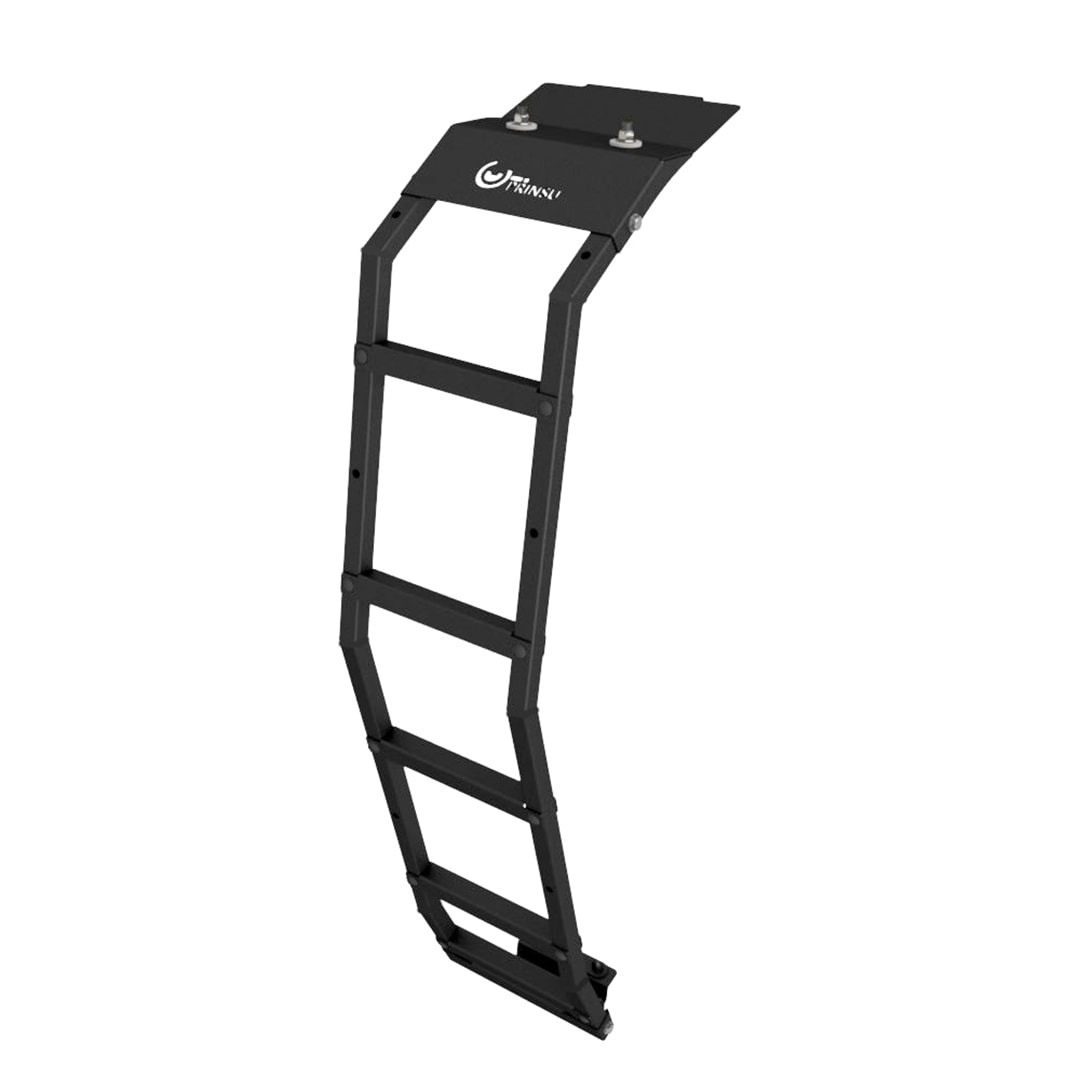 Prinsu offers a highly versatile yet durable roof rack in a very reasonable price. The design consists of two laser-cut ¼" thick 5052-grade aluminum side rails with each one having three mounting tabs; two for the existing roof mounts and one for the industrial adhesive.
The standard nine crossbars are formed from 1"x2" extruded aluminum and integrate two T-slot channels on the top, two at the bottom, along with an aft and fore channel. This provides the versatility of mounting a range of cargo items and attaching multiple accessories such as lights and tools.
The Prinsu roof rack comes standard with a textured satin black powder coat and black anodized crossbars. The stainless steel fasteners are also finished in black zinc complimenting the overall look of the structure. A 1/8" thick aluminum wind deflector an additional crossbar is also included with the package to reduce as much noise as possible.
As standard, the Prinsu 5th generation roof rack weighs 50 pounds, and offers a static and dynamic load capacity of 600 and 300 pounds, respectively, but if you remove or change the configuration of the crossbar, the load capacity will vary accordingly.
You get a lifetime warranty with the frame, as well as free shipping. You can also change get the wind deflector with a 40" light bar cut-out or  pay $85 extra for a LP4 light pod cut-out. The price starts at $833.
The Prinsu 5th gen ladder costs $403.75, and comes with a lifetime warranty. Its modular square-tube design allows you to install additional item alongside, and weighing in at just 17 pounds, it adds little weight to your vehicle. Similar to the rack, the ladder also comes black powder coated, and is constructed out of high-grade steel.
But you do not have to worry about anything here; Prinsu's lifetime warranty covers everything. However, the ladder requires assembly, and drilling on the underside of the hatch to fit perfectly.
Pros
Very versatile with lifetime warranty
Value for money
Cons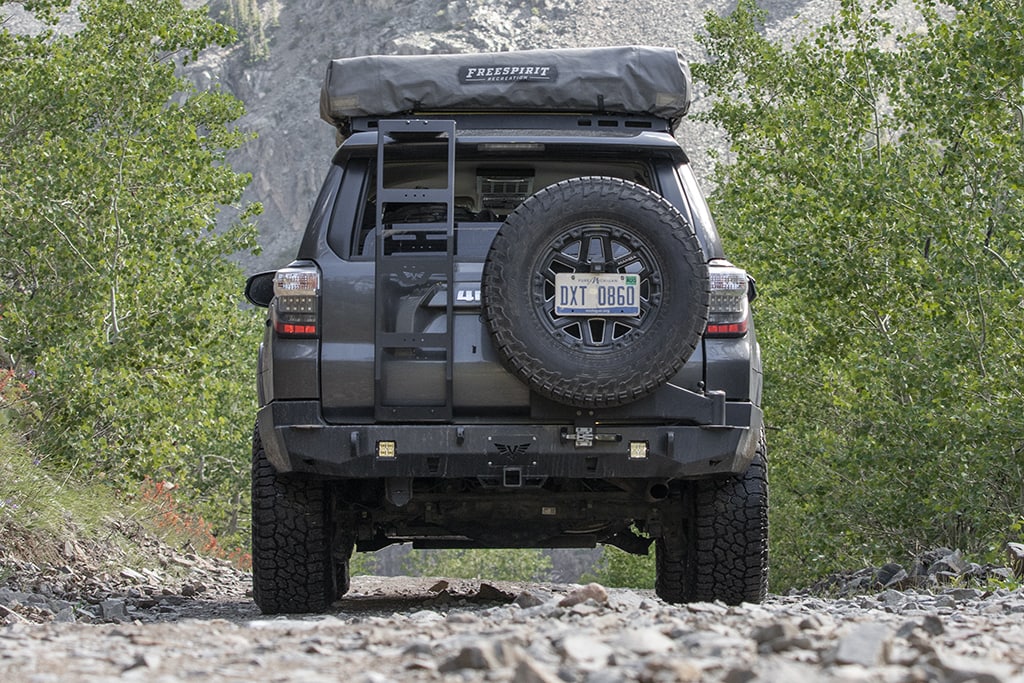 Victory 4×4 produces quality roof racks which share the same look as the Sherpa's. The 4th gen 4Runner roof rack comprises full-length aluminum construction with stainless steel fasteners, fairings, and steel brackets.
While Sherpa uses ¼" thick aluminum rails, Victory 4×4 uses 3/16″ ones with 7 crossbars, but it weighs almost the same at 49 pounds. Its load capacity also drops down due to the slightly thinner rails; 500 pounds static and 250 pounds dynamic.
The Victory 4×4 roof rack design allows the sunroof to function fully without being obstructed by its frame, so you can store maximum cargo and utilize the sunroof as well.
Installing it, however, is a two-person job. You need to assemble it first and then fasten it to the roof. The rack comes powder coated, with all required fasteners and free shipping. If you want a 40″ light-bar cut out along with its mounting brackets, you can get that by paying $25 extra. The roof rack cost S1099, excluding the light-bar cutout, but during sales, these prices drop to sub $1000.
The Victory 4×4 ladder is sold separately and costs $499 for the 4th generation 4Runner (wait for the season sale). It's made from CNC-cut steel but comes standard with a durable zinc primer undercoat and a black textured powder coat to prevent rust. Like the Summit Hatch ladder, this one also integrates multiple mounting slots on each side and a step face to mount additional cargo.
Its static and dynamic load capacity is rated at 250 and 40 pounds, respectively. However, the ladder requires drilling one base bolt to fit, which may lead to rust if not properly covered.
Pros
Lightweight
Versatile and durable
Reasonably priced
Cons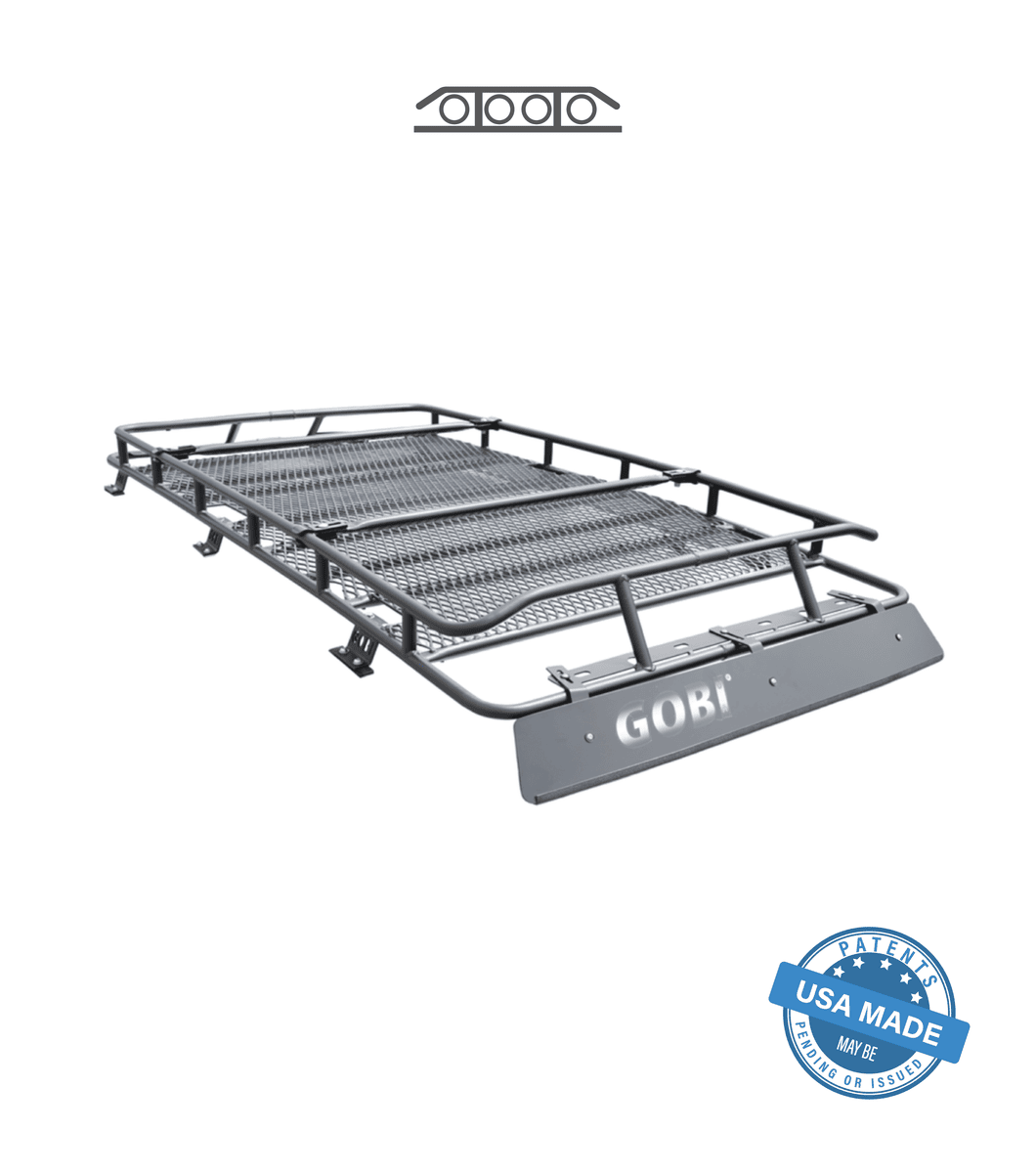 Gobi started manufacturing roof racks 20 years ago, and today, it offers thousands of off-road accessories for all major car manufacturers. The 4th gen 4Runner Ranger roof rack and ladder are made from 16-gauge 1-inch round steel tubes with a mesh base and integrate a 44″ powder-coated aluminum wind deflector to reduce wind noise at highway speeds. The rack and ladder are sprayed with epoxy undercoat and then powder coated, just like the others we discussed above.
The rack offers a standard capacity of 300 and 600 pounds for dynamic and static loads with a total cargo space of 22.13 square feet (without sunroof cut out), while the ladder can handle a static load of 250 pounds. But the rack is heavy and will snip 80 pounds off your 4Runner's total payload capacity.
The ranger rack individually costs $1695, but it comes with free shipping, mounting hardware, a multi-light setup, and two additional crossbars, which you can use to set up a roof tent or attach a cargo box. It also does not require any drilling. If you buy the ladder with the rack, it will cost you another $200, while individually, it sells for $395.
Pros
Accessories make it versatile
Crossbars provide extra utility
Cons
Expensive and heavy
Increases vehicle height by 8.5″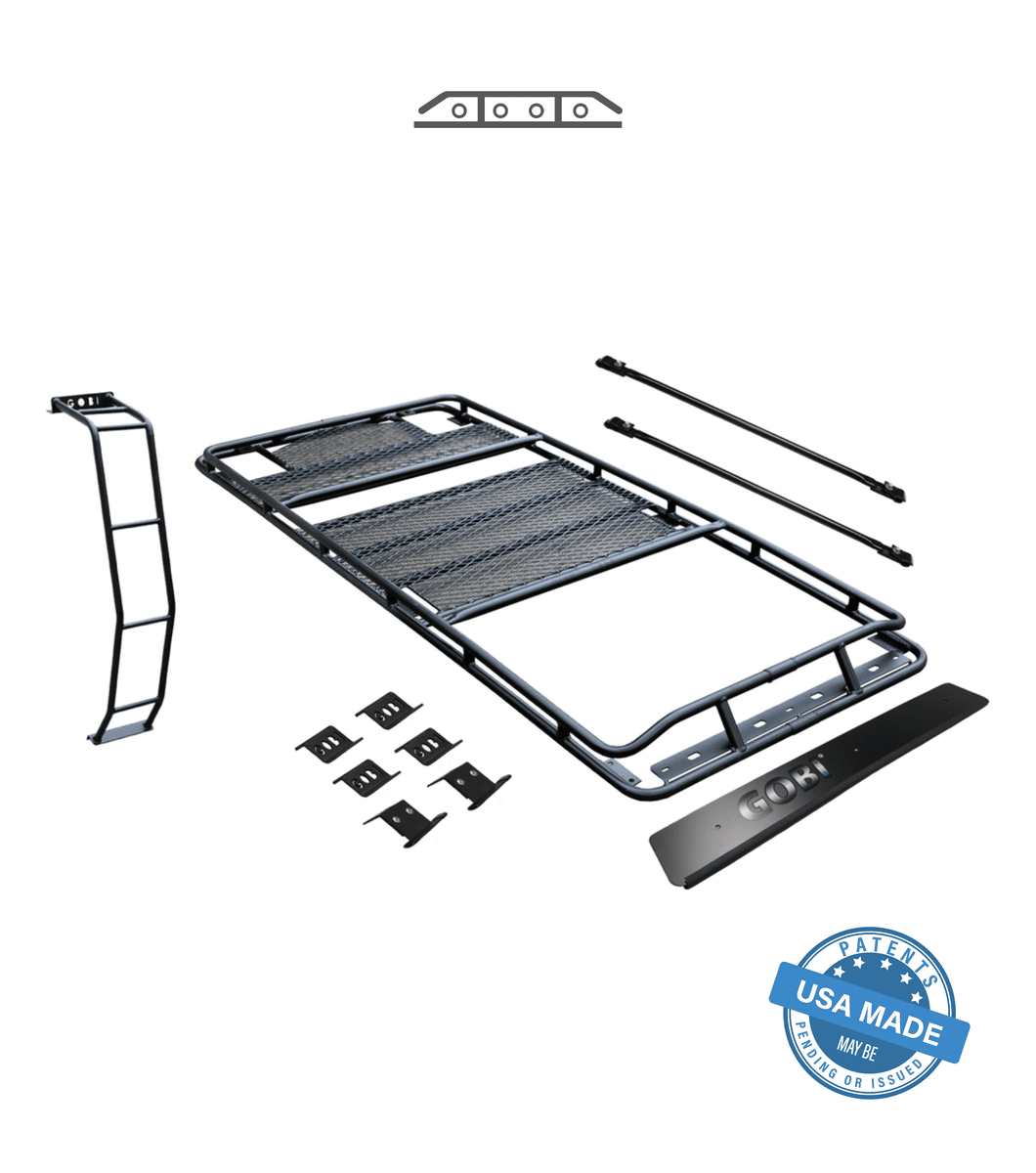 Gobi's 3rd gen 4Runner Stealth package offers a low-profile full-length roof rack and ladder combination, which integrates a shorter side rail to keep the elevated height of the 4Runner at a minimum while allowing maximum utility. The rack area above the sunroof is kept clear to provide its full functionality and usability.
Like the Ranger package, the stealth package also includes two crossbars, an aluminum wind deflector, a multi-light setup, and free shipping. The stealth roof rack package also receives the same epoxy primer and powder coating for shielding against rust.
The stealth roof rack weighs 65 pounds, has a dynamic load capacity of 300 pounds, and a cargo space of 12.12 square feet. The stealth roof rack's minimal design reduces wind noise and weight. However, this also means that the cargo has a shorter rail to lean against when the vehicle articulates over different terrains.
The ladder is designed to handle a maximum static load of 250 pounds and, just like the rack, does not require drilling. Prices start at $1395 for the stealth roof rack, and the ladder adds another $200. With the stealth package, you can install a roof tent, and with the sunroof usable, you can climb up to the tent from inside your 4runner.
Pros
No drilling is required
The sunroof can be fully utilized
Cons
Low rail height
Lower cargo capacity due to sunroof cut out
FAQs
Question: How can I install a roof rack to my 4Runner?
Answer: The 4Runner comes with roof rails/rack according to the model and trim. You can remove the existing rails/rack with the help of a friend and a few tools. Most roof racks install onto the 4Runner's factory-fitted roof mounts, which is better than drilling new holes.
Question: Is it worth getting a rooftop tent?
Answer: Rooftop tents provide better safety and convenience than ground tents. They are faster to set up and protect you from wild animals who may crawl into ground tents.
Question: Can a roof tent damage a car?
Answer: It depends on the vehicle's roof's load capacity and the rack you are using. Bypassing the safety rating will damage the rack as well as the roof. To prevent this from happening, you should refer to your vehicle's owner manual to check the roof's load capacity.
Verdict
A roof rack increases the functionality of your 4Runner, and a ladder makes its application simpler. Considering the utility and convenience they provide, they are worth the extra cost. With a range of roof racks and ladders available, it all comes down to your requirements. While Sherpa offers the premium package, you can get away with Prinsu and save a few hundred dollars. Remember that weight is the enemy; it slows down your 4Runner and compromises on 4×4 capability.
Moreover, roof weight also elevates your vehicle's center of mass, making your vehicle vulnerable to roll when encountering steep slopes and turns. If you think you will not be utilizing the full-length roof rack, go with a shorter one. You can also pick the configurable aluminum roof racks which allow the flexibility of removing extra crossbars if they are not in use, reducing your payload and maintaining better fuel economy.
The best rack and ladder for you is the one that will keep you efficient on your journey. If you live in an area where you receive high rainfall, then it is better to choose an aluminum-based setup. Otherwise, steel will do just fine. If you ever find rust building up on your rack or roof, all you need to do is wire brush it and cover it with primer and paint; it's nothing to be afraid of.
For installing a rooftop tent, the Gobi stealth is a great option; it provides convenience and is reasonably priced. Be wise; think about your load first before making a decision, and remember that bypassing safety may turn exciting adventures into fatal disasters. Cheers, buddy!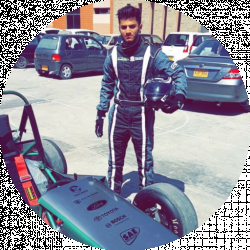 Latest posts by Zabrain Arshad
(see all)