The 4th generation Toyota 4Runner continued to carry Toyota's legacy of being an exceptionally capable vehicle off-road while delivering a comfortable on-road experience.
For the model year 2003 to 2009, the 4Runner featured an all-new design update, bigger engines, and a stylish look; the 4Runner looked competition right in the eye for a face-off.
The 4th-gen 4Runner was available with a 4.0-liter V6 which produced 266 pound-foot of torque at 4000 rpm and 236 horsepower, while the more powerful 4.7-liter V8 pumped out 306 pound-feet of torque at 3400 rpm and 260 horsepower.
Coupled with a 5-speed automatic transmission with an overdrive feature and a reinforced body-on-frame design, the 4Runner was fully loaded to handle any terrain Earth threw at it. Depending on the trim, it was also designed to handle towing from 5000 to 7300 pounds.
Suited for off-road, the 4Runner was offered with either black roof rails with black cross bars or a factory-fitted tubular roof rack. But for greater versatility, that was not enough, was it?
What if you wanted to load something that would not fit in what you had? Time for an accessory upgrade. But with so many after-market roof racks available, which one is right for you? Thus begins our quest for finding the best roof rack for your 4th generation 4Runner.
In this article, we will look at some of the top-performing and the best 4th Gen 4runner roof racks, compare their prices, and evaluate which one is right for you.
Bottom Line Up Front: The Victory 4×4 4th gen 4Runner full-size roof rack provides the best of both worlds; a rust-free structure, ample load capacity, and a decent asking price. But if you want overkill, you can go ahead and buy the Sherpa Princeton.

 
A Quick Peek At The Best of the Best Ones
Victory 4×4 Long: Reasonably priced, aluminum-construction, balanced value, and a generous load capacity make it a top pick.
Sherpa The Princeton: Most badass; rock-solid, rust-free, with a high load capacity. Overkill for sure, but for people who just want to be double sure with their cargo, the perfect choice.
Smittybilt Defender: Short, cheap, strong and sturdy, the Defender provides the best value for money.
4th Gen Toyota 4Runner Roof Rack Specifications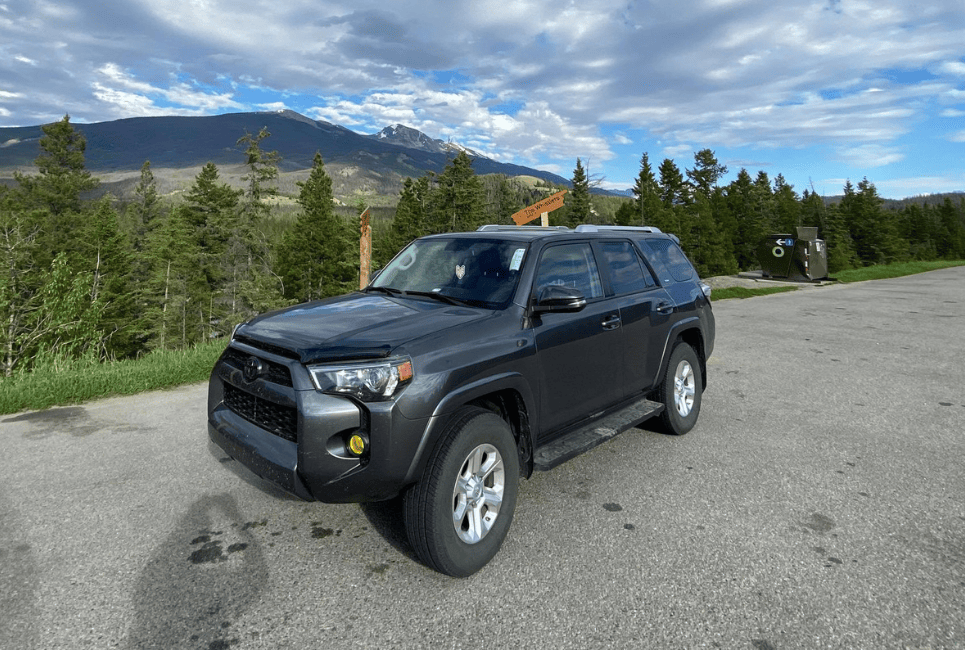 Before jumping on to the perfect roof rack for your 4th-generation 4Runner, it is paramount to know what specification we are looking for. With so many options, we must realize that not every roof rack will be ideal for us. Each one is designed to fulfil a particular purpose, so we shall first define our parameters based on which we will evaluate each option.
For example, if you intend to carry a few extra bags for a road trip, all you need to do is install a cargo/luggage box over your existing roof rails via cross bars, which will be enough to fulfil the requirements of your journey. However, let's say you are going to spend a day at the lake with your kayak or your canoe; then, you will need something bigger to hold them tightly in place.
Moreover, adding extras on your roof increases air resistance, which acts as air brakes at highway speeds, significantly reducing gas mileage and increasing wind noise. They also cause road noise, which gets more and more irritating as you throttle up. Hence, it's better to be specific with your wants to avoid dealing with such issues.
Roof racks can either be drilled into the roof, installed on the vehicle gutter, or clamped to existing rails. Thankfully, the 4th generation 4Runner features roof rails, so you can directly clamp a rack to it, and if your requirements are high, you can replace the existing roof rails or rack with a sturdier one with OEM bolts.
Roof Rack Material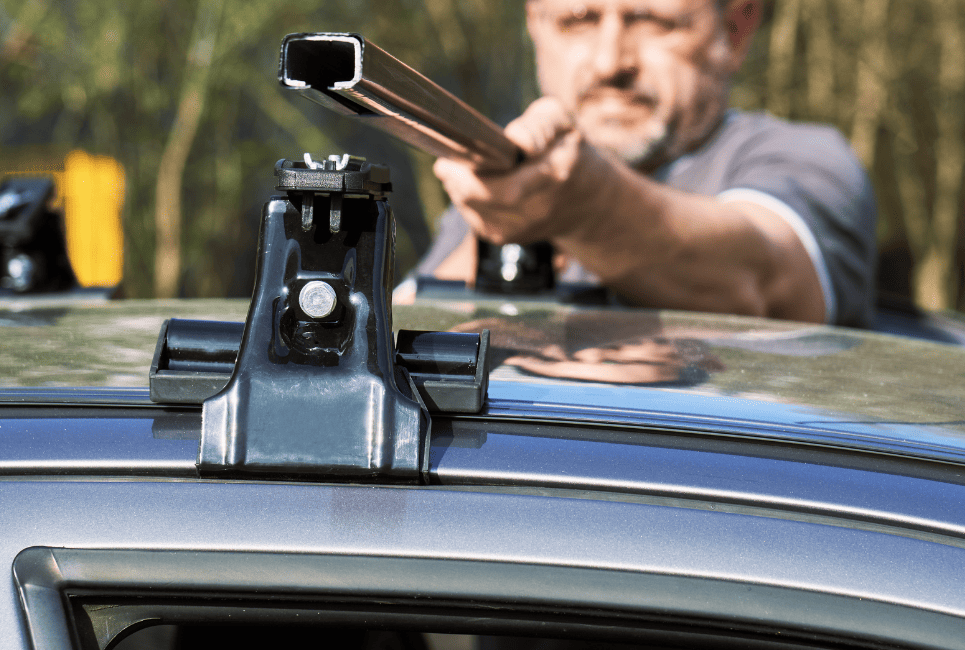 Roof racks are available in different materials to serve different loads and volumes. While steel roof racks are the strongest yet heaviest, they are also prone to rust, so it is important to have them painted well; otherwise, they will start to wear off and lose strength. Steel racks are better suited for people requiring heavy-duty support for their cargo.
Aluminum roof racks balance weight and strength with no fear of rust. Although they are not as muscular as steel ones, they still offer generous load ratings but are a bit pricey.
For lighter loads, you can get neoprene roof racks, which are affordable and add little weight to your vehicle.
4Runner Roof Rack Load Ratings
Besides the weight of the roof rack and its capacity, it is important to understand the load limitations of your 4th-generation 4Runner. The 4Runner has a curb weight ranging from 4045 to 4505 pounds, and its Gross Vehicle Weight Rating (GVWR) varies from 5330 to 6005 pounds depending on the trim.
The curb weight is the actual weight of the vehicle with all standard equipment and a tank full of fuel; it does not include the weight of cargo, optional equipment or passengers. The GVWR is the maximum safe weight of the vehicle; it includes the curb weight, tongue weight (when connected to a trailer), and the weight of passengers and cargo.
So it is safe to say that your 4Runner is designed to handle weight from 1285 to 1500 pounds, and if you add a 50-pound rack over it, you have already lost this figure worth of payload capacity. But this payload range is for the entire structure of the 4Runner, not only the roof; the 4th generation has a dynamic roof rack load rating of 300 pounds and a 135-pound dynamic load rating for its factory-fitted roof rails. Dynamic roof rating is defined as the maximum safe weight the rack/rail can bear when moving, while static roof rating defines how much weight it can hold when stationary.
Thirdly, you should always load your roof rack within its weight rating; adding extra weight will damage the rack and make your gear/cargo vulnerable to falling off. Remember, safety comes first.
4th Gen 4Runner Roof Rack Types
Now that you know the physics involved in the selection criteria, you must also know that the roof rack market is divided into types. Main ones include load bars, flat roof racks, basket roof racks, and trade roof racks.
Load bars are simple crossbars, which provide mounting space for attachments. They cost significantly less than roof racks and add little weight to your 4Runner, but offer a low load rating due to their minimal design.
Flat roof racks have no rack "rails" allowing maximum versatility for loading any gear/cargo. They just provide a plain platform to attach any given accessory.
Trade roof racks integrate side rails but have an open rear and front to carry long items such as kayaks, canoes, or bicycles.
Basket roof racks have rails at each side to hold cargo in place. They are also the strongest but are designed to only carry items that fit the basket's size. They are mostly by off-road enthusiasts to ensure the safety of their cargo when they cross various terrains.
Recommended 4th Generation 4Runner Roof Racks
I have recommended the following 4th generation 4Runner roof racks based on quality, convenience, versatility, and budget. We must have the top-of-the-line, fully loaded roof rack as well as one which is pocket friendly, racks which are easy to install yet can carry a range of items.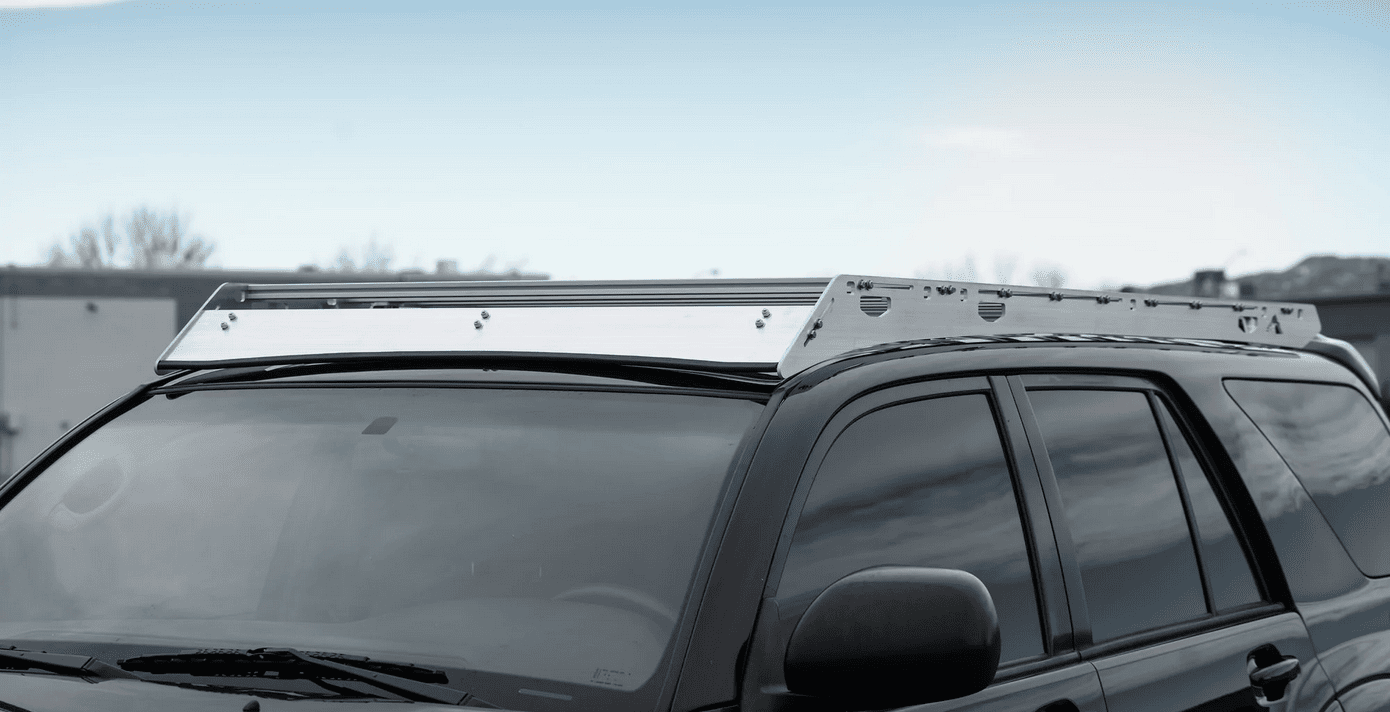 Sherpa makes one of the market's most versatile and well-engineered roof racks. They are also constructed to handle all sorts of diverse abuse terrains throw at you. The Princeton is a full-size aluminum roof rack; it integrates stainless steel hardware and aircraft-grade 0.25-inch thick aluminum side panels. It is also very flat and wide, allowing you to load large items besides the regular gear, such as wood sheets.
Setting up the Princeton is also very easy. It bolts down to replace the existing rack, and requires no drilling. The first step involves removing the factory-fitted rails or roof rack, after which you bolt the Princeton's four mounts. Once the mounts are fastened, the two main crossbars and sidebars can be bolted to establish the rack's frame. The remaining crossbars can then be easily installed.
The Princeton is designed with a static load rating of 600 pounds and a dynamic load rating of 300 pounds, but you should avoid overloading the rack for safety reasons. It integrates ten crossbars, with each one measuring 1″ x2″ x47″. Weighing 53 pounds, the Princeton sure is not lightweight, but considering its full-length size (89″ x47.5″ x2.5"), it is acceptable. The best thing about Sherpa's Princeton is that it comes with a lifetime warranty; this shows the manufacturer's confidence in their product's durability and keeps you covered if they ever fail to serve.
Sherpa allows you to customize your Princeton roof rack according to your requirements. You can choose the type of wind fairing; full height with no space for a light bar or half height for a single row light bar. The rack finish; bare aluminum or black powder coat. And the crossbar finish; silver anodized or black anodized.
The Princeton starts at $1099, and adding the optional black powder coat finish and black anodized crossbars will cost you $1399.
Pros of The Princeton Sherpa Roof Rack
Solid build quality.
Lifetime warranty.
Cons of the Princeton Sherpa Roof Rack
Very expensive.
Long installation time.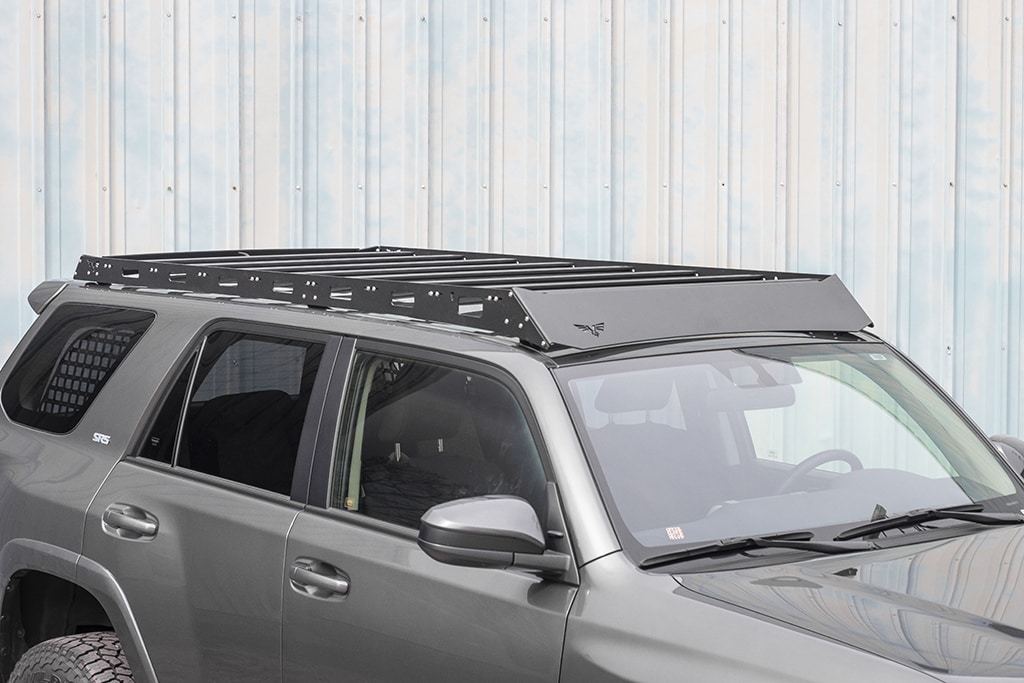 Victory 4×4's features a full-length 4Runner roof rack similar to Sherpa's Princeton; this rack is also based on an aluminum frame with black stainless steel hardware and steel mounting brackets.
The Victory 4×4 4Runner roof rack also shares the same design pattern, but the aluminum rails are 3/16 inches thick, while the Princeton is slightly thicker at ¼ inches. The Princeton also has ten crossbars compared to Victory 4×4's 7. Weighing 49 pounds, the Victory 4×4 is lighter but offers a reasonable load capacity; 250 pounds of dynamic weight and 500 pounds of static weight. It also does not require any drilling and can be fastened to the 4runner's existing mount points.
Although it's a full-length rack, it offers the full functionality of a factory-fitted power sunroof, allowing you to store all your gear without needing to compromise because of the sunroof. You can either have it with a 40″ light-bar cut out (includes light bar mounting brackets) or without it. The best thing about the 4×4 Victory 4th gen 4Runner roof rack is that it's powder coated, includes all fasteners and fairing edges, and has free shipping. It is also cheaper than the Princeton at $1124 with the light-bar cutout and $1099 without it. Check out the season sale, which allows you to buy the same for $955.40 and $934.15, respectively.
Installing the 4×4 Victory roof rack is a two-person job, but it needs only one for assembly. Assembly starts on the ground by connecting the crossbars with the rails. Once done, connect the front and rear fairings, and fasten the mount to the inside of the rack. Now put the rack on the roof and install the mounting brackets (need two persons here). Make required adjustments, then tighten all bolts. You must not forget to put a paint protection film on the roof anywhere the fairing makes contact to prevent scratches and damage to the paint.
Pros of the Victory Roof Rack:
Durable and versatile structure.
Lightweight.
Cons of the Victory Roof Rack:
Installation is a two-person job.
Fairings can damage paint if paint protection film is not applied.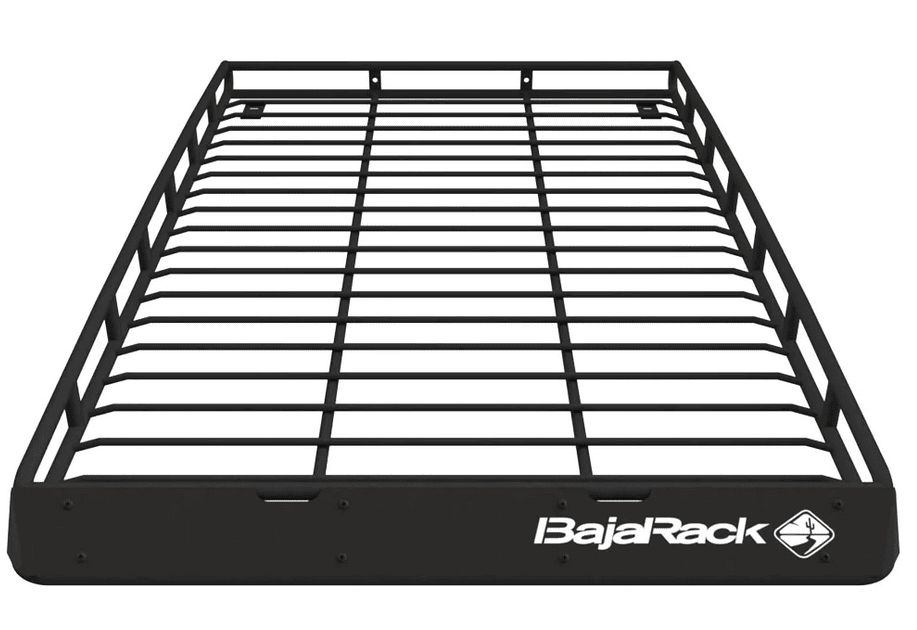 BajaRack is one of the best-selling and most reliable names for adventure equipment. The BajaRack full-size basket roof rack uses 1″, ½", and ¾" cold-rolled steel tubes for the structure and includes stainless steel fasteners, an aluminum wind deflector, and four mounting brackets. The steel tubes are finished in epoxy primer to inhibit rust and powder coated to retain a long service life.
This rack measures 47″ x74″ x5″ and has a cargo area of 20.93 square feet. Load capacity is also generous, with 600 pounds static and 300 pounds dynamic. But because it is made of steel, it is very heavy; 70 pounds. This means installing this rack is a two-person job; moreover, it snips quite a fraction of what your 4Runner's roof can bear.
The BajaRack fastens on the existing 4Runner's roof mount points, eliminating the need for drilling. For installation, you need to remove the existing rail/roof first. You must also possess the following recommended tools if you want to do it yourself; ½" wrench, ½" socket for ratchet tool, and RTV Silicone sealant. Install the four mounting brackets into place. Once secured, place the BajaRack over the mounting brackets and fasten them tightly. Do not forget to use grease and washers before tightening the bolts.
The installation process takes no more than half an hour to complete and is much easier than the other two I mentioned above because the frame is shipped ready. The BajaRack is made from steel, and while it is primed and powder coated, that will gradually wear off, and when you start to see any rust, all you need to do is remove the frame, wire-brush the rust, apply primer and paint, and it will be as good as new. The BajaRack for the 4Runner starts at $1160, which is an expensive buy, and if you add additional accessories, such as an awning mount, the price keeps rising.
Pros of the BajaRack Long Basket
A range of attachable accessories is available.
The sunroof remains unobstructed.
Cons of the BajaRack Long Basket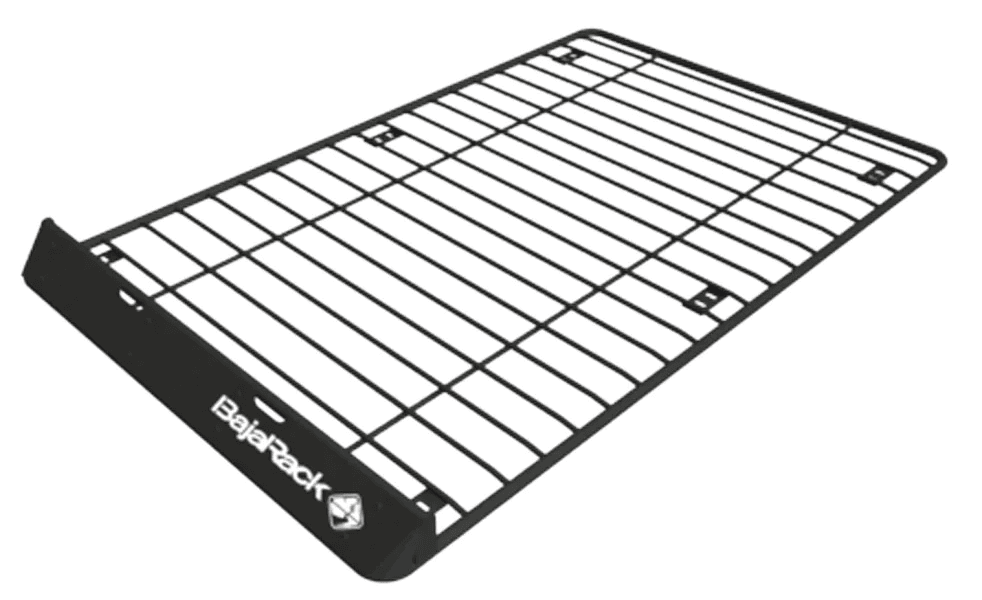 The BajaRack Utility MG is a long flat roof rack designed for folding rooftop tents and various items. Similar to the long basket, this one does not require any drilling and fastens on the existing 4Runner mount.
The Utility MG is a trade rack that allows you to utilize the platform for tents and cargo of all sorts and sizes. It is constructed of 1″, ½", and ¾" inch cold-rolled steel tubing, painted with epoxy primer and black powder coated to maintain strength and resist rust. A 1.57mm aluminum wind deflector reduces wind noise and keeps it quiet at highway speeds.
Concerning load capacity, it shares the same figures with the long basket roof rack, 300 pounds dynamic and 600 pounds static, but employs six mounting brackets to share the load evenly and prevent the structure from bending when you set up your tent. Its cargo area measures 23.33 square feet, which against the standard BajaRack long basket, is around 2.5 square feet more. But it is also heavier at 71 pounds and measures 47″ x74″ x4.5″.
Installation is similar to the BajaRack long basket roof rack; you remove the existing roof/rails, first install the six mounting brackets and then place and fasten the rack with the help of a friend. The only difference now is that you have to install two more brackets. You can get this rack for $1105, but it is better to wait for a discount.
Pros of the BajaRack Utility
Very versatile.
Rigid structure.
The load is evenly balanced.
Cons of the BajaRack Utility
Expensive.
Prone to rust.
5. Smittybilt – 4th Generation 4Runner Roof Rack – Defender – Standard Basket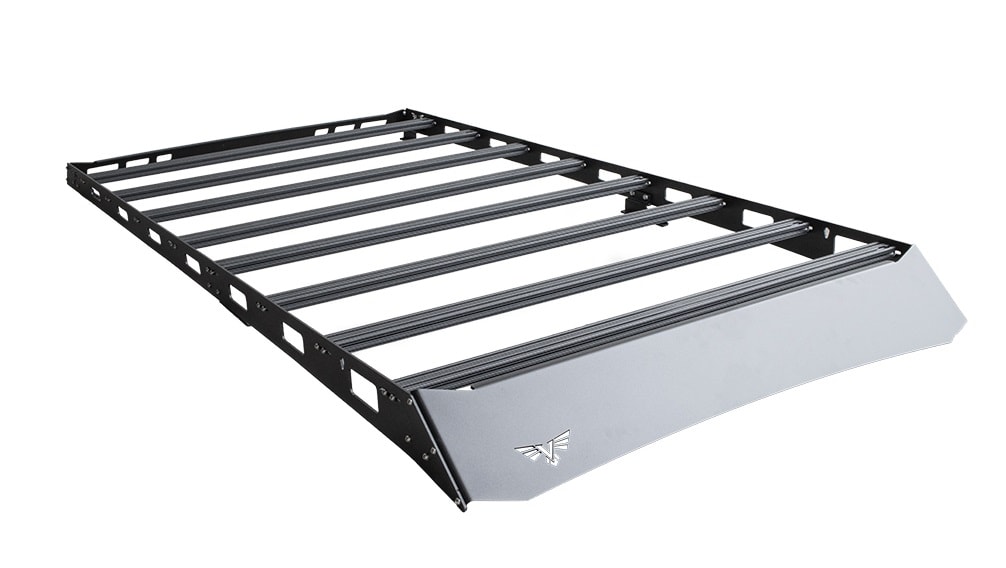 The Smittybelt Defender is a standard-size basket roof rack that fits on a range of vehicles thanks to its versatile mounting bracket without any drilling. The Defender roof rack is constructed from 1″ round, 16-gauge steel tubing making it extremely rigid and sturdy.
But the thick steel tubes add up to their weight; while being a regular basket rack, it still weighs 58 pounds. You can either save money or weight and with the Defender, you save more than $500 because it costs $438.99, excluding the mounting system sold separately.
But think about it, you get a black powder-coated, very rigid basket roof rack at almost half the price of what is available in the market. Agreed, it's short at 48″ x60″ x4″, but given the price, it provides great value for money. And do not take the Defender for a low-quality rack because it's cheap; its heavy-duty steel tubes make it one of the heaviest yet strongest racks on the market. You can also check out the Defender accessories, which allow you to mount many extras, such as tires and lights.
Like the Sherpa Princeton, the Defender also comes with a lifetime structure warranty and a 5-year finish warranty. Quite a steal, isn't it?
Pros of the Smittybilt Roof Rack:
Ceap yet sturdy.
Lifetime structure warranty.
Cons of the Smittybilt Roof Rack:
Heavy
Fastening hardware is sold separately.
FAQs
Question: Can you put a rooftop tent on a 4Runner?
Answer: The Toyota 4Runner is made for adventures, which is why it offers a high roof weight capacity to carry your trip essentials with you. With the required roof rack and top tent, you can be comfortable if you remain under the 4Runner's stated capacity.
Question: What happens if you put too much weight on a roof rack?
Answer: History has taught us that accidents happen when we bypass safety. Overloading causes the roof rack to bend, damages the mounting brackets, reduces the vehicle's fuel economy, and increases the chances of rolling over.
Question: Are roof tents safer than ground tents?
Answer: Of course they are! Not all animals are good at climbing, but they all sure know how to crawl in a ground tent.
Final Lift on the Best 4th Gen 4Runner Roof Racks
So is a roof rack worth it? Absolutely! A roof rack provides loads of cargo capacity for your extras which cannot be placed inside your vehicle. It also prevents any damage to the interior which may be caused by the items you are willing to carry.
The important question is, which one should you buy? Consider your requirements first, what you need to carry, and your budget, and then decide which one to buy.
Let's say you are a carpenter, and carry lumber around with you, you should then look for a flat roof rack like the BajaRack Utility MG, so you can easily carry planks and sheets. But no, you are an off-road enthusiast, who loves going on adventures and exploring the wild; go for the Defender. I apologize, you go with your friends, stick with the BajaRack standard long basket.
The right choice will change as you alter your requirements, my friend. You do not necessarily have to spend a fortune on the Sherpa Princeton if you can do well with the SmittyBilt Defender. Most people do not use their roof racks to their full capacity, so it is wise to think about your load first.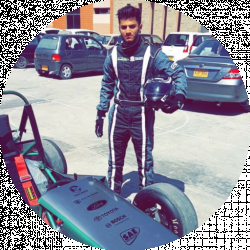 Latest posts by Zabrain Arshad
(see all)