The Jeep Patriot is a five-door, front-engine based compact crossover SUV that debuted in April 2006 at the New York Auto Show with the Jeep Compass. The Patriot had a short production life from 2006 to 2016 for the model year 2007 to 2017. Unlike the Compass, the Patriot offered a four-wheel-drive system under the Freedom Drive II package.
The Jeep Patriot was only suitable for light trails compared to Jeep's other 4×4 champions like the Wrangler and the Grand Cherokee. The Jeep Patriot and Jeep Compass were manufactured at Chrysler's assembly plant in Belvidere, Illinois.
Although the Patriot was still selling in good numbers when Jeep discontinued its production with the 2017 model year, it was never redesigned to cope with the features modern vehicles were offering.
In this 2009 Jeep Patriot guide, we will explore the 2009 Jeep Patriot, evaluate its practicality, and consider what other options we had back in 2009.
Bottom Line Up Front
The 2009 Jeep Patriot's only impressive feature was its low-range gear which was available with the Freedom Drive II package. This gave the Patriot segment-leading off-road capability.
But besides this, the Patriot was far behind competing crossovers because of a lack of technology, reliability, and power. In comparison, the Toyota RAV4 and the Honda CR-V were much better options.
Overview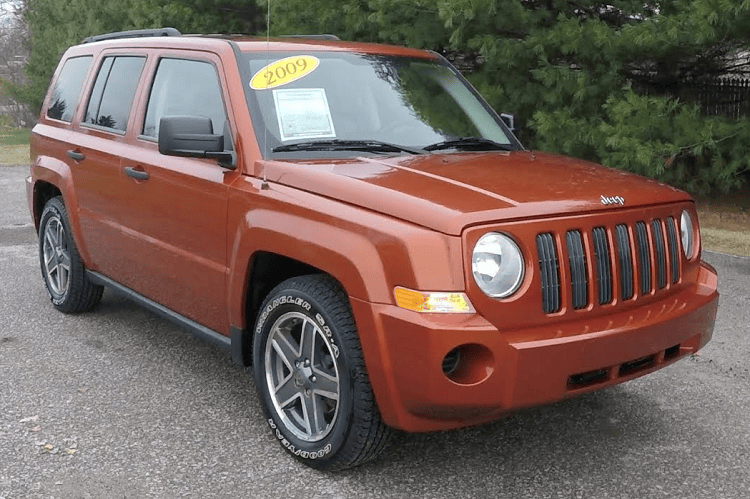 The 2009 Patriot was designed for people who wanted to have the Jeep experience within a budget. And let me tell you, this experience was not a great one.
The Patriot was introduced with both four-wheel-drive and front-wheel-drive and succeeded in carrying the looks of a Jeep. Its round Wrangler-inspired headlamps, squared-off box design, and vertical grille slats all shouted it was a Jeep. It also carried the Trail-Rated badge; The TR badge was exclusive to vehicles designed to perform under various off-road conditions.
The Trail Rated Jeeps were tuned to excel in providing sufficient ground clearance, decent water fording depths, traction on any given terrain, maneuverability around tightly-situated obstacles, and articulation under all surface conditions. But at the end of the day, the Jeep Patriot was just a pumped-up representation of an average econobox.
The 2009 Jeep Patriot was layered with decent upgrades to tackle the criticism faced by its cheap interior. The previously hard-plastic-based center console and armrests on the doors were now padded; the dashboard received a few cosmetic changes.
The Patriot was now also available with Chrysler's Uconnect system; this integrated a hard-drive-based multimedia setup that allowed you to stay connected throughout your journey. But adding options turned the Jeep Patriot into an expensive buy, whereas its low entry price was one of its key selling points.
People were not amazed at Jeep padding the Patriot's armrests or center console, and while the dash layout was much better than before, it still was one of the cheapest in the business.
The Jeep Patriot's key selling reason was its substantial off-road ability, achieved with the optional off-road package. For getting dirty and venturing out for adventure, the Patriot was an affordable option in its class.
The Patriot had two optional off-road packages (which we will later discuss in detail); Freedom Drive I (FD I) and Freedom Drive II (FD II). While the FD I utilized a full-time, lockable four-wheel-drive setup, the FD II added low-range gearing and an elevated ride height, which gave the Jeep Patriot decent Wrangler-like 4×4 capability.
But what the Jeep Patriot offered was nothing much of a big deal for the front-wheel-based models. Many competing vehicles were leagues ahead in every road-going aspect. And if only considering a crossover for urban practicality, then the Jeep Patriot was at the bottom of the list.
2009 Jeep Patriot Engines
The 2009 Jeep Patriot was available with two engine options. A 2.4-liter inline-four cylinder was offered as standard, which produced 165 pound-foot of torque and 172 horsepower.
A 2.0-liter inline-four cylinder was available on Sport and 4×2 trims, which pumped out 141 pound-foot of torque and 158 horsepower. The 2.4-liter was also available in a (PZEV) Partial Zero Emission version for 4×2 trims with the same power output.
The Patriots equipped with the Freedom Drive I and CVT system returned a fuel economy of 24 mpg on the highway, 21 mpg in the city and 22 mpg combined.
On the other hand, the front-wheel-drive Patriots were rated at 21 mpg in the city, 25 mpg on the highway, and 23 mpg combined when equipped with the 2.4-liter and CVT, while the 2.0-liter improved these numbers to 23, 27, and 24, respectively. The Freedom Drive II, however, slightly dropped these figures to 20, 22, and 21 mpg, respectively.
Continue reading related Jeep Patriot guides from different years worth mentioning:
2009 Jeep Patriot Transmissions and Drive Systems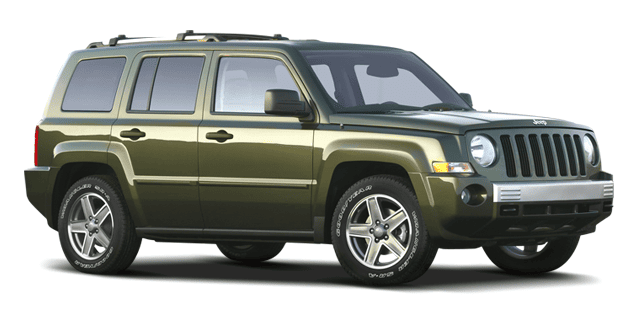 A 5-speed manual transmission with overdrive came as standard mated with the 2.5-liter. It had a ratio range of 3.77 to 0.72 (1st – 5th), with an overall top gear ratio of 3.34.
The standard drive system on the Patriot was a 4×2 front-wheel-drive transaxle with equal-length half shafts and constant velocity joints. The manual transmission was for people who wanted the raw off-roading experience.
The Freedom Drive I active package offered a full-time four-wheel-drive system with a selectable 4WD lock connected to an automatic continuously variable (CVT2) transmission designed with a 30-mm multilayer, high-strength steel drive belt with a ratio range of 2.35 to 0.39 with an overall top gear ratio of 2.41.
This package was available and included with a 2.0-liter engine.
The Freedom Drive II active package was more mechanically advanced than the FD I and included an off-road mode as well. It was coupled to a similar automatic continuously variable (CVT2L) transmission with the same ratio range of 2.35 to 0.39 but with an overall top gear ratio of 3.21 and a unique final drive ratio of 19:1 to complement the crawl feature.
The standard 4×2 system combined with traction control and standard Electronic Stability Program (ESP) successfully got the Patriot across the most challenging road conditions; it also achieved the best-in-class 4WD highway efficiency of 28 mpg.
And for slightly more snow and sand, the Freedom Drive I active full-time four-wheel-drive with lock mode and an available AutoStick shifter allowed the driver to control downshifts and upshifts, maximize engine braking, and manage overall control and performance using six discrete gear ratios.
The CVT2 was great in varying vehicle speed with the help of two active V pulleys, resulting in a variable number of gear ratios and a quiet and smooth ride. It was also better than the 5-speed manual in laying the best power and fuel economy combination.
The FD II, on the other hand, was Trail Rated; it improved the ground clearance of the Patriot, along with its off-road angles. The FD II package came with skid plates, Hill Descent Control, tow hooks, driver-seat height adjuster, and a heavy-duty alternator and engine cooler. It also employed the CVT2L system for a useful 19:1:1 crawl ratio used at its first gear.
This was highly effective in climbing steep rocks and was why the Patriot stood as the best-in-class off-roader. The FD II also upgraded the Patriot's towing capacity to 2000 pounds, which was good enough to haul a small trailer. No matter which powertrain you opted for, the 2009 Jeep Patriot had it under a lifetime powertrain warranty.
2009 Jeep Patriot Drive Experience
The Jeep Patriot's 2.4-liter engine with its 165-pound foot torque figure proved to be sluggish due to its CVT transmission; the system took time to analyze throttle inputs; hence the output felt significantly delayed.
And once floored, the CVT transmission held the engine at the redline to extract maximum power while making a strange engine noise. On the other hand, the 2.0-liter engine was even more lethargic.
The Patriot was short on power but remained well-composed over broken roads and potholes. It had a uniframe/monocoque chassis construction, which you would find in a sedan; this allowed the Patriot to remain stable and balanced, providing an overall comfortable drive.
However, the steering was not very precise but was acceptable considering its low price tag. The only impressive aspect about the Jeep Patriot was its off-road capability in this price segment; when equipped with the optional Freedom Drive II package, the Patriot crawled on a low-range gear with respectable 9 inches of ground clearance.
This upgraded the Patriot into a nimble off-roader in the compact crossover/SUV segment. But consider this only if you are interested in off-roading; otherwise, there are better vehicles to choose from.
2009 Jeep Patriot Safety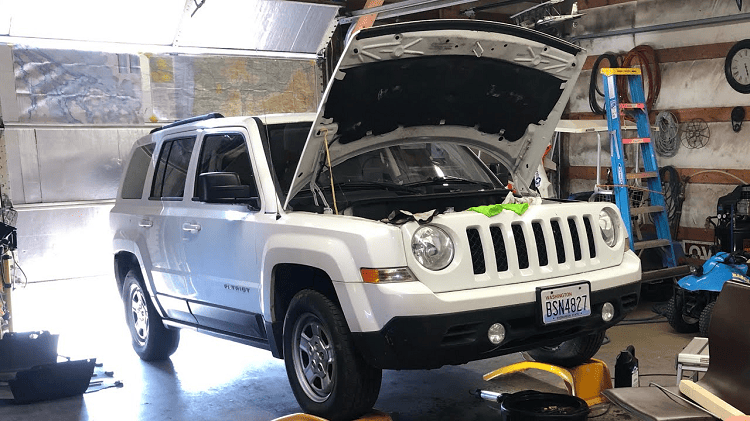 The Jeep Patriot was among the few vehicles which scored top marks (five stars) during the crash tests performed under the US Department of Transportation's SaferCar program. This gave the driver and passengers the confidence to embark on their journey, knowing that their Patriot was equipped with many security and safety features.
The Patriot integrated front and rear side-curtain and driver and front passenger airbags, making it a very secure vehicle. When emergency braking was required, the Jeep Patriot's Electronic Stability Program kicked in to take over the anti-lock braking system, brake assist system, and all-speed traction control for immediate stopping.
Moreover, the Electronic Roll Mitigation system (ERM) reduced engine power and applied appropriate braking whenever it sensed a wheel lift or a sharp steering turn. The optional Hill Descent Control (HDC) assisted the driver by controlling the brakes when descending from slopes.
The standard Electronic Brake Distribution (EBD) ensured equal braking was applied to all four wheels to avoid the Patriot from drifting sideways.
Correct tire pressure is crucial at speeds; not only does it drag down the vehicle's fuel economy, but it also pulls the vehicle sideways when one tire has more pressure than the other; it may become the main reason for a fatal crash. Moreover, this constant pull also causes muscle fatigue.
To avoid dealing with this mess, Jeep provided a standard tire pressure warning lamp on all Patriots so the driver knew when to add more air; a tire pressure monitoring display was also available, which provided notification of low or high pressure on each tire through the instrument panel for more precise information.
The 2009 Jeep Patriot was also mechanically designed to take on impacts without causing harm to the passengers.
Its chassis was constructed with a safety cage structure with a rigid cross-beam under the rear bench seat to shift side-impact to either side, along with a front crumple zone which ensured front impacts were absorbed to guard the driver and front passenger from head-on collisions.
Moreover, the Jeep Patriot also had an antitheft engine immobilizer as standard to prevent the vehicle from being stolen.
2009 Jeep Patriot Uconnect Media System
As mentioned earlier, the Uconnect media system provided communication, information, and entertainment through a CD/DVD/AM/FM stereo system via a 6.5-inch touch screen.
An included 30 GB hard drive made it possible to store songs, playlists, and photos and rip, organize, stash, and shuffle thousands of digital music files from the integrated USB port, exterior input jack, or CDs.
The touch screen provided ease in playing digital files and changing radio stations. Moreover, an Uconnect GPS was also available, which provided real-time traffic updates, full-mapping convenience, and turn-by-turn navigation through satellite radio. It also featured voice-enabled Bluetooth phone connectivity, allowing the driver to stay connected while driving.
The Uconnect studios service added over 130 channels of 100% commercial-free news, sports, talk, weather, traffic, and music for premium entertainment. And the Uconnect web turned the Patriot into a Wi-Fi hub to maintain connectivity throughout the adventure, no matter where you set up your camp.
2009 Jeep Patriot Interior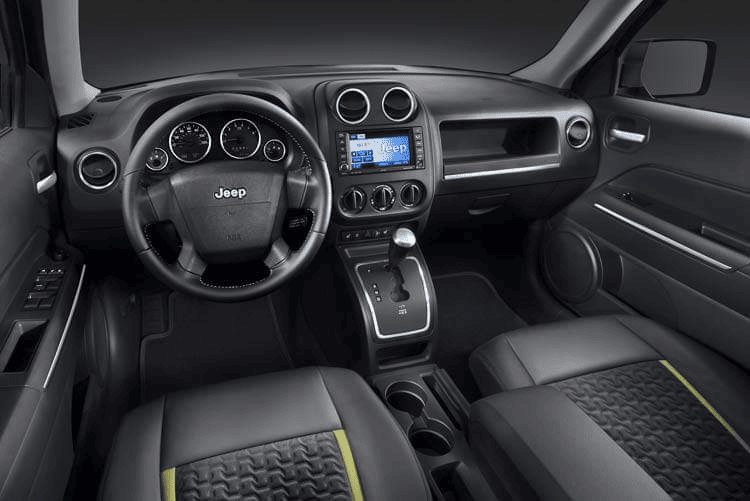 The 2009 Jeep Patriot's interior was composed of simple controls with large gauges, but the outlook was cheap because the layout was mostly hard plastic. Finishing was also nowhere to be found in the Patriot; the greater the music volume you had, the louder the panels rattled.
But the seats were comfortable enough to keep you relaxed on long routes. They were available with a standard cloth on the Sport trim, while the Limited trim had leather-trimmed seats.
The Uconnect system, however, was worth the extra cash. It provided an intuitive touchscreen which made toggling around media stations smooth, and the voice-activated features provided convenience while driving.
Camping trips were now much more enjoyable thanks to the added flip-down tailgate speakers powered by Boston Acoustics which projected sound outwards for a premium audio experience outside the vehicle.
The cargo space, however, was limited to 54 cubic feet, which is below average for this segment; this was because of a high yet easily cleanable and removable cargo floor, which also meant you had to put in more effort when loading your Patriot with stuff.
2009 Jeep Patriot Dimensions
The Jeep Patriot, as a compact crossover SUV, offered generous seating capacity for its passengers. The front headroom measured 41 inches, dropping to 39.6 inches when equipped with a sunroof, while the rear headroom was set at 39.9 inches.
Legroom was also ample considering the Patriot's packed design; 40.6 inches at the front and 39.4 inches at the rear. Cargo volume behind the rear seats was only 23 cubic feet, which rose to 54.2 with the rear seats folded.
The 2009 Jeep Patriot had a wheelbase of 103.7 inches, an overall length of 173.6 inches, and a track width of 59.8 inches.
It was designed to have a ground clearance of 8 inches, with approach, departure, and break over angles of 27.5, 20.3, and 31.4 degrees, but with the Freedom Drive II package, the ground clearance rose to 9 inches, and articulation angles to 29.6, 23.3, and 34.2 degrees, respectively.
2009 Jeep Patriot Color Scheme
The 2009 Jeep Patriot was available in nine exciting colors:
Brilliant Black Crystal Pearl
Jeep Green Metallic
Surf Blue Pearl
Light Sandstone Metallic
Stone White
Bright Silver Metallic
Inferno Red Crystal Pearl
Deep Water Blue Pearl
Sunburst Orange Pearl
2009 Jeep Patriot Trims
The Patriot was available in two trims; Limited and Sport. Let us see in detail what they had to offer.
2009 Jeep Patriot Limited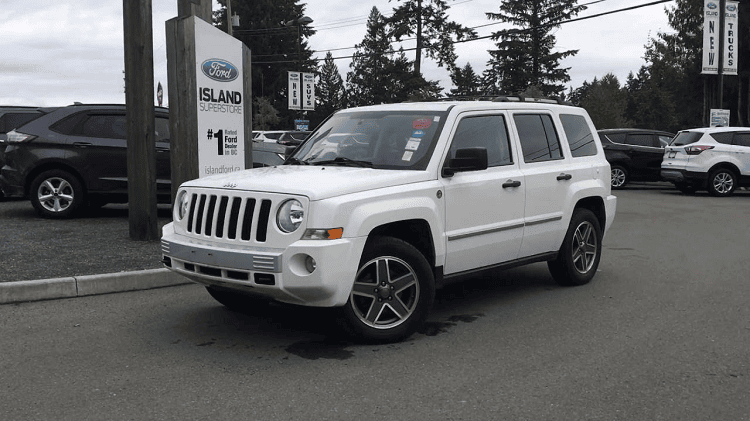 The Patriot Limited had the upper hand in providing creature comfort and luxury. But it also had a higher price tag than the Sport. Fog lamps were standard, doubling visibility and helpful when maneuvering over tough terrains.
17-inch cast-aluminum rims, silver finishing on rear and front bumpers, bodyside moldings, and roof rack side rails added a stylish look to the Patriot. Privacy and protection against intense sunlight were maintained thanks to deep-tinted glass on the cargo area, tailgate, and rear windows.
The Limited trim also features leather-trimmed and heated front seats, and a leather-wrapped steering wheel with integrated media controls connected to an AM/FM with 6 CD/DVD changer with MP3 compatibility.
As standard, there were four audio speakers, but with the Sun and Sound Group, Jeep added a power sunroof, two flip-down tailgate speakers, plus nine additional speakers, including a subwoofer, for the best audio experience. The Limited trim also had power windows, side mirrors, and keyless entry.
2009 Jeep Patriot Sport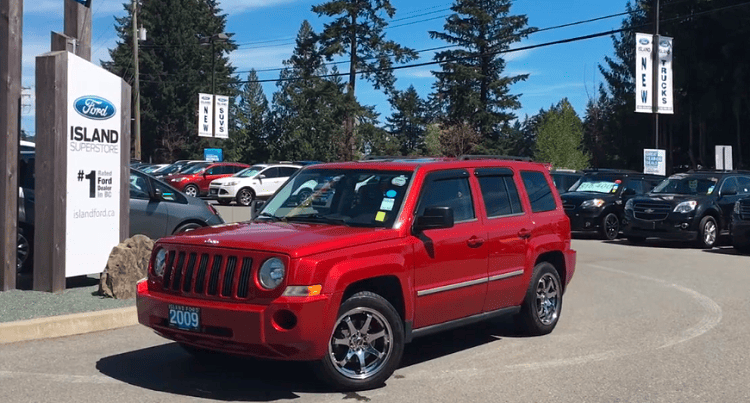 The Patriot Sport trim focused on providing value for money with its low price tag. So amenities were mostly basic, such as air-conditioning, manual windows and side mirrors, 16-inch steel-styled rims, and an MP3/CD player with an auxiliary jack. Front bucket seats were made from a deluxe cloth but were not stain-resistant; you had to pay extra for those.
Entry was manual via the key fob, and a tire pressure warning lamp was standard. This was pretty much it, but people with a bigger budget could pay more for many optional features.
2009 Jeep Patriot Alternatives
2009 Toyota RAV4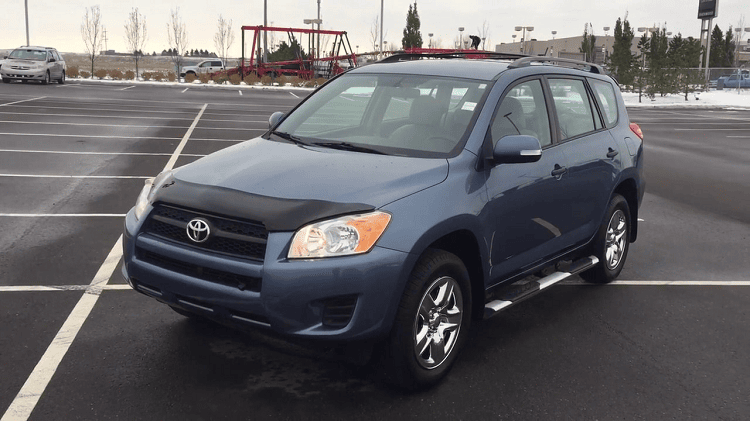 The Toyota RAV4 was powered by a 2.5-liter four-cylinder coupled with a four-speed automatic transmission, producing 172 pound-foot of torque and 179 horsepower.
An optional 3.5-liter V6 engine produced 246 pound-foot of torque and 269 horsepower. And it was not just the power figures that were great; the fuel economy was also decent ranging from 19-22 mpg in the city to 24-28 mpg on the highway, depending upon the trim. The 4WD V6 did zero to 60 mph in an impressive 7.2 seconds.
The front-wheel-drive RAV4s included a limited-slip differential, whereas the four-wheel-drive trims biased power to the front wheels unless slip was detected, after which power was also shared with the rear wheels.
The RAV4's 4WD lock feature provided a 50/50 power distribution between the rear and front wheels, which came in handy when driving on slippery surfaces or light trails.
Besides scoring the top "Good" score from the Insurance Institute for Highway Safety in side-impact and frontal-offset crash tests, it also received four stars for front passenger protection and five stars for driver protection from the National Highway Traffic Safety Administration. The RAV4 also featured traction control and active front headrests.
Antilock disc brakes, stability control, full side curtain, and front-seat side airbags were standard on all trims, whereas descent assist control and hill-start assist was standard on the V6 trims.
The interior was also packed with a dual-zone climate control, leather seats, a leather-wrapped steering wheel, heated front seats, a power driver seat, sport-tuned suspension, power and heated side mirrors, keyless entry, and telescopic steering.
The Toyota RAV4 provided great value for money with its robust design, roomy interior, and smooth drive quality. The RAV4 V6 generated generous pulling power while maintaining great fuel economy and a maximum towing capacity of 3500 pounds, making it a great alternative to the Jeep Patriot.
2009 Honda CR-V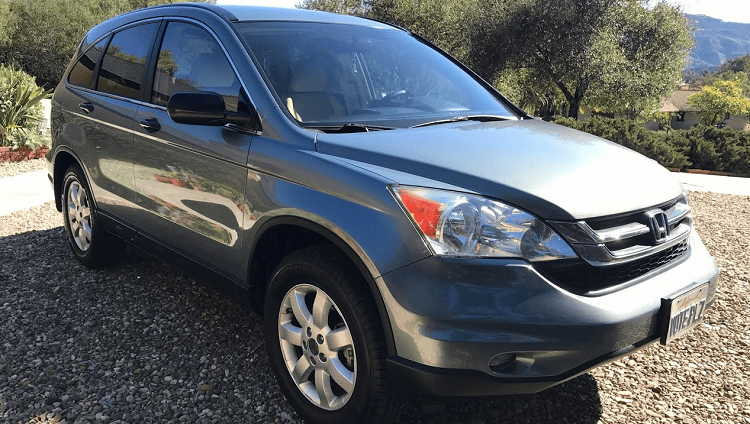 The 2009 Honda CR-V was only available with a 2.4-liter four-cylinder engine coupled to a 5-speed automatic transmission which produced 161 pound-foot of torque and 166 horsepower.
The standard drive system was a front-wheel-drive setup; however, an all-wheel-drive system was also available, which only powered the rear wheels when it detected slippage.
The Honda CR-V felt underpowered with its 2.4-liter engine, with a zero to 60 mph time of 10 seconds. The fuel economy, however, is what folks liked about it; 27 mpg on the highway and 20 mpg in the city.
Regarding safety, the CR-V nailed the competition with a perfect "Good" core from the Insurance Institute for Highway Safety and five stars from the National Highway Traffic Safety Administration in side impact and frontal-offset crash tests.
The Honda CR-V also integrated full-length side curtain airbags and front-seat side airbags for maximum passenger protection.
The Honda CR-V was more of a family vehicle because it provided great value for money, just like the Toyota RAV4. The drive was comfortable, the suspension was pleasant, the braking was on point, and the steering was sharp. What else did dad need? The only thing that dragged the CR-V was its underpowered power plant, but most people did not bother about it.
The CR-V was also made to last; hey, it's a Honda. The cargo capacity was rated at 73 cubic feet, with the rear seats folded and 35.6 cubic feet behind them.
Large door openings and a swift tailgate made entry into the vehicle easy and loading cargo convenient. Other features included cruise control, power doors, windows and side mirrors, a trip computer, a power sunroof, leather upholstery, a leather-wrapped steering wheel, heated front seats, steering-mounted media controls, dual-zone climate control, and a full center console.
Overall, the CR-V was a safer and more practical alternative to the Patriot.
2009 Subaru Forester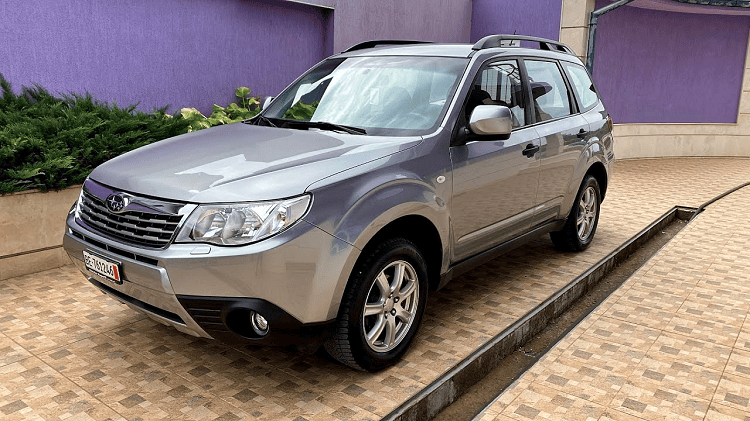 The 2009 Subaru Forester 2.5X was offered with a 2.5-liter four-cylinder engine which made 170 pound-foot of torque and 170 horsepower, geared to a five-speed manual or a 4-speed automatic transmission.
The more powerful Forester XT added a turbocharger to the same engine and boosted performance to 226 pound-foot of torque and 224 horsepower, but it was only available with the 4-speed automatic transmission. However, all-wheel-drive was kept standard on all trims.
The Forester featured sedan-like handling thanks to its upgraded rear double wishbone suspension, rigid chassis and elevated ground clearance. While it was stable and comfortable at highway speeds, it suffered from body roll along corners.
Fuel economy was average compared to what competitors offered; 26 mpg on the highway and 20 mpg in the city with the 2.5-liter, while the turbocharged variant dropped these figures to 24 and 19 mpg, respectively.
The Forester had a very spacious interior, and people as tall as 6'5" sat comfortably. Creature comforts included keyless entry, leather-wrapped steering wheel, heated and power side mirrors, heated front seats, power driver seat, automatic climate control, and leather upholstery.
FAQs
Question: Is the Jeep Patriot Bigger than the Cherokee?
Answer: Not only is the Cherokee taller and longer, but it is also wider than the Patriot. The Patriot is a compact crossover SUV, while the Cherokee is a mid-size SUV that boasts Jeep's legendary full-time four-wheel-drive system and comes equipped with several off-road features.
The Cherokee is designed to offer better comfort and take on punishing terrains where the Patriot could not keep up.
Question: Do all Jeep Patriots have CVT?
Answer: A 5-speed manual transmission was also available with the Jeep Patriot, but this was dropped for the CVT when the Freedom Drive I or II package was bought.
The FD II package provided a low-range gear through the CVT system to provide ample torque for crawling over difficult terrain, where the 5-speed manual would not be of any use.
Question: What is the Most Capable Jeep?
Answer: The most powerful and capable Jeep is the Wrangler Rubicon 392. This is a mid-size, 5-seater SUV that runs on a 6.4-liter Hemi V8 and produces 470 horsepower and 470 pound-foot of torque.
Add the Xtreme Recon package and upgrade it with 33-inch all-terrain tires, a low 4:56:1 axle ratio, a reinforced swing gate, a 1.5-inch suspension lift kit, and heavy-duty brakes.
Altogether, this Wrangler gets a ground clearance of 12.9 inches, a water fording depth of 33.6 inches, and approach, break over, and departure angles of 47.4, 26.7, and 40.4 degrees, respectively. The Wrangler Rubicon 392 also has a zero to 60 mph acceleration time of 4.5 seconds which is astounding considering its size and weight.
Verdict
The 2009 Patriot focused on providing the Jeep experience within a budget. Its low base price and decent off-road capability were its key selling points. By 2009, its interior was updated to meet the comfort level available with competing vehicles, but the Jeep Patriot still had a long way to go.
Its Freedom Drive II package was the only reason which kept it competitive in its segment. The low-range gear, decent articulation numbers, and high ground clearance allowed the Patriot to perform well over difficult trails.
The seats were spacious, but the overall cargo space was just average. The 2.0-liter and the 2.4-liter engines felt short on power, especially with the CVT transmission, which took its time in transferring power to the wheels.
On the other hand, the drive quality was acceptable; the Patriot absorbed bumps and potholes while keeping the ride stable. But the Patriot was not as reliable as the Wrangler.
Statistics have proved that the CVT failed at early mileage, and most buyers had to get it fixed under warranty. It was not a durable vehicle; moreover, it lacked modern technology.
Overall, the Jeep Patriot failed to impress with little few features it came with. Nothing was exciting about it. In comparison, the Toyota RAV4 was a much better option. Its 3.5-liter V6 was very responsive and powerful enough to haul up to 3500 pounds, the same as the Jeep Wrangler.
The RAV4 was also much more durable; Toyota quality as you know it. Fuel efficiency and a roomy interior made the Toyota RAV4 one of the best vehicles in the segment.
The Honda CR-V was also a practical alternative to the Jeep Patriot. Safety ratings were top-notch, while cargo capacity, ride quality, and overall dynamics were greatly balanced.
The only drawback was an underpowered engine, which had no alternative. Besides that, the CR-V checked all boxes; space, convenience, safety, handling, fuel efficiency, and comfort.
The Jeep Patriot had to do better if it wanted to keep up with the competition because what it offered was not good enough.
If you are thinking about buying a used 2009 Jeep Patriot, I would strongly advise not to; if you really want to go off-roading, get a Wrangler, or a 4Runner. And if you are just exploring mild trails, then the Toyota RAV4 would do just fine. Cheers buddy.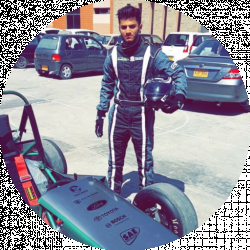 Latest posts by Zabrain Arshad
(see all)