Originally introduced as Willy's Jeep for the US military to help the Allies in the Second World War, the Jeep Wrangler has built its reputation as a historical vehicle. The first civilian model was launched in 1986 and evolved through 5 generations of design upgrades.
Even with so many changes, the Jeep Wrangler successfully maintained to reflect the historical vehicle it once was while integrating the latest technology and the best 4×4 capability. Even today, the Wrangler still uses a foldable windshield, solid rear and front axles, a tapered-nose look, and a body-on-frame chassis.
The 1993 Jeep Wrangler model belonged to the first generation of the Wrangler series, which was known as the YJ. It was a successor to the original Willys Jeep, more known as CJ Jeep, and was sold from 1986 to 1995. The 1993 model, or the 1st generation Jeep Wrangler was instantly recognized by its square headlights, which were previously round on the CJ.
The YJ Wrangler used the same wheelbase; however, it offered improved handling and safety, and a better ride quality thanks to a revised chassis which used a lower center of gravity and a wider track.
In this 1993 Jeep Wrangler guide, we will have a history lesson about the 1993 Jeep Wrangler, check out its features, consider what it lacked, and see what the market had to offer back in 1993.
Bottom Line Up Front
The 1993 YJ Wrangler was the next-level CJ Jeep. It now featured a more capable suspension and improved drive comfort to be accepted as a daily driver, which it successfully achieved.
Although other SUVs in the market combined more features and comfort while offering a part-time as well as full-time 4×4 system, the Wrangler stood unique with its open-air freedom and rugged build quality.
I would say not to be used as a daily driver, but for weekend excursions, summer drives, and hardcore off-roading, the most enjoyable vehicle there is.
1993 Jeep Wrangler History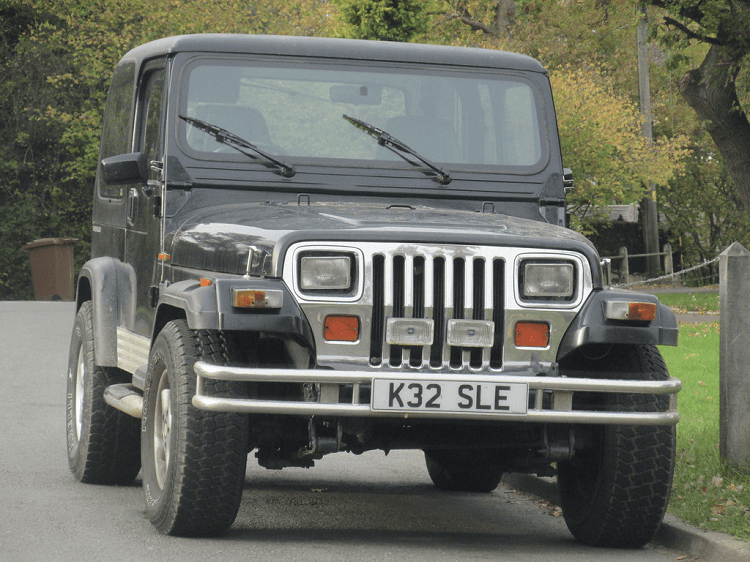 The YJ Jeep replaced the original Willys CJ Jeep in 1986 and was initially manufactured in Brampton, Ontario, Canada. This plant was shut down on April 23, 1992, and production was shifted to the plant which produced the World War II Willy's Jeep in Toledo, Ohio.
The YJ Jeep had been redesigned to be a more comfortable and driver-friendly vehicle on road to attract more customers. The updated chassis, which used a wider track width and a lower stance, significantly improved handling and comfort.
1993 Jeep Wrangler Overview
Although the YJ Jeep still used the leaf spring suspension just like the CJ, its springs were now wider, and integrated anti-roll bars and trackbar links made the YJ more planted on the ground.
The YJ also carried the live rigid axles at the rear and front from the CJ, which complemented the part-time 4×4 system. The 1993 Jeep Wrangler had now become more stable and offered far less body roll.
Even with a brand new grille, the 1993 Jeep Wrangler shared its looks with the CJ-7 model. Its rectangular headlights identified it as a YJ, along with the wiper blades which rested on the windscreen. The larger windshield was another feature which distinguished it from the previous generation.
The 1993 Jeep Wrangler was quite an upgrade over its predecessor. Designed to take punishment, the Wrangler showed courage and strength as soon as you stepped off-road. While its rugged skid plates ensured safety for the Command-Trac four-wheel-drive transfer case and fuel tank, its tubular frame stood solid against the off-road rigors.
It looked chunky with its wide fender flares and elevated stance, and on terrain, it expressed its personality with its unstoppable capability and power.
1993 Jeep Wrangler Driving Experience
Overwhelmed thou shall not with the Wrangler's aggressive character! It was not a rough ride as you would imagine it to be. The comfortable and reclining front buckets seats, which had high backrest pads and wide cushions, made the drive as smooth as possible.
The creature comforts were supplemented by optional features such as an AM/FM cassette stereo with a Dolby sound bar, air conditioning, and tilt steering.
With all these extra features, the Wrangler cabin became a nice place to spend time in. The optional sound bar with rear waterproof speakers was a must-have, which allowed the passengers to continue enjoying the stereo regardless of the weather.
1993 Jeep Wrangler New Features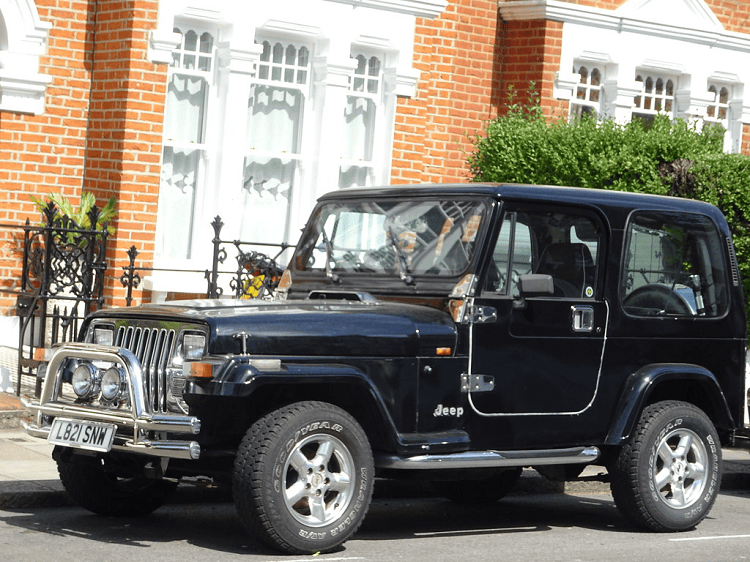 For the 1993 model, the engineers at Jeep equipped the Wrangler anti-lock braking system, which worked in both four-wheel drive and two-wheel drive, although it was only available as an option with the 6-cylinder engine. These anti-lock brakes significantly improved the Wrangler's control on slippery surfaces and when hard braking was required.
By 1993, the Islander model, a beach-themed trim, was discontinued, which offered sharp body colors and sunset graphics on the hood and lower body.
New 5-spoke steel wheels and graphics were introduced with the Sport package. Other new amenities included a tamper-resistant odometer to avoid fraud, a stainless steel exhaust system for increased durability and long service life, and tinted plastic windows for better privacy.
1993 Jeep Wrangler Powertrain and Suspension
The 1993 Jeep Wrangler was offered with two engines; a 2.5-litre straight-4 cylinder and a 4.0-litre straight-6 cylinder. Both engines were available with a 3-speed automatic or a 5-speed manual transmission.
The 2.5-litre inline-4 cylinder produced 150 pound-foot of torque and 123 horsepower and came as standard on the Base and Sport trims. In contrast, the 4.0-litre inline-6 cylinder pumped out 220 pound-foot of torque and 180 horsepower and came as standard on the Sahara and Renegade trims.
Power was transmitted to all four wheels via Wrangler's exclusive four-wheel drive system; Command-Trac. This system featured a shift-on-the-fly system to move into 4WD at any given speed. A shift-on-the-fly system allows you to change from 2WD to 4WD or vice versa without stopping. This provided great convenience for the driver, who could switch gears while moving.
The Command-Trac system also integrated a 4 Low gear which was the Wrangler's main strength for crawling on rocks and boulders. The 4 Low gear, coupled with the ample torque provided by the engine, made the Wrangler unstoppable even in the toughest terrains.
While the later Wrangler models have an optional full-time 4×4 system, the 1993 Jeep Wrangler only had a part-time 4×4 system. The difference? Well, a part-time 4×4 system integrates two differentials; one at the rear and one at the front. The torque generated by the engine is equally distributed to all wheels when the four-wheel drive is engaged.
While it helps the vehicle crawl over slippery and loose surfaces, it should only be engaged when a four-wheel drive is necessary. Why? Because if this system does not cater for the extra distance (which it does not) the outer wheels cover when the vehicle goes through a curve, it will damage the gears.
Therefore it should not be used while driving on dry pavements and should only be utilized where necessary.
The full-time 4×4 system, on the other hand, adds a center differential between the front and rear differentials to cater for curves and bends the vehicle goes through.
This ensures maximum traction at all times without any damage to the gears. Highly effective in snow and slippery surfaces, the full-time 4×4 system provides the best grip off-road and on-road.
1993 Jeep Wrangler Trims
All 1993 Jeep Wrangler trims came standard with the Command-Trac part-time 4×4 suspension and soft top, made from a high-quality, waterproof cloth that could be easily removed and installed back. The hard top was available as an add-on on all trims.
1993 Jeep Wrangler Base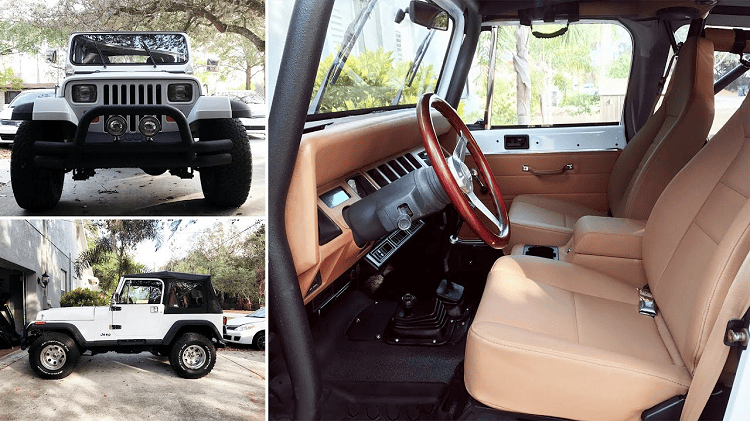 The 1993 Jeep Wrangler Base trim was the cheapest Wrangler you could buy back then. With black fender flares, it came with a Power Tech 2.5-liter inline-4 cylinder engine, producing 150 pound-foot of torque and 123 horsepower. A 5-speed manual transmission came as standard with it, while a 3-speed automatic transmission was offered as optional.
Moreover, the Base model was equipped with a blower, a heater, and vinyl high-back bucket seats. But if you wanted to spend more on comfort and entertainment, you could also get air conditioning and a cassette player.
1993 Jeep Wrangler Sport
On top of the Base trim, the Sport trim added "sport" graphics on the Wrangler and had a removable rear bench seat, and an AM/FM stereo with two speakers as standard. For options, you had a rear sound bar speaker, air conditioning, a cassette player, and high-back cloth bucket seats.
1993 Jeep Wrangler Sahara
The Sahara trim was fitted with all the features, which were pretty much optional on other trims. It was also one of the most powerful Wranglers in the lineup back then.
The 1993 Jeep Wrangler Sahara was for those who found the Base or Sport trim underpowered. It was powered by a Power Tech 4.0-liter inline-6 cylinder engine which delivered 220 pound-foot of torque and 180 horsepower.
Similar to the 2.5-litre inline-4 cylinder, this engine was also mated to a 5-speed manual gearbox, with a 3-speed automatic available.
The Sahara trim looked attractive with its body-color flares, steel wheels, and Sahara decals placed on both front fenders for a distinctive look. It also had bright fog lamps mounted on the front bumper.
The Sahara trim also had a fine interior; it featured unique green cloth seats which were resistant to tear and wear with storage pockets, a removable rear bench seat for added convenience, door panels with pockets for extra utility, plastic end-caps on the front bumper to protect the chrome finish and an AM/FM stereo with a rear sound bar speaker and a cassette player for the best audio experience. (Well, at least it was the best the Wrangler had to offer).
1993 Jeep Wrangler Renegade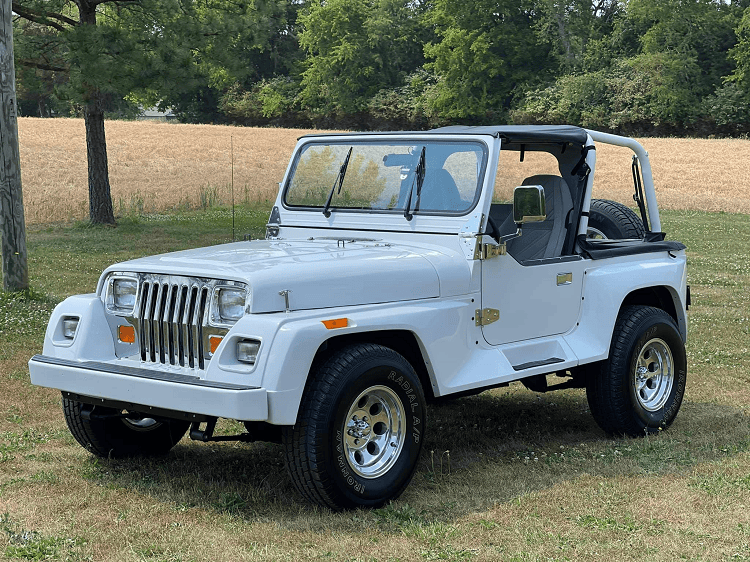 More premium than the Sahara trim, the 1993 Jeep Wrangler Renegade was the most flavorful. The Renegade trim Wranglers had to be shipped to Autostyle in Detroit, where they were fitted with the Renegade Décor Package and then sent back to Jeep for delivery.
While the initial Renegade trims were only available in Red, Black, or White, Bronze and Blue colors were added for the 1993 and 1992 model year, respectively.
The Renegade trim was recognized by the Renegade sticker on the driver's side door, along with other exterior differences, such as unique alloy wheels and special fender flares.
The Wrangler Renegade also had the same Power Tech 4.0-litre inline-6 cylinder engine as the Sahara trim with the same transmission availability.
Moreover, it featured 30×9.5R15 LT OWL Wrangler all-terrain tires with exclusive 8-inch wide, 5-hole aluminum rims and a full-size spare wheel which added a stylish look to the vehicle while maintaining maximum 4×4 capability.
The interior was now layered with creature comforts and convenience. The cabin had trail cloth fabric and high-back bucket seats and a leather-wrapped steering wheel, which made the driver feel relaxed and comfy. The power steering and off-road-tuned shock absorbers ensured the Wrangler was flexible off-road and easy to handle as a daily driver.
Unlike the Sahara trim, the Renegade trim now had new fender flares, with integrated fog lamps and plastic rear and front bumperettes. Furthermore, the cabin was detailed with front floor mats, an AM/FM radio and cassette stereo, a tilt steering wheel, and full-width floor carpeting, which made stepping inside a very cozy experience.
The Renegade trim was, in my opinion, a practical yet perfect way to spend money. It had features, which were not too fancy, but, what I would say, convenient.
For example, the lockable glove box; you know when you are out in the jungle running around with your Wrangler, or even if you are just out to bring groceries with your top removed, there must be somewhere you could store your valuables and that is well thought of by Jeep.
Similarly, the center console with cup holders is a need; where else should I hold my coffee? Between my thighs? Well, that would be too risky.
Similarly, the engine compartment and courtesy lights eased life in many ways when interacting with personal things or the engine in bad lighting conditions. It's useful stuff, I must say. Interval wipers and an extra 20-gallon fuel tank helped tackle wet weather and long distances without needing to stop extra times.
1993 Jeep Wrangler Accessories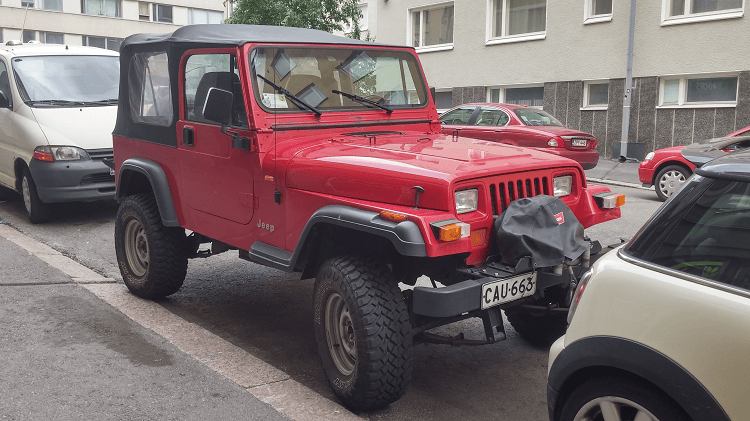 Although the current market now offers way more aftersales parts for customizations, even back in 1993, you could upgrade your Wrangler with many available options.
Chrysler produced parts and accessories for the Jeep and other brands under the umbrella of Mopar. These parts either provided utility or enhanced the capability of the Wrangler. Let's have a look at some of those upgrades.
The Sun Bonnet was made from rain and sun-resistant, durable vinyl to protect the passengers front the sun while offering an open-air and breezy feel. It used soft top hardware for setup and was available in many exciting colors; black, spice, orchid, salmon, mint green, and frost white.
Similarly, a Tonneau cover was also available, which used the same soft top hardware for setup and kept the cargo protected and out of sight. It was also available in the same colors as the sunbonnet.
A spare tire cover made up of elastic-anchored fabric kept it clean and added style with its range of color options. Moreover, additional decals could also be added to the Wrangler to make it look more attractive.
If you were into towing, a heavy-duty drawbar was available, which provided a firm foundation to haul light trailers. Rear bumperettes allowed you to secure your rear bumper and were available in heavy-duty chrome-plated steel or black.
For people who loved skiing or cycling, Mopar offered the spare tire ski carrier, and spare tire bike carrier, designed to mount on the spare wheel and hold up to four pairs of skis or two mountain bikes.
Add-a-trunk added 3-cubic foot of storage via a steel-line trunk, which was available as fixed-top or hinged-top and kept your valuables safe. A color-coordinated cover kept this trunk hidden.
Heavy-duty forged steel tow hooks were available; a must-have for outdoor enthusiasts to winch out of tight spots. Black splash guards not only protected against gravel, mud, and debris but also complemented the exterior color.
Aluminum-constructed side steps were also convenient for getting in and out of the Wrangler; these side steps had an anti-skid surface free from any weld marks. Two bumper-mounted winches were optional with 8000 and 6000-pound capacities, but they were a must-have to pull vehicles out of snow, sand, and mud.
Mopar off-road lights added accurate lighting to the terrain by using precision-formed parabolic reflectors, which came in 6" round, 5" x7" and 6" x9" rectangular sizes. And fog lights minimized glare and cut through inclement weather to provide better visibility.
To enhance the media experience, an anti-theft "pull out" 36-watt radio was available. It featured separate treble and bass controls, Auto Station Memory, a cassette with auto-reverse, electronic tuning, and a convenient carrying handle. Two Jensen speakers were also available for a premium audio setup, with twin push-button dome lamps.
Mopar also had a snowplow made up of a plastic blade with a quick-connect setup for hassle-free mounting and dismounting. This was handy when people had to clear the snow from their driveways.
A Windshield and Hood décor kit added stainless steel hood and window hinges, vent grille, and footman loops to the Wrangler, resulting in a bright finish.
A tubular grille and brush guard was designed to match the Wrangler's unique front end. It was constructed of rust-resistant anodized and sturdy aluminum tubes, with a 2" tube on the brush guard and a 3" tube on the grille guard.
More useful accessories such as hood shields, locking gas caps, engine block heaters, vehicle covers, wheel locks, sports bar padding, and power steering kits could also be purchased.
Mopar not only designed accessories for the Wrangler but also cared to make some collectables for enthusiasts. Jeep sportswear was available, which included sweatshirts and Jeep-themed apparel in different colors, styles, and sizes. Moreover, Jeep key chains, Swiss army knives, and sunglasses were also available.
Overall, these accessories tempted the buyers to purchase more and more stuff, resulting in an expensive Wrangler. Some were useful, while others just added style, but it was a great overall experience.
1993 Jeep Wrangler Alternatives
1993 Jeep Grand Cherokee
The 1993 Grand Cherokee was designed to deliver the best of both worlds; proven Jeep durability and sophisticated luxury. Its superb interior elevated it into the realm of world-class luxury vehicles. Moreover, with its sedan-like ride quality and stylish exterior, the Grand Cherokee was an example of perfection.
The Grand Cherokee's remarkably smooth ride was achieved by its uniframe/ monocoque chassis construction. Unlike conventional SUVs, it used a single frame to integrate the body and suspension, maximizing comfort while providing legendary 4×4 capability.
The 1993 Jeep Grand Cherokee adopted safety features which were scarce at that time. Antilock brakes (ABS) were standard on all trims, which prevented wheel lockup and maintained control when hard braking was required. The Grand Cherokee's winning feature was the Quadra-Trac all-the-time 4×4 system, which Jeep later named the full-time 4×4 system.
While other SUVs offered a part-time 4×4 system, the Grand Cherokee stood superior with its full-time. This ensured round-the-clock traction regardless of terrain conditions; the Grand Cherokee remained unstoppable no matter how wet the road or how deep the snow was.
The low-range gear could be engaged by shifting the lever and was utilized in the most difficult and beaten paths.
The Grand Cherokee was powered by a 5.2-litre V8 which produced 212 horsepower and 277 pound-foot of torque, and a 4.0-litre inline-six cylinder which made 181 horsepower and 214 pound-foot of torque; both engines had a towing capacity of 7700 pounds.
The interior was decorated with many modern creature comforts such as leather upholstery, automatic climate control, 2254 liters of rear cargo space, dual cup holder, armrest, storage box, full-center console, lockable glove box, and dual heated mirrors. Amenities like a leather-wrapped steering wheel and tilt steering enhanced the driving experience.
1993 Toyota 4Runner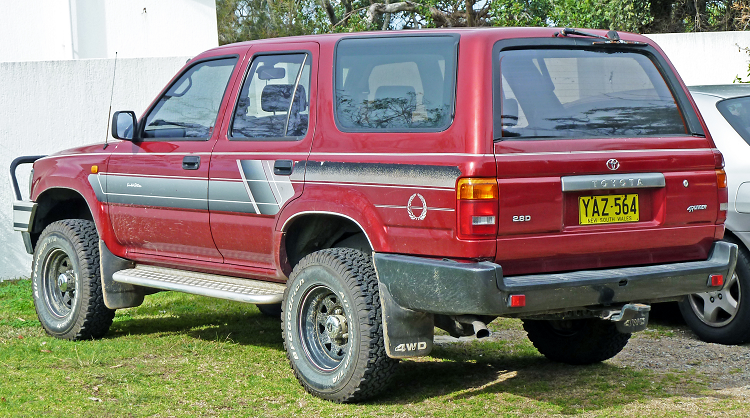 The Toyota 4Runner was originally launched as a pickup truck with a fiberglass body in 1984, which was later changed to a full-body, mid-size SUV. The 1993 4Runner belonged to the second generation of the 4Runner series, and just like the legendary Land Cruiser and famous Toyota 4×4 pickup, the 4Runner too carried the same 4WD heritage.
The 4Runner was a tough yet versatile machine designed to last for years and handle loads of abuse. The 1993 Toyota 4Runner was available with a 2.4-litre inline-four-cylinder and a 3.0-litre V6, and while both engines were built to last, the 2.4-litre felt underpowered.
Like the Wrangler, the 4Runner also offered a shift-on-the-fly part-time 4×4 system, which was as capable and sturdy as the Wranglers. But it was much more comfortable; it had a roomy interior, with a stable and planted stance on paved surfaces and highway speeds. Overall, it was a practical off-road SUV.
1992 Toyota Land Cruiser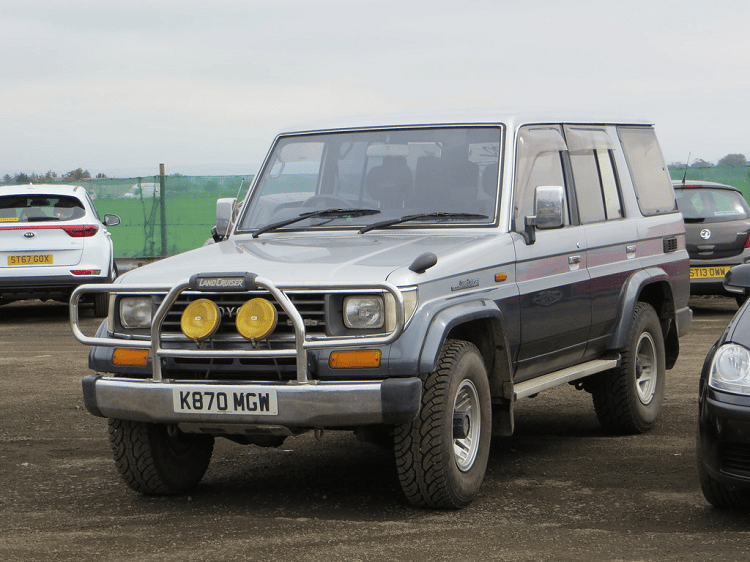 The Land Cruiser was Toyota's full-size, flagship off-road SUV. The 1992 Land Cruiser was forged to be an SUV that lasted for generations. It was engineered to be a versatile vehicle which can be taken to the outback on the weekends and driven back to work on Monday morning with sheer comfort and luxury.
And it was not just the looks or creature comforts that made the Land Cruiser so legendary; it was the effort, and design Toyota had put in to make such a brilliant vehicle.
The Land Cruiser was powered by a 4.0-litre inline-six-cylinder engine which produced 155 horsepower and 230 pound-foot of torque, geared to a 4-speed automatic transmission. This power was distributed to all four wheels via a full-time 4×4 system with short gear ratios, which ensured maximum torque at low RPMs for the best off-roading experience.
While the exterior was constructed to handle any terrain nature threw at it, its interior comprised of creature comforts such as rear child locks, cruise control, climate control, full carpeting and floor mats, and multiple storage bins.
The Land Cruiser was loaded with features that cater to comfort and strength to venture against all terrains. But in doing so, it had a high asking price.
FAQs
Question: Which Jeep is Better, YJ or TJ?
Answer: The YJ was the first generation of the Wrangler series and carried the same leaf-spring suspension from the original Willy's Jeep, but with a slightly lower stance and wider track width.
The TJ dropped the leaf springs for much more comfortable coil springs, which eliminated the stiff ride quality the YJ suffered from, and turned it into a much more ergonomically acceptable SUV. Concerning 4×4 capability, the TJ had a longer wheel travel, significantly improving its approach, departure, and break-over angles.
Overall, the TJ was far better than the YJ. If you are looking for a comfortable Jeep, then the TJ is the better option, but if you are on a budget and would not mind a bumpy ride quality, you can consider buying a well-maintained YJ.
Question: How many Miles can a 1993 Jeep Wrangler Last?
Answer: Although a well-maintained Jeep can last well over 400,000 miles due to its solid build quality, it does require replacing a few parts after 100,000 miles.
Parts such as timing chains, brakes, radiator, and axle seals have a fixed service life, which needs to be changed. When buying the 1993 Jeep Wrangler, inspect the body for rust and the engine for a smooth throttle response. It's also better to pay more for a well-kept Wrangler than to save money and get a broken one.
Question: What is the most Powerful Wrangler?
Answer: The Jeep Wrangler Rubicon 392 is the most powerful Wrangler ever produced. It boasts a 6.4-litre Hemi V8 engine, which produces 470 pound-foot of torque and 470 horsepower and times zero to 60 mph in a staggering 4.2 seconds.
Besides a full-time 4×4 system and a superb axle ratio, Jeep offers you to further beef up performance figures with the Xtreme Recon package, which for $4000 adds a 1.5-inch suspension lift kit, upgraded brakes, and 35-inch all-terrain tires.
This elevates the approach, departure, and break-over angles to 47.4, 40.4, and 26.7 degrees and water fording depth to 33.6 inches, respectively.
Verdict
The 1993 Jeep Wrangler was a fantastic SUV for short trips and adventure-seeking individuals. Top to bottom, it was built to handle debris, mud, and steep slopes without hesitation.
The open-air experience was also something that was not available in any other SUV. While other SUVs pushed hard to crawl through punishing terrains, the Wrangler made it look simple.
The Wrangler was ready to take on any given trail, but the real question was, who was daring enough to drive it? Going through steep and slippery terrains required a skilled driver to maneuver the Wrangler because the leaf-spring suspension felt no shame in rolling the Wrangler if given a chance.
This also proved that the Wrangler suffered from a stiff and bumpy drive quality, and long highway drives returned with a painful back.
But was the Wrangler a daily driver? No, it was not. It was meant to be a recreational vehicle exclusively for fun and off-roading. The soft and hard tops were meant to provide exciting practicality, while the suspension and powertrain pumped more than enough torque to climb any slope.
The interior was simple and dry and, at highway speeds, filled the cabin with irritating road noise. Alternative SUVs were leagues ahead in providing a plush ride quality and an interior full of luxury because they all offered the same stuff.
The Wrangler exclusively allowed you to feel the wind and let the sunshine caress your face as you drove through a lovely summer day.
Altogether, the 1993 Jeep Wrangler proved to be a dependable off-road SUV which turned heads with its open-top personality and delivered outstanding 4×4 capability during off-road adventures.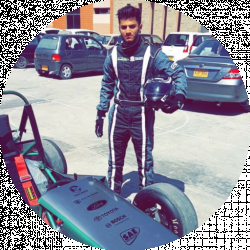 Latest posts by Zabrain Arshad
(see all)