The Jeep Wrangler is one of the most iconic vehicles ever produced. Jeep introduced the Wrangler as a compact off-road SUV, and in 2004, it added the long-wheelbase version to the lineup, the Wrangler unlimited.
The 1998 Jeep Wrangler belongs to the second generation of the Wrangler series, called the TJ, and was designed in 1996 for the 1997 model year. The TJ series offered better off-road stability than the YJ (first-generation Wrangler) thanks to its all-new coil-spring suspension, which allowed it to have longer wheel travel.
This extra stretch helped the Wrangler TJ to crawl over boulders and rocks with all its wheels planted on the ground. On the contrary, with its stiff leaf-spring suspension, the YJ had to be careful because it was vulnerable to rolling over. The YJ also had trouble crossing difficult terrains; it did so with one wheel hanging in the air.
This 1998 Jeep Wrangler guide will explore the 1998 Jeep Wrangler, evaluate its practicality, and see what competitors offered back in 1998.
History
The Jeep Wrangler dates back to the Second World War when the US military required a reconnaissance vehicle to aid the Allies, a vehicle which was tough as a rock and could crawl over any terrain the war threw at it. Production began in 1941, and before the end of the war, 653,568 military Jeep vehicles were manufactured.
In 1986, the first generation Jeep Wrangler was launched with square headlights and flat body panels. The YJ series was similar to the original Willys Jeeps but had a lower stance and wider track, which improved the overall 4×4 capability and ride control.
Jeep redesigned the Wrangler again in 1996 for the 1997 model year. The round headlamps were recalled, and the leaf-spring suspension was dropped and replaced with heavy-duty coil springs to compensate for extra wheel travel without losing durability.
Bottom Line Up Front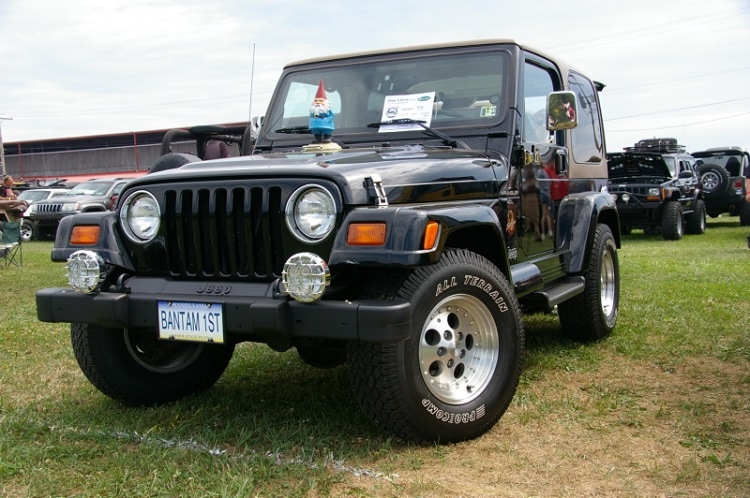 The 1998 Jeep Wrangler's new and improved suspension and chassis made it even more capable. But it was a niche vehicle; made exclusively for off-roading and open-air drives.
Comfort was scarce, but fun and 4×4 prowess were at full throttle. Even though other competitors succeeded in providing an overall better SUV, none was as exciting as the Wrangler.
Overview
The Jeep Wrangler remains one of the most iconic vehicles to date. Its round headlights, tapered-nose design, open-top, and huge fender flares distinguish it from other SUVs, while its historic performance complements its reputation. Its part-time 4×4 system and rugged body-on-frame construction have maintained its legacy of being unrivaled off-road.
The 1998 Jeep Wrangler was designed to allow people to use it as a daily driver besides going on adventures. This was because the previous generation failed to do so with its hard leaf-spring suspension; it was sluggish, unstable at corners, and uncomfortable.
The 1998 Wrangler got rid of that suspension and appealed to customers with its new coil-spring setup.
Customers were in love with the Wrangler's open-air idea but were hesitant to use one as a daily driver due to the YJ's rough ride. The 1998 model removed this restriction by making the Wrangler's ride more stable, comfortable, and capable without leaving its key looks or 4×4 mastery.
Powertrain
The 1998 Jeep Wrangler was available in two engine options with two transmissions. The Wrangler SE, the base trim, came with a 2.5-litre Power Tech inline-four-cylinder engine which produced 120 horsepower and 140 pound-foot of torque.
This engine came standard with a 5-speed manual transmission, which was the better option to extract maximum performance, compared to a 3-speed automatic that was better suited to on-road driving.
The Sahara and Sport trim featured the more powerful 4.0-litre Power Tech inline-six-cylinder engine, which also came standard with a 5-speed manual gearbox with an option to get the more convenient 3-speed automatic. This engine made 181 horsepower and 222 pound-foot of torque.
Although both engines had a great difference in performance figures, Jeep made sure both pumped maximum torque numbers in low RPMs to ensure the Wrangler lived up to its reputation when touring the Rubicon trail.
However, a bigger engine meant more money, so the Sahara and Sport trims were around $2200 more expensive than the SE trim.
Jeep also had more optional features to upgrade the Wrangler as per the driver's requirements; heavy-duty gas-filled shock absorbers, front tow hooks, a locking rear differential, a more powerful battery and a generator to boost performance are some of the examples.
Traction and Grip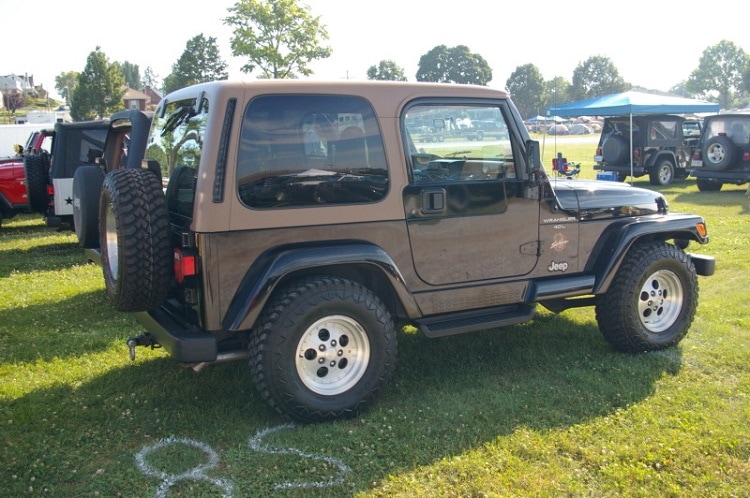 The 1998 Jeep Wrangler could be bought with three tire sizes; the SE trim had the P205/75R15 RT/S Goodyear Wrangler as standard, the Sahara trim featured the largest P225/75R15 Goodyear Wrangler GS/A with a white outline, whereas the Sport trim had the P215/75R15 RT/S Goodyear Wrangler.
Although all these tires worked well off-road, the P225/75R15 was best suited for off-roading, while the P205/75R15 made less on-road noise and was more comfortable for daily commutes.
Choice of Colors
The 1999 Jeep Wrangler was marketed in the Flame Red color in the vehicle catalogue, but I believe it looked better in Moss Green. The Sahara trim was only available in three colors; Black, Stone White, and Moss Green Pearl Coat.
On the other hand, the SE and Sport trims were available in these three, plus Flame Red, Deep Amethyst Pearl Coat, Emerald Green Pearl Coat, Lapis Blue, Chili Pepper Red Pearl Coat, Gunmetal Pearl Coat, and Bright Jade Satin Glow.
Hard Top or Soft Top?
The Wrangler's removable top and doors, combined with the foldable windshield, provided a driving experience, unlike any other SUV. Two tops were available with the 1998 Jeep Wrangler; a hard top and a soft one.
Off-road enthusiasts enjoyed having the soft top; it was made of a high-grade cloth that allowed easy adjustment and was more convenient to manage when the weather started to change.
You could fold down the windshield with the help of a screwdriver whenever you wanted to feel the wind on your face and remove the soft top faster than previously possible. The side curtains were tricky, though; leaving them unzipped meant a full wet lap in rainy weather. The soft top was more fun but meant more road noise and less safety and security.
Passengers were at risk of losing their valuables because tearing into the soft top was no big deal; moreover, it compromised crash safety.
The hardtop, on the other hand, was a more practical choice. It was expensive, $750 extra for the hardtop, but it proved more convenient in several ways. The hard top provided better protection against the weather, and it was also more secure in keeping not only the passengers safe but their valuables as well.
The wind-up windows and full doors combined with the hardtop made the interior cosy, and cruising through a scary thunderstorm felt much more dry and secure than the soft top. Furthermore, the hard top came with a rear-window wiper, defroster, and washer, which offered clear rearward visibility even in extreme weather.
But the road noise measured the most significant difference, which was far less notable with the hard top. Removing the hardtop was not a huge chore; it was easy to remove and store when it was not in use.
Both tops had advantages and disadvantages, and people were not reluctant to buy both for the best Wrangler experience. I would have done the same. The soft top was great for off-roading and enjoying the weather, while the hard top allowed you to use the same vehicle in extreme weather conditions.
Interior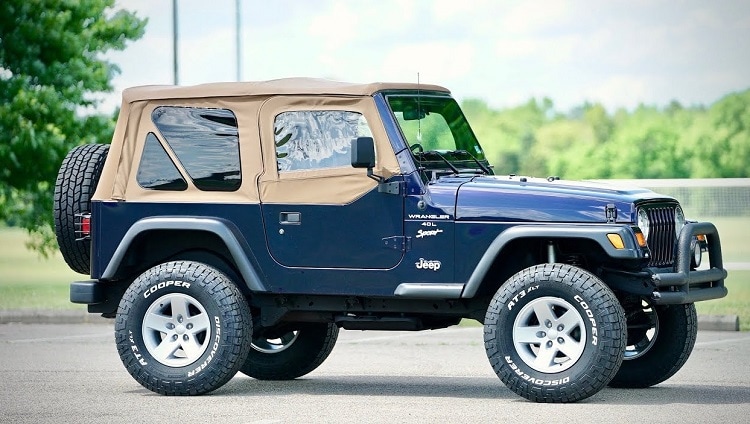 The 1998 Jeep Wrangler's interior was very simple yet neat. All you had was a lockable glove box, four air vents, and slider controls for the heating, ventilation, and air conditioning, besides the regular gauge cluster. The dash was relatively flat, with a handle grip for the passenger. This was pretty much it.
Front seats were redesigned to provide the level of comfort people were looking for in the Wrangler. The seats now featured lateral support cushions to lock the driver and passenger in place during wild endeavors.
And when returning home from a weekend full of dirt and fun, the cabin was easily washable thanks to the removable carpets, slotted storage bins, water-resistant seat fabric, and drain holes. Even back in 1998, the Wrangler had a great design intent. It was designed to be a practical off-roader.
While the current Wrangler is also available as a 5-seater, mid-size SUV (called Unlimited), the 1998 Wrangler was only a compact one back then. You could either seat four individuals or have room for storage and seat only two.
And it was better for two with their cargo to leave the everyday hustle for a weekend break and enjoy time with their camping gear, cooler, tent, and essentials in the rear with the second-row seats removed. But the Wrangler was not limited to this; it could haul a small to a medium trailer (depending on the trim) to enhance your outdoor experience.
Driving the 1998 Jeep Wrangler
The 1998 Jeep Wrangler was not an ordinary SUV but the king of off-road. By appearance, it may not look as mean as the 2022 Jeep Wrangler Rubicon, but it was fully capable off-road. The ride quality was better than the YJ series, but it was not suited for long highway commutes. But was the 1998 Wrangler made for comfort? It was not.
The Wrangler was designed for two things; off-road prowess and fun. The Wrangler had a level of comfort only till the point it did not affect its ruggedness or capability.
Getting rid of the leaf-spring suspension made the ride quality much more acceptable, but it was not as comfortable as a luxury sedan. At speeds up to 75 mph, the Wrangler felt smooth and safe, and while it was fun for neighborhood drives and short commutes, it showed its true potential on punishing terrains where other SUVs struggled to keep going.
The Jeep Wrangler is the vehicle you go to experience the wild; fold back the soft top and let the sunshine caress your face as your drive through the jungle. It is also factory built to take on adventures without needing to stop by for upgrades.
While other SUVs need to be pushed hard with extra parts to deliver the performance required off-road, the Wrangler does everything without any upgrades because all the necessary hardware is included.
The Wrangler also carries a lifestyle statement; what other SUV does that? None. The Wrangler, with its huge fender flares, foldable windshield, and open top, reveals that the person driving it is daring. An average SUV provides a commute from point A to point B; the Wrangler converts that commute into an adventure.
The Wrangler is enjoyed by young and energetic people yet is praised by the old because they, too, have once lived with the same enthusiasm. It's a vehicle which encourages the driver to have no boundaries.
And while the latest Wranglers integrate the changes in the design along with the latest driver assist and safety features, they remain superior to previous models.
Upgraded Suspension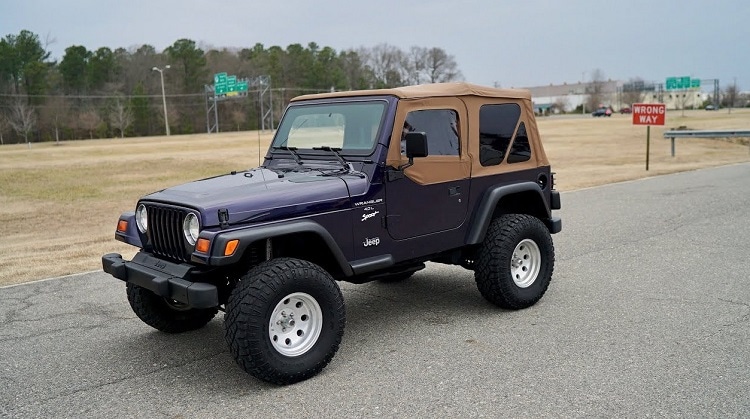 The new coil-spring setup was called Quadra-coil suspension. These integrated gas-filled shock absorbers, stabilizer and track bars, locating arms, and solid live axles to help the Wrangler remain planted while achieving better flexibility. The all-new sturdy chassis complemented the Quadra-coil suspension, which allowed greater articulation without twisting.
The coil-spring combination increased the Wrangler's wheel travel by up to 7 inches, which helped it achieve better handling and maneuverability on tricky paths.
Concerning articulation, Jeep had now beefed up the 1998 Wrangler's articulation angles thanks to the redesigned chassis and suspension. With 10 inches of minimum ground clearance, the approach, departure, and break-over angles now stood at 44.2, 31.5, and 26.5 degrees, respectively.
With these figures, the Wrangler could now easily climb away from spots where it would have found itself trapped. Now, it was no more than a stretch away. This skill is what defines the Wrangler; off-road capability at its best.
But the chassis-on-frame construction essentially makes the Wrangler a truck. Granted, it nails the segment as a terrific off-road vehicle with its class-leading power and durable design. Still, due to its high center of mass, no matter how finely you drive it in a straight line, it will lose control and roll over if hurried while cornering.
Command-Trac 4×4 System
The Command-Trac 4×4 system was Jeep's innovation in switching between four-wheel-drive and two-wheel-drive without needing to stop the vehicle. This shift-on-the-fly Command-Trac system was standard on all trims, and its only limitation was that it was a part-time 4×4 system.
The part-time 4×4 system works under certain conditions. It works by locking the rear and front axles together to push the vehicle over a steep rock or get you moving over loose and slippery surfaces.
But you cannot use it in normal driving conditions. Since both axles are locked with no differential in between, the gearing will get damaged once the vehicle goes along a corner, where the outer wheel follows a larger radius compared to the inner wheel's smaller radius.
And yes, a full-time 4×4 system is also available, but on the later Wrangler models. A full-time 4×4 system adds another differential to cater to the differential speed needed while turning or cornering.
But even with the part-time 4×4 system, the 1998 Wrangler was capable enough. The Command-Trac 4×4 system could be engaged from 2H to 4H at a maximum speed of 55 mph, which was done manually on previous models.
And when maximum torque was required to harness the Wrangler's true potential, the driver could engage the 4L gear which was specifically made for rock crawling.
1998 Jeep Wrangler Trims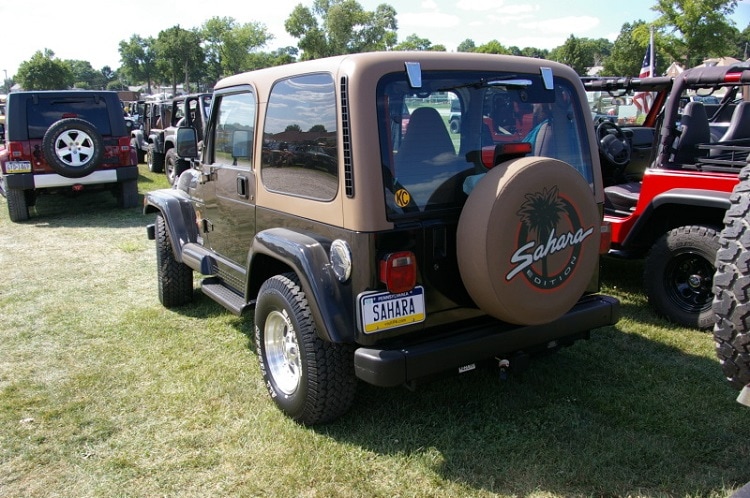 The 1998 Jeep Wrangler was launched in three trims; Sahara, Sport, and SE. The SE was the cheapest Wrangler available, and Jeep used it as bait to lure in customers, because necessary elements such as carpeting, better seat fabric, rear bench seat, and stereo were kept as optional, and the total cost quickly rose as these features were added.
1998 Jeep Wrangler SE
The Wrangler SE had the standard 2.5-litre inline-four cylinder, Quadra-coil suspension, command-trac part-time 4×4 system, and a 5-speed manual gearbox. Power steering made life easier around tight spots, while removable front carpeting allowed easy cleaning.
The Fusion vinyl reclining front bucket seats with tip-and-slide front passenger seat, soft-top and a mini-floor console with tray and cup holder were the only creature comforts available in the cabin. Safety and security were provided by driver and front-passenger airbags and seat belts, and a lockable glove box, and this was pretty much it.
The swing-away mirrors were to be operated by hand, and a low-fuel warning lamp alerted the driver when to stop by for fuel. Besides these basic features, the SE had a 500-ampere battery, a 15-gallon fuel tank capacity, and skid plates for the transfer case and fuel tank.
1998 Jeep Wrangler Sport
The Wrangler Sport trim added a few useful features to the SE trim. The engine was upgraded to a 4.0-litre inline-6 cylinder, and 15-inch x 7-inch full-face steel rims were added.
An AM/FM stereo radio with two speakers and a clock was installed to provide decent entertainment, and the rear received a cargo net, removable carpeting, and a fold-and-tumble bench seat.
1998 Jeep Wrangler Sahara
The Wrangler Sahara trim was decorated with not just the best creature comforts but also enhanced 4×4 capability. On top of the features provided by the Sport trim, the Sahara further added convenience and utility.
The standard fuel tank was replaced with a 19-gallon tank to extend range, the steel rims were dropped, and 15-inch x 7-inch Grizzly cast aluminum rims were installed.
Two front hooks were added to pull the Wrangler out of sticky situations. Heavy-duty gas-charged shock absorbers and a 600-ampere battery with a 117-ampere alternator meant the Wrangler could now handle tough terrains more easily, and adding a winch was no problem.
Visibility was improved by round halogen fog lamps and intermittent windshield wipers, while the body-side steps made stepping into the Wrangler easier. Fender flares were now body-colored, which added a stylish look to the exterior. The Sahara trim also received a spare tire cover, special trailcloth seating, front seatback map pockets, and an EZ access driver seat.
Cabin upgrades such as the leather-wrapped and height-adjustable steering wheel, full-center floor console, and front floor mats added a touch of luxury to the Wrangler's simple interior.
Entertainment was doubled by adding a cassette tape player with four speakers (two in the rear overhead sound bar and two in the instrument panel). An engine compartment and courtesy lamp under the instrument panel added convenience for reading maps and checking the engine condition in low light conditions.
1998 Jeep Wrangler Alternatives
1998 Jeep Grand Cherokee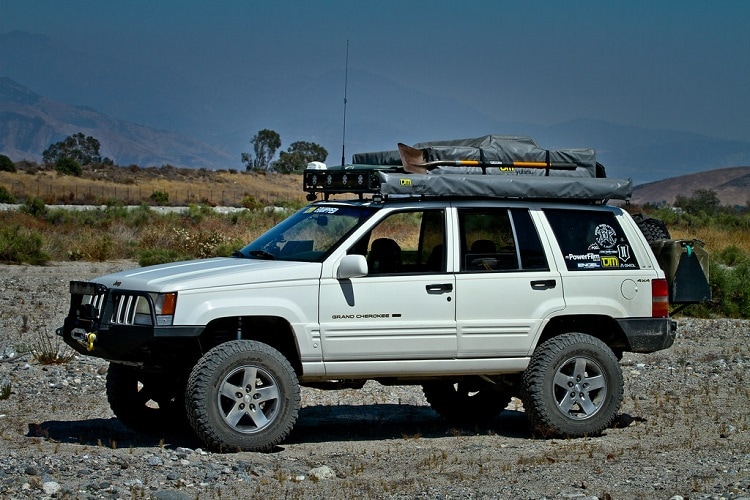 The 1998 Jeep Grand Cherokee was a mid-size luxury SUV that offered capability and comfort. At the core of the Grand Cherokee, was the same hardware which powered the Wrangler.
The Grand Cherokee was available with three power plants; a 5.9-litre V8 which produced 345 pound-foot of torque and 245 horsepower, with a zero to 60 mph acceleration time of 7.3 seconds, a 5.2-litre V8 which offered a towing capacity of 6500 pounds, and a 4.0-litre Power Tech inline-6 cylinder with a towing capacity of 5000 pounds.
A four-speed automatic gearbox was standard with these engines, and no manual gearbox was available.
The Grand Cherokee combined the best of both worlds; it had the Wrangler's strength and a sedan's driving refinement. How? Well, the Grand Cherokee had a monocoque/unibody design, which meant it had no chassis-on-frame construction and drove like a sedan.
The Grand Cherokee was an SUV one could drive to work on weekdays and head for the hills on the weekend. On top of its unique chassis construction, the low-rpm torque figures, Quadra-coil suspension, and generous approach, break-over, and departure angles ensured there was no terrain difficult for the Grand Cherokee to conquer.
The most significant addition to the Grand Cherokee was the Selec-Trac full-time four-wheel-drive system which ensured maximum traction in all driving conditions.
The Grand Cherokee was also fitted with many creature comforts, which made journeys enjoyable. With the universal transmitter installed in the overhead panel, you could control your gate, garage door, and home security system.
Leather-trimmed memory seats recalled your preferred settings at the push of a button. The Infinity Gold stereo system provided a premium audio experience with its AM/FM Radio, cassette and CD Player. An auxiliary port was ready to power your cellular phone, fax, or computer.
1998 Jeep Cherokee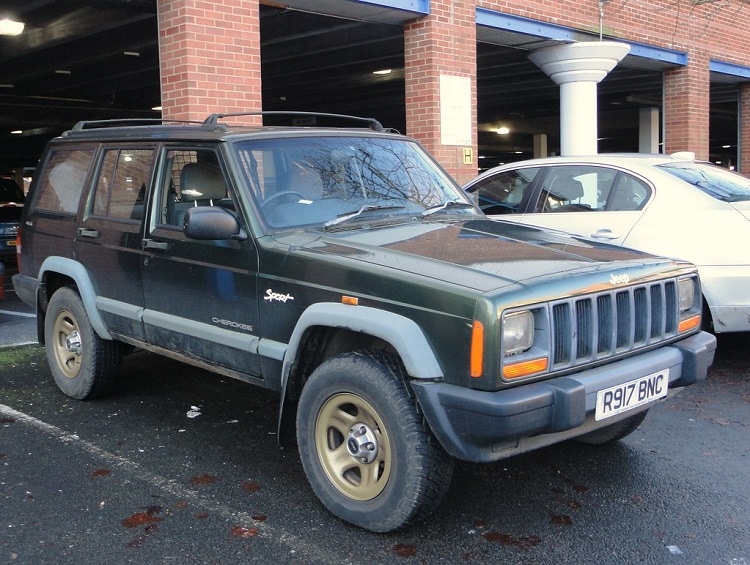 The 1998 Jeep Cherokee was a step-down version of the Grand Cherokee. It was available as a compact SUV as well as a mid-size one. For people who thought the Wrangler was too exposed, the Cherokee SE was the way forward with its two-door design. Like the Wrangler, the Cherokee also had a 2.5-litre inline-four-cylinder and a 4.0-litre inline-six-cylinder engine.
Both engines could be mated to a 5-speed manual; however, the 2.5-litre had a 3-speed automatic while the 4.0-litre had a 4-speed automatic available.
The base Cherokee was similar to the Wrangler SE trim; it mostly had the same specs offered by the Wrangler along with a few added creature comforts such as a full-centre console with cup holders, covered storage, padded armrest, removable front ashtray, rear ashtray, and storage bin with slots for cassettes and CDs.
The Cherokee Limited offered advanced features which were not available in the Wrangler. Air conditioning, leather upholstery, speed control, and a six-way power driver seat provided convenience and comfort. At the same time, the Selec-Trac full-time 4×4 system confirmed a hundred per cent traction on all surface conditions.
Power locks, windows, exterior mirrors, keyless entry, and the loaded overhead console made the Cherokee a much better and more practical SUV than the Wrangler.
1998 Toyota 4Runner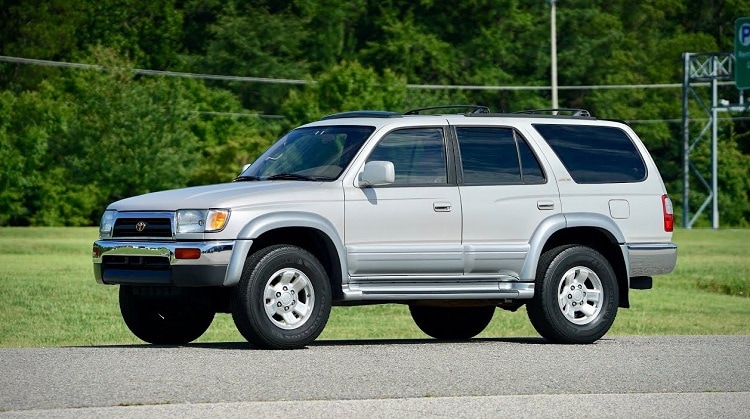 The Toyota 4Runner was launched in 1984 as a mid-sized SUV based on a truck chassis. By 1998, it was running on its third generation, with an all-new chassis on an all-new frame. Although most of its parts were shared with the Toyota Tacoma, yet its frame and body construction were distinct for the first time.
While the rest of the mid-size SUV market was sacrificing off-road capability for highway comfort, the 4Runner differentiated itself by retaining off-road prowess.
The 1998 4Runner was offered in two engine types; a 3.4-litre V6 which produced 217 pound-foot of torque and 183 horsepower, and a 2.7-litre inline-four cylinder which made 177 pound-foot of torque and 150 horsepower.
Overall, the 4Runner was a refined vehicle; the long wheelbase allowed the interior to be roomy, while a low floor and wide doors made getting out and into the 4Runner less of an exercise.
For safety, the 4Runner had anti-lock brakes and dual airbags. Like the Wrangler, the 4Runner was also a part-time 4×4 vehicle, but it had a better ride quality and was more stable at highway speeds.
FAQs
Question: How many Miles do a 1998 Jeep Wrangler Last?
Answer: The 1998 Jeep Wrangler was designed to take on punishing terrains and cross rushing rivers without breaking down. While most vehicles are designed to survive up to 100,000 miles, a well-maintained 1998 Jeep Wrangler can easily last more than 400,000 miles. But there are a few limitations to it as well.
Some parts will need replacement once their life is over, but the engine will continue to perform unless you abuse it. According to user reviews, their 1998 Jeep Wrangler still runs as good as new but had to replace a few parts during their time with the vehicle.
Question: Is it Worth Buying a High Mileage Wrangler?
Answer: If the Wrangler is well maintained, then high mileage is nothing to be afraid of. What kills a Wrangler is abuse, rust, and lack of proper maintenance. The Wrangler is designed with durable off-road hardware which will last for years, but that does not mean it will survive a jump off the cliff.
When buying a high mileage Wrangler, inspect the body for rust and the engine for performance; whether it accelerates without hesitation and idles smoothly.
Wrangler parts are easily available, and no matter which Wrangler model you drive, you will always find a cheap way to fix any broken parts. And once your Wrangler is fixed, it will serve you for a very long time.
Question: Why do Jeep Wranglers Last so Long?
Answer: Jeep Wranglers have an extraordinary service life because they are designed with a high safety factor. A safety factor defines a part's structural limit or how long it will last.
The Wrangler, as you know, comes equipped with heavy-duty Dana 44 axles, for example, one of the parts designed with a high safety factor. Overall, the Wrangler integrates multiple heavy-duty and long-lasting parts, which is why it has a long service life.
Verdict
If I had a chance to buy a brand new 1998 Wrangler, I would not hesitate to buy one. It's a classic vehicle. The 1998 Jeep Wrangler focused on fun and unmatched off-road prowess. Durability and reliability were also top-notch. What else do you need?
By 1998, Jeep had also improved the Wrangler's overall ergonomics. Getting rid of the stiff leaf springs deeply improved the Wrangler's ride comfort, while airbags and anti-lock brakes provided considerable safety.
Of course, the Wrangler was not a high-speed monster you can push hard on the highway at 130 miles per hour, but a high-torque crawler which could take you places no one had dreamed of going.
The Wrangler had the take-me-anywhere and go-over-anything attitude, encouraging people to take on new challenges and discover the wild with a whole new, open-air experience.
Neither was the Wrangler a family vehicle; the hard top reduced the road noise, but it was still noticeable. Driving on the highway with the soft top and kids in the back was also risky.
While the Wrangler alternatives offered much better features and a much greater level of comfort, they failed to provide the experience presented by the Jeep Wrangler. The open-air freedom poured in wind and sunshine, which was exclusive only to the Wrangler.
The Grand Cherokee, Cherokee, and 4Runner all provided better comfort on the highway, and they also came layered with several creature comforts. But if you look from nature's perspective, the Wrangler is a vehicle that gets you closest to it.
Overall, the 1998 Jeep Wrangler was and has been an outstanding vehicle in terms of ruggedness and capability. Not a family SUV or a daily driver, but the best vehicle for enjoying pleasant weather, running wild and having fun.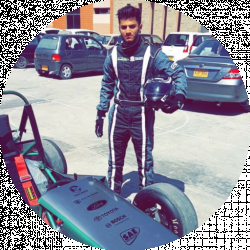 Latest posts by Zabrain Arshad
(see all)