The Jeep Wrangler is an iconic compact and mid-size SUV originally launched as Willy's Jeep for the US military to aid the Allies in the Second World War.
Since its launch in 1986, the civilian Jeep model has undergone five generations of design changes yet has carried the main 4×4 features found in the original Jeep; a body-on-frame chassis, solid rear and front axles, a foldable windshield, and a tapered-nose design.
The 1999 Jeep Wrangler was a TJ, which belonged to the second generation of the Jeep Wrangler range. Compared to the first generation, the TJ stood superior thanks to its coil-spring suspension, allowing it to have a longer wheel travel.
This helped the Wrangler crawl over rocks and boulders with all its wheels on the ground, resulting in better traction. On the other hand, the previous generation would have found it impossible to do it or would have done it with at least one tire in the air.
In this 1999 Jeep Wrangler guide, we will explore this model and year, check out its features, consider what it lacked, and see what competitors offered back in 1999.
Bottom Line Up Front
The 1999 Jeep Wrangler still impresses the world with its iconic design, rugged 4×4 capabilities, and take-me-anywhere attitude.
Even though other competitors offer better comfort and drive refinement, they fail to provide the driving experience put forth by the Jeep Wrangler. With the Wrangler, there is no alternative.
Overview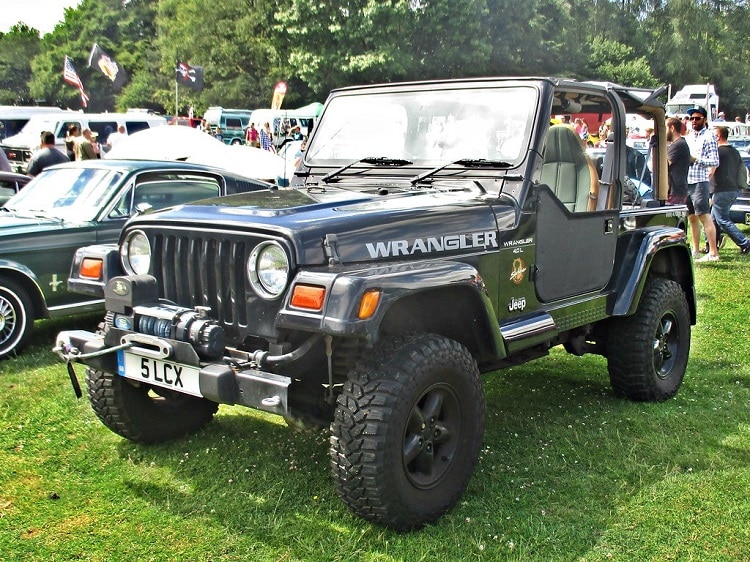 The Jeep Wrangler is the undisputed king of off-road. Although it was initially difficult to live with the Jeep Wrangler, design upgrades helped in making it a daily driver.
In 1996, Jeep did a complete makeover to the Jeep Wrangler for the 1997 model year; it was re-engineered and completely redesigned, which resulted in an improved drive quality over older models in every aspect. The Jeep Wrangler now rode better, handled better, and was now more stable off-road.
By 1999, Jeep further enhanced Wrangler's features by adding creature comforts to make it more comfortable, spacious, and quieter. Even with so many refinements and design upgrades, Jeep was successful in maintaining its heritage look which dated back to World War II when it was as tough as a soldier.
The most distinguishable feature of this generation was its round headlights, which were a reflection of the original Willy's Jeep.
Reputation
The Jeep Wrangler is the most instantly recognizable vehicle in the world; even though its entire exterior received a new set of body panels for a more stylish appearance, its image, supported by the history behind its production, has now been imprinted into people's minds.
50 years after the Second World War, the Jeep Wrangler still manages to please its customers and gearheads with its rugged look; exposed fasteners and hinges, a flat-fold windshield, a big grille, open fenders, and plastic curtains, maintain the Wrangler's no-nonsense personality.
Even today, Jeep does the same thing it used to do back then to make money; it only offered extremely basic features in the base trim and charged extra for every option you added.
For example, the latest Wrangler base trim does not have air conditioning, so you have to pay extra. Pay extra for air conditioning? I mean, really? What's next? Jeep charging for the steering wheel? I find it irritating.
Powertrain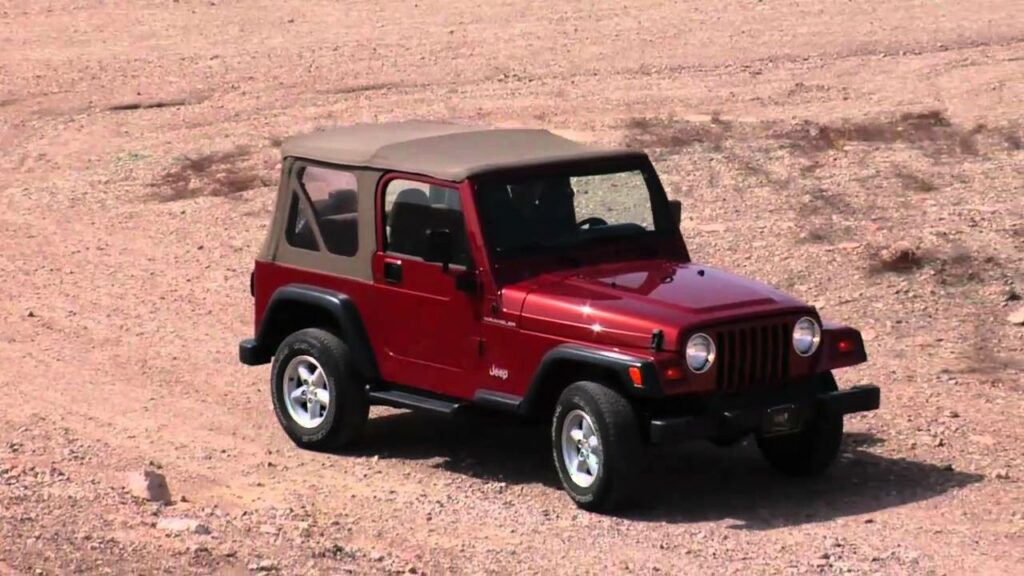 Two engines were offered with the 1999 Jeep Wrangler, both of them were available with a 3-speed automatic or a 5-speed manual. The base trim SE came with a 2.5-liter Power Tech inline-four-cylinder engine which produced 140 pound-feet of torque and 120 horsepower.
The Sport and Sahara trims were powered by a more powerful 4.0-liter Power Tech inline-six-cylinder engine which pumped out 222 pound-feet of torque and 181 horsepower.
Although there was a significant difference in the power output of these two, both engines produced maximum torque at low rpm to ensure the Wrangler could easily crawl over punishing terrains.
The Sport and Sahara trims were about $2000+ more expensive than the SE trim back in 1999 but offered more style and features to the Wrangler.
Moreover, Jeep offered many options for enthusiasts who wanted to explore the world by crawling over rocks and rushing through rivers. Customers could, back then, opt for the optional locking rear differential, heavy-duty generator and battery, front tow hooks, and gas-filled shock absorbers.
Tire and Traction
Three tire sizes were available on the 1999 Jeep Wrangler; P205/75R15 RT/S Goodyear Wrangler on the SE trim, P215/75R15 RT/S Goodyear Wrangler on the Sport trim, and huge P225/75R15 Goodyear Wrangler GS-A outline white on the Sahara trim.
All these tires were all-terrain, and while the P205/75R15 was better suited for daily commutes and snow/rain, the P225/75R15 provided the best traction off-road.
Color Scheme
The 1999 Jeep Wrangler came with many color options, with Desert Sand and Forest Green added for the 1999 model year on all trims.
While Black and Stone White were common for all trims, Flame Red, Chili Pepper Red, Intense Blue, Deep Amethyst, Gunmetal, and Medium Fern Green were exclusively available with SE and Sport trims.
Soft Top or Hard Top?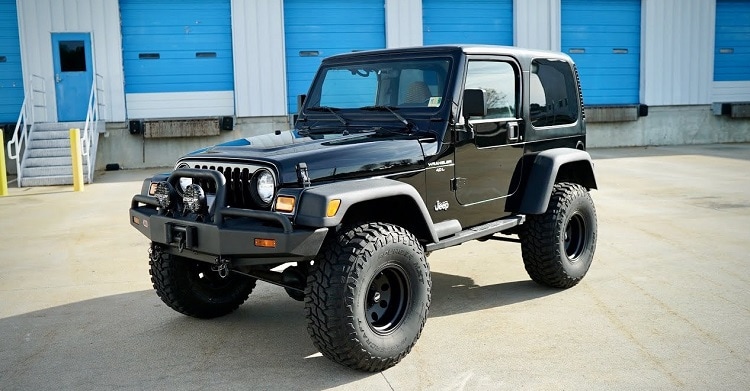 It was confusing choosing which top to pick. Enthusiasts preferred the soft top; it was a high-quality cloth that could be adjusted according to the weather.
While the windshield could be folded easily with the help of a screwdriver, the soft top could be removed in far less time than previously required. The side curtains used to be hard to manage; leaving them unzipped in rainy weather would leave you with a wet lap.
The hardtop was more practical; it was for around $750 extra, but it added convenience in several ways. It was more secure for keeping valuable stuff in the vehicle and provided better cover from the weather.
The full doors and wind-up windows aided the coziness provided by the hardtop, and driving through an evening thunderstorm felt much more secure and dry than the soft top. Furthermore, the rear-window wiper, washer, and defroster improved rearward visibility in wet weather.
The most prominent difference was the cabin noise, which was drastically reduced with the hardtop. And it was convenient to remove and store the hardtop when it was not in use.
No matter which top one bought with his 1999 Jeep Wrangler, both tops were easily installable and removable compared to any top available on previous models. Moreover, buyers could pay extra to get matching-color tops for their Wranglers.
A Cozy Cabin
The 1999 Jeep Wrangler had an elegant interior, simple yet neat. The modern heating and ventilation system and instrument panel were the most significant interior changes from the previous generation Wrangler.
The rotary knobs now replaced the slider controls for the air conditioner, heating, and ventilation system, which proved to be convenient when wearing gloves.
New and improved front bucket seats added comfort for the passenger and driver. And when returning from off-roading with a dirty cabin, the interior could be easily cleaned via slotted storage bins, water-proof seat fabric, removable carpets, and drain holes.
In 1999, the Jeep Wrangler was not offered in the Long Wheel Base version, now called Unlimited. It was compact, with space for either four people or two people and cargo, but not both.
It was better for two people with gear for weekend excursions, where you could head for the hills with your camping gear, tent, cooler, and equipment in the back with the rear seats removed to enjoy the adventure.
And if this was not enough, the 1999 Jeep Wrangler offered enough towing capacity for you to tow a small to a medium trailer, depending on the trim.
Driving Experience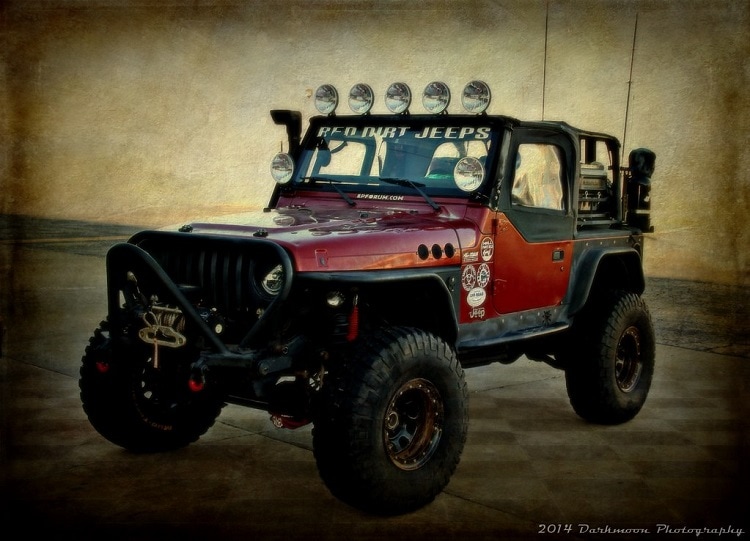 The 1999 Jeep Wrangler was not an ordinary vehicle but a fully capable, off-road monster. Granted, ride comfort was not as good as other SUVs offered, but neither was the Wrangler designed to provide comfort. Back then, in 1999, the on-road drive quality was reasonable.
It was not as punishing as before because of the previously stiff leaf suspension, but it was not as plush as a luxury sedan. It felt smooth yet safe at speeds up to 80 mph and was more suited to short commutes and neighborhood drives, while serious off-roading was its main card.
Think of it like this; where an average sedan would get stuck and rust away, or an SUV might get you away, it would be a piece of cake for the Wrangler. It's that capable. And it's not just the suspension but the entire vehicle. It's designed that way.
It is more of a lifestyle besides being a durable off-roader. With an open top, huge fender flares, high ground clearance, and a foldable windshield, it is enjoyed by young and daring people.
A lifestyle that knows no boundaries and loves to run wild. It easily handles corners, and wet pavement is no big deal.
Rugged Suspension
Improved 4×4 prowess was achieved by swapping the conventional leaf-spring setup with coil-springs. Jeep called this new upgrade Quadra-coil suspension, which used solid live axles, gas-filled shock absorbers, track and stabilizer bars, and locating arms to aid the Wrangler in achieving more flexibility.
This suspension was now more capable thanks to the all-new rigid chassis, which assisted it in performing its job. While the coil springs provided extended wheel travel and better handling off and on the road, the Quadra-coil suspension added another 7 inches of vehicle articulation to the Jeep Wrangler.
These suspension upgrades deeply helped the Wrangler in setting up greater off-roading angles. At places where fallen trees and trenches would trap the Wrangler, it now was nothing more than a stretch. The approach, departure, and break-over angles were rated at 44.2, 31.5, and 25.3 degrees, respectively.
These features have kept the Jeep Wrangler so successful in being a true off-roader. Back in 1999, only a few competitors stood to provide what the Wrangler had to offer.
Granted, the Jeep Wrangler is a terrific off-road SUV that nails the segment with its rugged design and hardcore suspension and power; it is essentially, a truck. It handles fine, and runs great, but has a high center of gravity and will lose control if hurried around corners.
Command-Trac 4×4 System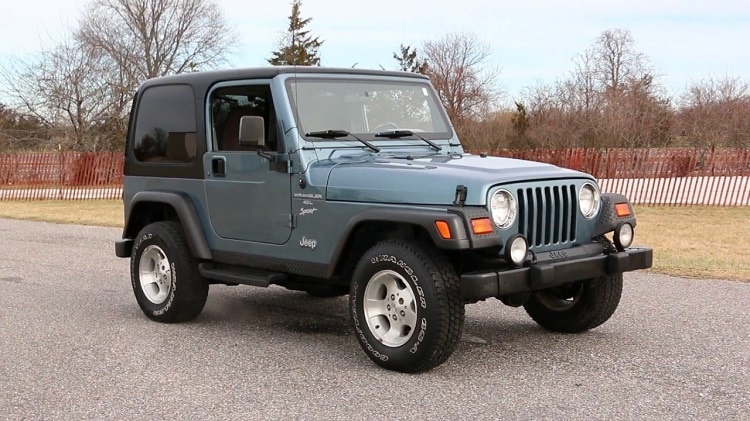 The secret to the 1999 Jeep Wrangler's off-road prowess is its shift-on-the-fly (which means shift while moving) Command-Trac part-time 4×4 system, which was standard on all trims. A part-time system can only be utilized when you need it.
It works by locking the front and rear axles together to help you crawl over slippery and loose surfaces or get you over steep rock. But there is a limitation to it.
Since all four wheels are locked together, with no differential in between, you are bound to use it only off-road; if you use it for normal driving conditions, it will damage the gearing when the vehicle goes through a corner, where the inner wheel follows a smaller radius compared to the outer wheel's larger radius.
On the other hand, a full-time 4×4 system adds another differential between the rear and front, allowing the vehicle to cater to the differential speed required while cornering or turning. The full-time 4×4 system was available in later Wrangler models but not with the 1999 model year.
Back to the 1999 Jeep Wrangler, its part-time 4×4 system could be deployed from 2H to 4H at speeds up to 55 mph. And when it was time for serious action, the driver could switch to 4L to experience the Wrangler's true power.
1999 Jeep Wrangler Trims
The 1999 Jeep Wrangler was introduced in three models; SE, Sport, and Sahara. The 1999 Jeep Wrangler SE was the base trim, and although Jeep attracted people with its low price tag, the total cost quickly rose when a better seat fabric, carpeting, a stereo, a rear bench seat, and other options were added.
The optional rear seat may be omitted for people who think they will never use it, and instead, the space can be utilized for cargo and accessories.
1999 Jeep Wrangler SE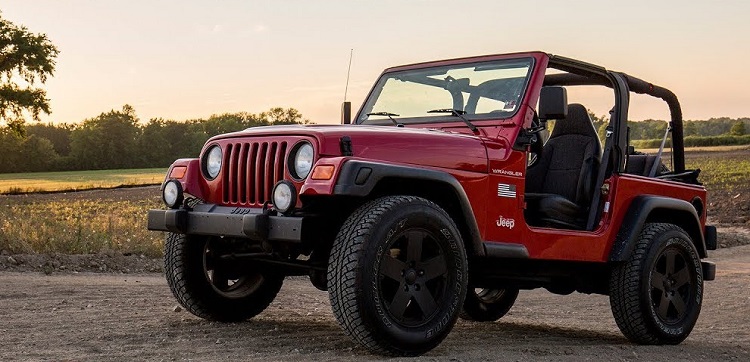 Besides the 2.5-liter inline-4 engine coupled to a 5-speed manual, Quadra-coil suspension, and Command-Trac part-time 4×4 system, the SE trim was launched with 15×6'' steel-styled rims and protective skid plates for the fuel tank (15-gallon) and transfer case.
The driver and passenger airbags added safety, while power steering, removable front carpeting, and locking glove box provided convenience.
1999 Jeep Wrangler Sport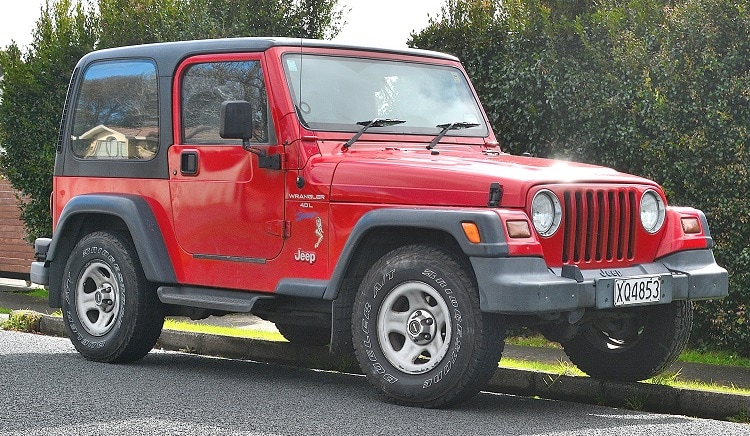 On top of the features provided by the base trim, the Sport trim added the more powerful 4.0-liter inline-6 cylinder engine, a foldable rear seat, removable rear carpeting, a clock, and AM/FM stereo radio with two speakers.
1999 Jeep Wrangler Sahara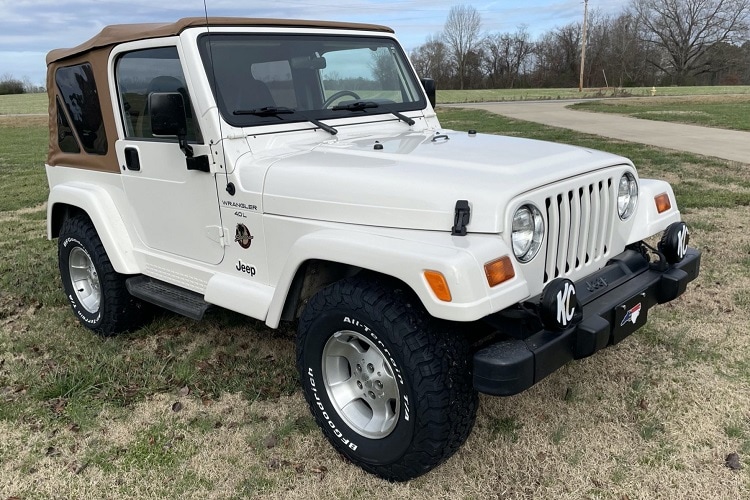 The Sahara trim added luxury and more convenience to the standard features. The steel rims were replaced with aluminum alloy rims. A 19-gallon fuel tank for extra mileage, two front tow hooks, a powerful 600-ampere battery, and a 117-ampere alternator were added.
Round halogen fog lamps lit the way for crawling through tough terrains in the dark, while body-colored fender flares made the Wrangler look more stylish.
Bodyside steps were added to help make climbing easier for the passengers, while the leather-wrapped steering wheel, front floor mats, and height-adjustable steering column made the interior much more comfortable for the driver.
The AM/FM stereo radio system was now equipped with a cassette tape player with four speakers to provide the best audio experience (please do not compare it to today's 15-speaker premium Alpine audio system available in the 2022 Wrangler).
An optional Convenience Group package was available, which added a lamp under the instrument panel, a full center console, and an engine compartment lamp.
1999 Jeep Wrangler Alternatives
1999 Toyota 4Runner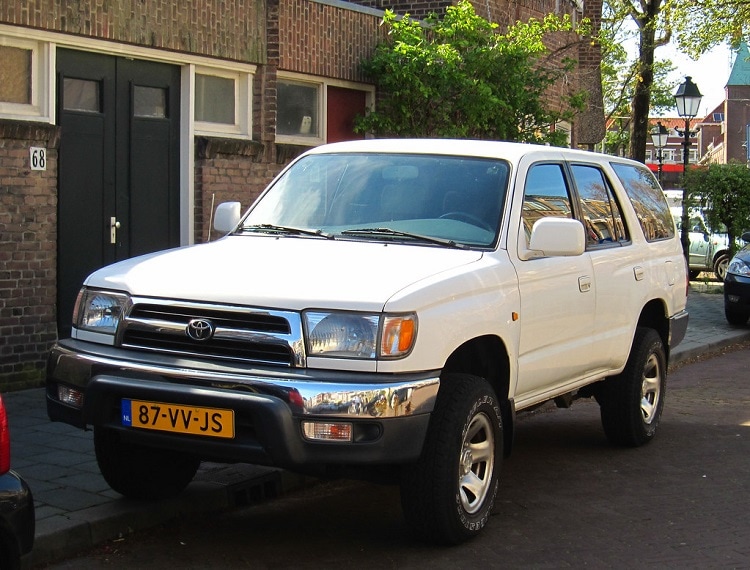 The Toyota 4Runner was originally launched in 1984 and has been on the market since. By 1999, the 4Runner had made its name as a practical, reliable, and capable off-road mid-size SUV. It was bigger than the Wrangler and offered much more comfort.
Similar to the Wrangler, the 1999 4Runner was also available with two powertrain options. A 2.7-liter inline-4 cylinder and a 3.4-liter V6. The 2.7-liter inline-4 cylinder produced 177 pound-feet of torque and 150 horsepower, while the 3.4-liter V6 made 217 pound-feet of torque and 183 horsepower.
Both engines were available with a 5-speed manual transmission or a 4-speed automatic.
Unlike the Wrangler, the 4Runner was designed with comfort in mind. It had a power driver seat with lumbar support, cruise control, air conditioning, and a multi-CD player with AM/FM radio and cassette player. It also offered a part-time 4×4 system like the Wrangler and a locking rear differential.
Overall, it was a practical mid-size SUV, which you could take away for trailblazing on weekends and drive to work on weekdays comfortably. It did not offer the open experience the Wrangler did, but it was a daily driver, which the Wrangler was not.
1999 Toyota Land Cruiser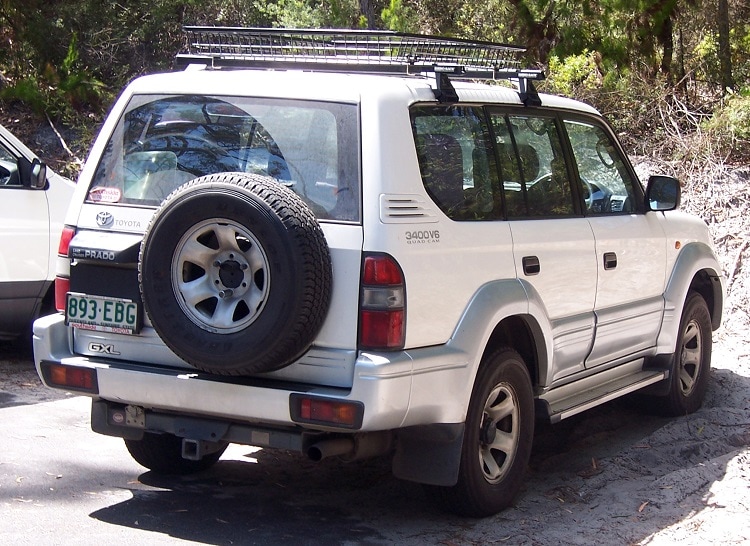 The Toyota Land Cruiser is Toyota's flagship SUV. It is not only the most reliable and durable vehicle Toyota has produced but also indestructible. The 1999 model was launched with a 4.7-liter V8, the first Land Cruiser to use a V8 engine. This engine made 230 horsepower and 320 pound-feet of torque.
The 1999 model had been redesigned to have a stronger, larger, and heavier chassis to stand strong against punishing terrains.
Compared to the 1999 Jeep Wrangler, the Land Cruiser was more expensive, bigger, and offered far more features. For instance, it featured multiple storage bins, leather upholstery, a power sunroof, a locking differential, large door openings, a roof rack to load extra cargo, and several cup holders.
The 1999 Land Cruiser was a much more practical SUV, although more expensive than the Jeep Wrangler. Still, it was equally capable off-road while offering durability and reliability without compromising comfort.
Till today, the 1999 Land Cruiser can be found as strong as it was launched years back, which shows the extraordinary level of design and craftsmanship employed by the Japanese manufacturer.
1999 Jeep Grand Cherokee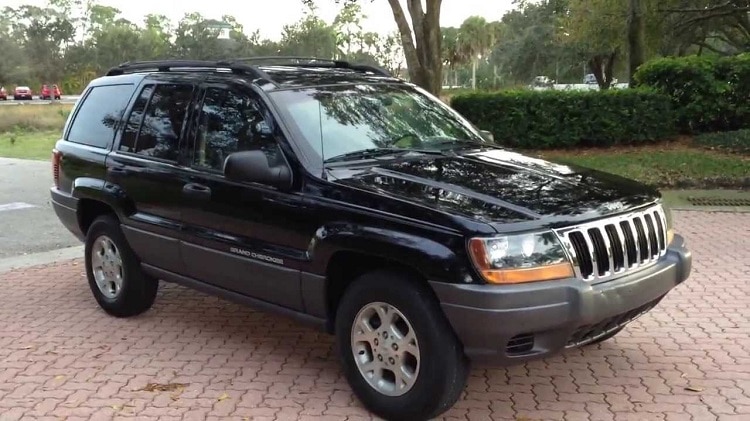 The 1999 Jeep Grand Cherokee was a luxurious upgrade to the Wrangler's capability. Instead of a body-on-frame chassis, the Grand Cherokee had a monocoque or unibody construction, unlike the 4Runner or Land Cruiser, which provided a smoother ride quality.
Moreover, it was powered by two engines; a 4.0-liter inline-6 cylinder which made 230 pound-feet of torque and 195 horsepower, and a more powerful 4.7-liter V8 which made 290 pound-feet of torque and 230 horsepower.
The Grand Cherokee did not have the open-air freedom of the Wrangler but added creature comforts that made it too attractive to buy.
For instance, the infrared-controlled climate control system automatically adjusted the airflow when it sensed a difference in the required temperature, the universal transmitter in the overhead console allowed the user to operate the home security system, main gate, and garage door, leather upholstery, and memory 10-way power seats added more comfort, while automatic headlamps, power, and heated side mirrors, and power door and windows added convenience.
Moreover, the Jeep Grand Cherokee also allowed the driver to program the overhead console with his preferences; you could remote link to memory, automatically lock the doors, or get the lights to flash when you locked the vehicle.
All of these plus more features were configurable by the driver. Overall, the Grand Cherokee was a grand package of luxury and power. It was full of features. Yes, it was much more costly than the Wrangler, but it was worth the money.
FAQs
Question: Is 1999 Jeep Wrangler Reliable?
Answer: The 1999 Jeep Wrangler has proved very durable and reliable, per statistics. People have driven more than 150k miles on it, yet it still stands as powerful as it was when new.
Being a compact SUV, it is stable on the highway till 70 mph; wind makes it difficult to control. The Wrangler performs confidently off-road or on slippery surfaces, thanks to its rugged part-time 4×4 system.
The Jeep Wrangler was designed to take on punishing terrains without breaking down. This design intent has made the Jeep Wrangler incredibly reliable and long-lasting, which is why it holds a high resale value.
Question: Is the Jeep 2.5 L 4-cylinder Engine Good?
Answer: The Jeep 2.5-litre Power Tech inline-4 cylinder engine offered 140 pound-feet of torque and 120 horsepower and was available with a 5-speed manual transmission and a 3-speed automatic.
Although the engine provided good torque at low rpm and great fuel economy, it felt underpowered, especially with the 3-speed automatic. It was reliable but was better mated with the 5-speed manual than the 3-speed automatic.
Question: What Jeep Wrangler is the Best?
Answer: The Jeep Wrangler Rubicon 392 is the most capable Wrangler available from the Wrangler lineup.
Combined with the 6.4-liter Hemi V8 engine and Xtreme Recon package with adds huge 35-inch tires, a 4.56 axle ratio for maximum torque, a 1.5-inch suspension lift kit, and custom-tuned shocks, the Wrangler Rubicon 392 is the most powerful and capable 4×4 SUV you can drive away from the factory right to trailblazing without stopping for any other upgrade.
It excels in providing the best 4×4 capability and boasts a zero to 60 acceleration time of 4.2 seconds, which is supercar performance. Overall, the Jeep Wrangler Rubicon 392, combined with the Xtreme Recon package, is the most powerful and capable Wrangler ever produced.
Verdict
If I could travel back to 1999, I would buy the Jeep Wrangler. Not the 4Runner or the Land Cruiser, but the Wrangler. Not only was it exceptionally capable off-road, but it was also the only vehicle that provided an open-air experience on any terrain.
It can be said that the Wrangler is one of the most enjoyable vehicles ever produced. You may have fun driving a convertible down the freeway at 120 miles per hour, but that cannot be done out in the wild, where you need a rugged machine to crawl over thick and thin.
The 1999 Jeep Wrangler was a compact, easy-to-drive SUV, which was made to address two things, and two things only; off-roading and fun.
The Wrangler's take-me-anywhere and go-over-anything attitude make it stand apart from other SUVs. Of course, it's not to be taken as a family vehicle but as a tool to take you from point A to point B, regardless of the weather, terrain, or whatever else you can think of.
But to do that, the Wrangler compromises on a few things; comfort is on top of that. While the latest Wrangler models have pulled in as much comfort as possible, they are still far behind in providing what is offered in other SUVs.
But that is neglected because what the Wrangler offers cannot be found in other SUVs. And that is off-road dominancy.
If you look at the alternatives I shared, the Toyota 4Runner or Land Cruiser, you will see that both offer greater comfort and features without compromising on 4×4 capability. But they fail to provide the experience presented by the Wrangler. They just cannot.
You will not enjoy the sun or windy weather even with all your windows down and sunroof open in your 4Runner or Land Cruiser as much as you will in the Wrangler. And that is the part that makes it so special.
Overall, the 1999 Jeep Wrangler was an excellent off-roader with great functionality and durability. Not a daily driver, though, because of its noisy and stiff ride, but the best vehicle ever made for exploring the wild and enjoying the weather.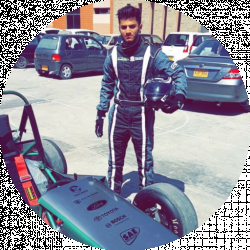 Latest posts by Zabrain Arshad
(see all)