The look of surprise on the Patriot's face was one of the things that remained the same in the 2011 Jeep Patriot. The vehicle also retained the same old boxy shape and squared angles, so one might think that it's the same vehicle from the first generation. That couldn't be farther from the truth. 
This new generation of the Jeep Patriot brought about aesthetic differences that made a bit of a difference in how the vehicle looked. The ground clearance was raised slightly by half an inch, but this gave it a more muscular look. Its front and rear bumpers also got cosmetic changes that I think made the Patriot beefier. So, although I said I didn't like the Patriot's look in the 2010 model guide, I must admit that the 2011 model won me over.  
As you dive deeper into this 2011 Jeep Patriot guide, you'll find out exactly why this 'new' look has converted me into a believer and why you should give the second and last generation of the Jeep Patriot a try. 
Bottom Line Up Front
I would choose the 2011 Jeep Patriot with a manual transmission and a 2.4-liter engine because the 2.0-liter engine is sluggish and doesn't offer a significant improvement in fuel consumption. Avoid the CVT models as they're sluggish and problematic. 
Overview of the 2011 Jeep Patriot
Exterior Look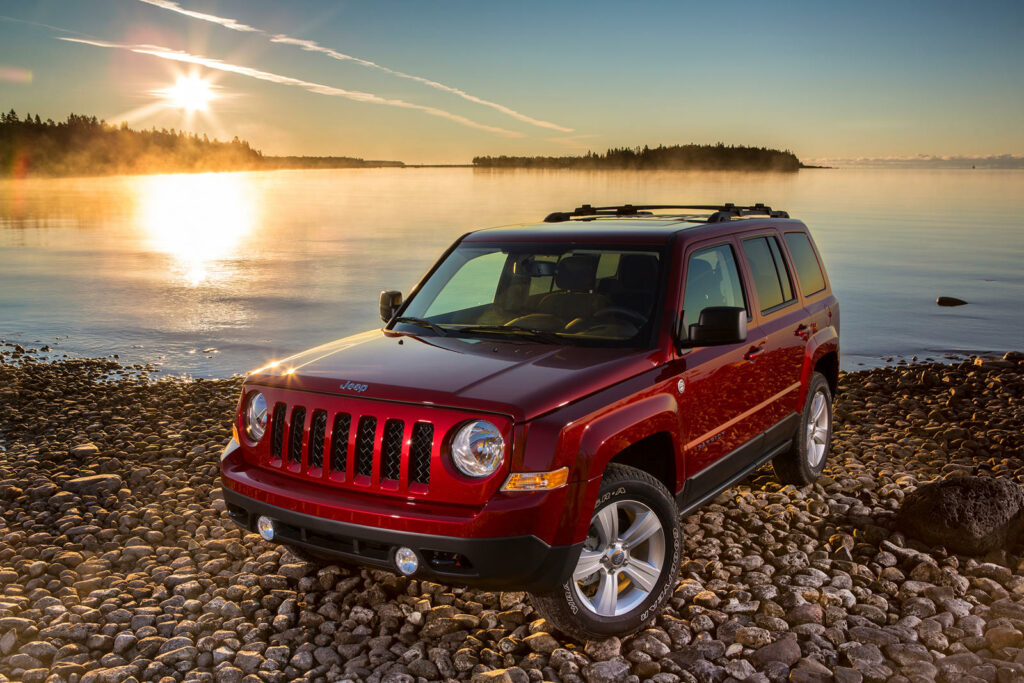 I thought the previous Jeep Patriot generation had a peculiar design born from the low ride height and the boxy shape. Those two, in my opinion, don't go well together. It's as if the Patriot attempted to be a rugged SUV while also making it a sedan or station wagon. Pick a lane, Patriot! And pick a lane it did – the half-inch rise in ground clearance may seem negligible, but in my eyes, it feels like the Patriot finally decided what it wanted to be; a crossover SUV through and through. 
But that's not all that changed; its suspension was beefed up and its steering was made more accurate. Its front and rear bumpers were also redesigned to give it a beefier offroad look. These minor changes made a big difference in the overall aesthetic of the Patriot, although they didn't actually make the vehicle bigger; the overall length and wheelbase remained the same.
Interior Look
The interior quality was also improved slightly, but this was not enough to earn the praise of reviewers. Sure, the interior materials were upgraded and the front seats were made slightly more comfortable. But, in a competitive SUV market where the likes of the Toyota RAV4 and Honda CRV offer better-quality interiors, the 2011 Jeep Patriot still fell short.
However, credit where it's due, the higher trim levels got leather, a touch-screen infotainment system, and high-quality speakers. Still, these extra luxuries slowly pushed up the cost of the Patriot. Even today, you might spend a tidy sum to get a 2011 Jeep Patriot with all the bells and whistles.
On the brighter side, the Jeep Patriot's boxy shape means that there aren't any odd angles that eat into the interior space. Compared to its competitors, the Patriot's interior is quite roomy, with excellent headroom of 41 inches in front and 39.9 inches in the second row. Legroom is also competitive, with 40.6 inches in front and 39.4 inches in the rear.
Trim Levels
The 2011 Patriot only had Sport and Latitude X trims, unlike the previous years when there was also a Limited trim level. The main thing that differentiated the trim levels was the interior quality and added features.
Leather upholstery, power driver's seat, and climate control were found in Latitude X models while the Sport versions got cloth upholstery. For climate control, buyers of the Patriot Sport had to add close to $1000. 
Optional features included Bluetooth connectivity, an off-road package for four-wheel-drive models, and heated seats.
MSRP and Current Value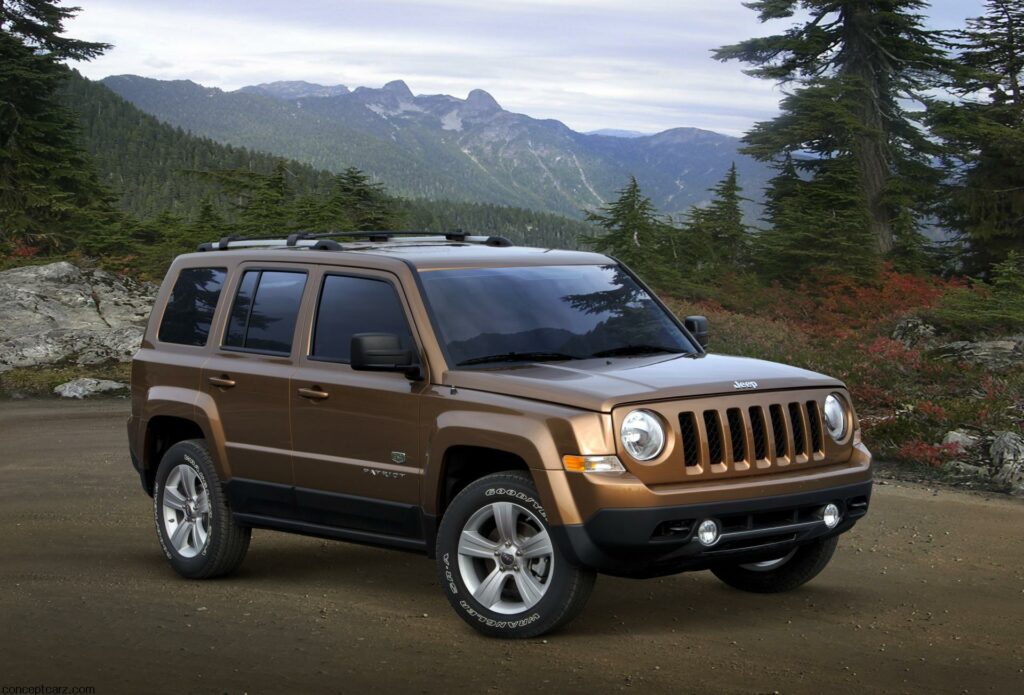 At launch, the 2011 Jeep Patriot Sport had an  MSRP of $15,595 while the Patriot Latitude X cost $22,195. These prices were without the optional features that would add at least $3000 to the retail price.
According to Kelley Blue Book, a good price for the 2011 Jeep Patriot Sport is $7,000 while $10,000 is a good price for the Latitude X models.
However, the Sport can cost as low as $5,000 and you can get a Latitude X model for $7,000.  Models with low mileage can cost as much as $15,000. 
Features and Specs of the 2011 Jeep Patriot
Engine Options
Just like in the previous generation, the 2011 Patriot has two engine options; a 4-cylinder 2.0-liter engine and a 4-cylinder 2.4-liter engine. Nothing has changed under the hood, with both engines offering similar horsepower and torque as they did in previous years. 
So, you get 158 horsepower and 141 lb-ft of torque in the 2.0-liter and 172 horsepower and 165 lb-ft of torque in the 2.4-liter. As expected, nothing has changed in performance as the two engines are sluggish when it comes to acceleration, especially when paired with the CVT transmission, but we'll talk about transmission later.
I would choose the 2.4-liter engine as it performs significantly better than the smaller engine and doesn't need as much revving to unleash its full potential. There's also only a slight difference in fuel economy in highway driving, but this is insignificant. More on fuel consumption later.
Transmission
A five-speed manual transmission is standard in all models, and, if you ask me, there's no need to talk about the alternative. The manual transmission brings out the best in either engine and it'll make you forget how underpowered they feel. 
Sure, a CVT is also available but I choose to ignore it because it's just too lazy. It was unfortunate that this transmission wasn't improved for the 2011 model. 
So, if you're looking for a 2011 Jeep Patriot, avoid the CVT models like you would the plague.
Drivetrain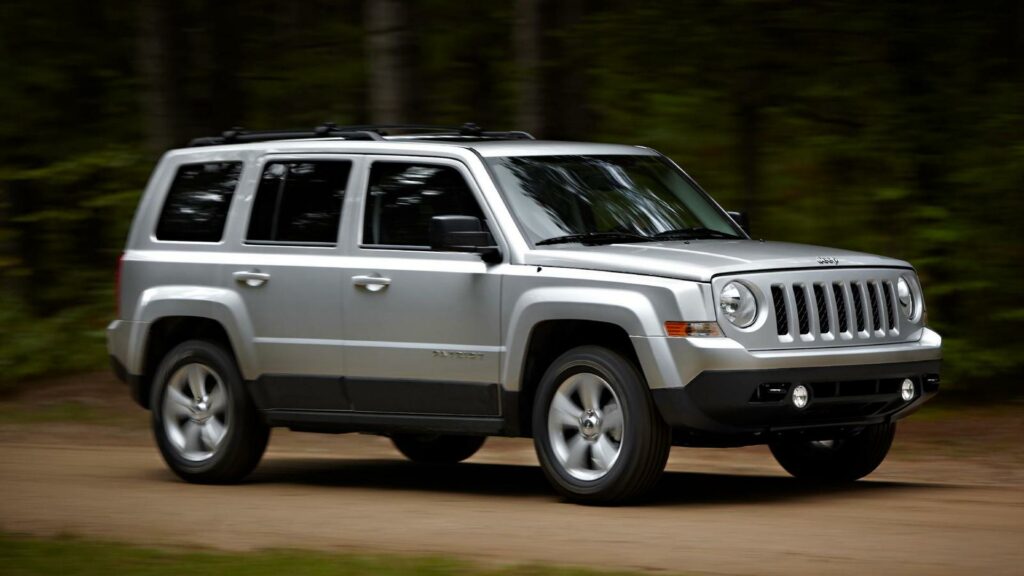 There are both front-wheel and all-wheel-drive options, similar to previous years. There's also an option of a Trail Rated all-wheel-drive system that improves off-road performance, especially on slopes. The Patriot performs well off-road for a crossover SUV, but it's definitely no Wrangler, so don't expect it to tread the same trails as its sibling.
However, when on pavement, you'll be glad that the Patriot is not a Wrangler as it handles brilliantly on curved roads. This is because it has the underpinnings of a car rather than an offroader. Plus, its independent suspension elegantly soaks up bumps to keep you from tossing around in your seat.
The steering is responsive, making the Patriot easy to control even at high speeds. These features make it an impressive city car with decent offroad chops.
Safety Features
The 2011 Patriot got stability control, front and overhead airbags as standard, and curtain airbags as optional in the Sport models but standard in Latitude X. 
Sadly, IIHS ratings for the 2011 Patriot were 'poor' in small overlap front impact tests, but moderate overlap front, side impact, roof strength, and head protection ratings were 'good'. 
Cargo and Towing Capacity
You get just 23 cubic feet of cargo capacity with the second row of seats up. This is less than what you get in a RAV4 or a Chevrolet Equinox, two of the Patriot's closest competitors. If you fold down the rear seats, you'll get 54.2 cubic feet as opposed to 73 cubic feet in the RAV4 and 63.7 cubic feet in the Equinox. 
Towing capacity hasn't improved over the previous years, with the 2011 model also able to tow up to 1000 lbs, irrespective of engine or drivetrain.
Fuel Economy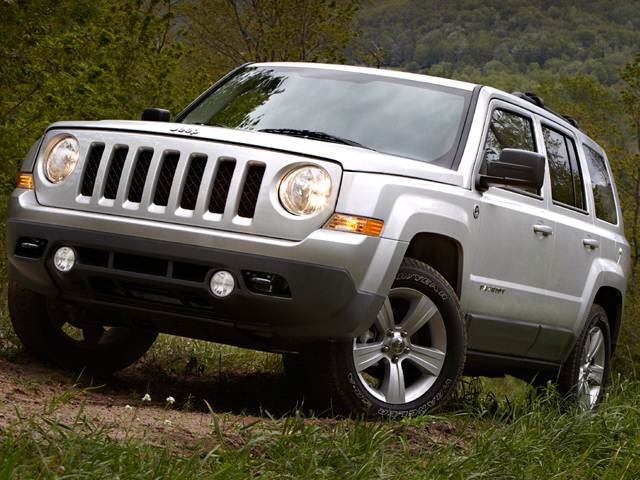 The table below breaks down the fuel consumption of the different 2011 Jeep Patriot iterations according to fueleconomy.gov. 
| | | | |
| --- | --- | --- | --- |
| Model | City | Highway | Combined |
| 4WD 2.4L CVT | 21 | 26 | 23 |
| 4WD 2.4L Manual | 22 | 27 | 24 |
| 2WD 2.4L CVT | 21 | 27 | 23 |
| 2WD 2.4L Manual | 23 | 28 | 25 |
| 2WD 2.0L CVT | 23 | 27 | 24 |
| 2WD 2.0L Manual | 23 | 29 | 25 |
As I mentioned earlier, I think the manual transmission is the only Jeep Patriot worth buying as they offer better performance and fuel economy than their CVT counterparts. Sadly, if you can't drive a stick, I recommend checking out one of the Patriot's competitors listed later in this article.
I would also choose a model with a 2.4-liter engine as the difference in fuel consumption between the 2WD 2.0L and 2.4L models is very small. 
For city driving, the 2WD Patriot with the 2.4-liter engine is perfect, but if you plan to go off-road, then the 4WD version is best. 
Continue reading related Jeep Patriot guides from different years worth mentioning:
Common 2011 Jeep Patriot Problems
Although the 2011 Patriot wasn't considered a very reliable vehicle in a market with unkillable vehicles like the RAV4, it's still considered one that's affordable to maintain. 
I took a look at data collected by carcomplaints.com and Repair Pal to put together this list of the most common 2011 Jeep Patriot problems. 
CVT Transmission Issues
We keep getting more reasons to avoid Jeep Patriots with a CVT transmission, this time because the CVT is simply unreliable. 
Just like the previous generation, the 2011 model's CVT is also prone to abruptly failing. This can manifest in different ways; for some users, the transmission overheats, and for others, there's an unnerving grinding noise then the check engine light illuminates. For most people, there's also a whining noise before the Patriot loses power. 
Sadly, this is a flaw with the CVT and there's no known fix other than replacing the entire transmission. Some owners advise servicing the transmission more regularly than recommended to stay on top of the issue. 
Water Leaks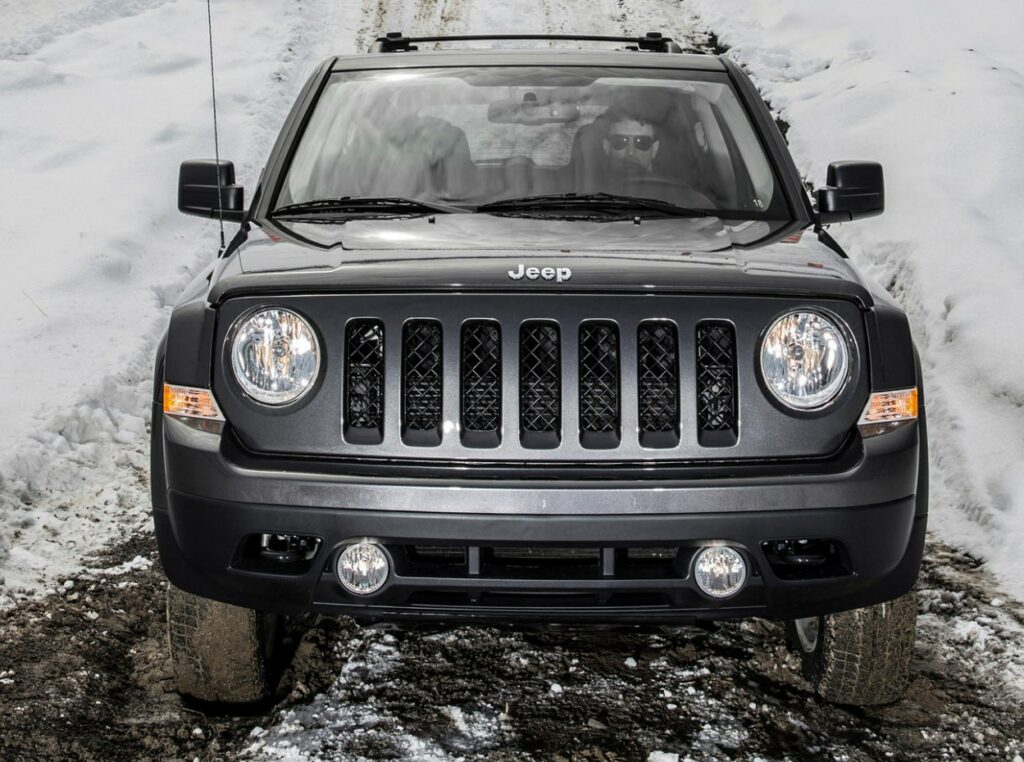 Another problem that carries over into the 2011 model is the water leaks into the interior. If you've read the 2010 Patriot guide, you probably already know that it was the bane of a lot of Patriot owners' existence, with heavy leaks mainly through the front and rear dome lights. 
The leaks can get so bad that the water ends up damaging the radio.
Unfortunately, there isn't a known solution to this, as different owners have tried different things with varied results. For some, resealing the area around the dome lights has done the trick., For others, simply clearing the roof drains helped.
Manual Transmission Issues
Though not as rampant as the CVT issues, the Patriot's manual transmission is also prone to developing problems, especially after the vehicle has clocked 100,000 miles. According to owners who have experienced this issue, the transmission develops difficulty shifting into certain gears.
To fix this issue, you'll have to replace the gear synchronizer rings.
Difficulty Starting
The Jeep Patriot may abruptly refuse to start, a problem that initially occurs intermittently then more frequently. According to Repair Pal, this is caused by a faulty wireless control module that needs to be replaced. 
Engine Stalling
There are reports of the Patriot suddenly stalling while driving. Some owners fixed this issue by replacing the camshaft position sensor. However, this isn't always the solution, as a majority of owners haven't been able to identify the actual problem. 
2011 Jeep Patriot Recalls
To date, there have been four recalls on the 2011 Jeep Patriot, as listed on the NHTSA website. Here's a quick breakdown of these recalls and the interventions made to solve the issues.
| | | |
| --- | --- | --- |
| Recall Date | Problem | Solution |
| June 2011 | The 2011 Patriot was among some Chrysler Group vehicles that had a missing rivet in the steering column. | The steering column rivets were properly installed by dealers. |
| June 2013 | Some 2011 Jeep Patriots had a software issue that affected the deployment of side airbags in the event of a crash. | Dealers checked and fixed this software error. |
| September 2016 | It was reported that the Occupant Restraint Control module in some vehicles was faulty. This was likely to prevent airbags and seat belt pretensioners from deploying if a crash occurred. | Dealers replaced the OCR module in the affected vehicles. |
| December 2017 | Some Chrysler Group vehicles, including the 2011 Patriot, had defective fire extinguishers that were unlikely to function properly in the event of a fire. | Manufacturers of the defective fire extinguishers sent replacements to owners. |
Alternatives to the 2011 Jeep Patriot
2011 Subaru Forester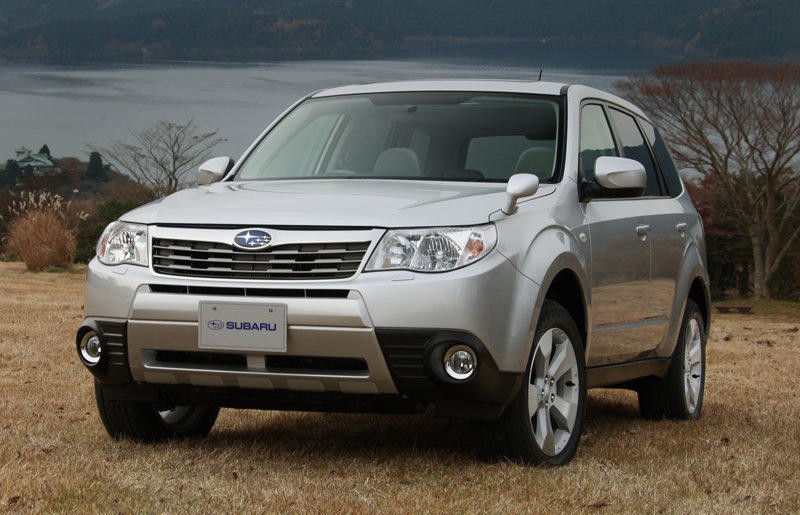 The Forester is a reliable alternative to the Jeep Patriot that you ought to consider if you're looking for a compact SUV. You don't need to ask me which one looks better because you already know that I'm conflicted about the Patriot's looks, even with the improvements I mentioned earlier in this article. 
Still, the Patriot offers slightly more head and legroom than the Forester, although the Subaru is slightly longer. This difference in length gives the Forester a bigger cargo area, with 30.8 cubic feet as opposed to the Patriot's 23 cubic feet.
There are two engine options available: a 2.5-liter naturally-aspirated engine with 170 horsepower and a 2.5-liter turbocharged engine with 224 horsepower. Fuel economy in the naturally-aspirated engine is almost similar to what you get in a 2.4-liter Patriot. Still, the turbocharged engine is a bit thirsty, consuming about 19 mpg in the city and 24 mpg on the highway. 
All models come with all-wheel drive and a standard five-speed manual transmission. There is also an optional four-speed automatic transmission.
The Forester is an excellent on-road performer, perhaps offering the best handling in its class. Its high ground clearance and all-wheel-drive system make it a great off-roader as well.
2011 Mitsubishi Outlander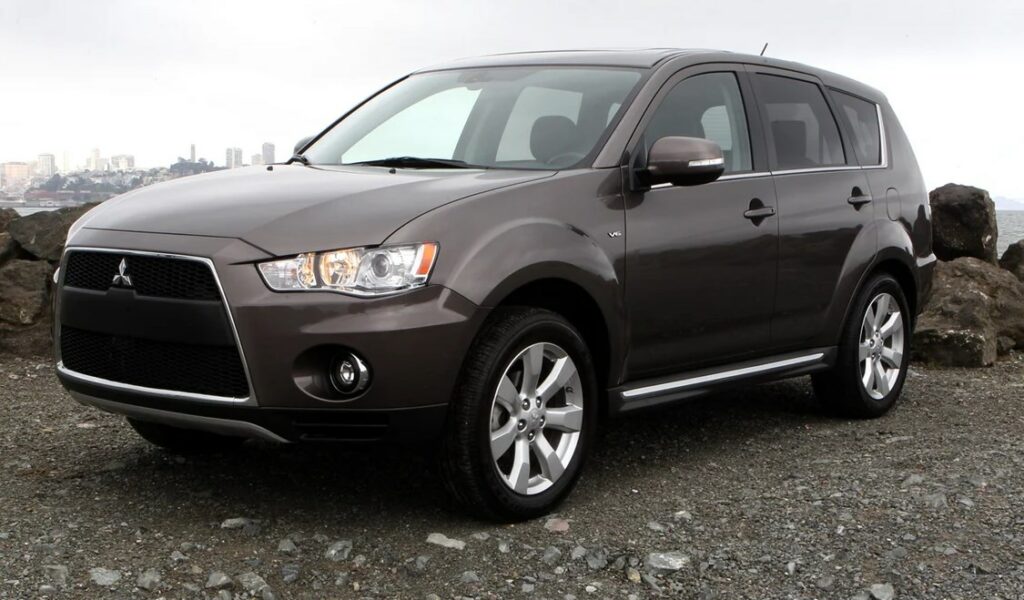 Both Mitsubishi and Subaru are sporty crossover SUVs with powerful engine options. The 2011 Mitsubishi Outlander offers a 2,4-liter 4-cylinder engine that churns 168 horsepower. There's a more muscular engine, a 3.0-liter V6 that produces 230 horsepower. 
Four trims are available: ES, SE, XLS, and GT, with the top two trim levels boasting the V6. Mitsubishi designed the top trim levels for lovers of performance vehicles, explaining why these models have a six-speed automatic transmission while the lower trims come with a CVT transmission. 
The ES and XLS trims only got front-wheel drive while the SE trim had either all-wheel drive or front-wheel drive. However, all GT Outlanders had all-wheel drive. For a daily driver, I would choose the Outlander SE with all-wheel drive. I think the V6 models are overkill for everyday use, but if you love the thrill of a powerful vehicle, then these are for you.
Inside, the Outlander feels more spacious than the Patriot and it offers more cargo real estate. Mitsubishi also gave this vehicle a third row of seats, but these are too cramped for adults. 
2011 KIA Sportage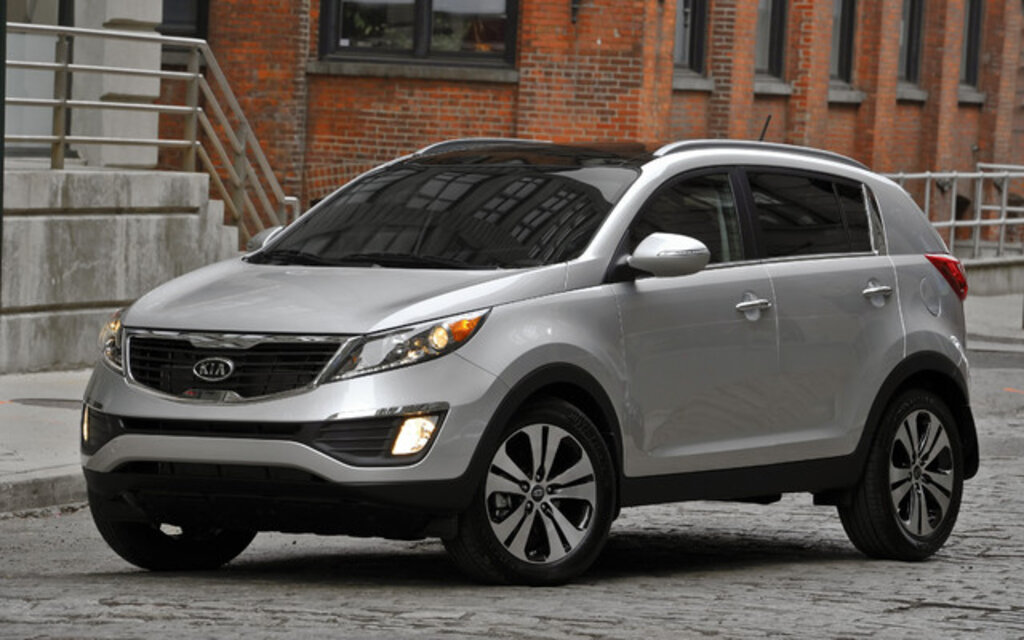 KIA's Sportage feels like the sedate crossover SUV on this list. It has no overpowered turbocharged engine or an intimidating V6, just a simple 2.4-liter 4-cylinder engine. But KIA launched a turbocharged version later in 2011, but we won't get into that for now. 
Don't get me wrong; the Sportage is not a bland vehicle. In fact, if you ask me, it's one of the prettiest crossover SUVs of that era. Redesigned for the 2011 model, the Sportage got curves in the right places and an interior that Patriot owners would envy.
The Sportage's 2.4-liter engine produces 176 horsepower, slightly more than what the Jeep Patriot's 2.4-liter engine produces.
Available trim levels are Base, LX, and EX, while the turbocharged SX trim was launched later. If you prefer a manual transmission, this is only available in the Base trim. All other models get a six-speed automatic transmission. 
Inside, you get almost as much room as you would in a Jeep Patriot. Even the cargo area is about the same size, with just three cubic feet extra in the Sportage. 
Frequently Asked Questions
Question: Do 2011 Jeep Patriots have transmission problems?
Answer: Yes, the 2011 Jeep Patriots have issues with the CVT. There are many reports of this transmission failing prematurely. The manual transmissions also develop problems that make it difficult to shift into certain gears.
Question: Is a Jeep Patriot a v6 or v4?
Answer: All Jeep Patriot models have 4-cylinder engines.
Question: Is a Jeep Patriot decent for off-roading?
Answer: Yes, the Jeep Patriot has good ground clearance and 4WD systems that make it good for offroading. 
Is the 2011 Jeep Patriot Worth Buying?
The manual transmission models of the 2011 Jeep Patriot are worth buying. I would opt for the 2.4-liter 4WD models to experience the Patriot's offroading potential. However, the 2WD 2.4-liter models are best for those who need an everyday vehicle.
Avoid the CVT models as they are sluggish, offer lower fuel economy, and are problematic. If you're not good with a manual-transmission vehicle, then consider one of the Patriot's alternatives on this list. 
Also, check out our 2013 Jeep Patriot guide to find out whether it's a better option.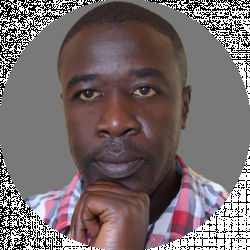 Latest posts by Barry Juma
(see all)