If looking for a robust and dependable truck, Toyota Tacoma has to be right on the top of your list. Sure, they have never sold in large numbers like Ford or Chevy, but that was never its mission in the first place. With its go anywhere, do anything attitude, these trucks have always been the choice of drivers who wanted more.
Most of them will claim these versatile Japanese trucks have something that sets this apart from the rest. Still, buying a second-hand truck carries some challenges, such as choosing between different models and avoiding those in bad shape. To help you out with that in this 2007 Toyota Tacoma Guide, we will find out everything you need to know about this model and year.
2007 Toyota Tacoma Specs
Similar to other modern vehicles, the 2007 Toyota Tacoma came with several trim levels, with each of them offering different features. There are, however, some things that are common for all of them, including exceptional ride quality and superb handling.
For the most part, this is thanks to features such as rack-and-pinion steering and front suspension that use a double-wishbone configuration. And with airbags and ABS being available as standard, these trucks were exceptional when it comes to safety, too.
Base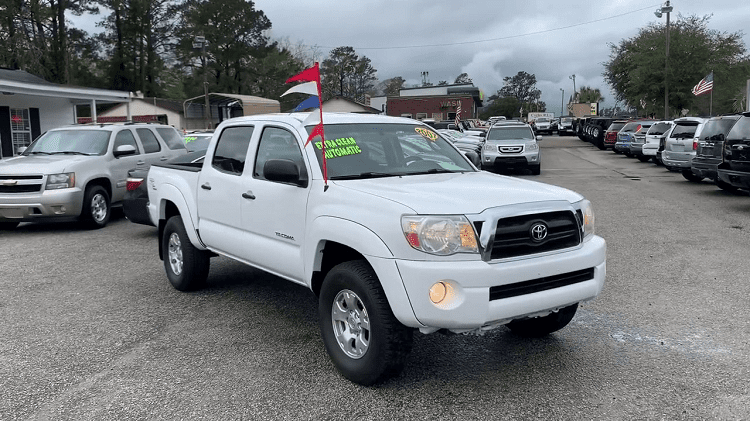 Despite being the entry-level trim, the base model still offered all the essentials a truck owner may need. Buyers could choose between two different cab styles and corresponding bed sizes, which ultimately determined the length of the vehicle. A regular cab had only two doors and a traditional bench that served as front seats.
Those who needed more space could go for an Access Cab, which also had rearward-opening rear doors. Unusual as it may appear, this configuration allowed easy access to jump seats in the back.
Equipment-wise, the Base model offered only the basics, such as a stereo system with a CD player and power windows. Although not being part of standard equipment, AC condition was a popular extra-cost option.
Under the skin, there were only two engine and drivetrain configurations to choose from. The smaller engine, which had four cylinders, only came with a 5-speed manual transmission and a rear-wheel-drive setup.
Still, even it proved to be more than capable and sufficient for most everyday applications. There was also a bigger V6 engine, which was paired to a 4-speed automatic transmission. The power was transferred either to rear wheels or all four of them, using a 4-wheel-drive system.
PreRunner
A level up in the trim department was the PreRunner, who introduced several additional features. For a start, there was a Double Cab with four doors and enough room for five adults.
On the outside, bigger and uniquely shaped wheels were the most distinguishing factor. A wide range of comfort creatures came as standard, including more luxurious upholstery and power seats.
In terms of drive train options, PreRunner offered the same engines in the engines and transmission as its entry-level counterpart.
But where these two differed were the drive train configurations, as the PreRunner only came with rear-wheel drive. As such, this truck was more of a comfortable and reliable road cruised than it was an unstoppable offroad machine.
X-Runner
While PreRunner proved a truck can be practical and comfortable, the X-Runner trim showed that it can also be sporty. With a large hood scoop and massive spoilers, it looked as if it came straight from a race track.
And it was not only on the outside, as this extraordinary truck had some serious upgrades under its skin. This included a lowered suspension and X-brace that stiffened up the chassis, ensuring far better handling.
In this trim level, Tacoma was only available with an access cab and a rear-wheel-drive configuration. Similarly, the V6 engine, in combination with a 5-speed automatic transmission, was the only option.
2007 Toyota Tacoma MPG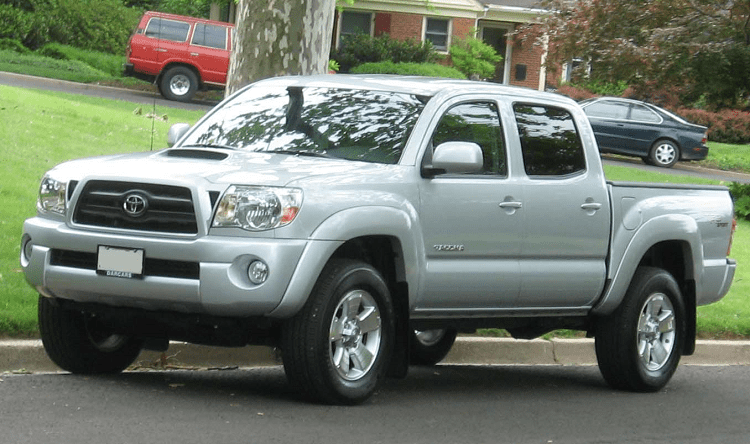 In its second generation, Toyota Tacoma offered a choice of two engine choices and corresponding drivetrain configurations, which ultimately determined the field economy.
The smaller 2.7L 4-cylinder unit developed 156 horsepower and a 180 lb-ft of torque. Thanks to advanced technology, such as variable valve timing, this engine alone ensured adequate performance for most applications. With a 5-speed manual transmission and rear-wheel drive, it returns up to 27 MPGs on the highway.
Those who were looking for more performance would usually go for a bigger V6 engine. With a massive 4 liters of displacement, it produces 236 horsepower and an impressive 266 lb-ft of torque. Reassuring as they may be, these numbers fail to illustrate is how smooth and responsive these engines are.
Still, such performance usually comes at the expense of fuel economy, and this 2007 Toyota Tacoma is no exception. Even in the most basic configuration, it will return only 22 MPG, while trucks with a 4-wheel-drive system offer even less.
2007 Toyota Tacoma Prices
With retail prices starting at just below $15,000, value for money was one of the upsides Toyota Tacoma offered. For this, a buyer would get a regular cab and a 4-cylinder engine in combination with 5-speed manual transmission and rear-wheel drive only.
This might have been enough for some potential owners, although most of them wanted a bit more. As a result, upper trim levels with V6 engines and more spacious cabs were a popular option.
But as one may imagine, this also increased the purchase price to significantly higher levels. A 2007 Toyota Tacoma with the most expensive trim package and all extras would cost almost $30,000.
This may seem steep, but that sort of money would also buy something called a TDR package. This includes, among other things, a limited-slip differential or one that is lockable.
2007 Toyota Tacoma Towing Capacity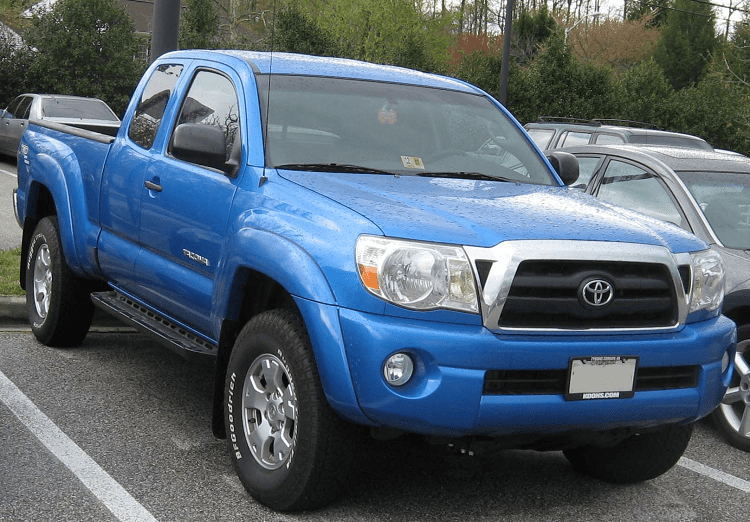 When compared to its full-size rivals, towing capacities Toyota Tacoma has to offer may seem limited. Still, that does not mean this compact truck cannot pull a decent load.
As obvious as it may sound, the actual tow capacity depends on features like the engine and the vehicle weight. Base model with a smaller engine can tow up to 3,500 pounds, which may not seem that much. This will, however, go up to 6,5000 pounds for a V6 model equipped with a special tow package.
Best 2007 Toyota Tacoma Accessories
Floor Mats
While some drivers will rarely take their trucks off the payment, most will use them on all sorts of surfaces. As a result, the interior may become very dirty, with floor carpets taking the biggest beating.
Mud and rocks are just some of the things these pieces of interior trim have to cope with. Not only does this makes them look bad, but it may even cause premature wear.
To prevent this from happening, you should consider fitting your truck with a set of floor mats. There are many products to choose from, although I would recommend avoiding those who offer universal fitment.
Regardless of what their advertisements say, most of them will not fit properly, leaving a lot of surfaces exposed. Instead, go for something like these Husky liners, as they are tailor-made from durable materials.
Seat Covers
The shape and condition of the seats have a significant impact on how the interior of a vehicle looks. This is, however, something at which most used trucks are not that good.
For a start, most of them use materials that focus on durability rather than push appearance. This means they were not that luxurious, to begin with. And years of harsh use did not help, either, as this usually causes wear and makes them look dirty.
If that is what you are trying to solve or just want to protect the upholstery in your truck, seat covers may be the perfect solution. Among all the variants on the market, I would definitely recommend these ones from Carhartt.
For a start, they are made for this specific truck, which will ensure they fit perfectly. In addition, the material it uses is durable and easy to clean. And lastly, their triple-stitching will ensure they stay in one piece for many years.
Tonneau Covers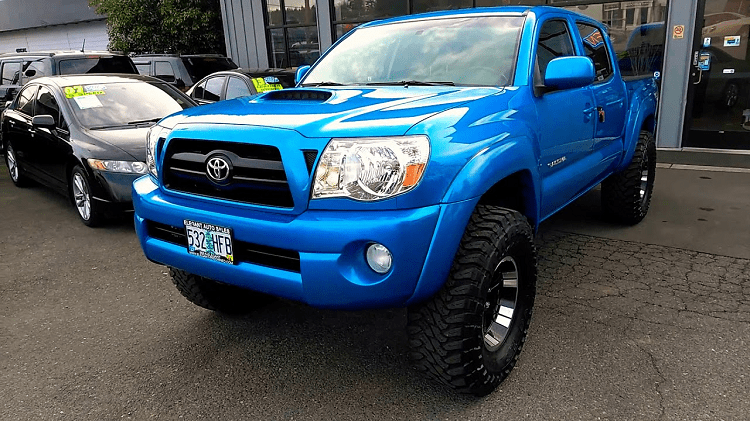 Practical and seemingly spacious as it may be, Toyota Tacoma is still a compact pickup truck. This has certain limitations to it, with the lack of luggage space being one of them.
Most drivers usually come painfully aware of this when going on a vacation, as that is because this is when an open bed becomes a downside. There are, however, several products that can help out with this, with tonneau cover being one of them.
These simple devices use fabric or plastic to close the bed and seal it against the elements. As such, they will not only protect the cargo within from rain and dirt but unwanted sights, as well.
There are several common types to choose from, although I would recommend a tri-fold version, such as this one from Tyger Auto. Its robust and uncomplicated construction will ensure longevity and make it easy to use.
Tires
There is hardly a doubt that most drivers today are well aware of how crucial tires or their vehicles are. After all, that thin veneer of rubber is the only link between the car and the surface beneath it.
Because of that, they have to be in excellent condition to ensure a stable and safe ride. But what not all of them know is that a tire type affects how a vehicle behaves in different situations.
If spending most of your time driving on roads and motorways, touring tires may be the best pic for. They offer an excellent balance of grip and fuel economy while also making the ride more comfortable. As opposed to that, if worksites or trails are your second home, I would suggest getting a set of chunky all-terrain tires.
Air Filters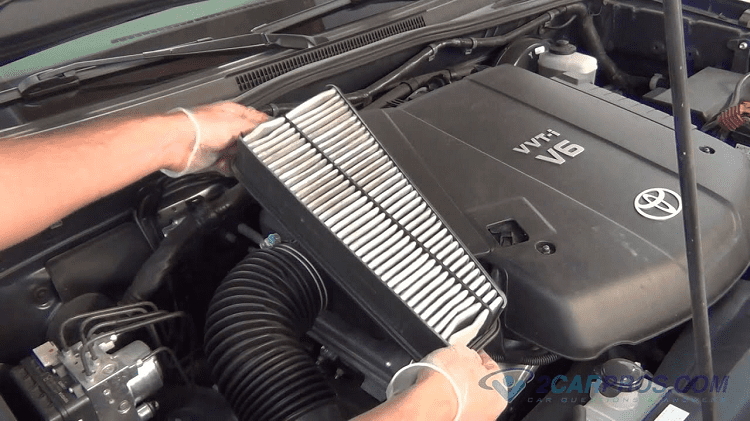 As their name suggests, air filters are components that prevent dirt and dust from entering the engine and damaging it. They sit in front of the intake manifold, where they trap oncoming contaminants within the layers of paper or fabric.
As the miles go by, the air filter clogs up, which upsets the airflow. This affects both performance and fuel consumption, which makes replacing an air filter so crucial.
When looking for a new air filter, you will have a wide range of brands and products to choose from. Performance filters may seem particularly tempting, as they claim to improve engine performance.
While this may be true in some applications, most of them will hardly make any difference in stock engines. Instead, I would recommend getting an OEM-style filter, such as this one from Vix. Not only it offers exceptional contaminant-removal cleaning performance and long-lasting durability, but it is also affordable and easy to replace.
Brake Pads
Because of the nature of their application, brake pads on any vehicle will wear out at one point. This is because every braking takes away a layer of their abrasive material, making them thinner.
The lifespan of a brake pad depends on several factors, including driving habits the weight of the vehicle.
Nonetheless, worn brake pads on your Toyota Tacoma will make a rattling and screeching noise, at which point you need to replace them.
Being a crucial component for automotive safety, I would avoid those that have no proven record. Instead, go for a product from a reputable manufacturer, as these usually ensure better performance and last longer.
2007 Toyota Tacoma Mods
Lift Kits
Ground clearance is a significant feature for any vehicle that goes off the beaten track frequently. Most trucks provide plenty of it for moderate offroad applications, although this may be limiting for more extreme ones. There is, however, a simple solution for this problem, and it is called a lift kit.
If looking for something like that for your 2007 Toyota Tacoma, you may notice a wide range of products. Still, when choosing among them, I would recommend I would not recommend those with more than three inches of lift.
This is because such products will alter the geometry of a stock suspension too much and offset the handling. With that in mind, something like this one from Torch would probably be ideal for most applications.
Brush Guards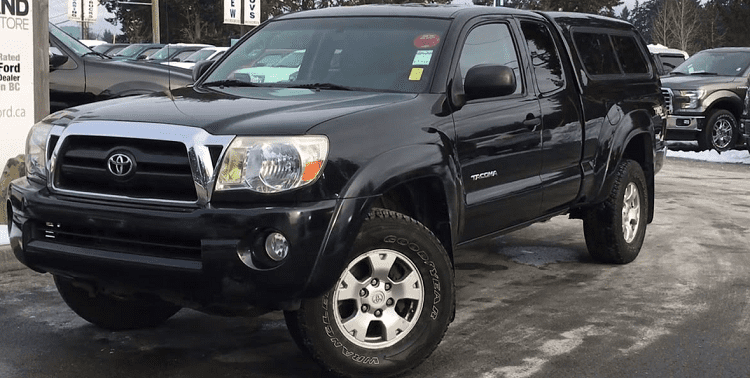 Cramped worksites and overgrown trails are demanding places that hide a range of potential obstacles. This includes rocks and other obstacles hiding in the grass or branches that are obstructing the way.
If driving such environments a lot, you should give your 2007 Toyota Tacoma robust and reliable front-end protection. One of the best ways of doing so is by installing a brush guard. This is a popular and practical upgrade, as it acts as an impregnable barrier that protects headlights and grille.
Among all the products on the market, my personal pick would be this brush guard from Black Horse. Not only does it offers robust construction and dependable protection, but it also looks great.
Side Steps
Getting in and out of a truck can be difficult, especially when it is lifted. To overcome this problem, most owners will fit side steps to their vehicles, which offers a convenient and safe foothold for easy entry. As an additional upside, most of them will also serve as side armor that provides extra protection.
Side steps come in several types and shapes, although my personal favorite is the rattler board. Not only do they provide an excellent foothold, but they also look elegant and improve the overall appearance of a truck.
2007 Toyota Tacoma Maintenance Schedule
Similar to other manufacturers, Toyota has a maintenance schedule for their Tacoma trucks. These are time or mileage intervals in which owners should renew different components.
Still, these are the maximum values that are only valid for optimal running conditions. As a result, you should consider shortening them if your driving routine includes frequent short trips or towing.
Every 10,000 Miles or Once a Year, Whichever Comes First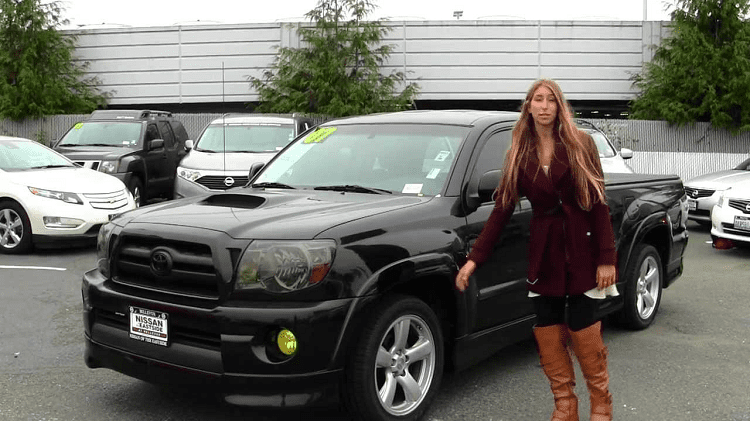 Renew engine oil and filter
Rotate tires
Reset indicator lights
Every 20,000 Miles
Every 30,000 Miles
Renew engine air filter
Regrease prop-shafts
Check the level of all running fluids
Every 60,000 Miles
Renew fuel filter
Renew spark plugs
Check the auxiliary belt condition
Every 120,000 Miles
Replace the vacuum pump for brake booster
Renew transmission fluid
Renew rear differential fluid
Renew front differential fluid (4×4 vehicles only)
2007 Toyota Tacoma Recalls
Toyota had several recalls involving their 2007 Tacoma, with one concerning seat heaters being the latest. In affected vehicles, a heater wiring could have shortcircuited, which increases the risk of fire.
Additionally, there was a problem with the rear springs that would snap and rupture the fuel tank. Most other recalls are about things like incorrect labels and similar issues.
2007 Toyota Tacoma Common Problems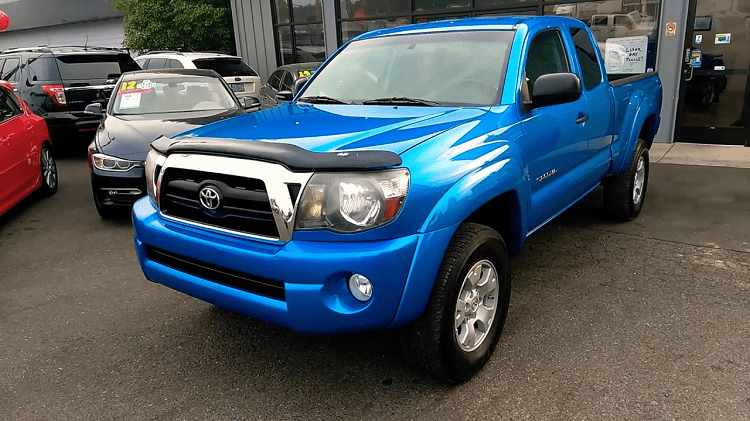 Thanks to its robust construction and excellent built quality, a 2007 Toyota Tacoma is not likely to have major running issues. Still, several components fail more often than others, so it is worth knowing what they are.
A mass airflow meter is another part whose failure rate is higher than average. This is a sensor that measures the amount of air that is going into the engine. The ECU uses this value to set the air-to-fuel mixture, meaning the engine will suffer from different running issues if they are incorrect.
Trucks with automatic transmissions have a fairly common problem with erratic and delayed gear changes. Although a range of faults can lead to such behavior, a throttle position sensor that sends incorrect signals is the most likely cause.
Lower ball joints are a typical weak spot on many Toyota vehicles from that period. These are flexible components that link the wheel hub to the control arm beneath it. As a result of manufacturing error, these ball joints have scratches on their internal components, which causes extreme and premature wear.
Although not as widespread as with some other models, frames on Tacomas from this period can have significant issues with corrosion. Vehicles that have spent most of their lives in areas with a lot of snow and road salt are more prone to this. Owners should periodically check for any traces of corrosion, as this only gets worse with time.
2007 Toyota Tacoma Resale Value
Being a well-proven and reliable truck, Toyota Tacoma holds its value quite nicely. At this time, the prices range from $5,000 to more than $10,000, depending on the condition and trim level. And these numbers are not likely to drop significantly down in the future, which is another upside.
Frequently Asked Questions
Question: How Many Miles Can a 2007 Toyota Tacoma Last?
Answer: Like with other vehicles, there is no straightforward answer to this question. This is because an expected lifespan depends on several factors, including maintenance and driving habits.
Still, it is safe to say that these trucks are good for at least 200,000 or 300,000 miles. But to put things in perspective, we will turn our attention to a driver from North Carolina called Niel. Over the years, he managed to rack up a staggering 1,5 million miles with his Toyota Tacoma. And that really speaks for itself!
Question: What to Look for When Buying a Used Toyota Tacoma?
Answer: Despite being robust and reliable, every used vehicle can have a range of hidden weak spots. Checking the bodywork and mechanical components and bodywork is an absolute must when buying a used truck. Additionally, there are several things to especially pay attention to, such as front ball joints and any traces of frame corrosion.
Question: Is 2007 a Good Year for Toyota Tacoma?
Answer: A simple answer to this question is that it is, and there is a good reason for this. The production of 2nd generation Tacoma started out in 2004, and this was a good truck from the beginning. And by 2007, Toyota solved any potential flaws and issues these trucks might have had.
Last Words
As explained here, a 2007 Toyota Tacoma is a robust truck capable of tackling all sorts of challenges. This makes them popular among drivers who want more from their vehicles.
It offers enough trim levels and drivetrain configurations for various applications, including offroad driving and towing. Another key upside is the reliability, which is something all Tacomas have plenty of.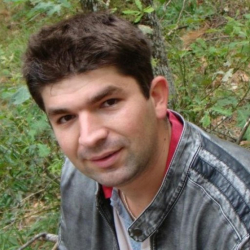 Latest posts by Bojan Popic
(see all)