If you want to increase the cargo capacity of your Toyota Tundra, roof racks should be at the top of your list. You can store any odd-shaped cargo that won't fit inside—or that's unclean that you don't want inside—up and out of the way while still having full internal space.
They may be used to fasten a waterproof baggage carrier or as a rooftop attachment for kayaks, surfboards, snowboards, skis, fishing rods, bicycles, or just about anything else you can think of.
Most of the time, I use a set of car roof racks for excursions to the home improvement store. Even a huge SUV won't fit an eight-foot piece of timber or pipe, and even if it can, you don't want to rip up your interior or have a massive, heavy, unprotected item pointed at your windshield.
The ideal roof racks are easily detachable, and you should remove them when not in use since they will cost you a few MPG in wind resistance.
Modern aero bars have far less wind resistance than square or even circular bars, although the finest aero bars are more costly. They also include quick-release towers that install semi-permanently to connection points built into the roof of your car.
Before you start looking for roof rack cross bars, you'll need to know two things: the width you want and the capacity of your car. Many modern vehicles have tapering roofs, which may need varying widths in the front and rear.
And, while crossbars are frequently rated at 165 pounds, owner's manuals frequently specify a maximum weight of 100 pounds. Also, regardless of what the description says, don't expect to be able to utilize your sunroof or moonroof.
Roof racks are often put on top of roof rails or crossbars and serve as a mounting point for items such as bikes or skis. Roof racks are usually the best alternative for folks who don't have enough room in their car to transport sporting equipment. Here are some more advantages of roof racks:
Excellent for hauling bulky outdoor equipment such as bikes and skis.

Roof racks, as opposed to hitch-mounted racks, generally allow simple access to the trunk.

Capable of securing sports equipment to a rack to avoid theft

With the option to install cargo boxes, freight transportation flexibility has been increased

When not in use, it may be readily removed and stored

Provides outdoor gear transportation in the summer and winter
How I Selected the Best Toyota Tundra Roof Rack Options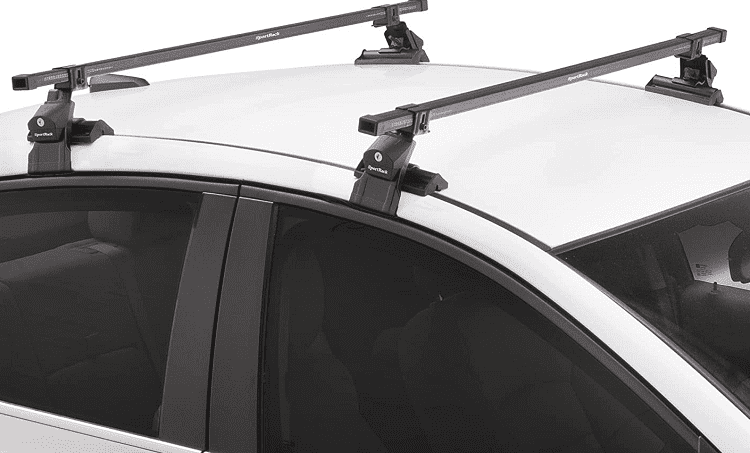 Roof racks are nearly a necessary attachment for your vehicle if you are an outdoor enthusiast or frequently travel with sports equipment.
You'll probably need more cargo space for all your goods, but there are a number of factors to consider when buying roof racks. Roof racks are fitted by the carmaker on some vehicles right from the factory, although roof racks are not compatible with all models.
Fit
This may seem obvious, but we start by determining which roof racks are compatible with your Tundra. Most manufacturers employ straps or adjustable clips that are compatible with a wide range of roof and square roof racks. Also, look to get factory standard and aerodynamic racks; just make sure they suit your Tundra.
Installation Convenience
Although it is not an attachment that you will frequently need to remove, ease of installation is an important element to consider when purchasing a roof rack. Certain items will require straps to be tightened or secured in order for the roof rack to be correctly placed onto roof rails or crossbars.
However, certain models, like those sold by Thule or Yakima, employ a universal mounting method that tightens with the turn of a knob. It is up to you to determine if the price difference is worth the convenience.
Height
Naturally, installing a roof rack to your vehicle necessitates consideration of overhead clearance. Not only would the rack raise your Tundra's height significantly, but carrying equipment on top of it will limit the regions you can reach with your vehicle. With the addition of a roof rack, you'll want to make sure you can still fit in garages or underground parking places.
Shape
If you've done any roof rack shopping, you're probably aware that they come in a variety of forms and styles. The simple truth is that not all roof racks are created equal, and you'll want one that will function as a solution for anything you want to haul.
Roof racks for recreational equipment, such as bikes, are common, but there are also systems built for cargo boxes that may assist in optimizing your vehicle's capacity. Choose the appropriate choice based on what you intend to transport in your vehicle.
Roof Racks I Recommend for the Toyota Tundra
Yakima JetStream Aerodynamic Crossbars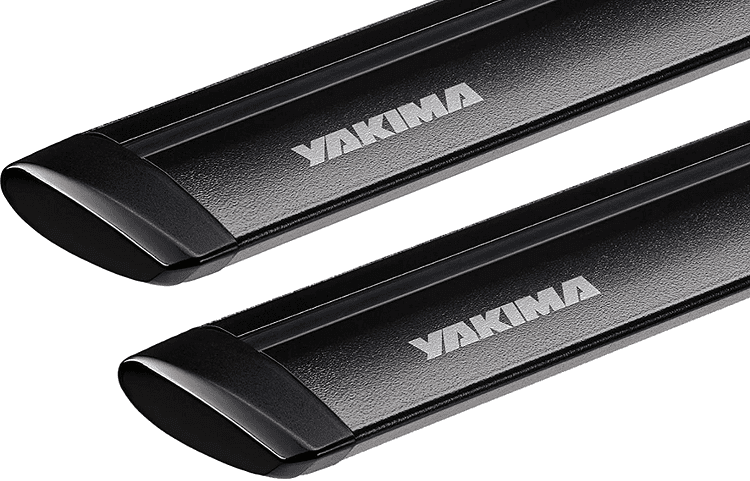 I purchased the Yakima JetStreams with my own money while I was looking for a set of crossbars for my own car. The company's more than 40-year reputation, limited lifetime guarantee, and high-quality, innovative goods swung the decision in favor of Thule, its primary competition.
We've used the JetStream roof rack on my Tundra for almost five years, and it still looks brand new. We had to buy a set of Skyline towers to fit into the bar ends, as well as four Landing Pads to permanently install to the factory roof attachment points because they didn't come with factory rails.
It wasn't a cheap buy at about $450, but I've used them frequently since then and especially like how effortlessly and securely they lock and unlatch from the roof. They can be placed on and taken off by one person in roughly the time it takes to walk around the automobile.
Assembly was difficult, and I had to make numerous tweaks to get them to fit perfectly, but after that, all I've done was double-check the tightness of the pads once a year. The little wind noise they create is muffled, and the penalty to gas mileage is less than one mile per gallon.
There is wide compatibility with various unique attachments across the Yakima ecosystem, and they are available in 50-, 60-, and 70-inch widths. Take a look at the Yakima JetStream Crossbar if you're seeking roof rack crossbars that mix aerodynamics and durability.
Pros
Lifetime limited warranty

Teardrop aerodynamic shape

Inlay for anti-slip

There are lockable towers available

Several accessories that are compatible
Cons
It takes some time to assemble and install

Many different pieces are necessary

Costly
Thule AeroBlade Edge Raised Rail Roof Rack System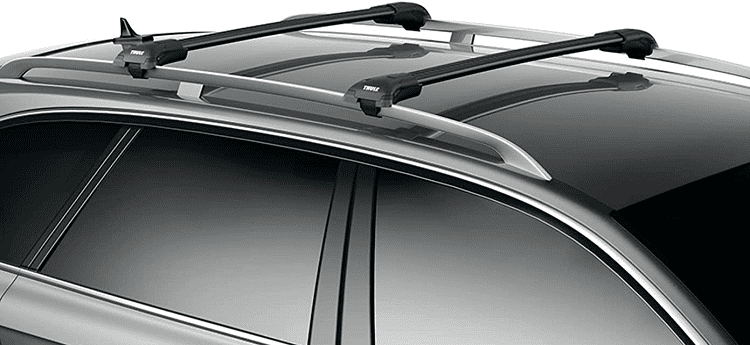 As a direct contender to the Yakima is Thule's Aeroblade Roof Rack, which is meant to be quieter at highway speeds while still providing maximum capacity. Unlike the Yakima, the Thule roof rack includes the foot pre-assembled, eliminating one step from the installation procedure.
This raises the price for a whole set to more than Yakima, which is why it ranks second. But Thule also sells a plethora of accessories, ranging from baggage baskets to fishing rod holders to rooftop tents.
These Thule roof racks, made of lightweight materials, can support up to 165 pounds, which is comparable to the maximum carrying capacity of most roof racks on the market.
As a result, it's a solid choice for big equipment and luggage. Thule's roof racks are also among the easier to install, and they come with their AcuTight Tensioning Tool, which allows you to verify if the rack is securely fastened.
Pros
Warranty for life

The capacity of up to 165 pounds

Tensioning tool is included

Aerodynamic design
Cons
Quiet

Yakima is more audible

Expensive
Reese Explore Roof Rack Cross Bar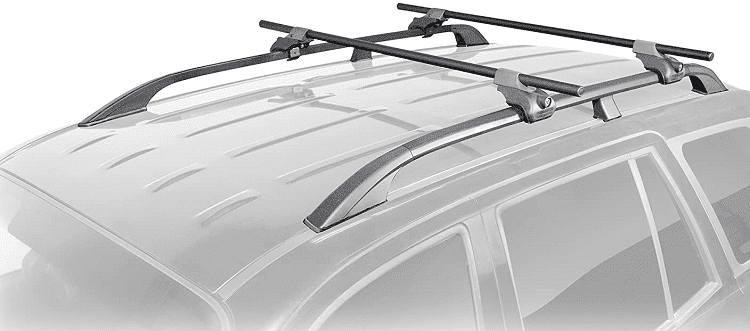 These square steel roof rack cross bars from Reese (the same firm that produces trailer hitches) are standard, heavy-duty square steel roof rack crossbars. A pair of 48-inch bars cost less than one aero bar and comes with universal strong steel U-bolts to latch on to existing elevated factory rails.
The same clamp that holds them on also lets you change the width to suit, and they have a weight capacity of 110 pounds. The 48-inch width may not be adequate for larger SUVs or pickups, and you won't be pulling them on and off all the time, but Reese may be the way to go if you don't want to pay much and want a simple rack that will store your goods.
Pros
Affordable

There is no specific hardware

Installation is simple
Cons
Not very broad

Rails with plenty of space beneath are required

Weather-exposed bolts
Inno Surf, Kayak, Canoe, and SUP Rack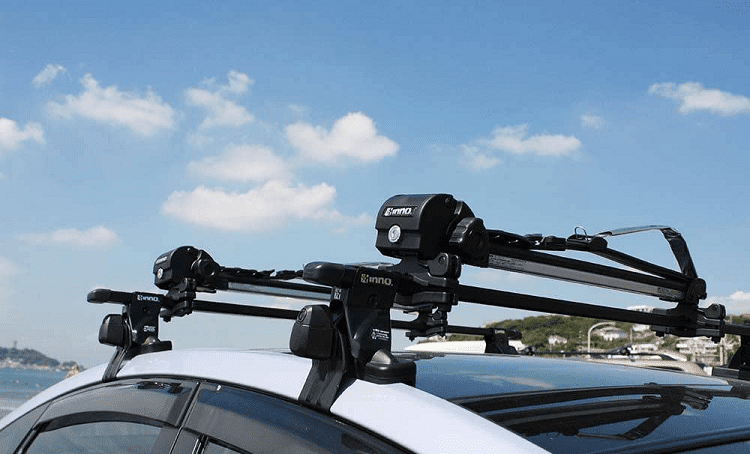 Water sports aficionados will like this Inno specialized roof rack, which can hold a variety of gear such as kayaks, canoes, windsurf boards, paddleboards, SUPs, and long and shortboards.
The Inno Racks Water Sports rack is meant to be a universal fit item, which means it will work with round, square, or factory roof rails. It also has a one-of-a-kind locking mechanism. If you want a quick and secure solution to install your water sports equipment, this is it.
This roof rack not only saves time but is also incredibly practical, as it has the biggest lever and ratcheting mechanism in its class. It also employs Inno's cam locking system with keys to ensure that your stuff is always securely fastened to the rack. The floating strap system keeps all of your stuff safe and secure while also making it simple to unload when necessary.
With substantial cushioning on the cross rails and adjustable corner cushions, Inno protects your gear from scratches and scrapes. I think you could firmly connect fishing rods, especially large diameter ones like surf rods, even if it wasn't stated as a use case.
Pros
Locking system with a keyed lever and a cam

For quick loading, use a floating strap

It is suitable for a wide range of water sports equipment

Installs on crossbars or factory roof rails
Cons
High amounts of noise

Minimum rail width of 24 inches

Other forms of loads are ineligible
Yakima Whispbar Through Bar Roof Rack System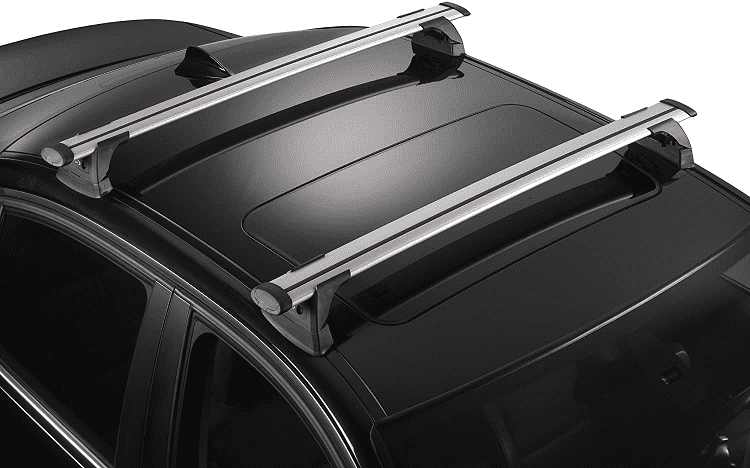 The Whispbar Through Bar Roof Rack System roof rack from Yakima is a more economical take on the aero bar that gives exceptional aerodynamic performance and incorporates towers, so you don't have to attach it to normal roof rails.
Cushioned SmartFoot mounts are also provided, which assist in avoiding scratches on your Tundra. Since the bars can be readily removed from the mounts that came with them, they may also be used with various mounts.
In addition to the aerodynamic design, this rack can handle up to 165 pounds and has built-in SKS locks for added protection. The Whispbar roof rack, like other Yakima aero bars, features up to 70% less drag than traditional bars, resulting in less noise and improved efficiency.
This roof rack is adjustable and offered in pairs, so be sure you order the correct set for your Tundra.
Pros
Excellent aerodynamic performance

SmartFoot mounts are included.

Added security with built-in SKS locks
Cons
If installation instructions are not strictly followed, it may be destroyed.
Perrycraft Aventura Black 48″ Roof Racks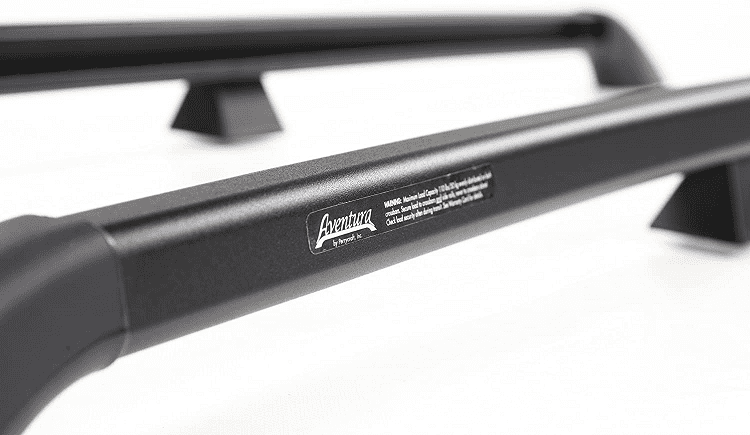 If your vehicle lacks roof racks from the factory, consider Perrycraft's Aventura Black Roof Rails as a solution to add a roof rack to your vehicle. These roof racks can fit several types of roof rack crossbars and have a maximum load capacity of 220 lbs with a raised configuration. That means it'll work with a variety of crossbars, including Perrycraft's own.
These roof racks are designed for trucks, SUVs, and minivans and come in a variety of length and crossbar configurations. They are made of T-6 aluminum and have a UV protection powder coat finish.
These roof racks are also among the most durable options available, and if there is a problem, Perrycraft backs it up with a limited lifetime warranty. You must permanently attach them with the included self-sealing stainless-steel bolts. It may appear difficult, but all you need is a marker, a drill, and a screwdriver.
Pros
Made in the United States, with a capacity of 230 pounds

T-6 structural aluminum powder-coated

A plethora of size and configuration possibilities
Cons
You must drill into your roof Amazon Basics Universal Cross Rail Roof Rack
Amazon Basics Universal Cross Rail Roof Rack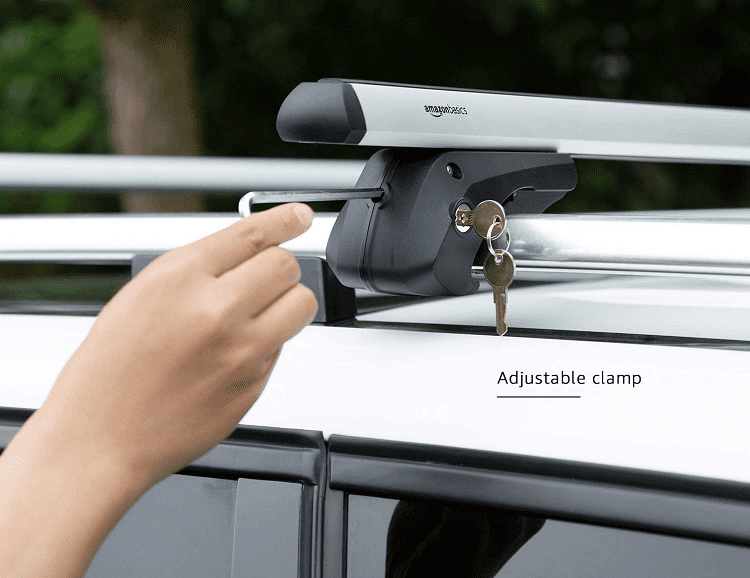 You can't go much simpler or more basic than Amazon's in-house brand if all you need are roof rack cross bars to latch onto your current roof rails. At a fraction of the price of a premium Yakima or Thule roof rack, Amazon's pair is a bit of a DIY project, requiring you to build almost everything, but that's part of the cost savings.
The 52-inch set is made of ultra-light aluminum and only 6.6 pounds, making it one of the lightest available while yet supporting a regular 165-pound weight. They even have to lock clamps to prevent theft. However, I've seen coffee shop orders that are more expensive.
You'll have to make some sacrifices in terms of simplicity of assembly, installation, and removal, and the guarantee is just one year, but if you only require a set of roof racks for occasional usage, it's hard to go wrong.
Pros
Exceptionally inexpensive

Contains locks

Aluminum that resists corrosion
Cons
Assembly and installation are difficult
Apex Steel Universal Side Rail Mounted Roof Cross Bars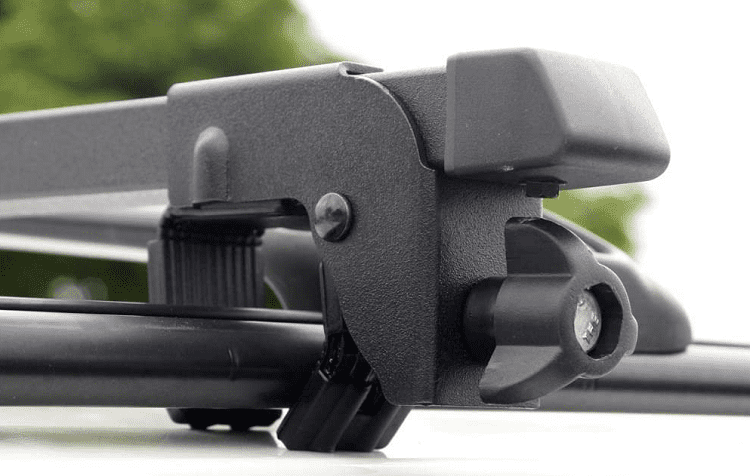 The Apex Steel Universal Side Rail Mounted Roof Cross Bars are basic but not cheap, and they are a step up from, well, the Amazon Basics.
Powdercoated steel and a more adaptable mounting method that fits with lower-profile side rails are included with your upgrade. However, they are light-duty roof rack cross bars with a weight rating of 130 pounds that you should not exceed.
They have a very simple twist-locking mechanism that allows for quick installation and removal, but it does not give locking security and is not as robust as some other attachments.
Rubber-coated feet protect your roof rails from scratches and gouges while also holding securely to prevent slippage. There is no warranty information available for the Apex crossbars, although I assume they are built by Pelican.
Pros
Installation is simple

A variety of mounting options

Square tubing is simple to attach to
Cons
Works only with higher roof rails

Extremely loud at high speeds

Light duty
SportRack Complete Roof Rack System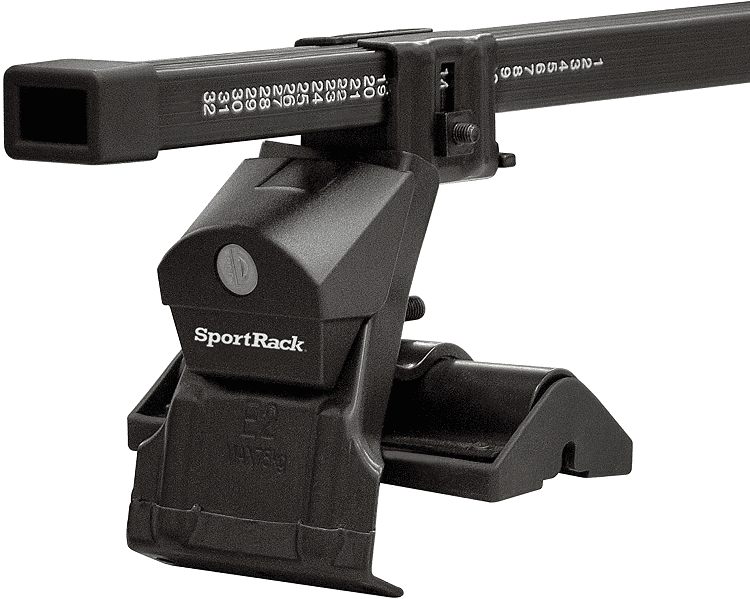 Square-mounted roof racks aren't as widespread as they formerly were. They have poor aerodynamics, which makes them unpopular among car owners who want to maximize their fuel efficiency. They still have their advantages, however, especially when it comes to carrying specialized sports gear.
If you're looking for a roof rack with a flat surface, the SportRack Complete Roof Rack System is one of the better options. As a complete system, you don't necessarily need to have pre-installed roof rails to mount it.
This 130-pound capacity system is totally customizable thanks to the flat form of the square bar. It is compatible with a wide range of racks and holders, from box-style designs to specialist bike racks, ski and snowboard racks, and even kayak racks.
Although it is inexpensive, it has several contemporary features such as a no-tool installation method, the ability to secure it to the roof of your car, and compatibility with the majority of modern vehicles. Because it does not need the installation of roof rails, this rack may be fixed directly on the position markings above the doors as stated by the manufacturer.
Pros
Can be mounted on a bare roof is a plus

Suggested for particular racks

Insufficient installation

There are many sizes available

Built to be secured to the vehicle
Cons
Loud

The installation markers for automobile placement may differ

Instructions that are perplexing
FAQ
Question: How Do I Determine What Type of Roof Rack I Require?
Answer: The sort of roof rack you require is determined by the type of goods or equipment you want to haul. If you're going skiing or snowboarding, search for a ski or snowboarding rack; if you're going cycling, look for a bike rack.
A cargo box is advised if you want to protect your goods from the elements while transporting them. There are even specialty designs available if you need a more tailored answer for your specific scenario.
Question: Can My Roof Racks Be Removed?
Answer: No matter what sort of roof rack you choose, it may be removed after installation. Roof railings, on the other hand, are often permanent or semi-permanent.
Roof rack crossbars may be removed in seconds, and roof rack and accessory attachments can be removed almost as quickly. Roof racks and crossbars should be removed from your vehicle while not in use and whenever you go to a car wash.
Question: What Equipment Do I Require to Install a Roof Rack?
Answer: Most contemporary roof racks do not require any additional equipment to install, or if they do, they will include them, such as an Allen wrench. At worst, you'll need a screwdriver or a set of pliers to make changes that are difficult to do by hand. A stepladder or stepstool will most likely make everything much simpler.
Sports and cargo racks are often installed with a locking cam system or rubber straps. However, some older designs do need fitting bolts and screws.
Question: Is it Dangerous to Use a Roof Rack?
Answer: Roof racks are not a risky item when properly placed. They can, however, be harmful if you don't account for overhead clearance. Additionally, driving at high speeds with a roof rack in windy weather may make your vehicle less stable.
Pay close attention to the manufacturer's recommendations to help eliminate such hazards. When traveling with a roof rack and goods, keep in mind that conditions will differ according to where you live.
Of course, you can never be too cautious when it comes to cargo security. Almost any weight may be secured with a solid pair of ratchet straps and cam buckle straps.
Conclusion
Finding a Roof rack that meets all your needs for cargo and is the best fit for the Tundra is important for your life as an adventure enthusiast or just for hauling supplies. Having roof racks that have a large carrying capacity and easily come off to keep your MPG down is essential.
The most versatile all-around choice is the Thule AeroBlade Edge Raised Rail Roof Rack System. It is a premium roof rack with various accessories, from cargo baskets even to rooftop tents! It truly is a must-have; although it is on the pricier side, it is worth every cent.
It comes pre-assembled, so you can un-box the Thule roof rack and go! With lightweight material, it can still accommodate up to 165 pounds of cargo.
It has the most straightforward assembly on the market and endless accessories, not to mention the lifetime warranty. The Thule AeroBlade Edge Raised Rail Roof Rack System can not be beaten for all it offers for the Toyota Tundra.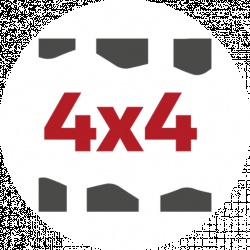 Latest posts by 4x4 Reports Team
(see all)