The Ford F150 is one of the longest-produced 4×4 vehicles in history, stretching from 1975 to the present. As there are so many out there, a huge aftermarket exists for just about any part you need. Running boards, for instance. In this article, we'll be going over the best Ford F150 replacement running boards, examining their pros and cons, and recommending which one you should buy. Let's get started.
Rough Country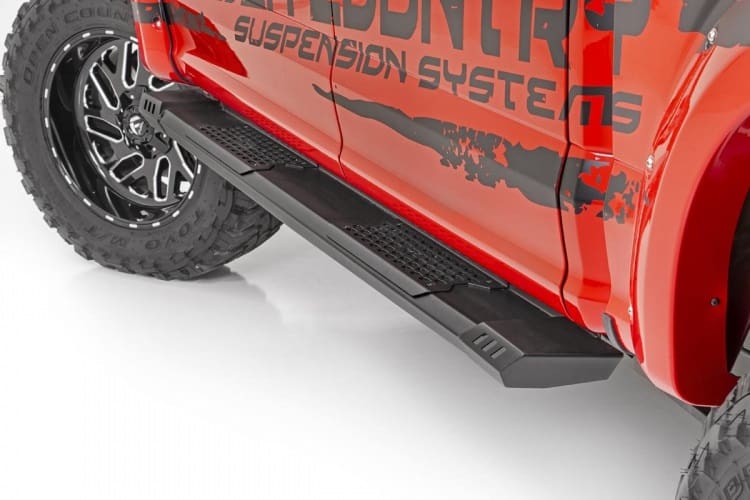 The HD2 running board from Rough Country will fit SuperCrew cab F150s from 2015-2021. Made from the same sort of metal one might use to build a fortress, these boards are wider than stock, have ridges for non-slip, and are much stiffer than the factory boards. 
At $400, they're not cheap, but for high-quality steel running boards like these, that is a solid price, and they perfectly match the truck. They're also cab-length, so you don't need to buy extra steps to augment them.
Pros
High-quality steel construction

Cab-length; no need to buy extra steps afterward

Much stiffer and better looking than the factory option
Cons
At $400, the price is not for everyone

It does not fit certain cab configurations

No bed access from the running boards unless you have long arms
Tyger Auto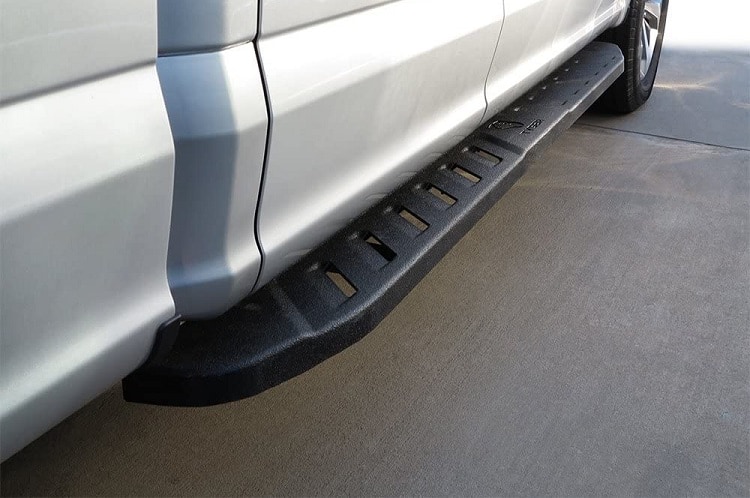 Tyger Auto produces many aftermarket parts for the Ford F150, one of which is running boards. Tyger makes running boards fit; they run wheel well to wheel to give you a platform running the entire length of the truck.
Tyger makes several models of running boards for the F150, but their best is probably the Tyger Auto Blade. While it only fits SuperCrew or SuperCab F150s from 2015-2021, they are high-quality steel, can support up to 500 pounds on each board, and are relatively cheap: around $350 for the SuperCab and $461 for the SuperCrew. The SuperCrew is longer than the SuperCab and so requires more material.
The Tygers are high-quality products priced on par with the competition. They aren't drastically cheaper nor more expensive. Nonetheless, they are worth the money, even if they only fit two cab configurations of F150.
Pros
High quality

Made from steel for longevity and durability

Competitively priced
Cons
It fits two F150 cab configurations (SuperCab, SuperCrew)

Non-compatible with any F150 made before 2015
Ionic Auto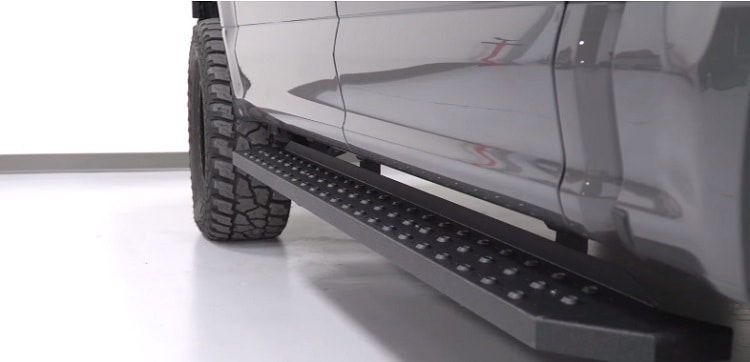 Ionic Auto makes multiple running boards for the Ford F150, and they fit all cab configurations: Regular, SuperCab, SuperCrew. You choose options depending on bed length, but there is a board available nonetheless.
The brackets use existing body mounts, so you don't need to drill holes in your frame. Nonetheless, they'll still support a regular-sized adult with no problem. They can also be adjusted to poke out more or less, so you don't bang your shins while leaning into the truck.
Ionic makes running boards from carbon steel, so they'll be around long after the planet turns to dust. They also come with custom brackets for your truck and all necessary mounting hardware, not to mention a 3-year warranty.
Pros
Sturdy steel construction

Powder-coated for rust resistance

Custom brackets to match your truck

3-year warranty
Cons
It does not fit some older F150s (pre-2011)
MostPlus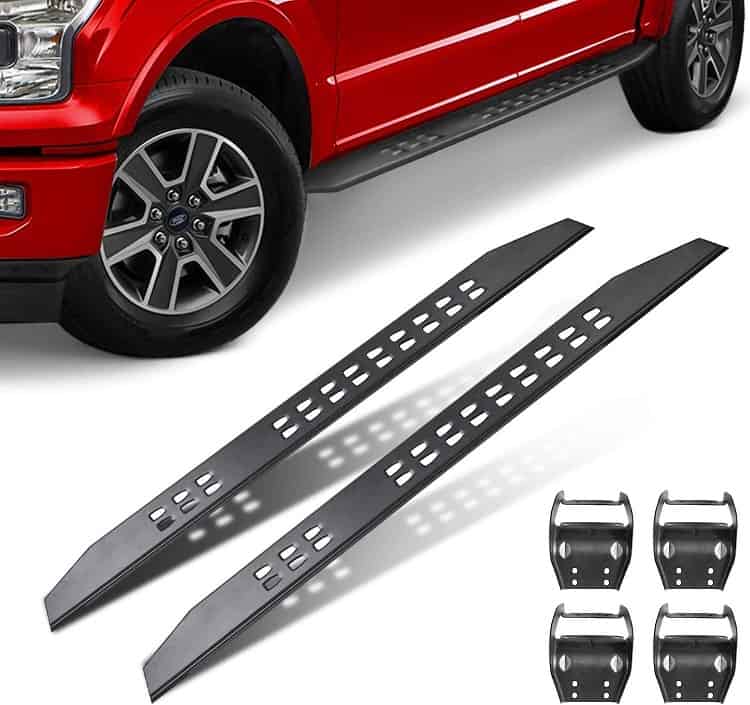 Most plus makes running boards that will fit the F150, although they only fit 2015+ F150s. The boards also only fit the F150 Crew Cab, but they are usable products nonetheless.
They mount the same way as most other running boards out there, using existing mounts, but I would caution against jumping on them or standing on them for extended lengths of time. If you're on a budget, these will work fine, but look elsewhere for high quality.
Pros
Cheap

Easy to install

Powder-coated
Cons
No warranty

Unable to support much weight for more than a brief moment

Mounting brackets look flimsy
iArmor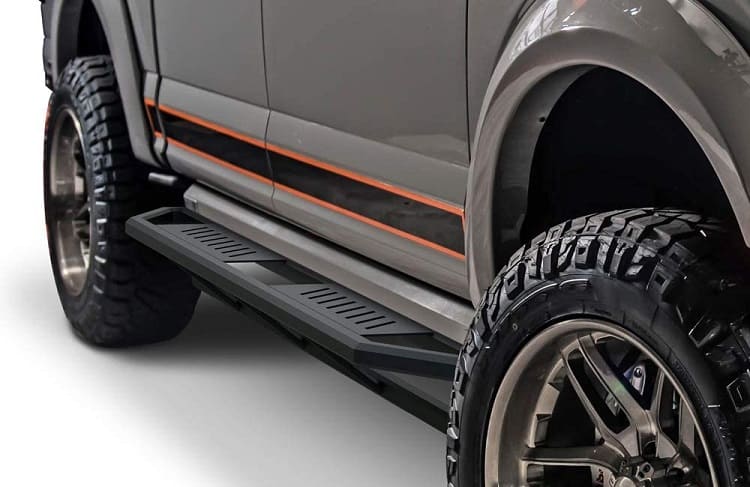 iArmor makes running boards that function as both sidestep and moderate rock sliders for the Ford F150. At 6.5 inches wide, there is plenty of room to stand while keeping boulders away from drivetrain components. Made from 100% aluminum with a dual girder construction, these boards can hold up to 300 pounds and mount using sturdy brackets.
The boards only fit 2015+ F150s in the Regular Cab configuration, but they're worth the money if you need running boards that can take a beating offroad too.
Pros
Cheap

Very rugged; beefy construction and thick powder coating

Easy to install by yourself with one wrench
Cons
Only compatible with Regular Cab trucks

Only compatible with 2015+ trucks

The width means you may scrape your legs when moving close to the truck
What Makes a Good Running Board?
Now that we've laid out a series of running boards, it is time to describe what makes a good running board. Good running boards are metal, not plastic.
Plastic works and does not rust like metal; however, when hundreds of pounds are loading and unloading the board, plastic will not last as long. Plastic bends easier than metal and weakens quicker in heat and cold. High-quality boards are made from aluminum or steel.
 They will also be powder coated. Aluminum rusts quicker than steel, but either one is fine for a running board, and the manufacturer usually tells you which material the board is made from.
Another thing to look for is whether or not the board mounts to pre-existing places on the truck. Those boards ship with mounting brackets and other necessary hardware, and it is better to get boards that work with preexisting holes. It makes the job easier, and you won't need to drill holes in your truck.
Do not buy running boards that are also rock sliders; get one or the other. Proper rock sliders look like big metal loops hanging down from the body; running boards that double as rock sliders are weaker and will not work as well. They will work fine for running boards, but using them offroad will be an expensive mistake.
When Should You Replace Your Running Board?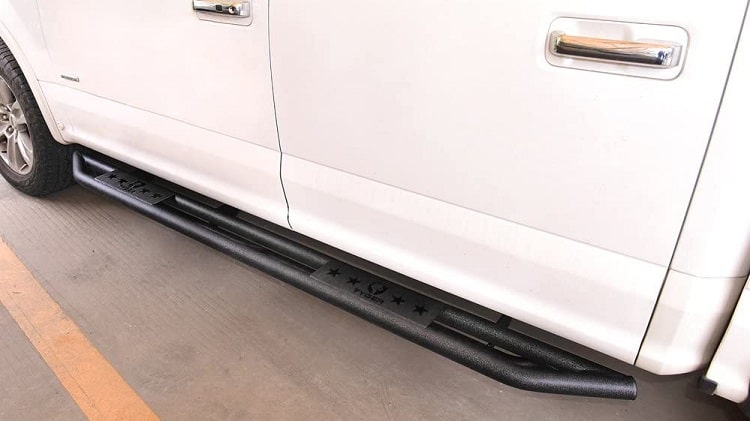 Like everything else in the world, running boards wear out and need replacement. You need to look out for the mounts, as they are under the body and exposed to moisture and corrosion. Greasing the mounts and undersides of the boards can save you time and money down the road.
If your running boards start moving when you step on them, it is time for an inspection. You can generally replace the mounting hardware separate from the board if it is rusted through, but if not, you will need a new running board.
The same goes for the coating/paint. It is possible to repaint or re-powder coat them, but if it has gotten to the point where it is missing in large spots and the metal underneath is rusted, best to replace them altogether.
You should also replace the boards if there are holes rusted in them. Unless you are proficient with a welder, having running boards with rusty, sharp holes is a tetanus infection waiting to happen.
How to Replace/Install a Running Board
The process of replacing or installing a running board is something you need to know. Let's get started. You'll need a socket set with assorted sizes; 1/2 inch drive is best. You will also need an adjustable or box wrench to hold the nuts while you loosen the bolts. Penetrating oil like PB Blaster or WD-40 is also a must unless you want to spend time extracting broken bolts.
It's easier to remove the boards if you find the mounting brackets in the body, remove the bolts holding them to the truck, and then remove the brackets from the boards on the ground. Otherwise, you need to support the boards while removing the brackets from both ends.
Replacing the running board is easy. Take the mounting brackets that were included, and bolt them to the truck first. That way, you can rest the board on the brackets and bolt it in without additional support. Use the existing mounting holes that the instructions tell you to use. It is a good idea to grease the bolts after tightening them.
While it is an extra step, it helps keep the rust off and makes for much easier removal down the line. For ease of use, you can use an impact driver to put the bolts in, but don't overtighten them.
FAQs
Question: I Want Running Boards That Double as Rock Sliders. Which Ones Should I Get?
Answer: You'll want the iArmor boards in that case; they're not as sleek as the other running boards, but much tougher and wider; therefore, better for offroad.
Question: What Qualities Should I Look for When Buying Running Boards?
Answer: It's usually good to get something made from aluminum, as it does not rust as quickly, but high-strength steel is great if you also want to use your running boards like rock sliders. Powder coating is standard for the industry, but you'll want to make sure it's thick; it can wear off and leave spots for rust to form all over the board.
Question: Do I Need to Drill Holes to Mount Running Boards?
Answer: You shouldn't need to drill holes; running boards usually come with brackets that can utilize existing mounts in the body.
Verdict
Out of these running boards, you'll be best served with the Tygers. They've got the durability and quality of the Rough Country running boards at a lower price, and there are multiple models to suit your configuration of truck. While they are not the cheapest running boards out there, the Tyger Auto running boards are your best option here.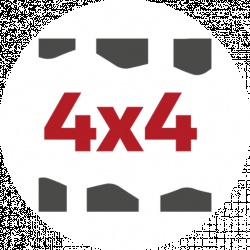 Latest posts by 4x4 Reports Team
(see all)