Sport Utility Vehicles are the most popular type of vehicle in the automotive market today. This segment has been on the rise for many years, thanks to the benefits it provides.
SUVs are all-in-one vehicles with the ability to carry eight adults, their luggage, tow heavy loads, and even go off-road, hence the named SUV.
The Toyota 4Runner is a prime example of a good SUV, yet it is not the only one in its class. One of its key competitors is its sister, the Highlander.
In this article, we will highlight:
What to consider before you buy an SUV, the differences between both Toyotas, and their detailed specs.
Main Differences Between the 2020 Toyota Highlander vs 4Runner
The Main Differences Between the 2020 Toyota Highlander vs 4Runner are: 
The Highlander is a Car-based SUV, whereas the 4Runner is a Truck-based SUV

the Highlander is available in five trim levels, whereas the 4Runner is available in eight trim levels

The Highlander comes in as a hybrid for better fuel economy, whereas the 4Runner does not come with a hybrid version

The Highlander comes with front-wheel drive, whereas the 4Runner comes with rear-wheel drive
What to Look for When Buying an SUV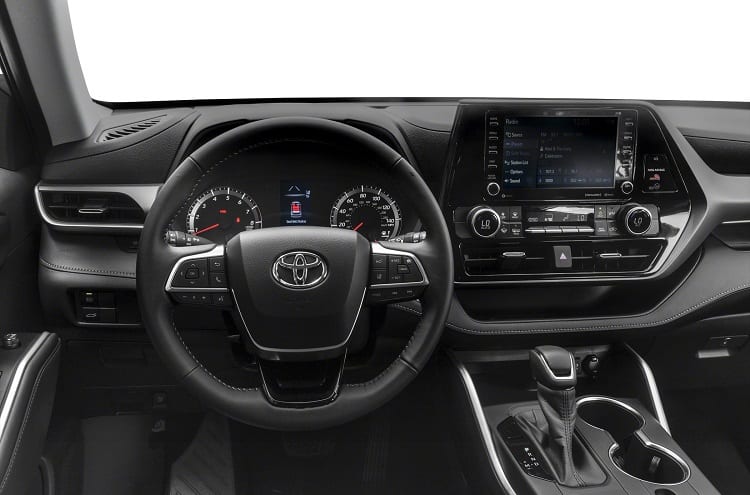 Before you start ticking the option boxes on the specs sheet, there are a few categories that you should take into consideration.
Seating and Cargo
Most modern SUVs carry at least five adults; however, there are mid-size and full-size SUVs that carry up to eight people by adding third-row seats. A downside to third-row seats is that they eat a lot from the cargo area behind them.
The good side is that the seats fold down for maximum cargo capacity.
So make sure to find an SUV that has flat-folding seats.
Fuel Economy
SUVs are great daily drivers, but they can make a nightmare out of life when it comes to fuel consumption. Luckily, modern SUVs come with capable small petrol engines, diesel engines, and hybrid technology to achieve the highest MPG possible.
Safety and Technology
Safety is a priority in every vehicle, and you as a buyer should opt for an SUV loaded with drive aid features to transport your family stress-free.
This segment of vehicles is for families offering limitless trims, packages, accessories, and options to provide the most comfortable driving experience possible.
Drive Train
The power output and transmission defer from one SUV to another. Some offer manuals, whereas others come with automatics only. Some manufacturers offer their models with V-8s others offer only V-6s and hybrid 4-cylinders.
Toyota Highlander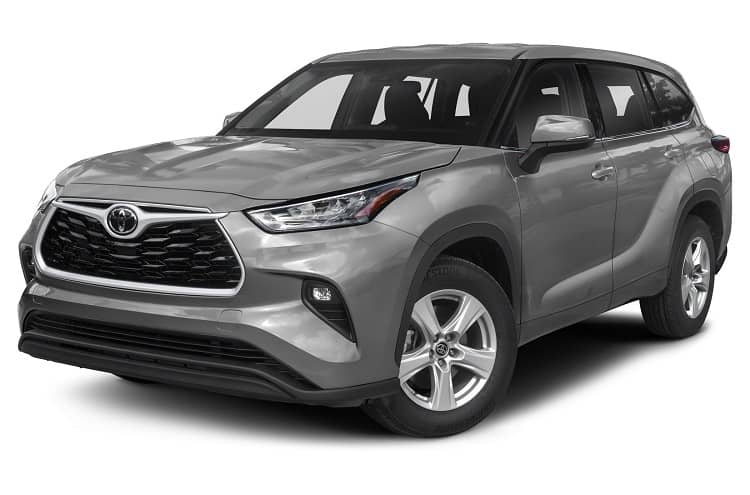 Families today have more options than ever to choose from when it comes to mid-size SUVs. With seating for almost eight people, crossovers are notorious family haulers and are invading the automotive market.
One of the crossover SUVs that started it all is the Toyota Highlander.
Car Specs
The 2020 model year steps back into the competition with a new design and key changes that earned it a solid spot in the mid-size SUV segment.
The new Highlander is larger than its predecessor, with larger cargo space behind the third-row seats.
A 3.5 liter V-6 comes as standard with the 2020 model. It produces 295 horsepower and 263 ft-lb of torque mated to an eight-speed automatic gearbox.
The Highlander is available as a front-wheel-drive or with all-wheel drive depending on the trim level you opt for.
It delivers good acceleration when needed and handles well in the corners. The ride quality is plush and can put a smile on your face.
The road noises are tolerable, and the bumpy roads feel smooth thanks to the suspension.
For a mid-size SUV, the Highlander's fuel consumption is good. With all-wheel drive, it manages 20 miles per gallon inside the city, 27 miles per gallon on the highway, and 23 miles per gallon combined.
The front-wheel-drive variant gives an extra mile in the city (21 mpg), two on the highway (29 mpg), and one mile combined (24 mpg).
The Highlander comes fitted with loads of driver-assistance features straight from the factory for maximum safety. The package includes:
Adaptive cruise control

Lane-keeping assist

Automated emergency braking

Pedestrian detection

Automatic high-beam headlamps

Standard blind-spot monitoring

Rear-cross-traffic alert

Lane-departure warning
For that reason, the National Highway Traffic Safety Administration (NHTSA) has given the Highlander a score of five stars out of five.
Highlander buyers get a nice bonus, which is two years' worth of complimentary scheduled maintenance. You do not get that with other rivals.
Additional Warranties of the Toyota Highlander
It is also covered with additional warranties:
Basic: 3 years/ 36,000 miles.
Drivetrain: 5 years/ 60,000 miles.
Roadside: 2 years/ unlimited miles.
Rust: 5 years/ unlimited miles.
Interior Details
The 2020 Highlander gets a responsive and easy-to-use eight-inch touchscreen display with a SiriusXM radio and Wi-Fi hotspot.
More importantly, Highlander now gets Android Auto, Apple CarPlay, Amazon Alexa, and 11 speakers JBL sound system as standard.
The interior also received upgrades to match the exterior styling. The inside gives a warm and welcoming feeling, is made with soft-touch materials, and is spacious enough to fit a family of eight.
However, the third-row seat space is very tight and eats into the cargo space behind it.
The 2020 Toyota Highlander is available in five trim levels. The base trim is the L with a 36,000$ price tag.
It is well equipped for a base model and includes Toyota Safety Sense 2.0, LED headlight, and the new infotainment system.
Stepping up to the LE. This trim adds to the base model features blind-spot monitoring, LED fog lights, a power liftgate, leather-trimmed steering wheel, additional multimedia functions, and a 40,000$ bill.
Next on the lineup is the XLE. Upgrades on this trim are a bundle of amenities that includes a sunroof, roof rails, and captain chairs in the second row.
Heated front seats, simulated leather upholstery, and a larger display screen are a pleasant addition. The XLE's prices start at $43,000 and can go higher if you include a couple of packages.
The Limited trim is more luxury-focused than the rest of the lineup. It comes fitted with twenty-inch alloy wheels, a leather interior, and a premium JBL sound system. This trim can easily hit the 50,000$ mark.
The range-topper is the Platinum, and it has a panoramic glass roof, a driver's head-up display, surround-view cameras, keyless entry and ignition, and a digital rearview mirror.
Not to mention, the Platinum gets an upgraded 12.3-inch touchscreen display. It starts at $50,000, more if you tick the packages and options boxes when you spec your SUV.
Toyota Highlander Pros and Cons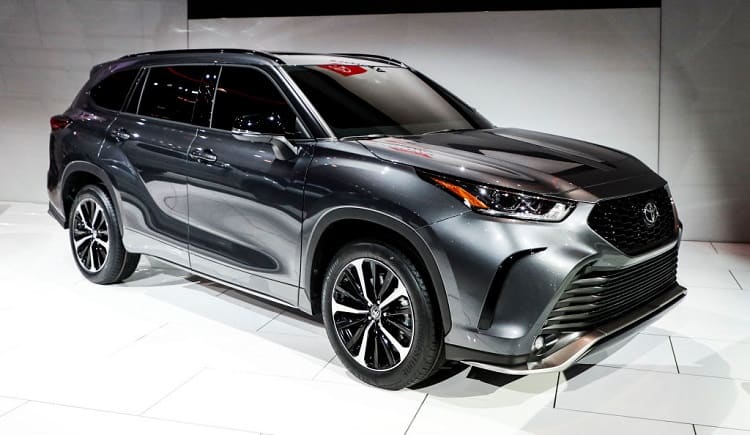 Pros
Ample cargo space
Interior up to par with massive touchscreen
Hybrid version for better fuel economy
Cons
Tight third row seats
Engine feels under powered
Price tag is too high
Jerky transmission
Toyota 4Runner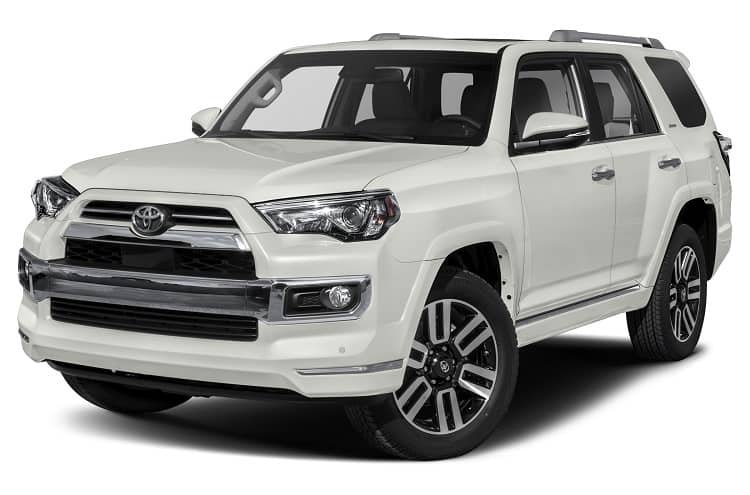 Unlike its class rivals, the Toyota 4Runner is a truck-based mid-size SUV that can tow up to 5000 lbs. and haul more than 400 lbs. in the cargo area.
The 2020 model puts out 270 horsepower and 278 lb-ft of torque produced by a 4.0 liter V-6, and it is standard across the range.
The power is delivered to the rear wheels via a five-speed automatic transmission. The four-wheel-drive option is available.
A double-wishbone front independent suspension with coil springs and a multi-link rear suspension with coil springs provides a smooth and creamy ride; however, it is bouncy on the road.
The ground clearance is great for off-roading, but it makes getting into the cabin more challenging.
The boxy shape causes lots of wind noise. But interestingly, the ride height helps in reducing the noise from the tires.
Here's how the 4Runner compares to other 4×4's:
Interior Details
The cabin is simply laid out, easy to live with and understand. It gets a brand new dashboard design with an 8-inches touchscreen display.
In addition, a multimedia system is available on all trim levels, and it includes Apple CarPlay, Android Auto, and USB connectivity.
The 4Runner is thirsty more often than you would like. It manages an average of 16 mpg inside the city, 19 mpg on the highway, 17 mpg combined.
The 2020 4Runner is available in eight trim levels. The SR5, SR5 Premium, Venture, TRD Off-Road, TRD Off-Road Premium, TRD Pro, Limited and Limited Nightshade. All trims get the same engine, transmission, and a two-wheel or part-time four-wheel drive.
The Limited and the SR5 can seat up to seven passengers, whereas the rest of the trims are available with five seats only.
For a base model, the SR5 is well equipped. It comes fitted with Toyota's safety system and an upgraded infotainment system.
For the interior, a bundle of amenities comes in handy. It includes eight speakers sound system, cargo divider.
Plus, a rearview camera, front and rear cupholders are included for a better driving experience, in addition to adaptive cruise control and power steering.
Continue reading our full 2020 4Runner SR5 guide.
Additional Features
On the other hand, the exterior covers a wide range of options like:
Ball Mount

Running Boards

TRD Front Skid Plate

Alloy Wheel Locks
The TRD Off-road is next on the list, which offers additional features like locking differentials in the rear, hill descent control, a dashcam, and a cargo net.
The TRD Off-road and the SR5 come with a premium variant that incorporates a more plush interior with heated seats and an optional sunroof.
The TRD Off-road Premium represents the base to the Venture trim level, and it adds black exterior accents, dark grey wheels, and a Yakima roof rack.
The most off-road focused of the bunch is the TRD Pro, and it features revised springs, FOX dampers, all-terrain tires, and a front skid plate. It also gets a sunroof and 15 speakers JBL audio system with a subwoofer.
The Limited Luxury Details
The Limited is more luxury-focused and uses a special full-time four-wheel drive for top-notch comfort. The Limited comes with a Nightshade variant, which replaces the exterior chrome accents with black ones.
All the bells and whistles are included in these top luxury trims:
Keyless entry and ignition

Parking sensors

Dual-zone climate control

Premium JBL speakers

Leather interior

Ventilated seats

Paint protection film

Automatic running boards

Full-size matching spare tire
Upgradeable Options
Multiple packages are available for the 4Runner as a special treatment:
Four Season Floor Mat Package

Wilderness Package

All-Weather Floor Liner & Cargo Tray Package

Preferred Accessory Package

Carpet Floor Mats & Cargo Mat Package

TRD Performance Package

Convenience Package
Toyota Care
Toyota care covers the 4Runner with:
Basic 3 years/ 36,000 miles warranty.

Drivetrain 5 years/ 60,000 miles warranty.

Free Maintenance 2 years/ 25,000 miles warranty.

Roadside 2 years/ unlimited miles warranty.

Rust 5 years/ unlimited miles warranty.
The 4Runner gets the Safety Sense-p 2.0 like all 2020 Toyotas, and it scored four out of five stars in the NHTSA tests.
The safety features forward collision warning, pedestrian detection, automatic emergency braking, lane departure warning, automatic high-beam headlights, and adaptive cruise control.
Toyota 4Runner Pros and Cons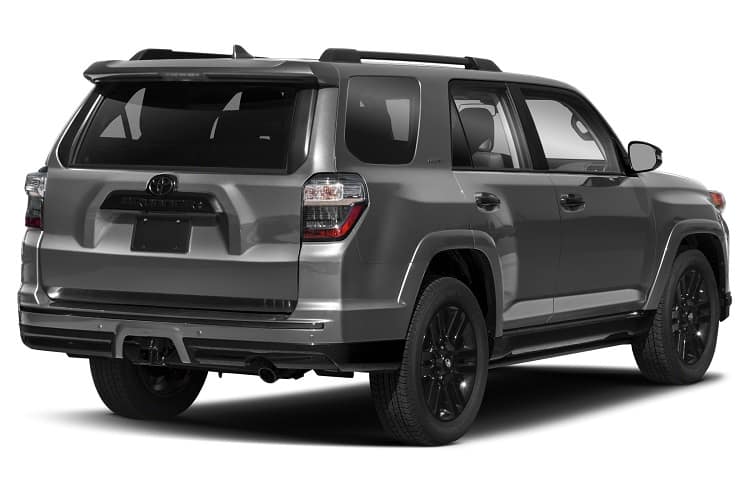 Pros
Great off-road performance
High towing and payload capacity
Rommy and modernized interior
Standard safety kit
Cons
Feels numb and bouncy on paved roads
Poor gas mileage
Hard to get into due to high ground clearance
Alternatives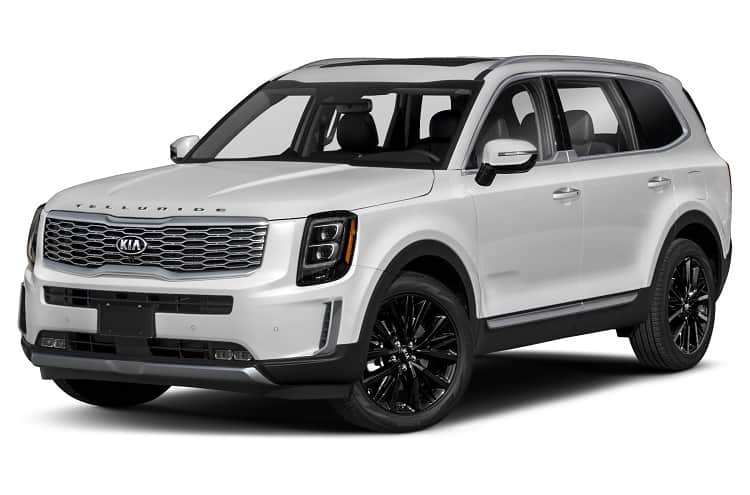 Toyota Highlander
The SUV segment is highly competetive. Although the Highlander is one of the best three-row SUVs in the game, there are other rivals that can give it a run for its money. Kia Telluride, Chevrolet Traverse, and Mazda CX-9 are key competitors to the Highlander.
Toyota 4Runner
The 4Runner is the last truck-based SUV in its class with great off-road capabilities. However, there coupleof alternatives worth considering such as Jeep Grand Cherokee, Chevrolet Blazer, and Ford Explorer.
FAQs
Question: 
What are the Colors for the 2020 Toyota Highlander?
Answer: Some of the best exterior color options the Highlander gets are Moon Dust, Blizzard Pearl, Magnetic Gray Metallic, Celestial Silver Metallic, Midnight Black Metallic, Ruby Flare Pearl, Opulent Amber, and Blueprint.
Question:
Does the Highlander Hold its Value?
Answer: The 2020 model year is expected to hold at least 60% of its resale value, better than other SUVs.
Question:
What is the Average Life of a Toyota Highlander?
Answer: According to iSeeCars, stats have shown that the Highlander can live up to 300,000 miles, or about 20 years.
Question: How Much Does it Cost to Maintain a Toyota Highlander?
Answer: The average total annual cost for repairs and maintenance on a Toyota Highlander is $489, compared to an average of $573 for midsize SUVs and $652 for all vehicle models.
Verdict
Not to beat around the bush, you cannot go wrong with a Toyota simply because it is a Toyota. They are made with unmatched reliability, dependability, and they are easy to live with.
The 4Runner is a great family hauler with great off-road performance for camping trips, wide cargo space, and impressive towing capabilities. However, the ride height kills the ride quality on paved roads.
The Highlander, on the other hand, is more luxurious and aims to make the daily driving experience as easy and comfy as possible. But, as a seven-seater, the third-row seats are cramped, and the cargo space behind them is mediocre compared to its competitors.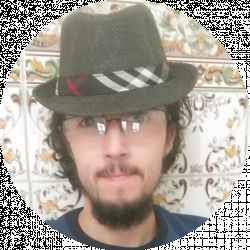 Latest posts by Tommy Verrcity
(see all)