Are you looking for the best Toyota 4Runner Lift Kit? Are you having problems finding the right for your needs? If your answer is yes to these two questions, you have come to the right place.
We have researched Toyota 4Runner lifts kits from different sources. They include the Toyota 4Runner website, forums, and fan pages. We have also consulted with some mechanics in the area to ensure we gathered every pertinent information regarding lift kits and 4Runners.
Our Top Toyota 4Runner Lift Kit Picks
From our research, we were able to find the best lift kits for any Toyota 4Runner. The list below gives you insight into each. The information includes the size and why you should get the same. Read on to know more.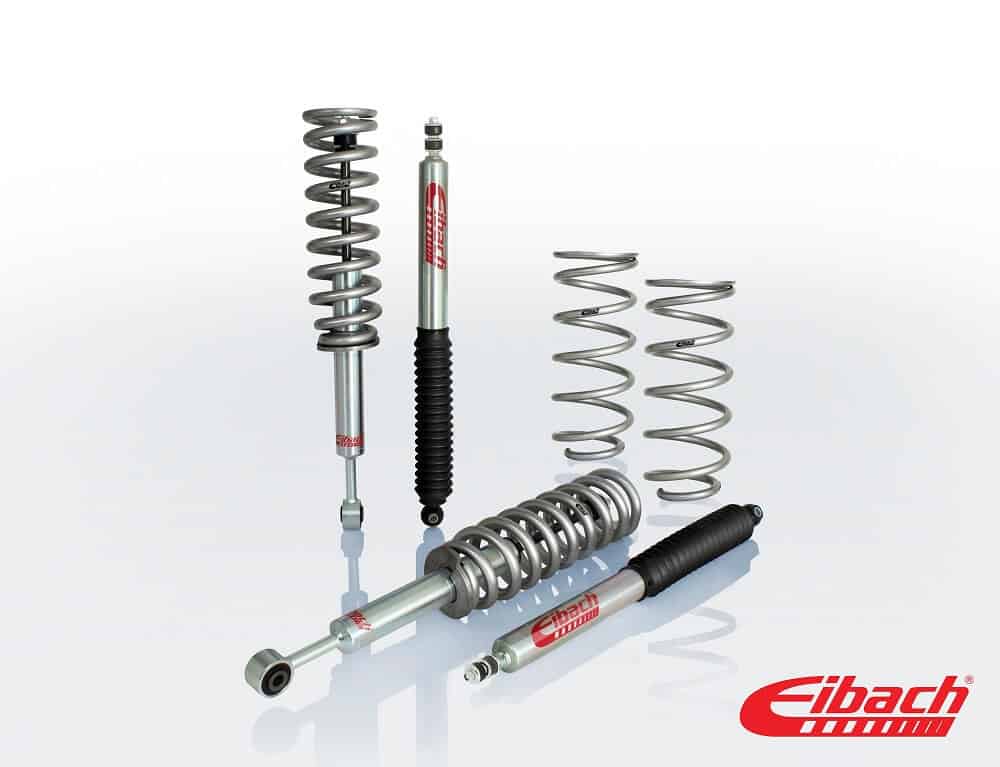 If you want to get one of the best 5th generation suspensions in the market, check out the Eibach Pro-Truck Lift kit. Eibach is a popular manufacturer of springs based in Germany. This suspension lift comes with everything that you may need for your 4Runner model. It's affordable with amazing ride quality.
At 2.75″ in the front, it's a decent size lift at this price point. It can also be a daily driver-friendly option if you go for a bigger tire size such as 33s. You experience an increase in performance and flex while off-roading because this is a complete suspension lift kit.
Do you normally go off-road a few times a year? If so, Eibach has made this lift great by using a digressive piston with a linear feel at high speed. It's a fantastic lift kit for the overlanding scene because the front struts allow for clip adjustments.
This means that you can adjust and maintain your ride height without having to worry about the upfront weight. That said, you will not get fine-tuning adjustments with this threaded kit. Although diff drop and UCAs are not required for this kit, they are recommended.
Pros
Budget-friendly
Amazing ride quality
Features a digressive piston
Has front struts
Easy to adjust the ride height
Cons
No fine-tuning adjustments
Lacks UCAs and diff drop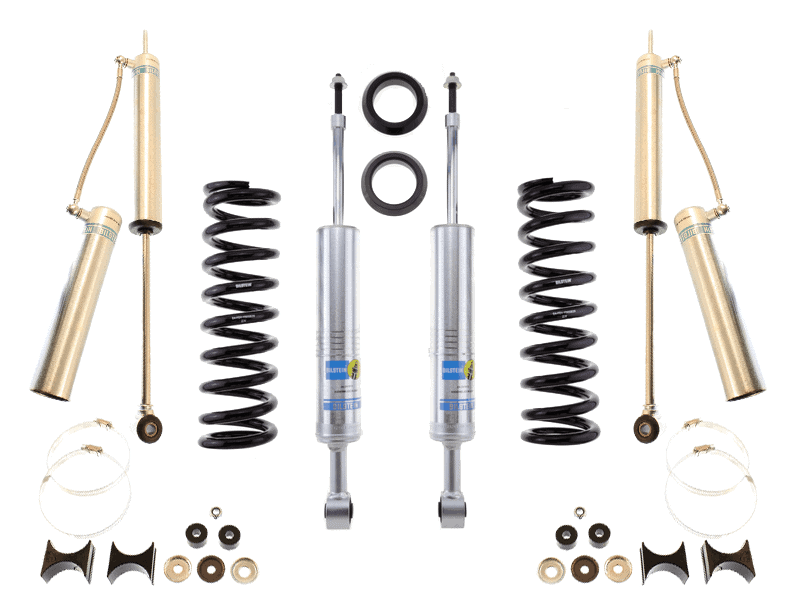 The 5160/6112 Bilstein kit is a popular Toyota 4Runner lift kit. It's very comfortable for light trails and daily driving. Because this is a digressive shock, it comes standard on several TRD models (2015 – 2017). With this product, you can fit bigger tires. Size 285/70R17 can fit with minimal trimming, while size 275/70R17 is a pretty mild lift.
The 2.5″ 6112 allows you to dial in the lift height of your 4Runner because of their clip-adjustability.  To keep heat under control, the rear 5160 comes standard with a remote reservoir. Note that the 5100 model has no remote reservoir.
Toyota must have been good at it when they started equipping the TRD models with this lift. They have been a popular choice among 4Runner owners for decades. Not only is the ride quality exceptional, but it also adds a little bit of height to your 4Runner.
Interesting Read: How to Find the Best 3rd generation 4Runner Lift Kits
Pros
Affordable
Can fit big-sized tires
Has adjustable clips
Features a remote reservoir
Amazing ride quality
Cons
Not best for off-road
Lacks front struts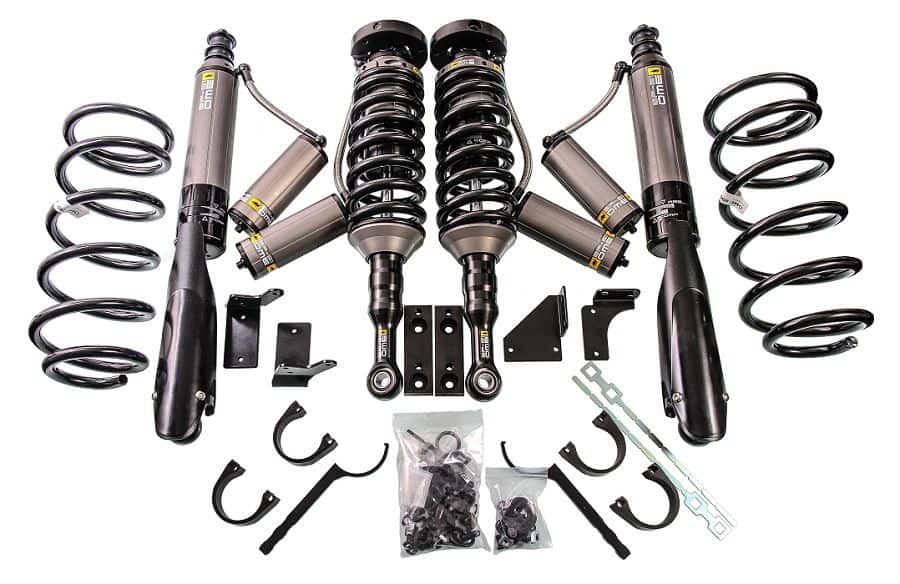 OME is an Australian company popular in the production of suspension-related products. It tests all of its products in the Australian outback. When it comes to the production of off-road suspensions, OME is one of the most reputable companies.
This kit offers a soft ride on the road and a bit stiffer ride off the pavement because of the dips, ruts, and whoops. One of the most amazing things about this kit is that it provides you with numerous options for spring rates. It resembles the Dobinsons. Keep in mind that OME is more affordable.
Old Man Emu kit comes with options for light, medium, and heavy coils for the front and rear. If you have aftermarket bumpers, these options come in handy. The added weight from armoring your 4Runner becomes unnoticeable because of the added spring rate. Fortunately, the majority of dealers have the option of adding these coils at checkout.
This lift offers around 3″ of lift, making a bigger sized tire doable. Just like the Bilstein, size 285/70R17 can fit with minimal trimming, while size 275/70R17 is the best option for this lift kit. Being a progressive shock, it's best for a frequent off-roader who does a lot of normal daily driving.
Pros
Ideal for off-road
Can fit big-sized tires
Numerous options for spring rates
Budget-friendly
Numerous coil options
Cons
Not the best for pavement riding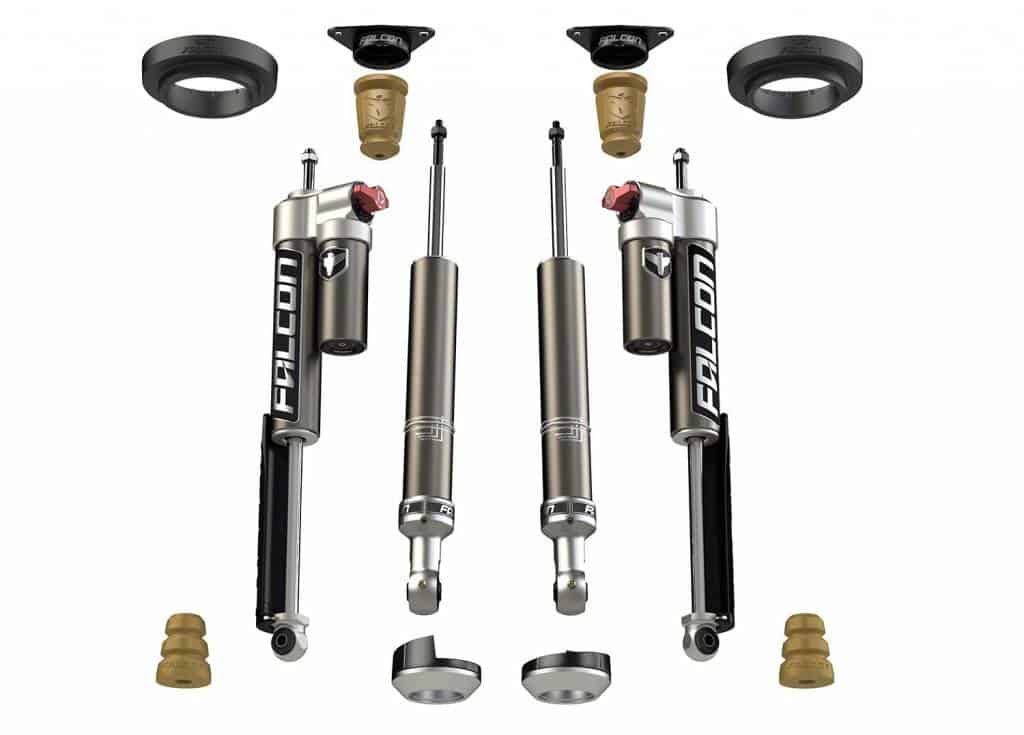 If you are a fan of Jeeps, you must have come across Falcon or their parent company – Terra Flex. Do you plan on towing with your 4Runner? If yes, this kit is exceptional because it comes with a digressive linear valve. The piggyback reservoirs control the compression damping.
This means that with this kit, you get optimal control on the road when it comes to towing and daily driving. The Falcon 2″ lift kit features bump stops which improve your ride quality. One of the drawbacks facing this kit is the limitation on the tire sizes.
Your tire sizes are limited because this is a 2″ lift kit. Meaning that 275/70R17 has no trimming while for a 285/70R17 tire, trimming may be needed. However, you will still experience a bit of an increase in flex on the trail.
In general, Falcon has a proven background in the production of middle-ground lift kits. You should not worry about overheating. After all, the piggyback reservoirs are there to keep your shocks cool.
Pros
Features piggyback reservoirs
Ideal for towing
Bump stops
Has a digressive linear valve
Optimal road control
Cons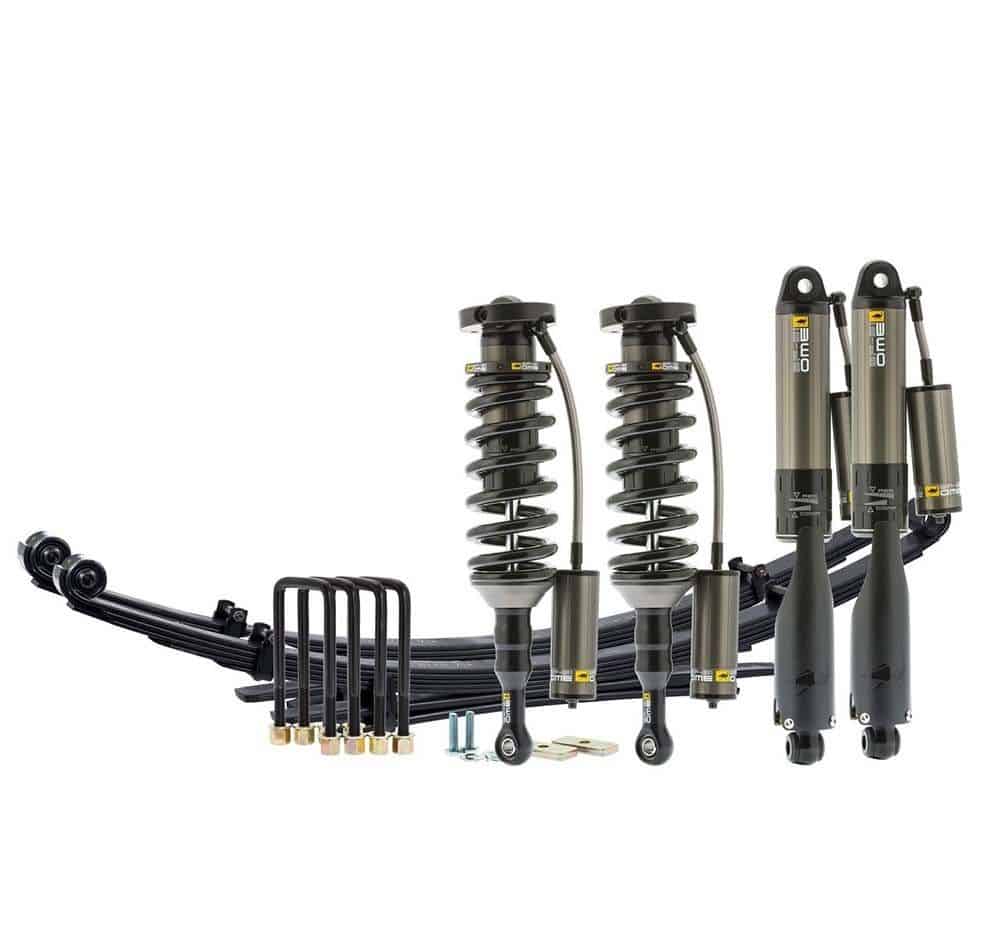 The OME BP-51 offers an internal bypass shock. Not only do the 2″ threaded shock bodies have a progressive valving but they are also adjustable. Meaning that on the road, the ride quality is soft but for the off-road, damping stiffens up a bit at higher speeds.
Some of the companies with the same price point as the BP-51 kit are Icons, FOX, and Kings. One of the unique things about OME is that it offers the BP-51 for models with or without KDSS as well as varying spring rates. The BP-51 lift kit is a progressive shock. So, it can go above and beyond off-road.
Would you like to get into the off-road world? This lift kit is ideal for anyone serious about getting into the off-road world without having to break the bank. We recommend pairing BP-51 with Old Man Emu's upper control arms.
The OME uppers feature a greasable balljoint. They are adjustable, enabling you to dial in your alignment to fit bigger tires. A feature that makes BP-51 a fantastic popular product is its ease of controlling compression/rebound damping on all the shocks.
You can set your preferred rebound and compression adjustment with a single turn of the coil-over adjustment or rear shock. Apart from OME BP-51 being the first suspension company to produce a fully adjustable system that you can dial on your own, it's by far the most DIY adjustable and affordable kit in the market. With this kit, you can dial your suspension without going to a shock tuner!
Pros
Best for off-road
Features a progressive valving
Most DIY adjustable
Easy to control compression/rebound damping
Can pair with OME upper control arms
Affordable
Cons
Only for 3-inch plus lifts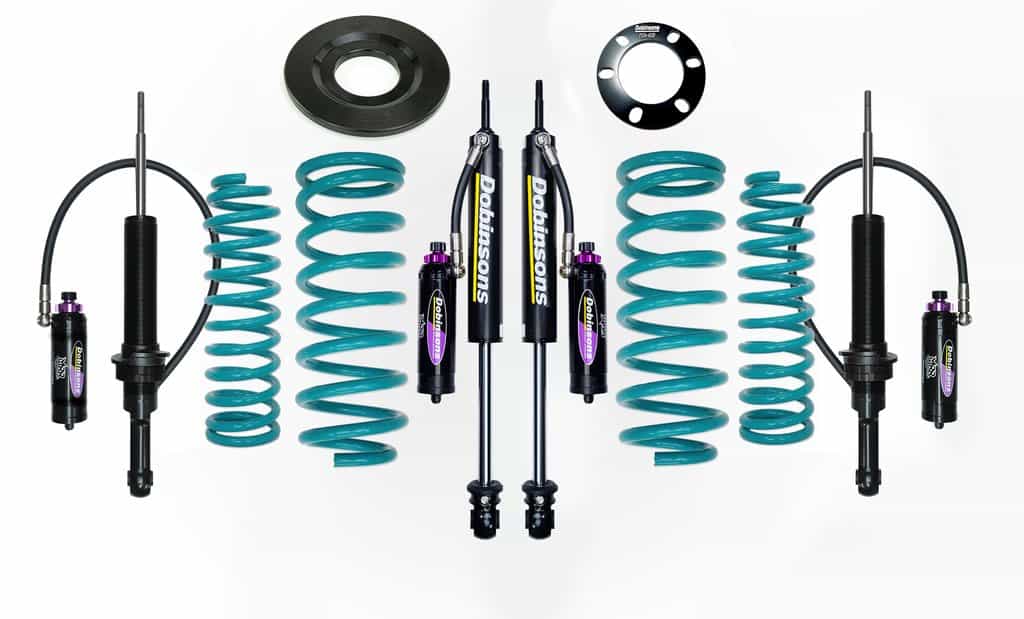 Are you looking for a 5th generation Toyota 4Runner suspension system with numerous coil load options and lift heights? Look no further because Dobinsons has got you covered. It suits whatever accessory and the respective weight that you might add to your Toyota 4Runner. With this, you can also get your desired lift height.
This progressive setup is designed and built to offer you the ultimate flexibility when it comes to adjustments. The MRR comes with a 3-way adjustable valving. It gives low/high-speed compression and rebound adjustments.
That said, you have a 10-stage high-speed compression adjustment. This is for aggressive, high-speed off-road driving through whoops and ruts. Furthermore, there is a 20-stage low-speed compression meant for cornering and crawling. Finally, you have a 15-stage rebound which prevents your coils from buckling.
With this kit, you get complete control of how your 4Runner handles on and off-road. It comes with various features such as an upgraded 3-stage sealing system, a 2.2″ shock body, high-end parkerTM braided high-pressure hoses, super high-quality CNC machined components, and much more.
Like many of the other high-end shocks in the market, the Dobinsons MRR is a fully rebuildable design. It features 2 rear MRR shocks, 4 coil springs, and 2 front MRR struts. The front and rear spacers correct driver side lean, which is notorious on most Tacomas and 5th generation 4Runners.
Dobinsons has several springs for you to choose from. Note that none of them are exact. However, this is okay if you want to ensure your coil-overs upfront are matched. You require new extended brake lines and a minimum of 2″ bump stop extensions with long travel rear shocks for you to have a lift of 3″ in the rear.
Pros
Numerous spring rates
Has front and rear spacers
4 coil springs
2 front MRR struts for adjustability
Upgraded 3-stage sealing system
High-quality CNC components
Cons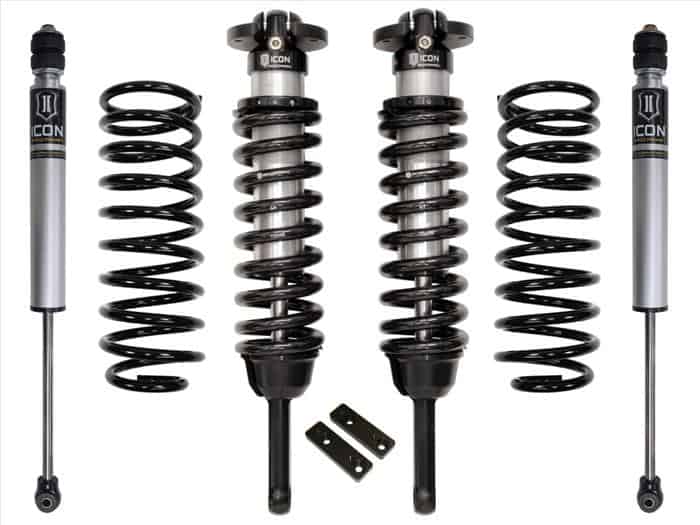 Icon suspension is a big name in the Toyota world.  That said, this model comes with a 2.5″ adjustable shock body, so you get up to 3.5″ of lift. This provides you with good and stiff ride quality. This digressive shock gives you enough room to use some bigger tires.
Not only does Icon categorize their lift kits into stages, but they also offer a wide variety of suspension products. As a result, this becomes easy to compartmentalize the items that you will receive in your kit. For instance, for the Stage 1 kit, you will only get rear shocks and springs as well as front coil-overs.
Stage 2 extended travel kit, which is the most common, comes with UCAs, extended travel coil-overs, rear shocks, and springs. Surprisingly, the stage 7 kit is quite exemplary. It comes with upper control arms, coil-overs with reservoirs, and rear links (the whole 9 yards).
Icon produces their upper control arms. They allow you to dial in your alignment after lifting your 4Runner. You get 2 style options with them: a billet aluminum boxed style control arm and a tubular style.
Both styles not only come standard with a built-in caster correction but are also designed and built to be stronger than the stock control arms. In addition, they also come with Icon's very own Delta Joint, which provides both features from a standard uni-ball and ball joint.
This results in full articulation with very little chance of binding within the joint. We recommend diff drop and UCAs for this kit. In case you decide to choose a 3″ Icon overland spring, extended brake lines are also recommended.
Pros
Numerous suspension options
Features rear shocks and springs
2 style options
A built-in caster correction
Features Delta Joint
Cons
Lacks UCAs and diff drop
Not budget-friendly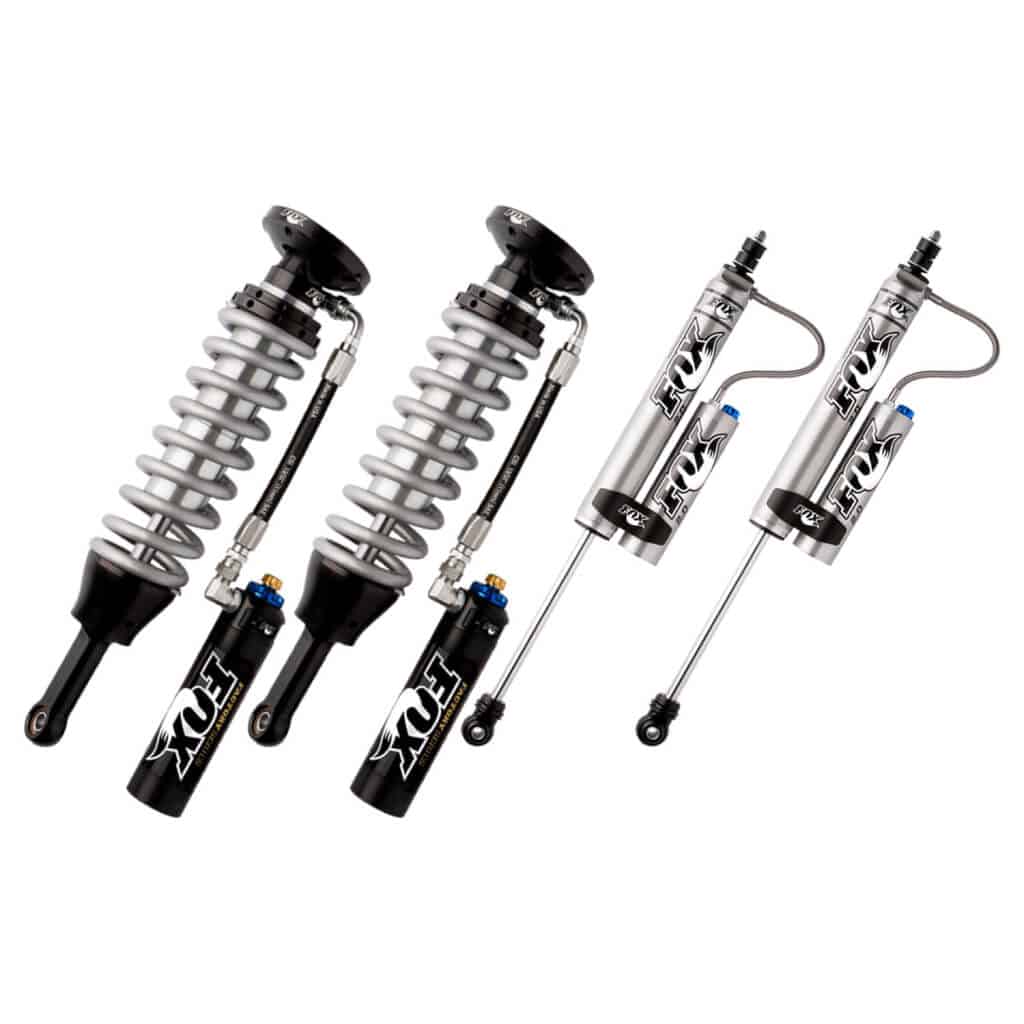 Fox is one of the companies with a good reputation for being an outstanding shock. Apart from this 2.5″ progressive shock being adjustable, it's also an absolute beast when it comes to off-road. The coil-overs feature a remote reservoir for cooling your shocks. However, this is not all.
If you choose the Dual Speed Compression (DSC) option, this reservoir can also work as an adjuster. Whether you want to drive on-road or off-road, fast or slow, this allows you to change the way your coil-over performs. At the end of the day, you can adjust your shocks to function more linearly than progressively.
Many customers are shifting their loyalty to Fox, given their credibility and reputation. Currently, Toyota is fitting these shocks in all their TRD pros. If you want to use Fox coil-overs on your Toyota 4Runner, we recommend aftermarket control arms.
Pros
Adjustable
Best for off-road
Features a remote reservoir
Has a Dual Speed Compression
Amazing ride quality
Cons
Not budget-friendly
Not ideal for pavement driving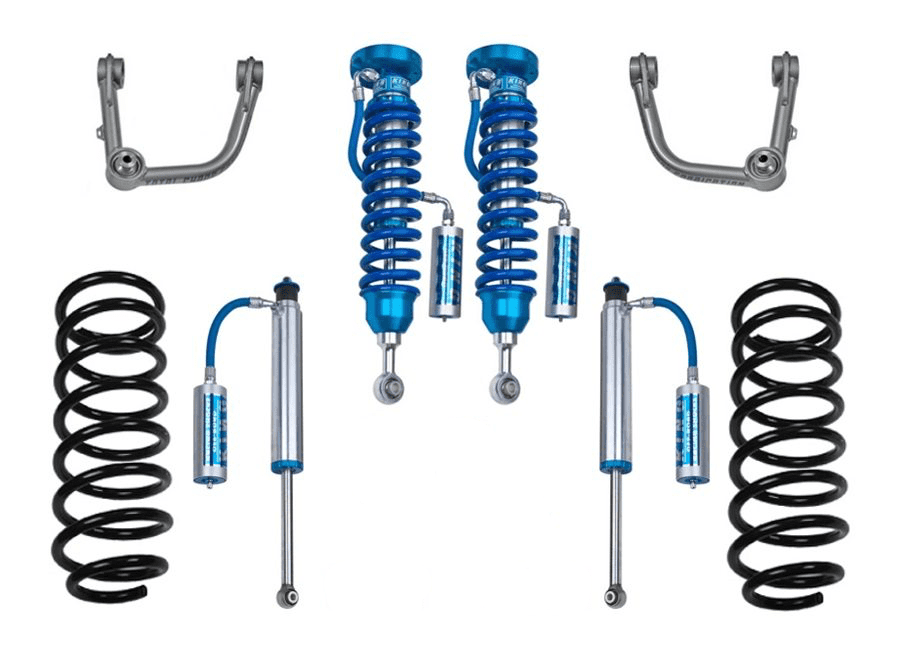 The King brand has been a very popular off-road manufacturer for a few decades ago. They produce various suspension components. The 2.5″ King coil-overs come with or without a remote reservoir.
They can be customized to offer you a great ride quality with more travel out of your 4Runner. Being a linear shock, it's the best of both on and off-road worlds when it comes to shock valving. If you want to make your King shock to be more progressive, you only need to stack a shim on top of the coil-over.
We recommend upper control arms for this suspension setup. This is to maintain maximum articulation and durability.
Pros
Best for off-road
Adjustable
Some feature remote reservoir
Customizable coil-overs
Offer a great ride quality
Cons
Not ideal for pavement driving
Not affordable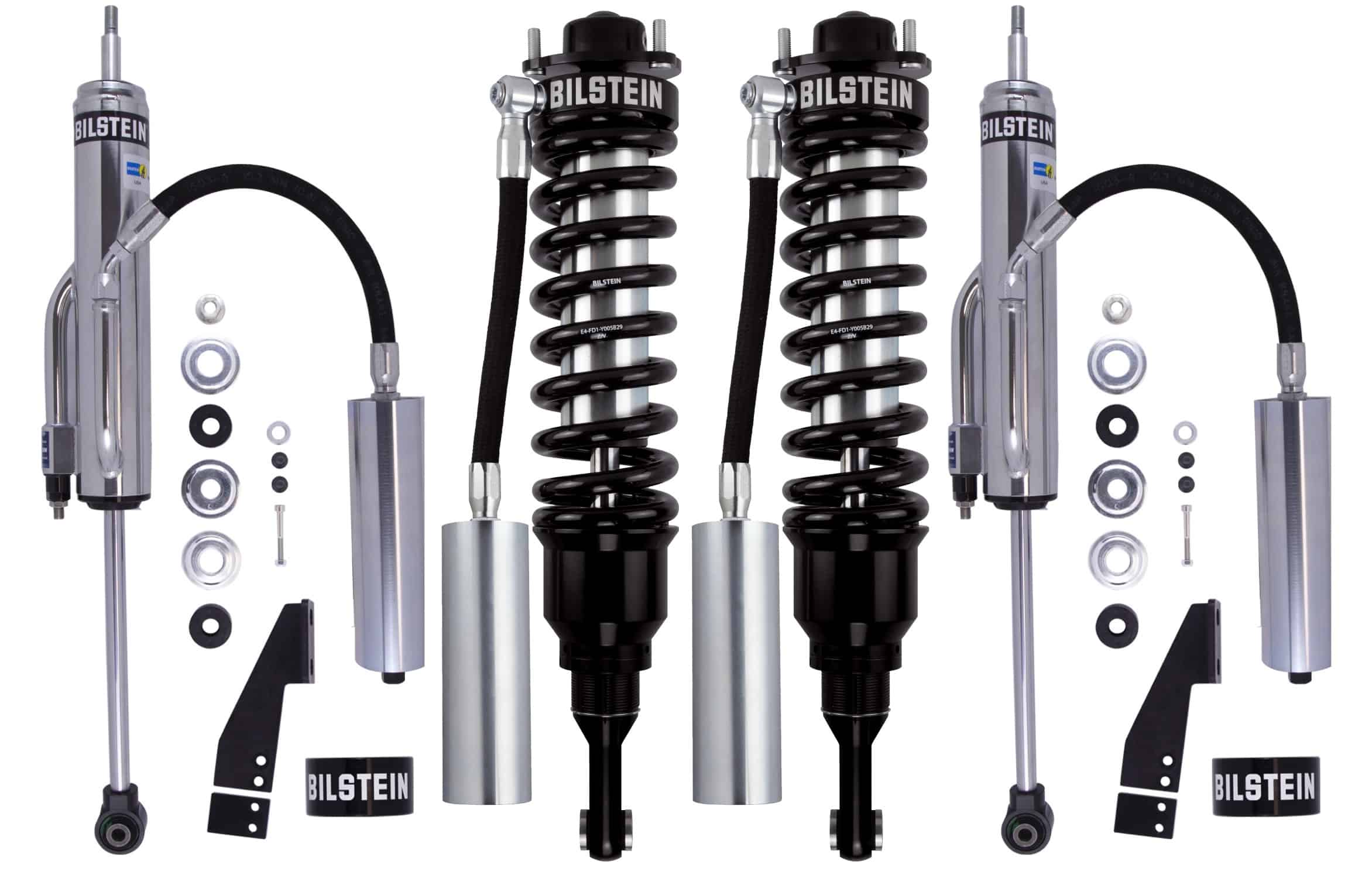 Bilstein made a kill with their B8 8112 coil-over. The reason it stands out from the rest of the coil-overs is that it uses a triple piston design. A triple piston is designed and built to allow for 2 stages of rebound valving and 3 stages of compression valving.
As a result, this means that with an 8112, you get an excellent ride quality both in off and on-roads. Similar to the other coil-overs, you can also fully adjust the 8112s to offer up to 3″ of lift. They have a telescoping internal compression stop to eliminate the need for an external bump stop.
That said, the remote reservoir assists with cooling your shocks. These Bilstein shocks are not only rebuildable but also come with a 2-year warranty.
Pros
Features a triple piston design
External bump stops not necessary
2 stages of rebound valving
Adjustable
3 stages of compression valving
Has a telescoping internal compression stop
2-year warranty
Cons
Not budget-friendly
Lacks UCAs and diff drop
Toyota 4Runner Lift Kit Buying Guide
Lifting your 4Runner may need a lot of time and work. This means you need to consider every angle before you make a decision. By considering various factors, you won't waste money and time.
Things to consider include:
Types of Toyota 4Runner Lift Kits
There are different types of 4Runner lift kits you can choose from. The type you get is determined by your preferences. Take note each has a variety of costs and purposes. They are:
Suspension lift kits
Body lifts
Long travel suspension
Upgraded shocks
Spacer lifts
Suspension Lift Kits
This Toyota 4Runner lift kit is the most common way to lift a 4Runner and other SUVs or pickup trucks. The good news is you can install it even if you don't have any mechanical experience.
Body Lifts
Avoid these kinds of lifts if you are an off-road junkie. The reason is body lifts separate the frame of the car from the car's body. These kits are recommended when you want to use larger tires than the stock tires. Make sure you stick to 1 – 11/4 inches of lift if you go for this option.
Upgraded Shocks
In most cases, these are used on the front of your Toyota 4Runner. You get to decide how high you want the spring to sit. As such, you can choose the height of your vehicle.
Long Travel Suspension
The long-travel suspension is the way to go if you love going off-road. They determine how far up and down your wheels can go. You can find them in the majority of off-road racing vehicles.
Spacer Lifts
The most affordable Toyota 4Runner lift kit is a spacer lift. The benefit is they give you extra tire clearance without interfering with, replacing, or modifying your suspension.
Remember a body lift only lifts the body, while a lift kit lifts the entire vehicle.
Purpose
How you plan to use your Toyota 4Runner needs to be considered before you lift your 4Runner. Know the purpose as this will affect the kind of lifts you get. It will also impact its performance.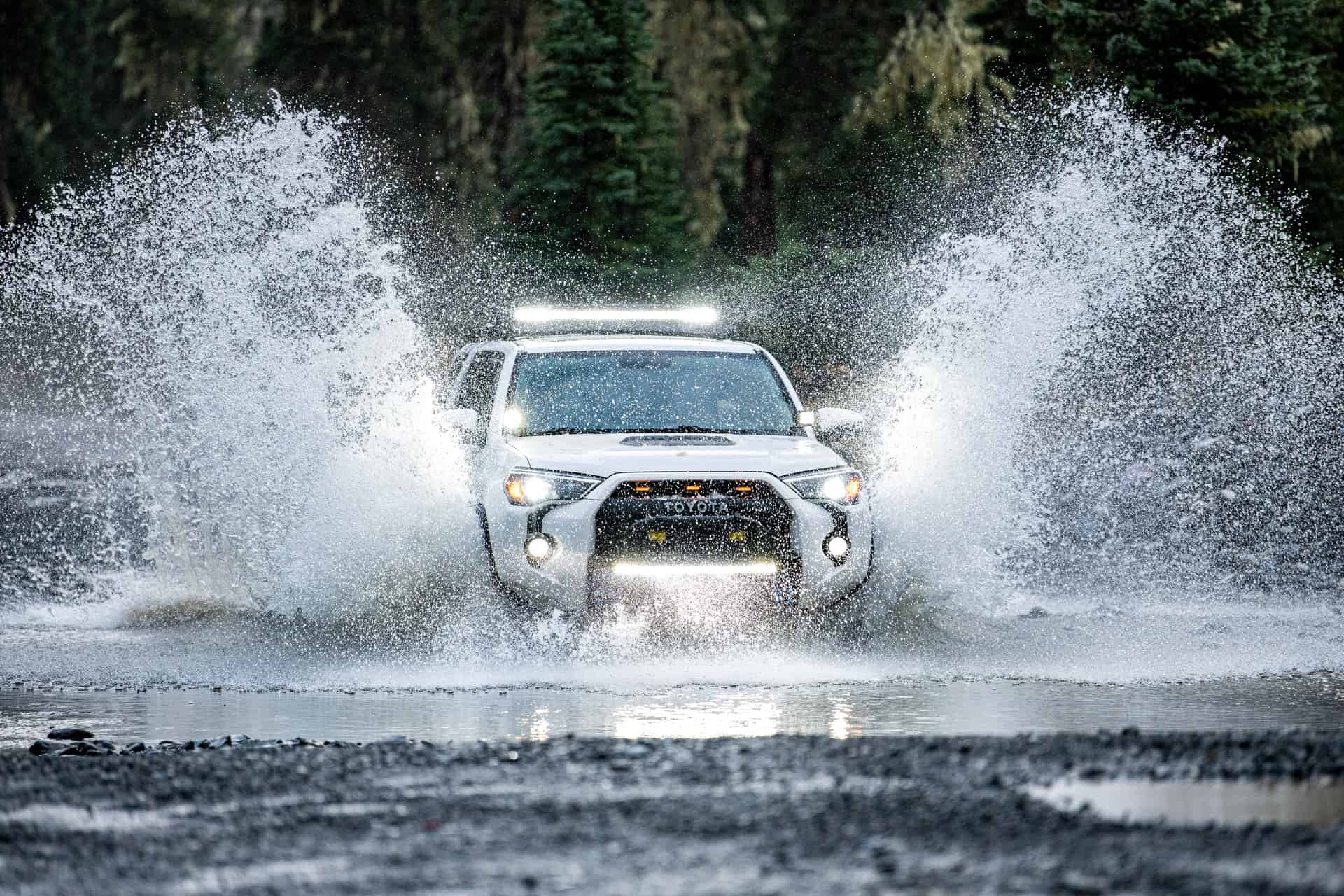 Reasons to Lift a 4Runner
Consider the reason why you want to lift your vehicle. Some of the common reasons include:
Towing
Off-roading
Appearance
Towing
A Toyota 4Runner lift kit may not be the best option if you plan to tow a lot. The center of gravity should be as low as possible for the safest towing experience. A high car means a lack of stability you are used to, thus increasing the risk of accidents or damages.
Off-roading
For off-roading, you need your car to be as high as possible. 3-inches is the maximum height you should lift a Toyota 4Runner. Some people have gone past this threshold. What they don't realize is it's dangerous and strains your vehicle. A 2 – 3 inch lift is recommended for off-roading.
Appearance
Some people are particular with the appearance of their car. If you are such a person, consider the height of your 4Runner before you get any lifts. If possible, get online simulations or videos of various lift heights to get an idea of the overall outcome.
Tire Size
The tires you use or plan on using determine the amount of lift you can use. Keep in mind not all Toyota 4Runner lift kits are designed for any tire size. Tire sizes are designed to be used for different purposes, and that is why this is important.
For instance, let's say you want to use your vehicle to tow. Smaller tires work better than larger tires. The reason is the weight you can tow decreases as the tire size increases. Additionally, the tires have to be proportionate to your lift size to ensure 4Runner runs properly.
Garage Height
It may not seem important, but it is. Unless you don't use a garage, the garage height determines the maximum amount of lift you can install on your vehicle. You should also ensure it can fit in the places you park the most. Otherwise, you may end up looking for alternative parking spots when you move around.
Amount of Modifications Required
Lifting is usually combined with other modifications on your Toyota 4Runner. Buying a lift kit is an easy step. Installing it is a challenge as it includes modifying the whole vehicle. If you don't plan on additional mods on your vehicle, then maybe a lift kit is not the way to go.
Budget
Lifting any vehicle will set you back hundreds or thousands of dollars, depending on what you require. Usually, lift kits are upwards of $1,000 with a few additional hundreds of dollars for labor. Make a realistic budget to determine the best way forward.
Toyota 4Runner Lift Kit FAQs
Question: What is the Best Lift for My Toyota 4Runner?
Answer: 3 inches is the highest height you should go for when lifting your 4Runner. When you go higher, you risk a lack of maneuverability and straining your vehicle.  For off-road, stick to 2 – 3 inches for the best outcome.
Question: Can I Use 35s on a 3-inch Lift Kit?
Answer: Nope! It can work if you are willing to do a lot of tubing and cutting. People who run 33s on a 3-inch lift kit state they experienced some rubbing.
Question: What About a 4-inch Lift Kit for my Toyota 4Runner?
Answer: This kind of kit is less expensive. However, you should consider the application. It's advisable to consider this type of loft if you are into serious offroad0ng.
Question: Will I Void My Warranty if I lift My Toyota 4Runner?
Answer: No, you won't! However, if any part of your vehicle is damaged due to the lift, the warranty on that part is void.
Conclusion
What matters at the end of the day, is whether the lift kit you choose will suit your needs. Not only does suspension greatly increase performance on and off the road but it also improves the look of your 4Runner. The added look and performance on your 4Runner make these lift kits the perfect first mod for your machine.
The difference in ride quality will always be noticeable, depending on whether you are going to choose a digressive, progressive, or linear shock setup. It's important to first evaluate what you need to get out of your suspension.
Note that your preference shouldn't be influenced by what someone on Instagram and other forums claims to be the best. It's good that you always check out more than one lift and do a side-by-side comparison to find out which is the ideal kit for your Toyota 4Runner.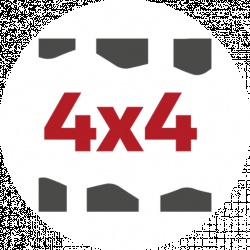 Latest posts by 4x4 Reports Team
(see all)