Modern day pickup trucks are more powerful and diverse than ever. In fact, the market is so massive it accommodates a truck for every driver.
Indeed, there are mid-size, full-size, and Super Duty trucks. They can be equipped for work purposes only or as comfy daily driver.
Ford dominated the pickup truck segment for decades with its F-series. The Ford F-150 is the best-selling light-duty pickup truck, and the F-250 Super Duty offers best-in-class towing and hauling performance.
Both of the trucks come from the same family; however, what are the differences between them? Which one is better?
In this article, we will highlight all the specs of both the F-150 and the F-250 Super Duty, trims, packages, and which one that suits you best.
Main differences between the Ford F150 vs F250
The main differences between the F150 vs F250 are:
The F-150 is a light-duty pickup truck, whereas the F-250 is a heavy-duty pickup truck.
The F-150 comes with six different powertrains, whereas the F-250 comes with only three options.
The F-150 is available with three-bed sizes, whereas the F-250 is available with only two-bed sizes.
Ford F-150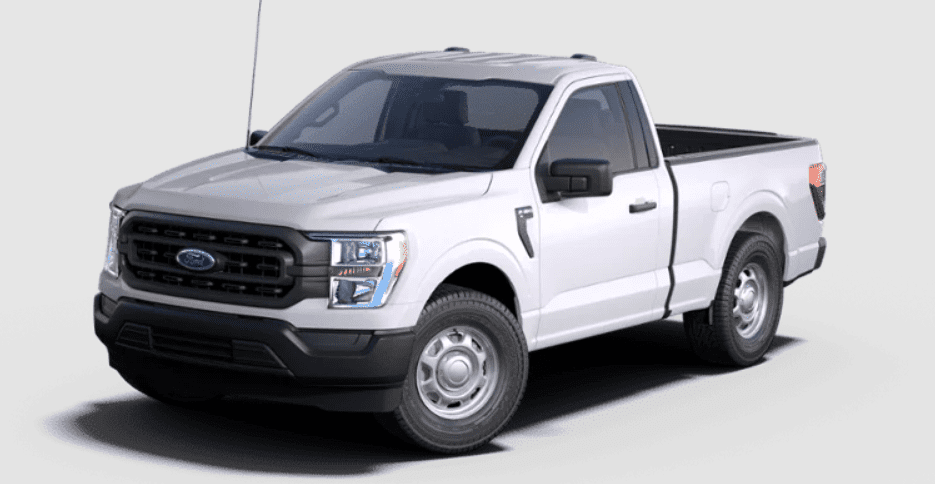 For 2021 Ford revealed the 14th generation of the highly anticipated and redesigned F-150. It made quite a noise, after all the Ford F-series dominated the United States market sales for decades.
The new generation is fully redesigned from grille to tailgate and comes with more features, more powertrain options, and more body configurations.
The new 2021 F-150 is a light-duty full-size pickup truck used as either a workhorse or just an everyday family hauler.
It comes with multiple bed and cab configurations. You can spec your new truck with a Regular Cab (single cab), SuperCab (extended cab), and the SuperCrew (crew cab).
There are three-bed options for the F-150:
However, the cab you opt for will determine which bed you can get.
In other words, the Regular Cab and the SuperCab get the 6.5-ft and 8.0-ft beds.
However, the SuperCrew comes with 5.5-ft and 6.5-ft beds.
Engine Specs
In addition to the diverse body configurations, Ford offers the F-150 with six different power plants mated to a ten-speed automatic transmission with standard rear-wheel drive and optional four-wheel drive.
The engine lineup comprises of:
2.7-litre turbocharged V-6 with 325 horsepower and 400 lb-ft of torque
3.0-litre turbocharged V-6 diesel with 250 horsepower and 440 lb-ft of torque
3.3-litre V-6 with 290 horsepower and 265 lb-ft of torque
3.5-litre turbocharged V-6 with 400 horsepower and 500 lb-ft of torque
5.0-litre naturally aspirated V-8 with 400 horsepower and 410 lb-ft of torque
The F-150 also comes with a hybrid power train called PowerBoost that consists of a turbocharged 3.0-litre V-6 and a 35 KW electric motor and battery pack.
Combined, they put out 430 horsepower and 570 lb-ft of torque.
The combination of the powertrain and body configuration affects both payload and towing capacities.
The F-150 hauling capability ranges from 1,985 pounds with the smallest engine and maxes out at 3,325 pounds with the big V-8.
On the other side, it can tow from 8,400 pounds up to a hefty 14,000 pounds. That is more than any other pickup in its class.
To get the maximum payload and towing capacity, buyers must opt-out for the right cab and bed size, powertrain, and additional packages.
Gas Mileage
For the F-150, fuel economy is a strong point. It comes with a 23-gallon gas tank or a bigger 36-gallon tank.
It averages 20 miles per gallon in city limits, 24 miles per gallon on the highway, and 22 miles per gallon combined with either the V-6 or the V-8.
The hybrid version is expected to deliver 25 miles per gallon in the city and 26 miles per gallon on the highway.
The 2021-year model comes in six different trim levels. The basic trim level is the XL with 29,000 $ MSRP.
For that price, you get a few standard features that include trailer sway control and pre-wired trailer connections, air conditioning, an eight-inch touchscreen display with Apple CarPlay and Android Auto, vinyl floor.
Additional Upgrades
Mirrors and windows are manual on the single cab, but the SuperCrew gets power windows.
You also get lane departure warning and forward collision mitigation as standard safety equipment on the XL.
Above the XL is the XLT trim. It comes fitted with the standard features of the XL and adds more such as fog lights, carpeted flooring, cruise control, power door locks and power windows, power-locking tailgate, and front-seat lumbar adjustments.
It gets extra safety features like blind-spot monitoring, automatic rear braking, and lane-keeping assist.
If the XLT is not enough, a more premium Lariat trim is available.
Dual-zone automatic climate control
Remote start and tailgate release
Heated and ventilated power-adjustable front seats
LED bed lighting
Power-adjustable pedals
Class IV trailer hitch
Twelve-inch touchscreen display
Leather upholstery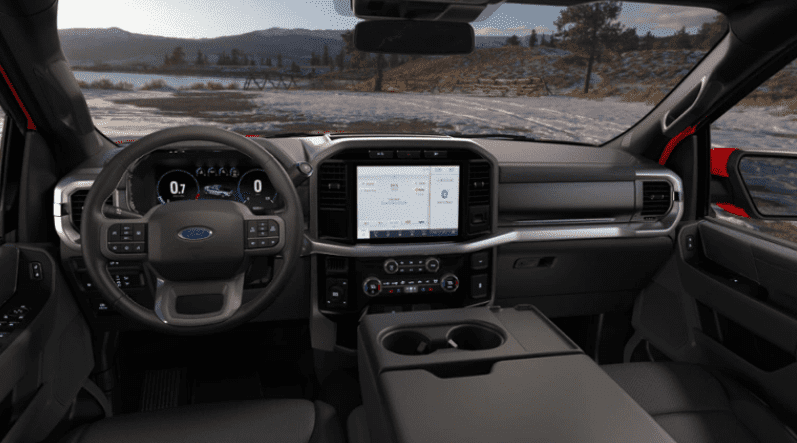 All these features come with the Lariat trim.
Not satisfied yet?
Interior Details
Amp up the luxury with the King Ranch trim.
It comes with a wireless charging pad, LED headlights and taillights, heated steering wheel and rear seats, B&O sound system with eight speakers, power tilt-and-telescoping steering column, and integrated trailer brake controller.
The King Ranch comes with additional driver aids safety features like adaptive cruise control and evasive steering assist, which helps avoid collisions.
The Platinum trim is similar to the King Ranch on the equipment side but with different and unique cosmetic changes.
King Ranch gets "King Ranch" badges and gives outdoorsy and adventurous vibes, whereas the Platinum gets chrome grille, accents, and a more uptown vibe.
On the top of the lineup sits the Limited trim, and it comes with all the bells and whistles. Some of the noteworthy features are:
Massaging front seats
18-speaker B&O stereo
360-degree camera system
Two-panel moonroof
Power up-and-down rear tailgate
Specialized leather upholstery
Trailer Tow package with Ford's Pro Trailer Backup Assist system
Power running boards
The F-150 has a trick up its sleeve. It comes with an optional Pro Power Onboard system. Available only on the hybrid, this system allows you to plug in power tools to a household-style outlet in the bed of the truck.
Last but not least, the F-150 is available in the Raptor model. It stands out from the pack with its extreme off-road capabilities.
Ford gave the F-150 the Tremor treatment. This model trim is aimed for off-roading, and it comes with 33-inch all-terrain tires, standard four-wheel drive, and locking differentials.
Oh! And a 55,000$ price tag.
Warranties
The F-150 rolls out the assembly line with a set of warranties: Basic 3 years/ 36,000 miles, 5 years/ 60,000 miles roadside, powertrain, and rust warranties.
On top of that, the F-150 gets loads of accessories like chrome accents, chromes exhaust tips, skid plates, box cover, spotlights, and 20 exterior colors options.
Ford offers multiple packages for the F-150, including FX4 Off-Road Package, Max Trailer Tow Package, and XLT Chrome Appearance Package.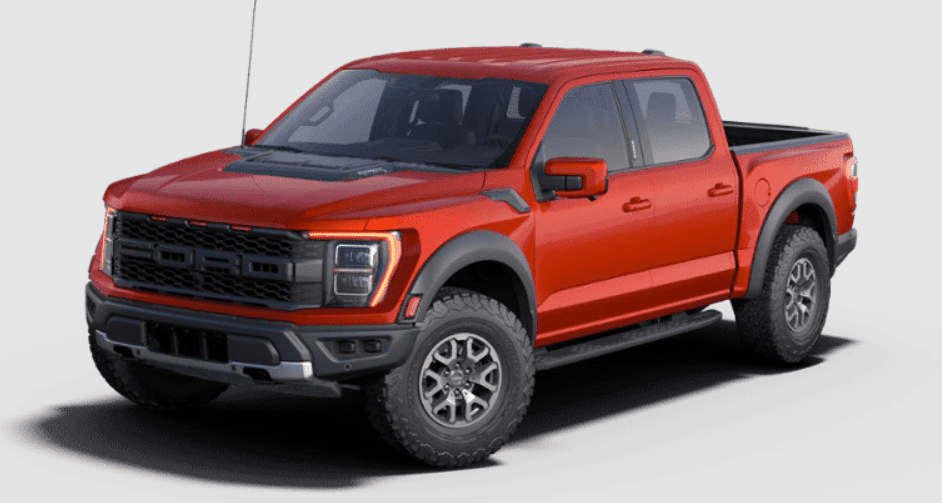 Completion
The F-150 is not the only light-duty pickup on the market. Some of the competitors that can give the F-150 a run for its money are the RAM 1500, GMC Sierra 1500, and the Chevrolet Silverado 1500.
Pros and Cons
Pros
Variety of powertrain options.
Up to par and easy to use interior
Great towing and hauling capabilities
Off-road focused models
Cons
The Onboard generator is very noisy
The Interior storage needs an upgrade
The brake on the hybrid model is not great
Not as luxurious as the RAM 1500
Ford F-250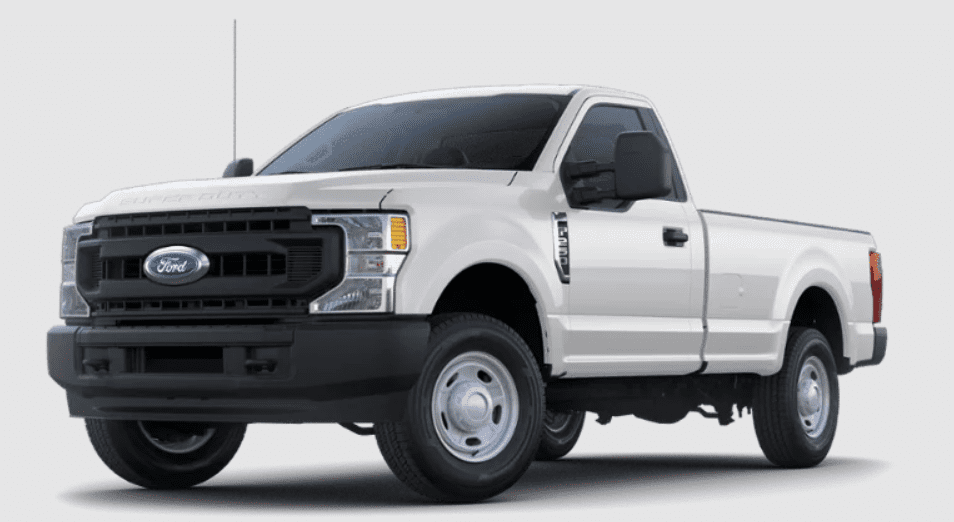 Among the best-selling full-size pickup trucks is the Ford F series. In that range falls the F-250 Super Duty. This beast of a truck is built to dominate the heavy-duty work segment.
The F-250 Super Duty is available with three cabs:
Regular Cab (Single Cab)
SuperCab (Extended Cab)
SuperCrew (Crew Cab)
Body configurations also include a 6.75-ft short bed and an 8-ft long bed. Unfortunately, you must upgrade to the F-350 for more capability and a dually configuration.
The Super Duty F-250 is available with three powertrain options:
A 6.2-liter V-8 engine with 385 horsepower and 430 lb-ft of torque mated to a six-speed automatic transmission
A 6.7-liter turbocharged V-8 diesel engine with 475 horsepower and 1,050 lb-ft of torque mated to a 10-speed automatic transmission.
A 7.3-liter V-8 with 430 horsepower and 475 lb-ft of torque mated to a 10-speed automatic transmission.
When it comes to payload and towing capacity, the F-25 Super Duty delivers jaw-dropping numbers.
Of course, they vary according to the powertrain and body configurations that you choose.
Towing Capacity
A Crew Cab with an 8-ft long bed and four-wheel drive can carry up to 3,050 pounds. But the number can increase to 4,260 pounds with the Regular Cab, long bed, and rear-wheel drive.
The F-250 can tow up to 12,500 pounds with the help of the 6.2-litre V-8 in the four-wheel-drive Crew Cab.
It maxes out at 15,000 pounds if you go for the rear-wheel-drive Regular Cab with the Powerstroke turbo-diesel.
Not enough?
Add in the gooseneck or fifth-wheel towing, and that number flies up to a whopping 22,800 pounds.
Heavy-duty trucks with massive engines are gas-guzzlers, and they do not care about your wallet.
The F-250 is a thirsty pickup, and it averages roughly 15 to 19 miles per gallon with reasonable driving.
Six trims are offered with the 2021 Ford F-250, the XL, XLT, Lariat, King Ranch, Platinum, and the Limited.
At the bottom of the barrel, you will find the Spartan of the lineup, which is the XL trim. This base model is the workhorse.
Interior Details
It comes with a few standard features like a 4.2-inch screen, vinyl floor covering and upholstery, manual windows and folding mirrors, a USB-C port, and Ford Pass Connect that includes remote services and onboard Wi-Fi.
It also gets plastic exterior trim, black steel bumpers, and 17-inch wheels.
In terms of luxury, the XLT is a massive step up from the base Xl. It comes with additional extras like:
Rear cross-traffic alert
Blind-spot monitoring
Chrome grille and bumpers
Heated mirrors
Eight-inch touchscreen display
Integrated Android Auto and Apple CarPlay
USB-C ports and a household-style outlet
Power windows and door locks
Cloth upholstery
Automatic emergency braking
Floor carpets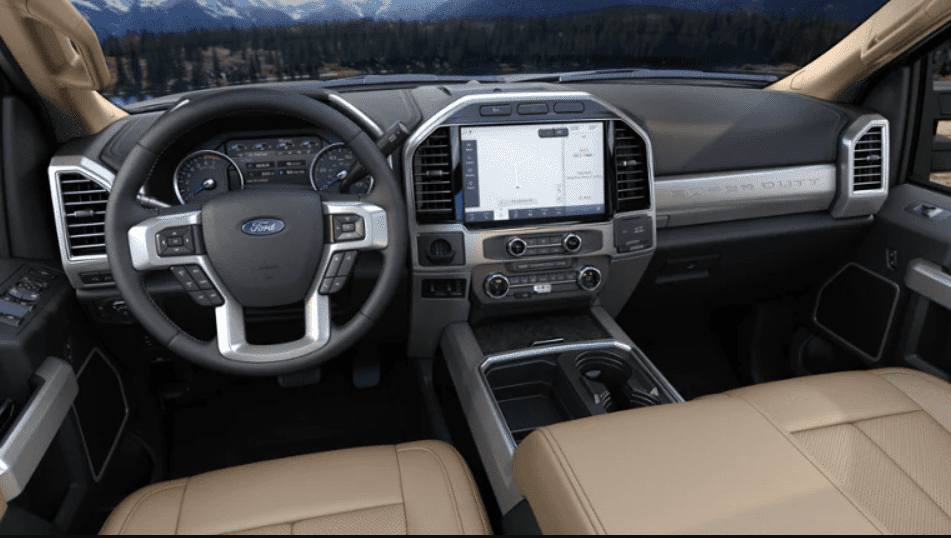 The Lariat is a level above the XLT, and it adds to its features extras like rear parking sensors, dual-zone climate control, leather upholstery, and power-adjustable front seats.
It is available only in the extended cab or the crew cab, and it has power folding tow mirrors and an auto-dimming rearview mirror.
Ford took the F-250 to a new level with the King Ranch trim level. It gets all the features from the previous trim as standard, but with a western flair and more optional extras.
LED bed lighting, keyless entry and ignition, remote start and tailgate release, and leather upholstery made specifically for the King Ranch trim.
Additional Amenities
Near the top is the Platinum trim, which gets another layer of premium features as standard. This bundle of amenities includes:
Twenty-inch wheels
LED headlights
Adaptive cruise control
Heated steering wheel
Ventilated seats with massage function
Rain sensing wipers
Body-colored bumpers
The Limited is the range-topping trim, and it turns luxury all the way up to eleven.
This beast gets all the bells and whistles of the previous trims and additions that include:
A moonroof, two-tone leather interior, four-wheel drive as standard, and a Suede headliner with wood interior trim.
There are other exterior accessories available lie daytime running light, LED roof lights, chrome running boards, mud flaps, and a bed mat.
Additional Packages
Ford also provides the F-250 with extra packages like the Heavy Service Front Suspension Package, King Ranch Ultimate Package, Chrome Package, F-250 Trailer Tow High Capacity with Pro Trailer Backup Assist.
It is covered with a bundle of warranties, basic 3 years/ 36,000 miles, 5 years/ 60,000 miles for both roadside and powertrain, and 5 years/ unlimited miles on rust.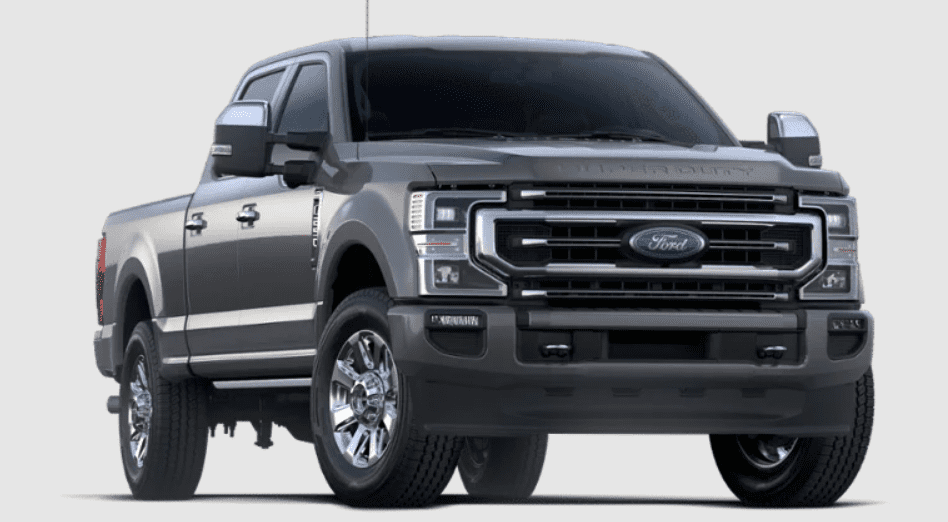 Completion
The heavy-duty pickup trucks market is massive, and the F-250 most definitely has great competition. The RAM 2500 is the number one contender, followed by the Chevrolet Silverado 2500HD, the Nissan Titan XD, and the GMC Sierra 2500.
Pros and Cons
Pros
Immense power and torque output from the V-8s
Eye-opening towing and payload capabilities
Spacious cab with loads of amenities
Aluminum body for more efficiency and weight reduction
Cons
The Price tag can reach six figures with optional extras
The Tall ride requires steps to get into the cabin
Bouncy ride, especially with an empty bed
FAQs
Question: What is the most popular color for a Ford F-150?
Answer: Blue and Velocity Blue Metallic are the most popular colors for a Ford F-150.
Question: Which 2021 Ford F-150 trim is the most popular?
Answer: The XL regular cab is the most popular trim to use as a workhorse. But, the XLT is the most recommended trim because it offers the same performance and more niceties.
Question: Which Ford F-250 is best for towing?
Answer: The 6.7L Powerstroke V-8 diesel is the best because it delivers a mind-blowing 1,050lb-ft of torque and tows up to 20,000 pounds.
Verdict
When it comes to Ford pickup trucks, there is no right or wrong. They are the best in the business, and that is why they are the best-selling in the market.
However, getting a mid-range Lariat F-150 is a more reasonable choice. It is a full-size pickup truck that can do heavy-duty work, comes with loads of amenities, and has great gas mileage.
The F-250, on the other hand, is bigger, more expensive, and thirsty for gas. Unless your line of duty requires such a massive vehicle, you may end up buying more of a truck than you can handle.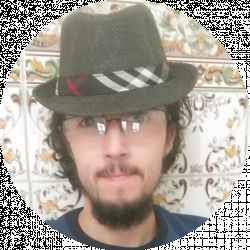 Latest posts by Tommy Verrcity
(see all)