Towing a trailer or camper safely isn't as easy as connecting it up to your car and driving away. Suppose you frequently pull a trailer behind your 4×4 vehicle. In that case, you'll almost certainly need to invest in a pair of towing mirrors. In fact, several states require installing the trailer or towing mirrors on your car to ensure that you can see your surroundings securely while driving.
Blind spots are common in factory mirrors, which are exacerbated when pulling a trailer or camper. Standard side mirrors are unlikely to provide a sufficient vision, so while towing, make sure you can see the whole length of your trailer as well as the traffic behind it.  
Towing Mirrors can have significant benefits too:
Expand your area of vision.

 It's critical to keep an eye on what's going on around your car for safety reasons. You'll need something to extend your field of view if the object you're towing is larger than your car. That's precisely what a towing mirror accomplishes.

Reduce the number of blind spots.

 Most automobiles' factory side mirrors have a narrow field of view, resulting in blind spots. These blind areas make it difficult to see what's going on to your left, right, and back, exacerbated when towing. Blind spots are reduced with the use of towing mirrors.

Mindfulness

. Towing may be a stressful experience. Not only must you keep an eye out for any potential road dangers in front of you, but you must also be aware of what is going on behind you. You can be more secure in viewing the entire image with a towing mirror.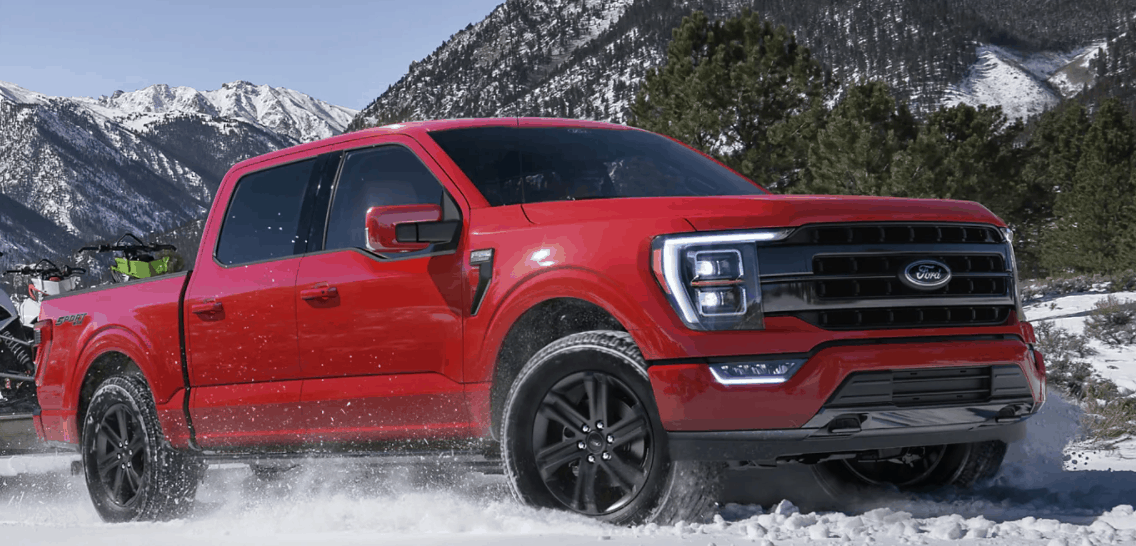 Types of Towing Mirrors
Manual Towing Mirrors
As the name implies, manual towing mirrors do not have any power adjustments and must be moved manually. They're replacement mirrors for your vehicle's factory pair, and they're usually less expensive than powered alternatives.
Power Towing Mirrors
Powered towing mirrors are one of the most costly alternatives available. Still, they are also one of the handiest types of mirrors. You may adjust them with the press of a button, much like many factory side mirrors. Because you'll have to connect some cables to your vehicle, installing them might be difficult.
Telescopic Towing Mirrors
These are frequently chosen by drivers who have bigger cars or trailers. They may work for Ford F-150's but are definitely not a necessity. Telescopic towing mirrors may be extended to provide a better view behind the vehicle. They may be retracted into their usual position for a slimmer profile when not in use. They come in both manual and motorized versions.
Universal Towing Mirrors (Clip Ons)
If you just tow items once in a while, you'll appreciate the universal clip-on mirror. These are a low-cost alternative that attaches to your OEM mirrors. When it comes to complementing the style of your automobile, clip-on mirrors aren't the ideal option, but they do the job. Depending on how well they clip on the current mirror, they also vibrate more than other choices.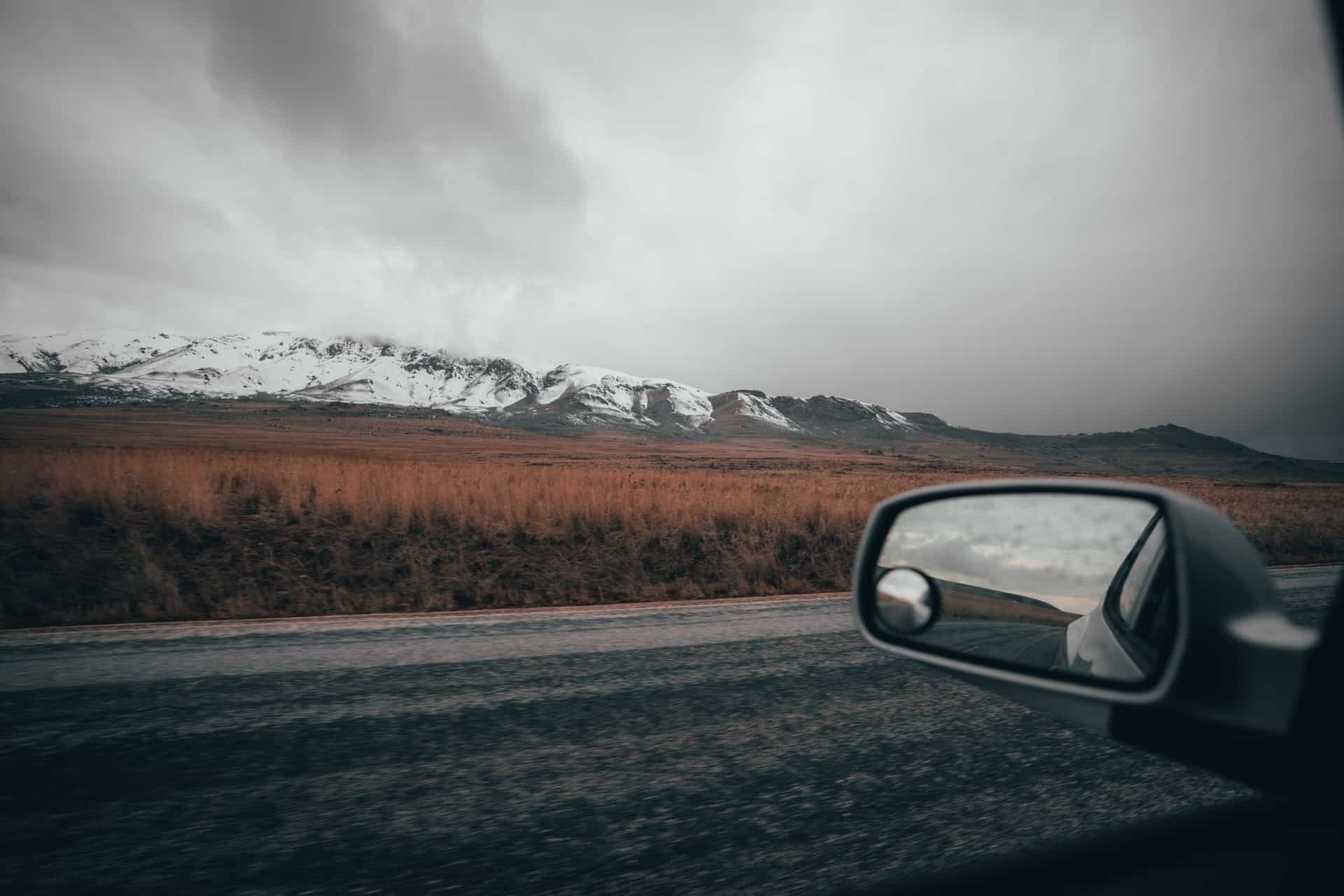 Top Brands to Consider 
Fit System
Fit System, based in Rancho Dominguez, California, has produced high-quality automobile parts for over 20 years. They produce a range of towing mirrors, each one tailored to a particular design and price.
CIPA
CIPA is a well-known mirror maker with a history dating back over 65 years. They remain an industry leader based in Port Huron, Michigan, producing two mirrors for every make and model imaginable.
Auto Dynasty
Car Dynasty, based in the City of Industry, California, is a well-known brand that has been manufacturing and selling high-quality auto parts for decades. Towing mirrors, lights, and window visors are among the accessories available.
Price Ranges 
Under $40
You'll primarily find universal clip-on mirrors at this price point. Some are rather fragile, while others can resist the shocks of bumpy roads. These are a wonderful option for those who just need to tow once in a while.
$50-$90
This price category has a wide selection of high-quality towing items. At this pricing bracket, a variety of choices are available, ranging from manual to motorized. These are typically well-made and long-lasting, which is ideal if you plan to haul much stuff.
Over $100
Several manuals and motorized towing mirrors have extra features like built-in turn signals and defrosters on the upper end. These mirrors are typical of excellent quality to withstand changing weather conditions and regular use.
Popular Features 
Glass
Flat glass mirrors more properly reflect the dimensions of objects outside, displaying the exact size and distance to the greatest extent feasible. Convex glass mirrors are curved for a broader perspective, but they distort objects and distances more than flat glass mirrors.
They are, nevertheless, more effective than flat mirrors at reducing blind areas. Many versions now have both types of glass and a variety of external materials, such as stainless steel.
Easy to Install
Some mirrors are more straightforward to set up than others. You may clamp it on or slip it over the current side mirror in a matter of minutes if you choose a portable clip-on mirror. The original mirrors, as well as the current wiring, are replaced with more permanent choices. To accomplish this right, you'll need more time and expertise.
Field of View
The size of the mirror is significant. Towing mirrors with a broader field of vision are taller and wider. You may increase your chances of hauling anything securely and effectively by doing so. To optimize your field of view and keep you safe on the roads, we recommend a mirror with both flat and convex glass.
LED Lighting
A few towing mirrors include integrated LED arrows linked to your vehicle's turn signals and brake lights. This is a valuable safety feature that increases the side vision and extends the range of the signal lights. Still, it raises the overall cost and complicates the installation procedure.
Heating
Snow or ice can make the mirrors foggy, making it difficult to see out of them if you live in a cold climate. When the temperature drops low enough, a built-in heater activates, removing snow, ice, or haze from the window.
Now, on with the choices! This list comprises many different brands, styles, options, and features, so hopefully, you can understand everything available for you. These are all compatible with the F-150 (and therefore should be compatible with 250 and 350s). 
Dometic DM-2912 Milenco Grand Aero3 Towing Mirror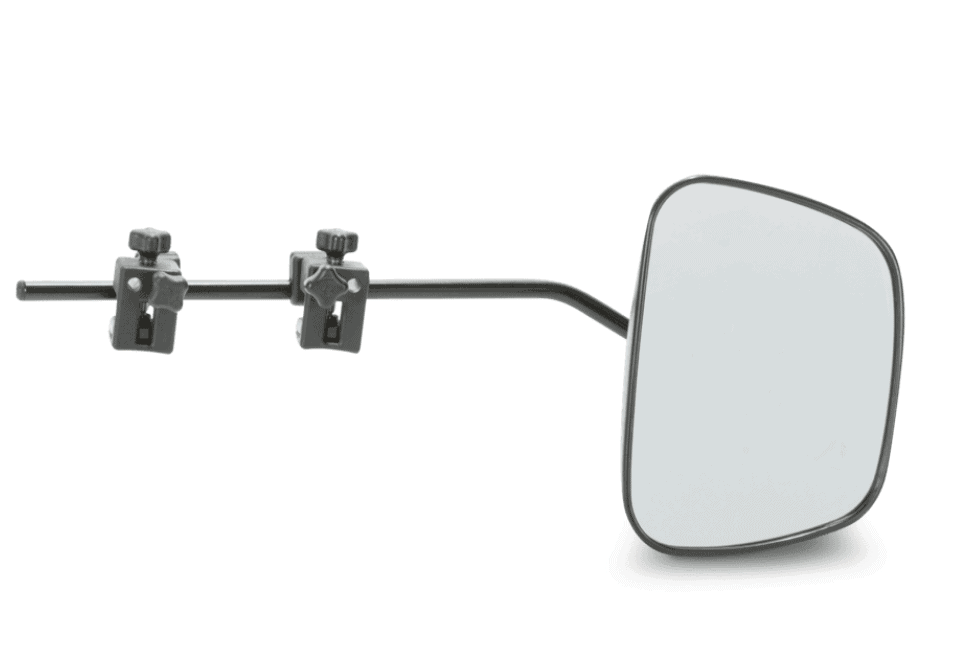 This Dometic towing mirror is universal in design and fits all makes and models. Installation is quick and straightforward with the easy-grip clamp attachment, which requires no tools. Vibrations are reduced by an air-balanced design, resulting in a crisp and distortion-free field of view. The mirror itself is large and tall, allowing you to see whatever you're hauling from top to bottom.
Its unique, proprietary design allows it to function with both curved and flat mirrors. These are well-made, have excellent clarity, and can resist harsh weather conditions in terms of quality. They're also light enough to avoid damaging your old side mirrors.
Because they mount on and come off easily, they are a wonderful choice if you're searching for a semi-permanent option. We've only found one flaw: they can theoretically fall off. You should be OK if you correctly install them and check on them regularly.
Pros:

 Easy to put on and off, not damaging, cheap

Cons:

 Not the sturdiest option, may fall off
Fit System 3891 Deluxe Universal Clip-On Towing Mirror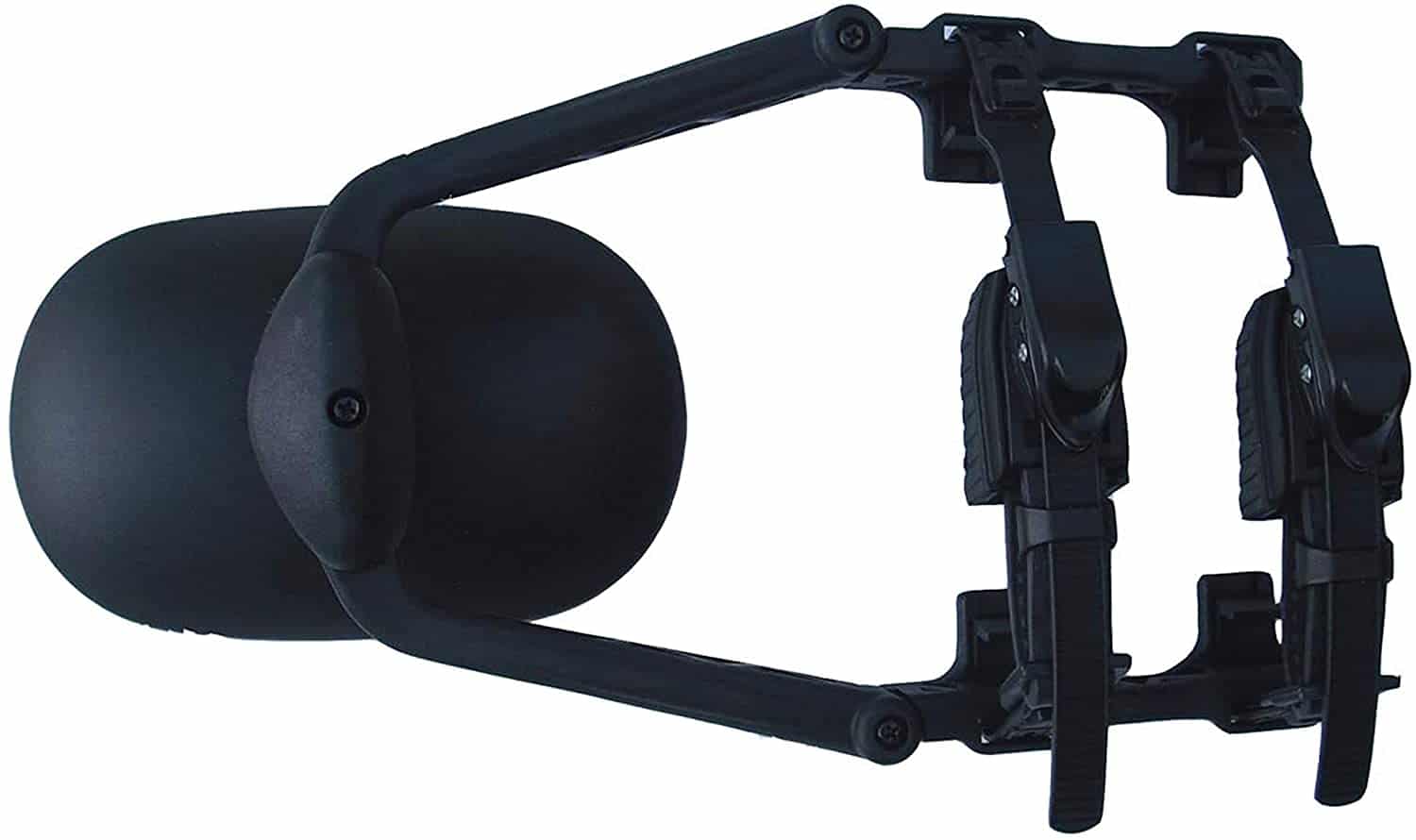 This universal clip-on mirror may be installed on nearly any vehicle. The design is simple and secure, and it can be installed without the use of any tools. These easily clip onto your current mirrors to expand your range of vision without obstructing it. To prevent vibrations and maintain your vision distortion-free, dual mounting straps secure and lock firmly.
For the price, they are sturdy and well-made. Because of the expanded design, they also offer high clarity and a broad field of view. The clip-on straps are rubber-padded to protect your current mirrors and make them easy to put on and take off without damaging your vehicle.
Make sure these are adjusted appropriately so you can view as much of your trailer and surroundings as possible. These mirrors are a little smaller than certain other mirrors, resulting in a narrower field of view. We recommend looking at different varieties if you have a large trailer to pull and want the best view possible.
Pros:

 Affordable, high clarity, protects the original mirror

Cons: 

Smaller than other options, smaller field of view 
ECCPP Towing Mirrors with LED Arrows and Heating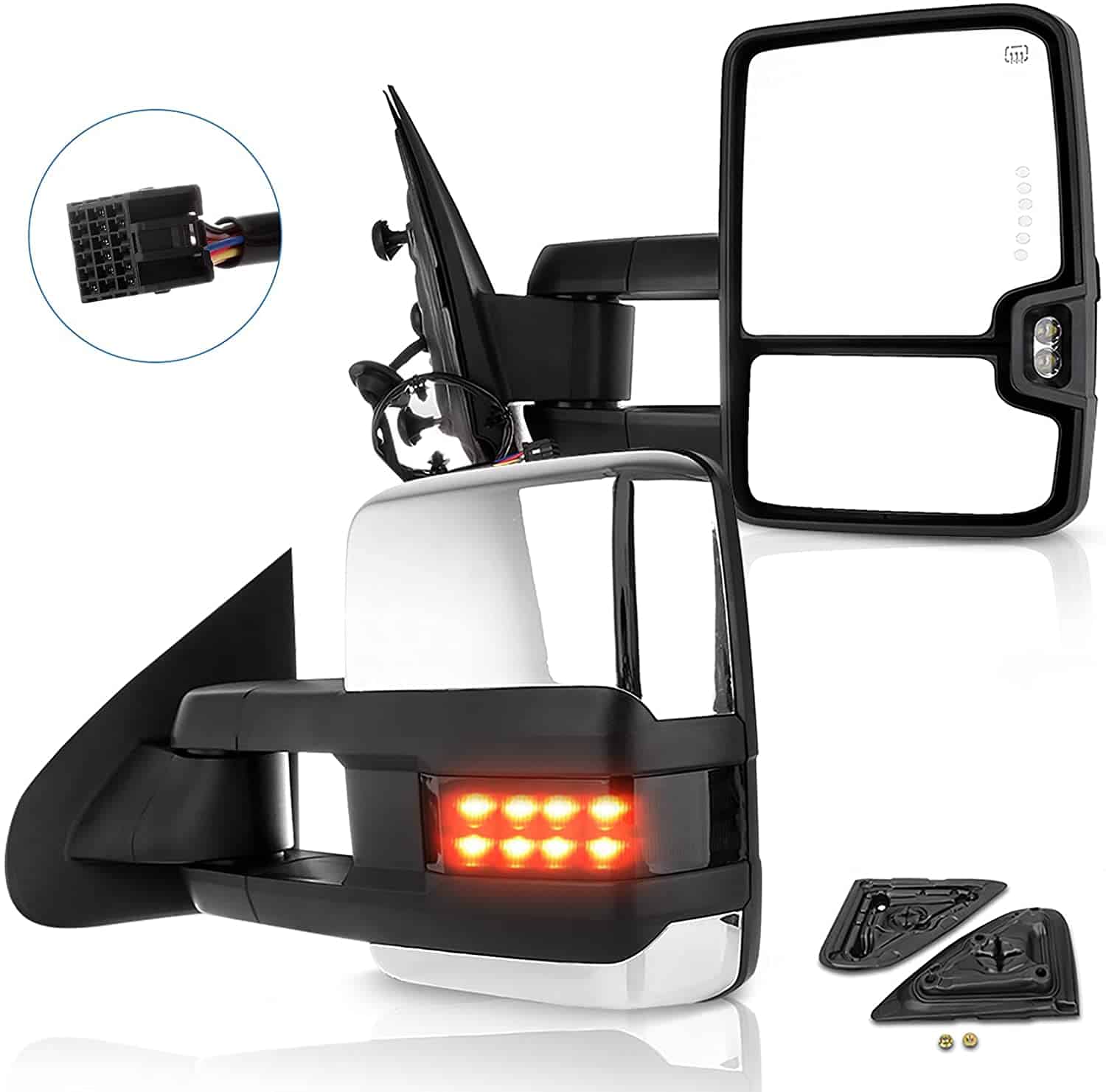 Towing mirrors from ECCPP are a fantastic addition to any vehicle or SUV. These are a fantastic alternative if you regularly tow-in colder weather because they have LED arrows and turn signals, as well as built-in heating and defrosting. They are simple and comfortable to use because of their powered adaptability. They come as a pair because they're a permanent upgrade that will replace your factory side mirrors.
In terms of quality, these are made to exacting specifications and show their durability in various ways. Noise and vibrations, for example, are not an issue for them. The glass also has a high degree of clarity. They fold flat when not in use, and the telescopic shape provides a wider field of view. You can see almost everything going on behind you, thanks to two types of glass.
Their only disadvantage is the installation, which will take some time and work. It will require entirely removing your old mirrors and replacing them with these. It might be challenging to figure out the wiring. Unless you have prior expertise, we recommend enlisting the assistance of a professional to achieve the most significant outcomes.
Pros:

 No vibration, high quality, heating, LED turn signals 

Cons:

 Installation is complex with lots of wiring, may need a professional 
CIPA 11800 Custom Towing Mirror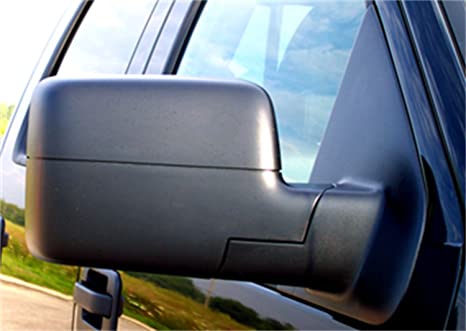 The CIPA 11800 Custom Towing Mirror is an attractive option if you're looking for a robust and reliable towing mirror for your Ford F-150. It's made to fit over your current side mirrors and is secured with a wedge lock.
This mirror will fit tightly with minimal vibration, even at higher speeds, because it is specially made for your Ford vehicle. This model also comes with an adjustable side mirror to help you get the most out of your towing requirements.
The mirrors and the installation knobs are made of rigid and sturdy ABS plastic that can endure various weather conditions. The mirror front features a scratch-resistant coating that will last for years.
Even though these mirrors are custom-made, customers report needing to check them frequently to tighten and retighten the fittings to ensure they don't fall off while driving. However, considering the cost reduction of overstock mirrors, this appears to be a minor nuisance. They're an excellent choice for hauling campers and 5th wheels on occasion.
Pros:

 Adjustable, scratch-resistant, sturdy 

Cons:

 Need to tighten/check often
Snap & Zap Custom Fit Towing Mirror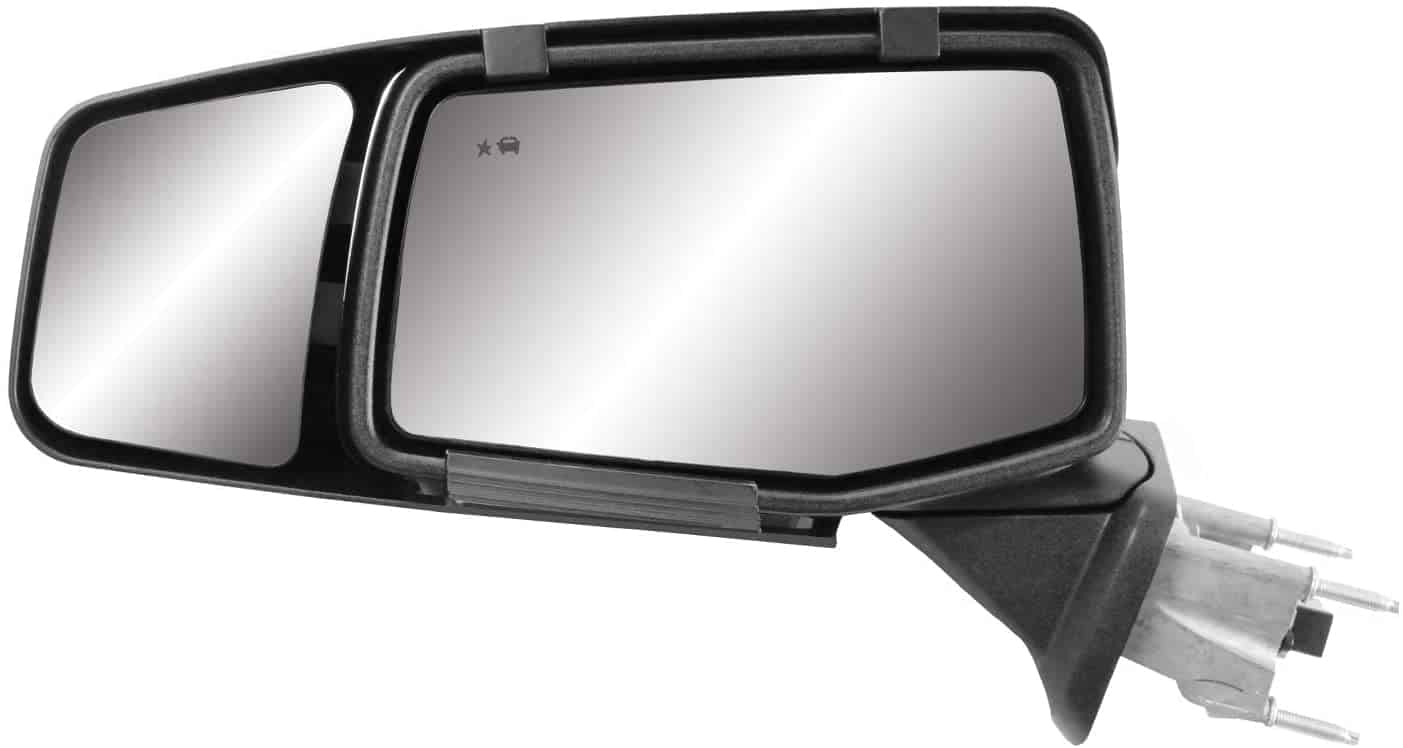 The Snap & Zap Custom Fit Towing Mirror is a quick and straightforward clip-on installation that requires no equipment.
The extensions are designed to sit snugly against your OE mirror glass, allowing you to see as far back as possible. You may also fold in the mirrors without having to remove the extensions as an extra advantage. They're also made to seem like subtle additions to your side mirrors rather than extensive obtrusive add-ons.
It may take a few tries to get the mirror glass just perfect because it must be adjusted manually. The mirror clamps' long-term endurance is also a source of worry. Some users have expressed a desire for the mirrors to be a little more oversized to give a greater viewing area.
Pros: 

Affordable, clip-on is so easy! 

Cons: 

A little too small, need manual adjustment. 
CIPA Towing Mirror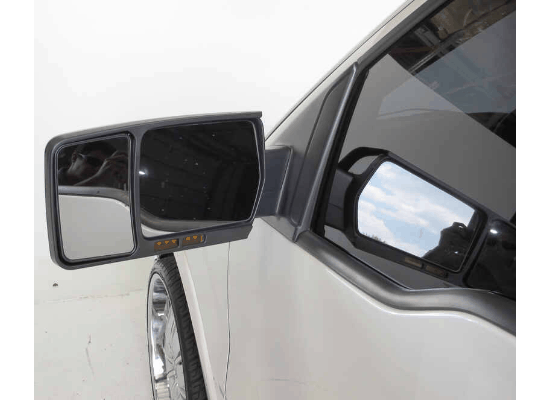 CIPA provides a large selection of vehicle-specific towing mirrors in addition to a universal clip-on towing mirror. Some models come in manual, power, heated, and extended versions, making them the appropriate alternative no matter how frequently you tow.
Mirrors that fit over existing factory side mirrors, increasing towing visibility without any equipment, are also available from the firm. If you want an add-on type mirror that doesn't destroy the looks of your vehicle as some clip-on mirrors do, this is a wonderful alternative.
Pros:

 Wide variety, can be used in other situations other than towing, heated 

Cons:

 More expensive 
DEDC Towing Mirror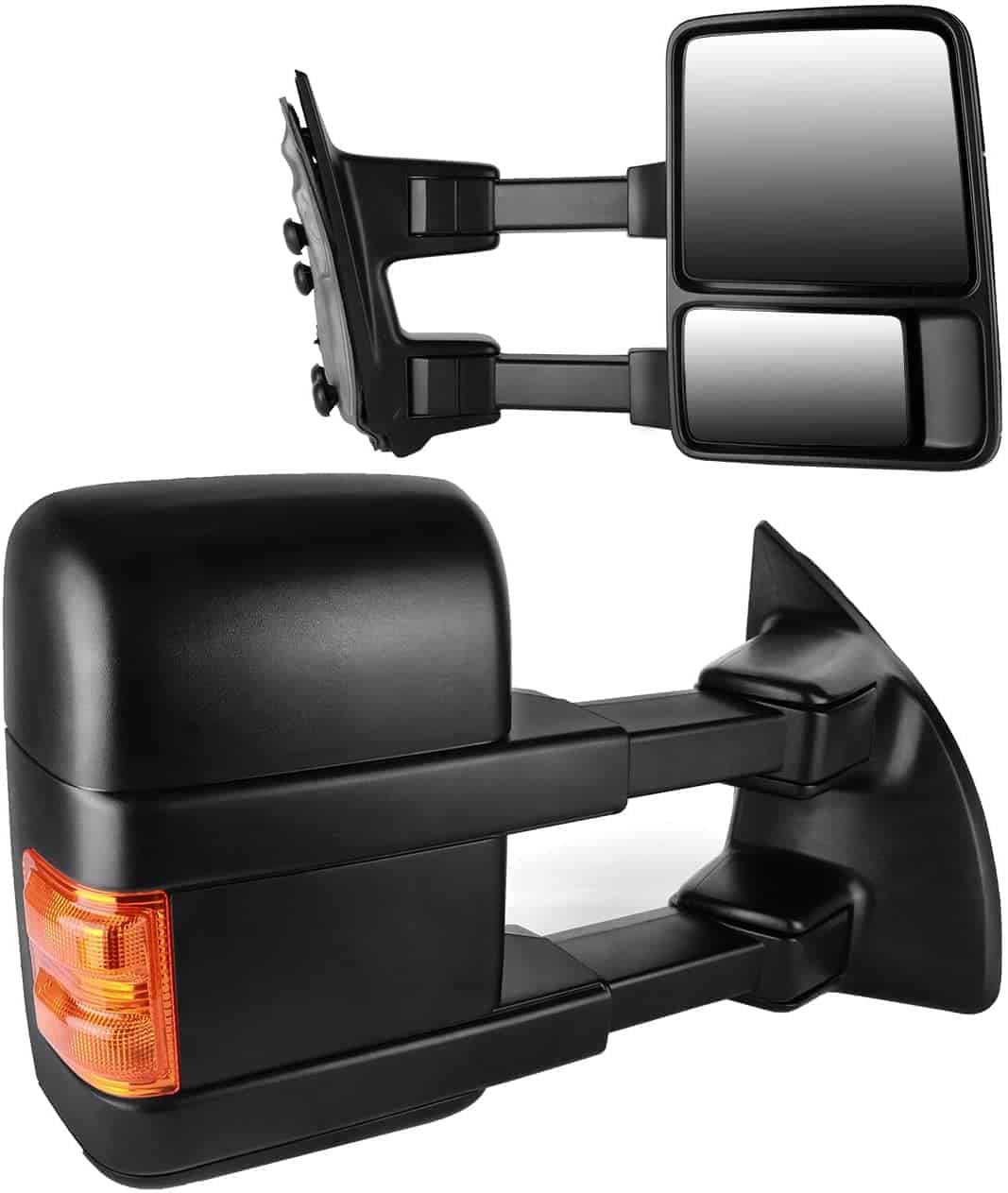 DEDC, a company that specializes in vehicle-specific solutions, offers more economical mirror alternatives. The firm also offers individual mirrors, so it's a good option if you only need a driver or passenger side mirror.
Power and heated mirrors with integrated turn signals are among the most luxurious options available. They are supplied at a cheaper cost than some of DEDC's competitors. If DEDC has a towing mirror for your car, it's a fantastic alternative at a lower cost.
Pros: 

Heated, sold separately if you only need one, affordable 

Cons: 

Less versatile 
ECCPP Towing Mirror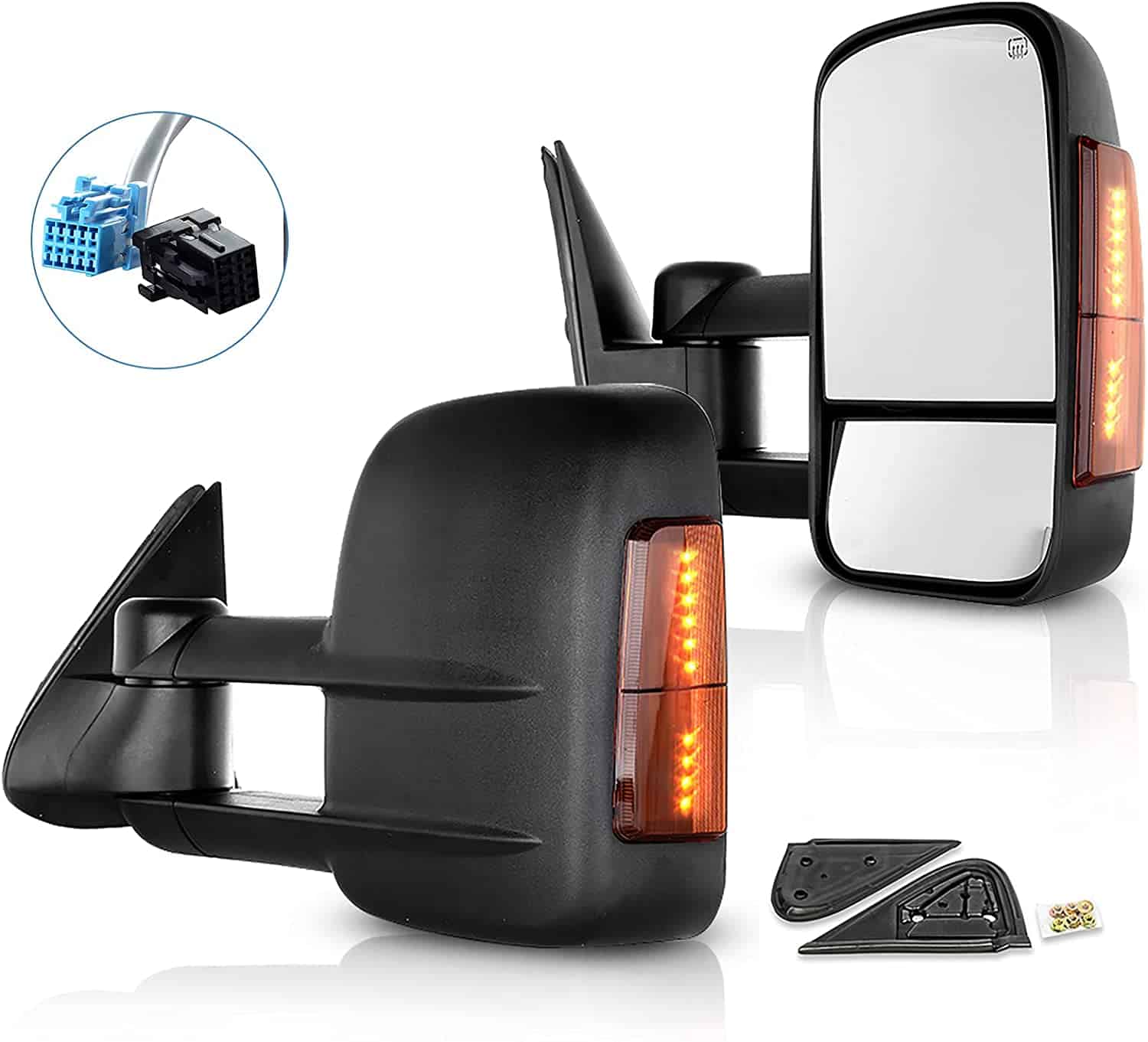 ECCPP offers a large selection of mirrors for a variety of cars at a reasonable price. Manual, power, heated, turn signal-equipped, and extensible mirrors, some of which can fold, are all available.
However, customers have complained about probable clarity difficulties with the mirrors' glass and vibration concerns on specific fitments, indicating that the lower price comes with certain sacrifices. In addition, depending on the vehicle, some mirrors with blinkers and puddle lights may require a reflash from the dealership.
Before purchasing one of ECCPP's mirrors, make sure to do your homework and check if anyone else has had any problems. The majority of customers are happy with their purchases. However, some vehicle applications appear to be problematic.
Pros:

Affordable, a 

blinkers may need to be re-wired
CITOO Towing Mirror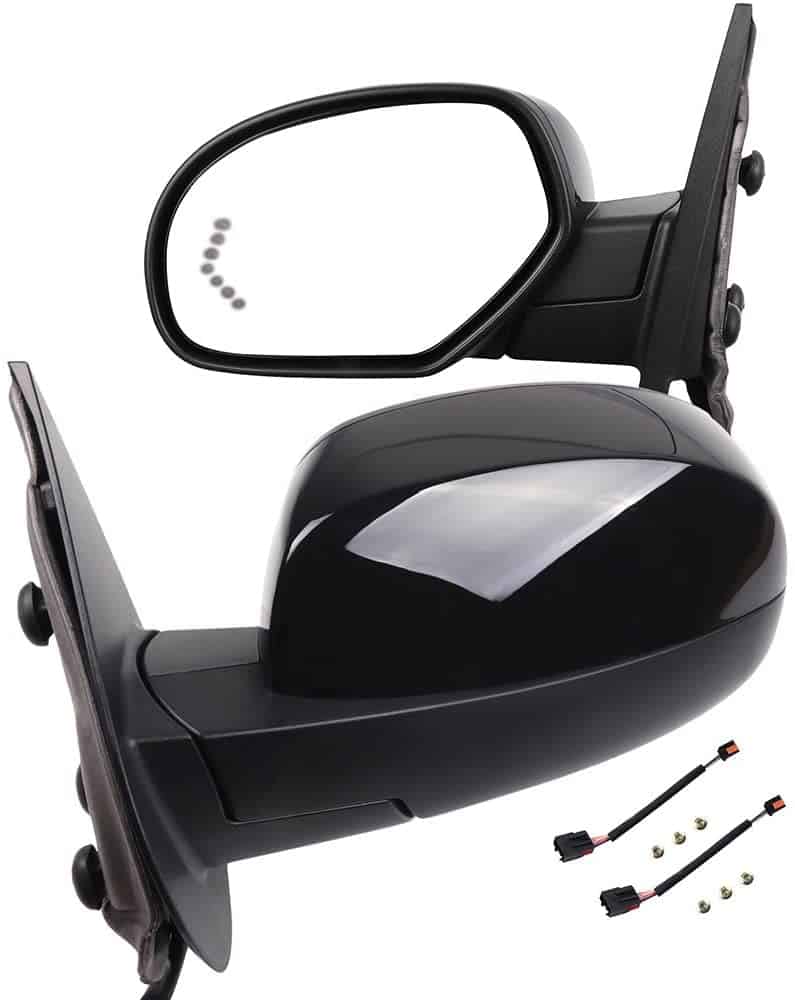 The mirrors offered by SCITOO are comparable to those offered by ECCPP, with a wide range of applications and mirror kinds. Its pricing is more reasonable than some of its competitors, making it a good choice for those on a tight budget. Some customers have reported vibration and mirror distortion concerns on particular applications
In contrast, others have complained about poor fitting for their individual cars. Before purchasing, read customer reviews to confirm that the replacement mirrors are compatible with your specific car.
Many of the mirrors offered by SCITOO are powered, heated, and equipped with signal lights. For certain vehicles, other than F-150s, there is also more cheap manual extending alternatives.
Pros:

 Turn signals, heated, affordable 

Cons:

 Vibration is loud according to reviews
APS Towing Mirror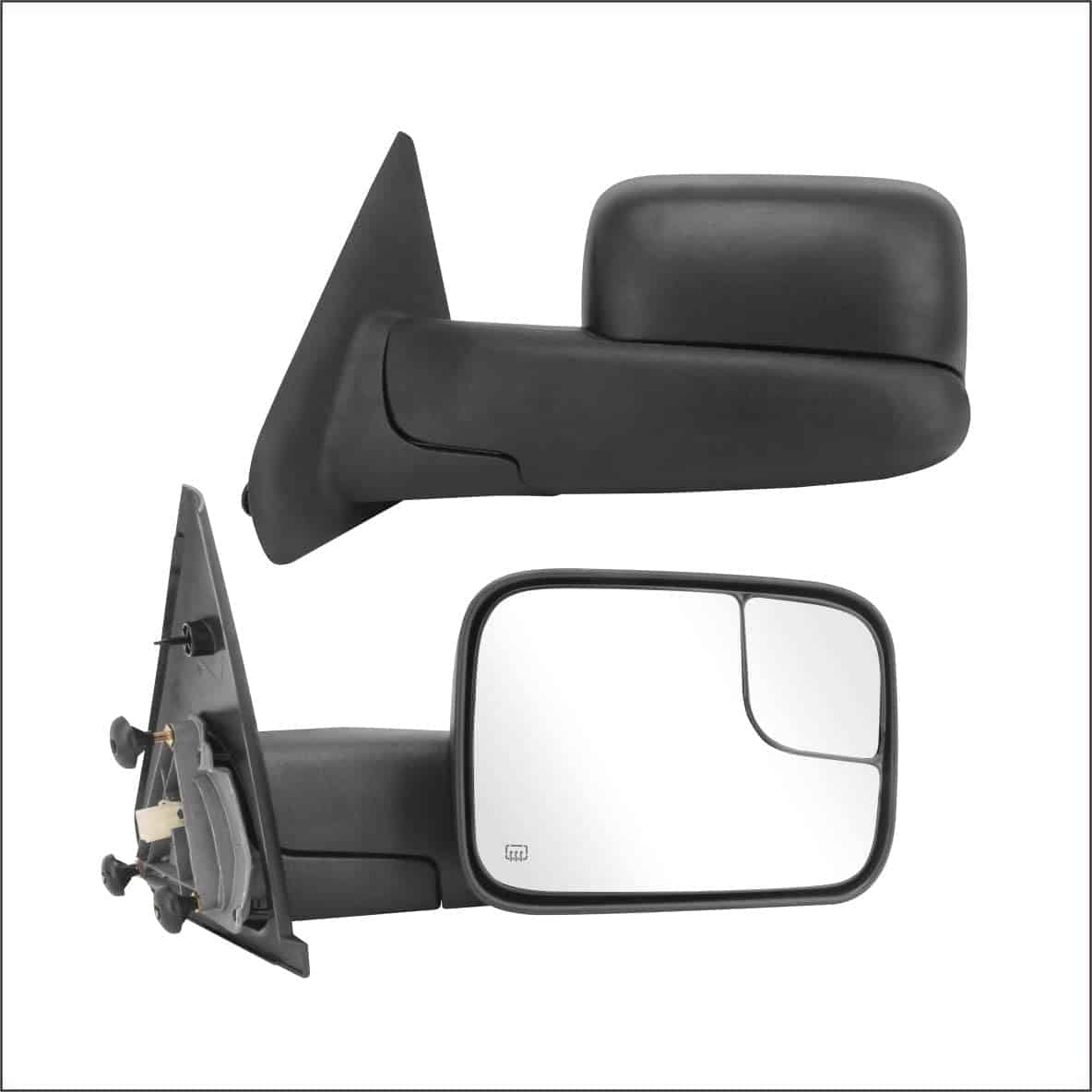 APS mirrors, a smaller firm with fewer products, are excellent if you're searching for a low-cost alternative, as long as they have a product for your car. Some of the mirrors are heated and telescopic, while others include LED turn signals and are power-adjustable.
This firm has some of the most affordable goods on Amazon, but they aren't ideal. Some customers worry about the power mirrors' limited adjustment, while others complain about vibration and distortion.
If you only conduct little towing and don't want to spend a lot of money on new mirrors, APS's products may suit your needs. Check user reviews for your chosen app once again.
Pros:

 Affordable, heated, telescoping

Cons:

 Limited versatility 
Trail Ridge Towing Mirrors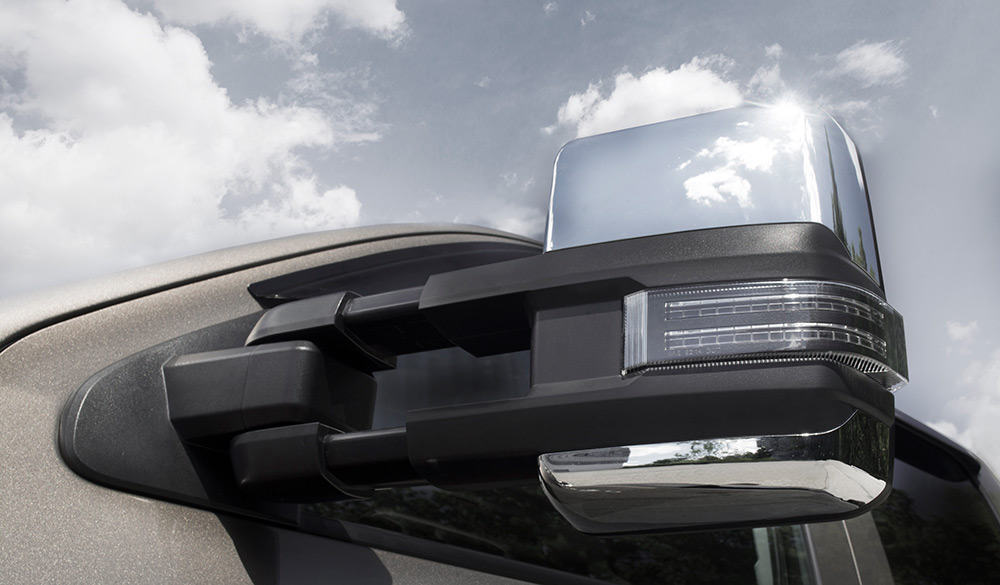 Trail Ridge, specializing in power and heated mirrors for many makes and models, has a premium product. Integrated turn signals and manual mirrors are available in some applications.
The mirrors from Trail Ridge aren't inexpensive. Still, they're among the best-rated on Amazon, with few complaints regarding mirror distortion or vibration. They also have a lifetime warranty, which is unusual in this market.
Pros: 

Lifetime warranty, high quality, heated, power

Cons: 

Expensive 
FAQs
Question: What Makes a Towing Mirror Special?33
Answer: Regardless of the precise design, all towing mirrors enhance the mirror's field of vision, allowing you to see everything behind you more clearly. They eliminate blind areas and give you a clear view of your trailer. The wider your lateral field of view is, the further out the towing mirror is.
Question: Will Towing Mirrors Fold If I Hit Something?
Answer: It is dependent on the mirror's model and kind. Some of the more costly versions and clip-on mirrors linked to folding side mirrors fold back to avoid damage. Always be aware of your surroundings and drive cautiously regardless of the situation.
Question: Will They Still Work if my Factory Windows are Electric?
Answer: If you add permanent towing mirrors, there won't be a problem. These offer the benefit of preserving your electric mirrors' full functioning. If this is your chosen choice, it is important to have them installed by a professional to guarantee that they function correctly.
Conclusion: Which are the Best Ford F150 Tow Mirrors?
The Dometic DM-2912 Milenco Grand Aero3 Towing Mirror is my top selection for the finest towing mirrors. They're tough and provide a wide field of view, making towing easier and safer. Consider the Fit System 3891 Deluxe Universal Clip-On Towing Mirror if you're searching for something a little less expensive.
Continue reading related F150 guides, reviews and comparison: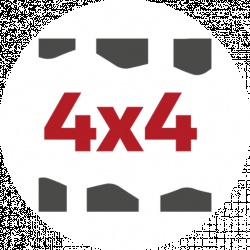 Latest posts by 4x4 Reports Team
(see all)