Latest posts by Camden Benoit
(see all)
Floor mats are among the most important accessories you can install to your Ford F150 to help keep the inside clean. They protect your flooring from undesired moisture and filth from the outside and assist in refreshing the interior of your F150.
The problem is that there are a lot of floor liners on the market, and it may be tough to tell which ones are worth considering and which ones aren't worth your time.
This post will go over what we believe to be the best Ford F150 floor mats on the market.
My Top 3 Picks
What to Consider
Car floor mats are available in universal sizes that may easily be cut to suit, as well as bespoke mats created specifically for a vehicle's make, model, and year. Rubber mats are more common than carpet because they are waterproof and more durable, with deep grooves and wells to keep water, dirt, and stains out of your car's footwell, but they don't look as good.
Both feature an anti-slip surface on the bottom, and some go the further mile by including snaps or clasps to secure them in place. If you enjoy the idea of rubber mats but are concerned about chemical scents, a few manufacturers offer BPA-free choices. Mats are available in sets ranging from two to five pieces.
How I Chose
Every automobile floor mat we feature below has a four-star rating or higher from customers. We have universal-fit models for vehicles, trucks, and sedans, from functional, all-weather rubber mats to colorful alternatives for jazzing up your footwell. We also have mats varying in price from dirt cheap to high-end and cover sets ranging from two to four pieces.
My Top Ford F-150 Floor Mat Choices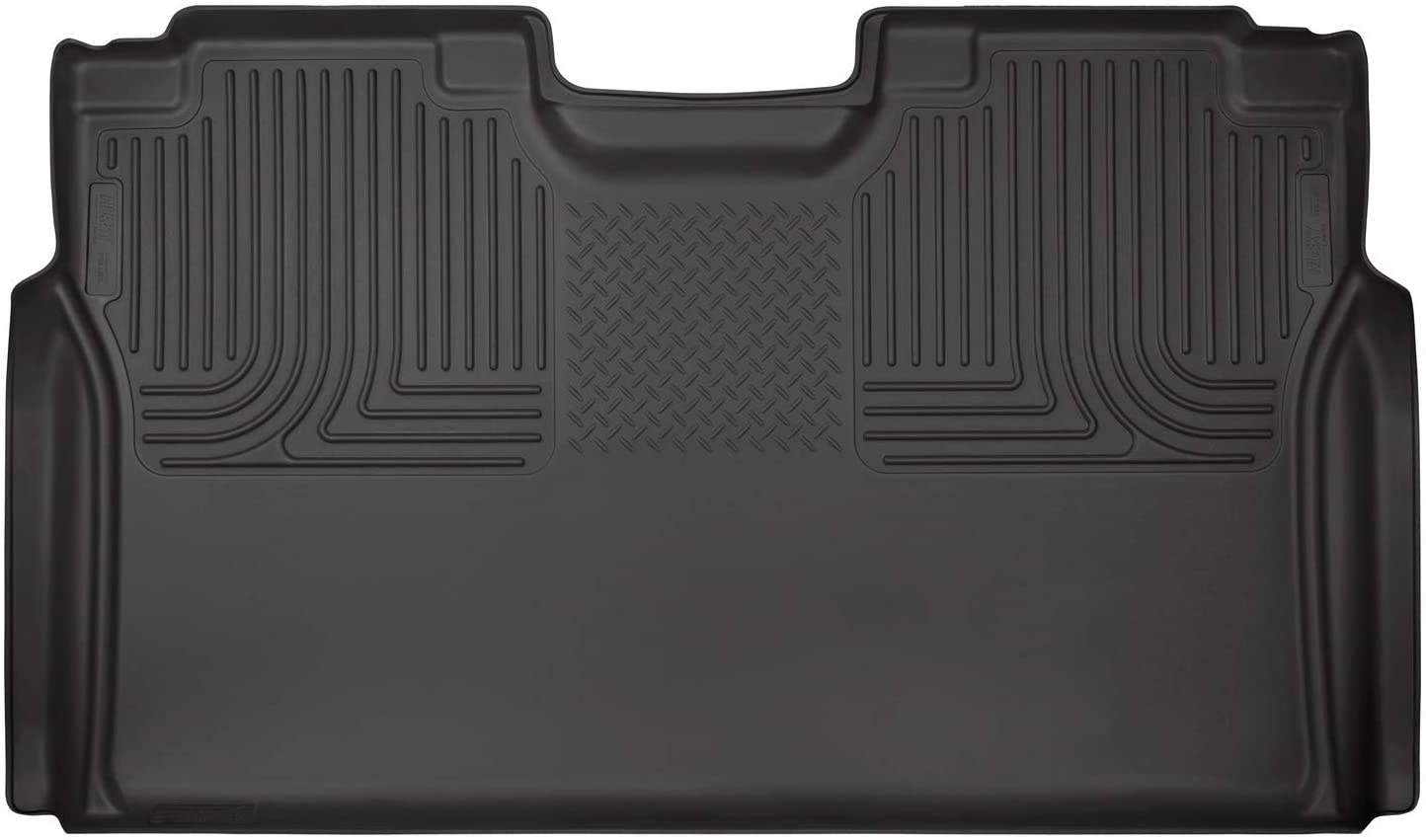 These Husky Liners floor mats are built for durability and ease of care, and they are very easy to clean and will last as long as you want them to.
They are intended for Ford F150 trucks manufactured between 2015 and 2021. The manufacturer offers Supercrew Cab and Standard Cab variants. Furthermore, this product is only appropriate for carpeted flooring.
These Husky Liners weather beater floor liners are composed of Thermoplastic Olefin, which is essential to the FormFit design. It fits your unique F150 SuperCrew flawlessly, following every shape as if it were intended to be.
These Husky Liners floor mats are easy to clean and will last as long as you want them to.
They are intended for Ford F150 trucks from 2015 to 2021. Supercrew Cab and Standard Cab versions are available from the manufacturer. Furthermore, this product is only intended for carpeted flooring.
These Husky Liners weather beater floor liners are composed of Thermoplastic Olefin, which is essential to the FormFit design. It fits your unique F150 SuperCrew flawlessly, matching each shape as if it were intended to be.
Pros
High-quality design tailored exclusively for the F150

Simple to clean — efficiently traps debris and fluids until you are ready to dispose of them.

Durable

Specially engineered cleats are quite efficient at keeping the mats in place.
Cons
Carpet flooring is the only option
Final Say
Husky Liners has offered a high-quality set of floor mats for this application. They are not only made to last, but they also look beautiful. They are not the cheapest choice available at this price range, but they are, in our opinion, one of the finest.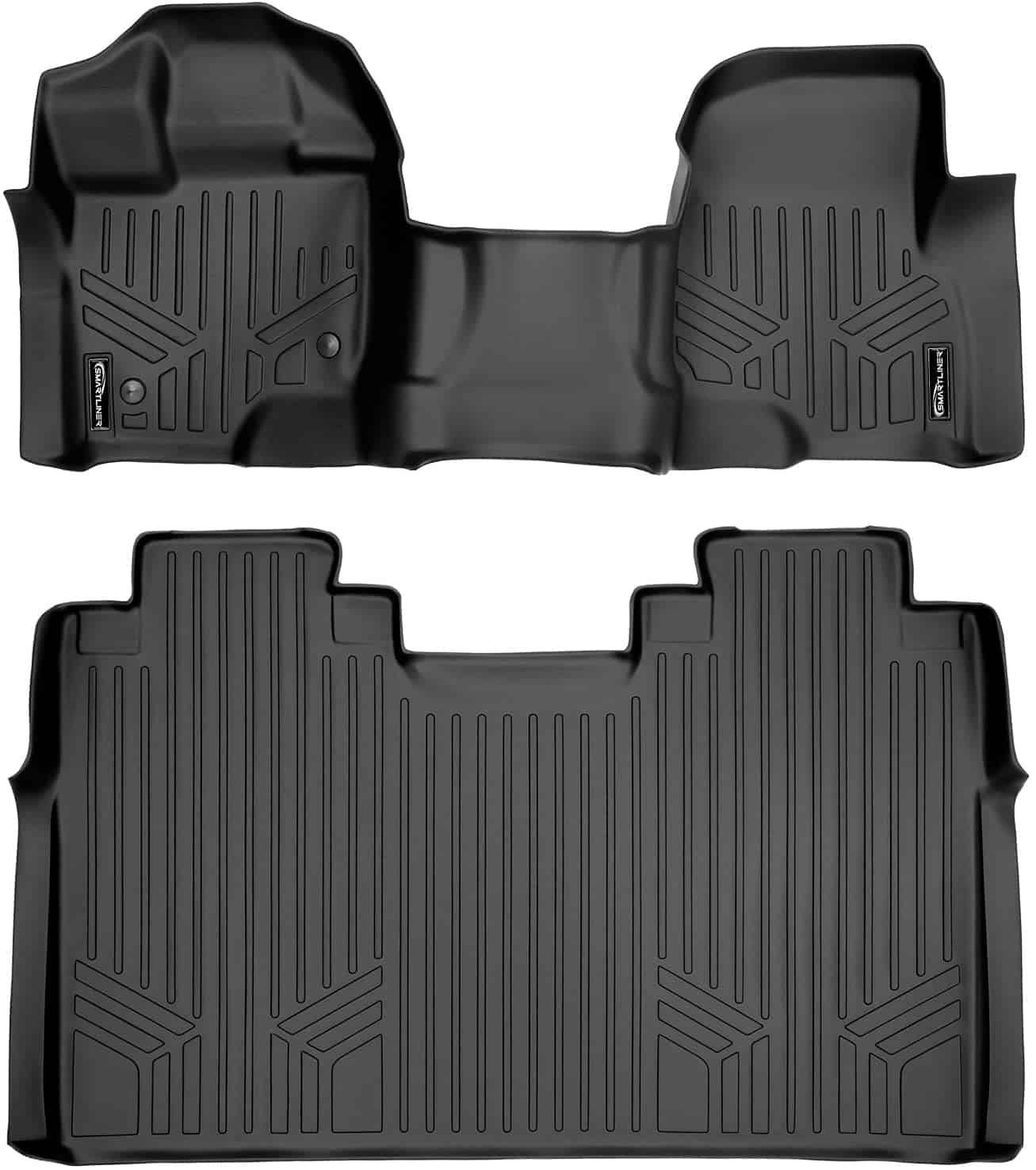 Maxliner has an excellent reputation for floor mats, and this is a fine example of a long-lasting, hard-wearing pair. They are intended for Ford F150 SuperCrew trucks manufactured between 2015 and 2021.
They are made of durable plastic and may feel stiff when initially installed. However, if you leave them out in the sun for a while, they should be a lot easier to install in your F150.
They are only suitable for carpeted floors and are particularly intended to tack into such surfaces, so do not buy them if you have vinyl flooring.
Despite the fact that these floor mats appear to be highly durable, Max Liner backs them up with a lifetime warranty, providing total peace of mind.
Pros
Material that is long-lasting

It is covered by a lifetime guarantee.
Cons
Only intended for use on carpet.
Final Say
A robust pair of waterproof and easy-to-clean floor mats. They also look the part since they are custom-fit to the curves of Ford F150 SuperCrew vehicles.
The only issue we discovered with them is that they can be rather stiff out of the box and will thus require "warming" up before installation. Furthermore, because they are composed of plastic, they may shatter over time.
These floor mats, on the other hand, are created by a company that understands what they're doing and backs them up with a lifetime warranty, so you can buy with confidence.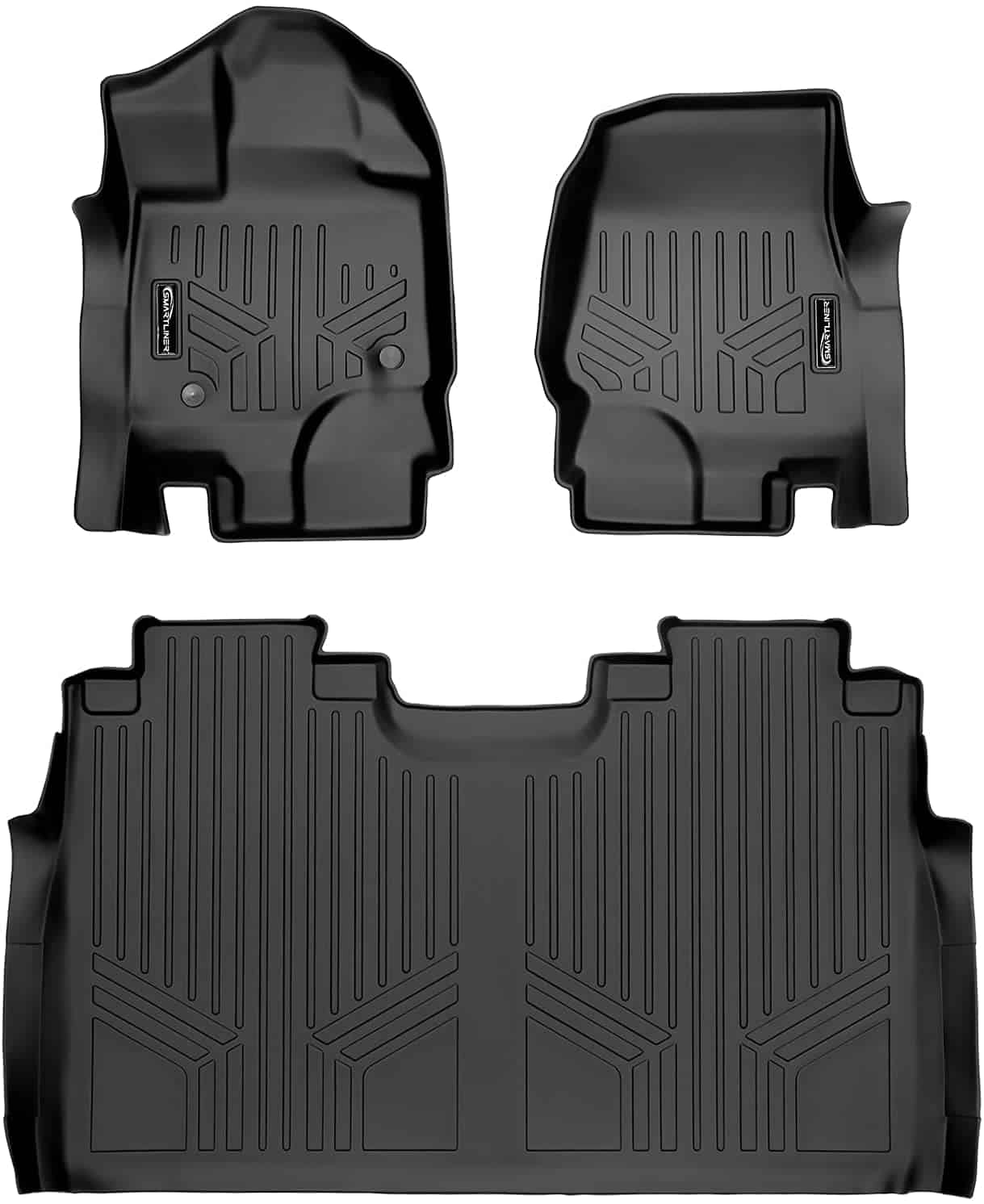 Smartliner makes these all-weather floor mats for Ford F150 SuperCrew cab vehicles from 2015 through 2021. Smartliner now offers a variant that would fit 2011-2014 Ford F150 SuperCrew vehicles.
The texture is notably anti-skid, and as a result, the vehicle feels sturdy while driving. They will also work on any floor type.
The molded material also makes cleaning easier and less stressful because the mats collect and spill without harming the original floor. For most cleaning operations, a basic remove and hose-down will be enough.
The fit is what distinguishes it from the majority of the other alternatives on our list. They will be installed just beneath the chairs, providing optimum covering.
Smartliner assures that these floor mats are ergonomically designed to fit your Ford F150 while still being strong and lasting. These mats do appear to be long-lasting, and they come with a lifetime warranty.
These floor mats look amazing and will compliment your interior with a factory-like appearance.
Pros
A lifetime warranty is provided.

With its molded waterproof construction, it works effectively to protect the floor.

All surfaces are suitable.

They look fantastic.
Cons
More pricey than other choices
Final Say
The Smartliner F150 floor mats are an appealing offer at this pricing point. They look great and fit well. They are also very simple to maintain and do an excellent job of maintaining the original floor. This is a viable possibility.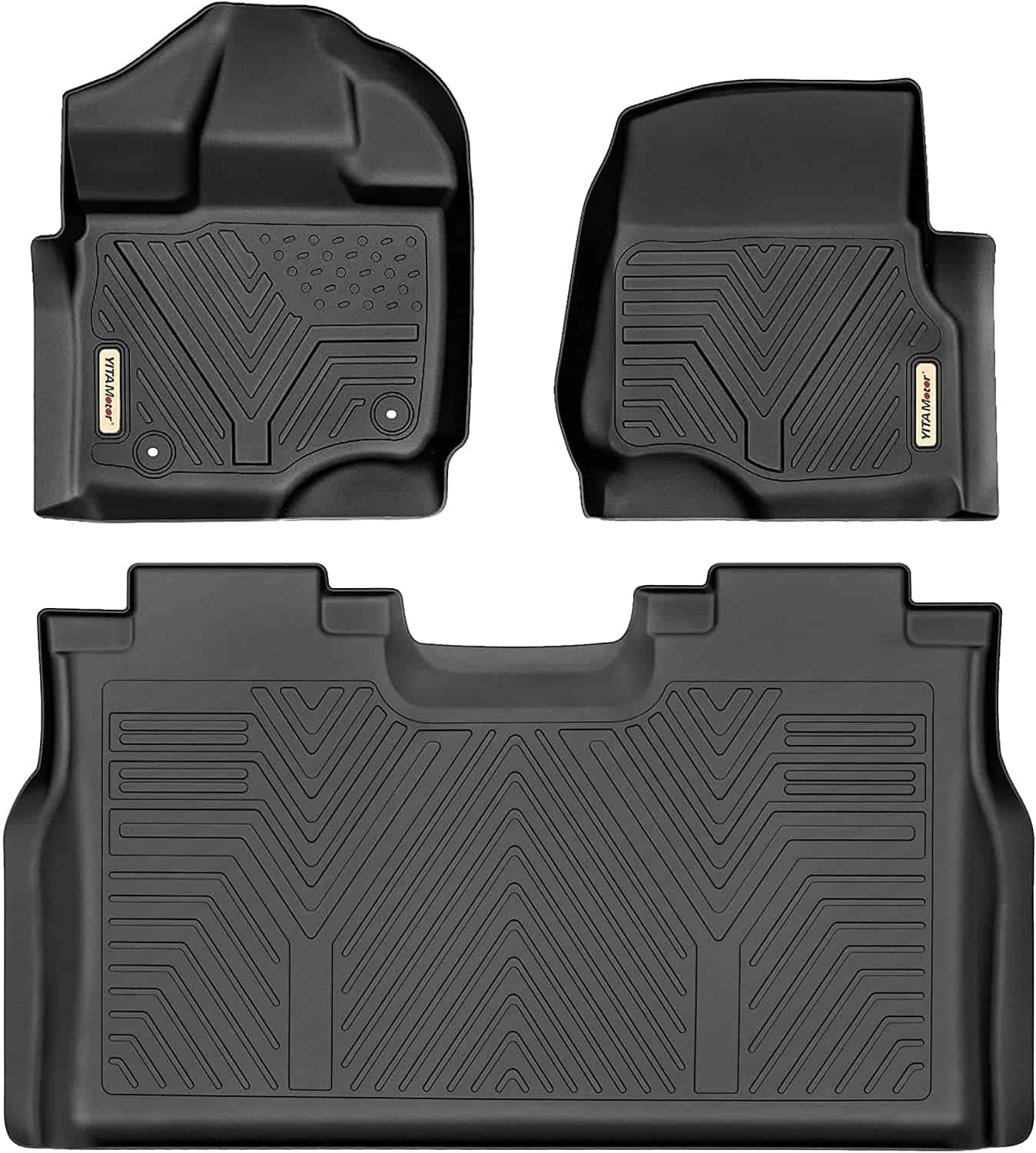 Yitamotor has produced these floor mats exclusively for the Ford F150 SuperCrew Cab 2015-2021.
These floor mats fit extremely well because of the 3D laser scanning technology used throughout the production process. The attention to detail is evident, as the floor mats cover areas that you might not expect to benefit from yet do.
For example, in certain instances, the coating extends over the door openings to ensure that no dirt gets below them when entering and departing. This also aids in avoiding scuffing.
They are simple to install but only work on carpeted floors. Yitamotor offers these for certain Ford F150 combinations, which is wonderful for guaranteeing a precise fit, but make sure the floor mats you select are the proper ones.
The material is highly robust and durable, yet it still retains a decent amount of pliability even in freezing conditions. This makes them simple to remove when you're ready to clean them.
They, like most of the solutions on our list, are meant to retain any extra spills and dirt, which should check a lot of boxes for individuals who wish to safeguard their original flooring. This is convenient since you can pull out the floor mats anytime you want to get rid of any garbage.
The surface is textured to allow for simple cleaning without the risk of sliding.
Yitamotor claims that these chairs are entirely weatherproof and come with a lifetime warranty. In terms of customer care, they also give a 24-hour customer support line for any questions, which is a good thing.
Pros
Fit and coverage are exceptional.

From a design standpoint, there is a high level of attention to detail.

Excellent client service
Cons
Prior to installation, they may need to be warmed up in the sun to guarantee they mold beneath the doors to minimize blockage.
Final Say
These floor mats will suit your Ford F150 flawlessly; however, make sure you pick the correct one since the manufacturer has made these for certain combinations.
This is comforting since it indicates that they are committed to offering a superior fit and coverage.
One of the more expensive alternatives on our list, but the lifetime guarantee and customer support should offer you peace of mind.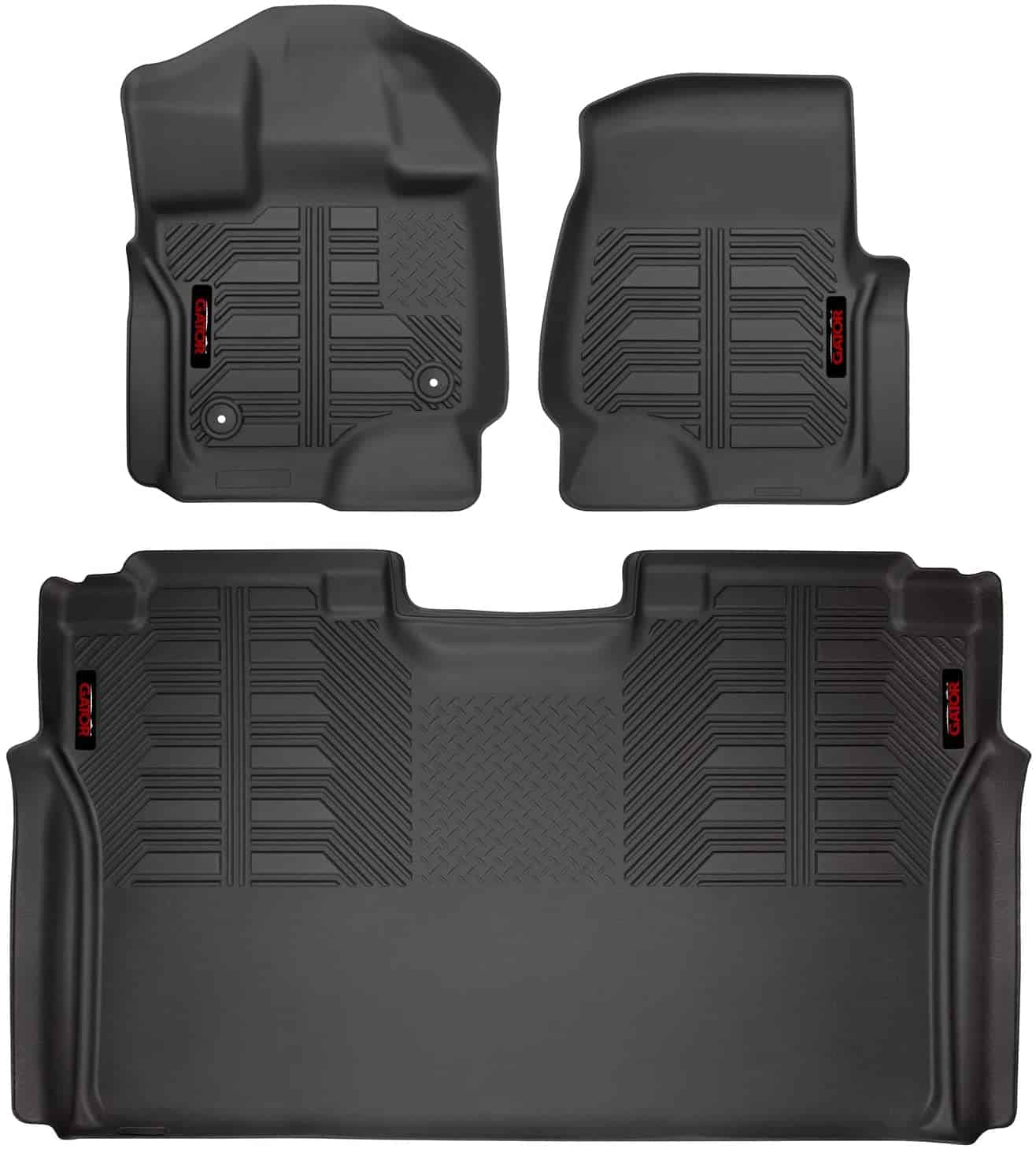 Gator floor mats are custom fit for Ford F150 vehicles from 2015 to 2020. They have SuperCab SuperCrew Cab F150 variants available.
The raised edge design is ideal for catching spills and water from the outside until you're ready to clean the floor mats. The waterproof material is simple to rinse with a hose, wipe off, and replace. Even if there are some wet places, the rough material helps to prevent slipping.
These floor mats are strong and tough in construction, almost like reinforced plastic. They provide a lot of assurance that they will provide appropriate protection in the long run.
When compared to other alternatives on our list, the material performs similarly, albeit they are stiffer than the Yitamotor floor mats.
When it comes to fit, they are designed to suit certain F150s but bear in mind that they will take some time to settle in and mold into position.
Pros
Excellent value for money

tough and long-lasting
Cons
The material is really rigid and has a plastic-like feel to it.
Final Say
A robust pair of floor mats with a good fit and at this price range, they are an ideal choice for anyone on a budget. Although they are a touch stiff, they are sturdy and will give excellent protection that should last for a long time.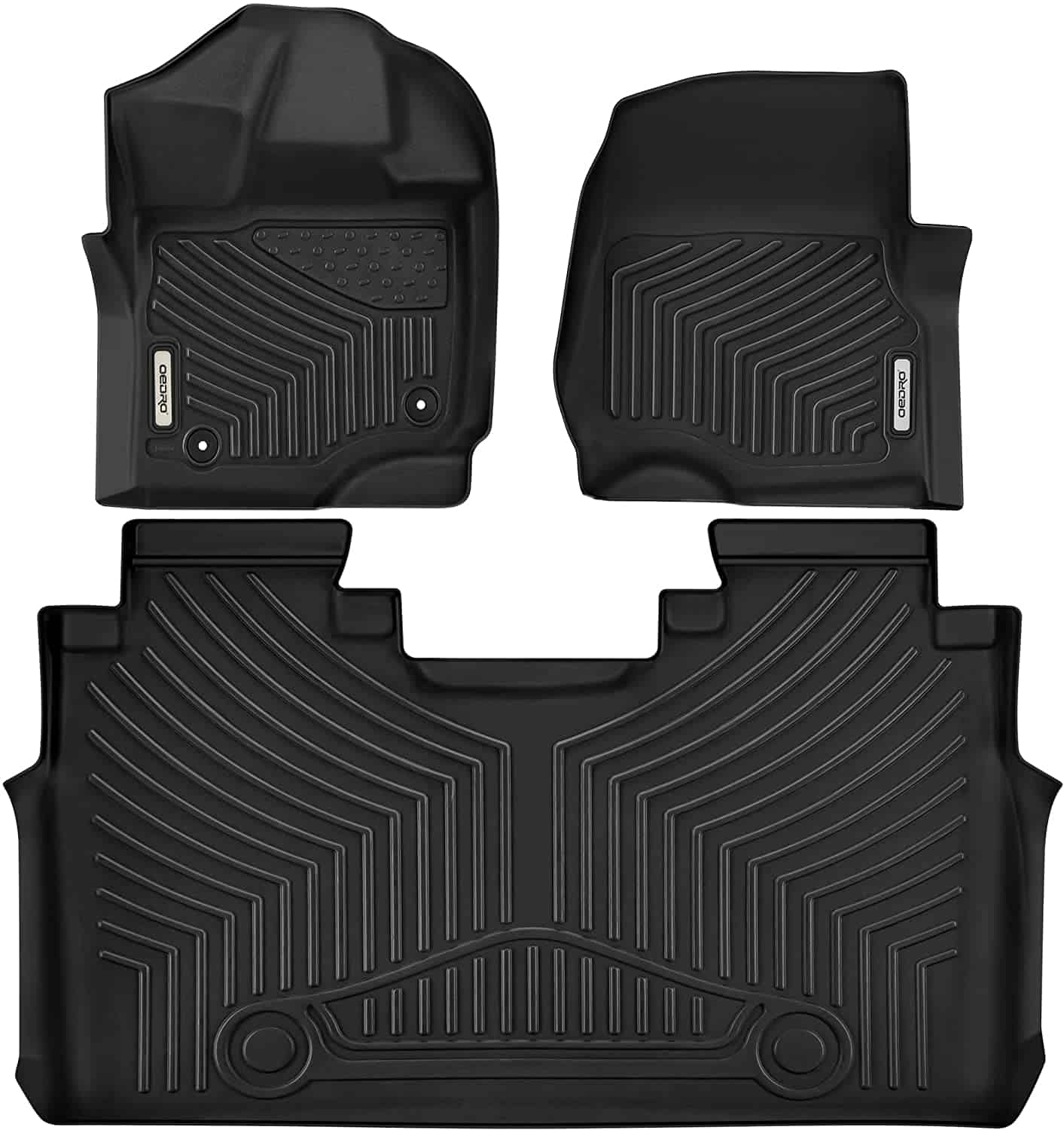 Pedro all-weather floor mats for Ford F150 SuperCrew Cab models manufactured between 2015 and 2021. They are intended to be used on carpeted flooring.
They have a sophisticated and polished appearance, with a dark textured surface. The textured material stops your feet from slipping, even if you've brought in a lot of wetness from outside.
The floor mats are waterproof and provide excellent carpet protection. This, along with a robust, rough style, gives these floor mats the appearance of lasting for a long time.
Pros
Excellent coverage, including the sides

Material is long-lasting and comfortable.
Cons
Only appropriate for carpeted flooring
Final Say
These are most likely not the finest option on the list, owing to the obviously uneven fit. Some buyers have complained that they do not fit as well as the maker claims.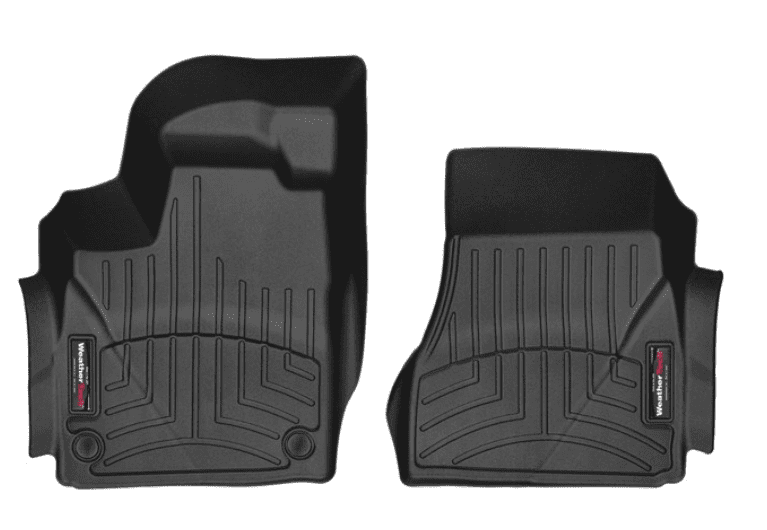 When it comes to automobile floor mats, WeatherTech is one of the most well-known companies, if not the most well-known. The firm sells a variety of floor mats, but our favorite is the FloorLiner HP line. It's essentially the next generation of WeatherTech's renowned FloorLiner mats, and it's tailored to your individual vehicle's make and model.
These mats are made of TPE (thermoplastic elastomer) and are both soft and durable. More significantly, they will withstand adverse weather conditions, so you won't have to worry about the mats splitting, to curl, or breaking down.
The material is devoid of latex and PVC, and it is completely recyclable. But it's the fact that they're laser-measured that makes them our top selection. This means that their bespoke fit will provide excellent coverage and appear as if the mats came with your car.
WeatherTech mats include a specifically designed retention mechanism with non-slip nibs to keep them in place. The beveled edge prevents the walls from inwards curling. Speaking of walls, the high-wall construction keeps messes contained within the liner and away from your car's carpet. There are several possibilities available; just make certain that the mats are custom-made for your car.
Pros
Laser measurement for a personalized

Perfect fit

High-wall design

100% recyclable material
Cons
The premium selection comes at a premium price

TPE material isn't for everyone
What Features to Look for in a Floor Mat?

Rims and Ridges:
Pay attention to the rims and ridges of some floor mats, and choose one with high edges all the way around. Those borders will help to keep liquids from leaking into the carpet. Furthermore, some floor mats have high grooves and ridges that are designed to divert water away from your feet and into the collect basin from the backside of the pedals.
Under the Mat:
The bottom of the floor mat is frequently disregarded. It is critical to inspect the locking system of a given floor mat to ensure that it prevents the mat from sliding about and getting in the way of your driving. The floor mat should ideally include a hook to keep it in place.
Thickness:
Although it may seem insignificant, thicker floor mats may absorb more liquids and are more pleasant on your feet. When looking for plastic or rubber mats, search for models with deep grooves to keep your carpets clean.
How to Clean Your Car's Floor Rubber Mats
Step 1: To clear dust, whack or shake the mats. It will shake and break up some of the gunk that has become embedded in the fabric or rubber floor mats. You should, of course, do it outside. Take a couple whacks with the mat against a hard surface. This method works on both fabric and rubber mats. Before cleaning the mat, you may need to use a scraper to remove any hard objects.
Step 2: Spritz the meat liberally with water. It is possible to use an electric pressure washer, although it is not required. A regular water hose may always be used.
Step 3: Spread your chosen eco-friendly, granule-based laundry detergent over the whole surface of the mat. Because the soapy water will be washing down the curb and into your favorite creek, we recommend using an eco-friendly detergent. You do not need to utilize the entire packet. Simply sprinkle with common sense.
Step 4: Scrub the floor thoroughly with a push broom. Also, for added control, place one foot on the mat's edge to keep it from shifting. Brush in a variety of ways to agitate all of the tenacious impurities from all sides. Remove your shoes and socks if you don't have a push broom or a stiff brush. No, we don't want you to flee your troubles; instead, we want you to clean with your bare feet. Just be careful not to slip off the mat and avoid rubbing your feet against any hard, rough surface. You'll also have the cleanest feet in the neighborhood.
Step 5:  Rinse off the soap thoroughly by beginning in one corner of the mat and progressively pressing the soap over the surface. Repeat the process until all of the soapy material has been removed.
Step 6: Re-enact the preceding procedures for the
FAQ
Question: What are floor mats?
Answer: A floor mat is a carpet protection device that is often constructed of carpeting material to match the floor covering of your vehicle. Furthermore, many are manufactured of durable plastic or rubber to endure wear and tear, as well as to brush off dirt, snow, and water to protect the interior. They are simply detachable for cleaning and replacing.
Question: How should I clean the floor mats?
Answer: If you choose any of the reputable alternatives mentioned above, you'll have years of comfortable delight with minimum regular upkeep. You can keep your mats in good shape by vacuuming them on a regular basis. You may also clean them with soap and water, depending on the design and material. To avoid color disfiguration, it is best to examine the product handbook before using any generic detergent. Finally, do not wash them in a washing machine as this can badly harm them.
Question: What are the benefits of having the floor and trunk/cargo mats?
Answer: A high-quality personalized floor mat may significantly improve the inside of your vehicle. As a result, placing new mats is a cost-effective approach to improve the aesthetic of your machine on wheels while also boosting comfort. Furthermore, they protect the interior of your vehicle from trash and ordinary wear and tear, keeping the value of your vehicle. Finally, the driver's side floor mats keep shoes clean by absorbing dirt and moisture.
Question: How do I spot a bad floor mat?
Answer: The majority of firms provide generic floor mats that are intended for universal fit and have the same long-term durability as a paper shopping bag. They cost roughly $10 apiece and provide just mediocre protection against spills and wear and tear. Furthermore, although having undersurface traction, these mats are prone to slipping about, leading your feet to become irritated and producing a mild but persistent discomfort.
Conclusion
So there it is, the best floor mats for the F-150's (and some of these fit other vehicles as well)! Personally, all these are awesome choices, and I wouldn't have hand-picked a bad option. That being said, if I was to choose a winner, I would go with the SMARTLINER Floor Mats Liners.
I mean, can you beat the lifetime warranty. If your vehicle is an 89 Ford or 2021, they should have options for you as well (although definitely check when your car gets older than that). They're simple to install and virtually indestructible! So go out there and enjoy the outdoor and get those mats dirty!