The Ford F-150 pickup truck was built for the rough and tumble of offroading. Its beefy look and rugged 4-wheel-drive system are a testament to its capabilities. Plus, its powerful engine options and robust transmission make it a hardy workhorse that works as hard as it plays. 
Because of this, you'll need to protect the vehicle's interior from mud and dirt, which you'll definitely encounter on the trails. This is why you're here to find out about the best Ford F-150 floor mats, correct?
In this guide, I've researched dozens of brands to narrow down to a list of the best Ford F150 Floor mats in the market that you should consider. From custom-made to universal-fit floor mats, I've selected 10 options at different price points for buyers with different budgets. Keep reading to check them out.
Bottom Line Up Front
My top floor-mat recommendation is the WeatherTech DigitalFit, which is strong and will perfectly fit your Ford F-150. It's also easy to install and can be secured by the F-150's stock anchor points. I also recommend the Husky Liners X-Act Contour Floor Liners because of their rugged design and lifetime warranty. 
My Top Picks at a Glance
But first, do you know the difference between floor mats and floor liners? If you do then skip to the next section, this is for those who might still be uncertain.
Floor Mats vs Floor Liners
Floor mats and liners are different, although most people think that they're synonymous. Floor liners are custom-made for your vehicle and they're designed to cover the entire floor of the car. 
Floor mats can either have a universal fit or can be custom-made, but they don't cover the entire floor of the vehicle. This makes them easy to install and remove. However, they don't offer comprehensive floor protection like liners.
Therefore, if you spend a lot of time off-road and encounter a lot of mud, snow, or dust, I recommend getting floor liners. Floor mats, on the other hand, are best for those who do a lot of pavement driving and simply need to protect their F-150's floor from spills and general dirt.
Choosing the Right Ford F-150 Floor Mats: Things to Consider
Material
Different floor mat manufacturers use different materials for their floor mats and liners. Here are the main floor-mat materials that you're likely to encounter as you shop;
Thermoplastics

– You might notice some brands using thermoplastic elastomer or thermoplastic olefin. Both are polymers of plastic and rubber. Therefore, they're as durable as plastic but as flexible as rubber.

Thermoplastic olefin is the cheaper version of thermoplastic elastomer, so floor mats made with the former will be more affordable.
Vinyl

– Vinyl floor mats and liners are popular because they're cost-effective yet hardy. They are easy to clean and are moisture resistant. However, their durability is still incomparable to that of the thermoplastics above, so consider vinyl mats if you're not a heavy user.

Nylon fiber

– The floor mats look like residential carpets, so their main advantage is that they're plush and elegant. However, because they're made for vehicles, manufacturers make them thicker and add waterproof qualities. They also come in a variety of colors to match your preference.
Price
Floor mat prices range from as low as $20 to over $500. This depends on the material you've chosen and the design of the mats. Generally, custom-fit mats are more expensive than universal-fit options. And, if you opt for floor liners instead of mats, you should also expect to spend more. 
Mats made from thermoplastic elastomers are often the most expensive while vinyl mats cost the least.
Design
Most floor mats for Ford F-150s are designed to have a rugged look and feel. There are some brands that make their mats look like off-road tires. The idea is to present a durable aesthetic that matches the F-150's ruggedness. 
You can also opt for the colorful carpet mats if you want to add a bit of personality to your truck's interior.
Other design features include raised edges to trap liquids and prevent them from spilling onto the vehicle's floor. 
Recommended Ford F-150 Floor Mats
Selection Criteria
Price

– I considered floor mats for buyers with different budgets. The list below has different mats that range from below $100 to over $300.

Durability

– The main quality that you'll want in your mat is durability so I selected F-150 floor mats that are built to last for years. 

Warranty

– The lowest warranty period I considered was 3 years but some of the mats on this list come with a lifetime warranty. 

Design

– I selected mats with different designs for those with different preferences.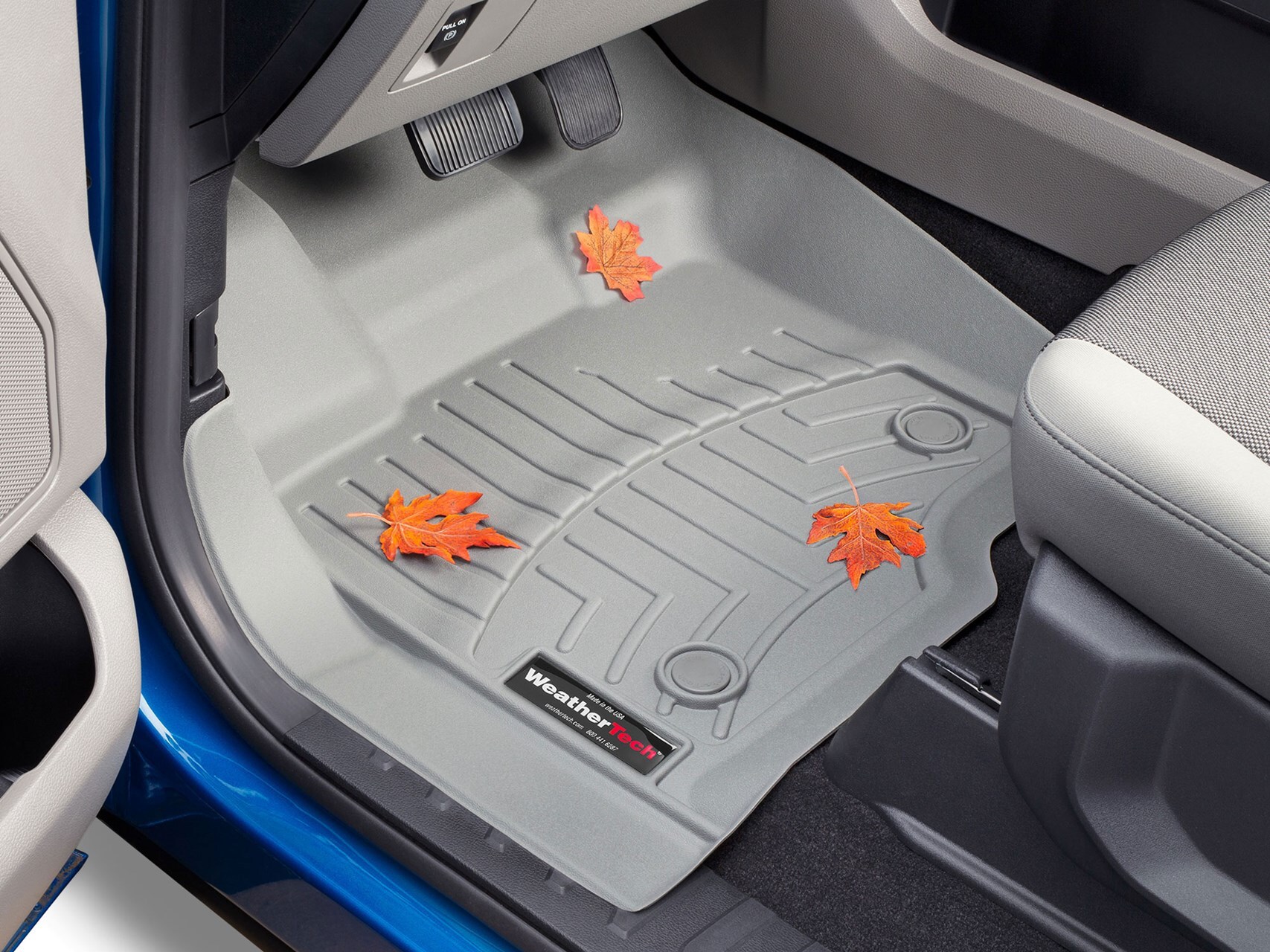 The WeatherTech brand is quality automobile products and their floor mats and liners are among the best. It's, therefore, a no-brainer that the company's floor liners would feature on my list of recommendations. 
The DigitalFit floor liners come in four different colors: black, grey, tan, and dark tan. Irrespective of color, you get the same rugged design with raised edges that trap dirt and liquids. 
You can choose between two separate mats for the driver and front passenger or go for the one-piece mat that also covers the center tunnel. I prefer the one-piece as it offers better floor protection, but that's just me.
Main Features
It's made of high-density rubber and plastic polymer.

The liner is custom-designed for your specific vehicle.

The edges sit over the door sill.
Pros
It's made of durable material.

You get a lifetime warranty.

It's designed to allow spilled liquids to drain outside the vehicle.
Cons
The front passenger liner doesn't come with a floor retention mechanism.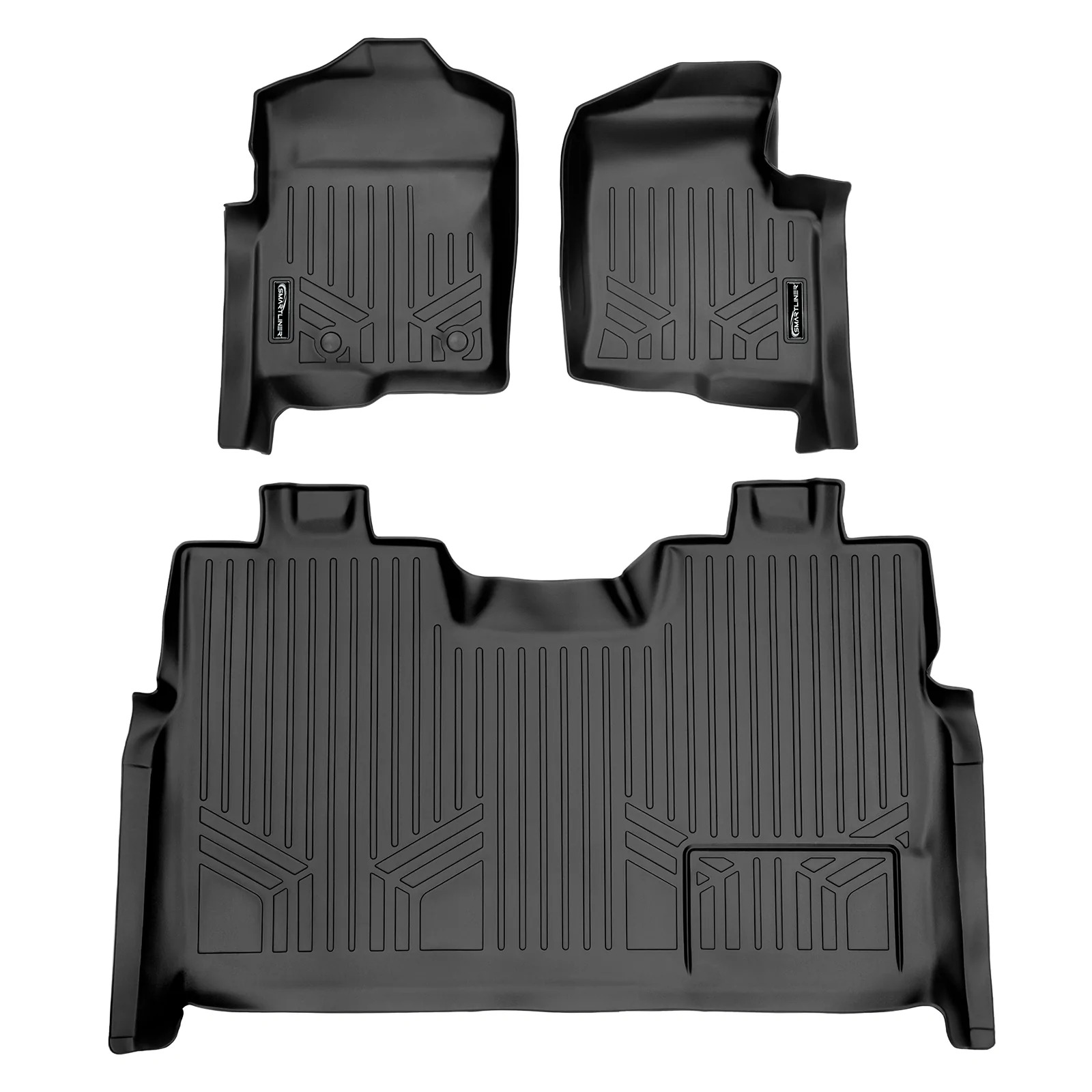 Smartliner uses 3D scanning technology to measure a precise floor mat size for your vehicle. The company makes mats and liners for all vehicles, including all Ford F-150 models from 2004. Sadly, if you have a pre-2004 model then you'll have to look elsewhere.
The mats are made of rubber, which makes them flexible and easy to install. They have a raised-edge design and grooves that offer an anti-slip texture. 
Unlike WeatherTech, which offers a lifetime limited warranty, Smartliner offers a 10-year limited warranty. This is by no means a short warranty period but a lifetime warranty would have been better. 
Main Features
Made of flexible rubber.

It's made of recyclable materials.

The liners are made to precisely fit your vehicle.
Pros
The Maxliner floor mats come in different colors.

They're easy to clean.

Installation is easy.
Cons
Smartliner doesn't sell floor mats for pre-2004 Ford F-150 models.

You'll have to trim the second-row mat if you have an under-seat subwoofer.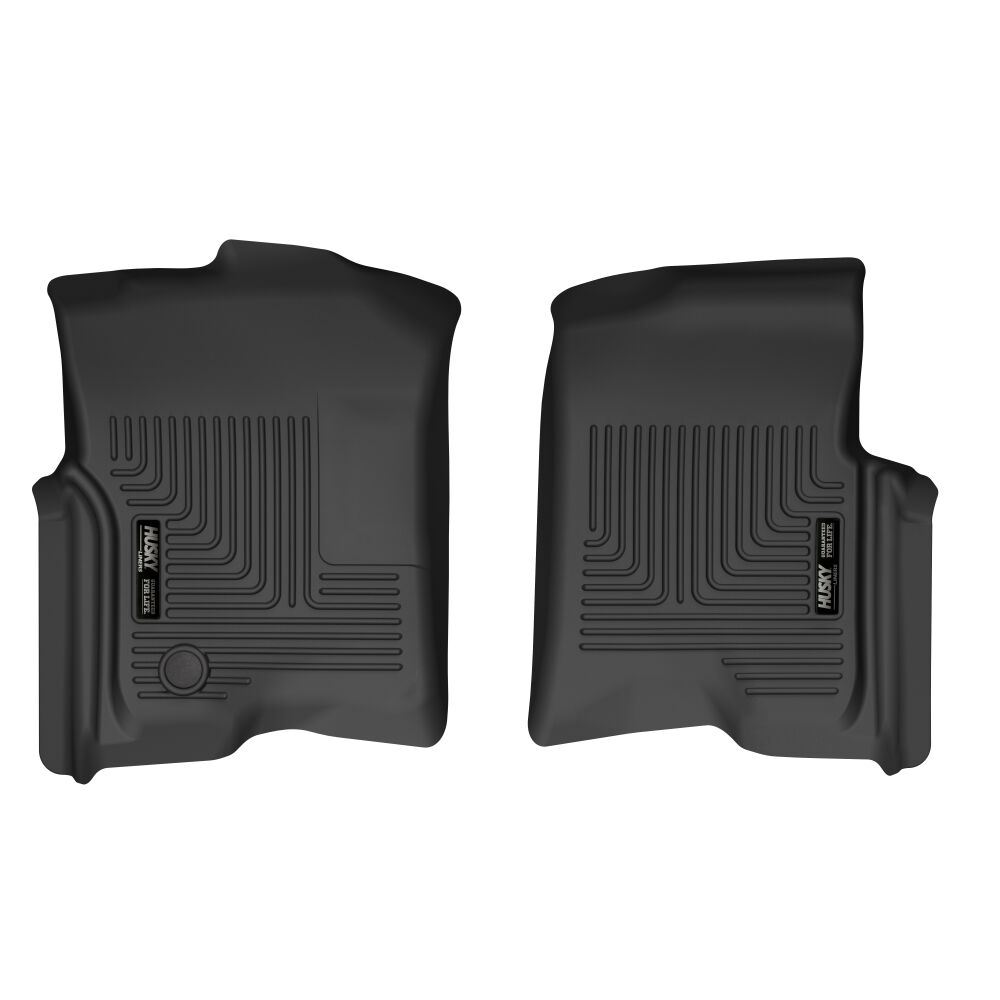 The X-Act Contour Floor Liners are, as the name implies, an exact fit for your vehicle. Husky Liners uses laser technology to scan and cut the liners and ensure a perfect size. 
Unfortunately, you'll only get X-Act Contour floor liners for Ford F-150 models from the 6th generation (from 2004) onward. Therefore, if you have a 5th-generation model or earlier, you might have to consider a different brand. 
On the plus side, if your truck is compatible, you'll get a tough rubber mat that is designed to protect your vehicle's floor. I love its raised edges that the company calls the FormFit Edge. 
Main Features
These mats are designed for a precise fit.

The mats have cleats underneath, which lock them in place.

They're made of rubber.

The liners are made in the USA.
Pros
They're rugged and durable.

The mats don't move around once installed because of the precise fit.

Husky Liners offers a lifetime guarantee.
Cons
These mats aren't available for pre-2004 Ford F-150 models.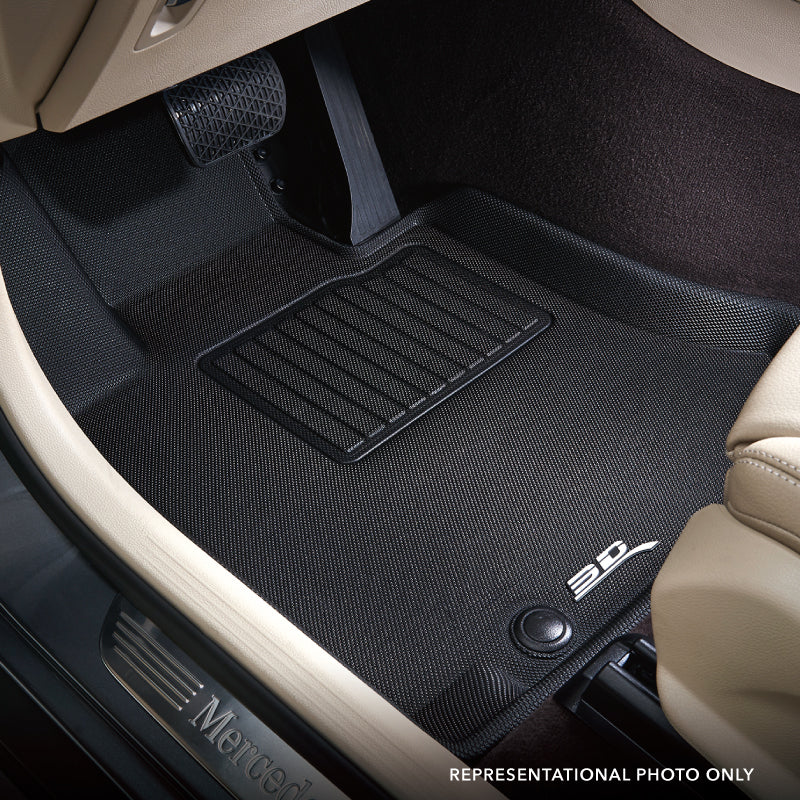 If you're looking for a less rugged design, the MAXpider Kagu liners are a good choice. These liners have a carbon-fiber pattern on the upper surface, creating a luxurious, high-end look. On the bottom, there's an anti-skid layer that keeps the liner from shifting about. 
Just like the competitors above, the MAXpider Kagu liners are laser scanned, measured, and designed using 3D technology. This ensures a precise fit in your F-150. Unfortunately, if you have a 6th-gen model or older, you won't find a Kagu floor liner for your vehicle. 
Main Features
It has a carbon fiber design.

The inner layer is made of a soft polymer foam known as XPE.

It has an anti-skid bottom layer.

The MAXpider Kagu liners are waterproof.

The liners come in black.
Pros
They have a high-end look.

These liners are soft and comfortable.

They're easy to clean and dry.
Cons
You only get Kagu liners for F-150 models from the 7th generation (2009 onward).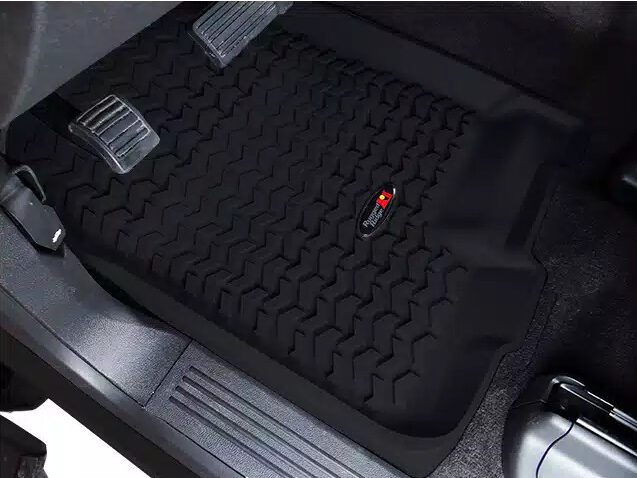 Rugged Ridge's all-terrain floor liners have an outer design that resembles tire treads. This underscores their rugged appeal, which blends well with the hardiness of the Ford F-150. This is why the company calls these 'all-terrain' floor liners because they're designed to withstand the rigors of everyday use.  
Speaking of durability, they're made of thermoplastic, which is both flexible and durable. It's also easy to clean, although it might be a bit of a hassle getting dirt out of the ridges. Thankfully, these ridges do a great job of holding spilled liquids. And, with the raised edges, you won't have to worry about the liquids spilling onto the floor.
These mats can be secured to the F-150's stock hooks, plus they're easy to install and remove. 
Main Features
These liners are made from thermoplastic material.

The underside has tiny nubs that prevent the mats from shifting about.

The mats are secured on the vehicle's OEM hooks.

They are custom-made for each vehicle.
Pros
The liners are rugged and durable.

They're easy to install.

There are mats that fit pre-2000 Ford F150 models.
Cons
The ridges make it a little harder to remove large dirt particles.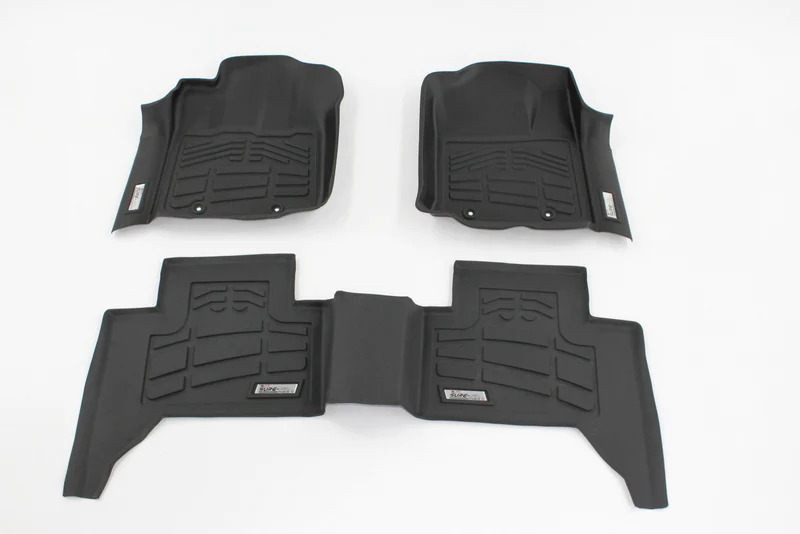 Wade's Sure-Fit floor mats are just that, a sure fit. The company custom-makes the mats for each vehicle, including mats for Ford F150 models from 2004. So, pre-2004 F-150 owners may want to consider the Rugged Ridge liners above. 
The design in Wade's mats is rather muted compared to the WeatherTech or Rugged Ridge mats above. They're still durable, thanks to the use of rubber polymers, like its competitors. 
You get the option of black, gray, or tan floor mats, so there should be an option to match your F-150's interior.
Wade says that you can use a 3M automotive-grade adhesive to secure the mats in place, but I recommend using the F-150's stock retention hooks found on the driver's side.
Main Features
The mats are made of a rubber polymer.

They're custom-made for each vehicle.

The top surface is textured for an anti-slip finish.

Wade offers a lifetime warranty.
Pros
These mats are easy to clean.

You get three color options.
Cons
You can't use the mats on a vehicle with vinyl flooring.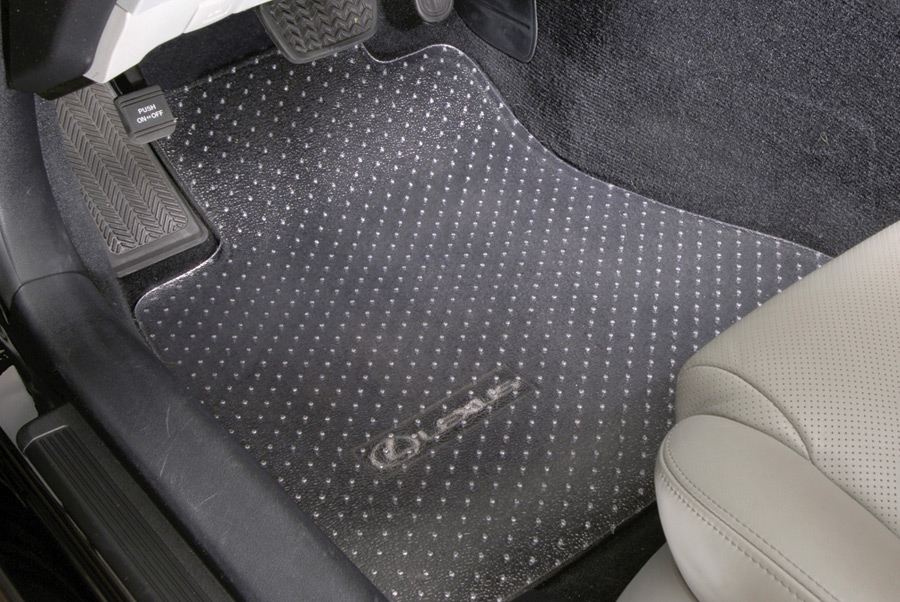 Intro-Tech's floor mats are among the most affordable on this list. If you have less than $100 to spend then these are the perfect options for you.
They're made of vinyl, which makes them cost-effective but still functional. To create a non-slip texture on the bottom surface, Intro-Tech opted to add tiny nibs – there are actually five every square inch. Sadly, I don't think that these mats look as elegant as most of the others on this list, but that's just my opinion. 
On the plus side, this design is easier to clean as there are no large grooves that hold dirt in the spaces. Also, Intro-Tech assures us that these mats won't fade over time, and past customers attest to this. In fact, the company is so confident about its mats that it offers a lifetime warranty.
Main Features
The mats are made of vinyl.

They're designed for a perfect fit.

These floor mats are made in the USA.

Intro-Tech offers a lifetime warranty.
Pros
The mats are easy to install and remove.

They offer full protection of the vehicle's floor.

They're reasonably priced.
Cons
They tend to slide around on the floor.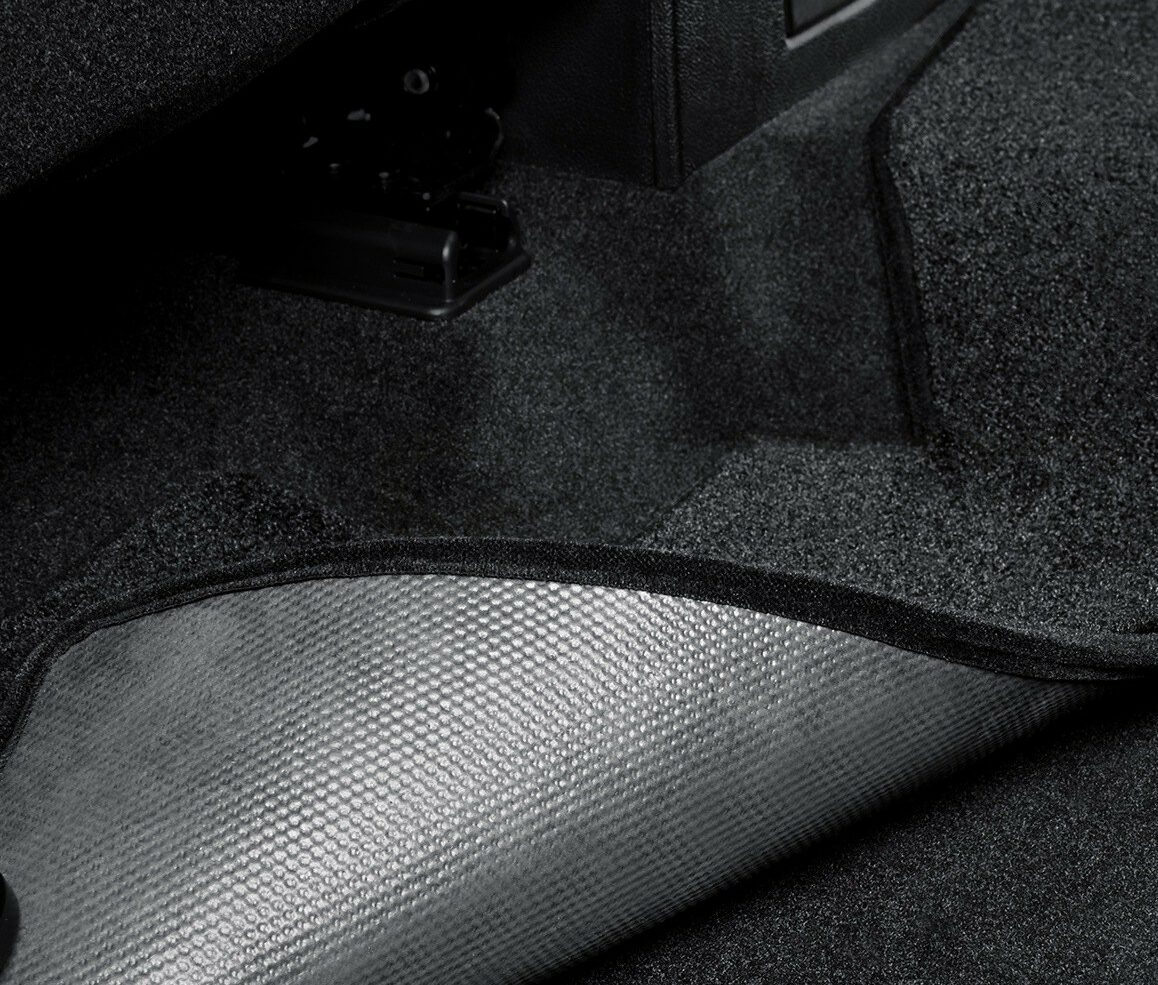 These carpet floor mats are excellent options for those who do a lot of pavement driving. They are elegant and will give your Ford F-150 a cozy feel, but they can be a pain to clean. So, if you use your truck for work, these might be a good option.
They're made from nylon, which the company says is three times thicker than other carpet mats. Therefore, their plush surface will be comfortable on your feet. I also love that you get different colors to choose from. In fact, Lloyd Mats offers 11 color options for the Luxe floor mats. 
Plus, their lifetime warranty inspires confidence in the durability of these mats; the company assures us that the Luxe mats are wear resistant.  
Main Features
The Lloyd Luxe floor mats are made of nylon yarn.

They can be secured using the F-150's factory anchor points.

They have a waterproof lining along the edges.

The company offers a lifetime warranty.
Pros
The mats have a plush feel.

You get different color options.
Cons
They're not ideal for muddy situations.
Frequently Asked Questions
Question: Do WeatherTech mats smell?
Answer: No, WeatherTech mats don't have a smell.
Question: Are car floor mats worth it?
Answer: Yes, car floor mats are worth it because they protect the car's factory carpet from dirt and liquids that might ruin their look.
Question: Which is better carpet or rubber car mats?
Answer: If you love offroading then rubber car mats are better for you because they're more durable and are easier to clean. However, if you mostly drive on pavement and live in an area with mild temperature changes, then a carpet floor mat would work just fine.
Which Floor Mats are Right For Your F-150?
The Ford F-150 is a tough vehicle that's designed to withstand extreme offroading conditions. Because the truck is a workhorse, you'll need floor mats that are equally rugged. So, I recommend getting the WeatherTech, Husky Liners, or Rugged Ridge liners. They are tough and offer total floor protection. They're also designed to snuggly fit the truck's floor, so they'll remain in place.
If you're looking for other accessories for your Ford F-150, check out the guide we wrote to find out more.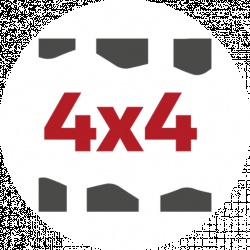 Latest posts by 4x4 Reports Team
(see all)